Hope all of you are safe and doing well in your part of the world.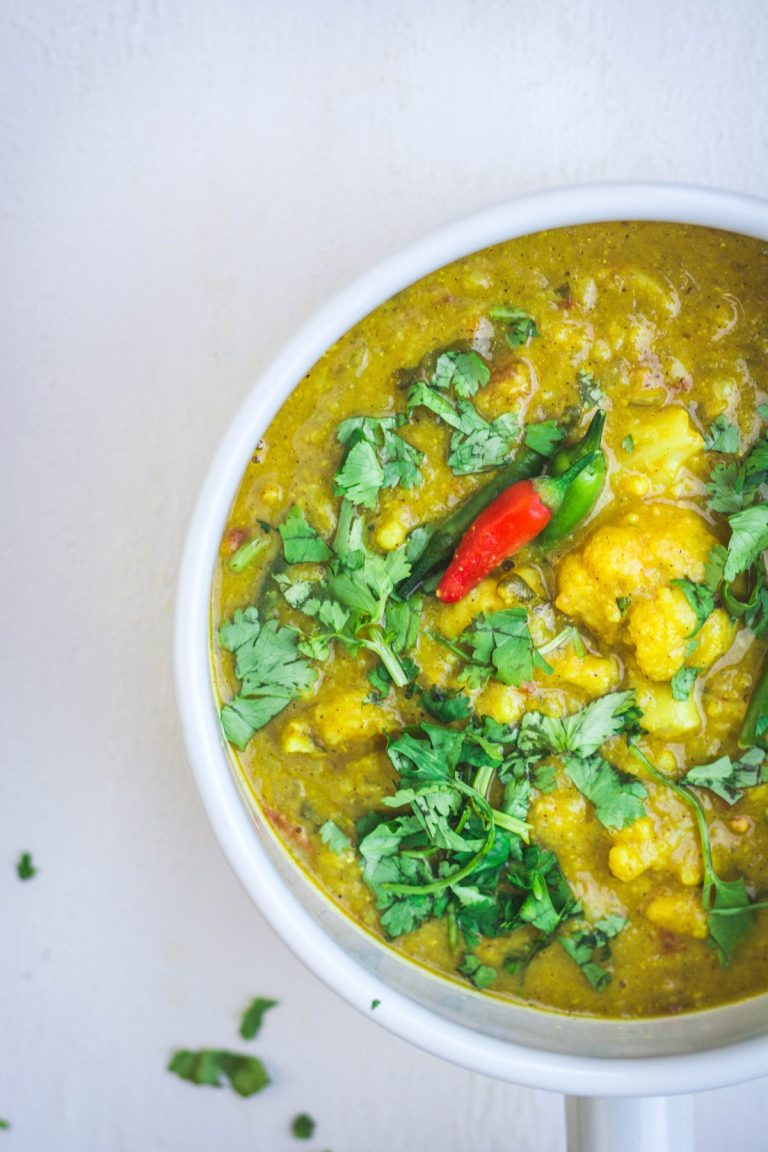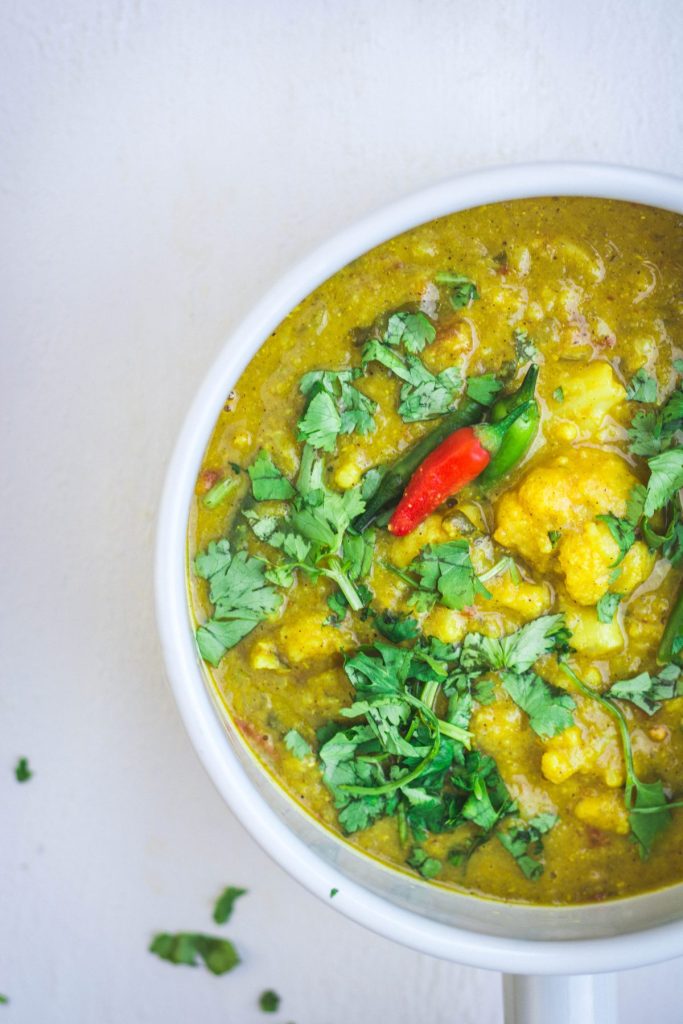 How's the work from home situation going? Or are you in essential services and still have to go out for work?
We are managing fine. Adi has started on his remote schooling from this week so there's a better routine in place now. While it is not the same as going to school, it is better than just being at home. At least the children don't miss out too much and it's a good way to keep them motivated. Really appreciate the immense amount of work that the teachers and other school staff have been putting in behind the scenes.
My work remains largely the same, except that I seem to be cooking all the time. Most of the days, I have it under control, but some days it's a bit tiring and overwhelming. Especially when there's recipe development and photography thrown in.
I had gotten used to working in total silence these last few years, which means that there is often nothing to disturb or distract me while shooting recipes. But now that's clearly not the case. While developing or testing out a recipe is not a problem, I often find myself distracted when it comes to the shooting part. A higher level of planning is required for client projects which often leave me drained and uninspired while shooting for the blog. So I have decided not to fret about it and just keep it simple.
Simple…..just like today's dish, a comforting, nourishing and delicious Cauliflower Dal curry spiced with panch phoron.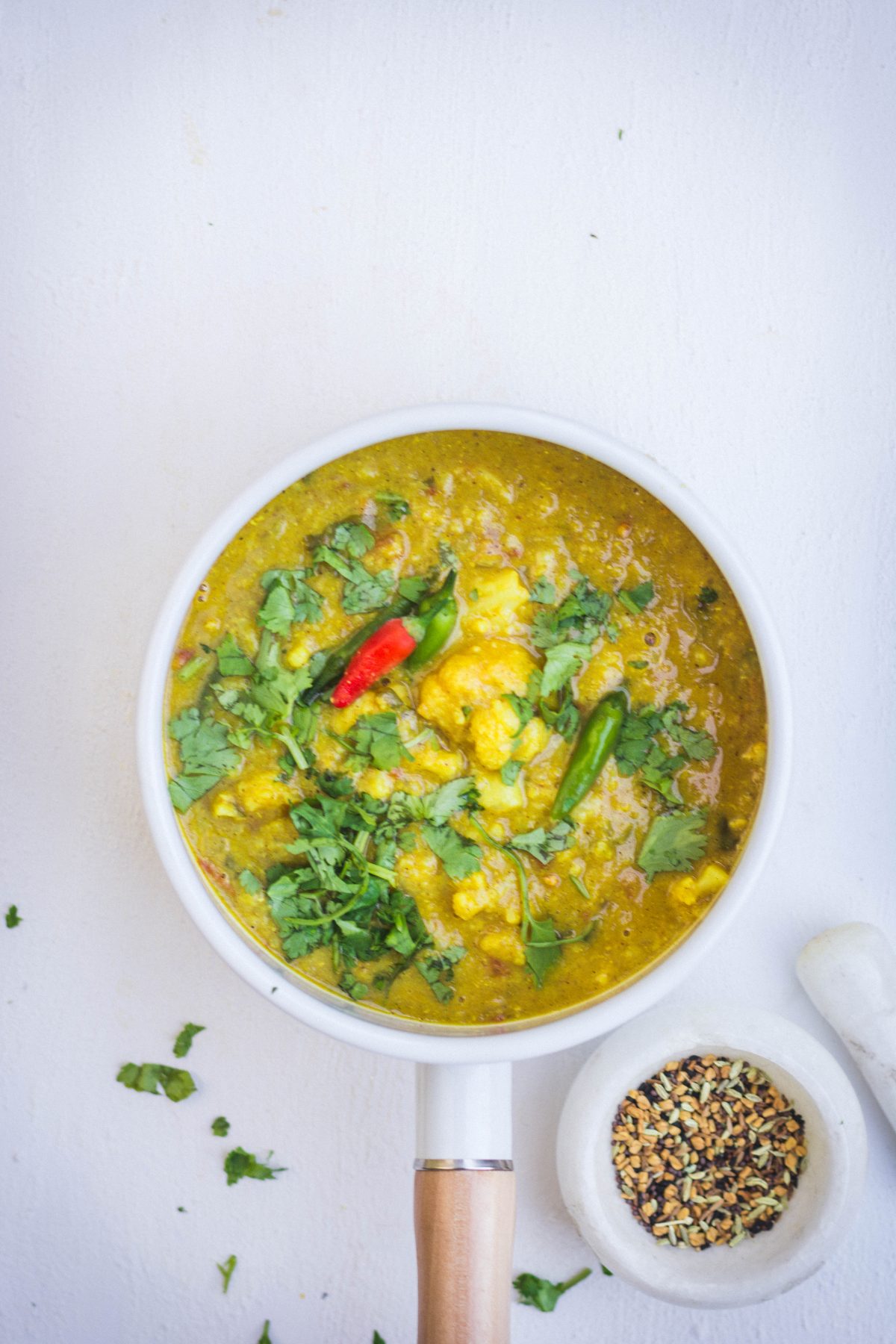 Cauliflower and lentils sounded like a strange combination when I first heard of it. But apparently it's quite popular and common in Bengali cuisine.
I am not sure if there are other cuisines that use these two ingredients in combination but so far, I have only come across the Bengali versions. If you know of any, please do leave a comment below.
I am not sure if a particular type of lentil is used for the traditional version of this dish, but I decided to use masoor dal or red lentils. These are easier to cook and break down really fast to get that creamy texture that I love about a good lentil curry.
What makes this Cauliflower Dal uniquely Bengali in its flavours is the use of the spice blend, Panch Phoron – a heady, aromatic mix of five spices; brown mustard, nigella seeds, cumin, fennel and fenugreek seeds mixed in equal proportions. Can be used as whole spice or in powder form (as I have for this recipe).
When added to oil, especially mustard oil, this spice blend transforms into a very aromatic mixture that your senses cannot ignore. For some people, this flavour might take a bit of time to get used to but once you do, it's a blend that you will keep returning to.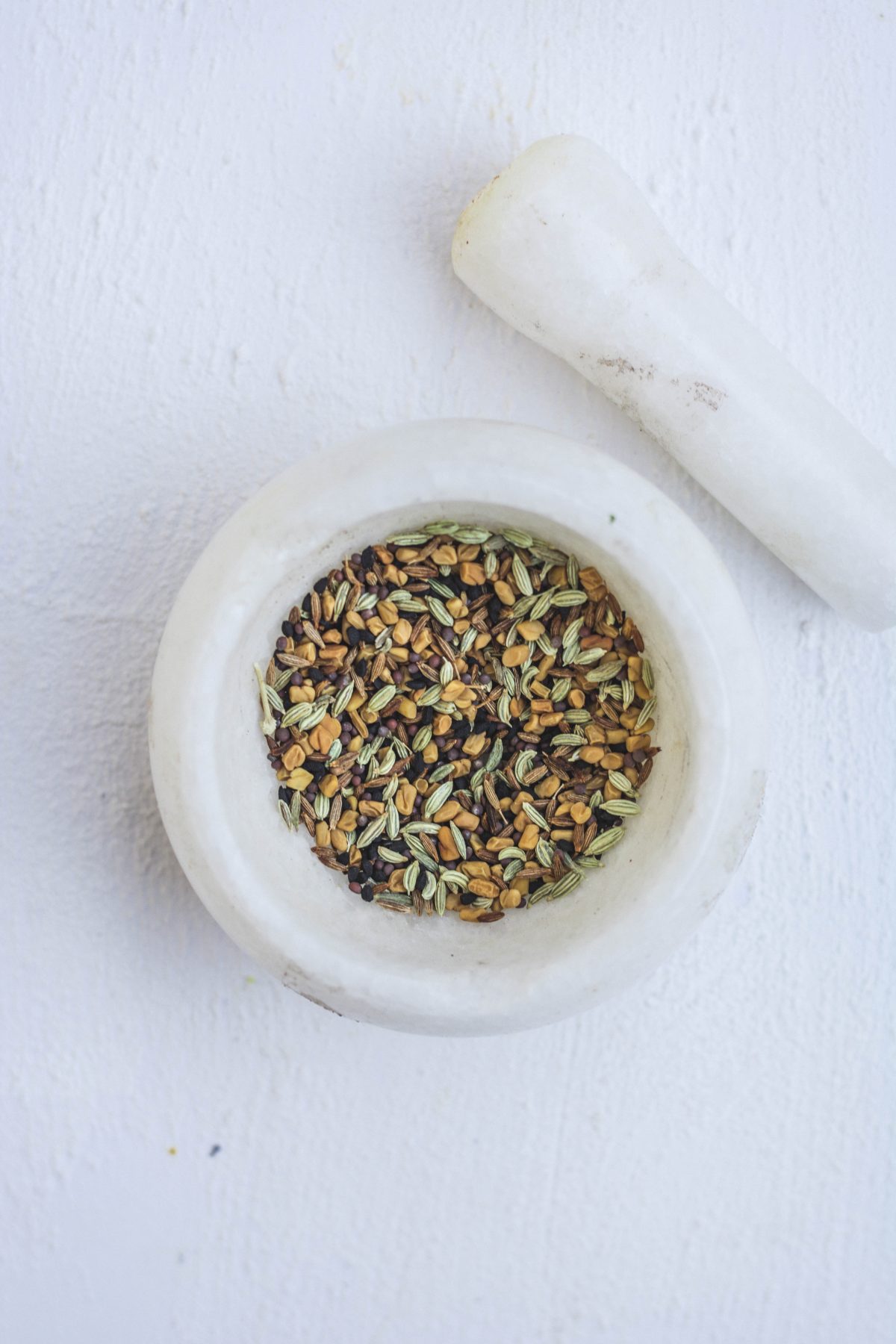 A pretty simple and straightforward dish with very few ingredients, which makes this Cauliflower Dal perfect for our #selfisolation cooking.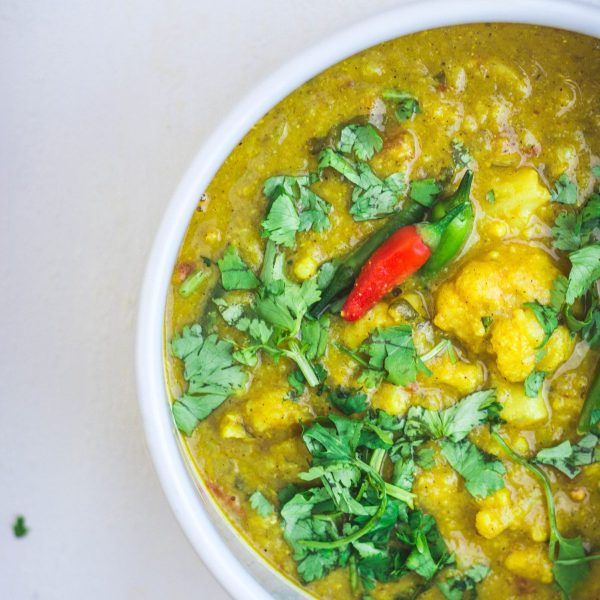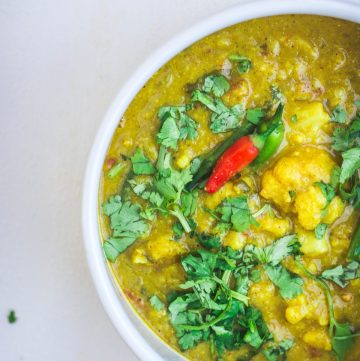 Print Recipe
Cauliflower Dal
Ingredients
1

cup

split red lentils/masoor dal; soaked overnight

or atleast 2-3 hours

½

head medium sized cauliflower; break into florets

3

tbsp

mustard oil

¾

tsp

turmeric powder

½

tbsp

panch phoron powder

1

small onion; chopped

3

medium garlic cloves; chopped

1

large tomato; chopped

3

green chillies

medium heat

Salt

to season

½

cup

fresh coriander leaves; chopped
Instructions
Cook the lentils with 3 cups water, salt and half of the turmeric powder till well done; mash and keep aside. (You may also use a pressure cooker to cook the lentils).

Heat the mustard oil in a large deep bottom pan and add the garlic and onion; sauté till the onions are light brown.

Then add the green chillies and tomatoes; cook down till the tomatoes turn mushy.

Add the remaining turmeric powder and panch phoron; mix and cook on low heat for 30 seconds.

Then add the cauliflower florets along with the cooked lentils; mix and season with salt if necessary. Add more water if the curry looks too thick and cook on medium heat till the cauliflower is tender and cooked well.

Garnish with coriander leaves.
Notes
This cauliflower lentil curry can have a thick consistency if you want to pair it with flatbreads or have a thinner curry consistency to be paired with steamed rice. Just adjust the amount of water accordingly.