Erachi Biryani or Malabar mutton biryani is a delightful treat to your tastebuds. A fragrant, aromatic and mildly spiced biryani, this is a dish perfect for all celebrations.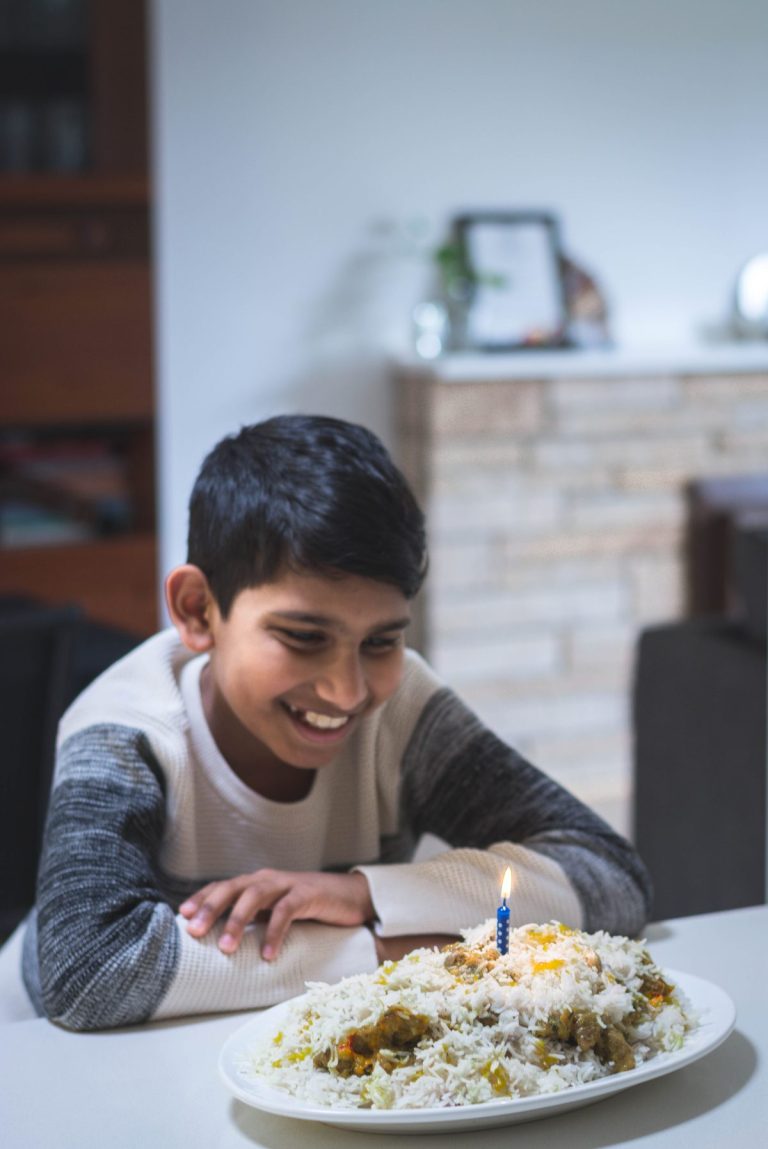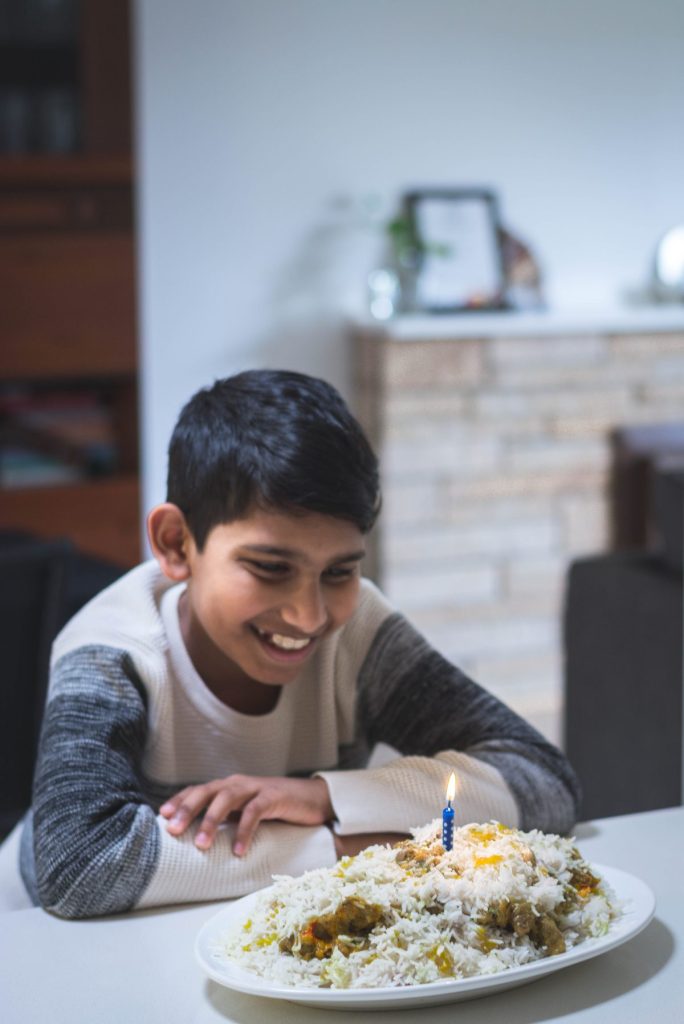 Remember this picture?
Many of you would have seen it on my social media pages. For those who haven't, this was how we celebrated Adi's birthday last month.
I had intended to share the recipe for this biryani soon after, but then the whole pandemic crisis started and suddenly it felt odd to write about food.
For a while, I felt confused. Do I still continue to blog? Should I change the kind of recipes I post? Should I change my conversation around food?
And then it struck me that food, blogging, photography, creating…..all of these are my 'normal'. If I stopped doing these, then I would be miserable. It was not the time to dwell on judgements and self-doubts; it was the time to focus on creating a world inside my home that's as normal and positive as it can get.
So I decided that I will continue to create recipes and blog about it just as I have been doing for the past 6 years. And I will not follow any trends, instead share with you the food that I like to make and enjoy with my family. Every day, its happiness, hope and nourishment that I serve on a plate and all of you are welcome to partake in it.
Getting back to the dish, this style of Mutton Biryani is popular amongst the Mappila or Muslim community of the Malabar region of Kerala (northern part of the state). All the other variations of biryani that exist in the state have originated from this style of cooking rice and meat.
This Malabar mutton biryani recipe in particular is from the cookbook, "The Family Table – Heirloom recipes from the AK Family".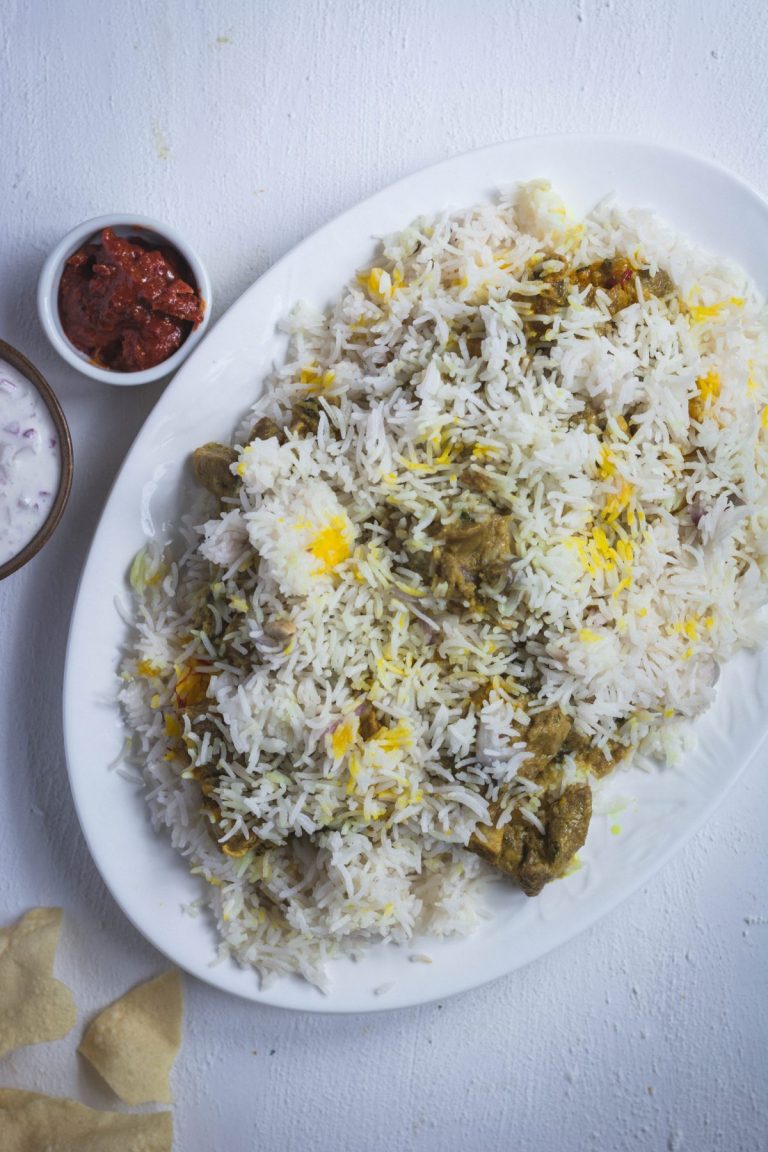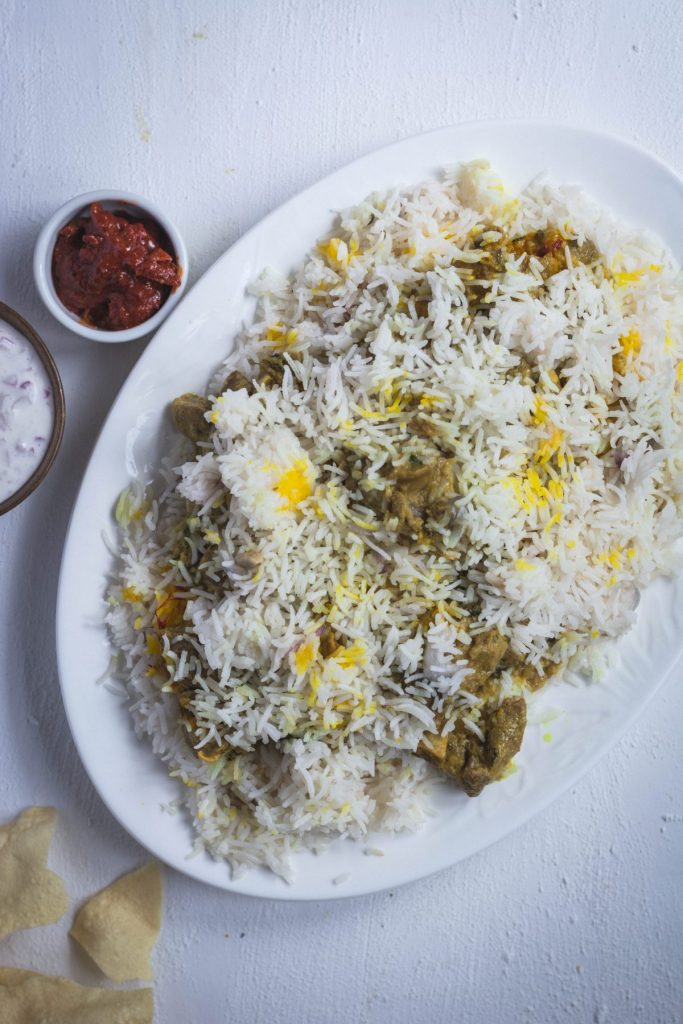 This is a family cookbook, a collective affair of the members of AK or Arinhal Karuvantevalappil family who belong to the Mappila community that I mentioned above. All the recipes mentioned in this one are heirloom recipes that are often passed on from generation to generation.
The Mappila cuisine is one that has been heavily influenced by centuries of trade especially with the Middle East, but you can also find influences of Dutch, Portuguese and English colonizers. There are many interesting delicacies from the region that you would hardly find anywhere else.
Personally, I have always been intrigued with the cuisine of this region and this cookbook offered me a deeper insight and also an opportunity to try out some of these recipes in my kitchen. And the experiments started with this Malabar Mutton Biryani.
If you have tasted the different styles of biryani from the different regions of India, then you will agree that the Malabar style is perhaps the lightest and most delicate. The ingredients are fewer in comparison yet it is a highly fragrant, aromatic and fragrant affair.
The use of Khaima or Jeerakasala rice; a locally available fragrant medium grained rice makes this biryani different to other styles which generally tend to use long grained rice. The Khaima rice is available in Melbourne in select Indian stores, but I had to compromise and use long grained rice itself. The lockdown was not in place but as a family, we had started practicing social distancing so I had decided to make do with what's available in my pantry.
Another compromise I had to make is the use of lamb leg instead of mutton. Again mutton is available here at select butchers but I couldn't get it and hence the use of lamb.
If you can easily find the Khaima rice and mutton, then I would strongly recommend to use that. Otherwise, you can still use long grained rice and lamb; I can assure you the result is still a very delicious Malabar mutton biryani.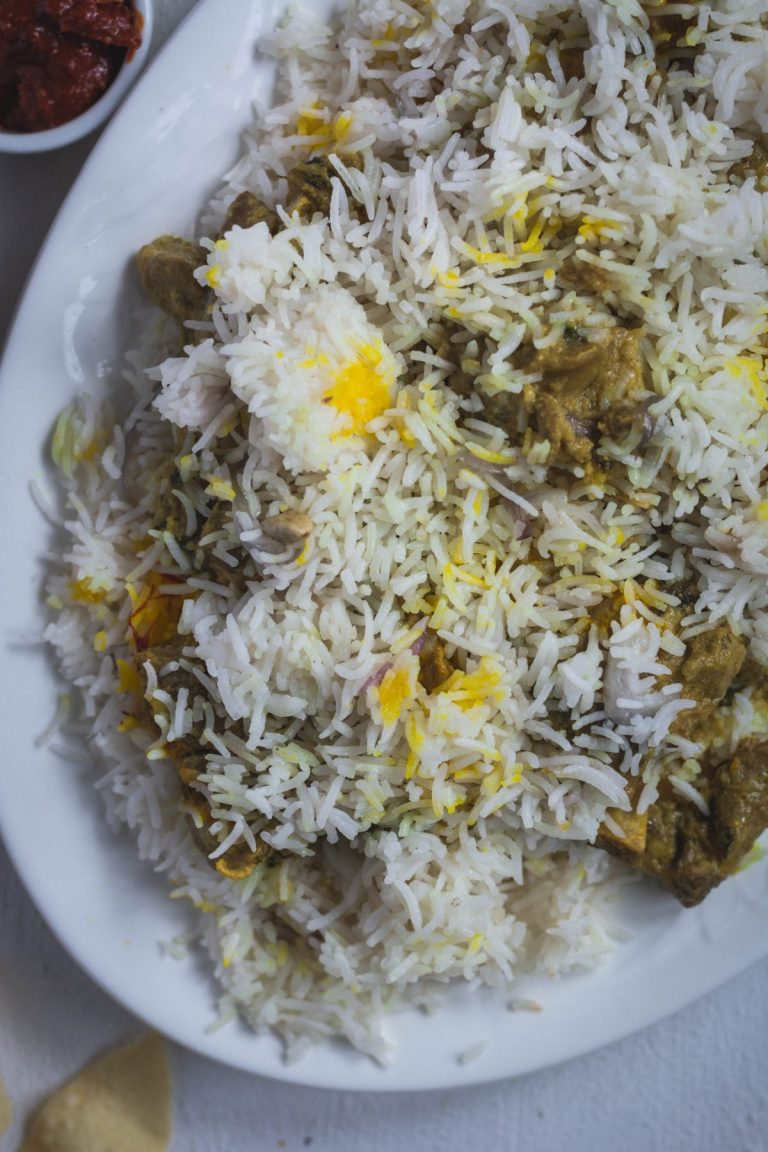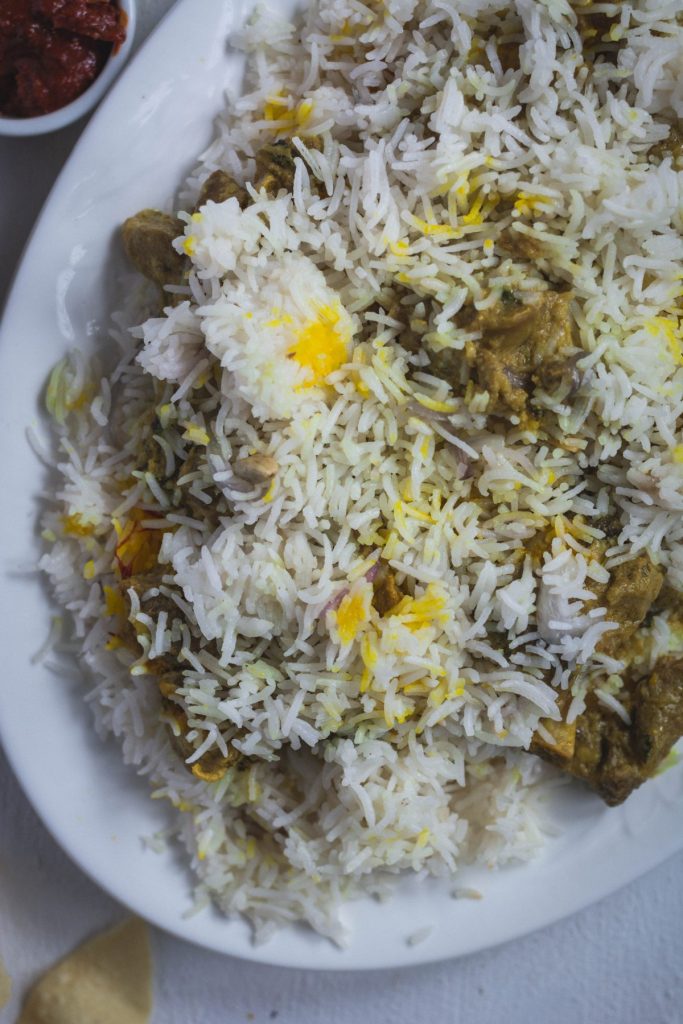 This style of biryani is referred to as the 'pukki' style where both the rice and meat is cooked individually and then layered and assembled to form the final dish. It might look laborious but actually, this is one of the easiest preparations as there aren't too many ingredients but rather it's a delicate play of whole spices and aromatics that create the flavour backbone of this dish.
So let's get right into this lipsmacking Malabar style Erachi or Mutton Biryani….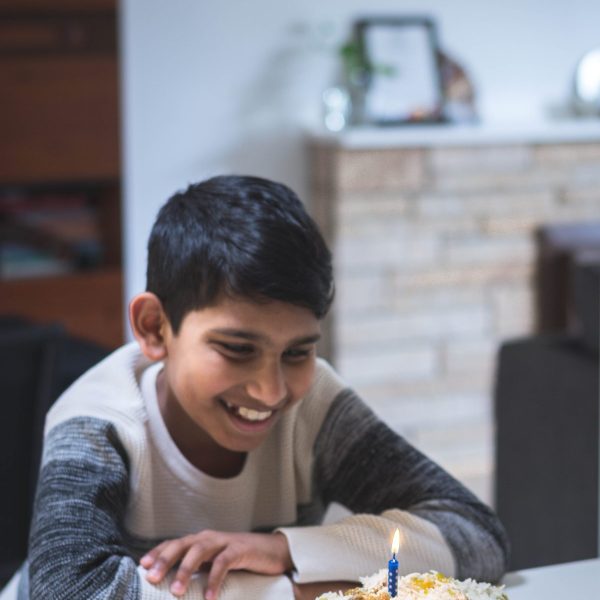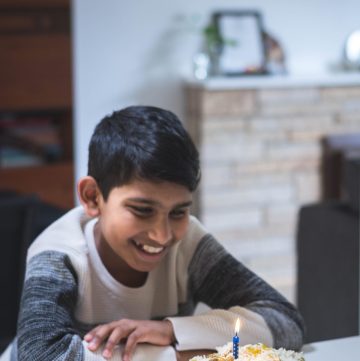 Print Recipe
Malabar Mutton Biryani
Ingredients
To prepare the rice:
750

gms long grained basmati rice

1

small red onion; finely sliced

4

cloves

4

green cardamom pods

1

inch

cinnamon bark

Salt

to taste

2

tbsp

ghee

Boiling water

double the quantity of rice
To prepare the biryani masala:
1.2

kg

lamb leg

on the bone; cut into medium sized pieces

12

green chillies

medium hot; adjust to heat preferences

7

medium garlic cloves

4

inches

ginger

8

medium sized red onions; finely sliced

if small, take 10 onions

1 ½

cups

fresh coriander leaves; finely chopped

1

tsp

turmeric powder

1

tsp

poppy seeds

khus khus

3

tbsp

lemon juice

½

cup

yoghurt

1

tsp

garam masala powder

1/8

tsp

saffron threads

4-5

tbsp

ghee

Salt

to season
Instructions
For rice:
Wash the rice well multiple times till the water runs clear; drain and keep aside.

In a large, heavy bottomed pot, heat the ghee and add the whole spices; fry on low heat till fragrant.

Then add the onions and sauté till softened (not brown). Next add the drained rice and fry on low heat till the rice gets toasted lightly (would turn shiny or make a crackling sound).

Next add the boiling water, season with salt and mix. Cook on high heat till ¾ ths of the water has been absorbed. Then reduce heat and cook covered till the remaining water has been absorbed and the rice has cooked completely.

(The rice to water ratio used is 1:2 and is the same even if you use khaima rice)
For biryani masala:
Soak the poppy seeds in 2 tbsp warm water for 15 minutes; grind to a paste.

Crush the ginger, garlic and half of the chillies in a mortar and pestle; keep aside.

Add the saffron to 1 tbsp lemon juice, mix and leave aside to infuse well.

In a large, heavy bottomed pan, heat ghee and add the onions; sauté till soft.

Then add the crushed ginger-garlic-chilli mixture and continue to sauté.

When the rawness of the aromatics has disappeared, add turmeric powder and season with salt. Also add the remaining whole chillies.

(The amount of chillies will need to be adjusted based on the variety used. If it's low heat variety, then increase the quantity used)

Mix well and add the lamb pieces along with the yoghurt. Mix and cook covered on low to medium heat till half done. (Remember there is no water used to cook the lamb so stir occasionally to ensure that it's not getting burnt. If the mixture feels too dry, add a few tbsp of water and not more.)

When the lamb is half cooked, add the remaining lemon juice. Taste and season with salt if necessary and continue to cook till the lamb is completely cooked and tender.

Finally add the coriander leaves and poppy seed paste; mix well and keep aside.
To assemble:
In a large serving platter or vessel, spread ¼ ths of the biryani masala.

Sprinkle a pinch of garam masala powder and then add a layer of rice. Sprinkle some of the infused saffron.

Then layer again with biryani masala and repeat the process till you have three layers of masala and rice.

Cover tightly and cook on low heat or in an oven for about 4-5 minutes.

Serve warm