A variation of the original, this Rocket Almond Pesto is delicious and super flavourful. Here are two fabulous recipes, Bruschetta with Rocket Almond Pesto and Tagliatelle with Prawns and Rocket Almond Pesto. Give it a try; I bet it's going to be a family favourite.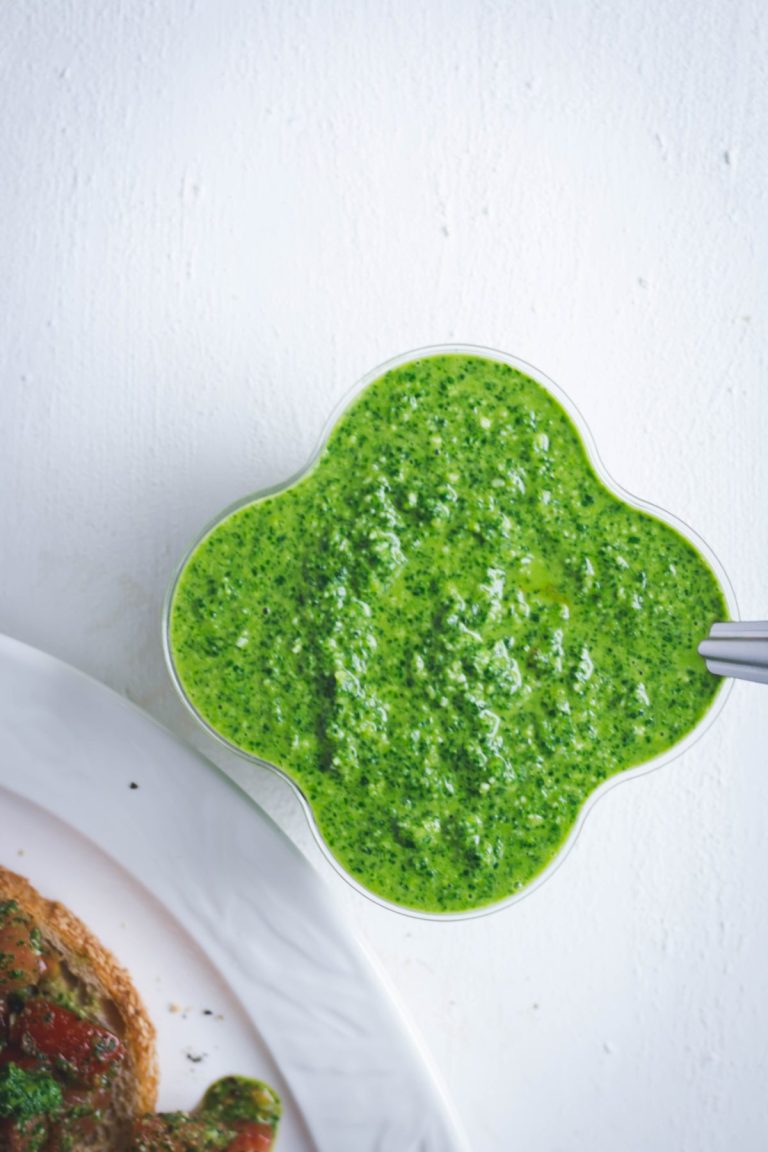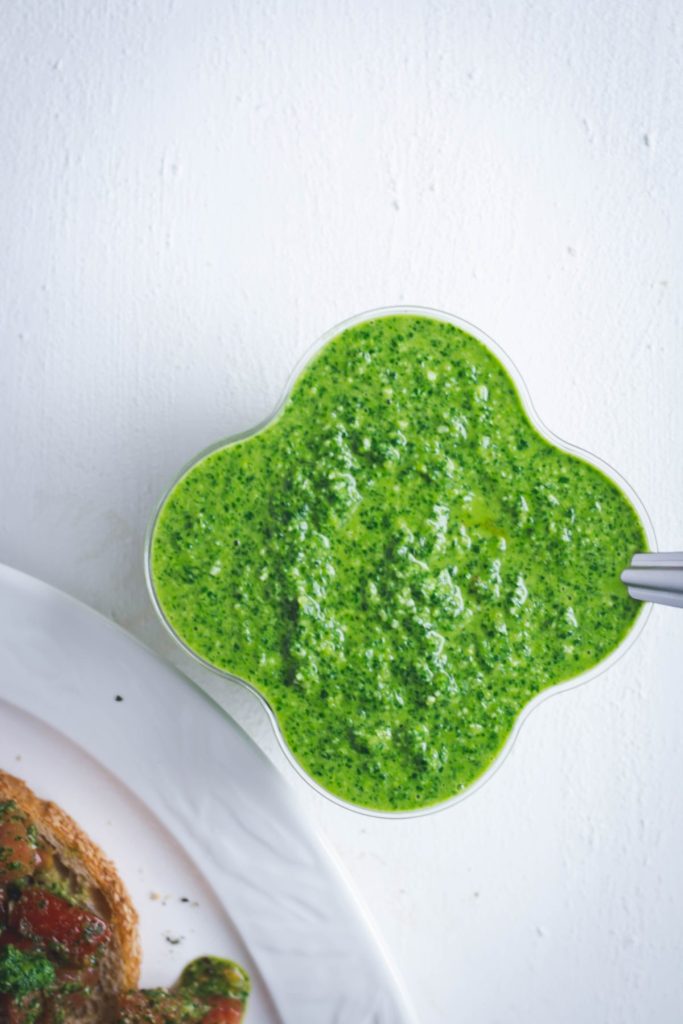 What is Pesto?
Pesto is an uncooked sauce that is believed to have originated during the 16th century in Genoa, a coastal city in Liguria, Northern Italy – hence the traditional name 'Pesto alla Genovese.'
In its most traditional form, a pesto comprises of basil, European pine nuts, olive oil, garlic, salt and a hard cheese like Parmigiano-Reggiano (Parmesan) or Pecorino Sardo pounded/grounded together in a wooden mortar and pestle.
Pesto is not just used for pasta preparations as many would think; it is an excellent spread/dip, salad dressing or even a side or condiment to accompany seafood or meats. I use it as a marinade too for grilled chicken skewers, pan fried prawns etc….
In the recent times, pesto has become extremely popular across the globe. And with this popularity came innovation!
The basic idea of making a pesto still remains the same. But a lot of people began experimenting with other herbs and greens since basil is mostly a summer herb and also not easily available everywhere. Same goes for pine nuts….it is expensive and sometimes hard to source which led to the use of other types of nuts.
There are so many replacements for basil these days….parsley, carrot greens, sun dried tomatoes, roasted bell peppers etc…. In fact, I make parsley pesto the most as I grow parsley in my garden. Also I use various nuts like cashews, almonds etc… based on what's in stock in the pantry.
This time, I decided to try out Rocket Pesto, and also sharing two delicious recipes using it.
Rocket greens, also known as Arugula or Roquette is widely popular as a salad leaf. It has a fresh, tart flavour with hints of pepperiness which I thought would be great in a pesto.
Also since I had almonds in the pantry, decided to use it instead of pine nuts.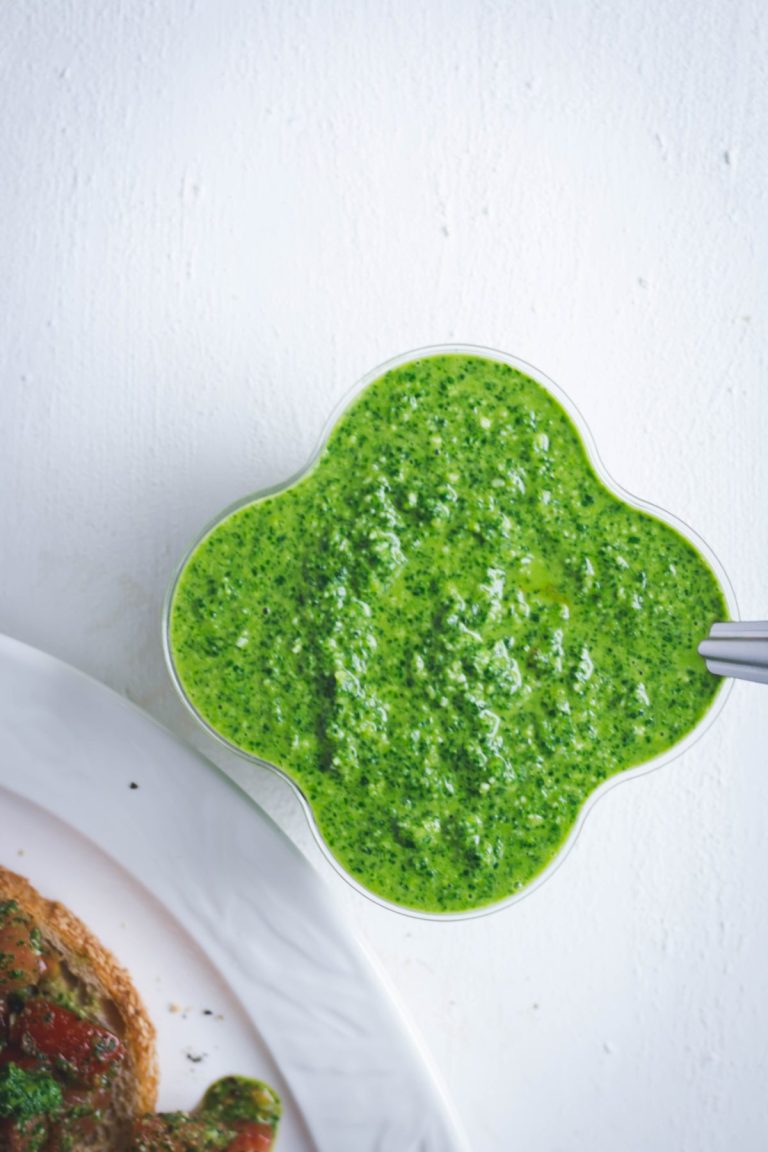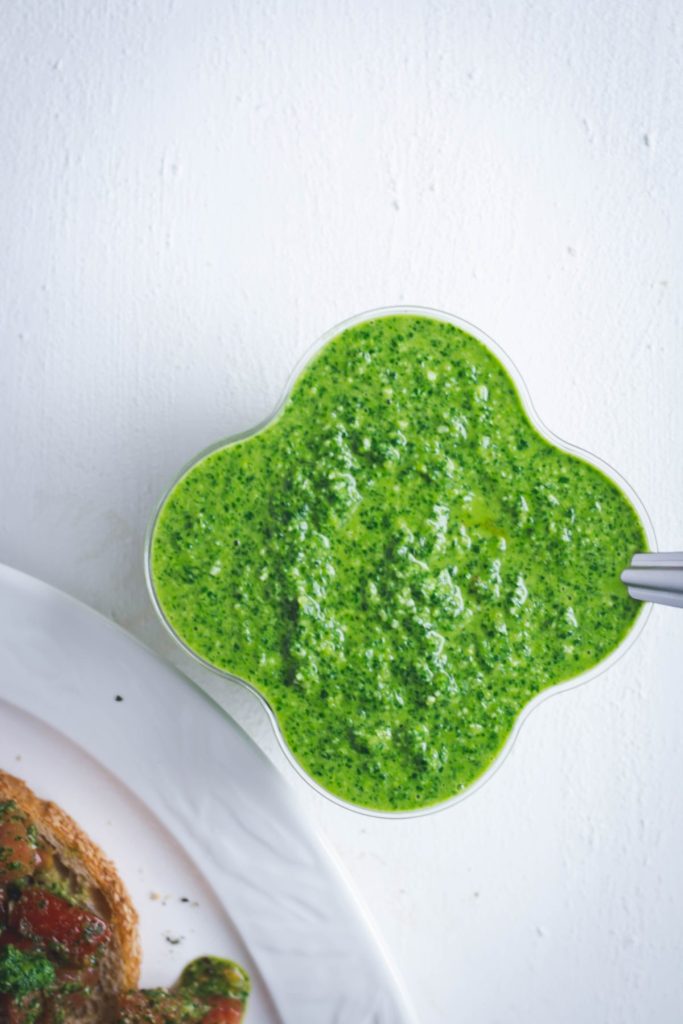 Pesto is great for freezing, so I always make double the quantity and freeze one portion for a busy workday meal.
While the traditional way is to use a wooden mortar and pestle, most of us do not have the time or energy for it. So of course it's a blender or food processor that does the job in minutes.
While pesto is a super easy sauce, it is important to have the best quality ingredients and fresh herbs/greens. Extra virgin olive oil is the best but a good quality cold pressed olive oil will also do the job.
As I mentioned earlier, pesto can be used in so many different ways. Today, I am sharing two of our favourites – Bruschetta with rocket almond pesto and Tagliatelle with prawns and rocket almond pesto.
Rocket Almond Pesto
Ingredients
150

gms fresh rocket leaves; washed and drained

60

gms almonds

skinless

2

medium garlic cloves

1

small chilli

optional

50

gms parmesan; grated

1

cup

virgin olive oil

Salt

to season
Instructions
Since I prefer to use skinless almonds, I soak the almonds overnight or for a few hours in warm water which helps to easily peel off the skin. Alternately you can also use crushed or almond flakes if you have that on hand.

In a blender/processor, add the rocket leaves, almonds, garlic, chilli and blitz for a minute.

Scrape the sides and add the parmesan and half of the olive oil. Blitz again for a minute.

Add more olive oil if necessary and blitz again to get a thick chunky sauce like consistency.
Notes
Freeze the leftover pesto in airtight containers; keeps for 3 months
Bruschetta with Rocket Almond Pesto
We all love a good bruschetta; an easy snack that celebrates the sweetness of tomatoes. But try adding a spoonful of this rocket almond pesto to the chopped tomatoes before piling it on some crusty bread. Delish!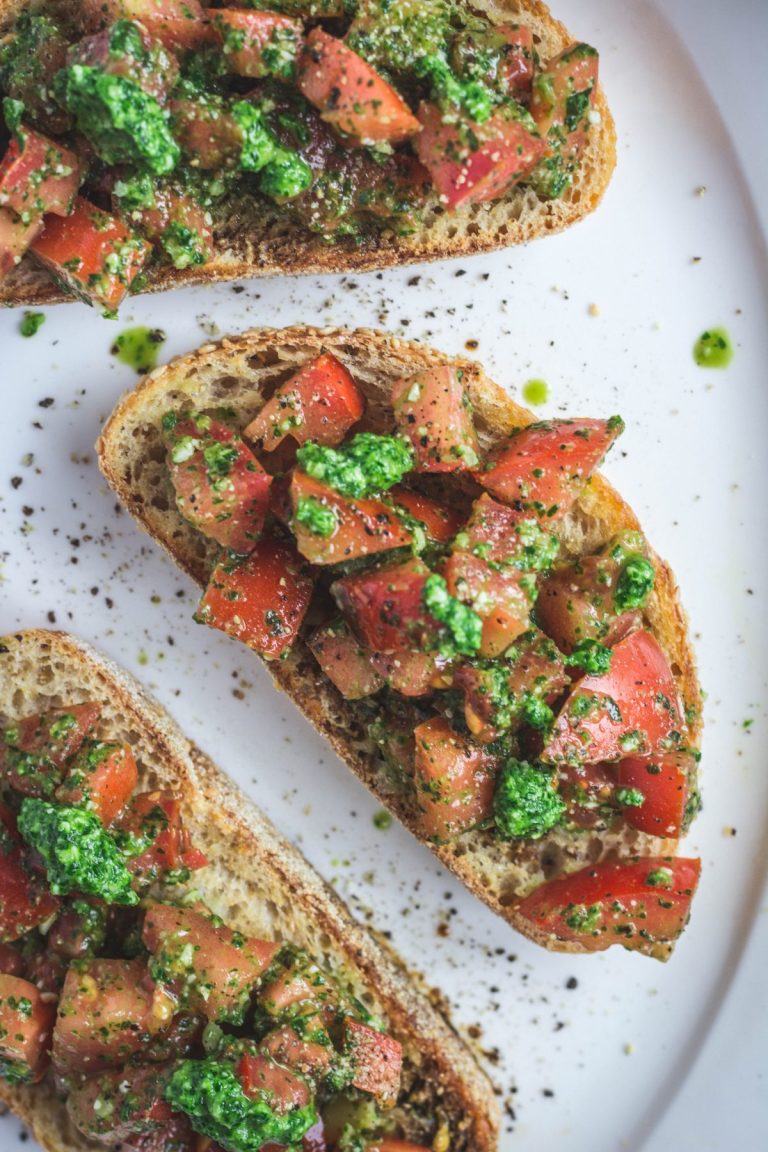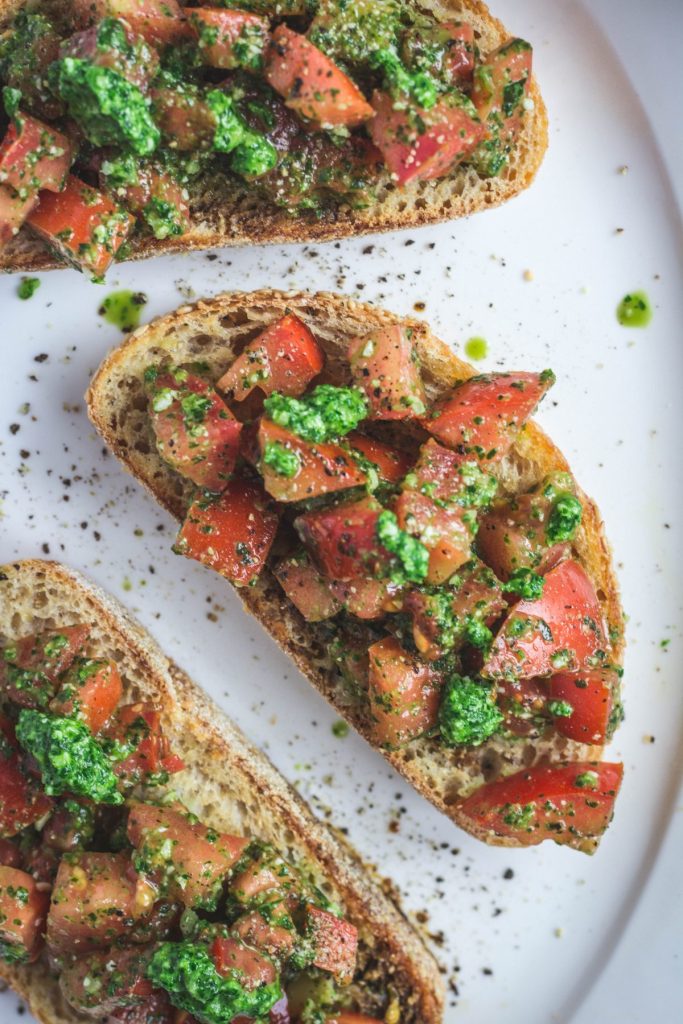 Bruschetta with Rocket Almond Pesto
Ingredients
6

slices

toasted sourdough

2

ripe tomatoes; remove seeds and cut into small cubes

Balsamic vinegar/reduction; to drizzle

1-2

tbsp

rocket almond pesto

Salt

to season

Black pepper; to season
Instructions
It's important that the sourdough slices are well toasted or it will go soggy when topped with tomatoes.

In a bowl, add the chopped tomatoes and mix the pesto through it. Season with salt

Top the sourdough slices with the tomato mixture.

Season with crushed black pepper and drizzle with the balsamic reduction.

Serve immediately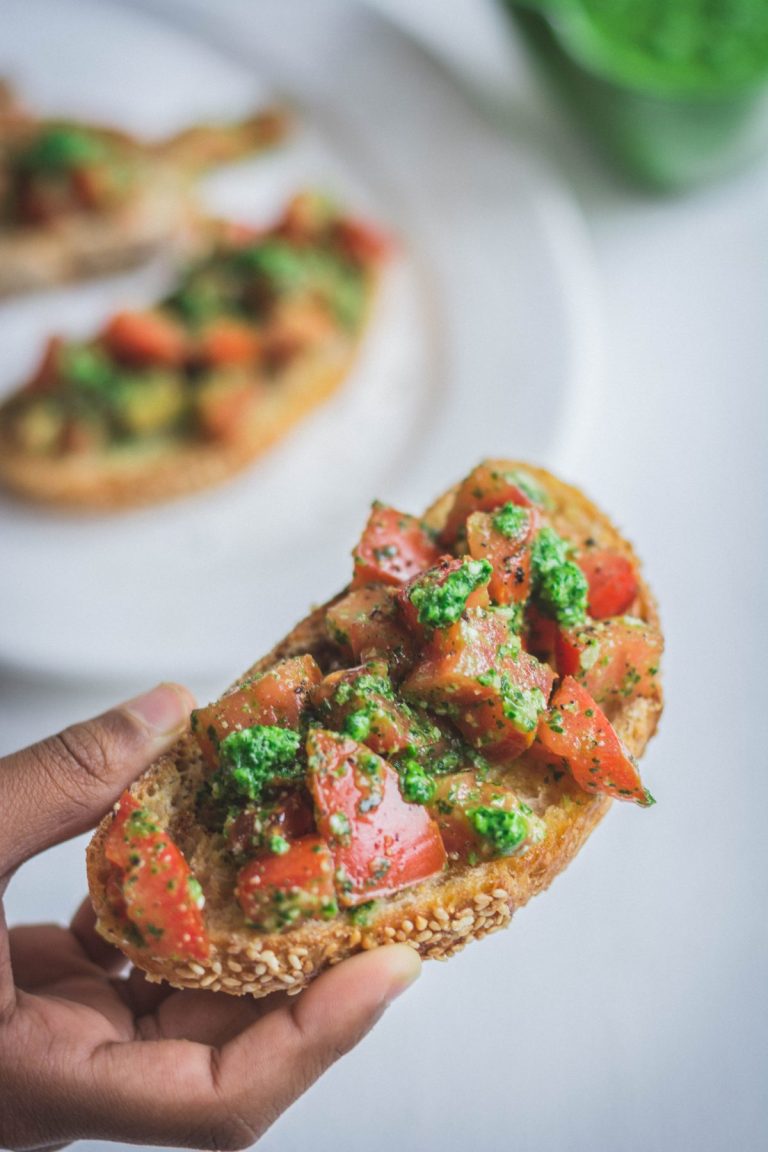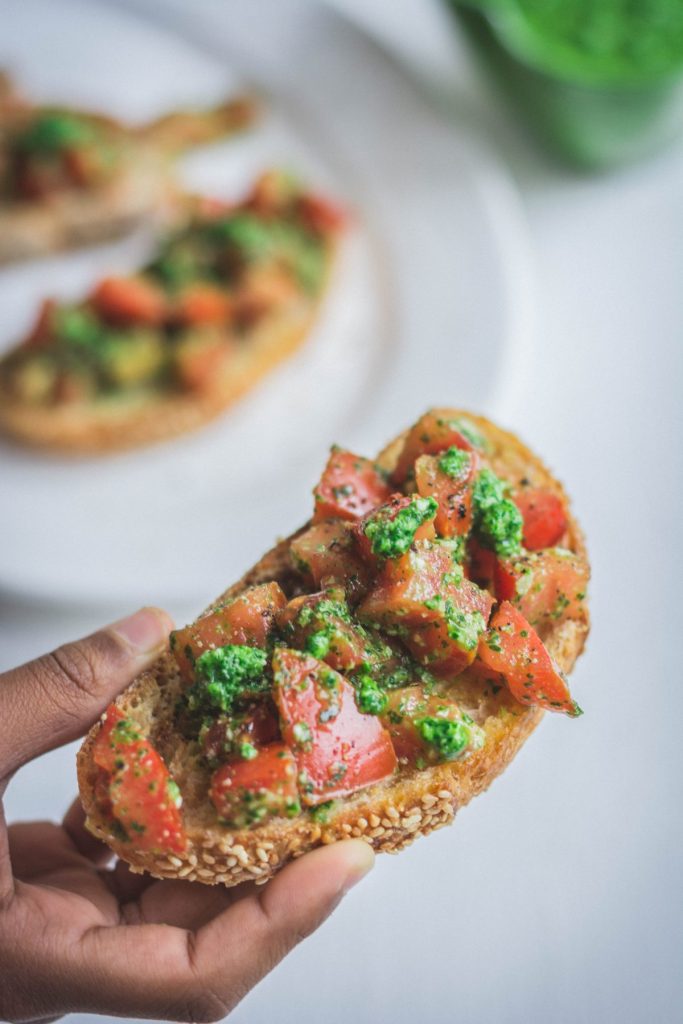 Tagliatelle with Prawns and Rocket Almond Pesto
Every time I make a batch of pesto, I have to make this pasta dish. It's super simple but so delicious and flavourful. Sometimes I marinate the prawns with the pesto and simply grill it as a side but when I want a meal, it's a combination of pasta, pesto and prawns!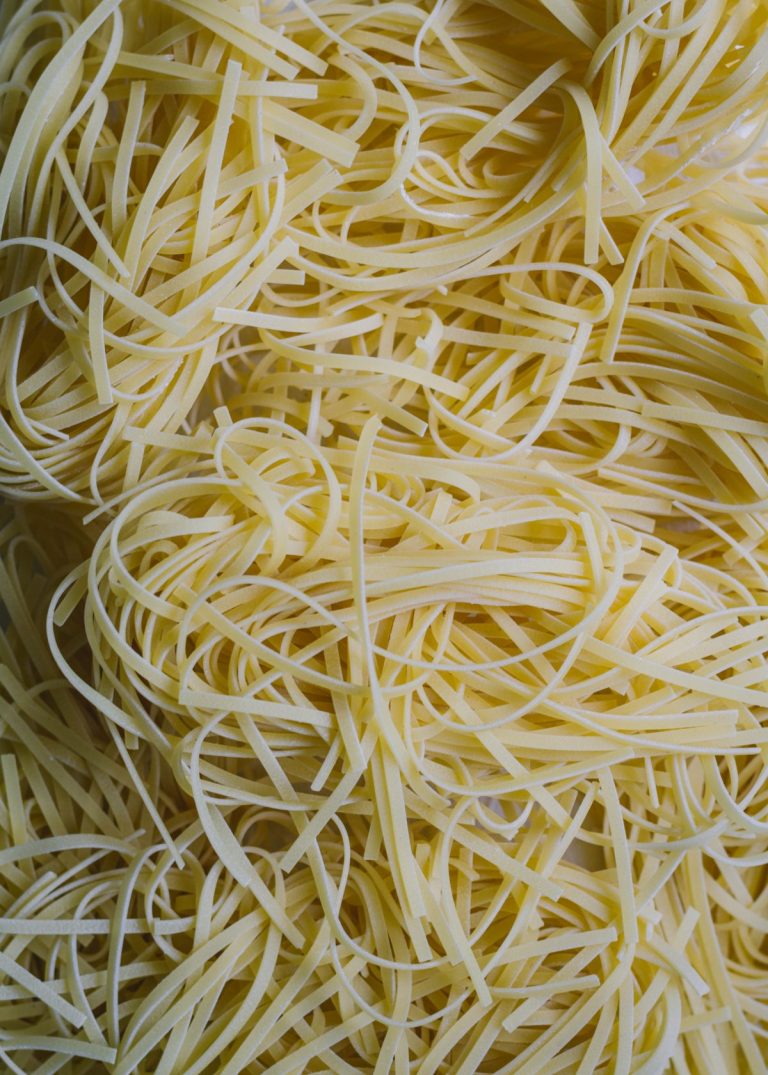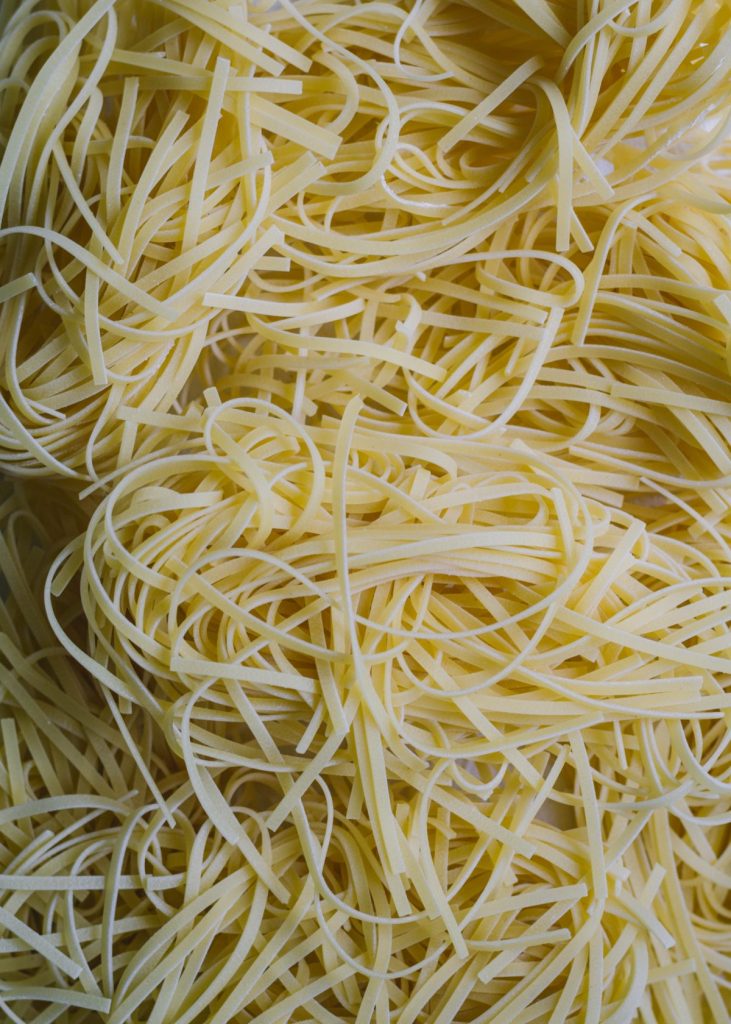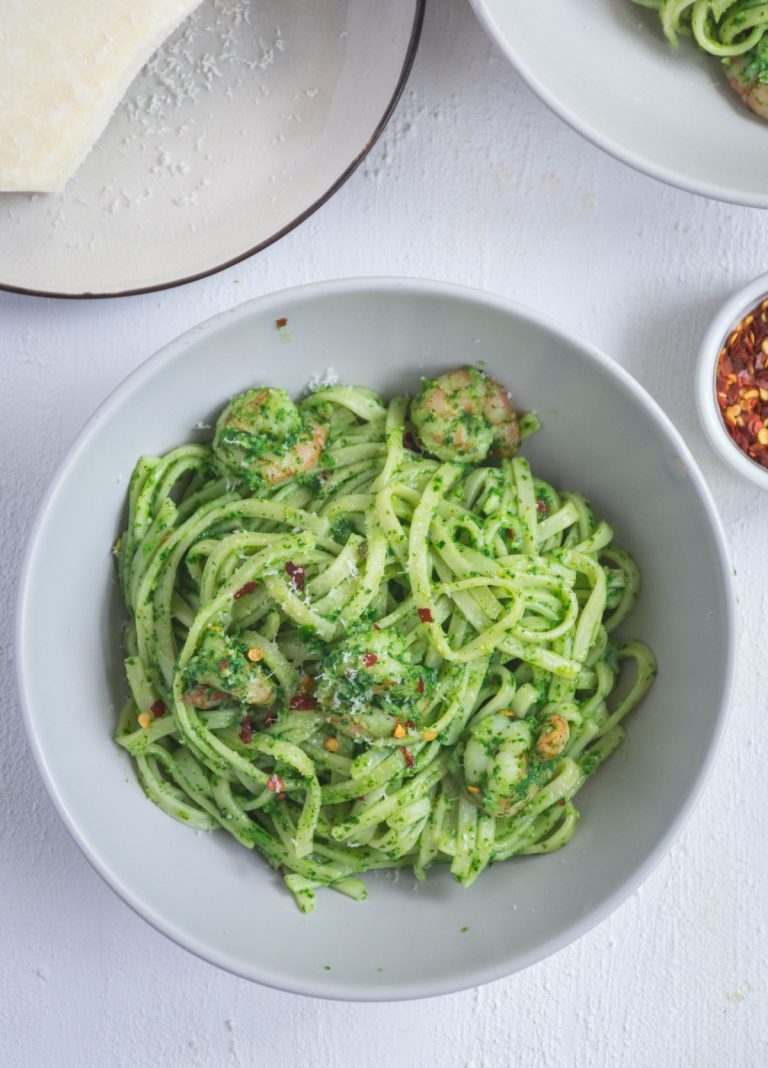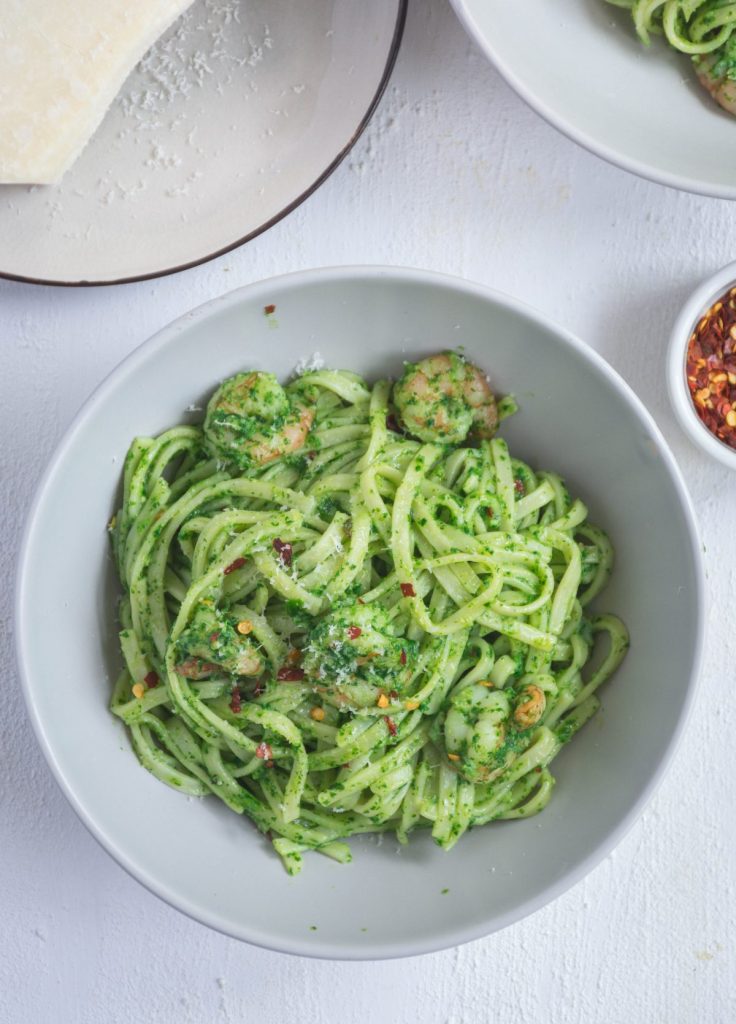 Tagliatelle with Prawns and Rocket Almond Pesto
Ingredients
500

gms tagliatelle

300

gms medium sized prawns; deshelled and deveined

2

tbsp

olive oil

1

cup

rocket almond pesto

Chilli flakes; optional

Salt

to season

Parmesan; as much as you wish
Instructions
Cook the tagliatelle in salted boiling water as per packet instructions. Drain and reserve ½ cup pasta water.

In a deep bottomed pan, heat the olive oil and add the prawns. Season with salt and cook the prawns for 2 minutes on medium to high heat.

Then reduce heat and add the pesto; mix and continue to cook for another 1-2 minutes till the prawns are cooked through.

Add the drained tagliatelle and toss well with the prawns and pesto. If it feels too dry, add some of the drained pasta water.

Serve warm, garnished with chilli flakes and grated parmesan
Notes
Most styles of pasta can be used for this recipe.