The idea for this recipe came out during one of the weekly ritual calls that I make to my mom. It is often a long one; filled with food conversations, ideas, TV shows, rants, gossips, the latest fashion trends etc…. I share more of a girlfriend relationship with my mother rather a daughter one; this caused plenty of problems while growing up but after I hit my 30s, it blossomed into this calm and silent understanding and acceptance of each other.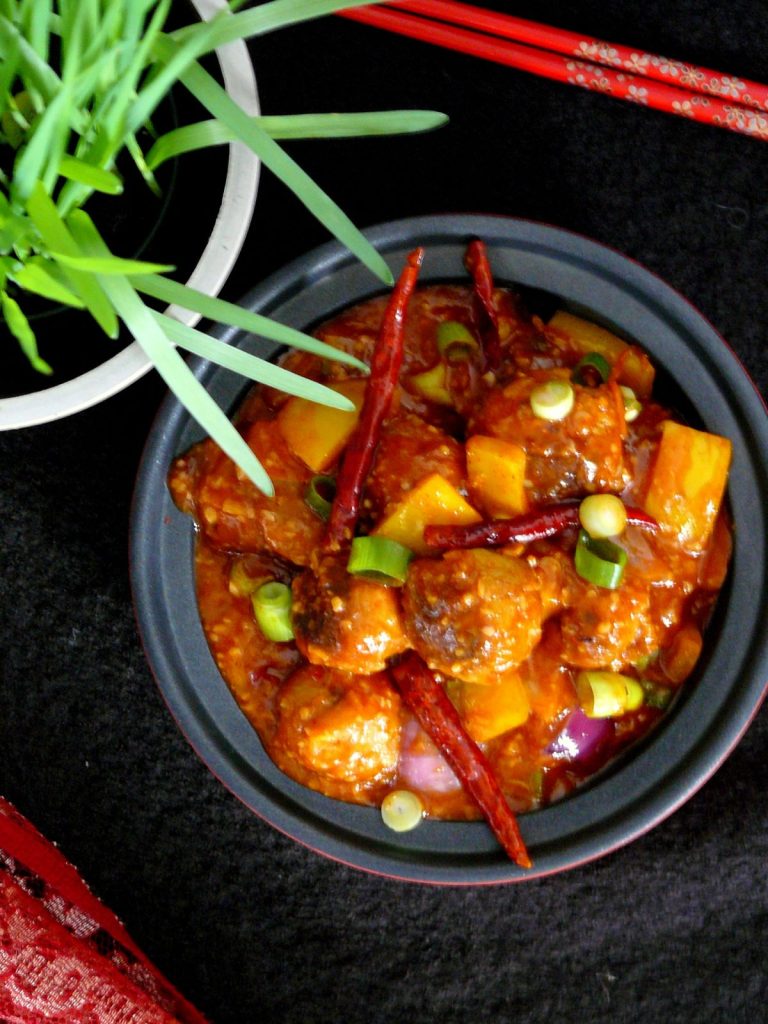 So now, we don't tear each other's head off, we just talk……for hours!
During one of those conversations, my mom mentioned about a cookery competition that she was going to take part in. Oats was the ingredient around which the competition revolved and as the mother-daughter brainstorming went on, the idea of making oats kofta came about. But what next, should we go the Indo Chinese route or should we make a traditional curry with the koftas?
Both of us decided on the Indo Chinese route but her dish turned out be way different from this one. To cut a long story short, her dish didn't win any prize but we both had a new and rather fascinating dish to add to our culinary repertoire.
If you are familiar with Indo Chinese flavours, then this dish is no surprise except for the fact that oats is the main ingredient in the koftas.
But if you are new to the term 'Indo Chinese', then let me give you a brief intro. During the times of the Indo China war, a lot of migrants from China came across the border and settled in the North Eastern states including West Bengal. The community soon realized that food can be a source of livelihood but the traditional Chinese cooking would not work in India due to lack of certain ingrdients and also preference for bolder flavours especially the fascination with heat and spice. This was the beginning of the modern fusion cuisine which came to be known as 'Indo Chinese' or 'Chindian'. The earliest Indo Chinese restaurants opened in Calcutta and other parts of West Bengal and soon this cuisine spread like wildfire all across the country. Today, Indo Chinese food holds a much coveted spot on the tastebuds of this nation.
For this dish, I have gently toasted the oats with onions and aromatics and then mixed it into boiled potatoes to form the koftes. Since I wanted to keep the dish entirely vegetarian, the koftes are lightly dusted with a mixture of corn flour and all purpose flour and shallow fried.

The crucial part of the dish is handling the koftes with a bit of tender loving care! Since there is no heavy coating, the koftes have to be shallow fried with care to avoid breakage. And the same rule that applies to all other Indo Chinese dishes; this one too has to be served warm immediately after preparation.

So enjoy delicious oats koftes dunked in sweet and spicy chilli sauce, Indo Chinese style!