Today, the Chettinad Meen Varuval gets a grillin!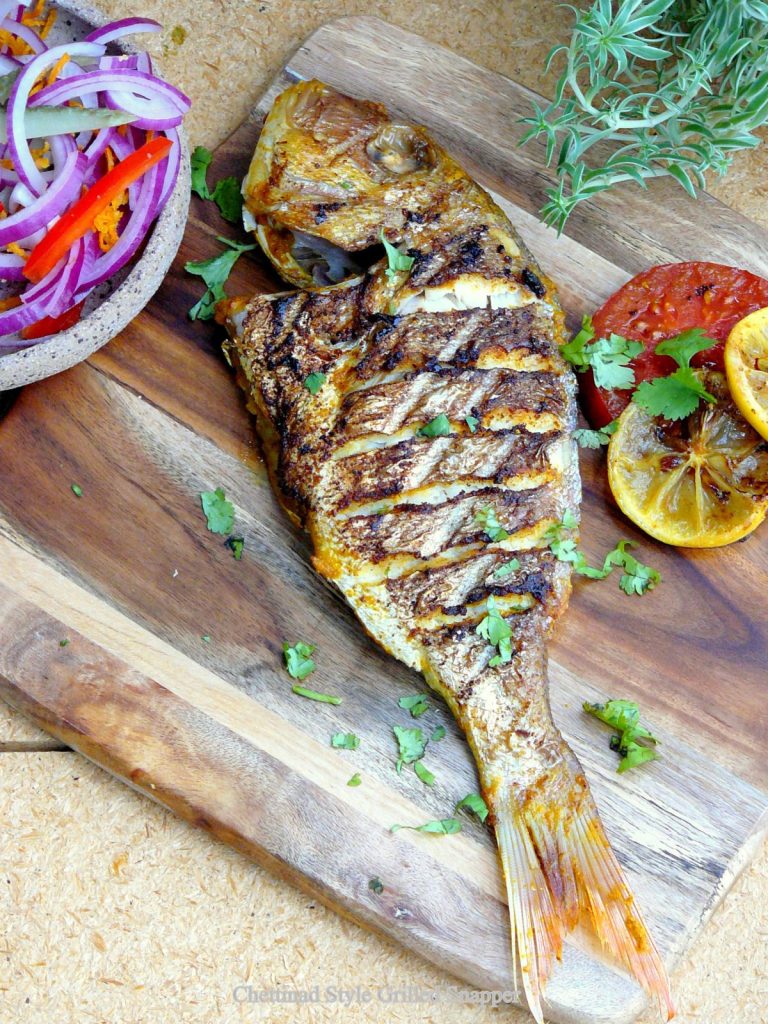 Meen Varuval aka fried fish….the term cannot get more generic than that. There are a zillion ways for frying fish in India itself (forget about the other cuisines of the world). Now I cannot claim to have eaten all the different types but my excessive fondness for seafood has led me to try a large chunk of it.
The Chettinad style of fried fish is one among the simplest yet more flavourful ones that I have had. The marinade is simple with a few spices and aromatics but the defining flavour comes from the red chilli powder which is obtained by grinding dry round chillies (known as goondu milagu in the native language). These chillies have a sweet smoky flavour and are easily available at most Indian and Asian grocers.
Traditionally fried, but I am grilling this beautiful whole snapper that I picked up at my local farmer's market. I would totally recommend to marinate the fish ahead of time to let the flavours seep in. You can any kind of fish for this; the traditional favourite is Spanish mackerel or kingfish but I would recommend just about any fish including salmon (just don't overcook it though).
Barbecue season will be upon us soon and this grilled snapper can be the perfect centrepiece for your party. A side of salad or grilled vegetables and you have a delicious winner on your hands.
Ingredients:
1. 2 whole red snapper; cleaned and gutted, keeping the head
2. 3 – 3 ½ tsp red chilli powder (made by grinding dry goondu milagu)
3. 1 tsp turmeric powder
Read the full recipe here.

Recipe developed, styled and photographed for Supreme Seafood.