My first taste of goat's milk was when I was around 10, while living in the Middle East.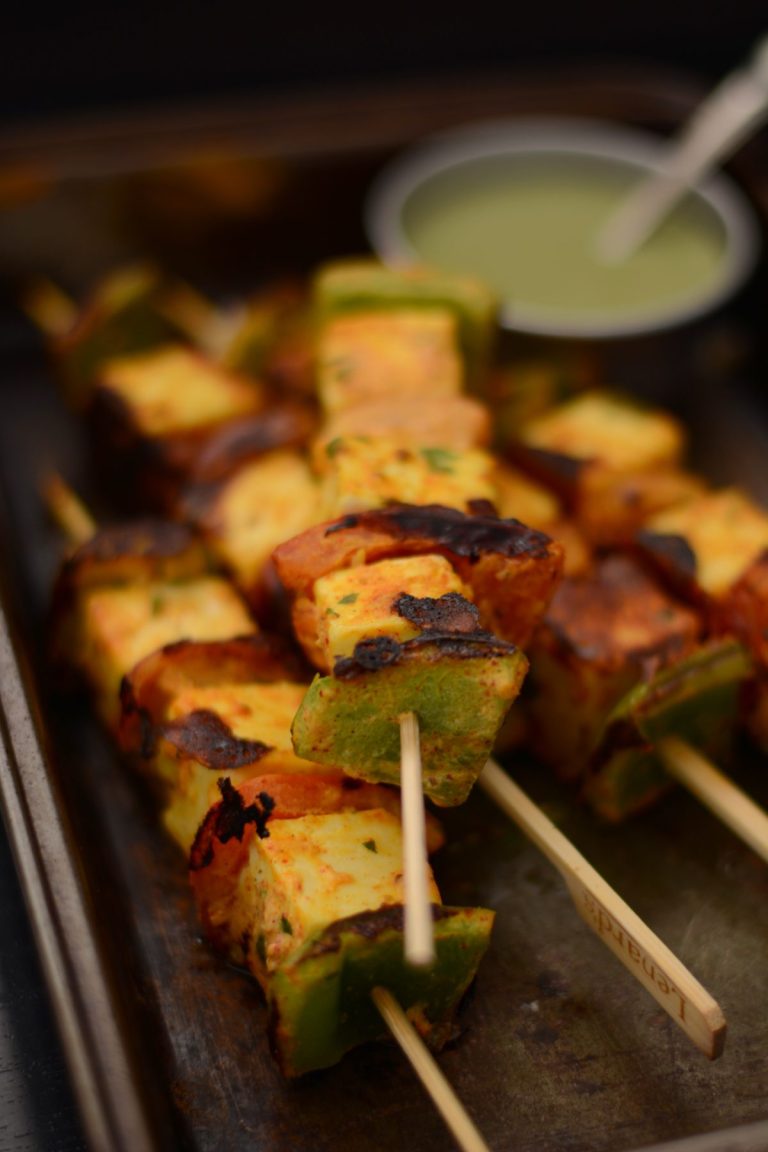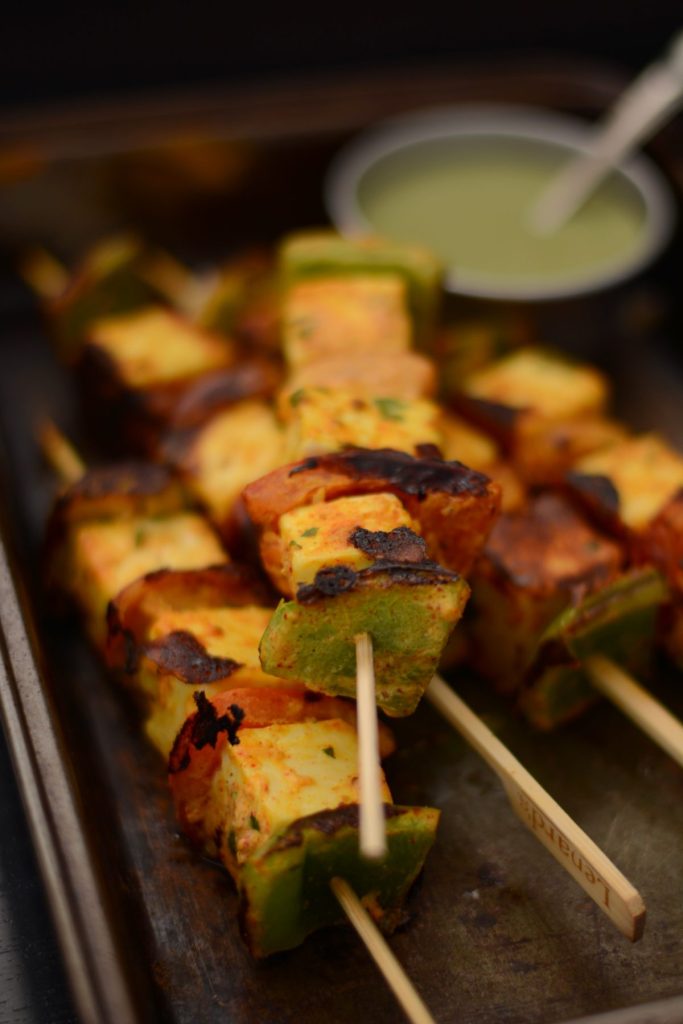 We had friends who used to work on dairy farms owned by the rich Arabs and they would bring us all sorts of delicious and exotic foods that were not so commonly available back then. Exotic varieties of dates, goat's milk, sheep's milk, yoghurt…..the best kind which were exclusively farmed for the rich families and not for sale.

I had almost forgotten what goat's milk or yoghurt tastes like until recently when I got the opportunity to sample the same from CapriLac.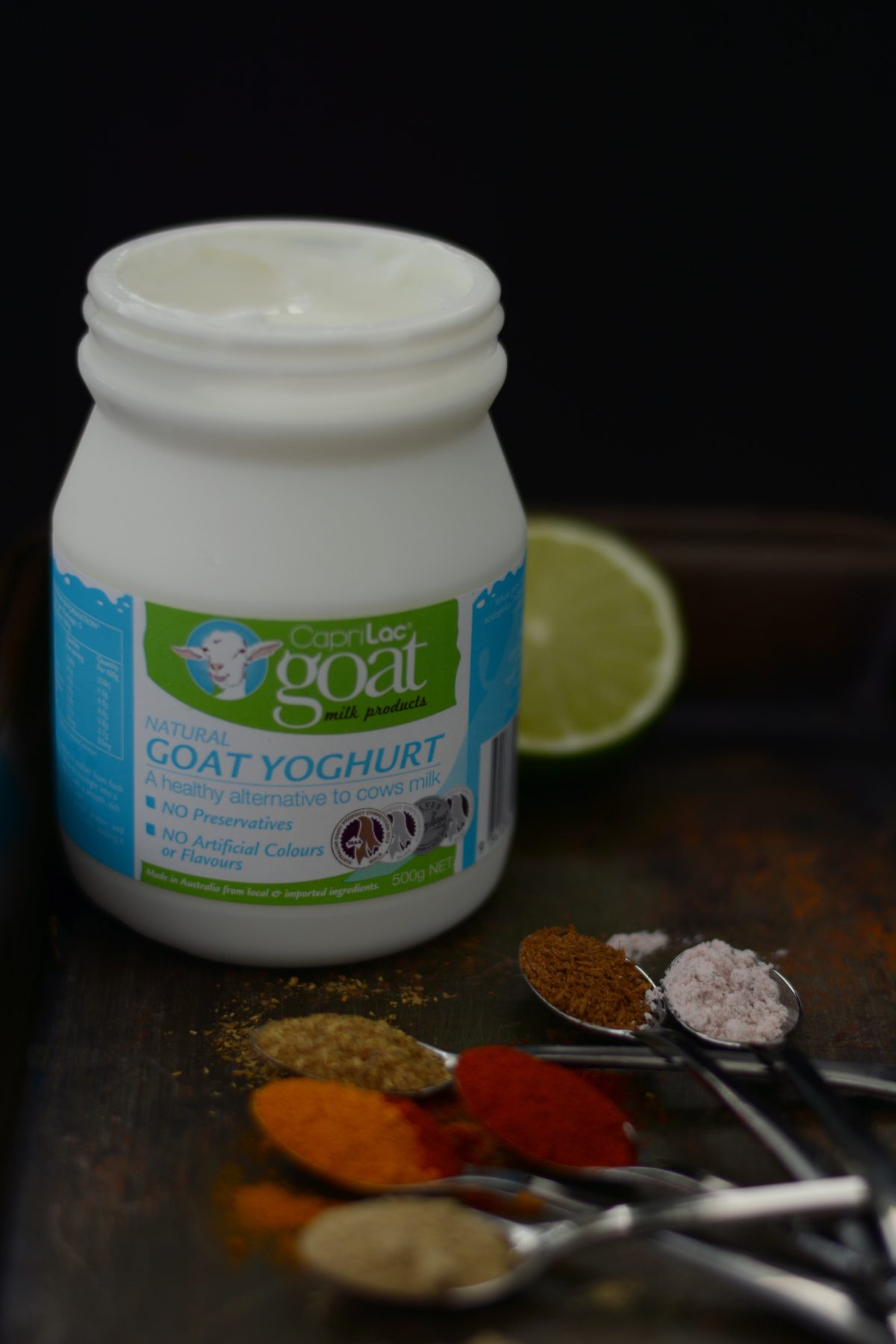 Remember this vegan, dairy free almond yoghurt green smoothie and coconut yoghurt zucchini dip using No Udder products? CapriLac belongs to the same group but specializes in goat's milk, yoghurt and goat's milk powder.

Now you would ask, why goat's milk?

Goat's milk is not necessarily healthier than cow's milk on a strict comparison basis. But it definitely has its merits. It has less lactose, a tab bit less sugar and also more calcium, potassium and Vitamin A than cow's milk. It is also more easily digestible as it has a chemical structure which is quite similar to breast milk and hence is a great dairy alternative for those who have sensitive tummies. It is also less allergenic. So in a nutshell, it can be a great alternative to cow's milk.
Goat's yoghurt does not taste much different to cow's yoghurt. I felt it is creamy but less sour than the cow's yoghurt which makes it perfect for today's paneer skewers.

CapriLac Goat products are Australian made (the milk comes from their own farms). No preservatives, no flavours, no additives…..which makes it a really good product for your family's use.

I wanted to use goat's yoghurt for a traditional Indian dish that has become a global favourite – tandoori.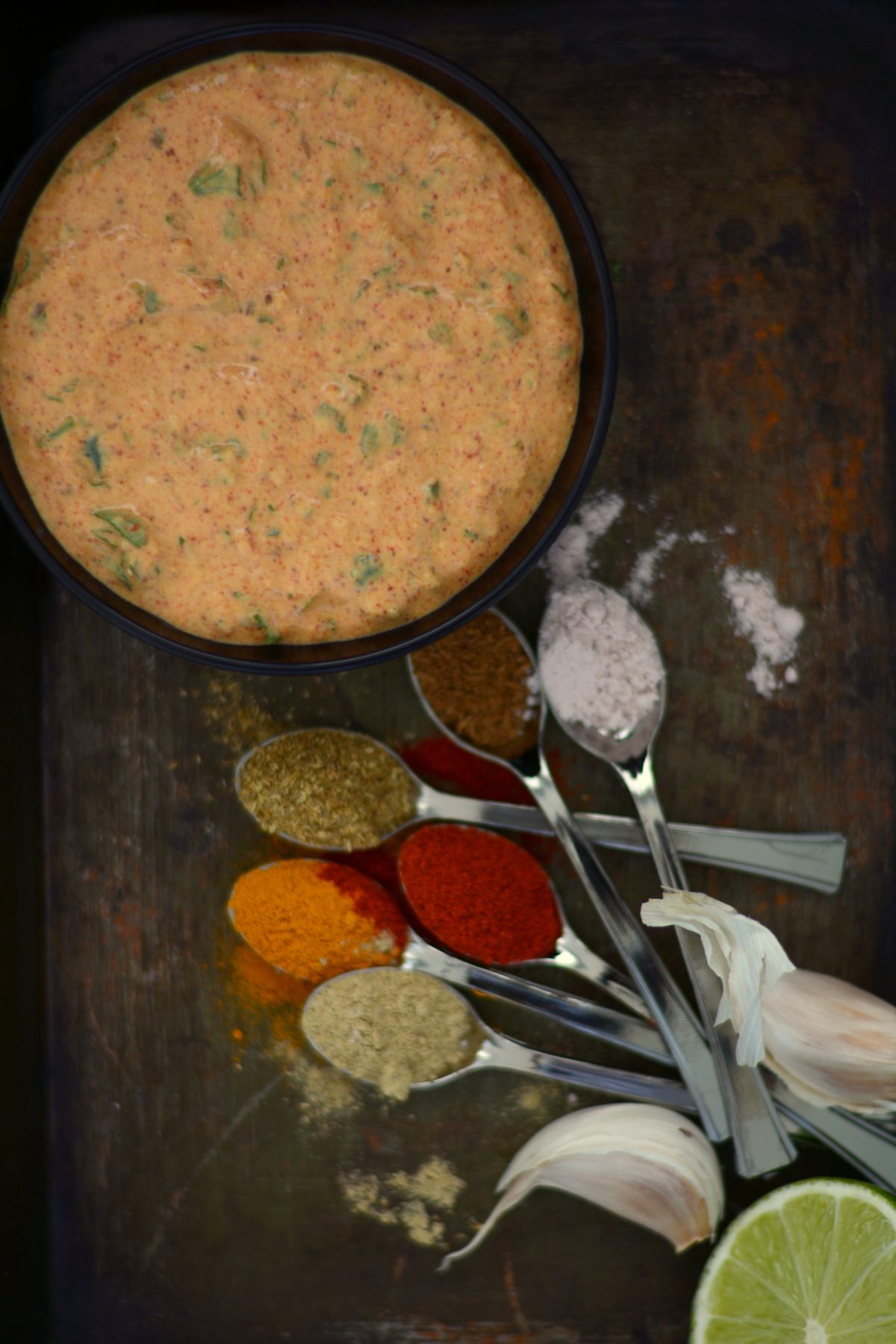 Myths and misconceptions regarding tandoori are rife and rampant. To being with tandoori refers to a dish that has been cooked inside a tandoor, a specialized kind of clay oven. The tandoor arrived in India through the Persian traders and even today, you can find plenty of households in Iran use the tandoor on a daily basis.

So technically the 'tandoori' refers to any dish prepared inside a tandoor but these days, the name has also been extended to dishes which use the traditional spice marinade. Again, this marinade has quite a few variations and this one is my version perfected after a lot of trial and error. I do not like to use besan (chickpea flour) in the marinade but prefer to keep it light with just yoghurt, aromatics and spices.

Paneer, as all of us know is Indian cottage cheese and now so commonly available in mainstream supermarkets. Now this is made from cow's milk so those of you who wish to avoid it can use the same recipe for preparing mixed vegetable skewers (mushroom, broccoli, cauliflower), tofu, chicken or prawn skewers.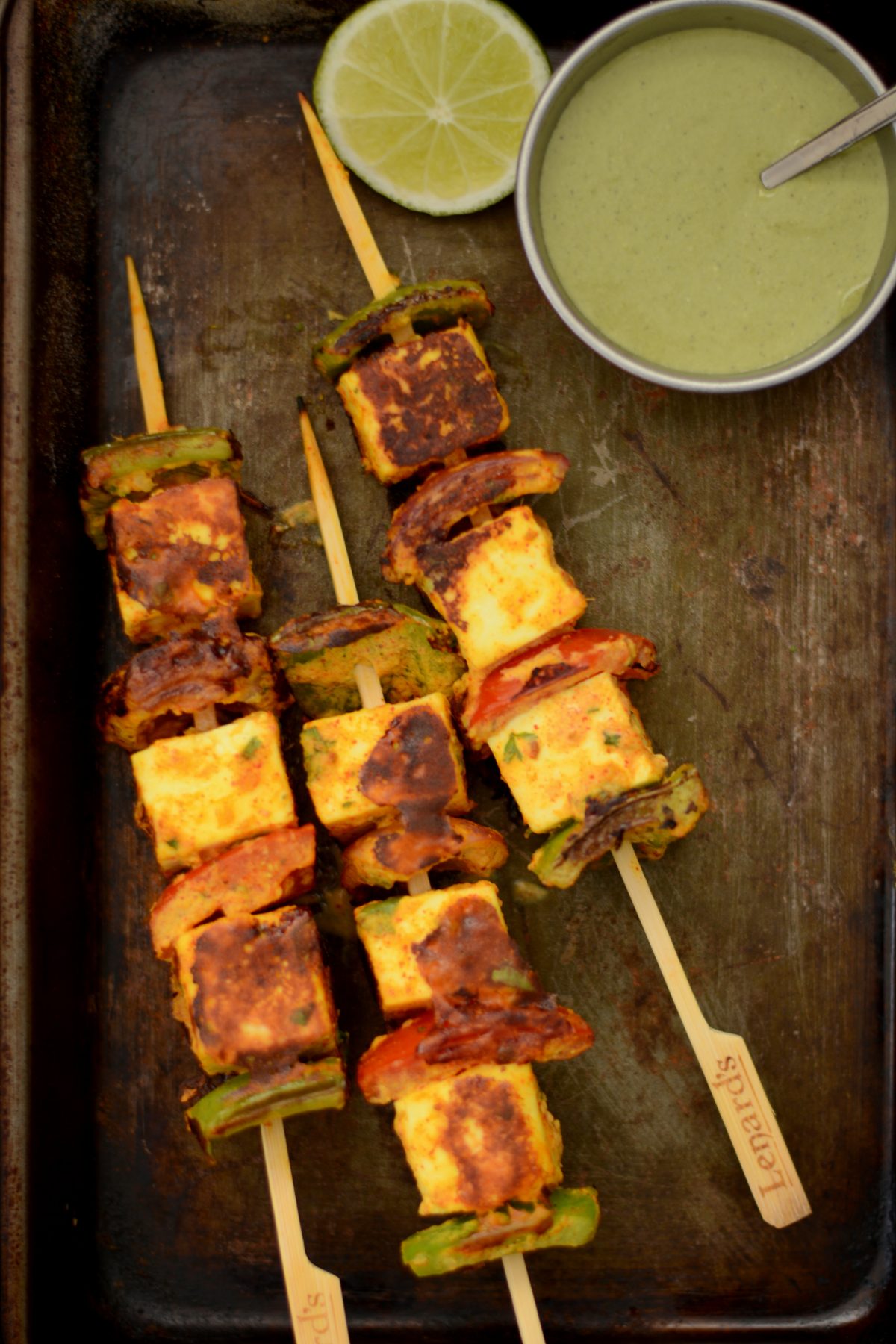 Tandoori Paneer Skewers are an excellent party starter. In fact, it is a hit every time I make it for guests. It's flavourful, delicious, pairs equally well with beer, cocktails or wine and just the right summer party food. Perfect for your meatless Mondays too; pair with a simple green peas pilaf and mint coriander dip like I did.

If you have a tandoor at home, that's great but since most of us will not have it…grilling or pan fry is the best option.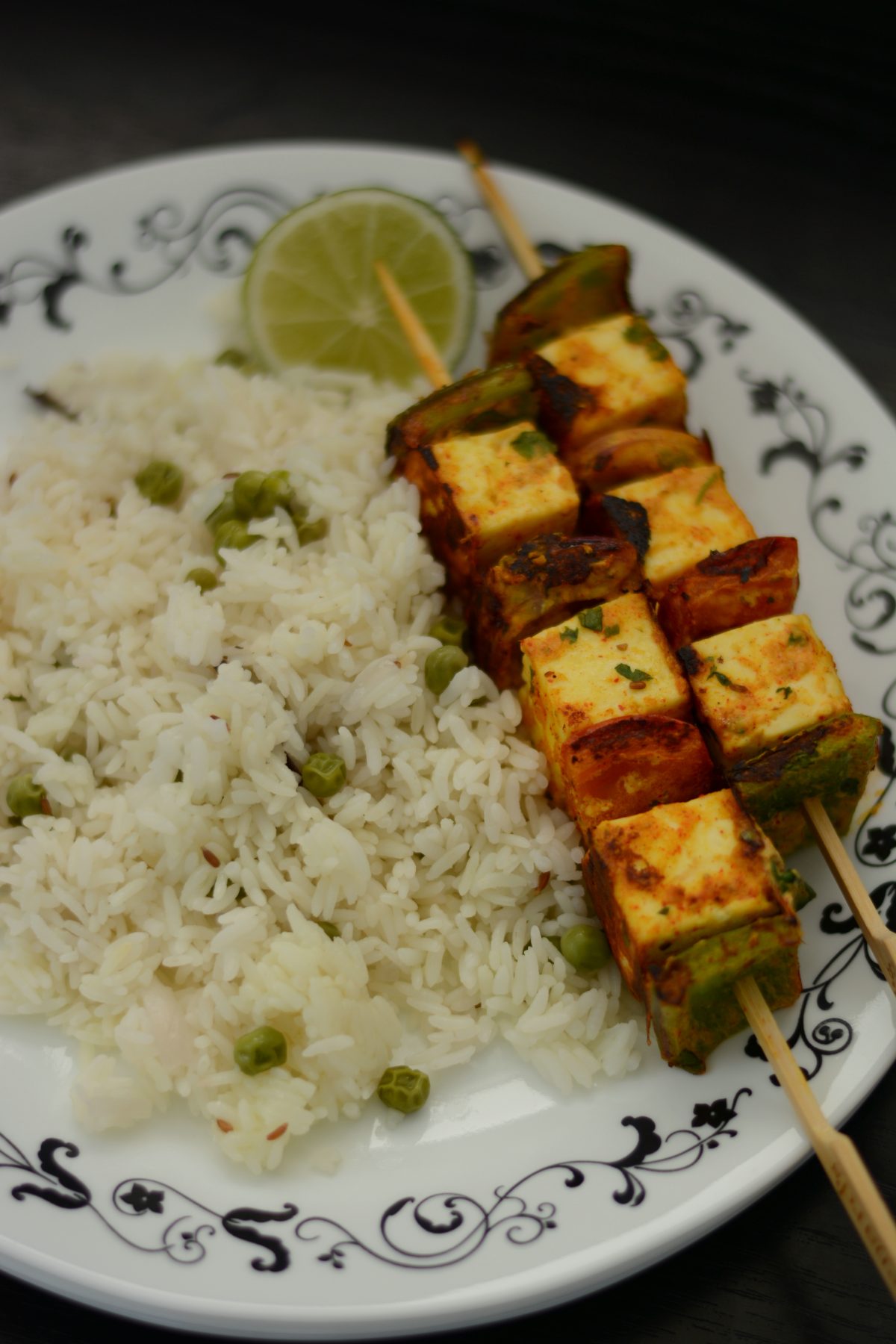 Note – I have seen many photographs with perfect looking paneer cubes with hardly any signs of charring. But remember, it is those brown charred bits that you actually need because that's where the deliciousness is!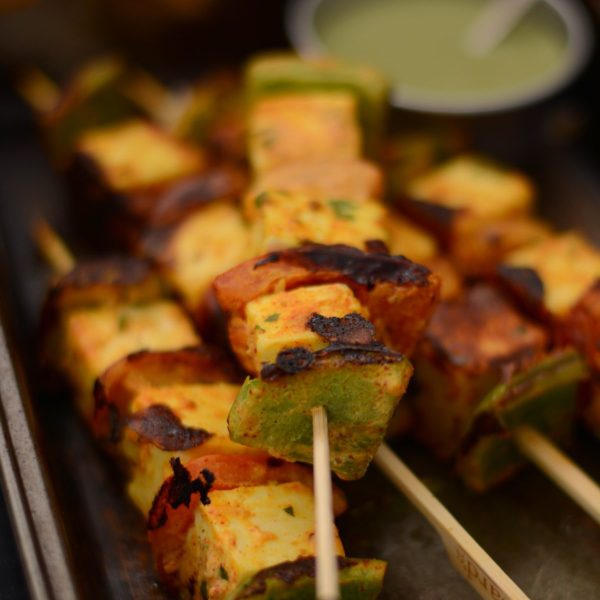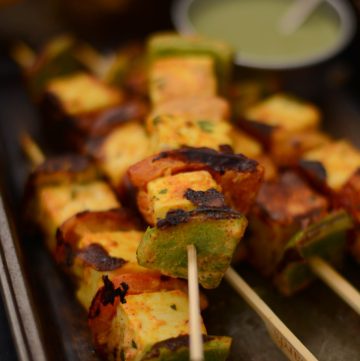 Print Recipe
Tandoori Paneer with Goat's Yoghurt
Ingredients
400

gms paneer

Indian cottage cheese; cut into equal sized cubes

1

medium red onion; cubed

2

ripe

yet firm tomatoes; remove pulp and cut into cubes

1

green bell pepper; cubed

3-4

tbsp

vegetable oil

2

sprigs fresh coriander leaves; finely chopped

Salt

to season

Lemon wedges

to garnish

Bamboo skewers
5-6 tbsp tandoori marinade
4-5

tbsp

Goat's yoghurt

½

tsp

ginger paste

½

tsp

garlic paste

½

tsp

turmeric powder

1

tsp

red chilli powder

½

tsp

Kashmiri red chilli powder

½

tsp

coriander powder

½

tsp

cumin powder

½

tsp

chaat masala

A pinch of black salt
Instructions
To make the tandoori marinade, mix the goat's yoghurt with all the aromatics, spices and coriander leaves in a non reactive bowl.

Add the paneer and vegetable cubes into the marinade and mix well. Season with salt and refrigerate for at least 2 hours or as long as possible. Bring to room temperature before cooking.

Soak the bamboo skewers in water for at least 15 minutes before using to prevent burning.

Skewer the paneer cubes and vegetables alternately so that each skewer has paneer, tomato, onion and bell pepper.

Oil a flat pan or grill well and heat to smoking point. Reduce heat and place the skewers. Increase heat to medium and grill till done on all sides. Paneer cooks really fast so a minute or two on each side would be enough.

Garnish with lemon wedges and serve with a mint coriander dip.
Notes
Kashmiri chilli powder is mainly for a deeper red colour. It is optional and the level of heat can be adjusted with regular red chilli powder.
Chaat masala and black salt (kala namak) are available at all Indian stores.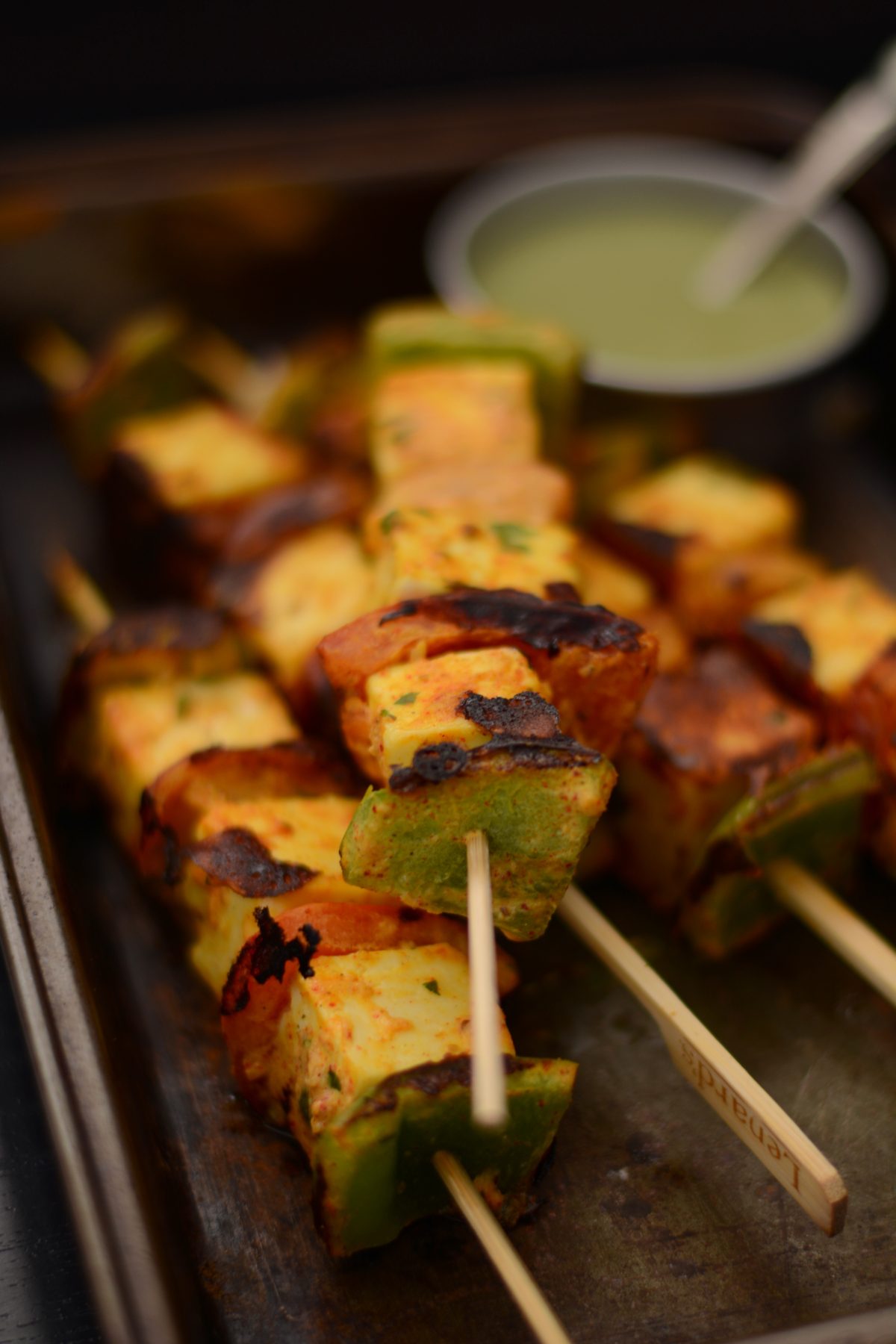 Disclaimer – This is a sponsored post in association with CapriLac Foods. But the recipe and all the opinions expressed are entirely mine.