This Vegetable Stir Fry with Gochujang will change the way you look at veggies. It is spicy in a nice way, packs a punch in the flavour department and soon will become your new favourite stir fry. Top it on rice, noodles or have it just as a salad with some crunchy lettuce on the side.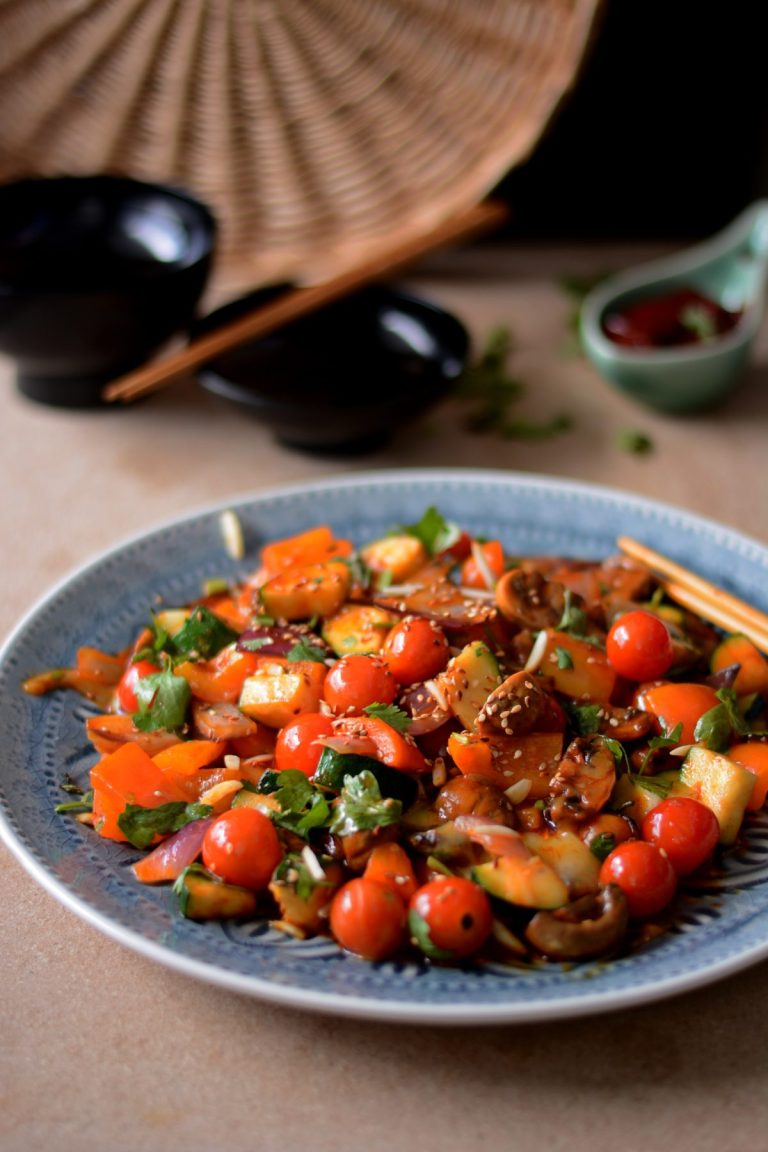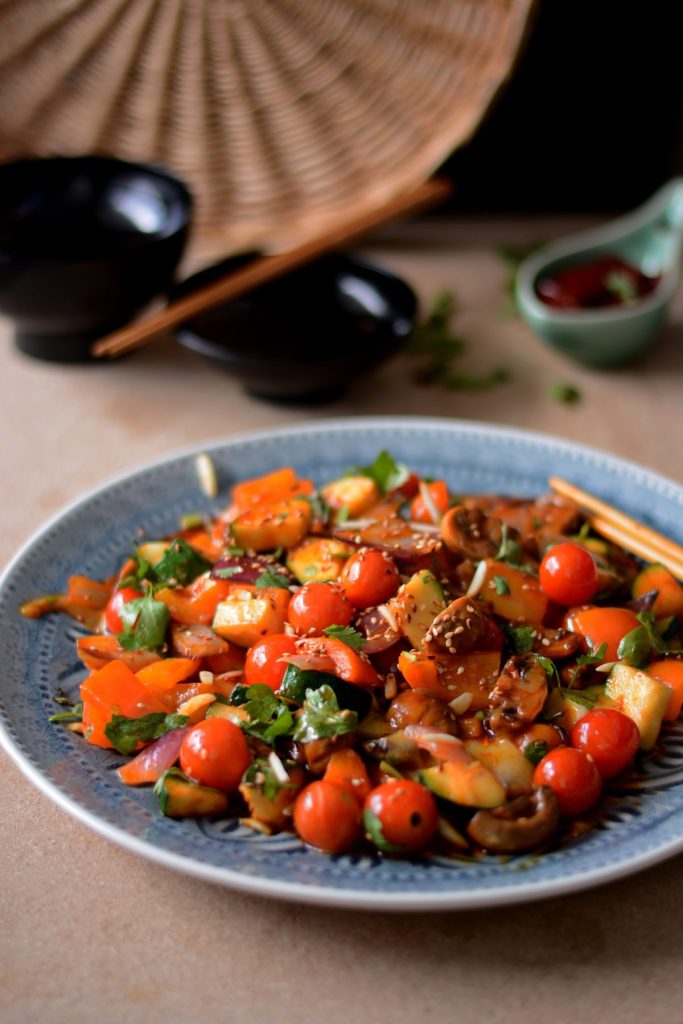 Are you an extrovert, or an introvert, or someone in between?

I was an extrovert as a child, introvert as a teenager and an introvert's extrovert in my adult life. Life takes us all through phases; high and low, good and bad, happy and sad…all of which leave profound marks on our character and personality. And there is only one way forward – to evolve with time.

Change is inevitable and the only constant in this world. I resisted it for the longest time in my life; despising it instead of embracing it. It pushed me into alleys of dark despair and loneliness…a sense of unwantedness. Till one day when I realized that I am meant to flow, evolve, adapt and change with the waves of time.

So do we change our entire being, transform ourselves into someone we don't recognize? No, we don't; we only adapt, shed the unwanted baggage retaining our core essence as a human, as a person. We reflect inwards, separating the chaff so that we end up with the purest grains.

For me, food takes the same journey of change. With time, my taste and preferences change. And when boredom strikes from the old and known, I need to recharge and experiment in my kitchen; not for the blog but to satisfy my inner need for change. It keeps me happy, it keeps me satisfied and motivated.

Today, I embrace this change in the form of an ingredient or rather a condiment – Gochujang. And thus was born this Vegetable Stir Fry with Gochujang!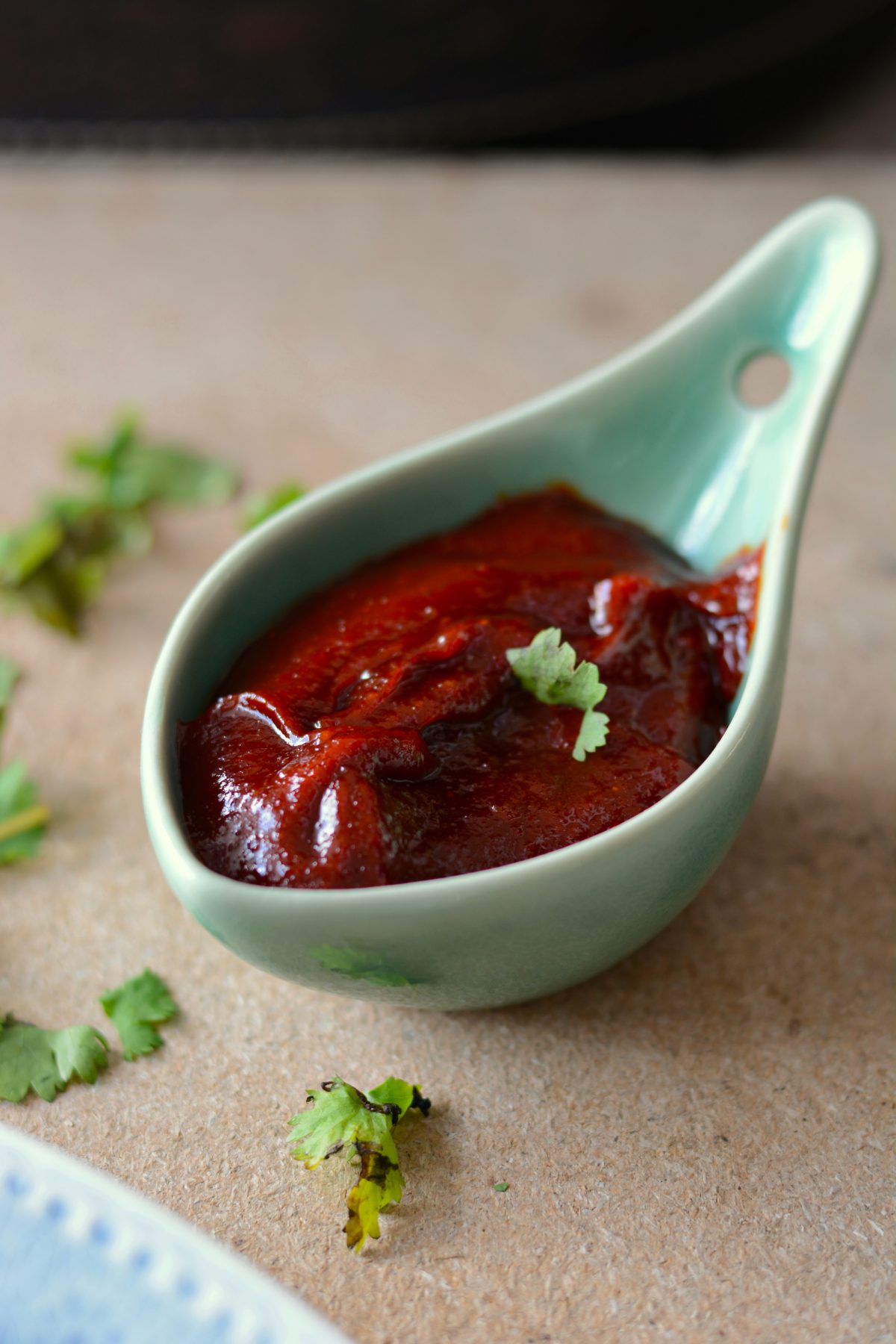 Gochujang or Korean chilli paste is a spicy and pungent condiment that is prepared from fermented soybeans, hot chilli peppers, glutinous rice and salt. It adds that oomph, savoury and spicy kick that Korean food is known for. The heat is there at the back of your throat but you just can't stop eating!

Darkish red in colour, piquant, smoky and rich to taste and a paste like consistency, Gochujang also has a small amount of sweetener added to it to draw out maximum flavour from the chillies. Traditionally fermented in large earthen jars, this condiment is central to Korean cooking and gives the food a unique flavour. Though not scientifically proven, it is believed that this condiment has nutritional benefits and is rich in several vitamins.

Many of the traditional dishes from Korea use gochujang as one of the key ingredients. But today I am making a quick vegetable stir fry with gochujang, an under 30 minute dish which is simple to make, has loads of veggies, a bit of cheese and oh so delicious! Some sticky white rice or a simple fried rice to go along and it becomes the perfect weekday dinner.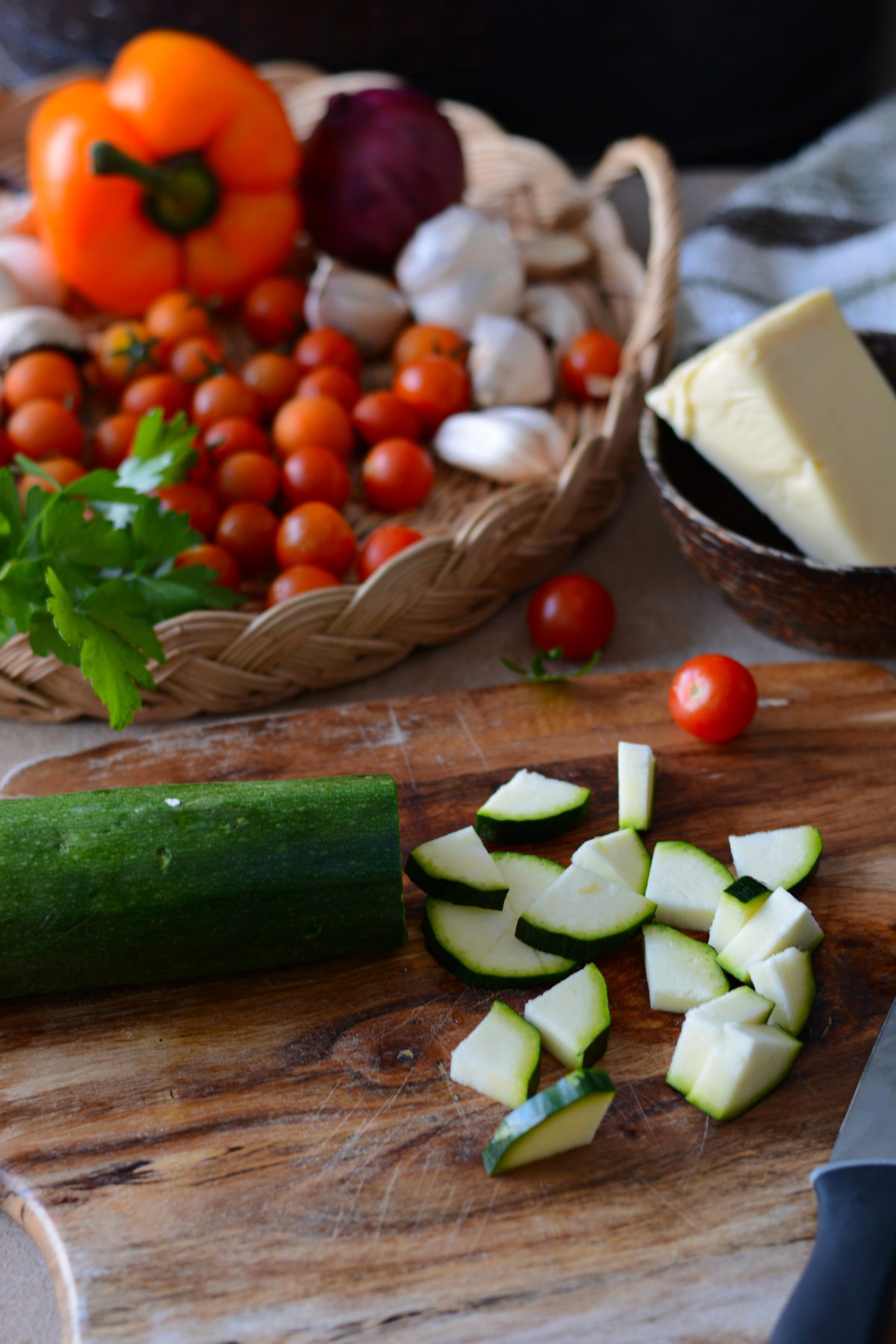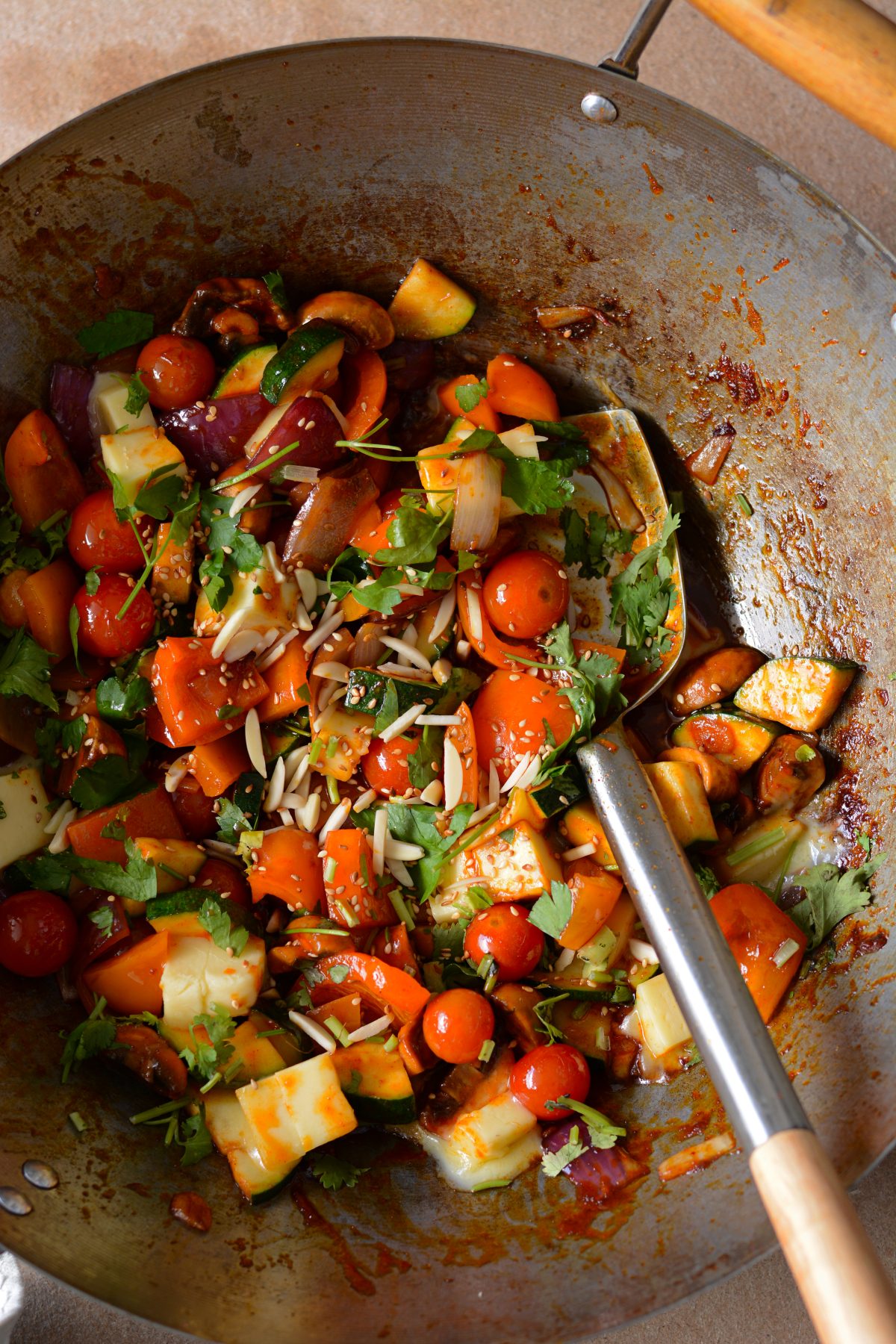 I have added some Havarti at the end which just about melts when the wok reaches the table. You could go with tofu or paneer (Indian cottage cheese) if you want something firmer. Also no hard and fast rules as to the choice of veggies; I like texture in my stir fries which is why the addition of almonds and sesame seeds. You could also make a non-vegetarian version with chicken, prawns, lobster, scallops….endless options. And of course, don't undermine the importance of a good carbon iron wok to make this vegetable stir fry with gochujang.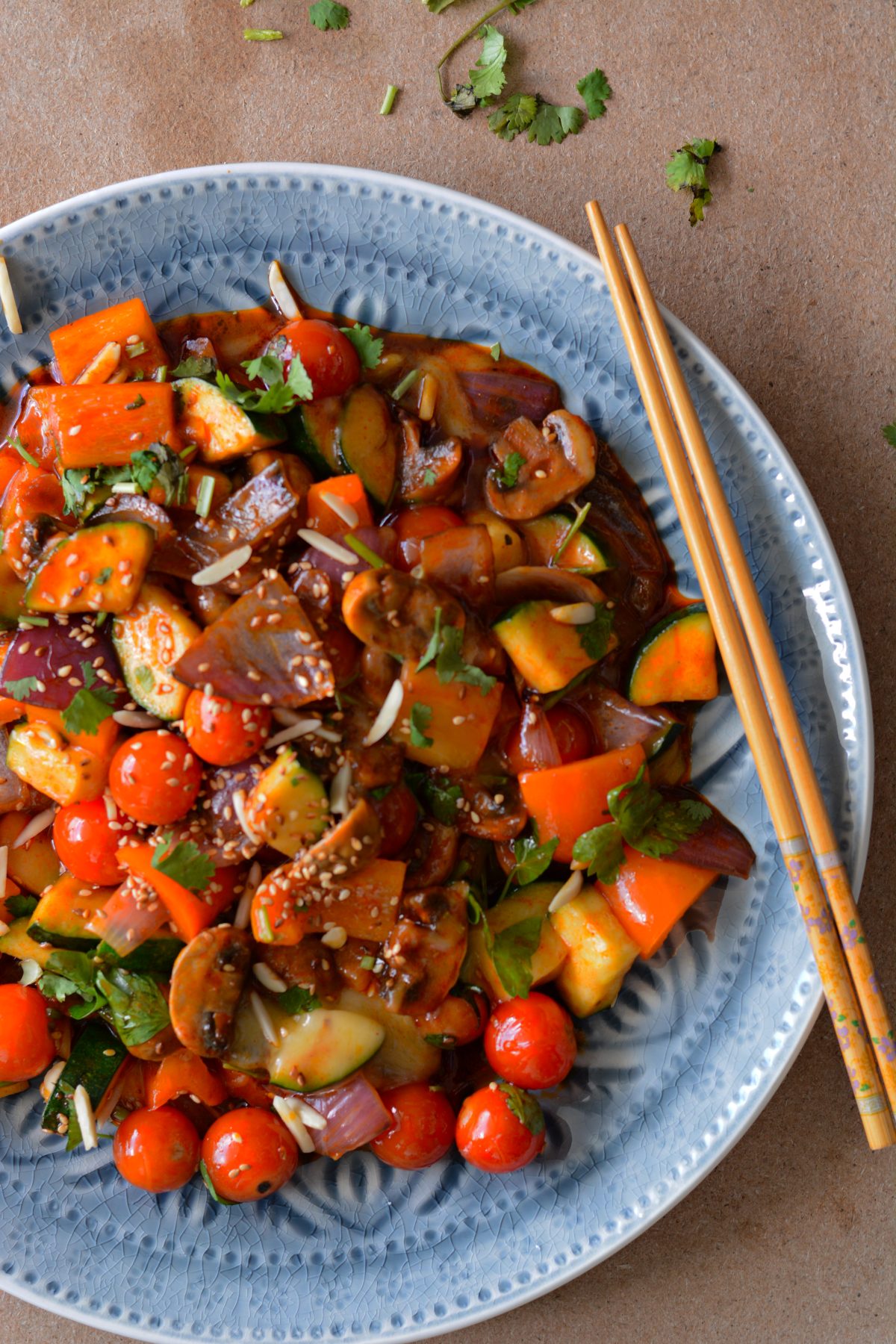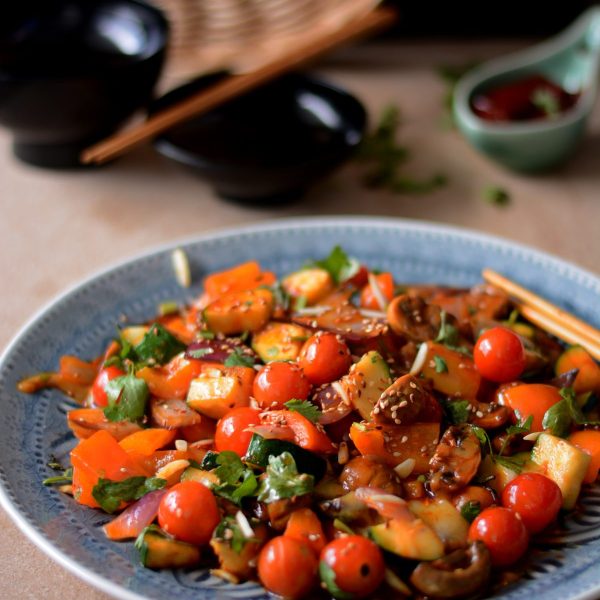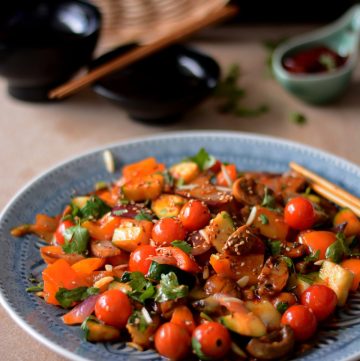 Print Recipe
Vegetable Stir fry with Gochujang
Ingredients
1

cup

cherry tomatoes

1

medium zucchini; cubed

1

red onion; cubed

1

orange bell pepper; cubed

1

cup

white button mushroom; halved

100

gm havarti; cubed

2

large garlic cloves; finely chopped

2

tbsp

gochujang

2

tbsp

soy sauce

1

tsp

palm sugar

Salt

to season

2-3

sprigs coriander leaves; torn

1

tbsp

almond slivers

1

tsp

roasted white sesame seeds

3-4

tbsp

vegetable oil
Instructions
Heat oil in the wok and add the chopped garlic. Sauté for about a minute or till the raw smell of the garlic goes away.

Then add the gochujang and cook for another minute or two on low heat. Add soy sauce and palm sugar and mix well to combine. Check seasoning and adjust accordingly.

Increase the heat to high and add the onions and mushrooms. Toss well and cook for 30 seconds; then add the cherry tomatoes and zucchini. Cook for a further 30 seconds on high.

Then add the bell peppers and season with salt. Toss through and remove from heat.

Transfer to a bowl and garnish with coriander leaves, almond slivers and sesame seeds.

Add the havarti cubes just before serving.
Notes
How much gochujang to add to your dish should be a personal one. The quantities I have mentioned keeps it medium spicy taking into account my little champ.