Tabakh or Tabak Maaz is an integral part of the Wazwan, a multicourse Kashmiri feast. The lamb ribs are cooked till fall of the bone in an aromatic and flavourful broth. The ribs are then pan fried in ghee to get a crispy, caramelized exterior with tender and juicy meat inside.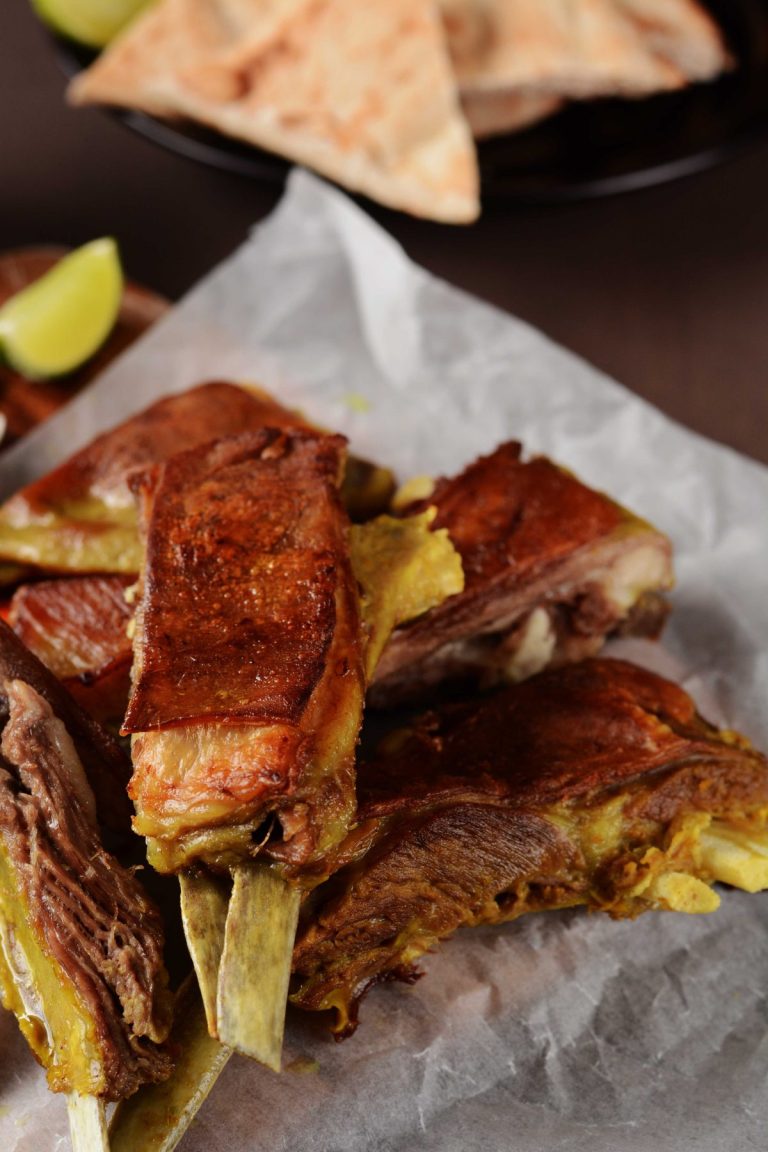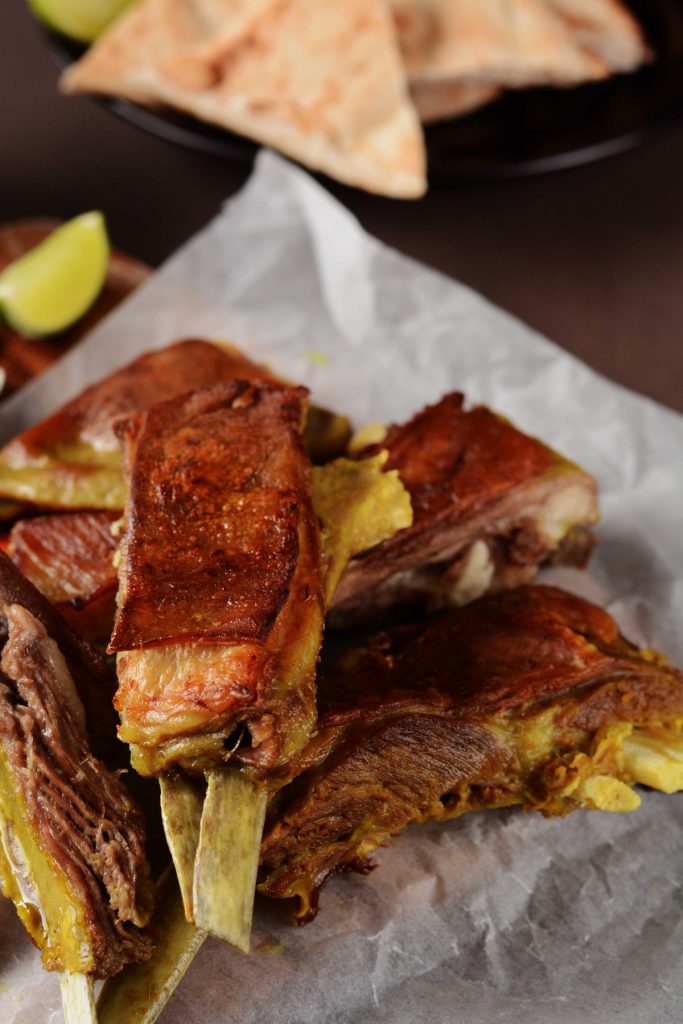 Kashmir – a mysterious, beautiful land that always evokes a deep sense of calmness and peace within me.
Ironic, isn't it…especially given its turbulent geo-political issues. I have never visited Kashmir except through the thousands of breathtaking photographs of the place but everytime I think of the land, it's 'Garden of Eden' that I remember. And everytime I visualize Adam and Eve eating that apple, its pictures of Kashmir that flash through my mind.

Travelling through Kashmir remains one of the top wishes on my bucket list, and particularly visiting the saffron fields and picking out the flowers; I want to experience that at least once in my life. Though today's dish has nothing to do with saffron, it has all to do with the cuisine of the region. Tabak Maaz or Kashmiri style Lamb Ribs!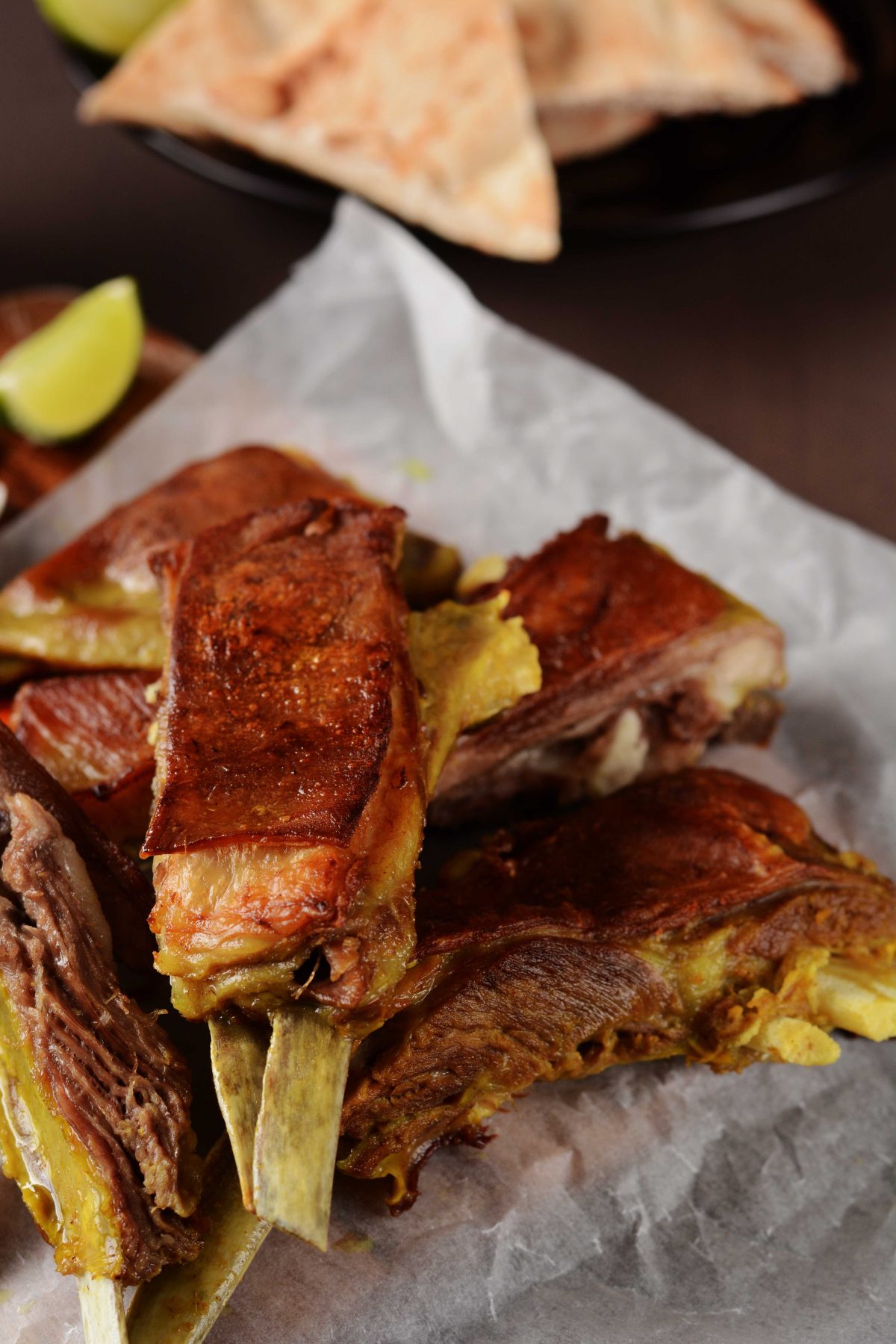 A very traditional preparation of the region, Tabak Maaz is one of the integral dishes of a wazwan. (You can check out more about wazwan on the Internet or read my mutton roganjosh post). And I learnt this recipe too from my dear friend, Supriya who remains my expert on Kashmiri cuisine. I am a lucky gal indeed!
Also check out these two YouTube videos from Food Lovers TV to gain more insight and understanding into Kashmiri cuisine and Wazwan.

Making Tabakh Maaz is rather simple but one which takes a bit of time and some good quality ingredients. It is a brilliant example of how spices flavour a fish without adding any heat. The lamb ribs are slow cooked in a broth flavoured with whole spices and then fried off in ghee. It is rich and indulgent, a dish that warms you from within and definitely not one if you are calorie-conscious.

I left the fat layer on the ribs for that extra flavour but you can choose to trim it off. Traditionally it is served as 2-3 ribs together on the bone but I have kept it 1-2. Tabak Maaz is usually a starter type dish of the wazwan but I had it as the main protein for dinner, so served it with Afghan style bread, cucumber yoghurt dip with sumac and a fresh green salad. One of the ways of adapting a traditional recipe to your family's needs.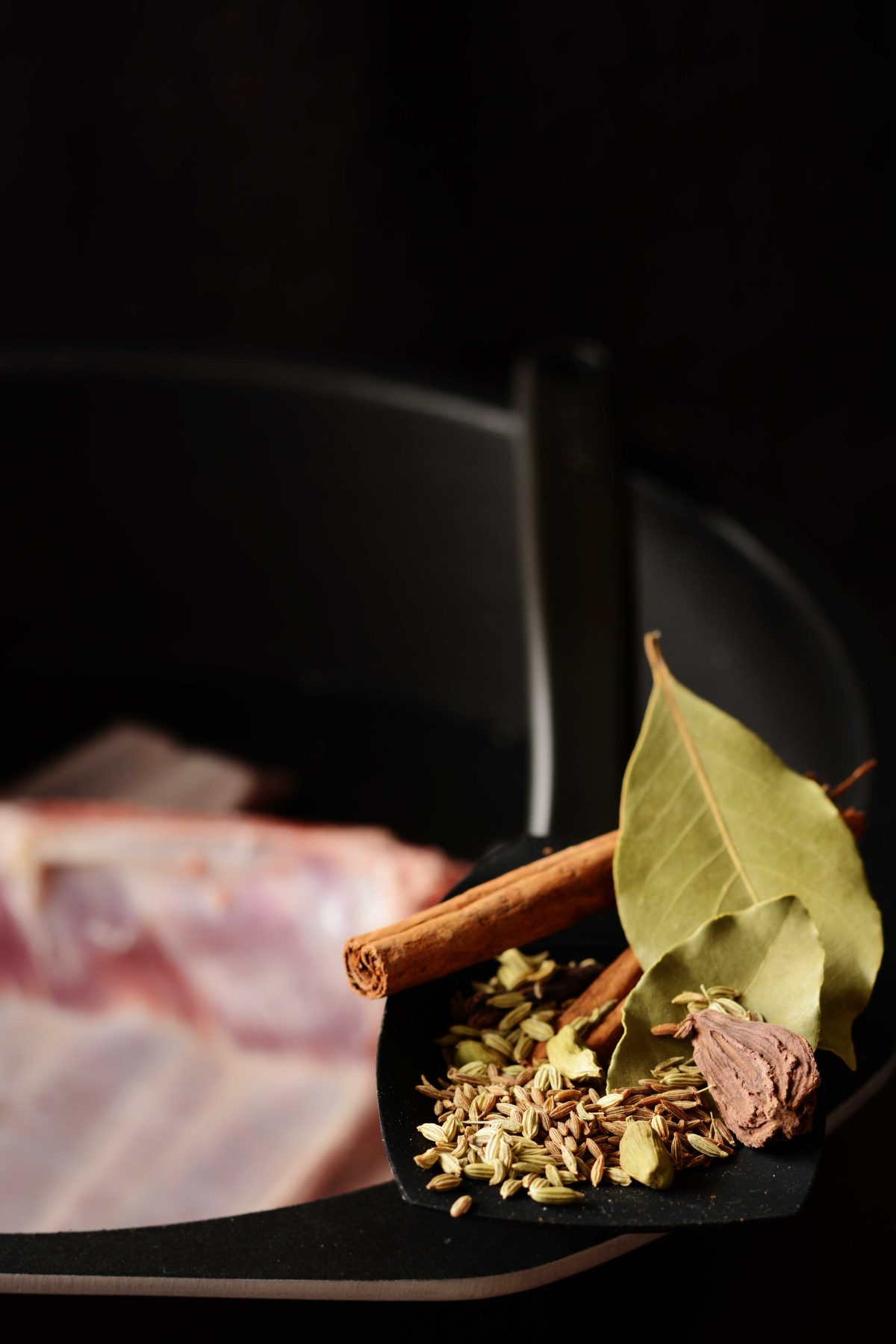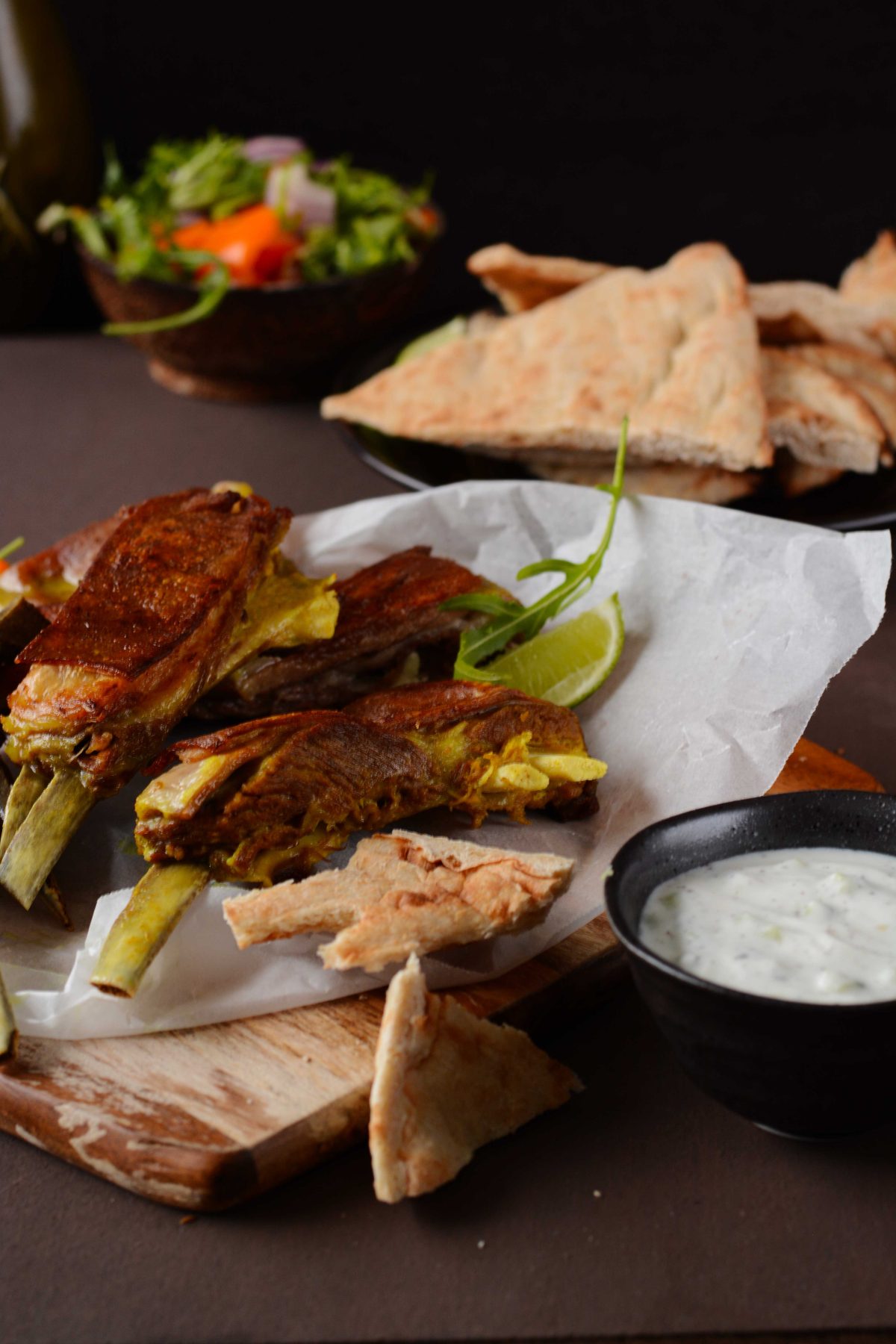 So here we have a very traditional lamb dish from Kashmir – Tabak Maaz or Kashmiri style Lamb Ribs.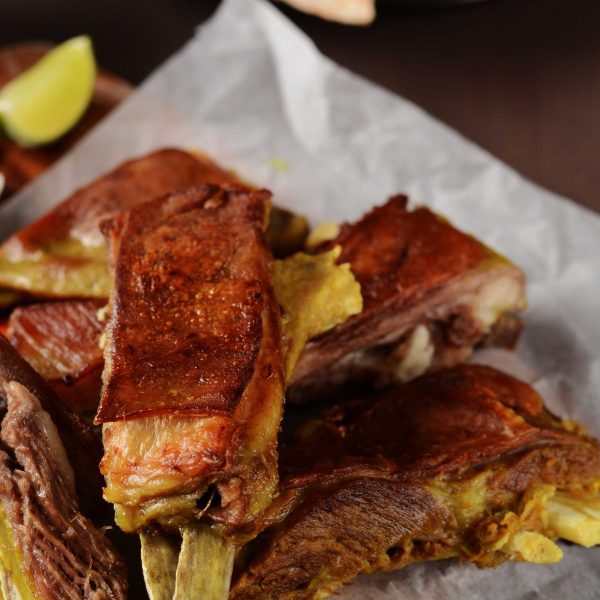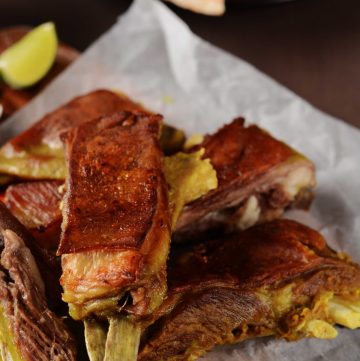 Print Recipe
Tabak Maaz (Kashmiri style Lamb Ribs)
Ingredients
500

gms lamb ribs; cut into 2-3 pieces

2

inch

cinnamon bark

3

black cardamom

5

green cardamom

2

dried bay leaf

1

tbsp

cumin seeds

1

tbsp

crushed fennel seeds

½

tbsp

dried ginger powder

A pinch of asafoetida/hing

2

large garlic cloves; crushed

1

tsp

turmeric powder

Salt

to season

1

cup

milk

2-3

tbsp

ghee/clarified butter
Instructions
In a heavy bottomed vessel, add the lamb ribs and fill with water, enough to just cover the ribs.

Bring to boil and remove the scum that floats on the surface.

Then add all the spices, garlic and season generously with salt. Also add 1 cup milk and stir well to combine.

Cover the vessel, reduce the flame and slow cook the ribs for 1 hour or till the meat has become tender and almost fall off the bone.

Remove from heat and take out the ribs slowly and keep aside. You can either keep the ribs in large chunks or cut into smaller pieces.

Heat another flat pan, add the ghee and add the ribs one by one. Fry on medium to high heat till one side has caramelized before turning over. Remove when the other side has also caramelized well.

Serve warm.
Notes
Though the basic recipe for making Tabak Maaz is the same across the state, there can be variations from region to region.
For eg: Kashmiri Pandits soak the ribs in plain yoghurt before frying it off in the ghee.
Yoghurt is also used instead of milk to cook the ribs.
The broth in which the ribs were cooked has a beautiful flavour. It can be strained and use as a stock for making soups and risottos.