It's Friday guys! Time to put up the tired feet and get some much needed rest or catch up time with family and friends. Not so much for me as we are currently house hunting and the whole thing is slowly beginning to get on my nerves. We just can't seem to find a decent place especially with the zillion demands we have. Hopefully something comes up soon and then the herculean task of moving houses will begin. Telling you guys, I have amassed a ton of props and I know I am going to freak out during the packing and shifting process.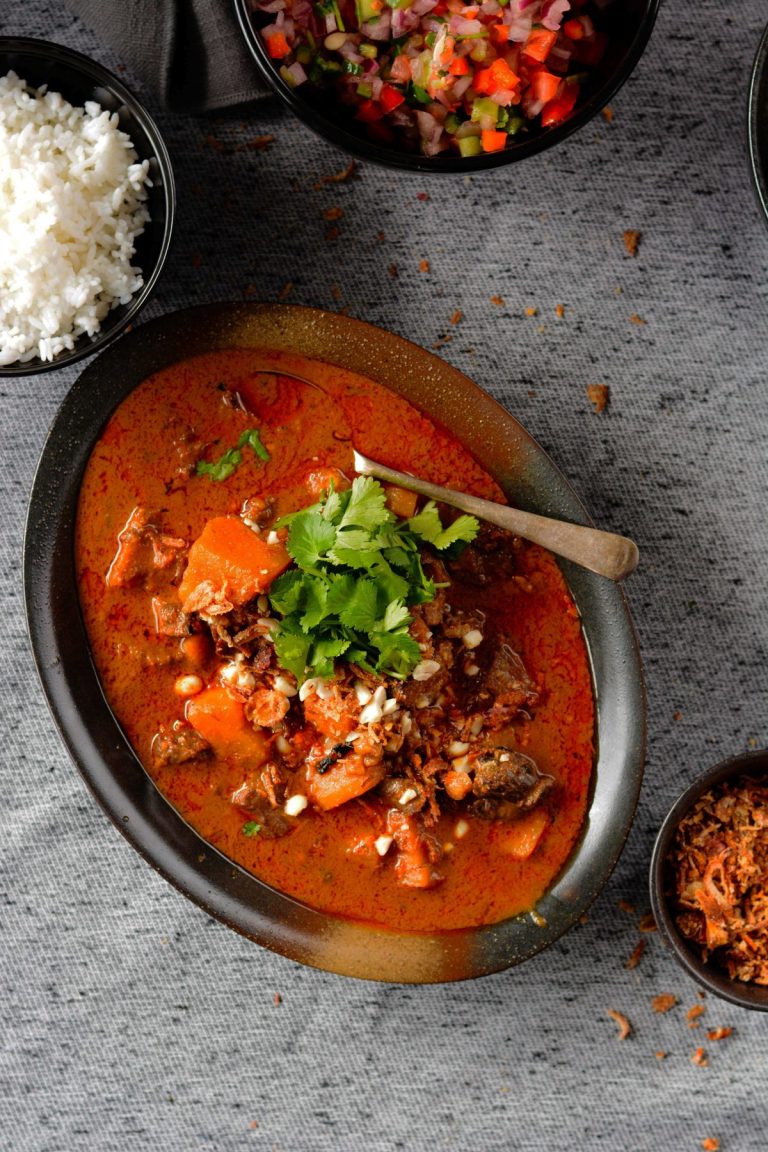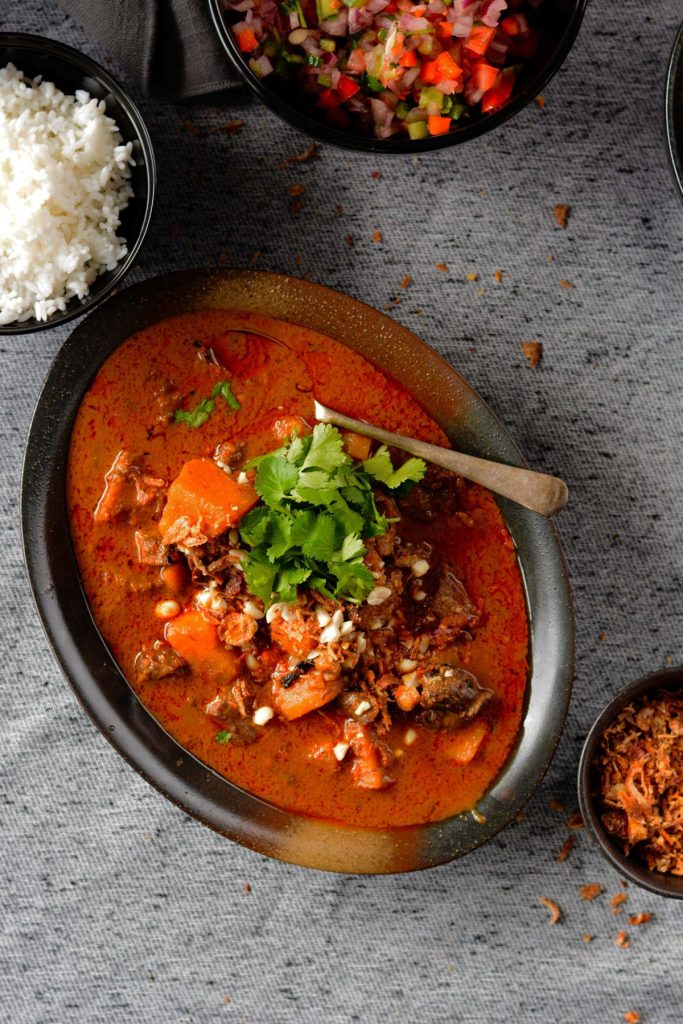 I am sure you will hear me whining more about that later but for now, let's just feast on this deliciously comforting Beef Massaman Curry.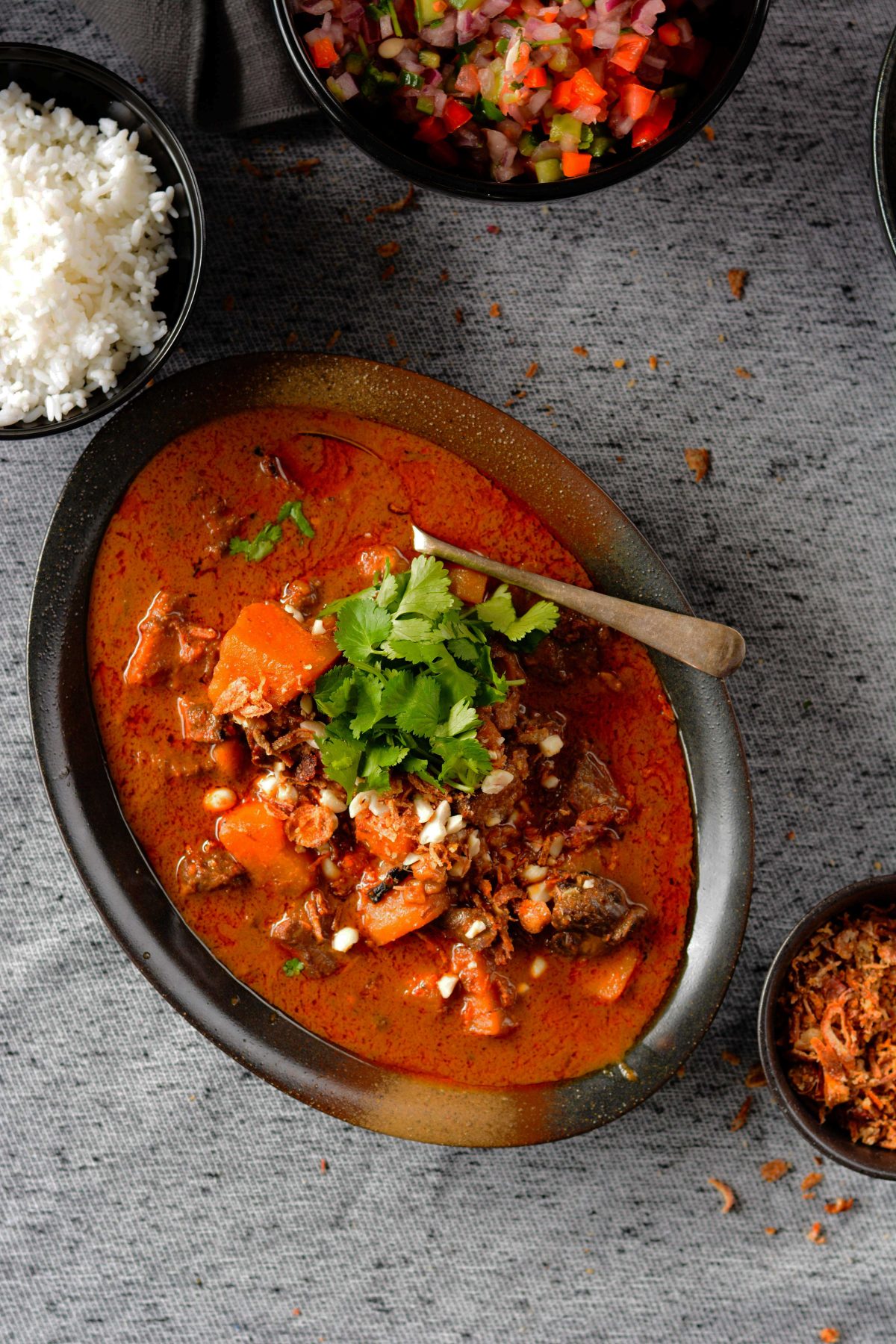 If you are familiar with Thai food, then you would have definitely heard of Massaman curry. It's a staple curry from the region and often made with chicken, with beef and lamb not being far behind.

Massaman curry has a very interesting history to it. Also known as Matasaman curry, it is believed that this dish was introduced to Thailand by Persian merchants and soon became an integral part of the Thai Muslim cuisine. Infact, historical writers believe that the name Massaman could also have been originated from the word 'Mussulman' which is another word for Muslim. But there are many others who believe that it is more of a Southern Thai dish with influences of Malay and Indian cooking since the curry relies heavily on the use of spices and coconut.

Traditionally, this curry was always made using chicken given the Islamic dietary laws. Beef and mutton were also popular but hardly ever made with pork. But in the West, you can find all sorts of protein being used including pork. Personally, I prefer lamb or beef; hence I have made a Beef Massaman Curry today.

The recipe I have used today has been adapted from the Chin Chin cookbook (remember the copy I won for last year's Social Feeds competition). The recipe is not just detailed out well but more importantly; there is also a recipe for making the Massaman curry paste from scratch. Now this paste is where the magic lies – a medley of spices and aromatics blended together to create a spicy, sweet and heavily aromatic blend.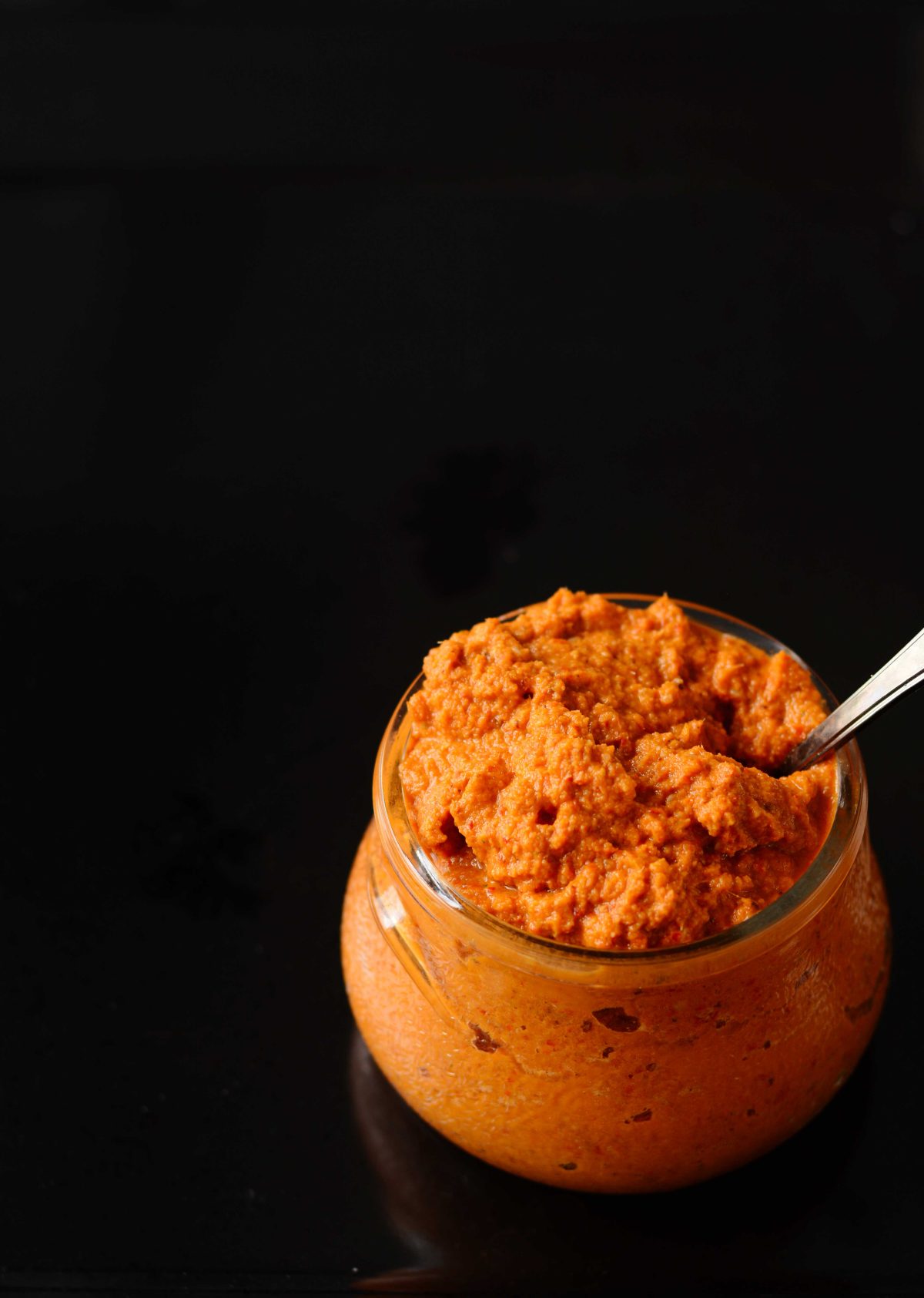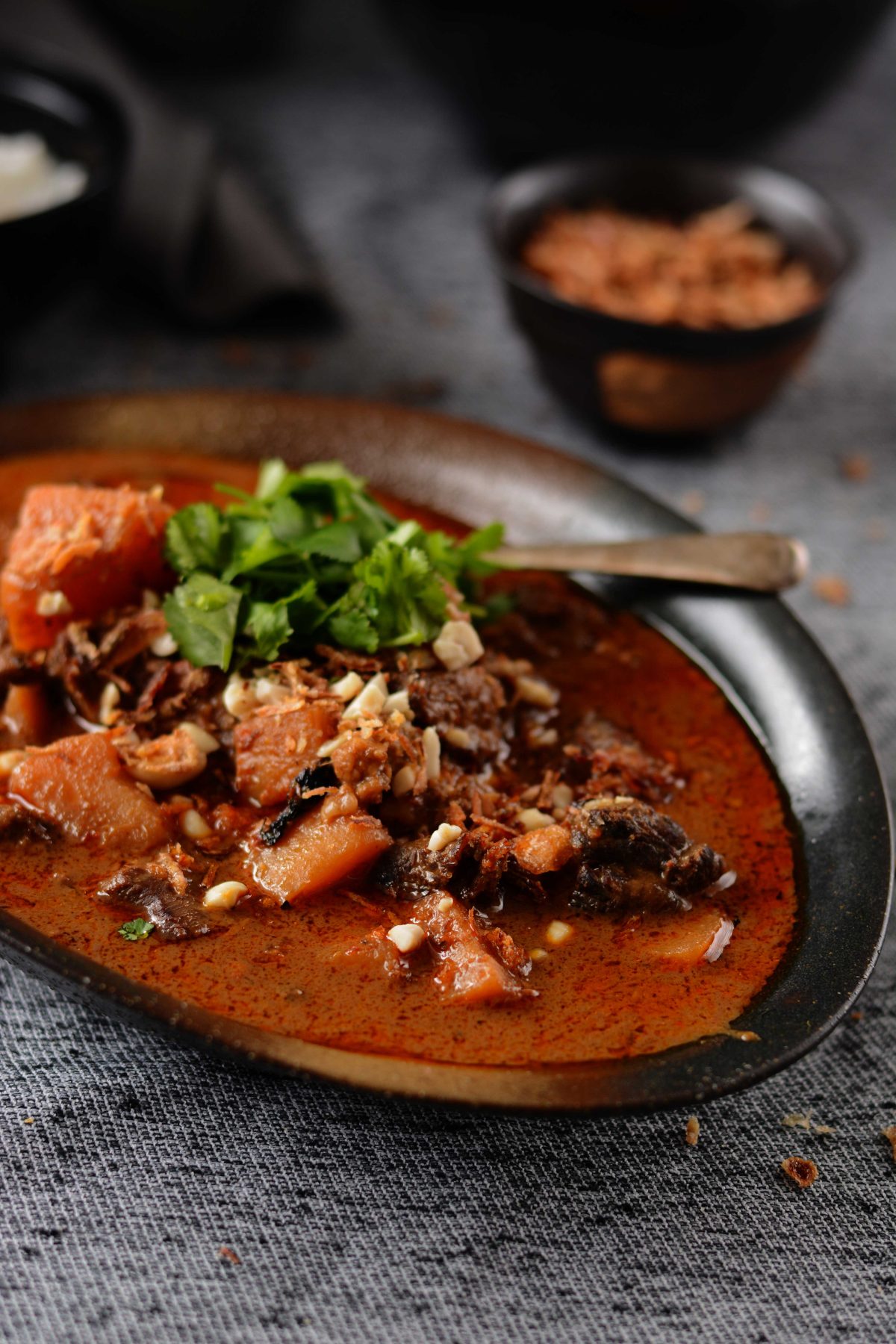 Let me tell you straight ahead, this is not your ordinary quick fix weekday dinner. The Massaman Curry takes time, effort and a whole lotta love to make it from scratch. But believe me guys, it's so worth it. And when you make the curry paste, make sure you prepare a larger quantity and freeze in small batches.

Coconut cream is another main component of the Massaman curry. Though I generally prefer to use homemade coconut milk, the weather at the moment made me quite lazy so I used store bought ones. Also look out for coconut cream rather than milk when you are buying for that thicker and creamier consistency.

The braising liquid for the beef is another crucial step for this dish. The meat is just so tender and once strained, this flavourful liquid becomes the stock for the curry. The whole recipe is about adding layer after layer of flavour to yield that rich, sweet and spicy curry that warms your souls and tummies.

Do not get put off by the long list of ingredients or steps involved. Prepare the curry paste one day ahead so that you have enough time on the day of cooking the curry. Substitute with lamb shanks or chicken or even mixed vegetables with tofu for a vegetarian version. Make it folks, I promise you will love it.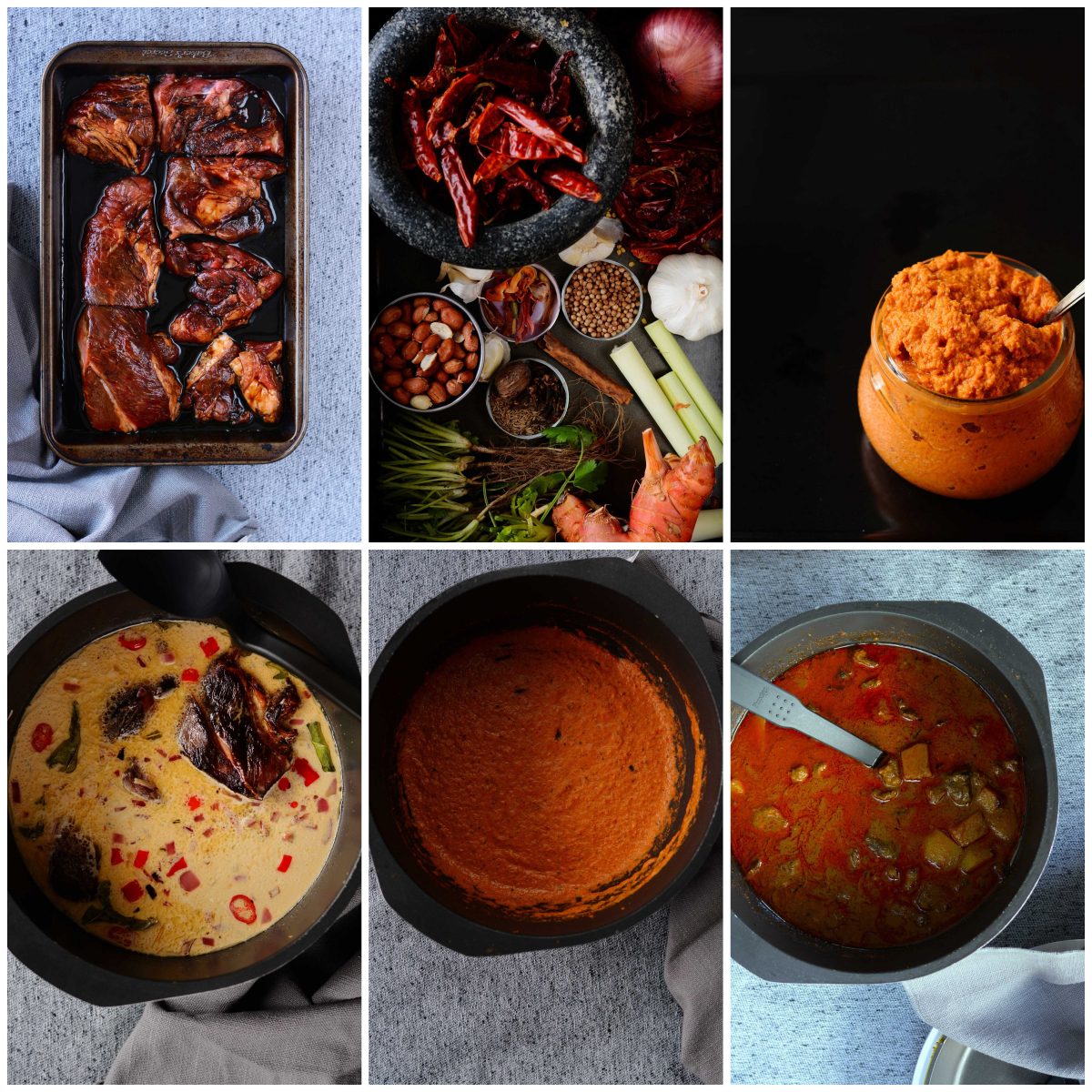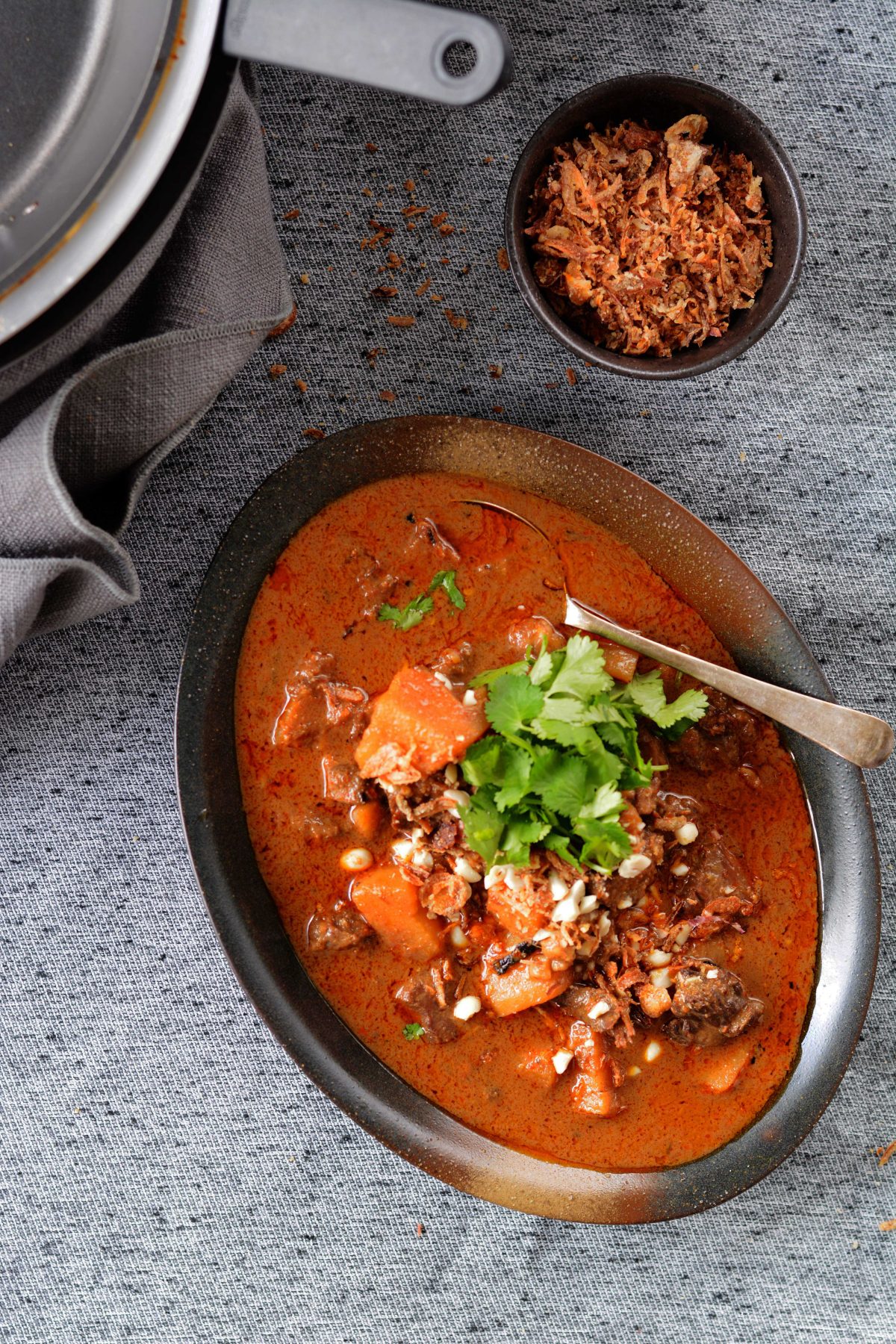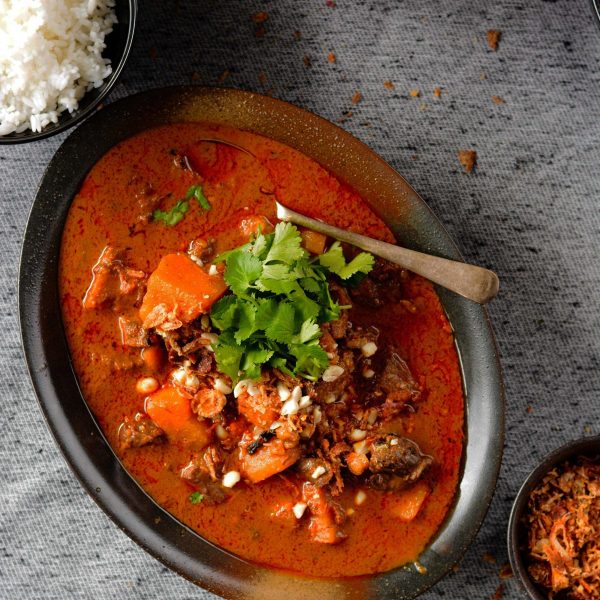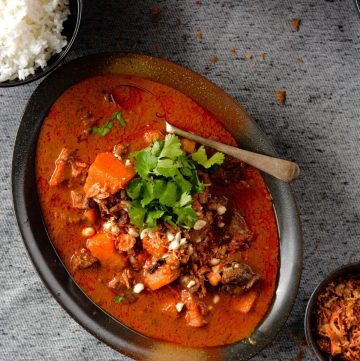 Print Recipe
Massaman Curry
Ingredients
Massaman Curry Paste
60

gms large dried red chillies

seeded; soaked in warm water and roughly chopped

1

medium red onion

1 ½

heads garlic

1

large galangal knob

3

stalks lemongrass

only the pale part

4-5

coriander roots with a bit of stalk

60

gms roasted peanuts

1 ½

tbsp

coriander seeds

½

tbsp

cumin seeds

½

tbsp

cloves

½

nutmeg

3/4

th tbsp mace powder

1

large cassia/cinnamon bark

3

green cardamom
For the braising liquid:
2

tbsp

vegetable oil

1

large knob galangal; roughly chopped

1

stalk lemongrass

pale part; roughly chopped

2

large red chillies; seeded and sliced

½

red onion; chopped

300

ml

coconut cream

2

cups

water

1

cup

homemade chicken stock

1/3

cup

fish sauce

100

gms palm sugar
For the curry:
1

kg

beef

chuck steak; cut into 5-6 large pieces

1

cup

kecap manis

6

tbsp

vegetable oil

200

ml

coconut cream

5-6

tbsp

massaman curry paste

2

shallots; diced

70

gms pineapple; diced

1

tbsp

palm sugar

2

tbsp

fish sauce

2

large potatoes; boiled and cubed

1-2

tbsp

tamarind water

½

cup

toasted peanuts; crushed

Crispy shallots; for garnish

Coriander leaves; for garnish
Instructions
Massaman curry paste:
Blitz the chillies, onion, garlic, galangal, lemongrass, roasted peanuts and coriander root to a coarse paste.

Grind the spices and add this to the paste along with a good pinch of salt.

Blitz again to get a smooth paste (you may need to add water).

Freeze in small batches.
To make the curry:
Marinate the beef pieces in kecap manis for a few hours or overnight.

Wipe off the excess sauce and keep aside to be braised.

To get the braising liquid going, heat 2 tbsp oil in a large vessel and add the onions, chilli, lemongrass and galangal. Cook to release the aromas for a couple of minutes and then coconut cream, water, stock, fish sauce and palm sugar.

Bring to boil and add the beef pieces to this. Cover and slow cook on the lowest heat possible till the beef has become really tender (took me about 1 ½ hours). Alternately, braise in the oven at 150°C till the meat is tender.

Meanwhile, 2 tbsp oil and coconut cream along with a good pinch of salt in another heavy based pan. As the cream separates and the oil starts to split, add the massaman curry paste and cook on high (with frequent stirring) for about 10 minutes. The aroma as the paste starts to cook is so aromatic. Reduce heat a bit and continue to cook the curry paste with frequent stirring till the oil starts to separate. Takes a fair bit of time so be patient.

Once the meat has cooked, allow the pieces to cool in the liquid, remove and cut into bite sized pieces. Strain the braising liquid and reserve the stock.

In another pan, heat the remaining oil and cook the shallots till golden. Add the pineapple pieces and continue to cook until it has softened and cooked out. Then add the palm sugar to get a caramel like mixture.

Add this to the curry paste and continue to cook till the oil starts to separate again. At this stage, add half of the strained braising liquid along with the fish sauce and tamarind water. Taste and season with salt if necessary; also balance out seasoning with fish sauce, tamarind water etc….

Add the boiled potatoes and the beef pieces and simmer on low heat. Add the remaining braising liquid and simmer till the meat and potatoes have warmed through.

To serve, spoon into a large bowl and garnish with crushed peanuts, crispy shallots and coriander leaves
Notes
The excess Massaman curry paste can be stored in the freezer in an airtight container for upto 3 months.