2015 has been an absolutely rocking year for me so far. There have been so many unique experiences to add to my book of memories. And today I am going to share one such experience with all of you.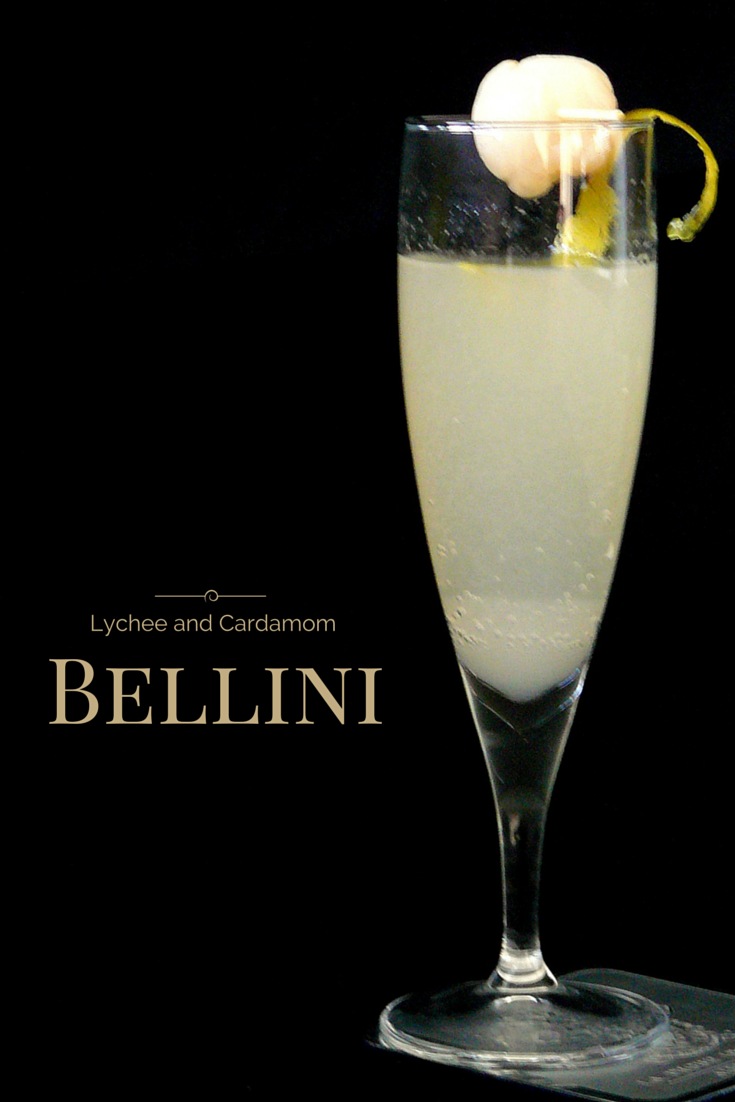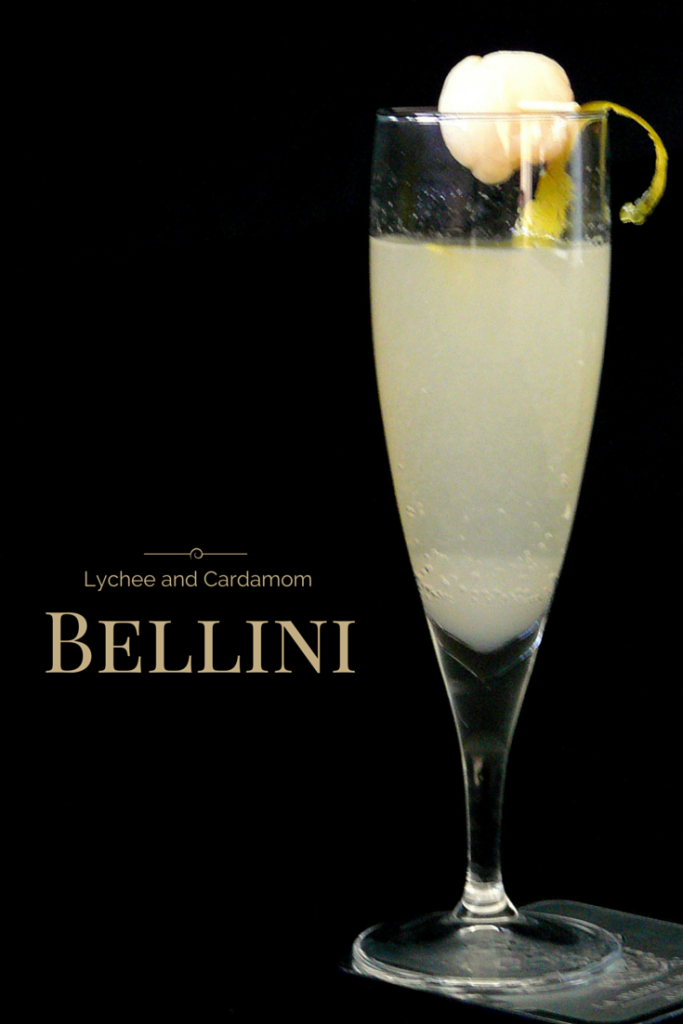 Earlier this year, I got the opportunity to attend a 'Spice and Wine' Masterclass held as part of the Melbourne Food and Wine Festival. Chef Adam D'Sylva of Tonka and Shashi Singh of Avani Wines took us through a learning process on how to pair and match wines with Indian spices and flavours.
All of us who attended the event were encouraged to participate in the #socialfeeds cookbook competition hosted by Bank of Melbourne who was the official sponsor of the festival. I can't seem to turn down any challenge these days and to cut a long story short, one of my recipes was chosen as a winner in the contest. And that meant, my winning dish gets to be featured in an e-cookbook curated by none other than Chef Benjamin Cooper of Chin Chin. The book is a first of its kind featuring recipes from home cooks across Victoria and is a beautiful showcase of how important food is to Australia and drawing inspiration from the multicultural vibe of this country.

(My winning dish was Fish Mappas – a traditional seafood preparation from the backwaters of Kerala, India which I am sure many of you have already seen on the blog.

Apart from this, there was another special prize….a copy of 'Chin Chin – the Book' by Benjamin Cooper. A collection of amazing recipes from Chin Chin, with a lot of detailed information on basic Thai cooking like making curry pastes and broths from scratch.
This cookbook is going to be a much treasured one, not just for the beautiful memories now associated with it but also because I finally get to learn how to make these curry pastes from scratch, a long cherished culinary activity I have wanted to indulge in.

But today we are not having a Thai curry although the weather is just perfect for it. The cocktails included in this book were rather fascinating and so today, we are making a simple Bellini with Asian flavours.

Cocktail lovers would know this one for sure; for all others, Bellini is an Italian cocktail traditionally made using peach nectar and Prosecco sparkling wine.

But instead of using peach, today we have a Lychee and Cardamom Bellini. As far as cocktails go, I fall in the 'rarely make and often drink' category. So this Bellini was exciting as it was a very simple recipe with easy to find ingredients and hardly require any bar accessory as such. A simple blender would do the job!
A very refreshing drink and one more suited for the summery months; but I don't mind drinking this all year through. The sparkling freshness of the Prosecco, tangy sweetness from the lychee sugar syrup and just that hint of spice from the cardamom….this Lychee and Cardamom Bellini is just gorgeous.

Even though my photographs don't do any justice to the actual drink, I strongly urge you to give it a go if you are a wine drinker.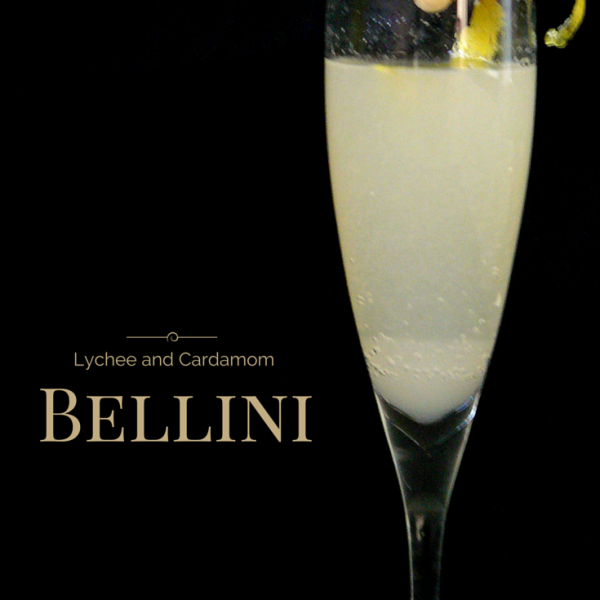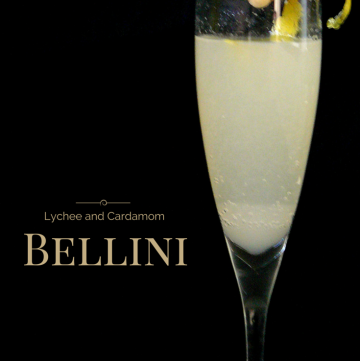 Print Recipe
Lychee and Cardamom Bellini
Ingredients
30

ml

lychee and cardamom syrup

90

ml

Prosecco

Lemon slice/twist

finely cut; to garnish

Lychee

to garnish
For the syrup:
250

gm white sugar

5

cardamom pods

1

can lychees
Instructions
To make the syrup:
Heat 250ml warm water and 250gm sugar in a pan. As it starts to boil, crush the cardamom pods and add to it. Continue to heat till the syrup turns aromatic and turns a shade or two darker (should take approximately 15-20 minutes). Remove and allow to cool.

Blend one can of lychees along with its syrup till smooth.

Combine equal quantities of the sugar syrup with the lychees to get the lychee cardamom syrup.

Store in a bottle and refrigerate; use as necessary.
To make the Bellini:
In a champagne glass, pour 30ml of the lychee cardamom syrup and then gently top with the Prosecco.

Garnish with a lychee and lemon twist.
Notes
The extra sugar syrup can be stored in an airtight container in the refrigerator for upto a week.