A dish to convert the non-kale lovers….this Pasta with Kale, Bacon and Mushrooms is hearty, delicious and absolutely flavourful. An easy, everyday pasta dish for weeknight dinners.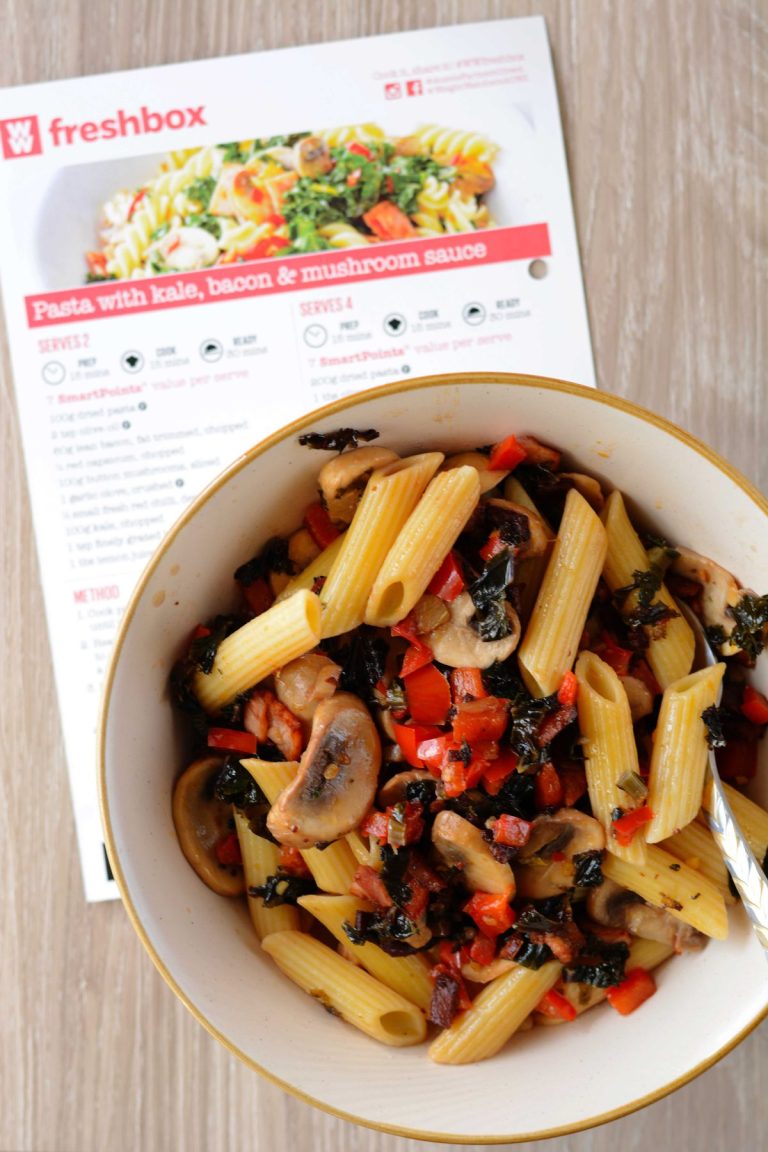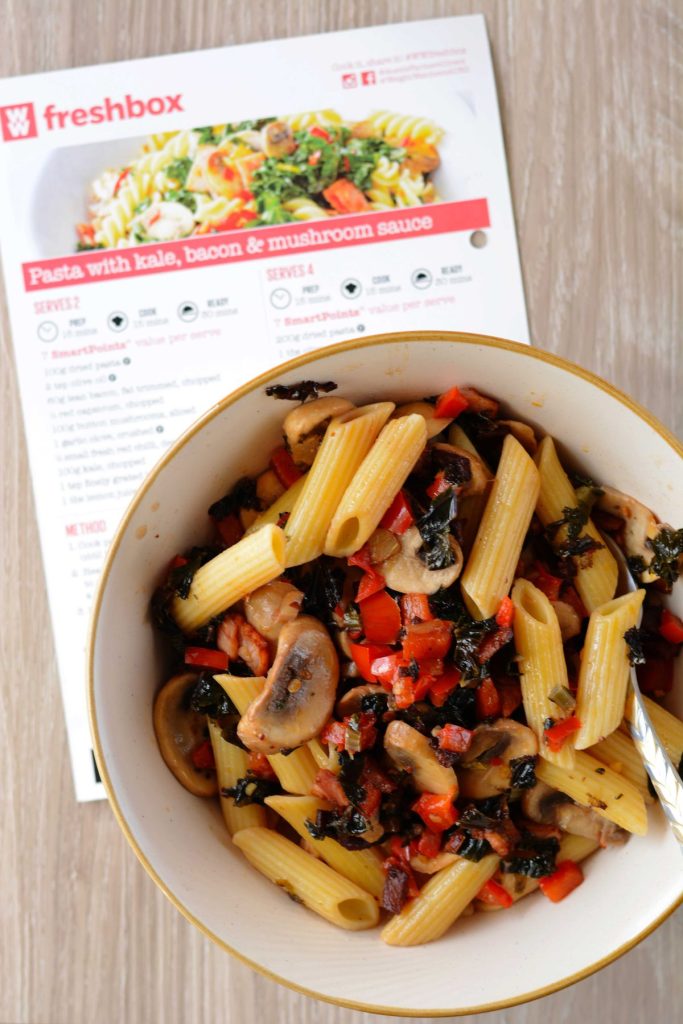 'So what do I cook tonight?'

How many times in a week do you ask yourself that question? I do…almost every single day. Friends often assume that meal planning is something I enjoy and ace at, being a food blogger. Definitely not, at least not most of the time because in addition to the everyday food, I have to plan ahead for the recipes that are to be created for the blog, clients etc…..

It takes me two days to get my meal plans and grocery shopping list in order and there are weeks when the whole exercise freaks me out. So you can imagine my excitement when I get a mail from Aussie Farmers Direct asking if I would like to review the new WWFresh Box that has been designed and created by Weight Watchers. Yes please….bring it on!

Aussie Farmers Direct and Weight Watchers – two brands that we are pretty familiar with and so I am not going into the details here. There's plenty of information on their websites for the newcomers. Instead, I am going to talk about the WWFreshbox; this perfectly packed box full of absolutely gorgeous and fresh ingredients that has been sourced from local farms and food producers. And also, the printed recipes that got me really excited.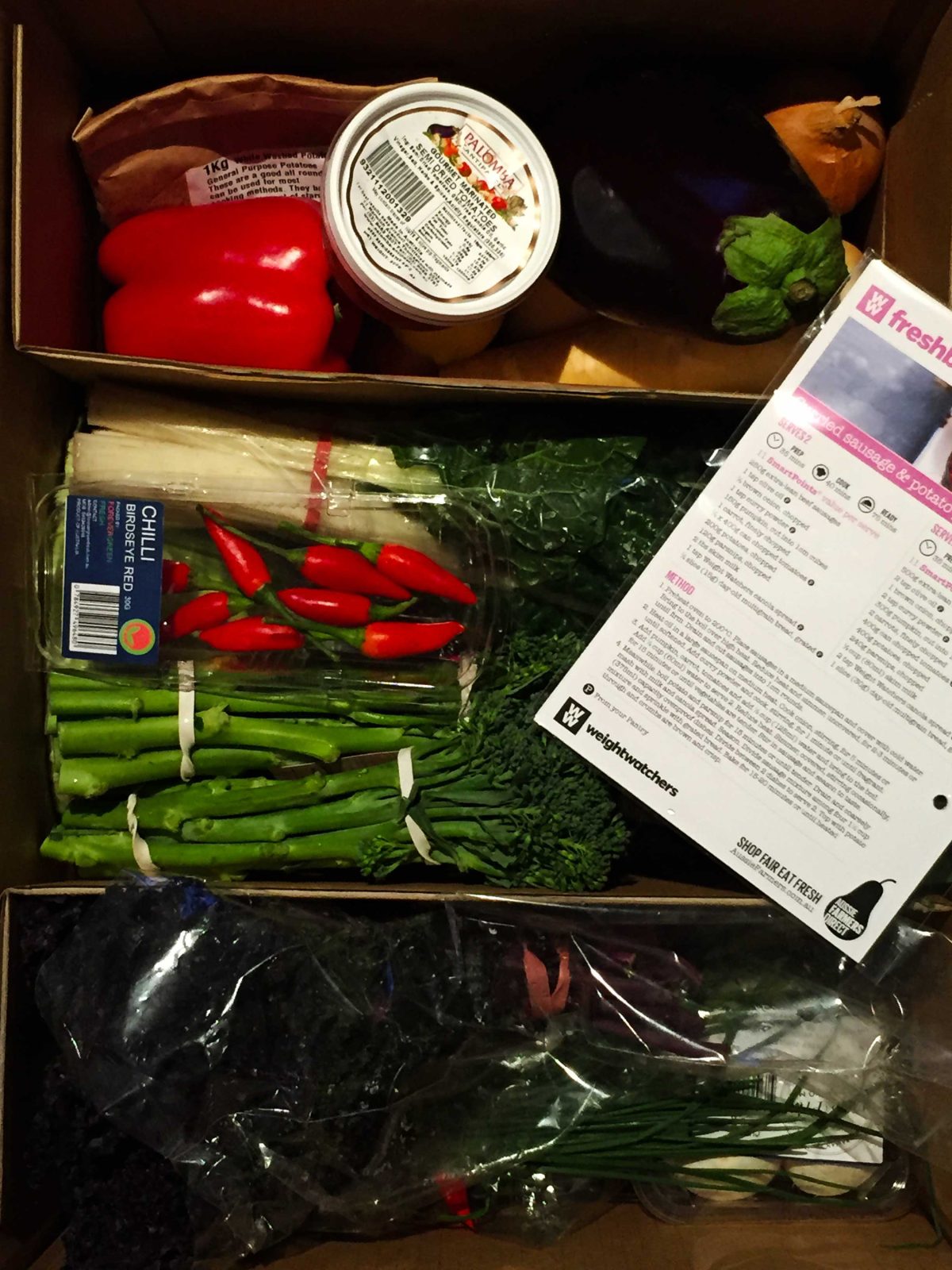 So my choice was the Family FRESHBOX which includes ingredients and fresh produce to serve 5 meals for 4 people. I have been testing out and cooking from the WWFreshbox for the past couple of days using the Weightwatchers recipes that was included. And here is what I think;

Pros:
No more meal planning – You don't have to break your head wondering what you are going to cook each day and then shop around for ingredients. You get the ingredients delivered straight to your door with the recipes included. Definitely a time saver!
Choose from different types of WWFreshbox – there are plenty of choices when it comes to the size of the WWFreshBox designed to serve 2 or 4 people for 3 or 5 meals. Ensures zero wastage.
High Quality Fresh Ingredients – that are packed to perfection in a special temperature controlled box. Aussie Farmers Direct does a brilliant job at sourcing all the produce from local farmers which means that you not only eat healthy and fresh but also support the local community.
Free Delivery – Yup, you heard it right….free delivery to your door.
Excellent Packaging – Since all the ingredients are packed in a temperature controlled box, everything stays fresh till you reach home and put it away. The vegetables are packed neatly, in sealed containers where necessary and all the protein is in a special cover with gel packs. The gel packs inside can be reused and if you do not wish to keep it, you may leave it inside the box and place it outside on the day your next delivery happens.
Delicious and Healthy Recipes – I mean it guys, really delicious recipes. All the recipes are designed by the nutrition experts at Weight Watchers and includes the Smart Points so that you can keep track. And even if you are not watching your weight, you still can eat healthy. The recipes change every week so it doesn't get boring at all. Every week's recipes are updated on the website so you can check out that before placing your order.What I really loved about the recipes is that there is no compromise on flavour and taste as you can see from the dish I will be sharing with you guys shortly.
Cons:
Delivery can be an issue for those who live in apartments with unit numbers; the box will need to be delivered to a friend's place or your business address. Also, delivery is currently not available in certain suburbs. Do check if your suburb is covered on the website.
No dry ingredients provided.
No exclusively vegetarian WWFreshbox.
Getting to my favourite part; the recipe that I tried out from the WW Freshbox and absolutely loved – Pasta with Kale, Bacon and Mushrooms.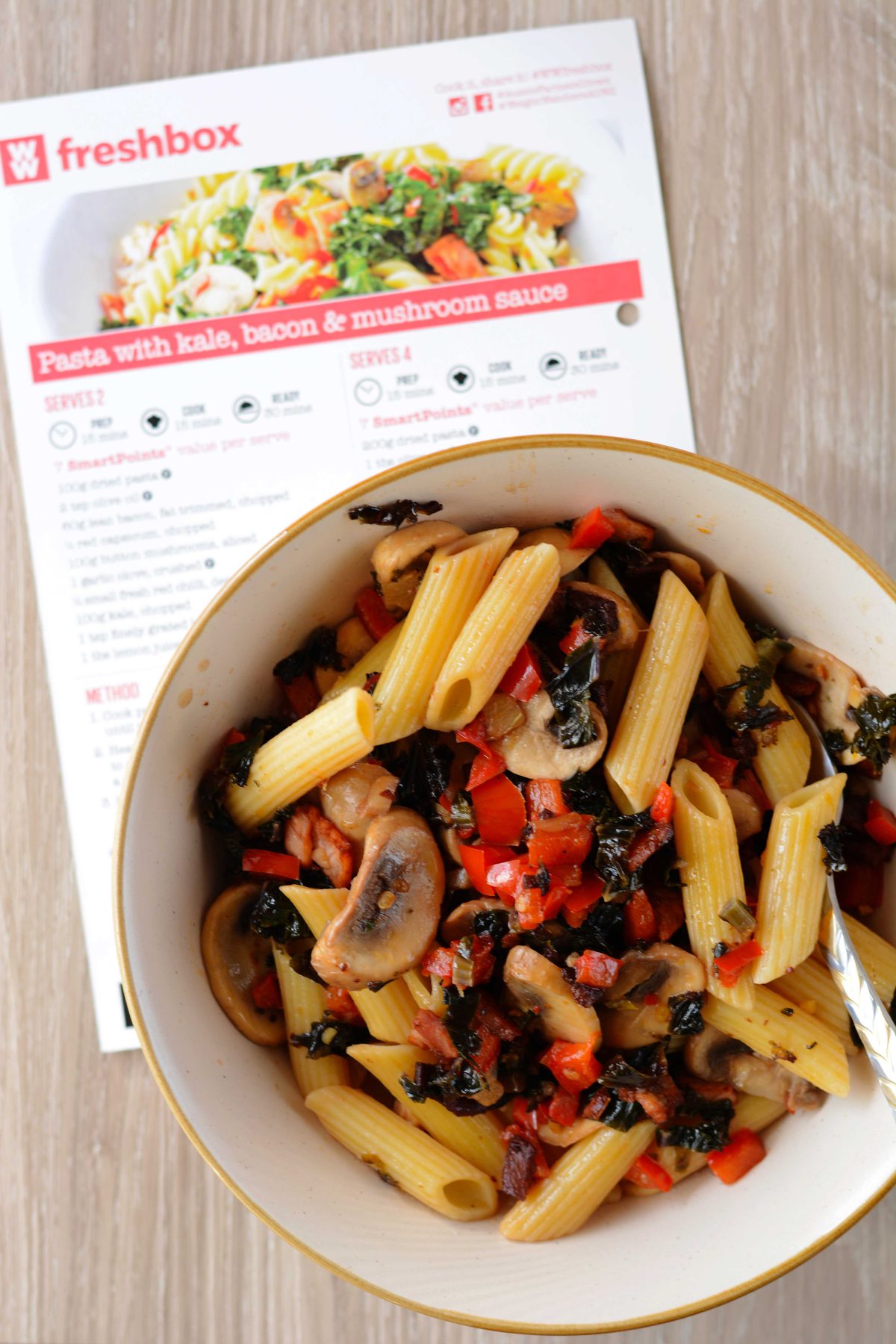 We are not big on kale in our house. I don't mind it but the boys are not very enthusiastic about it and the only way I have been able to make them eat it is in a lentil curry. So with this recipe, I was both excited and apprehensive. But went ahead anyway, hoping the bacon will work its magic even if the kale fails.

And let me tell you peeps, we loved it!

This pasta with kale, bacon and mushrooms was a winner on all counts – it was light, refreshing, healthy, low on calories and super packed with flavour. From prep to finish, on the table in 30 minutes. All thanks to Weight Watchers, we have found our favourite kale dish.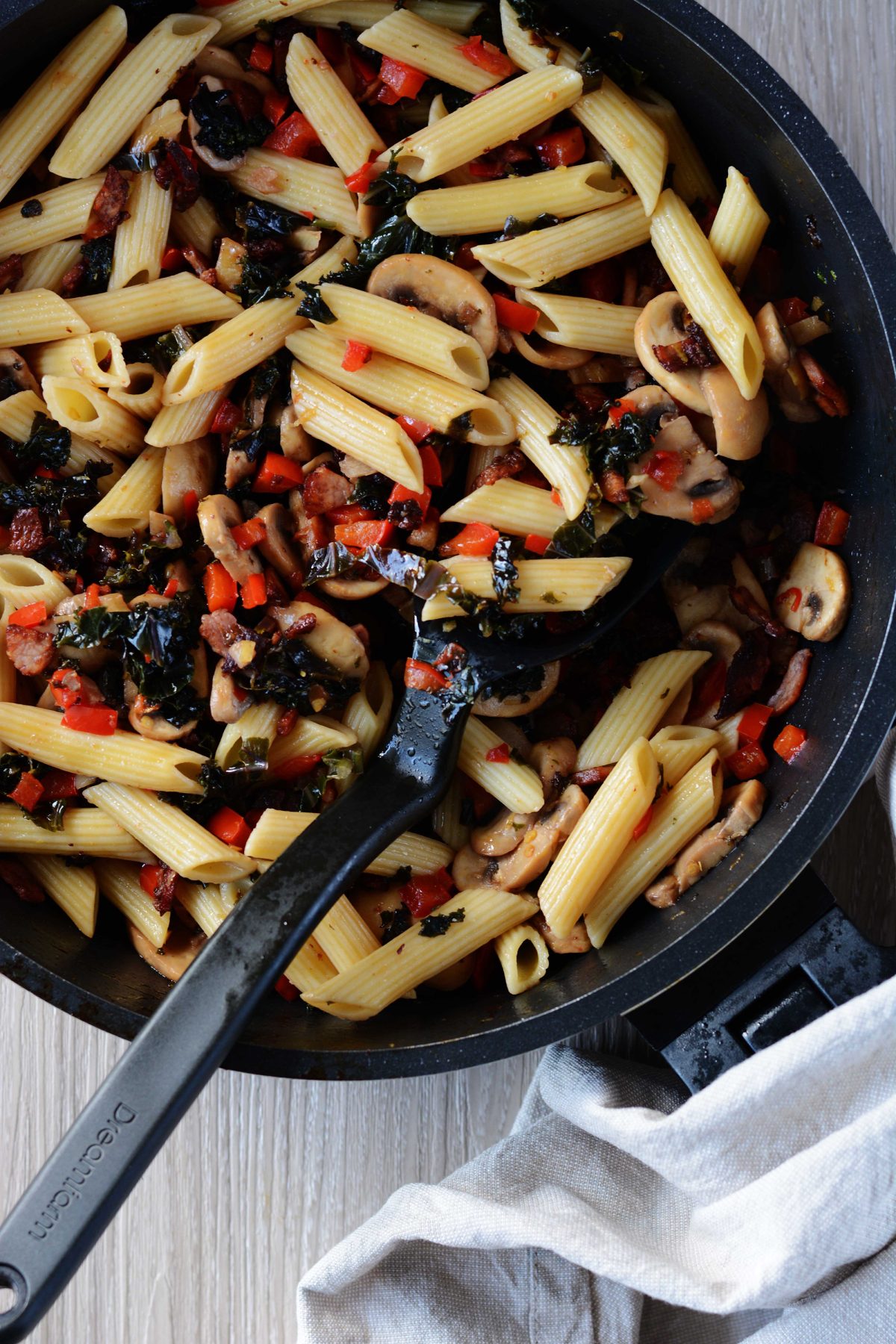 Check out all my pasta recipes…delicious ideas, I promise!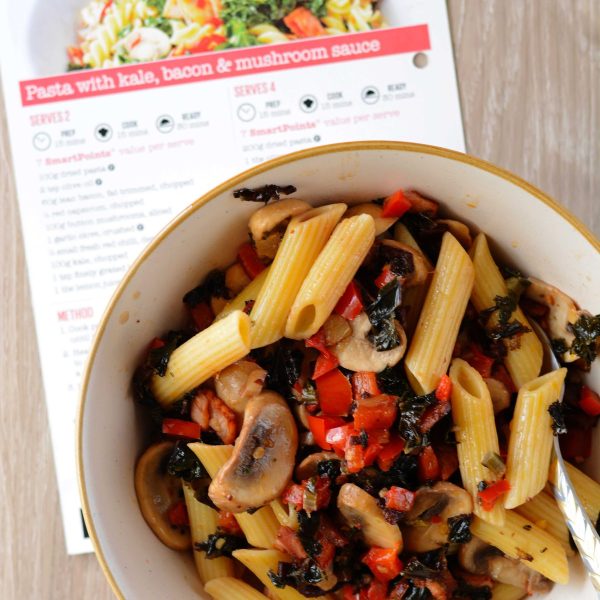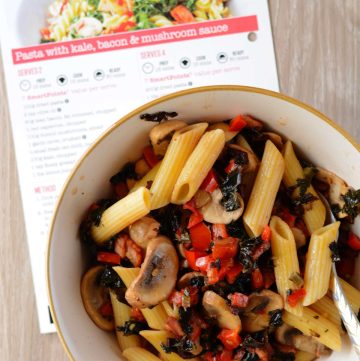 Print Recipe
Pasta with Kale, Bacon and Mushrooms
Ingredients
200

gms dried pasta

5

tsp

olive oil

125

gms lean bacon

fat trimmed; chopped

1

red capsicum; chopped

200

gms button mushrooms; sliced

2

medium garlic cloves; crushed

2

small fresh red chilli; finely chopped

200

gms kale; chopped

2

tsp

finely grated lemon rind

2

tbsp

lemon juice

Salt; to season
Instructions
Cook the pasta in salted boiling water as per packet instructions till al dente. Drain (reserve ½ cup liquid) and keep aside.

Heat 1 tsp olive oil in a large pan and add the chopped bacon. Cook on medium heat for 4-5 minutes till the bacon pieces have turned golden and crisp. Transfer to a bowl.

In the same pan, add 2 tsp olive oil and add the garlic, chillies and capsicum. Cook for 30 seconds and then add the mushrooms. Cook over high heat for another 2-3 minutes till the mushrooms have softened. Transfer to the same bowl as the bacon.

Heat the remaining olive oil and add the kale. Season with salt and cook covered for 2-3 minutes on low heat. Then add ¼ cup water to the kale, mix and continue to cook covered for another 2-3 minutes or till the kale has become tender.

Increase heat and return the bacon and vegetables to the pan. Also add the lemon rind and juice; season with salt if necessary.

Add the cooked pasta, half of the reserved liquid and toss on high flame for a few seconds.

Serve warm
Notes
I served this pasta dish with a fresh salad made from cherry tomatoes, red onion, coriander leaves, balsamic vinegar and extra virgin olive oil.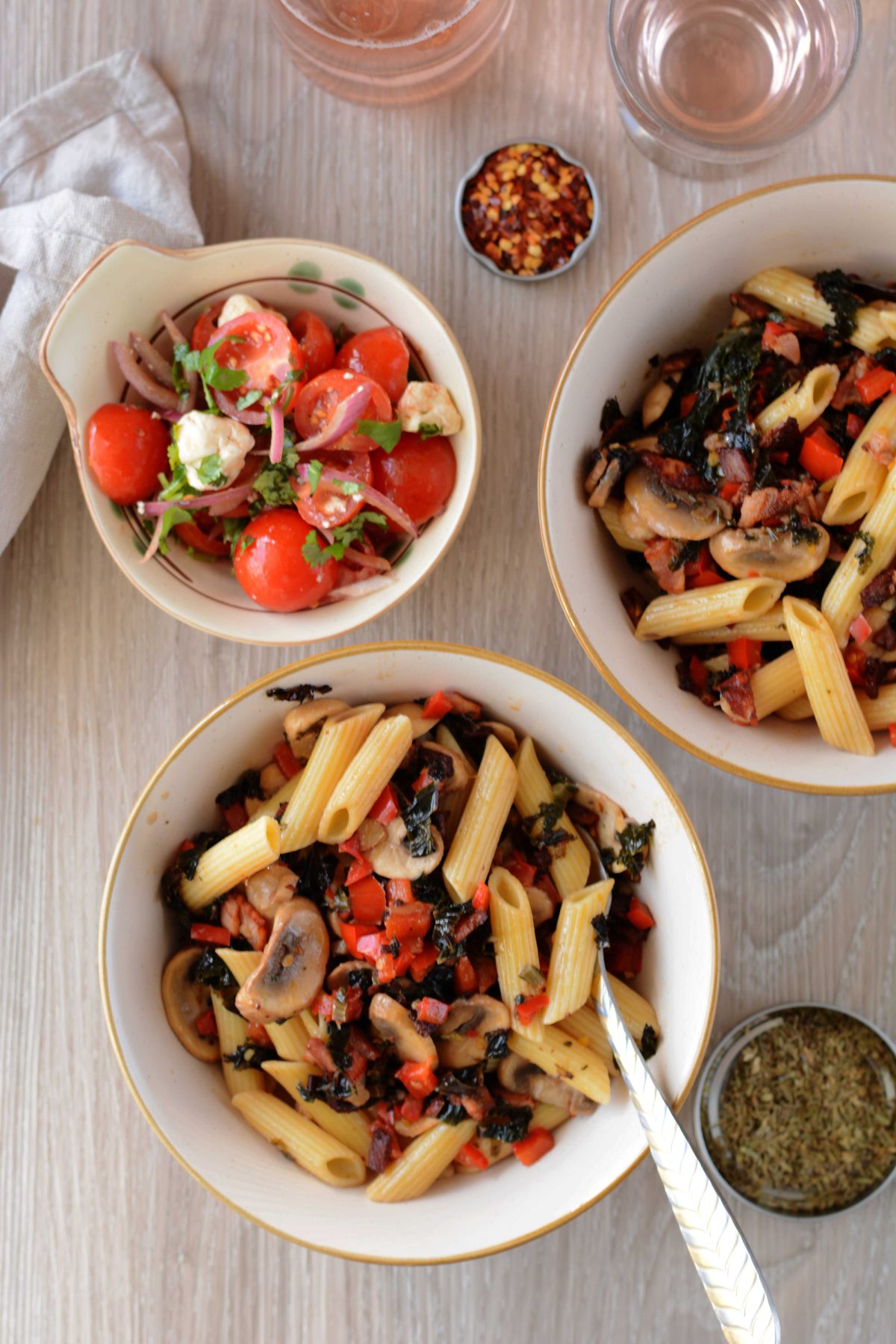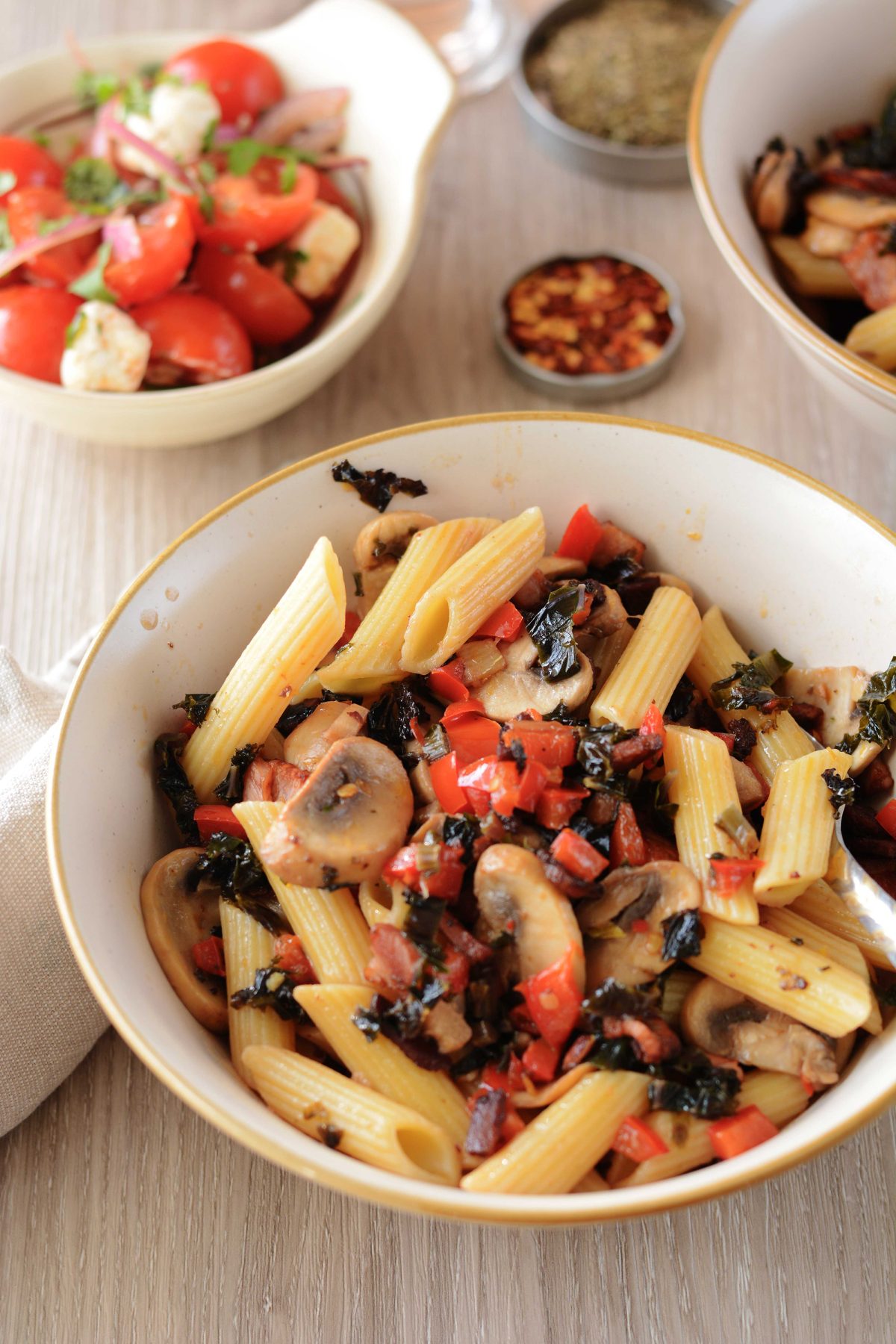 Disclaimer – This post has been bought to you in collaboration with Aussie Farmers Direct. All the opinions stated in this review are mine; hope it helps you make an informed choice.