I have a small balcony garden at home, not too many plants but I do grow most of the herbs and a few leafy greens. And the hailstorm that we experienced last week was not very complimentary to my gardening efforts. Since I do not have too much space inside my apartment to move all the plants, I decided to be selective and move in only the curry leaves and basil along with a few other ornamental ones. But with the wind raging all day, all my herbs took a real beating. And then the hail started!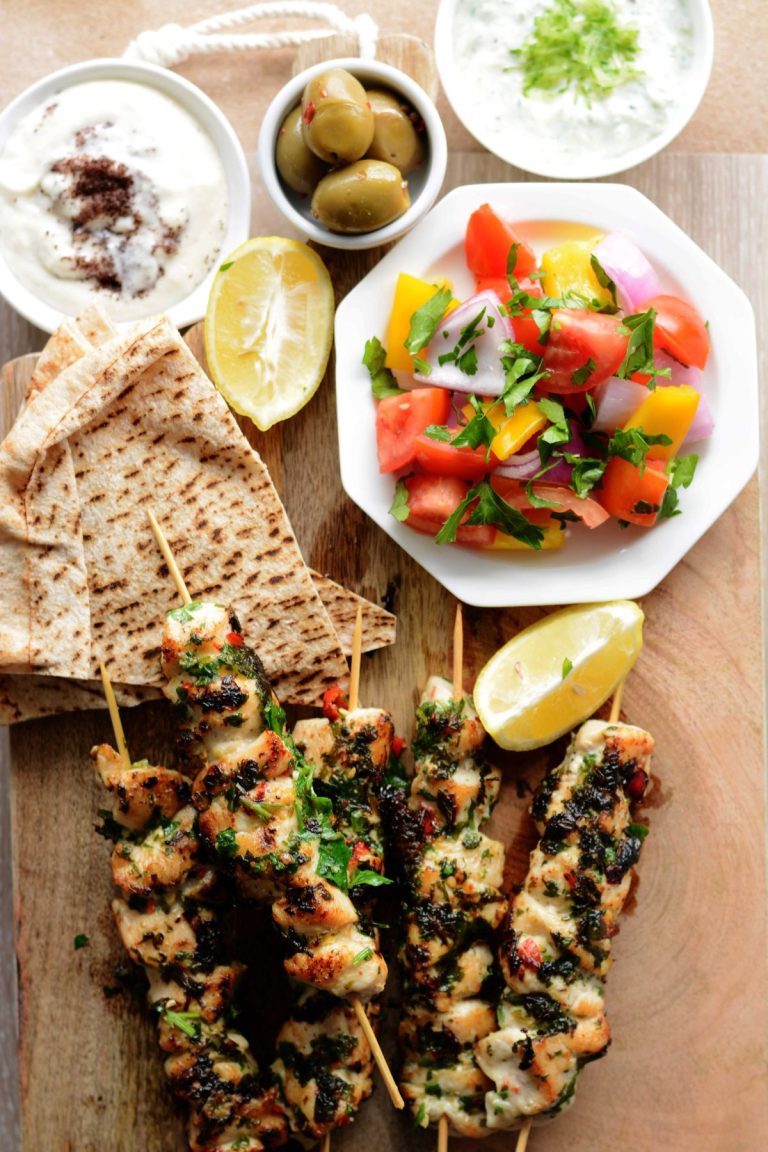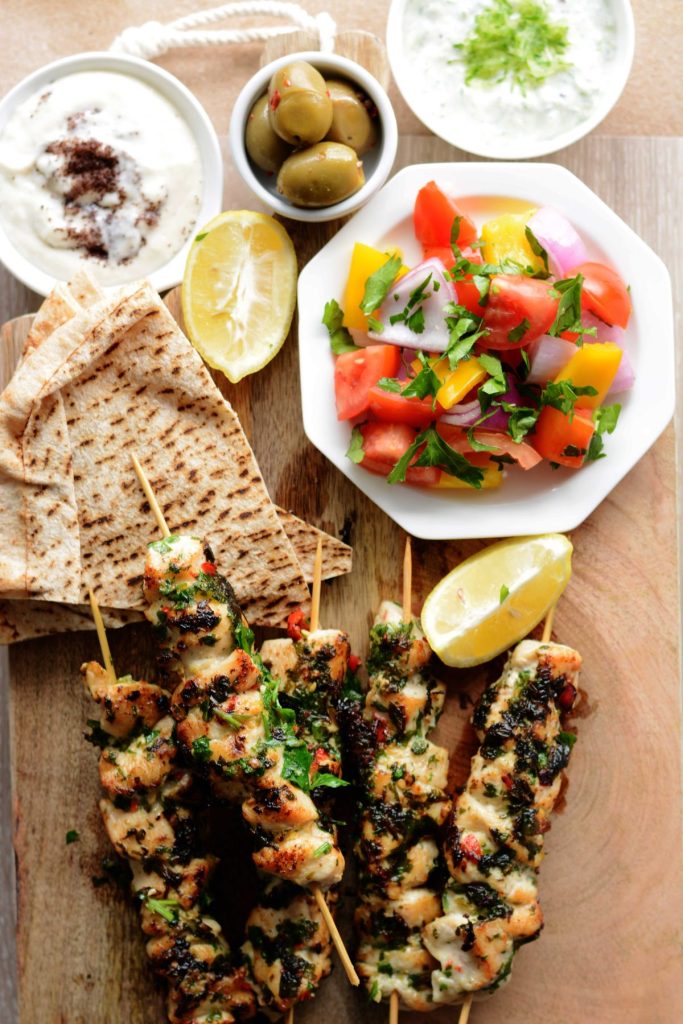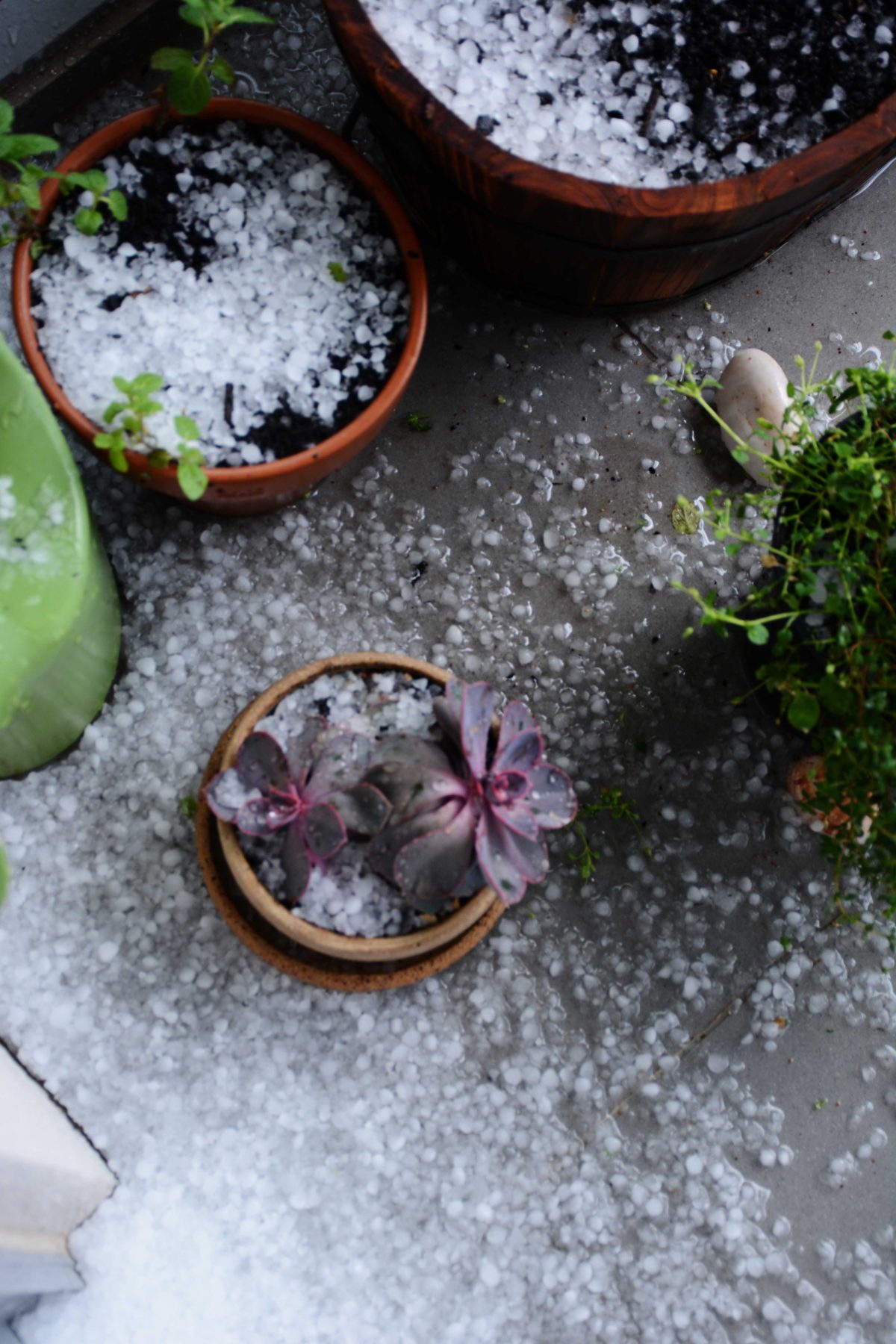 Since I wasn't sure if the plants were going to survive, I cut off all the herbs and thus ended up with a huge amount of parsley and a bit of coriander, mint and some rosemary too.
I didn't want the herbs to just wilt off in the fridge especially the parsley so decided I must do something delicious with it. Chimichurri came to my mind immediately especially since I have made it before. I had some chicken thigh fillets stocked too so the decision was made; I will grill the chicken and have it with the chimichurri. But tweaking is something I love to do and what I finally ended up with was these absolutely gorgeous Grilled Chicken Skewers with fresh herbs and chillies.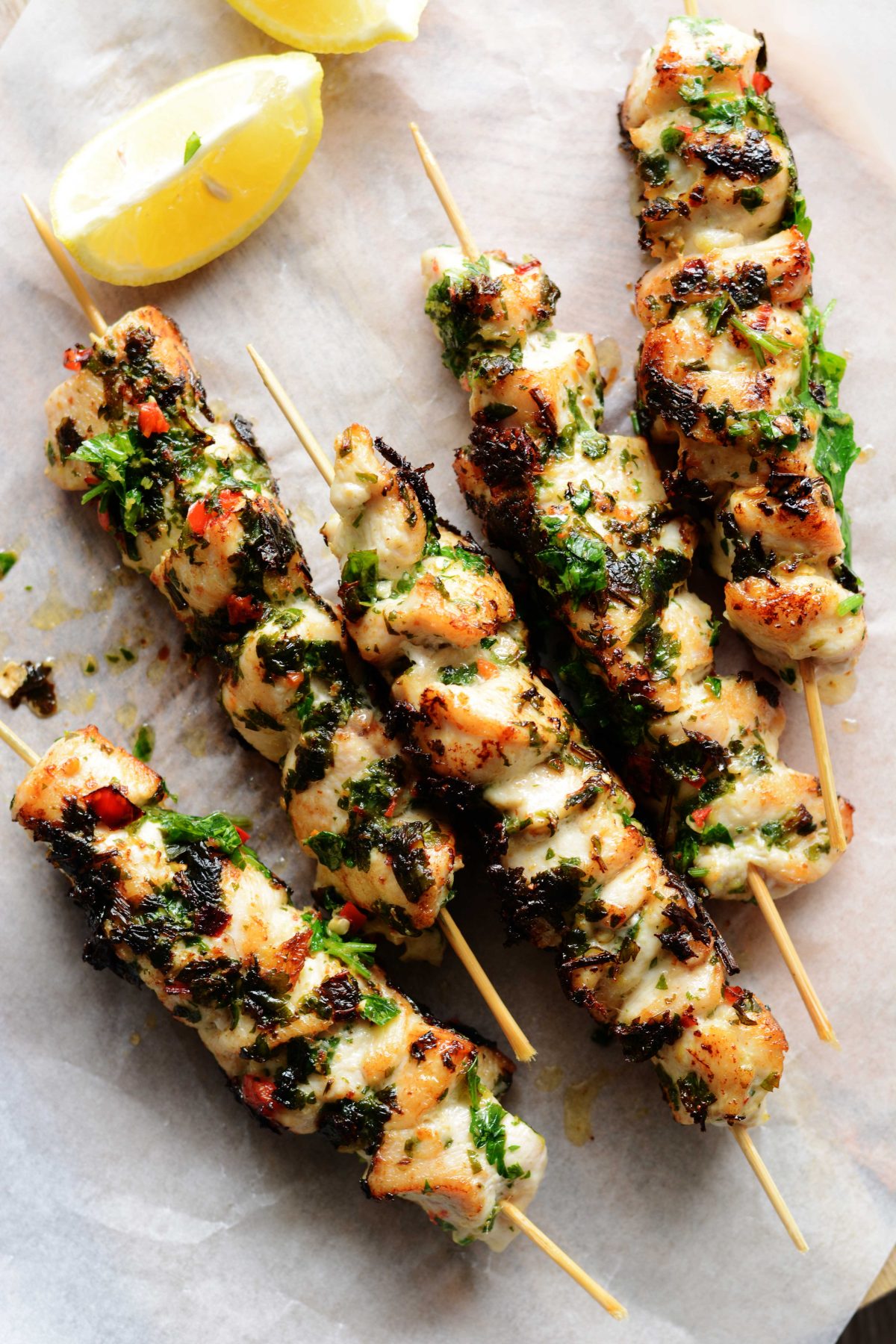 Veered away from the traditional chimichurri as I was thinking of a marinade and not a sauce. So I wanted more flavour which is why the fresh red chillies and ginger ended up in it. Along with the freshness from the parsley, coriander and basil, this marinade has the depth of flavour from the aromatics and that mild kick from the chillies. Long red chillies which are not very fiery are best for this style of marinade.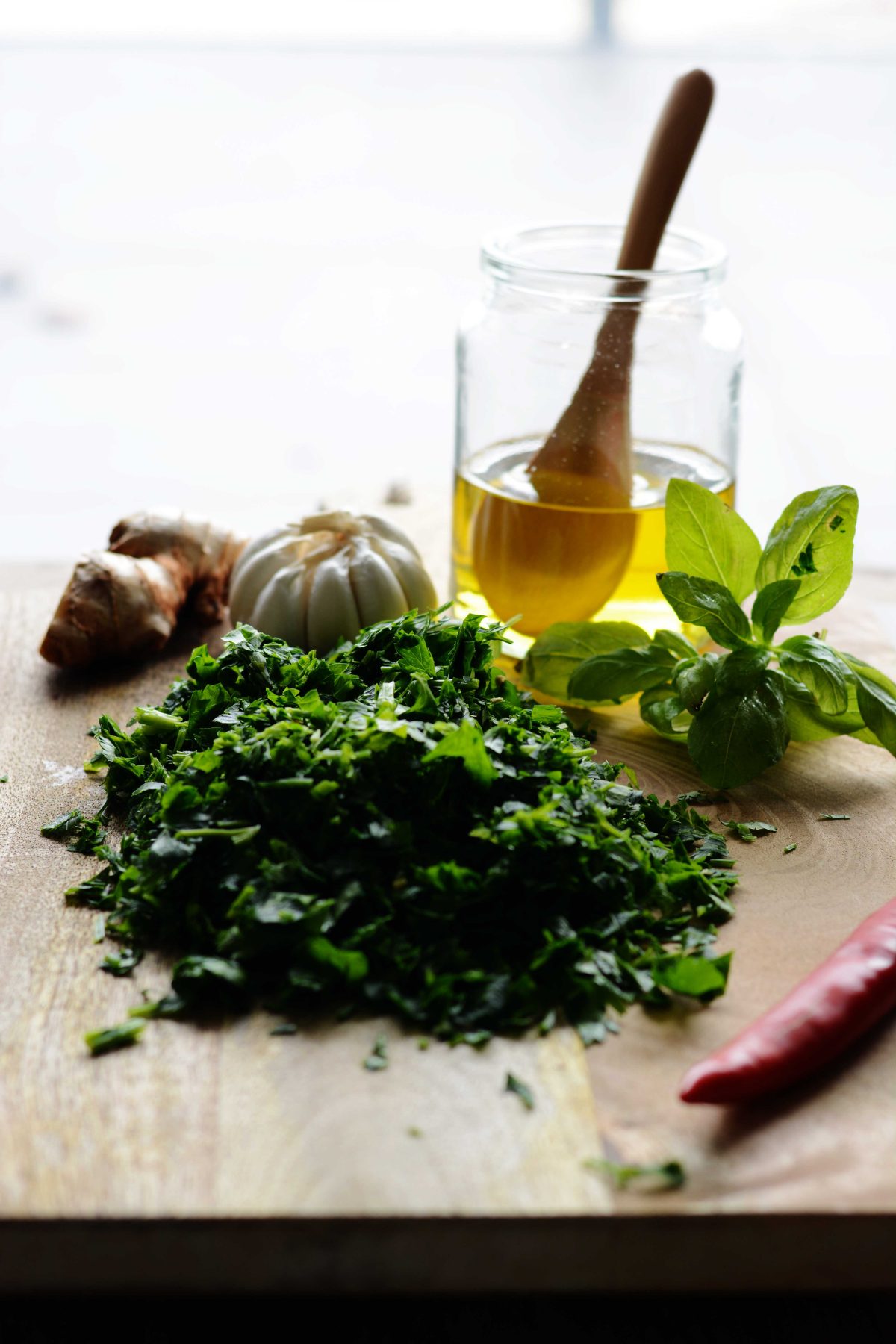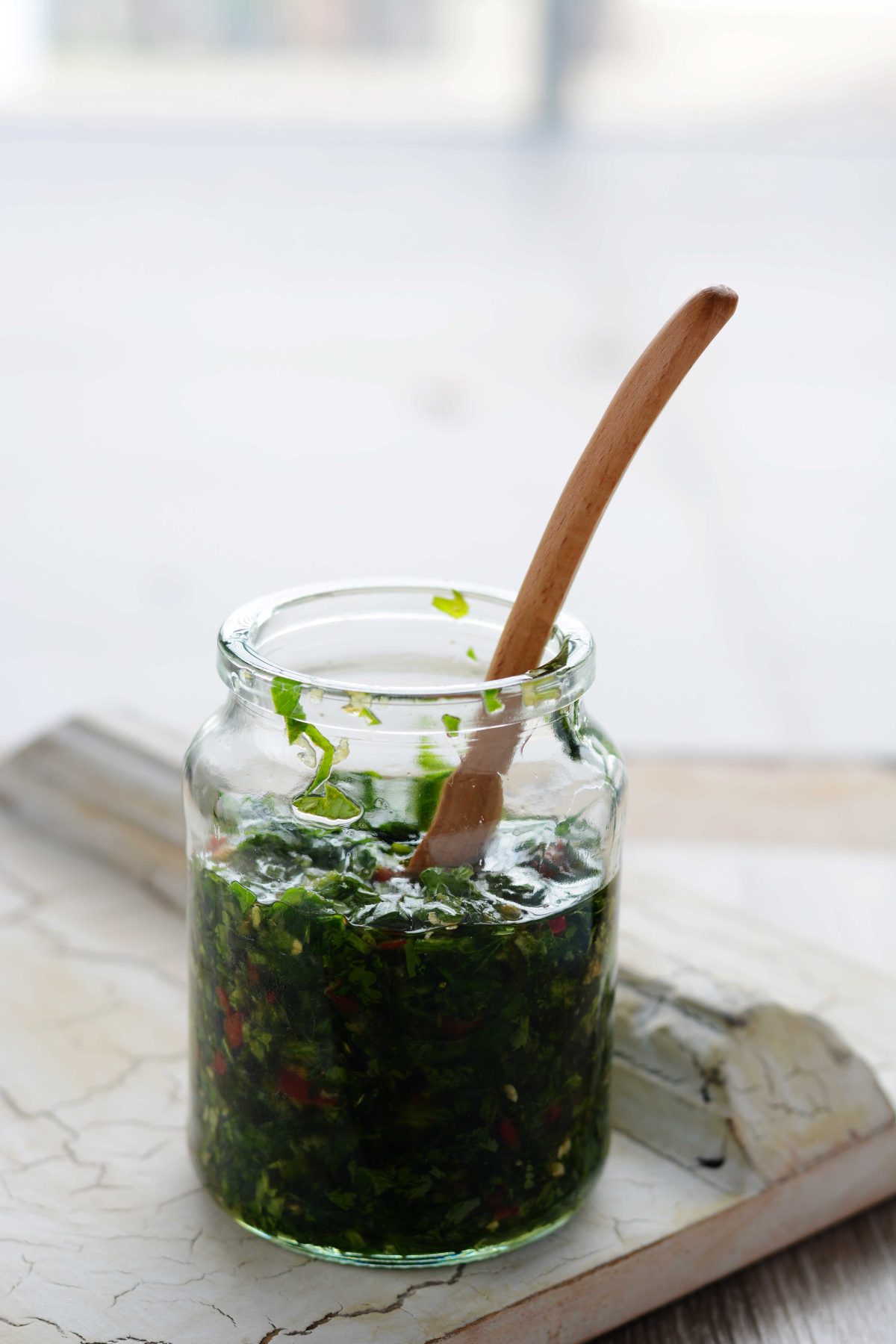 The chicken skewers turned out so good that I decided to share it with all of you. An extremely easy dish to make, hardly any prep work except for chopping up some herbs and a very affordable one too especially if you grow herbs. Perfect for an easy and healthy weekday dinner.
We had these grilled chicken skewers Middle Eastern style served up on my trusted wooden board. So pita bread, chicken skewers, garlic dip, tzatziki, olives and a green salad. Even better the next day to take to work….just put it all into the pita and roll it up for a delicious wrap for lunch. Winner, isn't it!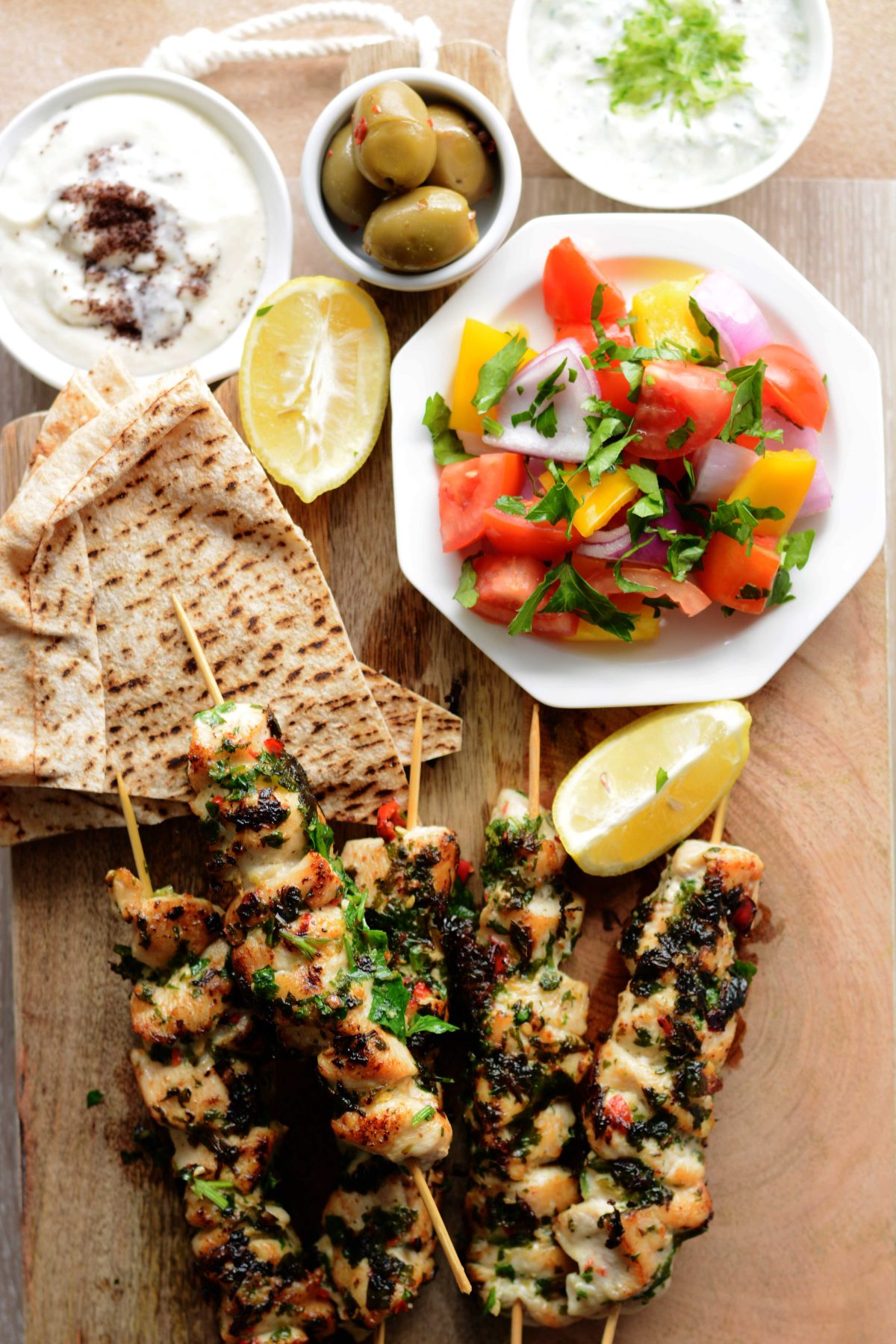 Hope all of you enjoy these grilled chicken skewers (with fresh herbs and chillies). And if you make it, I would so love to see it so please tag me in all your pictures using #thespiceadventuress. Have a great weekend folks!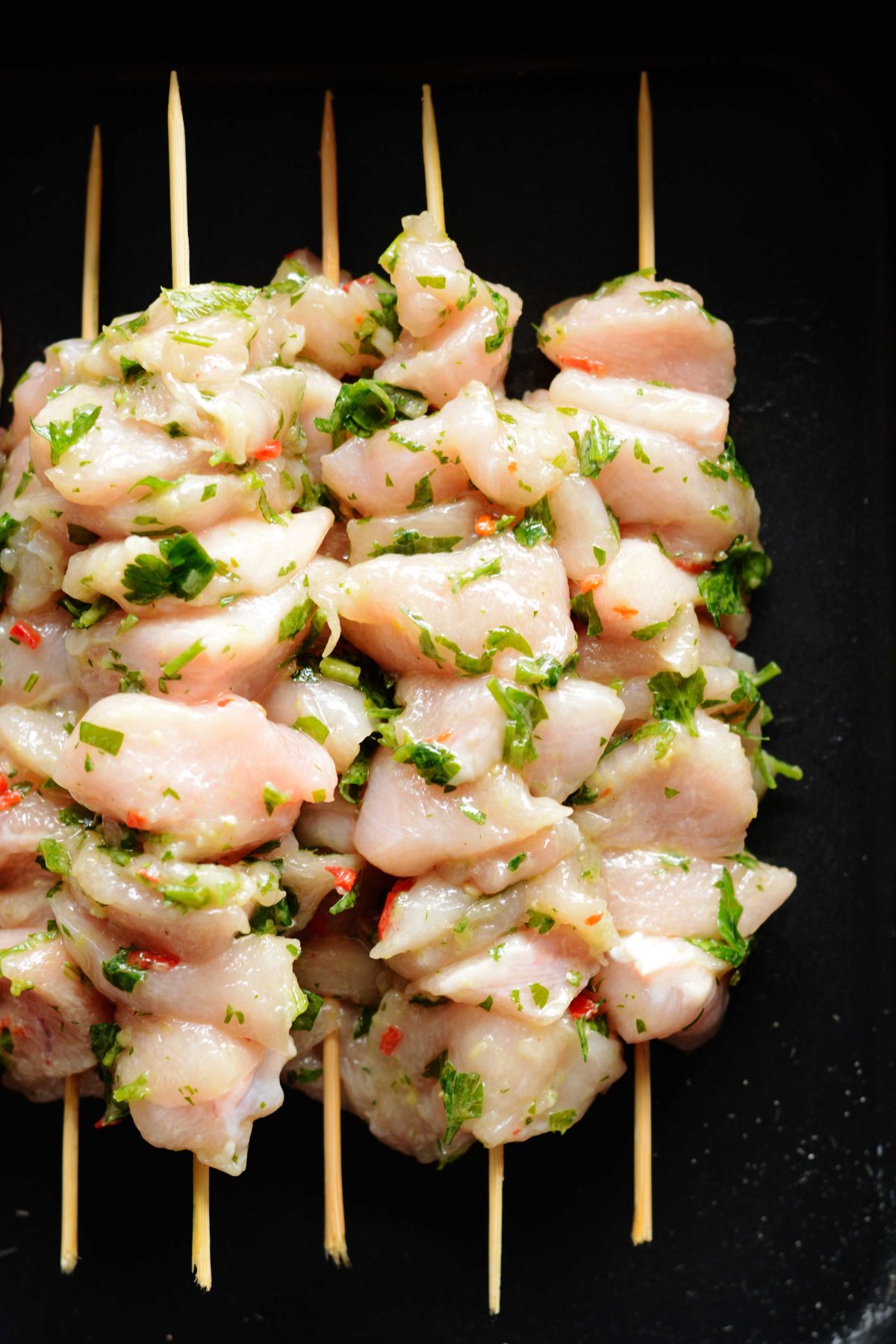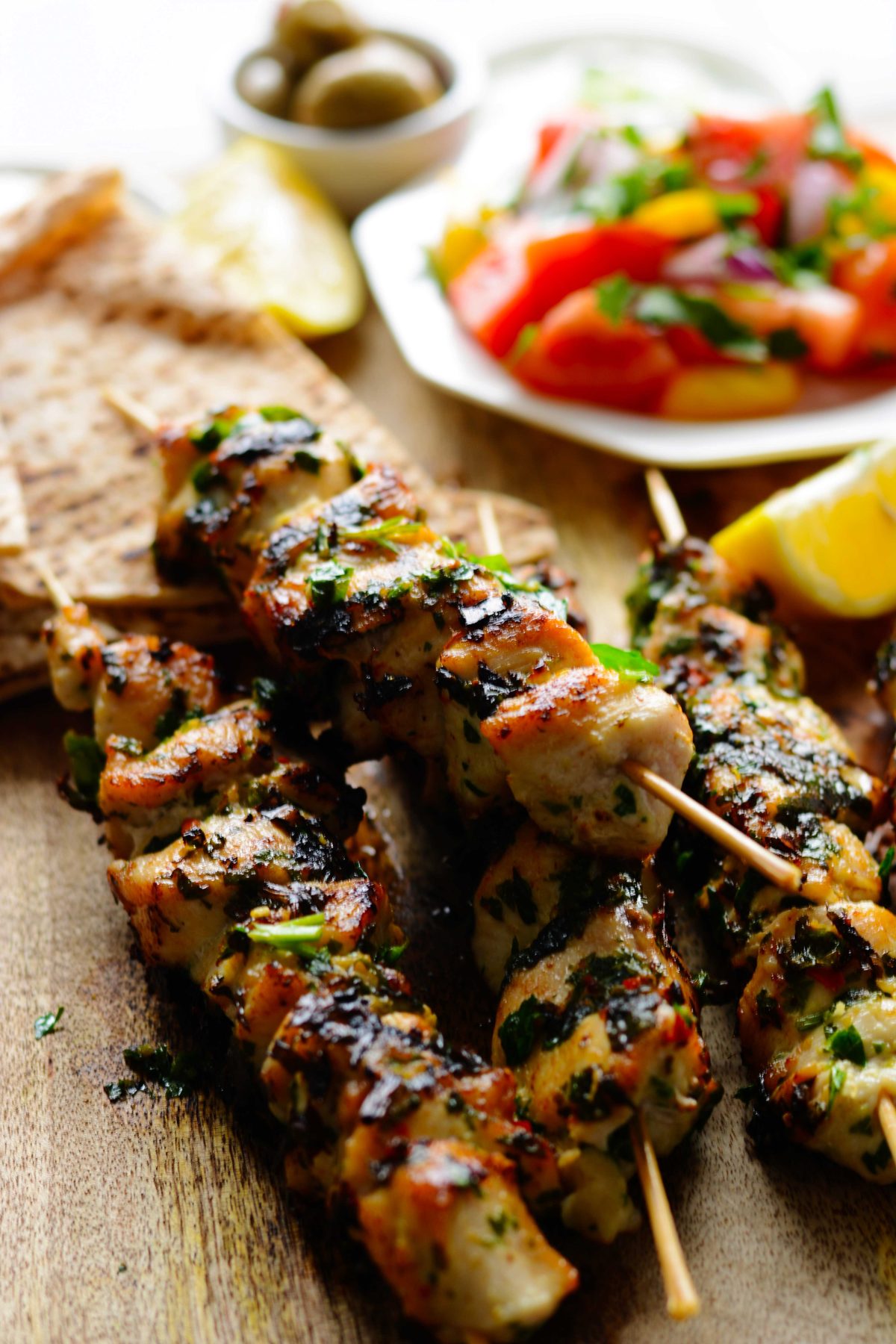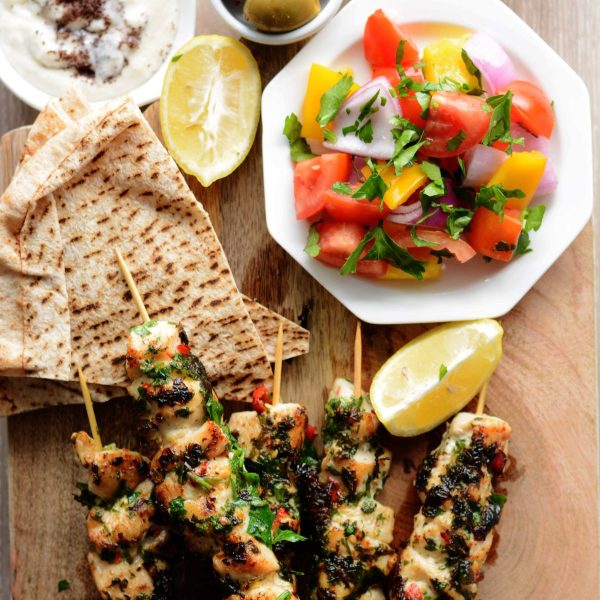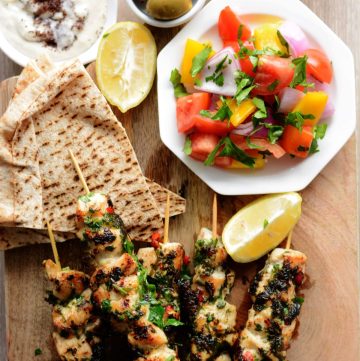 Print Recipe
Grilled Chicken Skewers (with fresh herbs and chillies)
Ingredients
500

gms chicken; cubed into even sized pieces

2

heaped tbsps herb marinade

Salt; to season

Juice of half a lemon

Bamboo skewers
Herb Marinade:
1

cup

parsley; finely chopped

½

cup

fresh coriander leaves; finely chopped

¼

cup

fresh basil; finely chopped

3

medium garlic cloves; grated

½

inch

ginger; grated

1 ½

fresh red chillies

long variety; seeded and finely chopped

1 ½

cups

olive oil

Salt; to season
Instructions
Soak the bamboo skewers in water for 15 minutes to prevent burning.

To prepare the herb marinade, place all the ingredients in a bowl and add the olive oil. Season with salt.

Place the cubed chicken pieces in a bowl and add the marinade, salt and lemon juice. Mix well to combine.

Skewer the chicken pieces and allow to refrigerate for at least 30 minutes.

Preheat the oven to 180°C.

Heat a grill pan (or frying pan) to high and place the skewers on top. Since olive oil is already added to the marinade, no extra oil is required.

When grilled on one side, turn over, baste with more marinade and cook. Repeat till you get good caramelization all over and then finish off in the oven (another 2-3 minutes). You can continue to baste with the marinade as required.

Serve warm with dips, salad and pita bread.
Notes
The marinade can be prepared in bulk; stays well in the refrigerator for upto 3 days and upto a month if frozen.