Green coriander seeds! I cannot tell you the joy and excitement at seeing these for the very first time in my life…..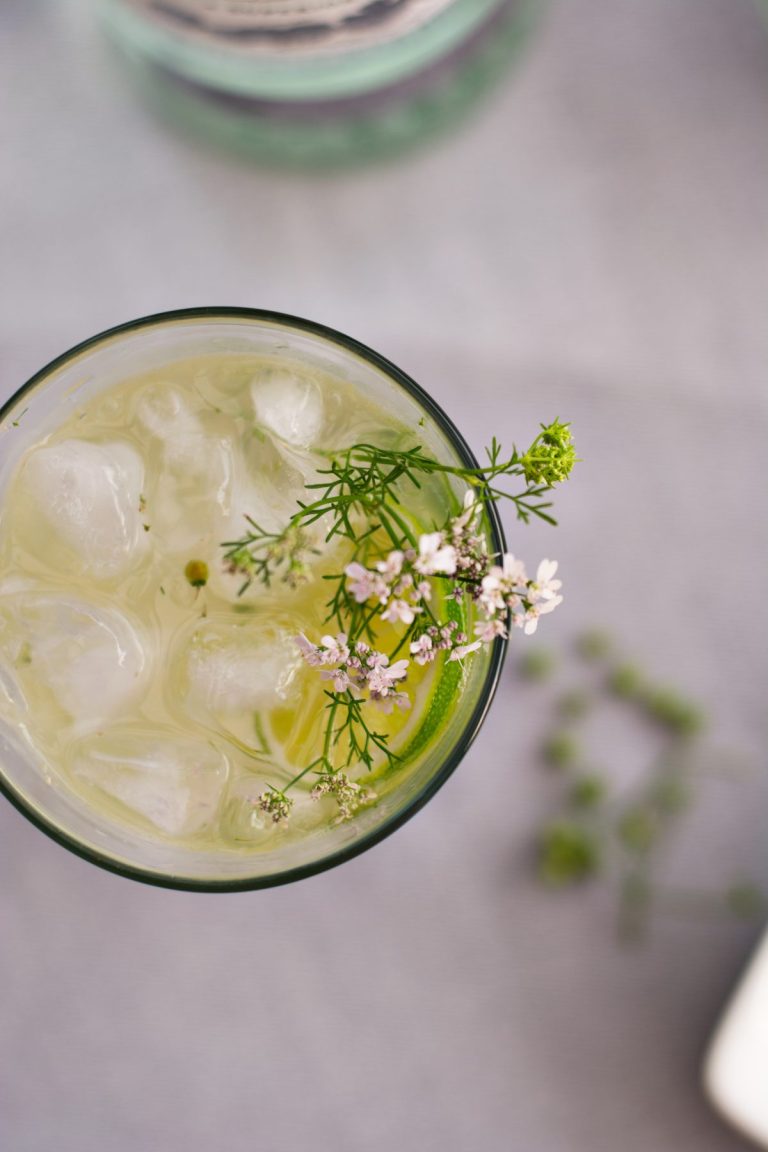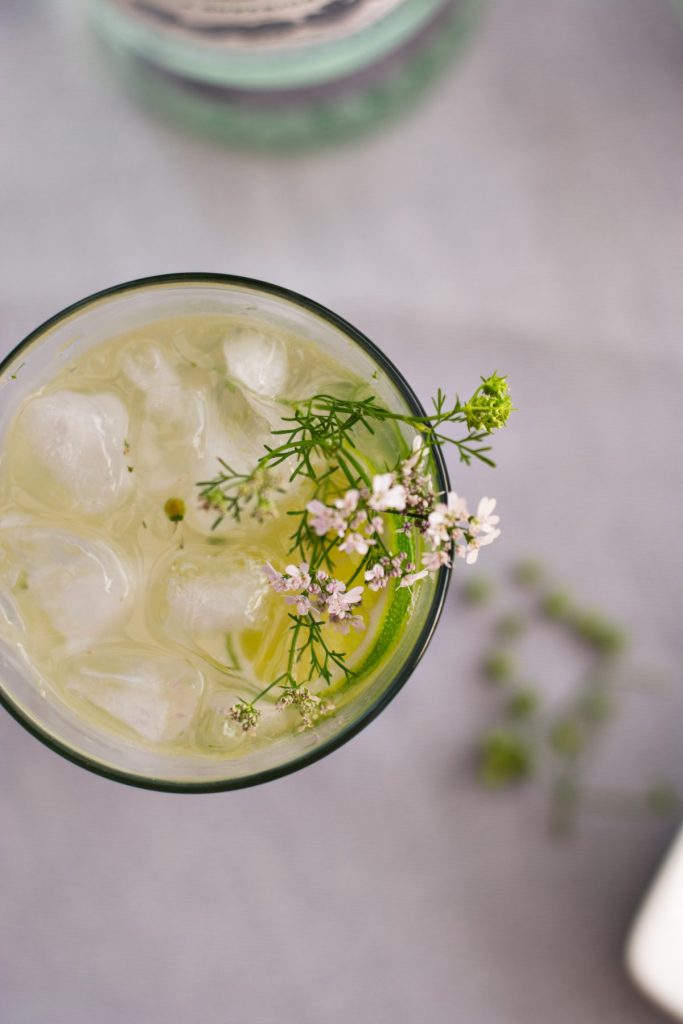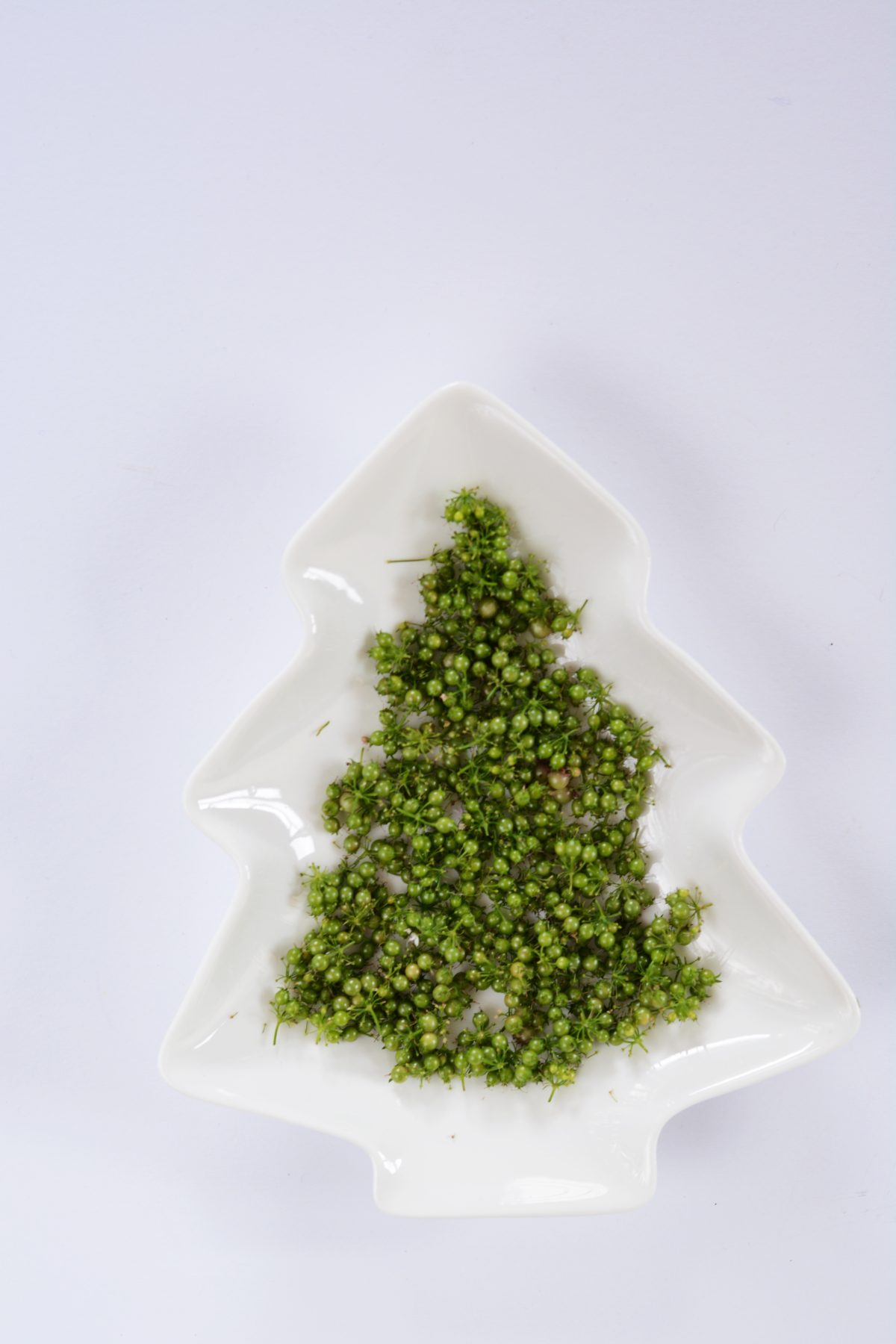 Growing up with parents who were passionate about gardening, I must admit that a bit of the 'green thumb' has rubbed off on me too. I have a very basic garden at the moment, mainly herbs and succulents, but I definitely do intend to expand it in the coming months.

One of the first herbs to get planted in my garden was coriander, simply because I use it almost every day and realised that growing it is not only super easy but also an affordable option when you are a food photographer. I highly recommend growing coriander if you are starting out with the whole gardening experience. Quite a sturdy, all season herb that grows easily (giving you that much needed confidence when you are a novice) and works well in a tiny apartment space too.

I have always mentioned how social media helps bridge distances and is a source of positivity and encouragement if you use it in the right manner. When I posted a glimpse of my tiny herb garden, a very kind gentleman Mr. D got in touch saying he would like to send me some seeds that he grows in his garden. He lives in Perth and has an amazing garden filled with all sorts of fruits and vegetables, some of the varieties bought specially from India. And he got my address and send me the seeds of quite a few vegetables including some native greens, carrots, radish and coriander. I thoroughly appreciate your gesture Mr. D and I will forever be indebted.

While the carrots and radish were not a success in my apartment terrace, the coriander grew and blossomed much to my delight. But there was one problem….I didn't know how to collect the seeds for the next growth cycle. My 'duh' moment!

So back to Mr. D, social media and YouTube it was, to understand how to collect the seeds. Until then, I would always snip away the flowers to encourage growth of new leaves and I realized that if I needed to get the seeds, I needed to let the plant flower. The flowers turn to seeds…..can't believe I forgot my basic botany lessons from school!!

And this spring, I let that happen and soon the tiny pretty white coriander flowers had blossomed into vibrant green coriander seeds. The 'spice adventuress' in me was intrigued on how these seeds could be used in cooking as it had the most intense delicious coriander flavour….I would describe it as a cross between the leaves and dried seeds. I did dry one batch of the seeds for the next season but I also got plenty of green seeds for my flavour experiments.

There isn't much info available on using green coriander seeds but a bit of research and speaking to friends who go gaga over spices and herbs like I do resulted in today's drink which I fondly call, the 'Green' Mojito.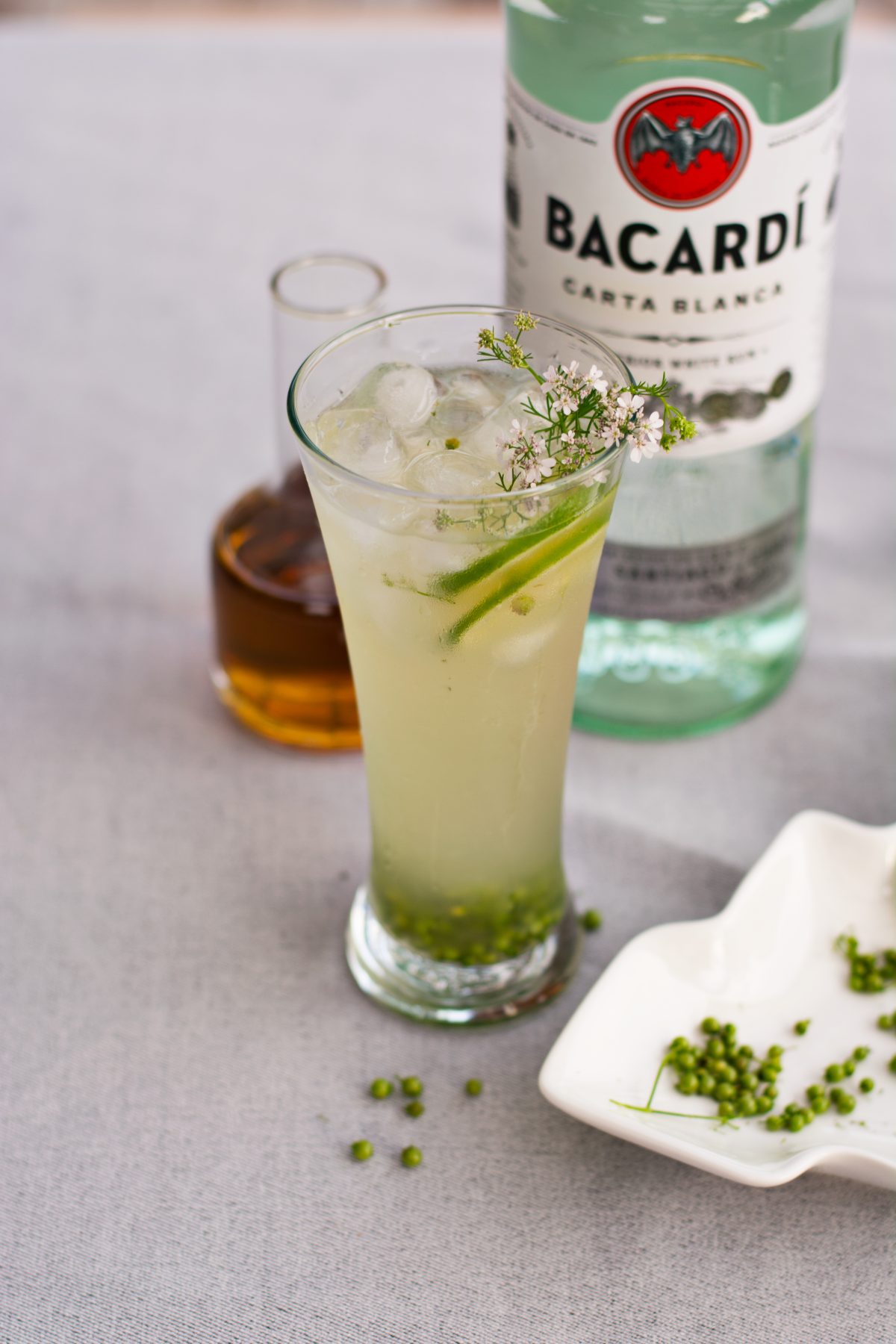 Now it is almost impossible to buy green coriander seeds so the only way you can enjoy this drink is to grow some yourself or get some from your gardening enthusiastic friends. The seeds can be crushed and infused in vodka or you could infuse it into the sugar syrup like I did. The sugar syrup keeps well in an airtight container for upto 2 weeks in the refrigerator.

So there you go…..a very summery, vibrant and delicious Mojito with green coriander seeds!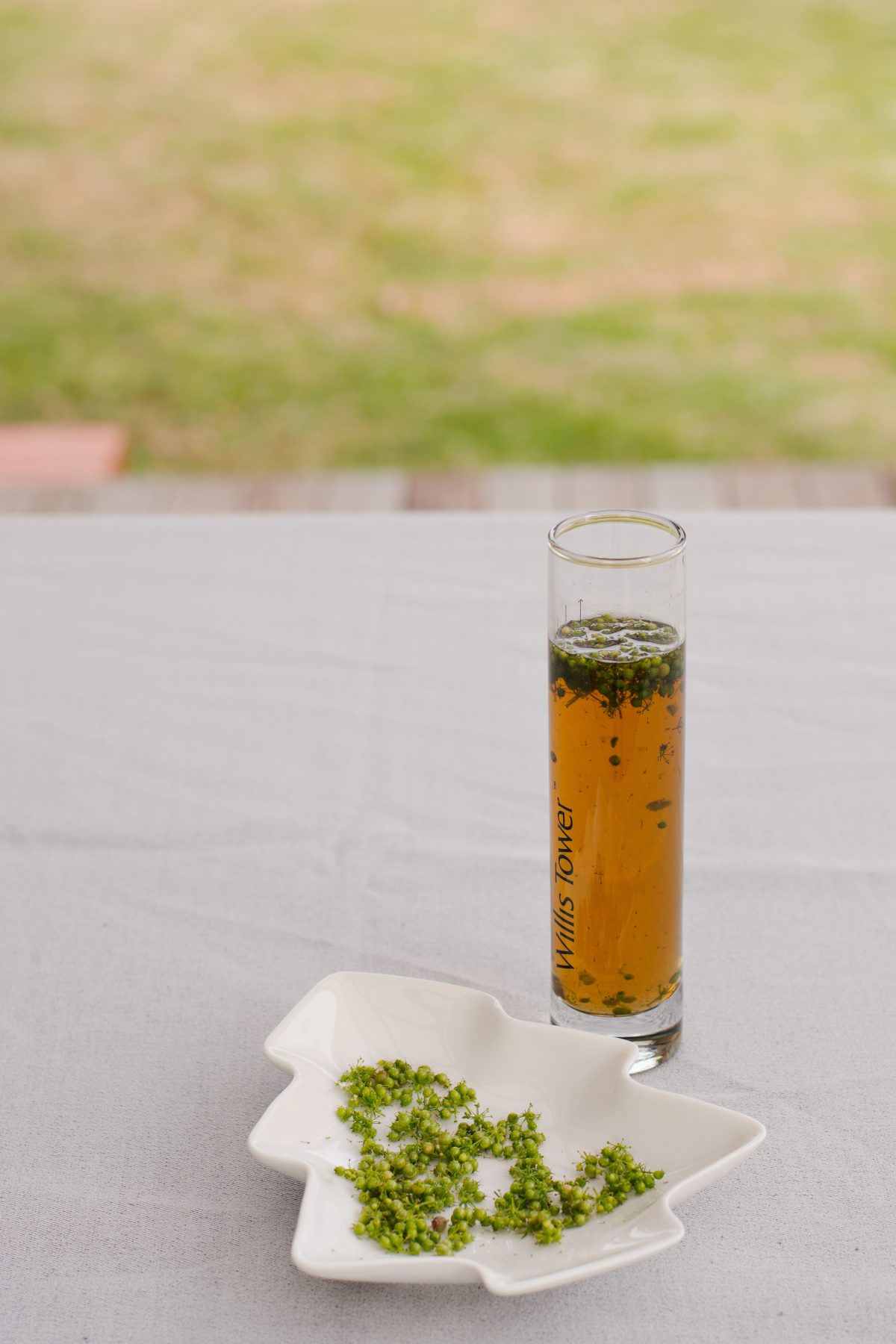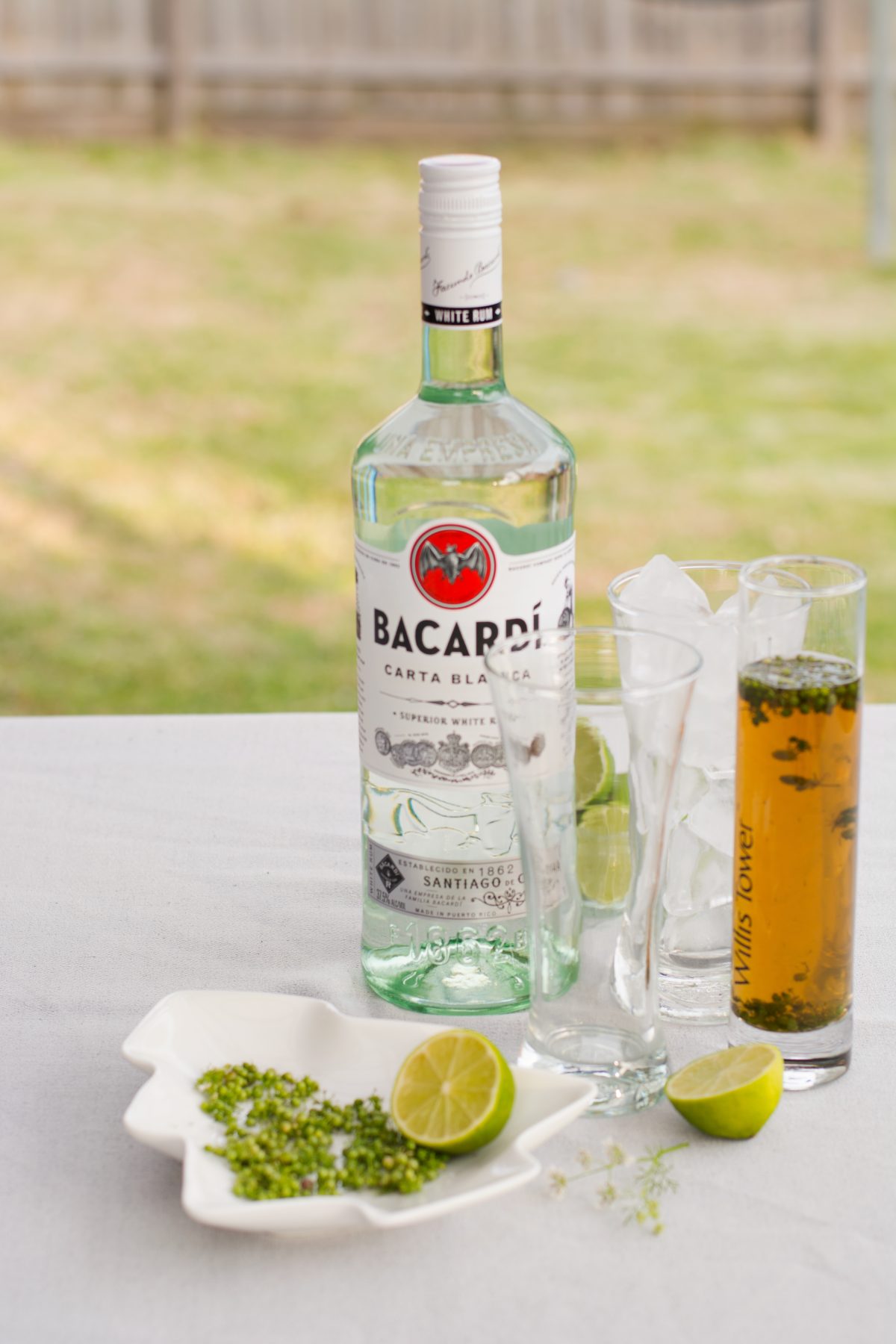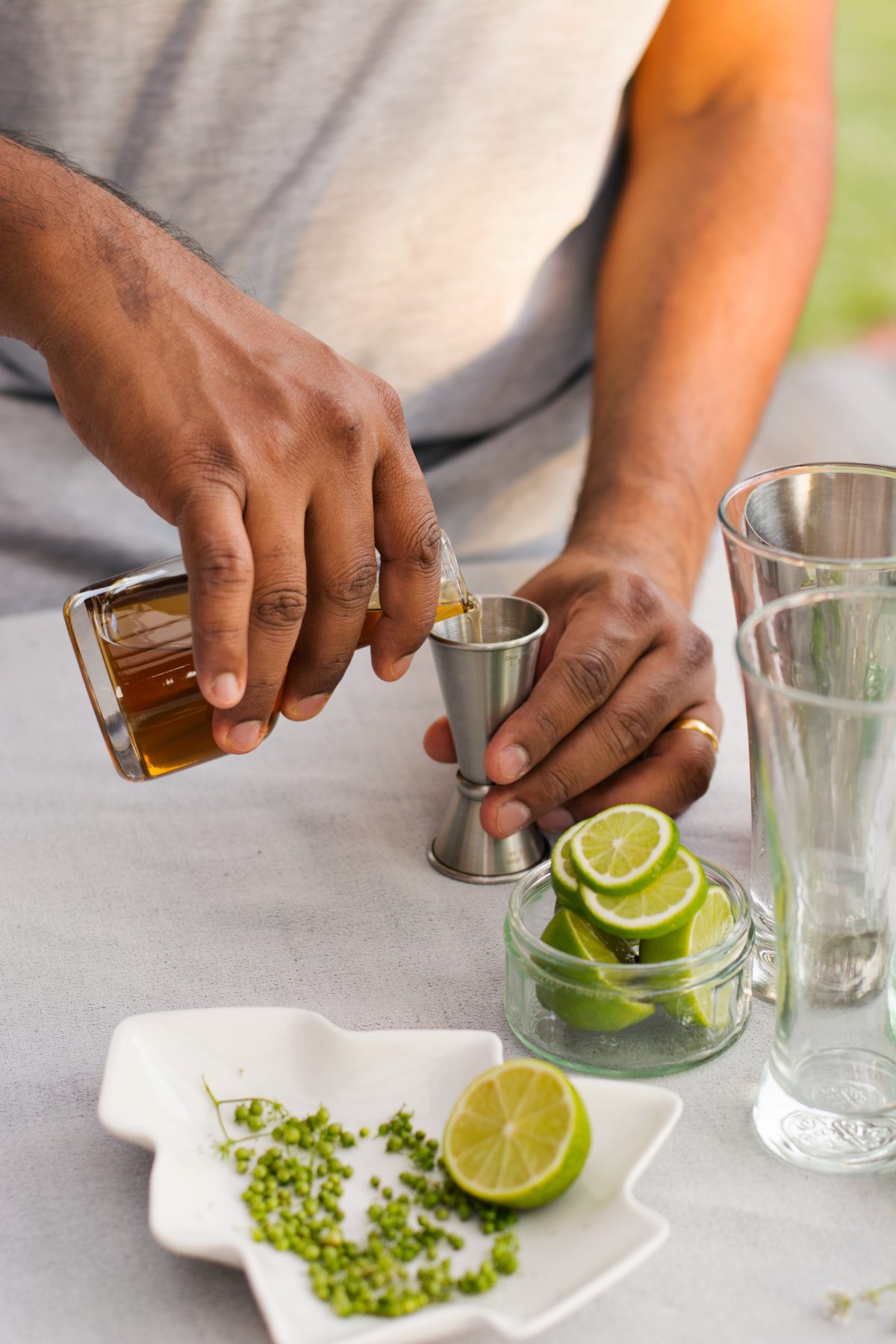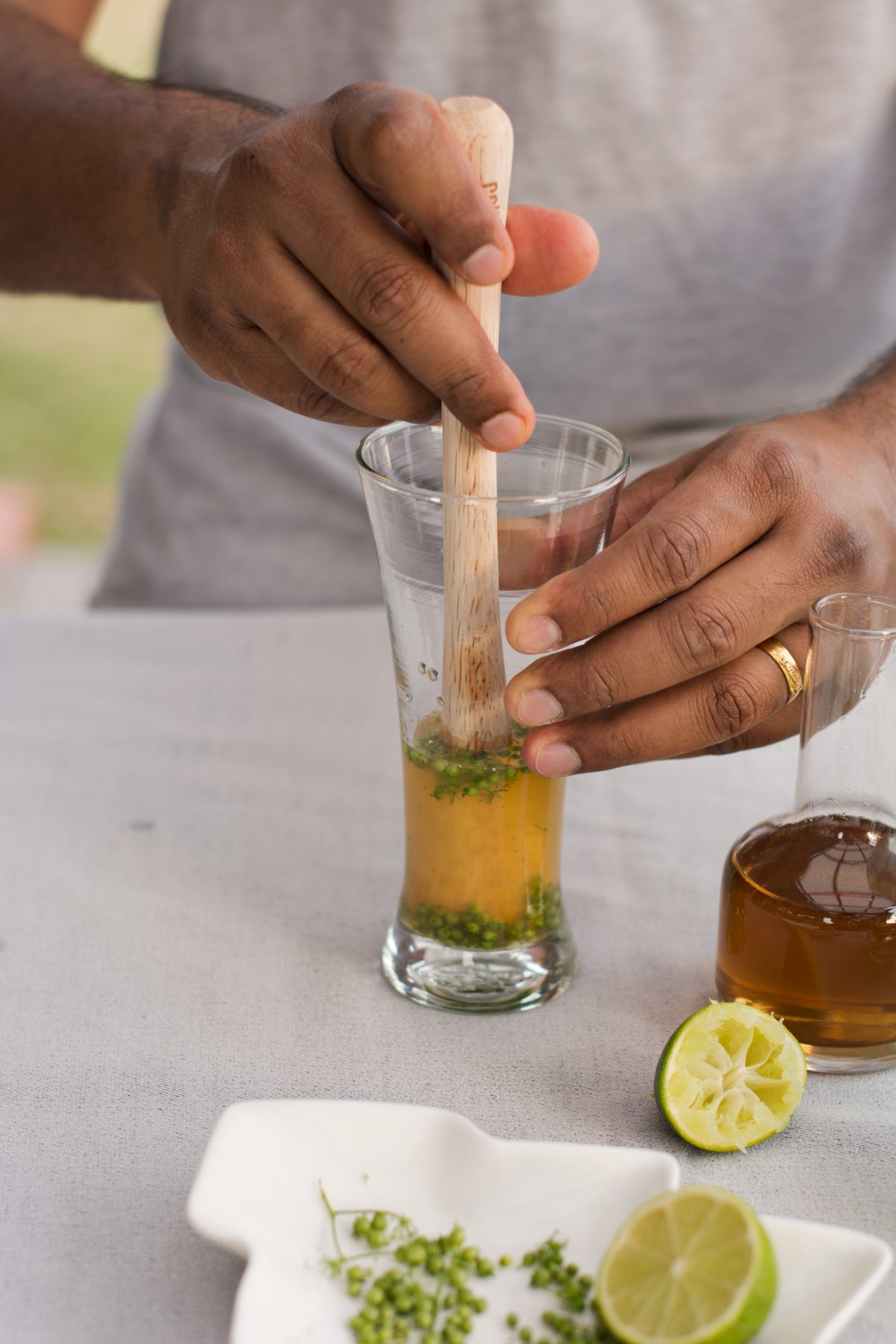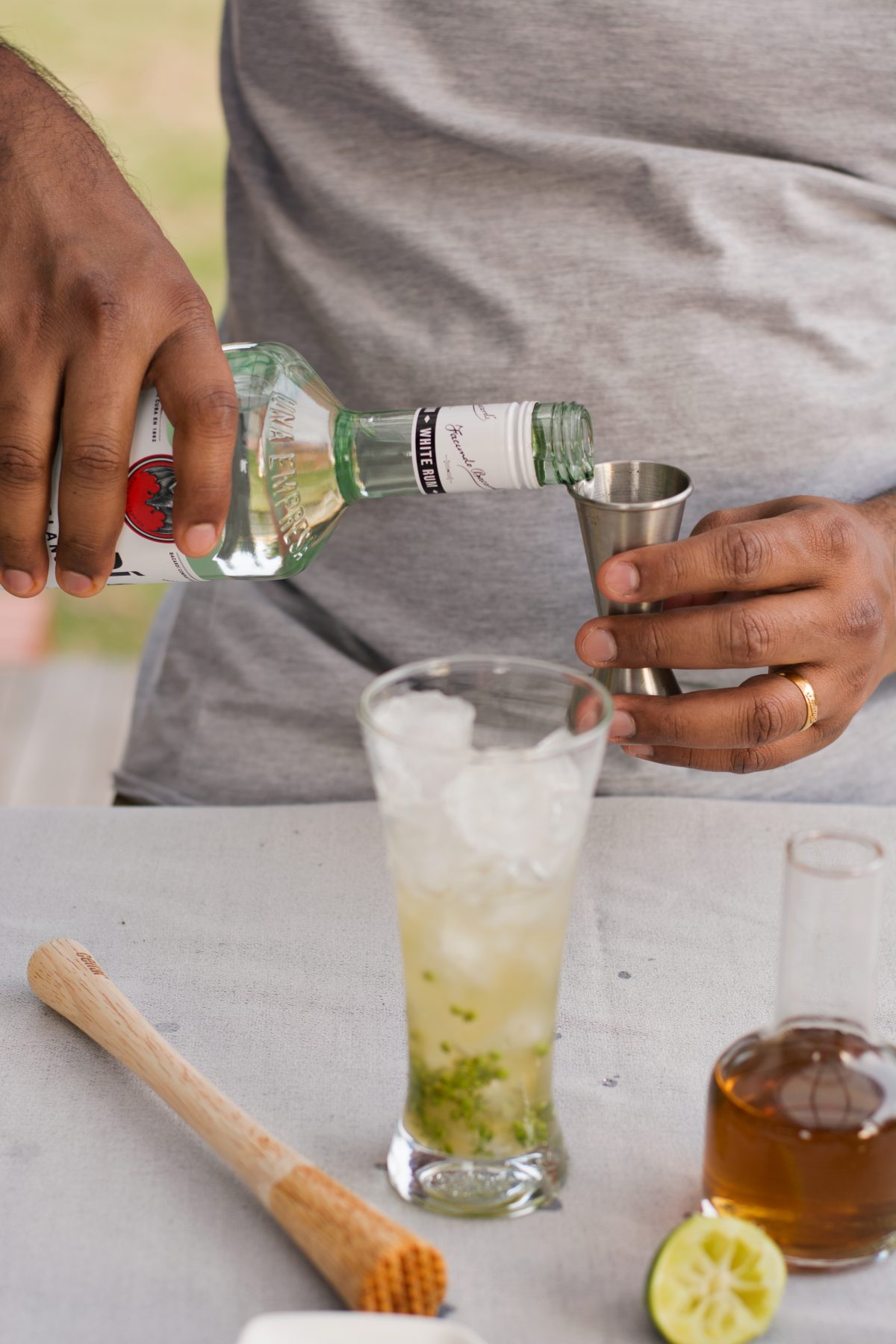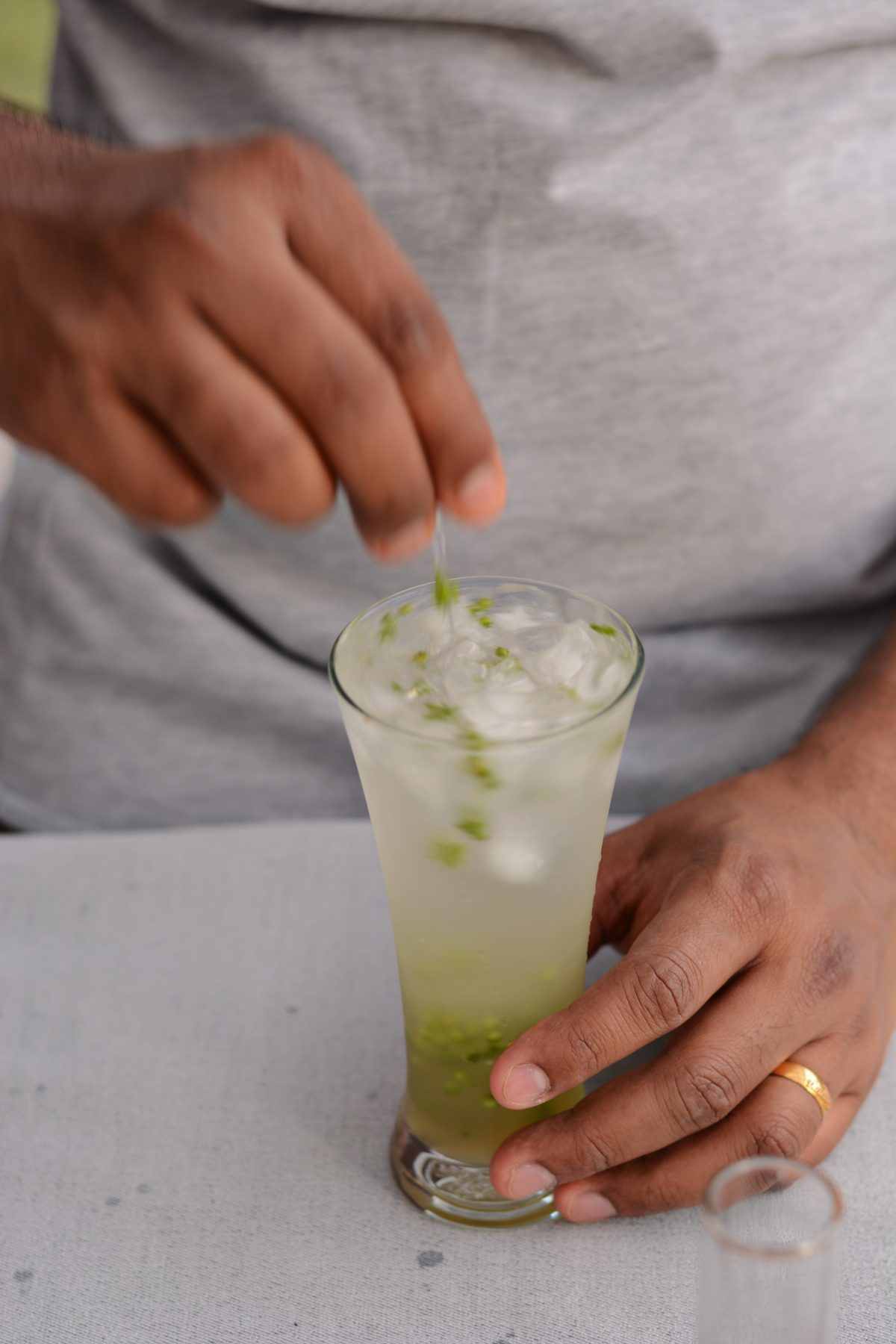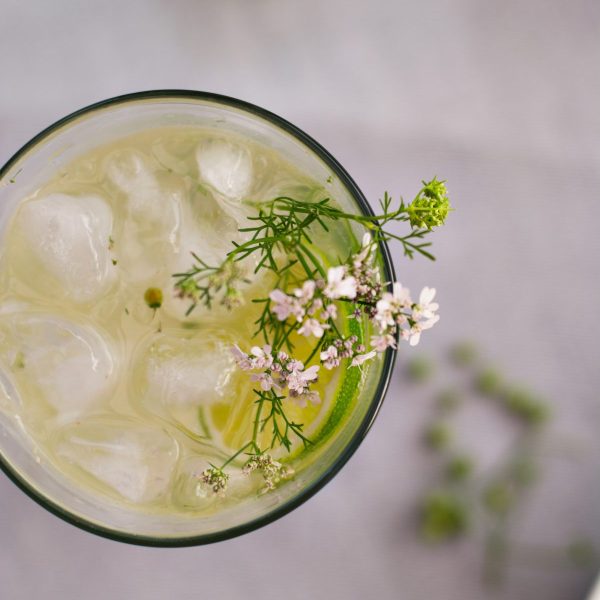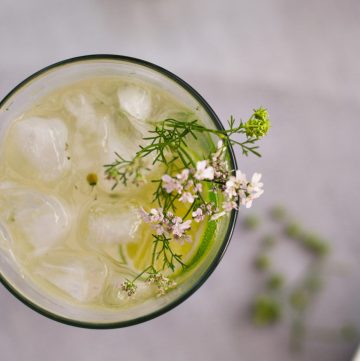 Print Recipe
The Green Mojito
Ingredients
30

ml

sugar syrup

infused with green coriander seeds

30

ml

lime juice

45

ml

white rum

Sparkling water/soda

½

tsp

green coriander seeds

Lime slices; for garnish

Coriander flowers; for garnish

optional

Ice cubes; crushed
Sugar syrup:
1

cup

raw sugar

1

cup

water

2

tbsp

green coriander seeds
Instructions
To prepare sugar syrup:
Crush the green coriander seeds lightly

Add the sugar, water and coriander seeds to a pan and place on low heat. Stir occasionally till the sugar has completely melted.

Cool well and keep the seeds in for at least an hour to further infuse the flavour.

Strain and store in an airtight container in the refrigerator.
To make the mojito:
In a tall glass, muddle the green coriander seeds along with the sugar syrup and ¾ ths of the lime juice.

Add the white rum and crushed ice cubes. Stir well to combine and top the glass with sparkling water.

Taste and add the remaining lime juice if necessary.

Garnish with lime slices and coriander flowers.
Notes
If you do not like the seeds to remain in the drink, strain after muddling with the sugar syrup and lime juice.