An English classic, these baked clams are a delight to the tastebuds, creamy and delicious from the butter, cheese and herbs.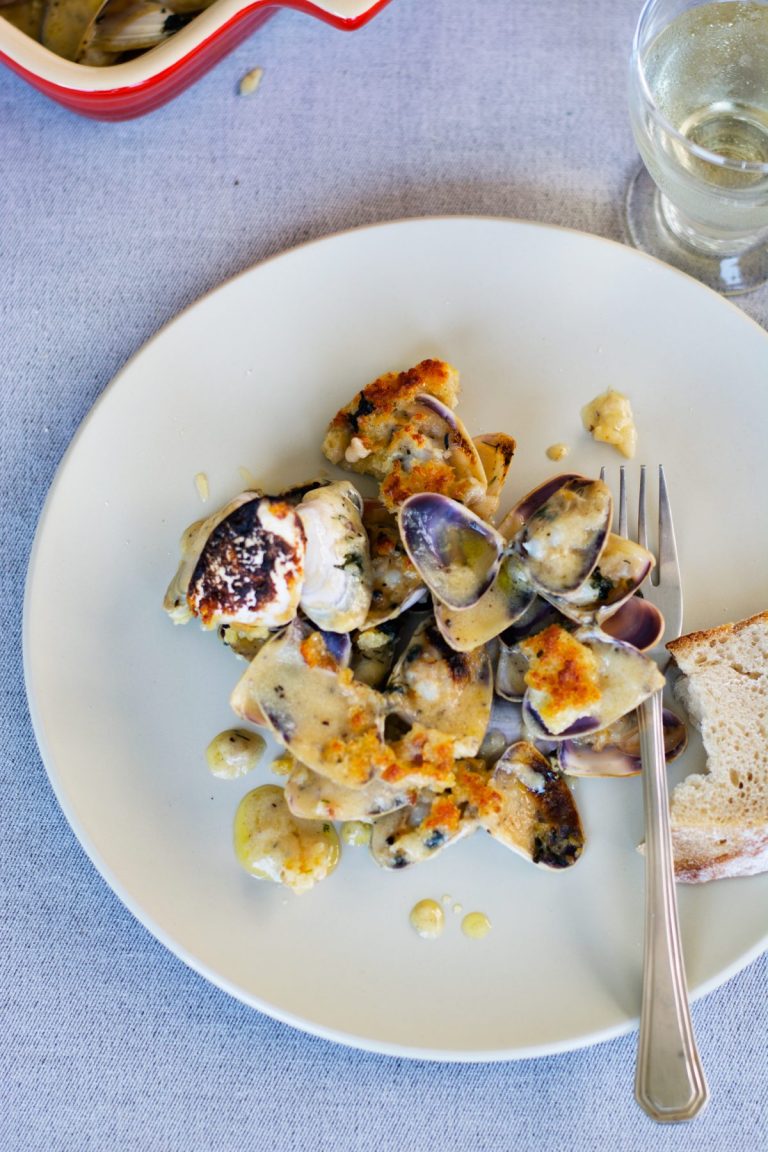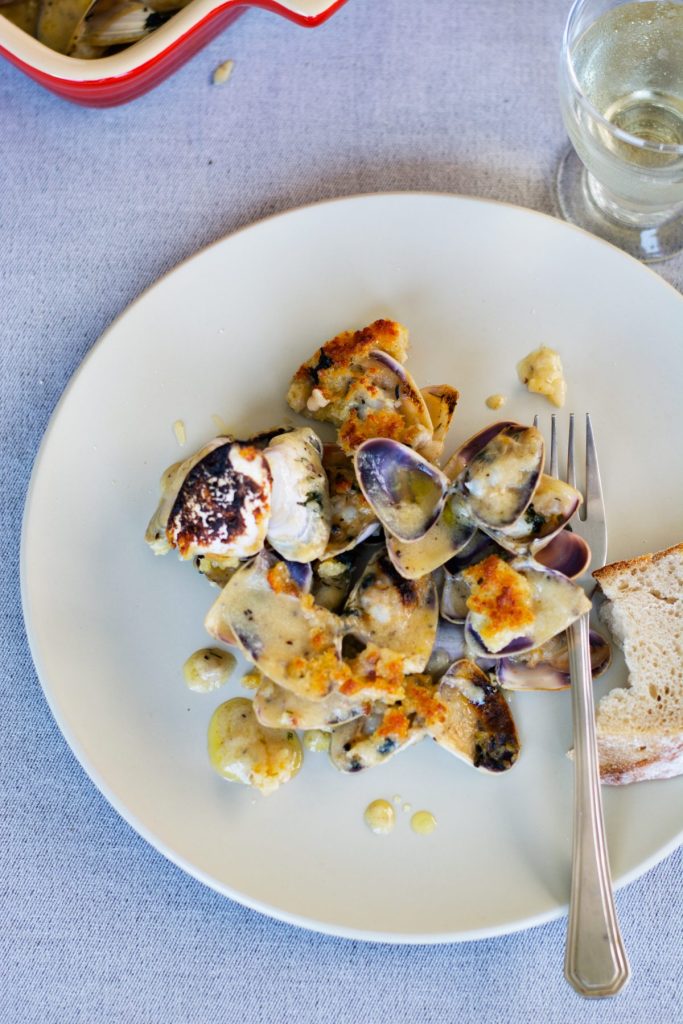 Clams………do you find it delicious? The answer should be yes if you are taking the time to read through this post.
I love it! But then I love all sorts of seafood which includes all sorts of shellfish too. And clams are high on the favourites list….

Clams are little morsels of deliciousness; there's not much you need to do but today I have gone all out to re-create this English summer classic. It's light but flavoursome from the butter, cream, cheese and white wine. Please don't start counting calories; let's just tuck in without any remorse whatsoever.

I found the most amazing fresh clams at the Hellenic Seafood Store inside Dandenong Market. By the way, have you read my previous post? If you haven't, you need to because it is a guide to some of the best stores in the market and there is also a $200 voucher waiting for a lucky reader (giveaway closed).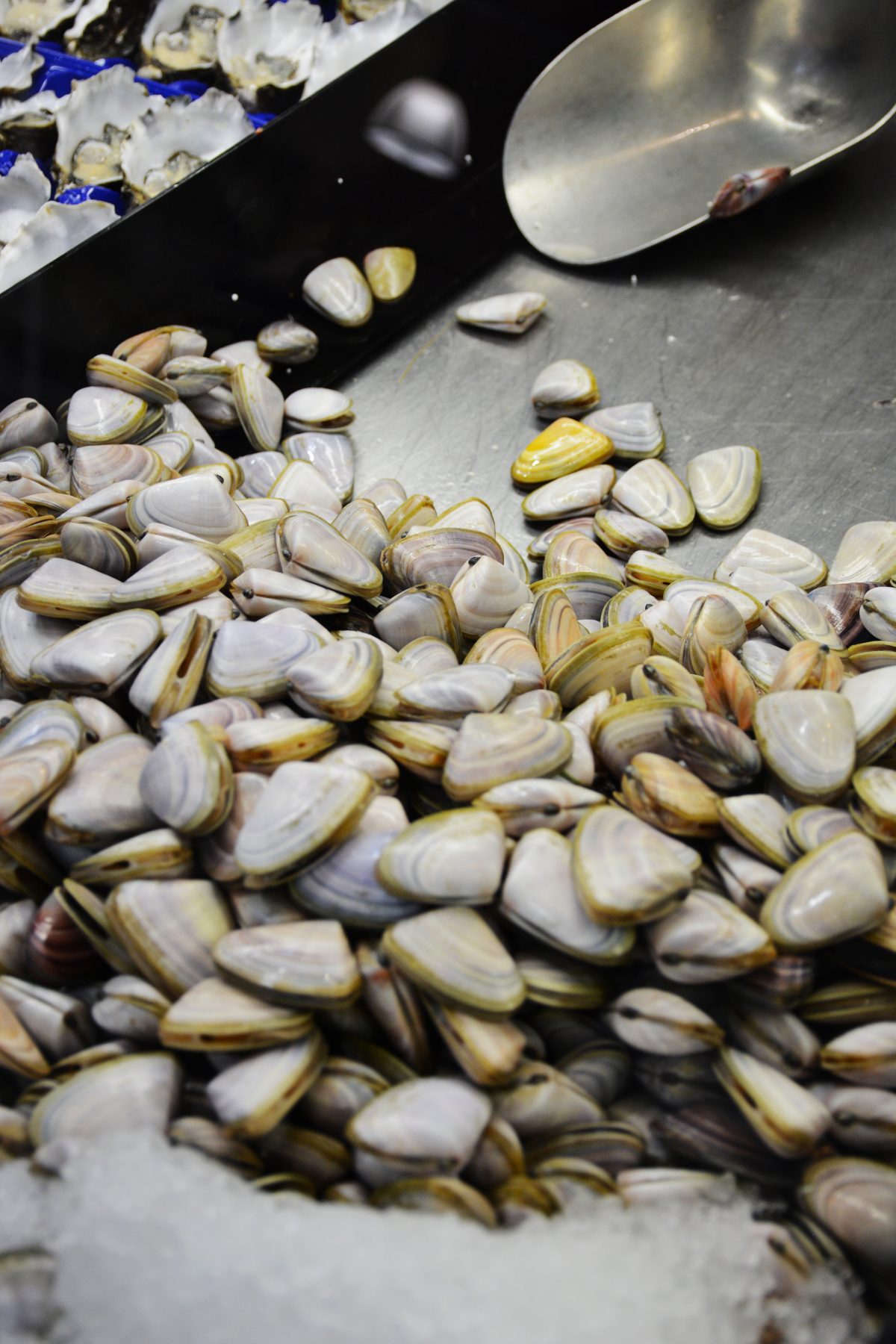 Usually I prepare this South Indian style clams dish but this time, I thought of trying out these baked clams. I am a big fan of white sauce, cheese, wine etc… etc…. (Yup you get the picture!). And this recipe for baked clams from an old Rachel Allen cookbook just seemed perfect.

It's a pretty simple dish actually and extremely easy to prepare even though there are a few steps. It's important to get your hands on really good quality fresh clams; very little time needs to be spent on cleaning and it also affects the taste.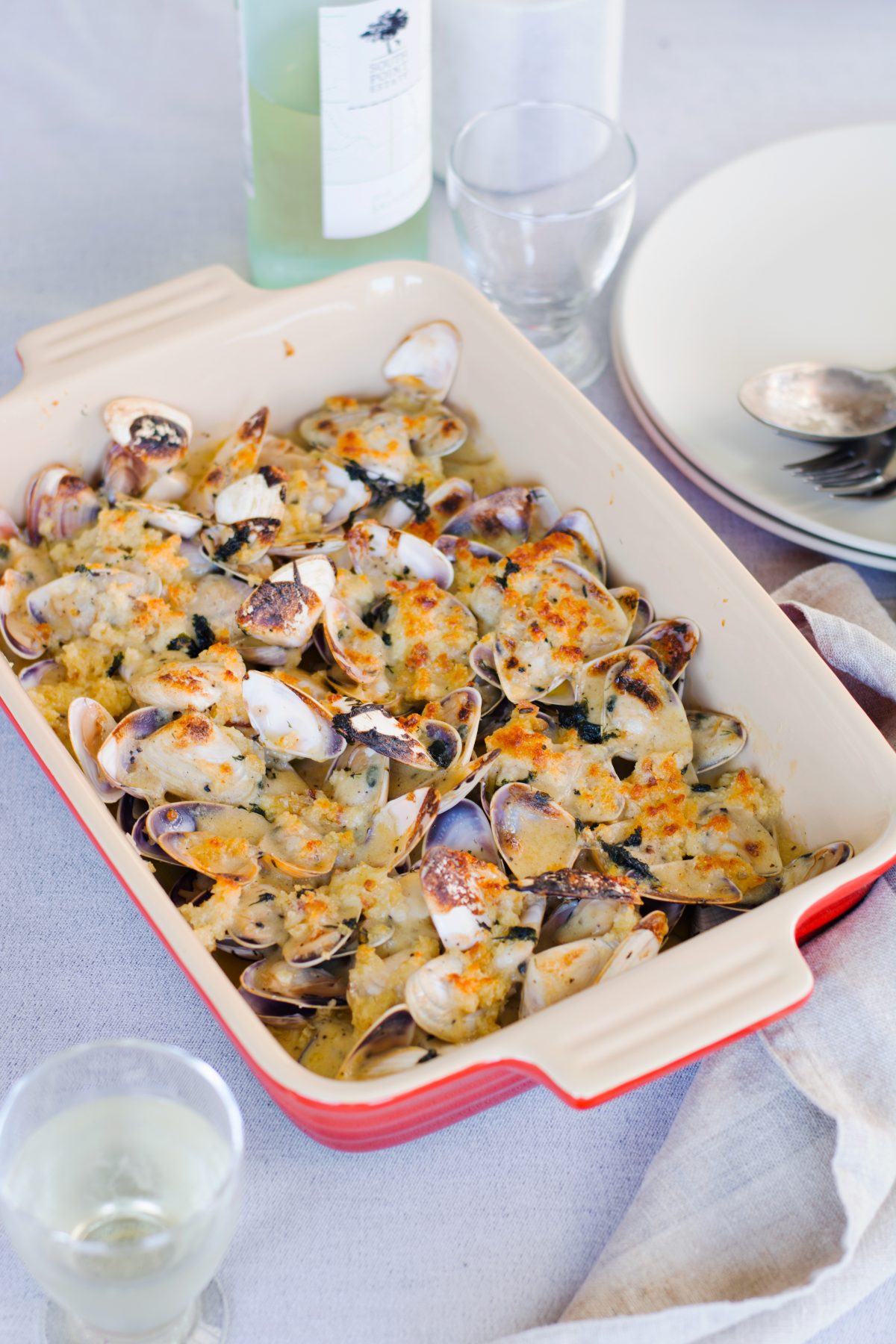 These baked clams will not take you much time which makes it perfect even for a weekday indulgence. A bottle of crisp white wine and some sourdough bread is all you need. But a salad would be a great idea too if you want to balance out the richness of the dish.

So let's dig in this deliciously creamy and indulgent Baked Clams!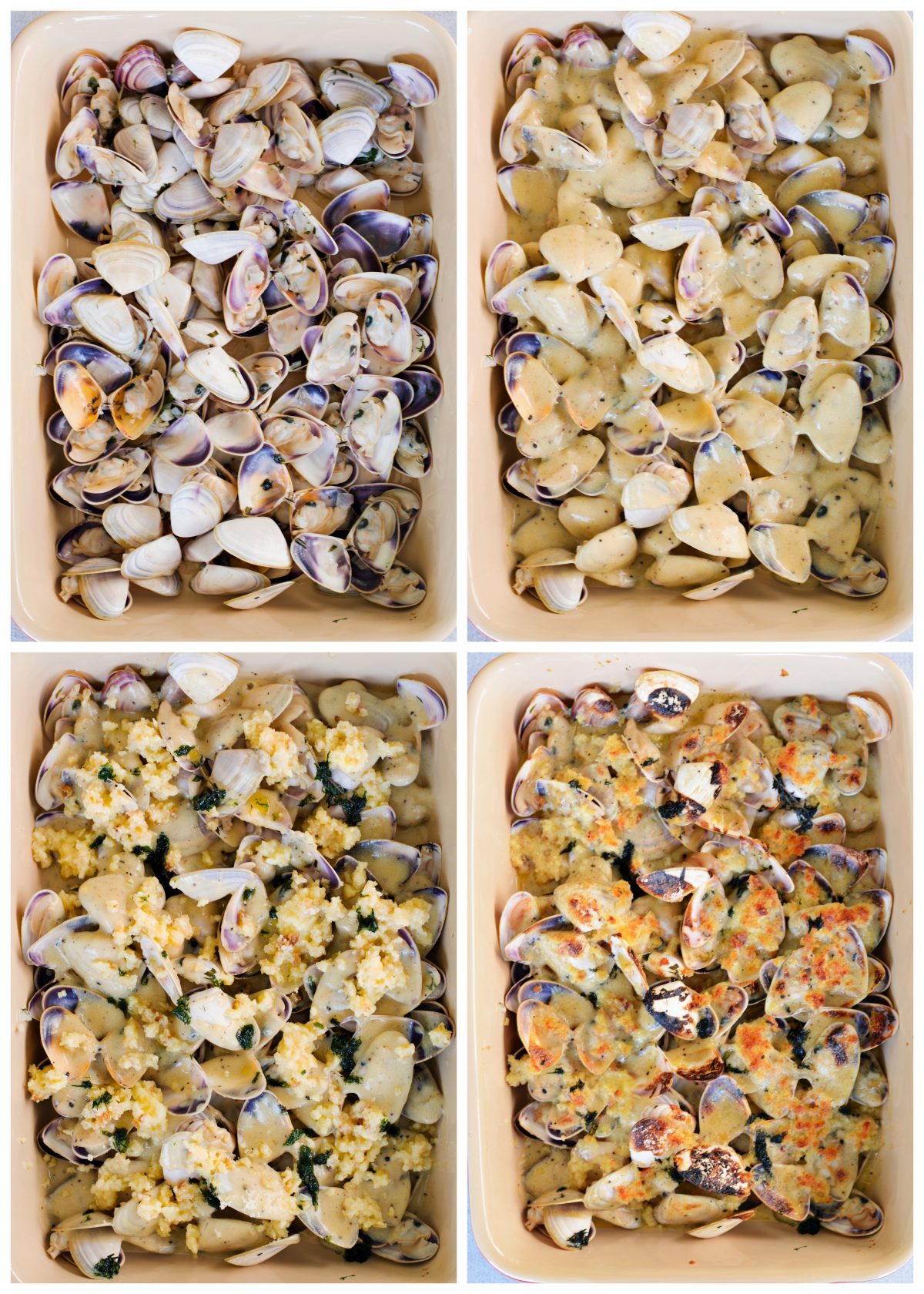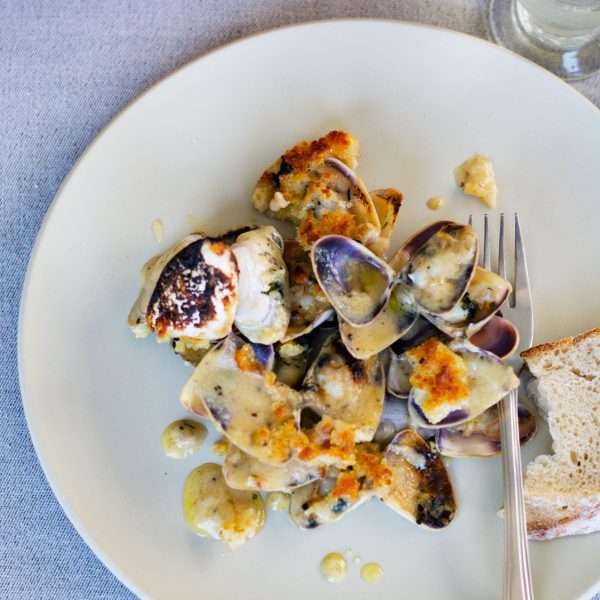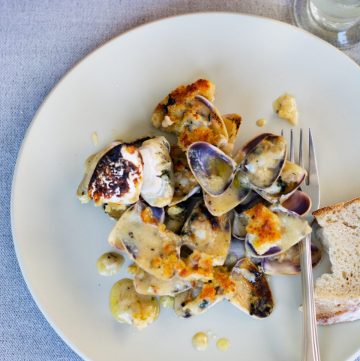 Print Recipe
Baked Clams
Ingredients
1

kg

fresh clams

weight with shells

20

gm unsalted butter

20

gm plain flour

2

tbsp

shallots; finely chopped

1 ½

tbsp

fresh parsley; finely chopped

120

ml

dry white wine

100

ml

water

200

ml

double cream

Salt

to season

Freshly milled black pepper; to season

40

gm unsalted butter

40

gm Cheddar cheese

you may use Gruyère too

25

gm white breadcrumbs
Instructions
Wash the clams well under cold running water. If there are any clams which will not shut when tapped on the shell, then discard those as it might not be fit to eat.

To prepare the roux, heat butter in a pan and add the flour when the butter has melted. Keep stirring for 1-2 minutes taking care that the flour and butter does not burn. Remove from heat and keep aside.

In a large pot, place the clams, shallots, parsley, wine and water. Cook on high heat allowing the liquid to boil for a couple of minutes and all the clams have opened.

Remove the clams one by one from the pot and place in another bowl. If there are any unopened ones, allow more time to cook which will open up the shells. But if any remain closed even after cooking a few minutes, then discard those. Sieve the remaining liquid through a muslin cloth to remove any remaining grit.

Return the strained liquid back to heat, bring to boil. Then add the cream slowly and stir well; allow to boil and then add the roux to thicken the sauce. Season with salt and pepper as necessary.

In a separate bowl, mix the remaining butter, cheese and breadcrumbs.

To assemble, place the clams in an oven proof dish, pour the sauce all over the clams and then add the crumb mixture evenly on top. Place in a hot oven or under a hot grill for 1- 2 minutes or till the crust is golden.

Serve warm