Clams – my new seafood craze!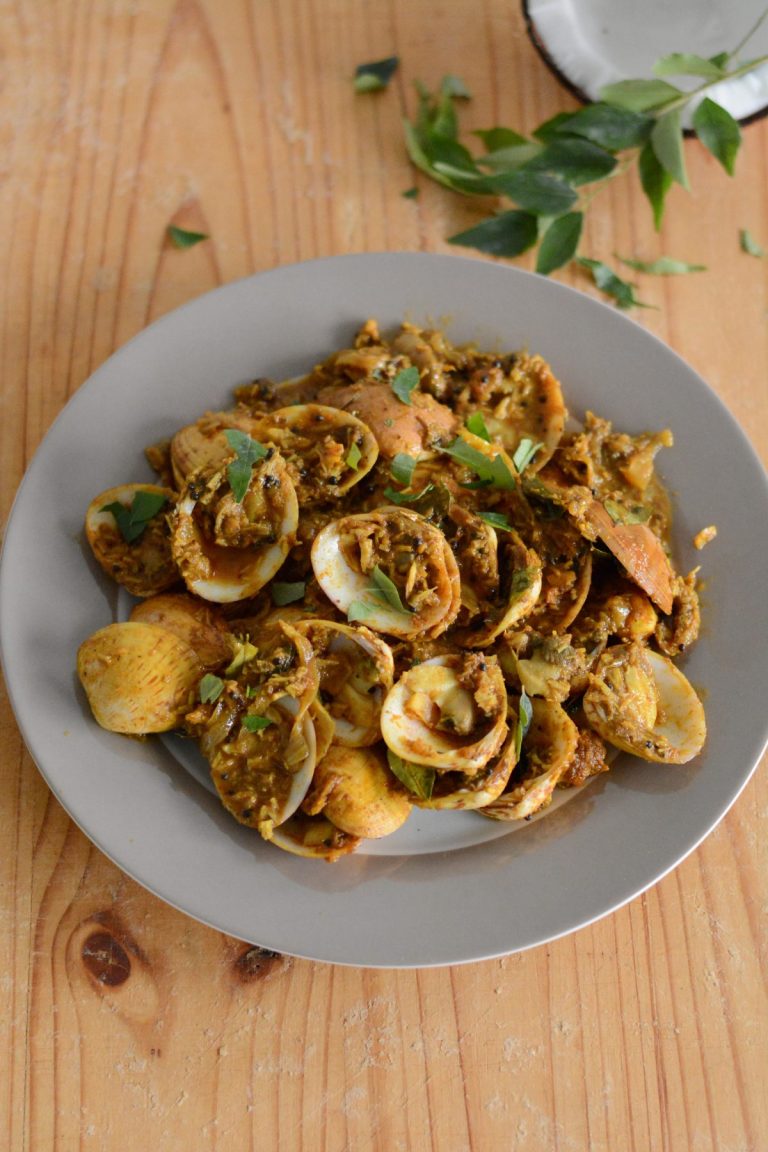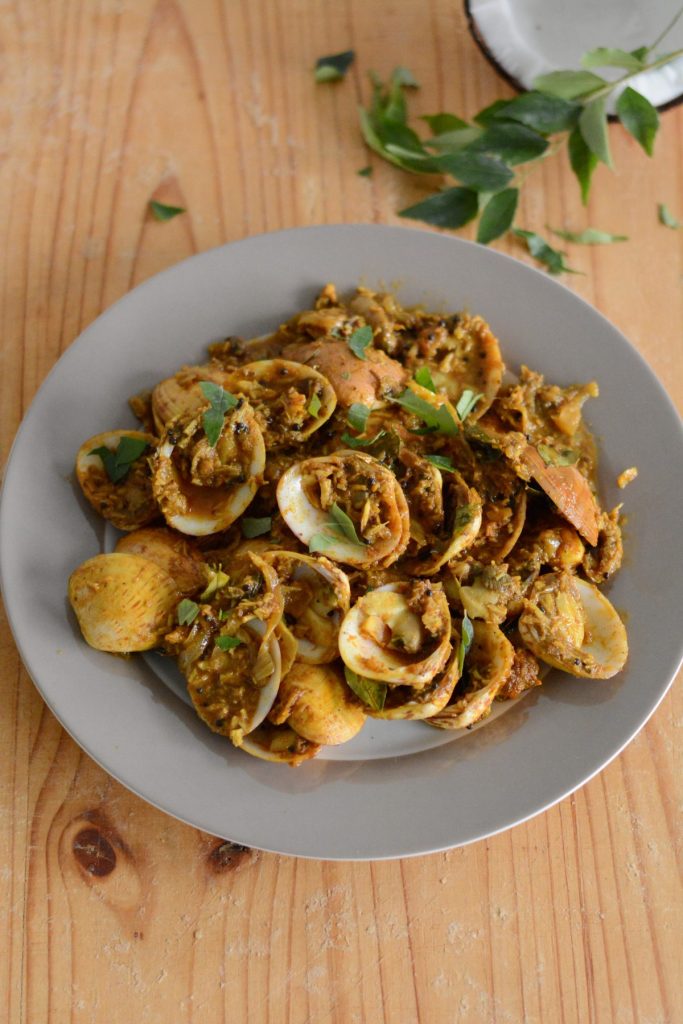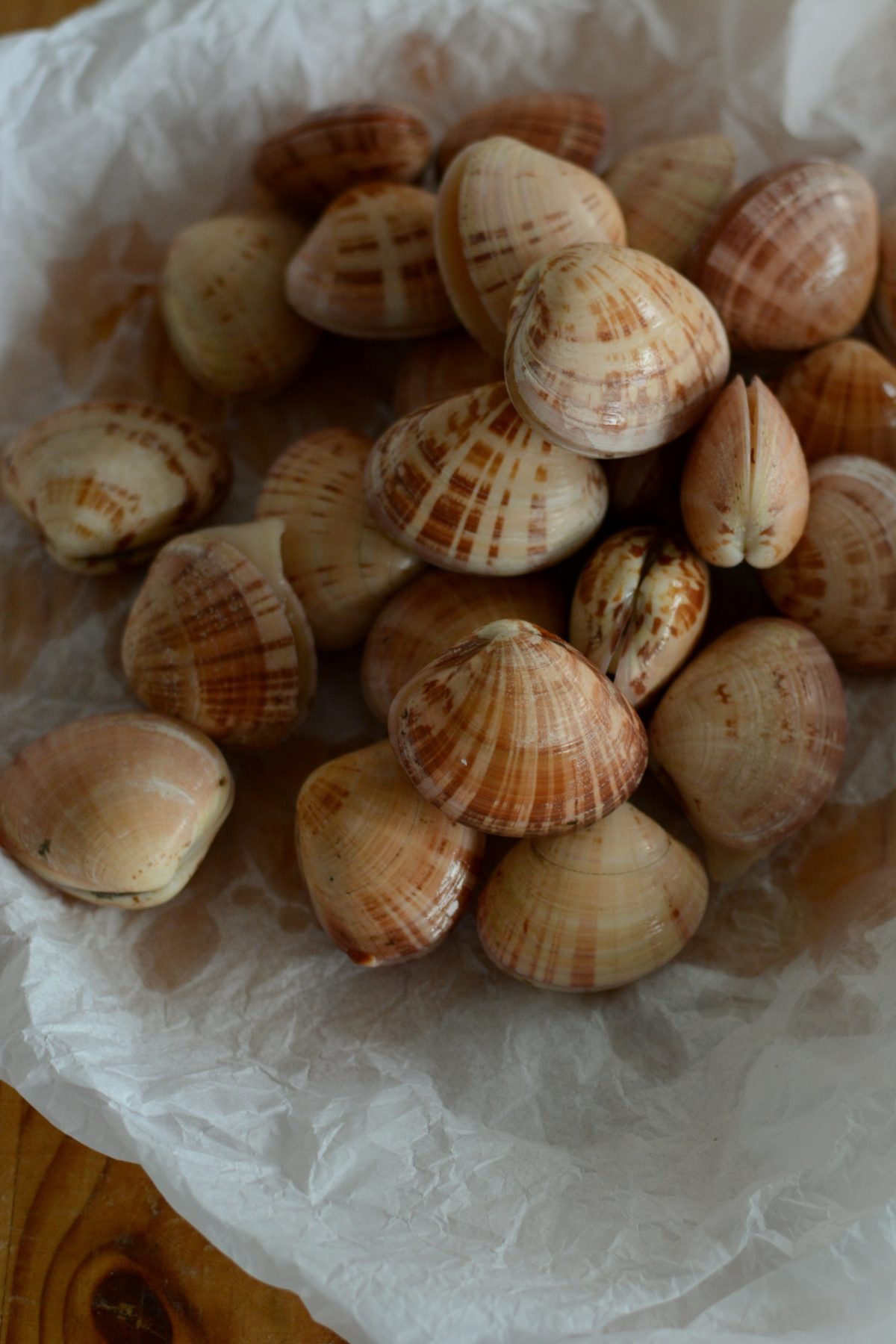 Every week I visit my local farmer's market and every single week, I need to buy seafood. Yes, my love for it is something all of you have become accustomed to. So this week, I decided to venture a little out of my comfort zone and buy clams.

Out of my comfort zone because I have not cooked these ever before. But there was this delicious recipe that I have been wanting to try out and so came home with some amazingly fresh clams. And a couple of Google search and YouTube videos, I realized that clams are the easiest to clean and cook with.

I got this recipe for Kube Sukkhe or Mangalorean style Spicy Clams from Shireen who runs the really delicious blog Ruchik Randhap. An amazing blog you need to follow if you want to learn more about the food of Mangalore, a beautiful little (well, not so little) town in Karnataka, South India. And especially more, if you freak out over seafood like I do.

The Kube Sukkhe is a traditional and very popular way of cooking clams among the Protestant Christians of Mangalore. Clams are cooked in its shell in a spicy coconut mixture and the dish is best paired with rice and a simple dal. Cooking the clams in its shell imparts a lot of flavour to the dish and also increases the nutrient value of the dish.
This recipe would work well with oysters, mussels and other types of clams too. There is a similar dish in Kerala which uses prawns, so that's another option if you are not too keen on clams.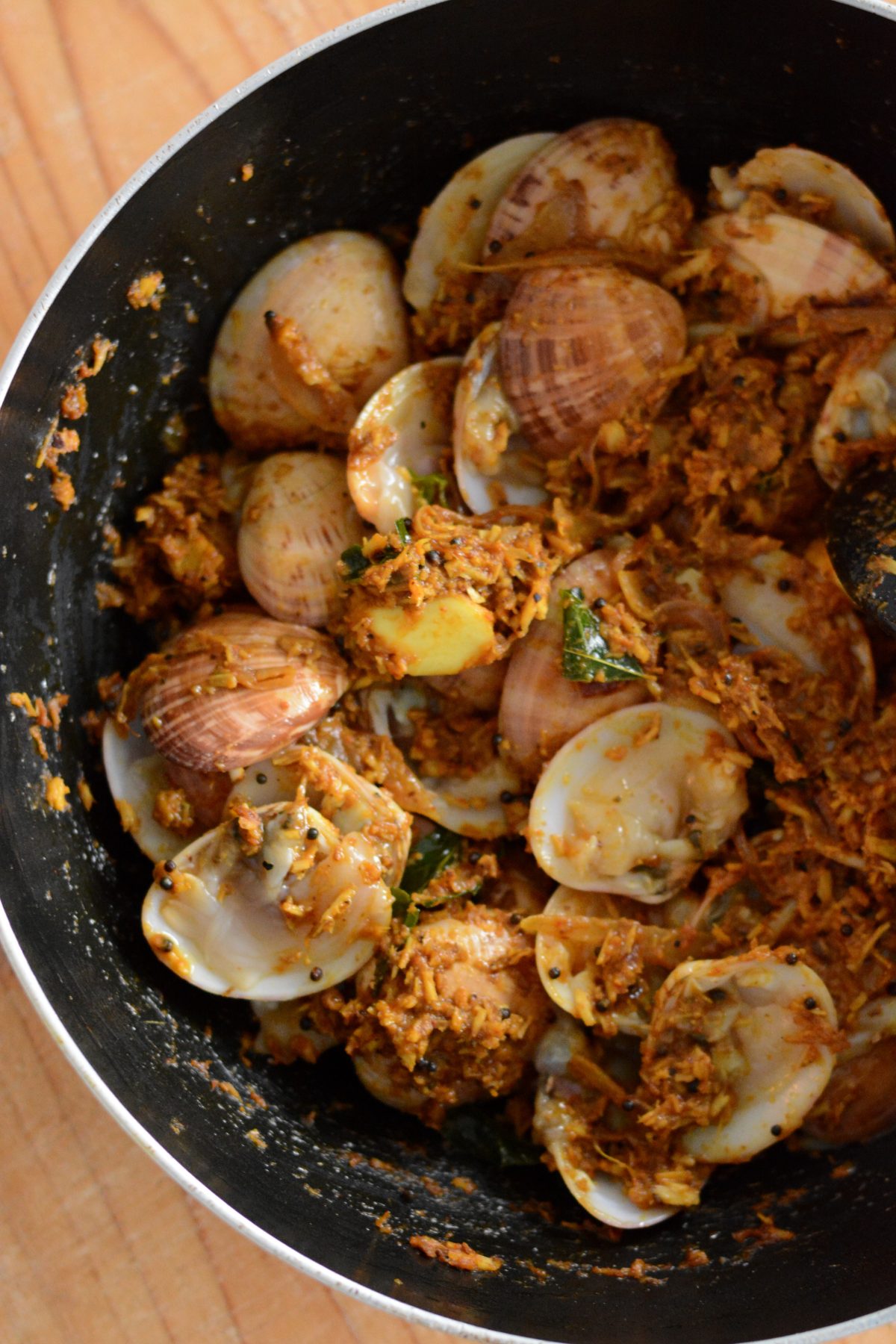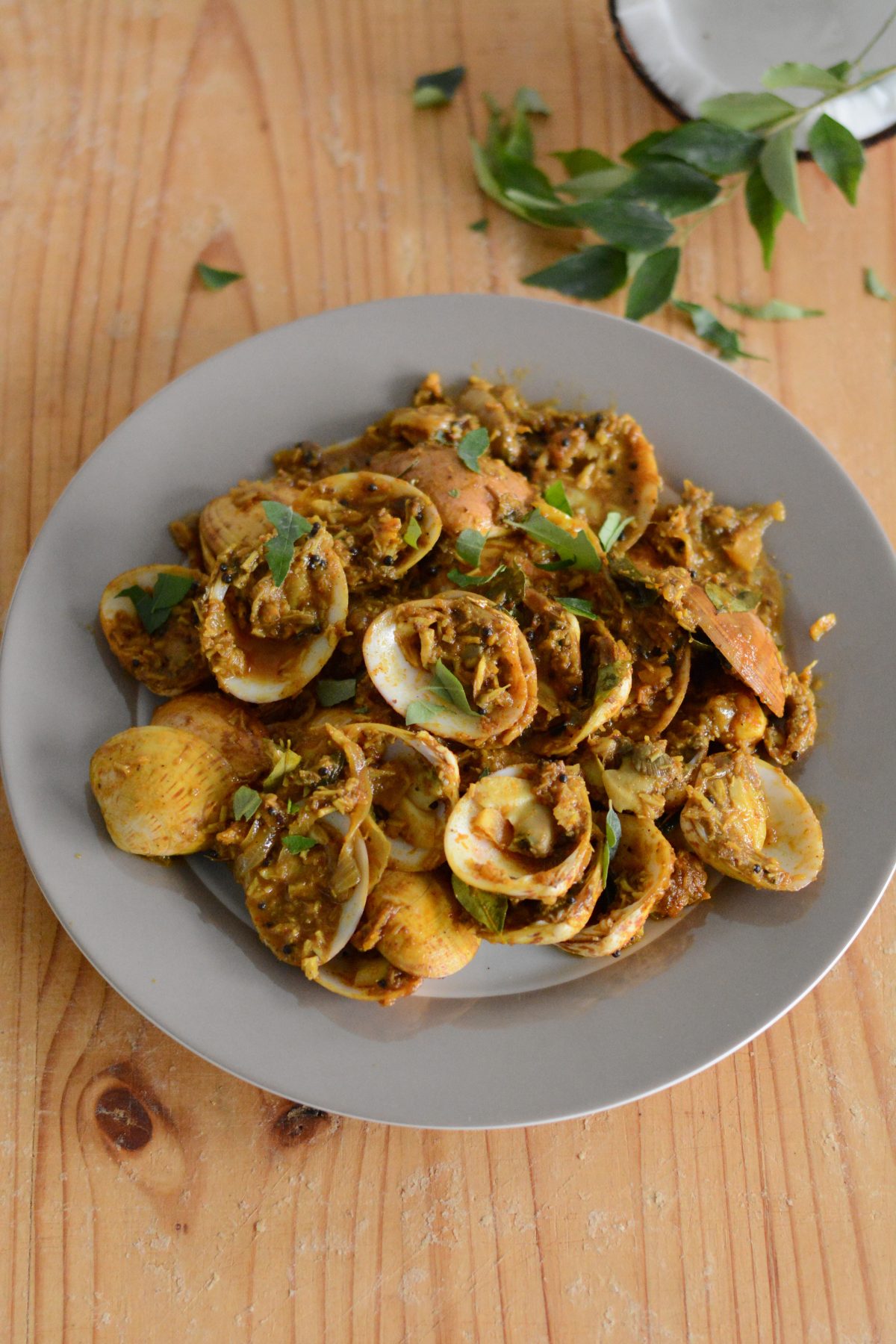 So let's get cooking the deliciously, spicy Kube Sukkhe or Mangalorean style Clams!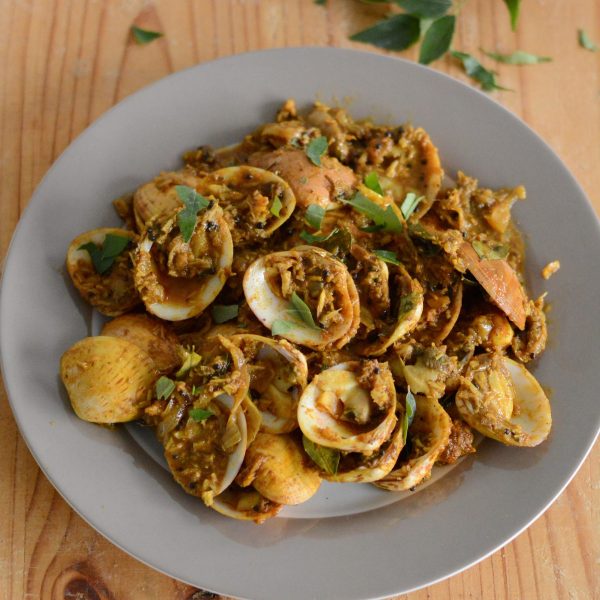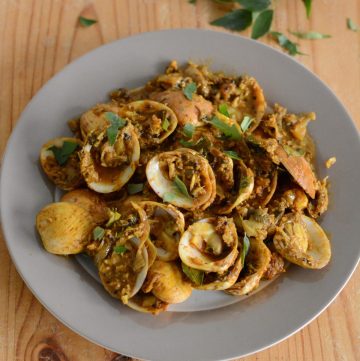 Print Recipe
Mangalorean style Clams Sukka
Ingredients
1

kg

clams

with shells

¼

tsp

mustard seeds

3

tbsp

vegetable oil

½

onion

finely sliced

2-3

sprigs curry leaves

Salt

to season
For the coconut mixture:
4

tbsp

grated coconut

½

onion; roughly chopped

1

tsp

red chilli powder

¾

tsp

coriander powder

½

tsp

cumin powder

¼

tsp

black pepper powder

¼

tsp

turmeric powder

½ – ¾

tsp

tamarind paste

1

large garlic clove

½

inch

ginger
Instructions
Clean the clams thoroughly under running water. If the shells are tightly shut, the best way to open it is to leave the clams in the freezer for about 30 minutes. Bring to room temperature and place in warm water for another 15-20 minutes. Most clams open up after this time; any tightly shut ones should be discarded.

Open each clam shell and scoop the entire contents into one shell and discard the other. (This is an easy task but if you do not have enough time, get your fishmonger to do the job for you).

In a non stick plan, dry roast the grated coconut and onions till the raw smell has gone off and the coconut has taken on a light brown colour. Make sure that you do not burn or else the dish will taste bitter.

Next, add the spice powders, mix well and sauté on low heat for another 30 seconds. Cool the mixture.

Grind this mixture along with the garlic, ginger and tamarind paste adding just a little water. The ground mixture must be coarse in consistency.

In another pan, heat oil and crackle mustard seeds. Then add the curry leaves and sliced onions; sauté till the onions turn light brown.

Then add the ground masala and fry lightly on low heat for about 2minutes.

Add the clams and season with salt. Remember that clams tend to be on the saltier side so be careful.

Cook on low heat covered for a couple of minutes; add a bit of water if too dry. Clams cook relatively fast so keep an eye on the dish.

Serve hot.