As I had mentioned on my FB page a few days ago, we were crazy busy the whole of last week shifting homes. Things are still a little crazy even now as we are yet to settle down in the new home, in the process of opening out the boxes, arranging, rearranging and all of that jazz.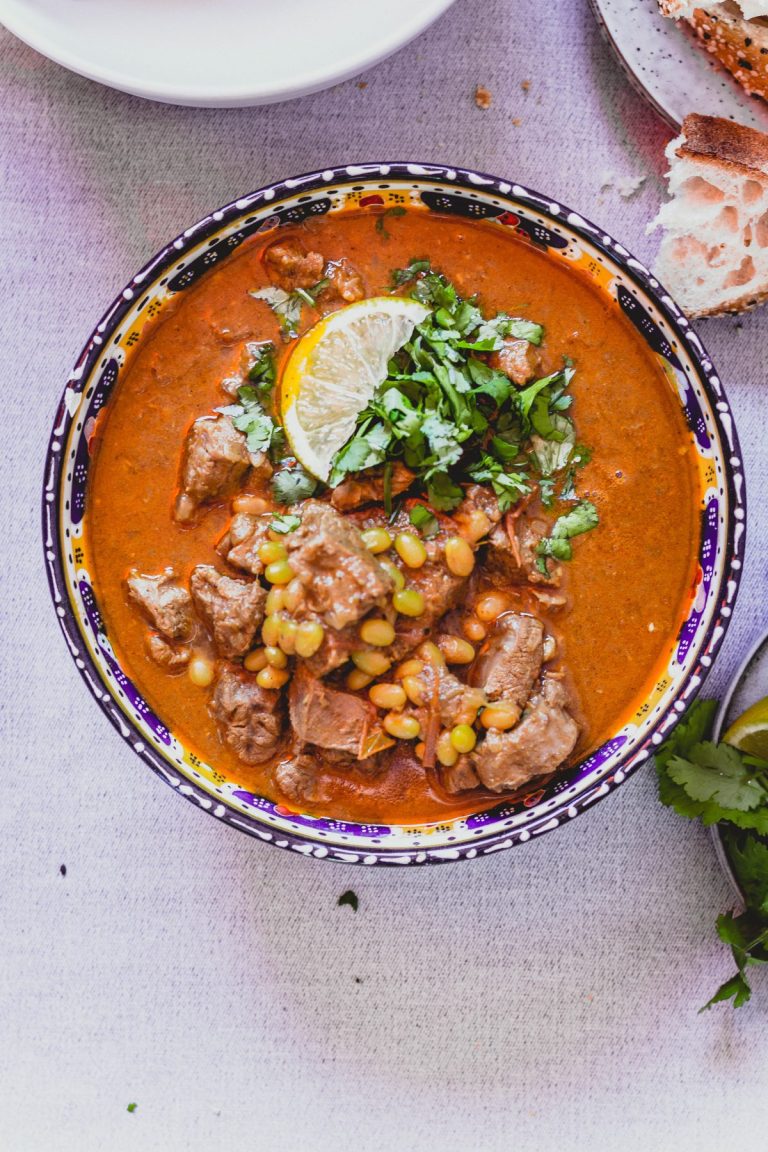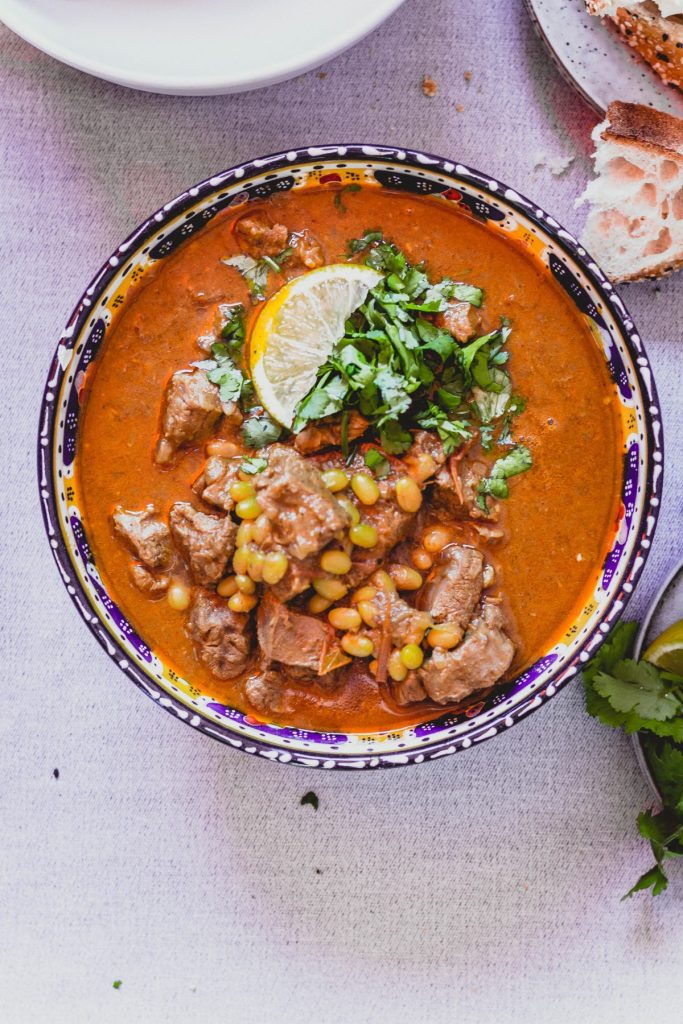 While the packing part is stressful and not enjoyable at all, I really enjoy the unpacking phase in the new home. I love decorating and doing up my home interiors, so it's like having a whole new palette to play with.

Since I knew that there is not much cooking that will be happening over the next couple of days, I decided to test and shoot some recipes beforehand (the first time I have actually planned out my work ahead of time). Usually it's always spontaneous but this year, I have been really working on my time management skills which are great when you have a home based business.

One of the dishes that I had tested out was this delicious Lamb curry with Haricot beans.

Pairing lamb or goat curry with lentils, vegetables etc… are quite common in Indian cuisine. And a great example of that would be Dhansak, a much revered mutton preparation amongst the Parsi Zoroastrian community. A fusion dish that combines elements of Persian cuisine and Gujarati cuisine, Dhansak has come to symbolize the essence of Parsi cuisine.

Not an adaptation, but this lamb curry with haricot beans was definitely inspired by Dhansak; firstly for the lamb and pulses combination and secondly because of the use of Dhansak masala, a really flavourful aromatic spice blend that makes this lamb curry absolutely spectacular.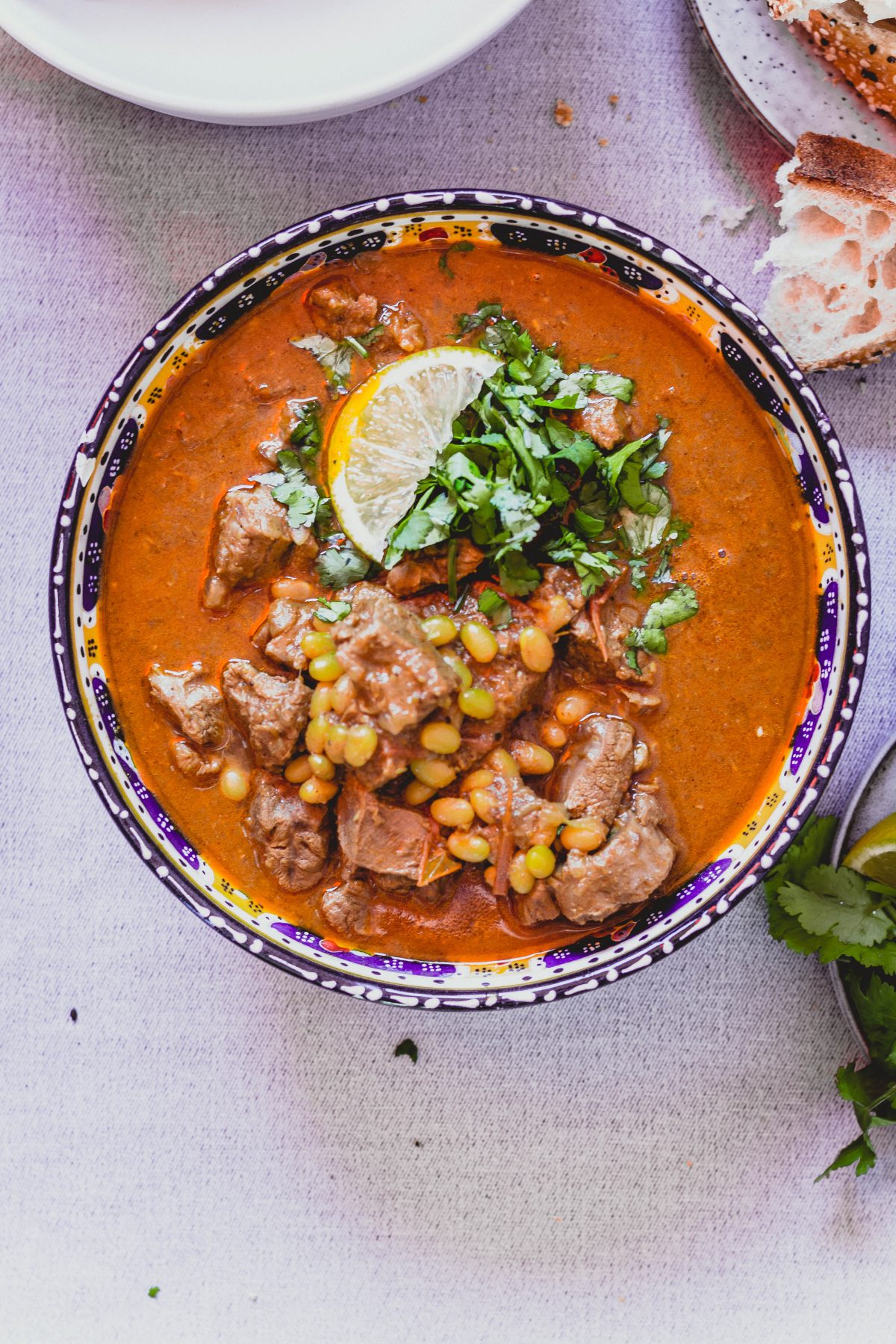 I have cooked with haricot beans before but always in a vegetarian dish like a stir fry with grated coconut or in combination with other vegetables like potatoes. This is the first time I paired it with lamb and it turned out to be such a great combination.

Haricot beans are also called by other names like Navy beans, Boston beans, pea beans etc… These are small, oval, white coloured beans that have a mild, smooth and creamy flavour when cooked. If you are not too fond of the bigger sized beans, this is a great replacement to make baked beans for breakfast, in stir fries, curries or salads. High in protein and gluten free, haricot beans are definitely a healthy addition to your pantry.

As I mentioned earlier, I used the dhansak masala as the spice blend to make this curry. It's a really flavourful and aromatic blend that has become another valued addition to my spice collection. Have fun with it and do not restrict to using it in just this curry but as you would use garam masala or any other blend.

So let's get into the recipe now; and if you do make this recipe, do tag me #thespiceadventuress so that I can see your creations too. Enjoy!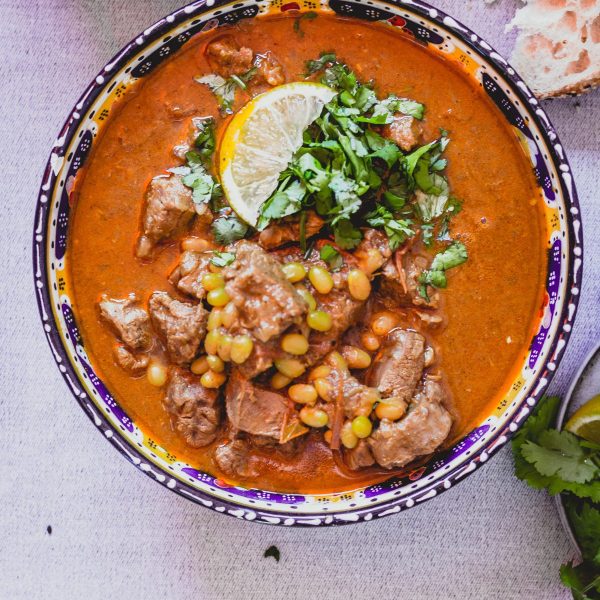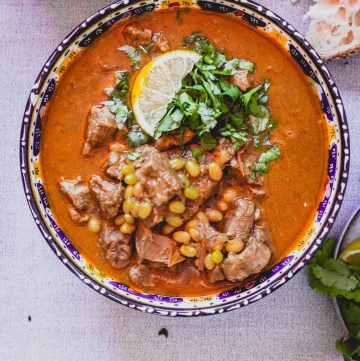 Print Recipe
Lamb Curry with Haricot Beans
Ingredients
Dhansak Masala:
100

g

dry coriander seeds

50

g

fenugreek seeds

50

g

mustard seeds

50

g

cumin seeds

50

g

dried bay leaves

20

gms cardamom

20

gms cloves

1

large cinnamon bark
To make the curry:
800

gms lamb shank meat

boneless; cut into bite sized pieces

3-4

tbsp

oil

2

large onions; finely chopped

1

tsp

cumin seeds

3

medium garlic cloves; grated

1

inch

ginger root; grated

2

large tomatoes; finely chopped

¾

ths cup haricot beans

washed and soaked overnight

1

tsp

Kashmiri chilli powder

1

tsp

coriander powder

2

tbsp

dhansak masala

Salt

to season

½

cup

milk

Fresh coriander leaves; for garnish
Instructions
To prepare the spice blend, dry roast the whole spices on a hot tawa/flat pan till aromatic (take care not to burn). Cool slightly and then blend into a powder. Store in an airtight container.

Heat oil in a large deep bottom pot.

Add the cumin seeds and allow to splutter and then add the garlic and ginger. Sauté till the rawness has disappeared and then add the onions.

Sauté for 2-3 minutes till the onions have softened and lightly browned at the edges. Then add the tomatoes and cook till the tomatoes are broken down and mushy.

Add the chilli, coriander and dhansak masala; mix well to combine.

Add the haricot beans and lamb pieces. Add 3 cups water, season with salt and mix well.

Bring to boil and then lower heat; cook covered on low heat till the lamb is just about done.

If you prefer more gravy, add more water or if you prefer thicker gravy, increase heat and reduce the gravy.

Finally add milk, mix well and adjust seasoning.

Garnish with fresh coriander leaves

Serve warm.
Notes
Adding the milk lends creaminess to the gravy, a much better alternative to adding cream or yoghurt. It is optional and can be skipped.
Any cut of lamb can be used but boneless is best for a recipe like this.