Pan grilled Lamb Cutlets with Roasted Red Pepper Cashew Puree, Couscous Salad and Charred Broccolini – this was the mains I served for my Christmas in July family dinner.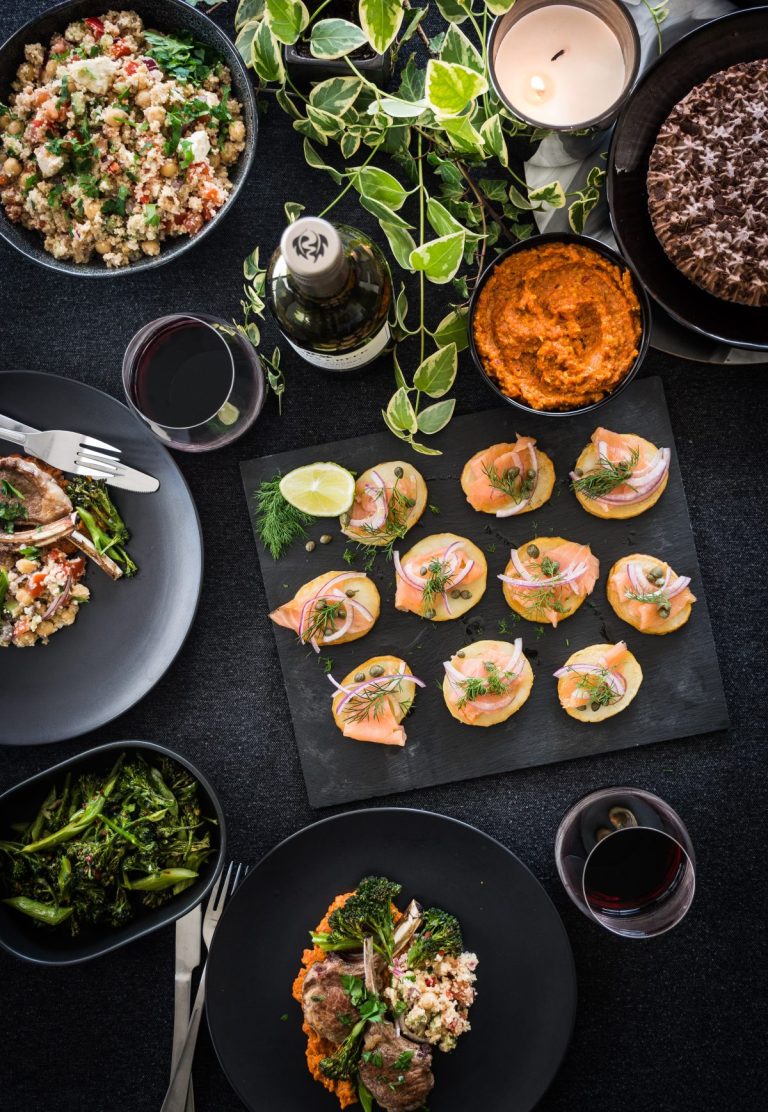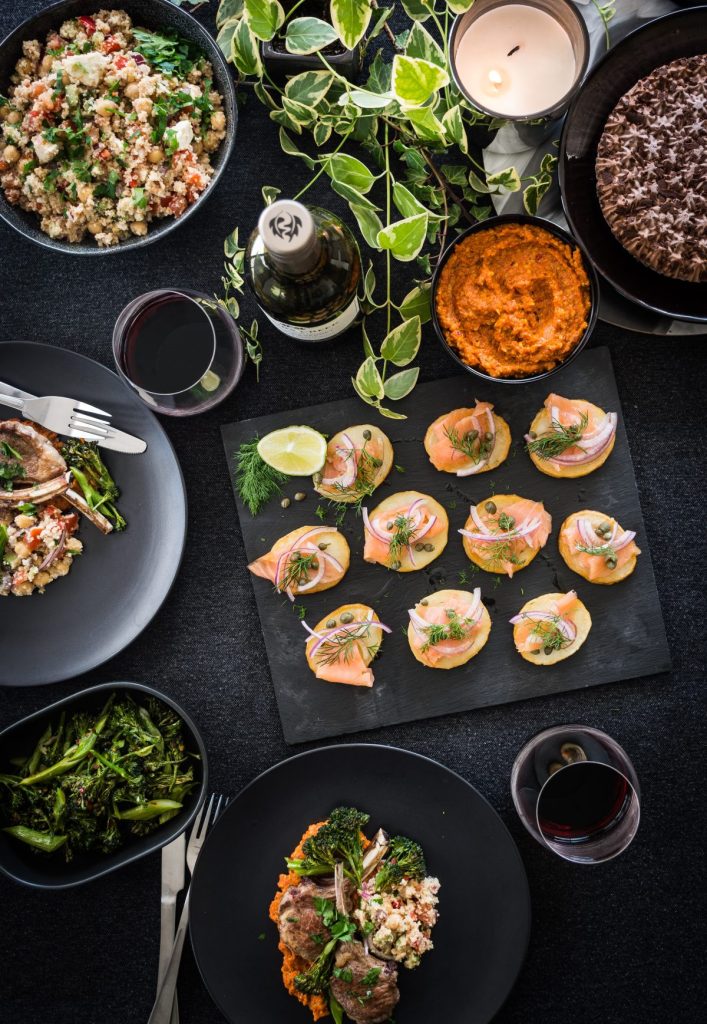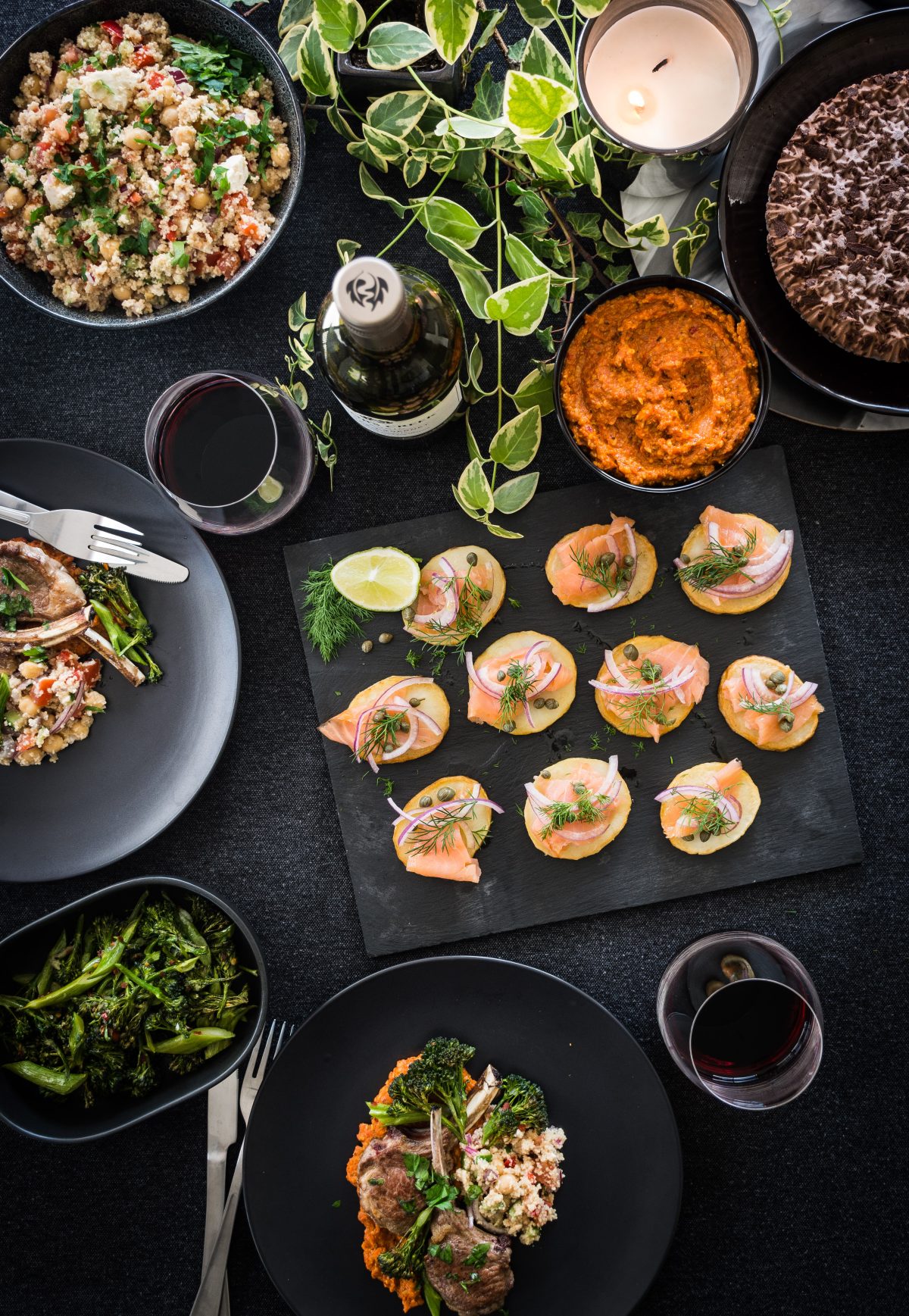 If you had already checked out the Potatoes with Smoked Salmon recipe that I posted last month, you would be aware that I had collaborated with ALDI Australia to create a Christmas in July feast. And as I mentioned in the previous post, there was no intention to share the recipes here as it was a social media/photography project. But with so many readers asking for the recipes, I thought of posting it here rather than sending screen shots as this is quite a lengthy one with so many different components.
The best thing about this dish is that each individual component is a dish within itself. The red pepper cashew puree can be paired with any sort of grilled meat, fish or vegetable. The charred broccolini with a hint of spice makes an excellent side and the couscous salad is so hearty and fulfilling that it can be a delicious salad or a light lunch at your next barbecue or summer party.
It's important that you cook the lamb cutlets right as it's very easy to overcook these and dry cutlets are not at all nice. Depending on the thickness, 1-2 minutes on each side and then rest for another 5 minutes to get the perfect cutlets. You can also sear for a minute on high heat and then finish off the cooking in the oven. Either way, it's best medium rare for a juicy, delicious texture.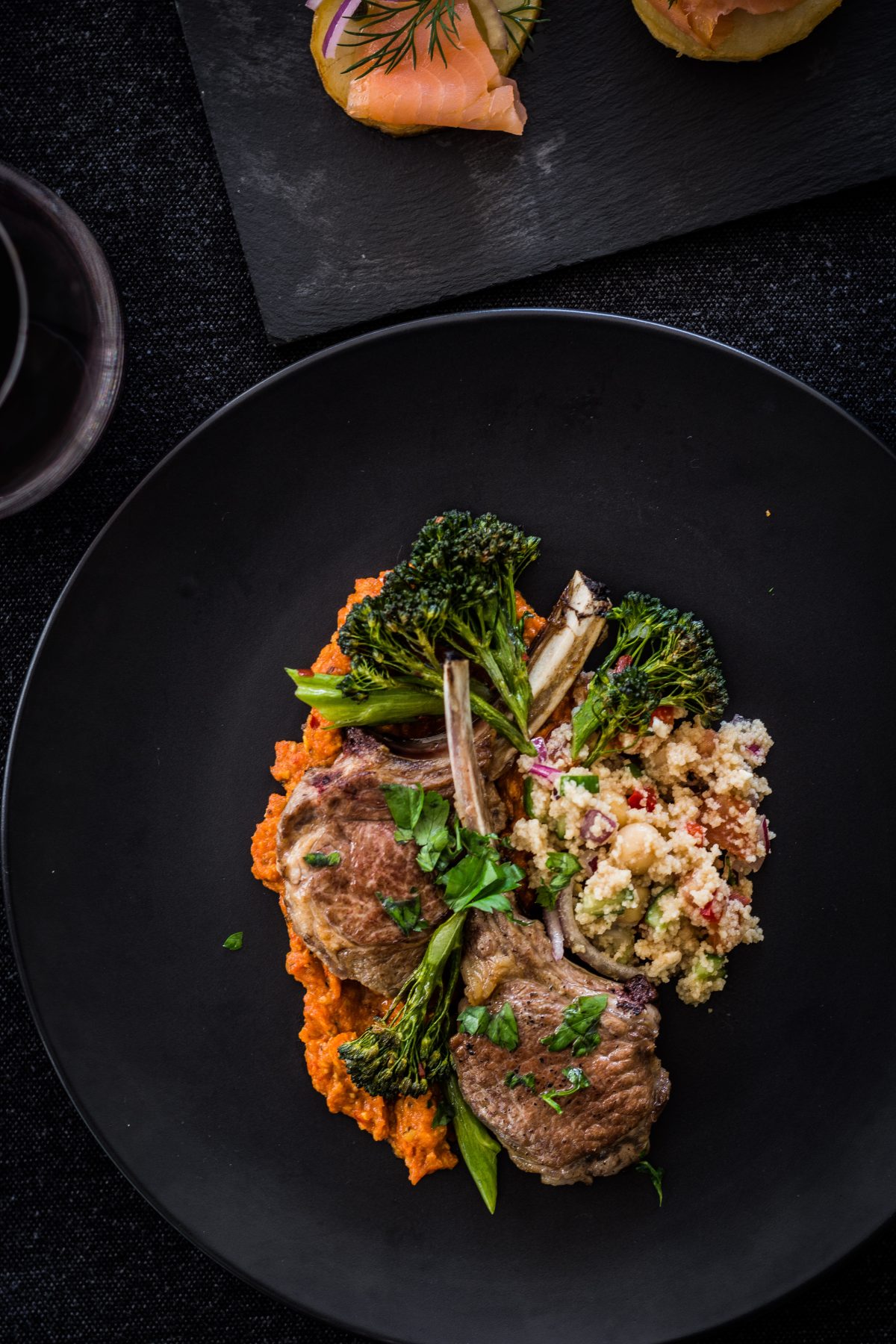 The roasted red pepper cashew puree is an absolute must try. Believe me; you do need this recipe in your life because it's so delicious and versatile. It's a perfect accompaniment to any sort of grilled meat, seafood or veggies but it can also be a great dip. I have used it like a pesto before with pasta and grilled veggies; the result was brilliant.
So let me stop rambling and get on to the recipes as there are quite a few. And enjoy it as a wholesome dish as I served it or make components that you enjoy making the dish truly yours.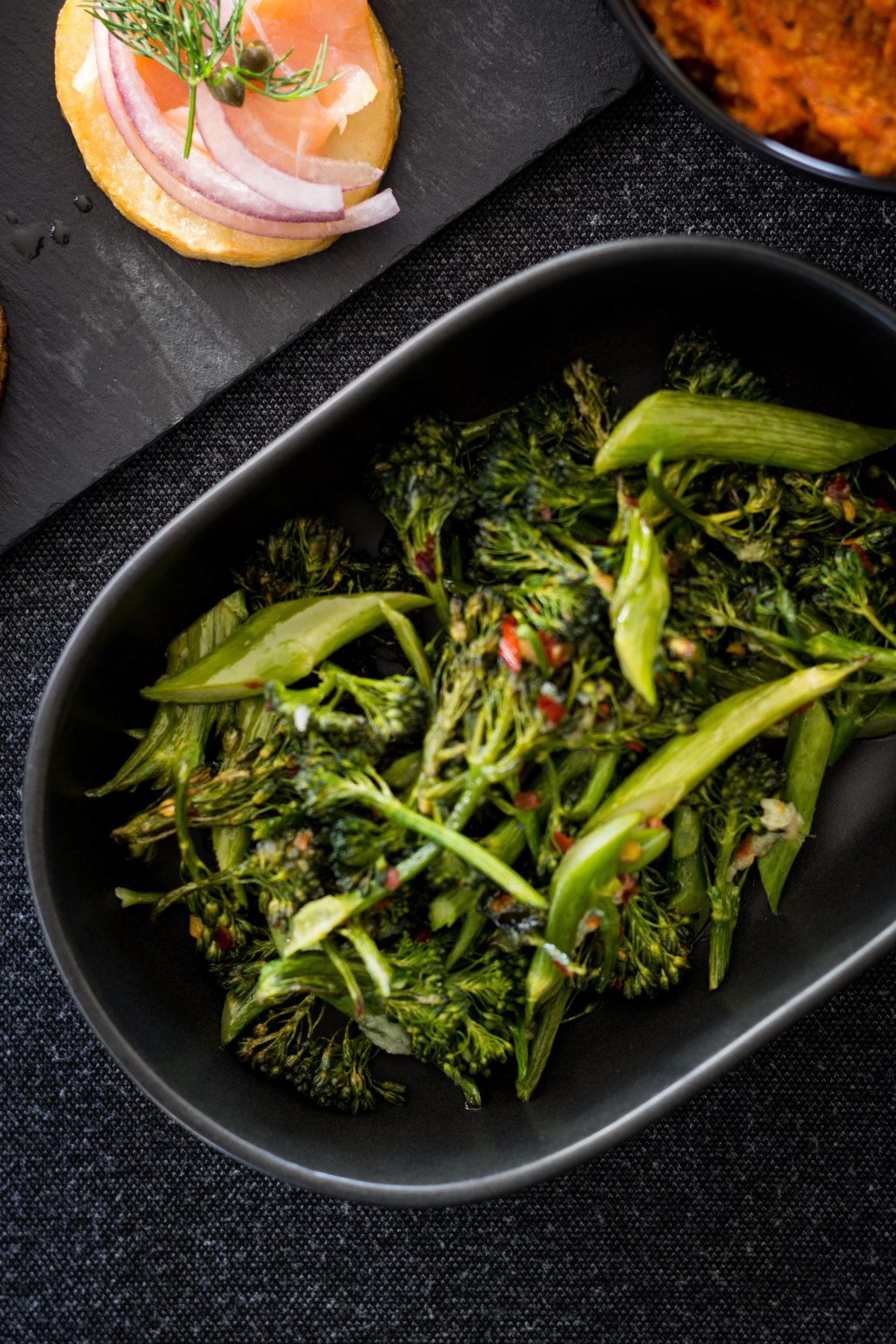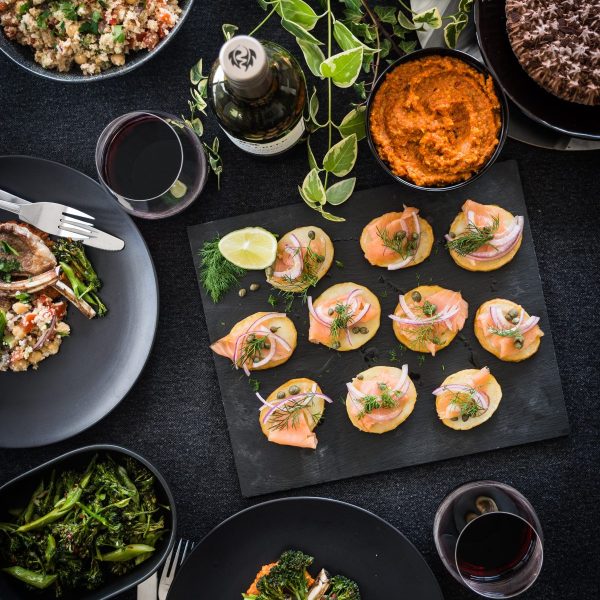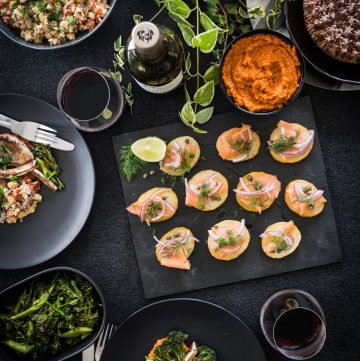 Print Recipe
Lamb Cutlets (with Roasted Red Pepper Puree), Couscous Salad, Charred Broccolini
Ingredients
Lamb Cutlets
10

lamb cutlets; frenched

4

tbsp

olive oil

½

tsp

freshly milled black pepper

1

tsp

paprika

Salt

to season
Roasted Red Pepper Cashew Puree
4

red bell peppers/capsicum

whole

3

medium garlic cloves

½

cup

raw

unsalted cashewnuts

Salt

to season

1

tsp

chilli flakes

Extra virgin olive oil

Juice of ½ lemon
Charred Broccolini
2

broccolini bunches

Salt

to season

Chilli flakes

1

small garlic; finely sliced

1

tbsp

olive oil
Couscous Salad
1

cup

couscous

1

cup

cooked chickpeas

1

Lebanese cucumber; finely chopped

1

medium red onion; finely chopped

1 to

mato; finely chopped

1

red/yellow bell pepper; finely chopped

½

cup

fresh parsley; finely chopped

5-6

olives; finely sliced

50

gms feta

Salt

to season

3-4

tbsp

extra virgin olive oil

Juice of 1 lemon

Freshly milled black pepper
Instructions
Lamb cutlets:
Prepare a marinade with the olive oil, salt, pepper and paprika. Place the lamb cutlets in a bowl, pour the marinade over and rub well to coat all the pieces. Keep for at least 30 minutes before cooking.

Heat a pan till smoking hot (I like to use either a grill or a cast iron pan) and place the lamb cutlets (cook in batches). Cook for 1-2 minutes on each side, remove and allow to rest for 5 minutes before serving. Cook all the cutlets in this manner.
Roasted Red Pepper Cashew Puree:
Preheat the oven to 200°C (fan forced)

Line a tray with baking paper and place the peppers inside. Drizzle lightly with olive oil and roast for about 40-45 minutes at 200°C (might vary according to oven) till the skin of the peppers have blackened.

Remove and cover with a cloth for about 5 minutes; this makes it easier to peel off the skin.

Once the peppers have lightly cooled, remove the skin, pith and seeds.

Place in a food processor along with cashewnuts, garlic, chilli flakes, salt, lemon juice and 3 tbsp olive oil. Blitz well and add more olive oil as needed to get a smooth puree.

If you want a really smooth puree, you can strain the sauce but I skipped the step.
Charred Broccolini:
Slice each broccolini into 3 pieces (2 stalk pieces + 1 floret)

Heat olive oil in a stove top grill (pan can also be used) and when really hot, add the broccolini stalks and garlic. Cook for a minute on high heat.

Then add the florets, chilli flakes and season with salt.

Toss on high heat for another 30 seconds to 1 minute.

Serve warm
Couscous Salad;
Cook the couscous as per packet instructions.

To make the dressing, mix the olive oil, lemon juice, salt and pepper in a small capped container. Shake vigorously and keep aside.

Once the couscous is cooked, use a fork to separate the grains. When cooled, add the remaining ingredients and toss well.

Add the crumbled feta and dressing just before serving (or the salad will go soggy), mix again and serve immediately.