Traditionally referred to as Royyal Koora, this Andhra style Prawns curry is a delight to the tastebuds. A flavourful curry made with aromatics, spices and yoghurt as the souring agent.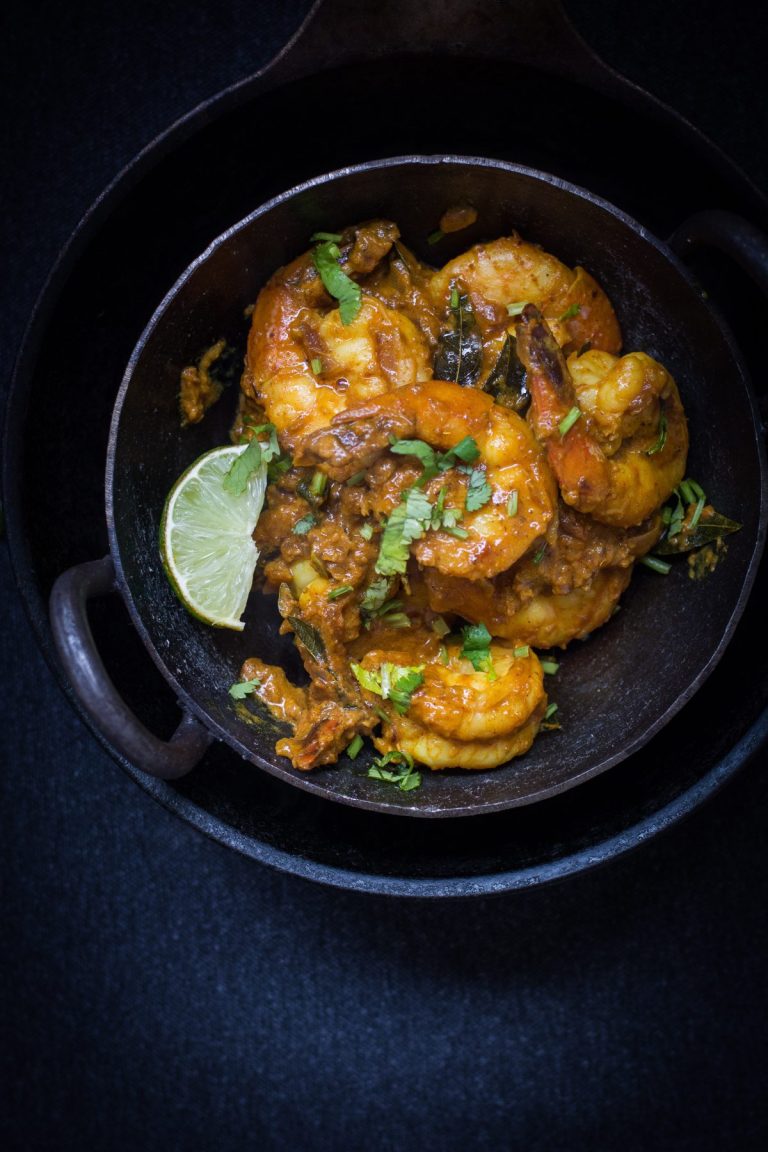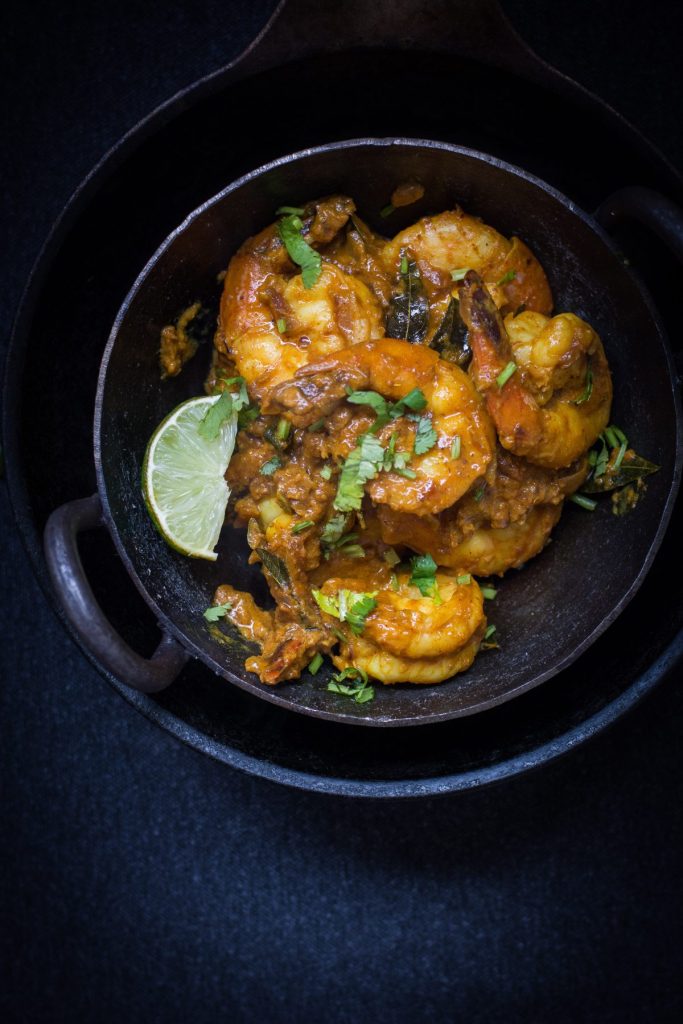 Feels like I wrote the August favourites just yesterday. Where did September go?

Guess days just flew by for us with the packing/shifting/unpacking process. I can't believe that it's October and almost the end of the year.

We are finally settled in the new home, few more boxes to get through as I write this but mostly settled and functional again. More importantly, I am back to my daily routine cooking. Eating out can get so boring after a few times that all of us were craving terribly for home cooked comfort food.

And due to all this, we hardly did anything this school holidays. No activities, play dates or fun stuff…Adi was at home helping us get things sorted. He was such a happy kid, hardly uttering the 'boring' word, quite understanding of everything that's been happening.

As I mentioned in my previous post, I had managed to test and shoot a few recipes beforehand to ease work during the shifting process. It takes me some time to start feeling inspired again and get back to work during changes like this.

One of the recipes that I had tested and photographed was an Andhra style Prawn Curry!

Referred to as Royyala Koora in the native language, this dish can be made using prawns as well as shrimps. I chose to make it with tiger prawns; makes it an indulgent treat.

It was interesting that yoghurt is used as the souring agent instead of tomatoes which lends a tangy, creamy texture and flavour to this Andhra prawn curry. This prawn curry is best served as a thick gravy just coating the prawns and one of my favourite ways to have it is with steaming hot rice and some dal. But it works just as brilliantly as part of a larger thali or with Indian flatbreads.

Do try the Royyala Koora or Andhra prawns curry and let me know what you think…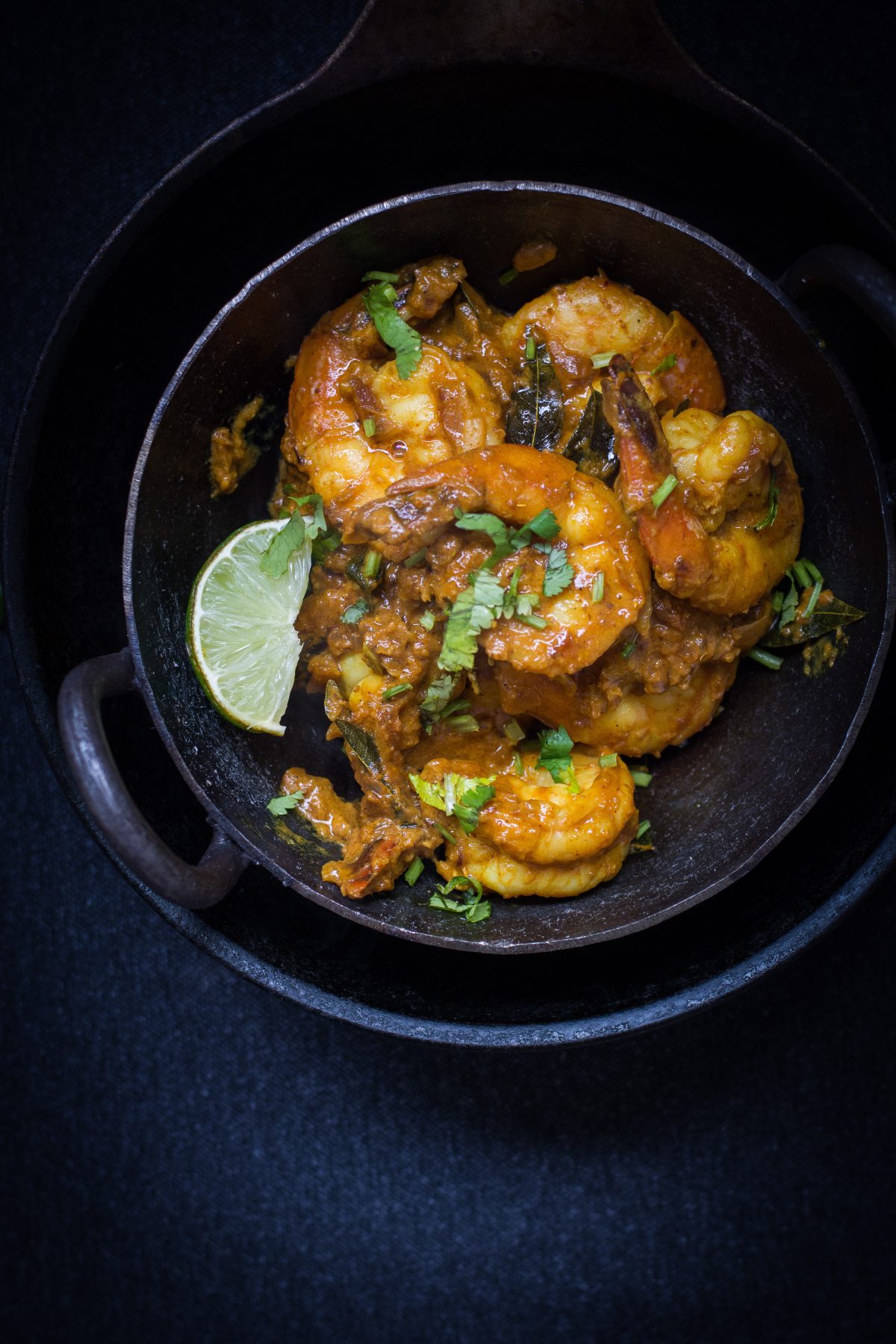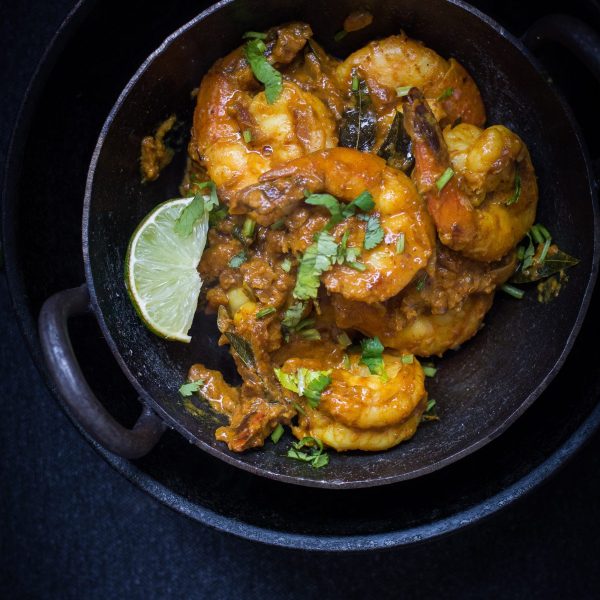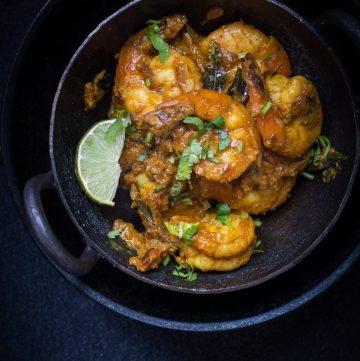 Print Recipe
Royyala Koora (Andhra style Prawns Curry)
Ingredients
600

gms prawns; deshelled and deveined

3-4

tbsp

vegetable oil

2

green cardamoms

2

cloves

2

sprigs curry leaves

1

large red onion; finely chopped

2

garlic cloves; grated

½

inch

ginger; grated

4

green chillies

whole

¼

tsp

turmeric powder

1

tsp

red chilli powder

1

tbsp

coriander powder

¼

tsp

garam masala

Salt

to season

½

cup

yoghurt; beaten to remove clumps

2

sprigs coriander leaves; finely chopped
Instructions
Heat oil in a large pan, add the cardamoms, cloves and curry leaves. As the spices begin to sizzle, add the onions and sauté till softened.

Then add the green chillies, garlic and ginger; sauté till the onions are light brown.

Add all the spice powders and mix well to combine.

Lower heat and add the yoghurt; mix well to combine with the onion masala

Increase heat to high and cook the masala stirring continuously till oil starts to separate.

Add the prawns, season with salt and mix well. Cook covered on low heat till the prawns are done. (This dish has a dry consistency, but if there is excess water, cook uncovered on high heat for the last 1-2 minutes)

Garnish with coriander leaves.
Now let's get on to my top picks and favourites for the month of September;

Drawing a 3D fried egg. Sheer Magic!

We have a lovely deck space in our new home. I can totally see myself sipping a couple of these mojitos with friends.

Just the kind of snack I enjoy.

A 20 minute ramen recipe is always welcome.

So rustic and simple, this egg curry has become a hot favourite in our home.

I have never made polenta before. Guess it's time to give it a try…

This slow roast spiced lamb shoulder is definitely going to be a part of my Christmas menu.

Kids don't damage women's careers, men do. 100% true and for all the men to think about….

Spring racing, summer parties, Christmas dinners….the list is endless and I am broke. Hiring might be the solution.