How many oyster lovers here?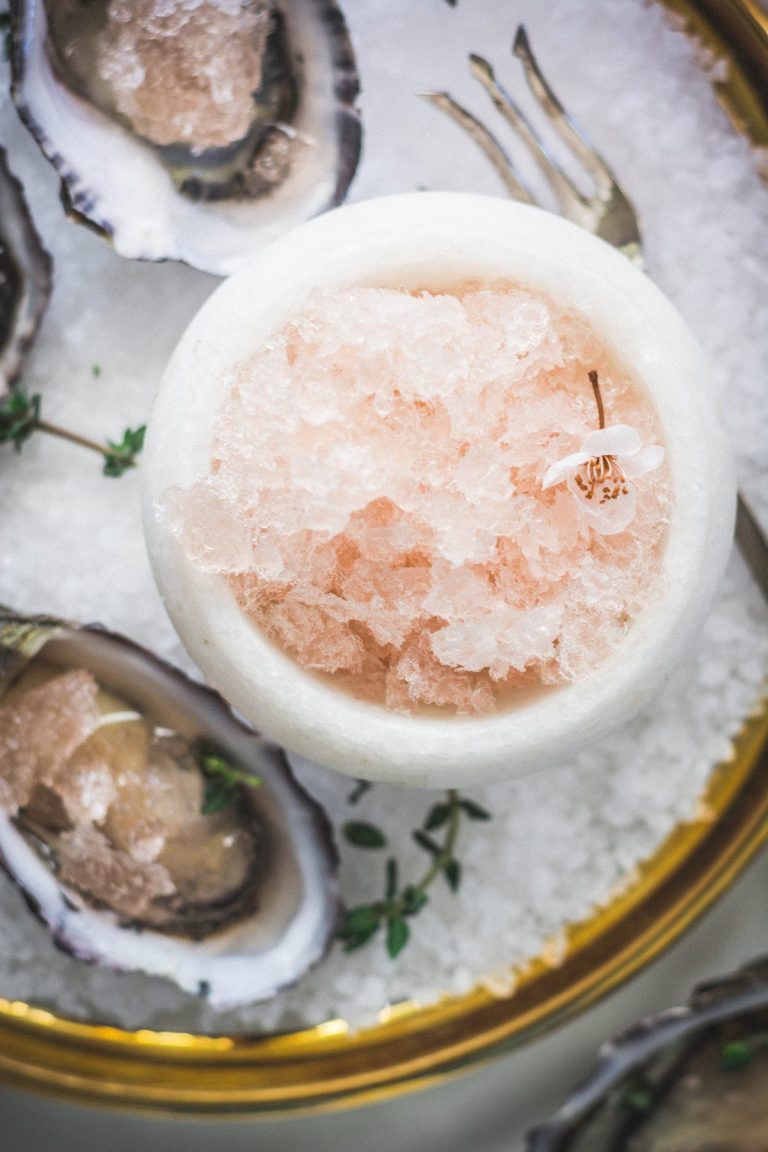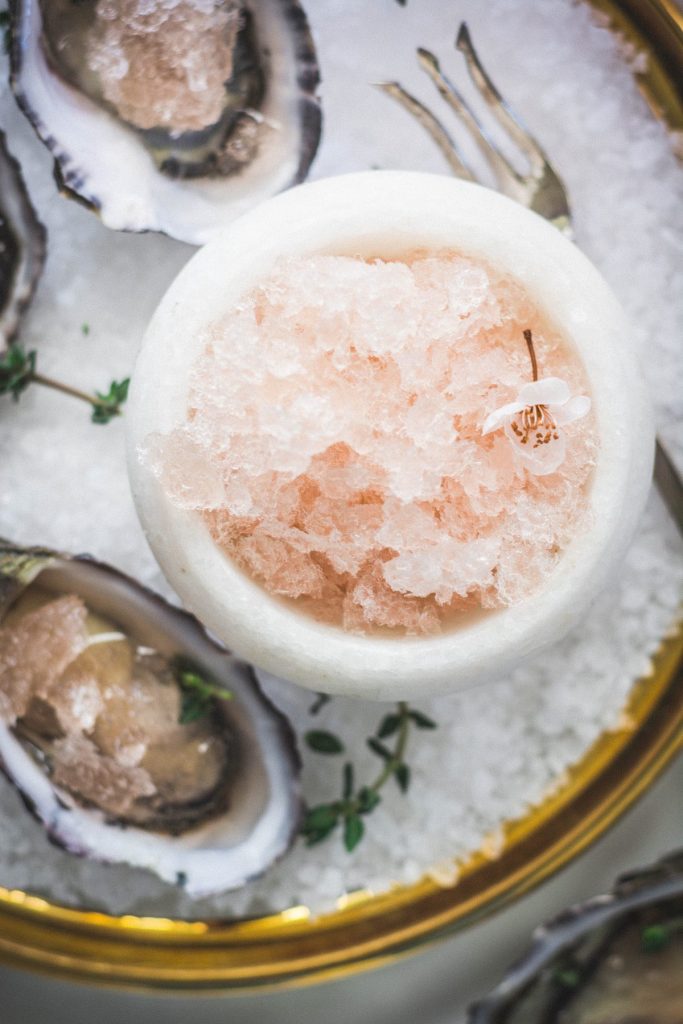 We love oysters, all the three of us, including our 9 year old who started eating raw oysters when he was about 6. And that's a fact that gets us a lot of attention when we order fresh raw oysters at any restaurant. From the staff to the people dining at neighbouring tables, we get a lot of smiling, curious faces when they see Adi golfing down raw oysters with the happiest grin on his face.

So oysters make a regular appearance in our home when we are in the entertaining mode. Of course we are mindful of how many he eats and we ensure to get our hands on the freshest oysters too (which is important for everyone).

Even though I started writing about Adi's love for oysters, today's recipe is not for children. It's strictly 18+

The idea for this recipe came about when I was sent a bottle of Rameau D'or Cotes De Provence Rosé 2017 as part of a social media project.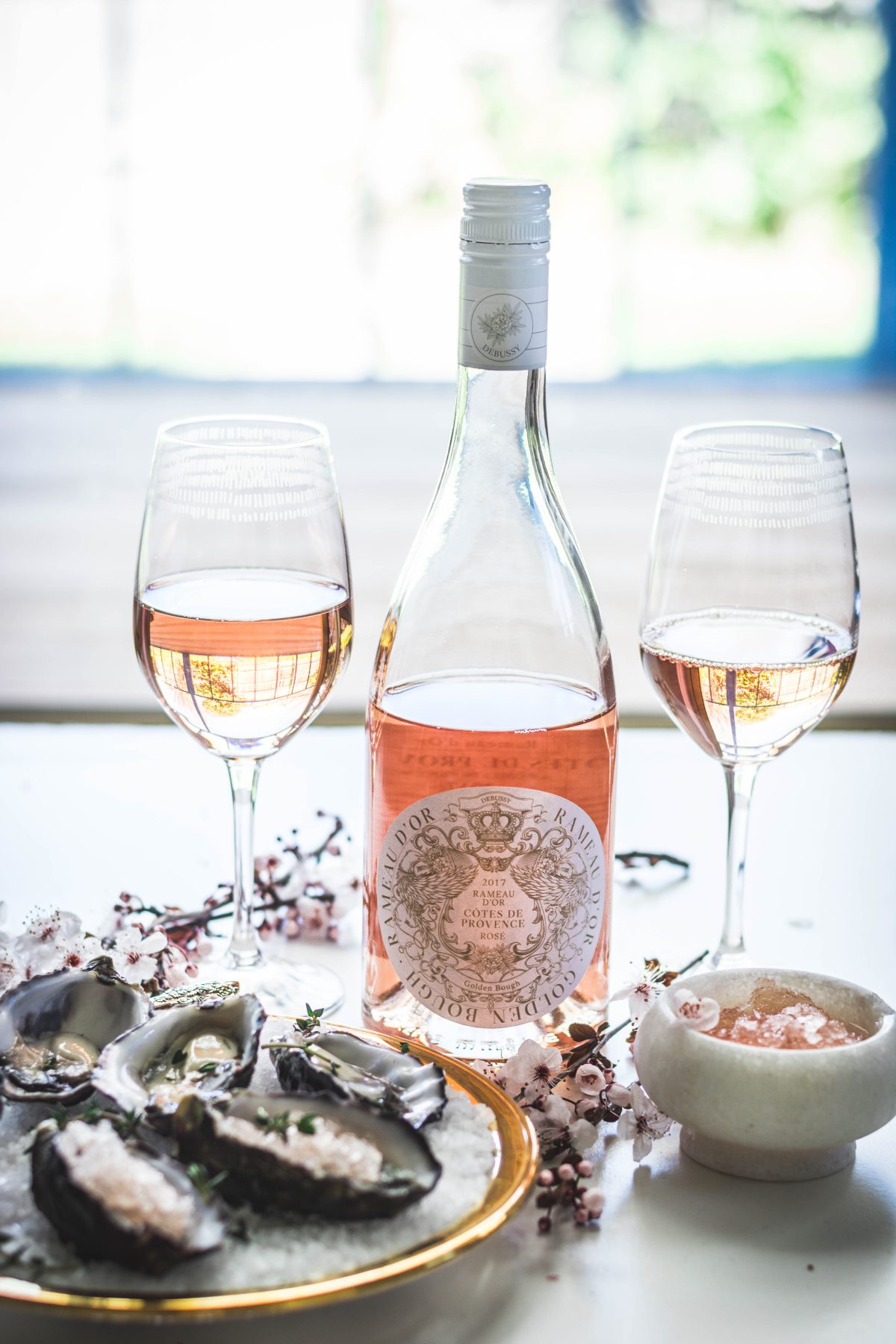 From the Provence region in France, this Rosé was a fabulous wine to discover. It was not too sweet unlike many of the Rosés I have had before. Delicious and smooth with hints of delicate spice and Turkish delight/strawberry sorbet sort of flavours, this Rosé was truly a delightful drop.

I enjoyed the Rameau D'or Cotes De Provence Rosé 2017 but still wanted to create a recipe using the wine. And since it was a drop perfect for spring and summer, I came up with the idea of making a granita.

Granita is an ideal summer dessert; it's simple to make and there are a zillion flavour combinations to choose from. While I have enjoyed the fruit version before, this is the first time I went ahead with a wine based granita.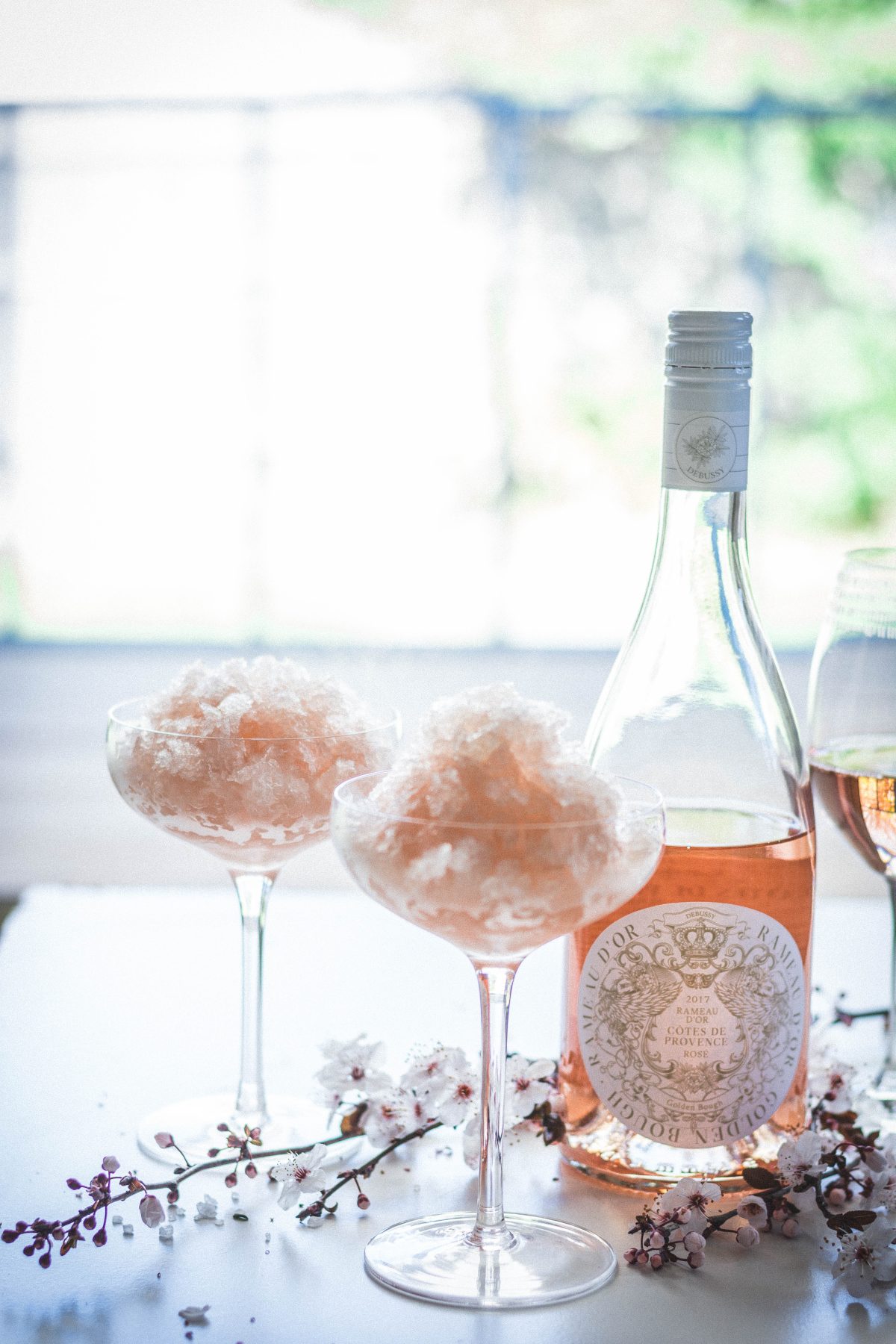 Granita is believed to have originated in Sicily and it is basically a semi-frozen dessert that is made from fruit or any other flavourings mixed along with sugar and water. A variation of the granita is the Indian gola which is quite popular during the summer months. The difference is that the gola is basically shaved ice onto which the flavourings are poured but in a granita, the flavouring are mixed initially and then allowed to freeze.

Making a granita involves a bit of technicality; you don't allow the liquid to freeze completely or it just turns to solid ice instead of ice crystals. The liquid is allowed to freeze for a short period of time and as it begins to freeze around the edges, the frozen bits are scraped from the edge towards the centre using a fork creating the crystals. Repeat for a couple of times to get the perfect granita.

This Rosé wine granita is a dessert on its own, a great refreshment after meal for a hot summer day if you don't want to have any heavy desserts. Or you could pair it with fresh oysters like I did, a really fun and entertaining idea especially if you have friends over.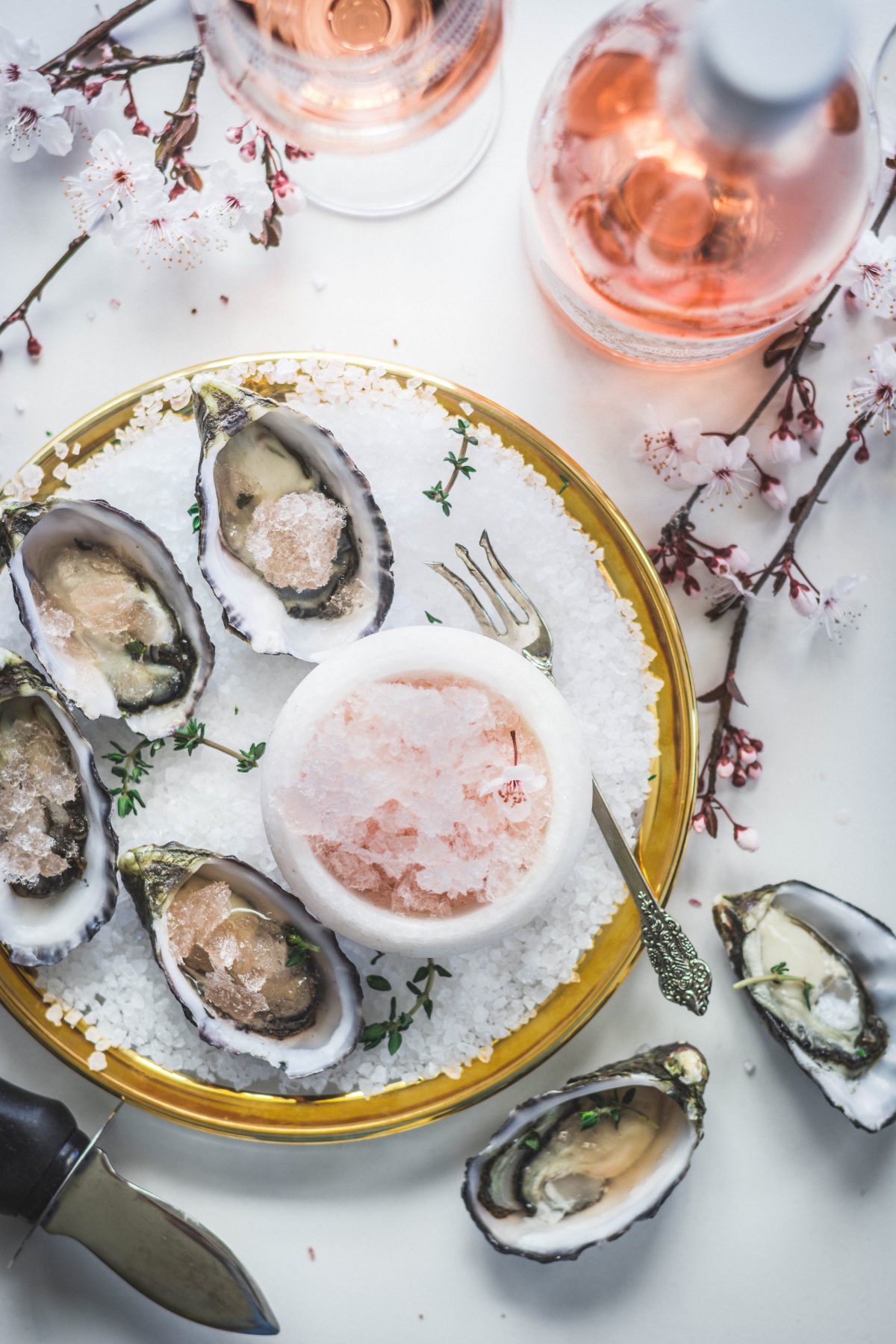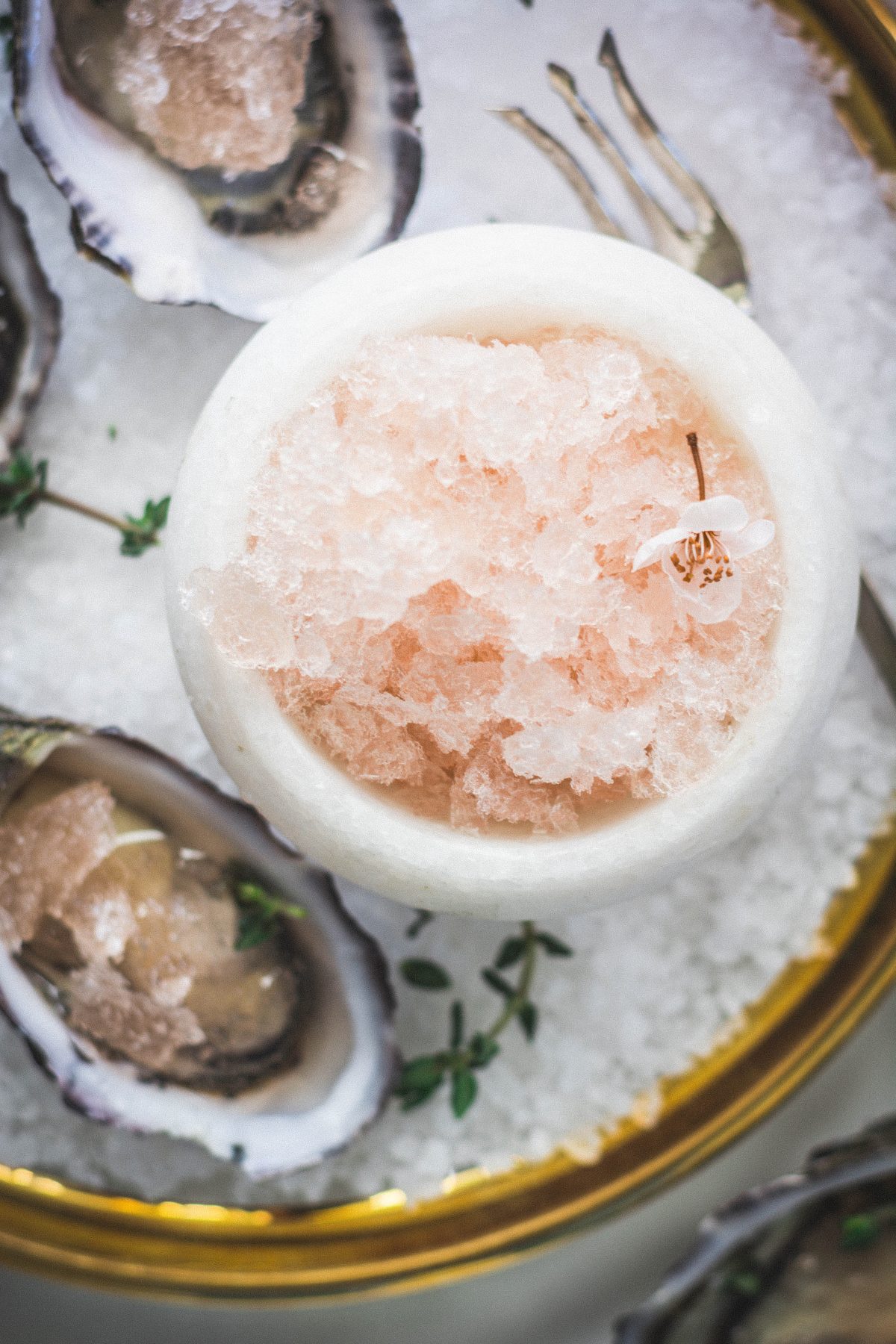 The same recipe can be followed for other wine varieties too like a Prosecco, Red Wine, Champagne etc…. but you will have to play around with the quantities of lemon juice (I have used verjuice in this recipe) and sugar, both of which are essential when making a wine granita as wine alone does not freeze well.

So let's make a batch and chill out this summer with a Rosé Wine granita. Pair it with fresh oysters for a delicious starter or finish off your meal with this stunning dessert cocktail.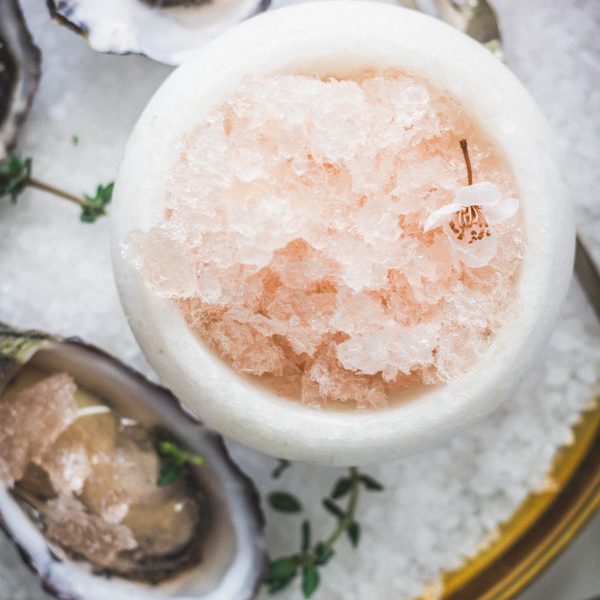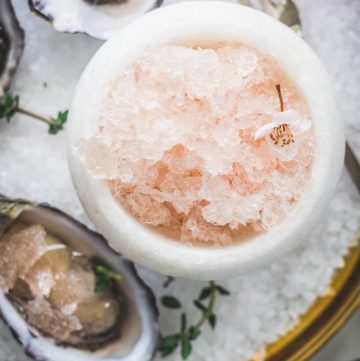 Print Recipe
Oysters with Rose Wine Granita
Ingredients
2

cups

Rosé Wine

¼

cup

verjuice

or lemon juice

¼

cup

raw sugar

½

cup

cold water
Instructions
Add all the ingredients to a non reactive bowl and mix till the sugar has dissolved.

Pour into a clean baking tray and place in the freezer for 1 hour.

Remove after 1 hour and scrape from the edges using a fork to form the crystals. Freeze again.

Repeat this every 30 minutes for the next 2 hours.

Granita ready!
Notes
The quantities of sugar and lemon juice/verjuice will need to be adjusted according to the flavour profile of the wine. So taste after mixing all the ingredients and adjust levels of lemon juice and sugar.