Some days the words just don't come….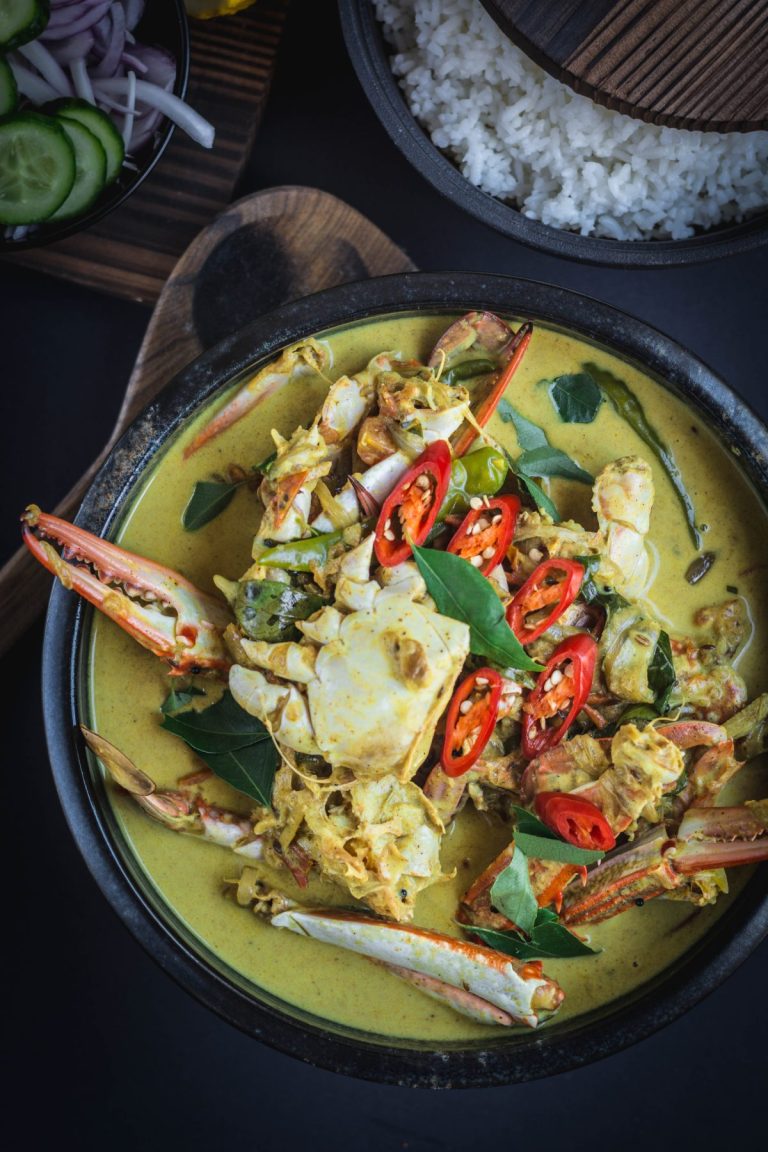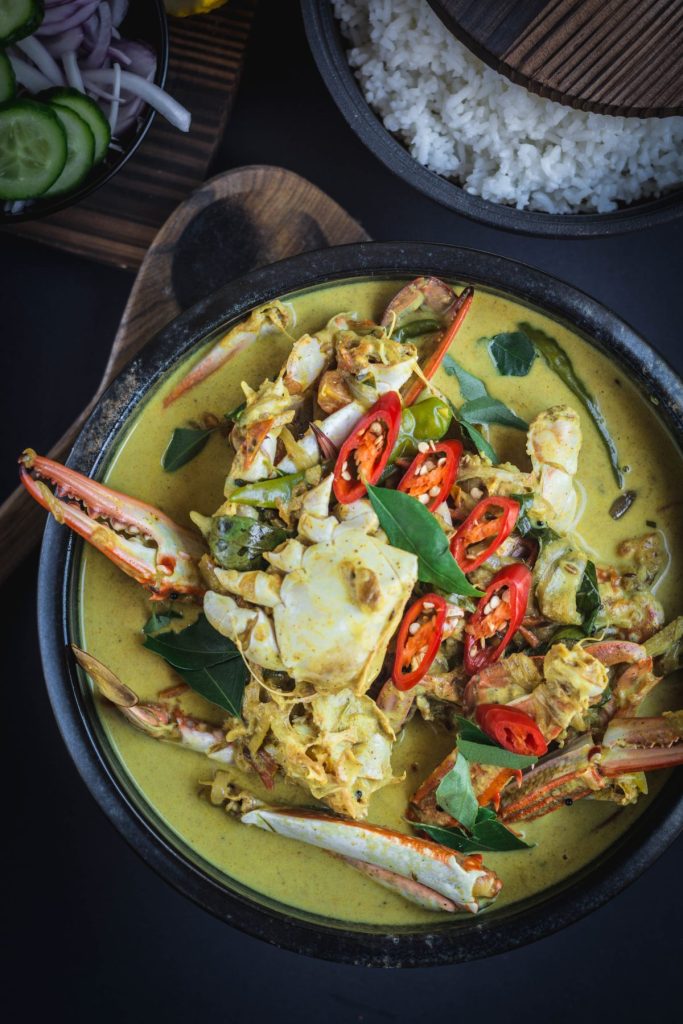 And it's usually when my mind is overwhelmed and I am so busy trying to achieve a zillion things in a short period. Pretty much how I feel currently with the holiday season coming up soon.

I hardly get overwhelmed or stressed over personal and emotional happenings; pretty sorted that way. But when it gets to physical things like working, events to attend, parties to plan etc… that's when I feel so beat up and tired. And that's exactly the current state of affairs. There are so many recipes to test, shoot and write, so many events to attend (in spite of saying yes only to a quarter of the invites), Christmas parties to plan, a trip to India early next year for my brother's wedding which means a whole lot of wedding shopping to do…the list goes on.

Since I have nothing more to say apart from how crazy things are at the moment, I will just get on with today's recipe – a Fiji style Crab Curry.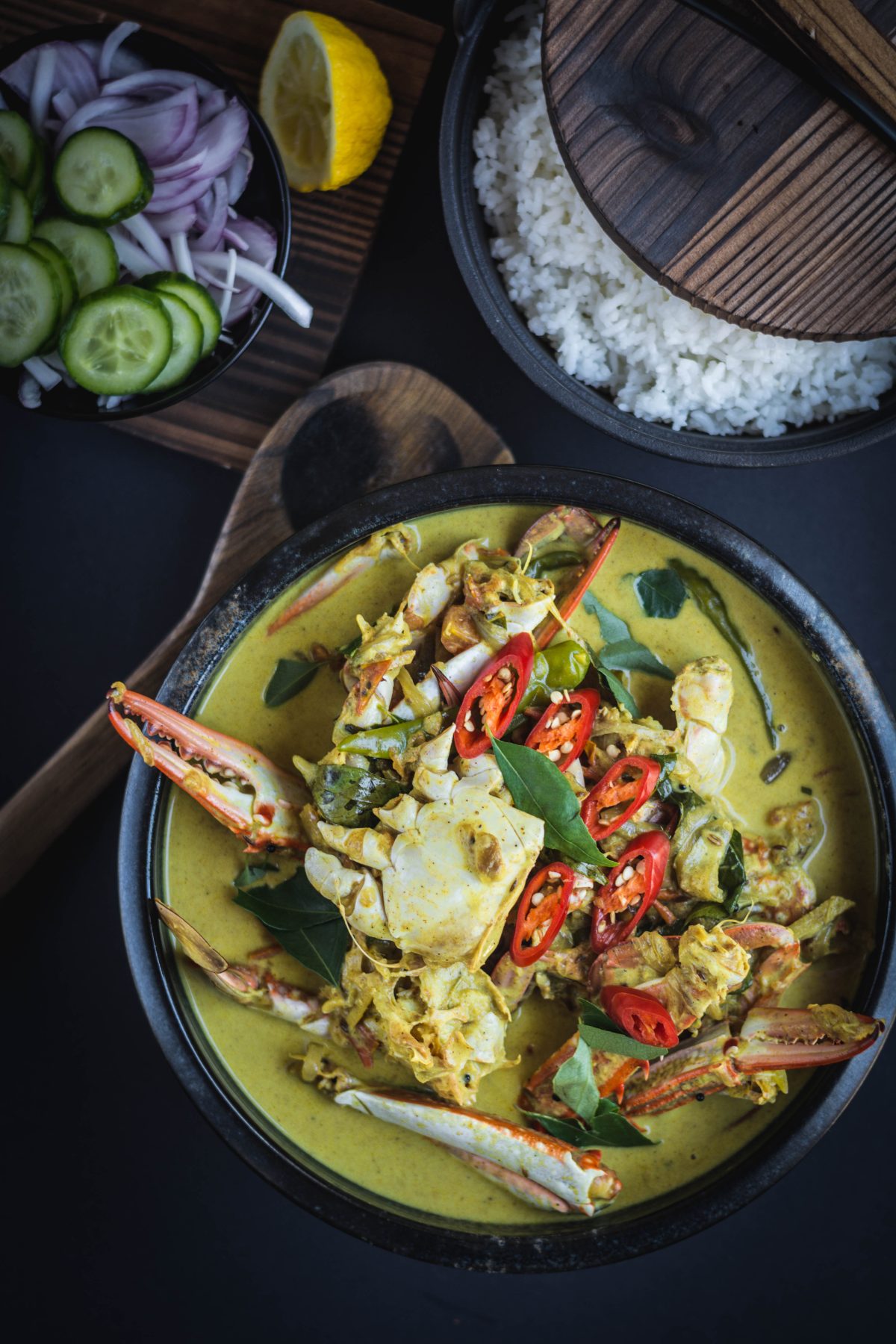 With Fiji being so close to Australia in terms of geography, there are so many people I know who are from the island. But when it comes to food, I am totally clueless. I do know that Fiji cuisine is heavily influenced by the various migrants and settlers so it's totally normal to see an Indian curry sitting beside a native dish. And seafood is an integral part of the diet due to the coastal topography.

I found the recipe for this Fiji style crab curry in my recipe journal (basically a bunch of recipes torn from magazines and newspapers that I used to collect way before the food blogging journey). And so I have no clue whom to credit the recipe to. In fact I am not even sure if it's the most authentic or traditional way of making crab curry in Fiji.

The original recipe called for large mud crabs to make this curry, but I decided to use blue swimmer crabs as these are in season and also because I love the flavour of these..so sweet and delicious.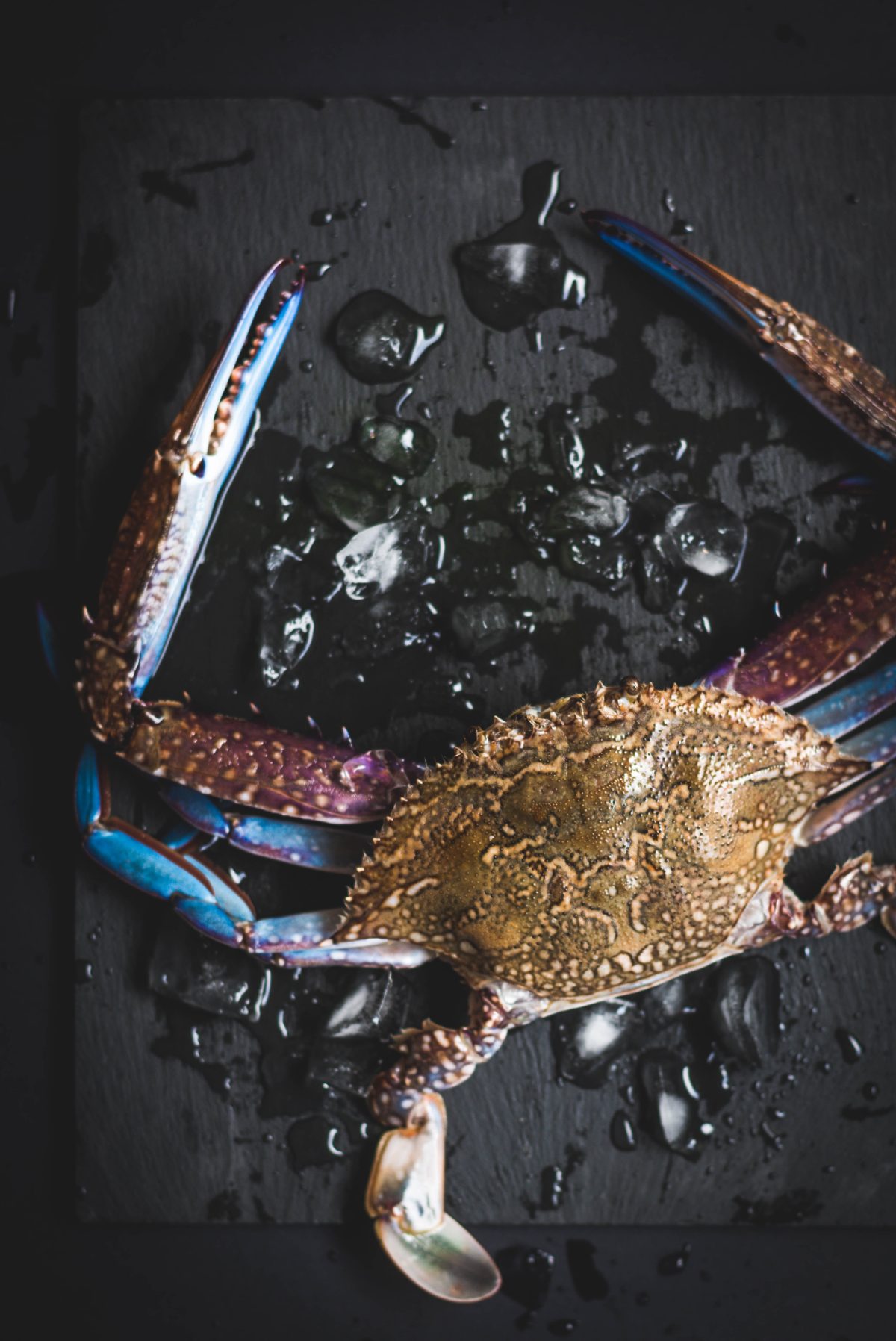 Medium thick milk from freshly grated coconuts is the best to make this Fiji style Crab Curry, but canned coconut milk will work just fine too (tends to be slightly more sweet than fresh coconut milk). The crabs are broken down so that the flavour from all the spices and aromatics seeps into every nook and crevice of the claws and body which makes this curry a delicious delight. And of course, ensure there are plenty of napkins around, there's no neat or demure way to eat crabs.

In traditional Fiji cooking, a hot masala powder would be used but sourcing that would be difficult for most people, hence I used garam masala which is quite similar to the hot masala. If you live in Australia, there are plenty of stores that stock Fijian products so you can use the hot masala itself.

In spite of all the spices, this is a very mild and light curry that's perfect for the warmer days. It's creamy yet light and soupy, sweet yet with a hint of spice that's best enjoyed over a bowl of steamed white rice.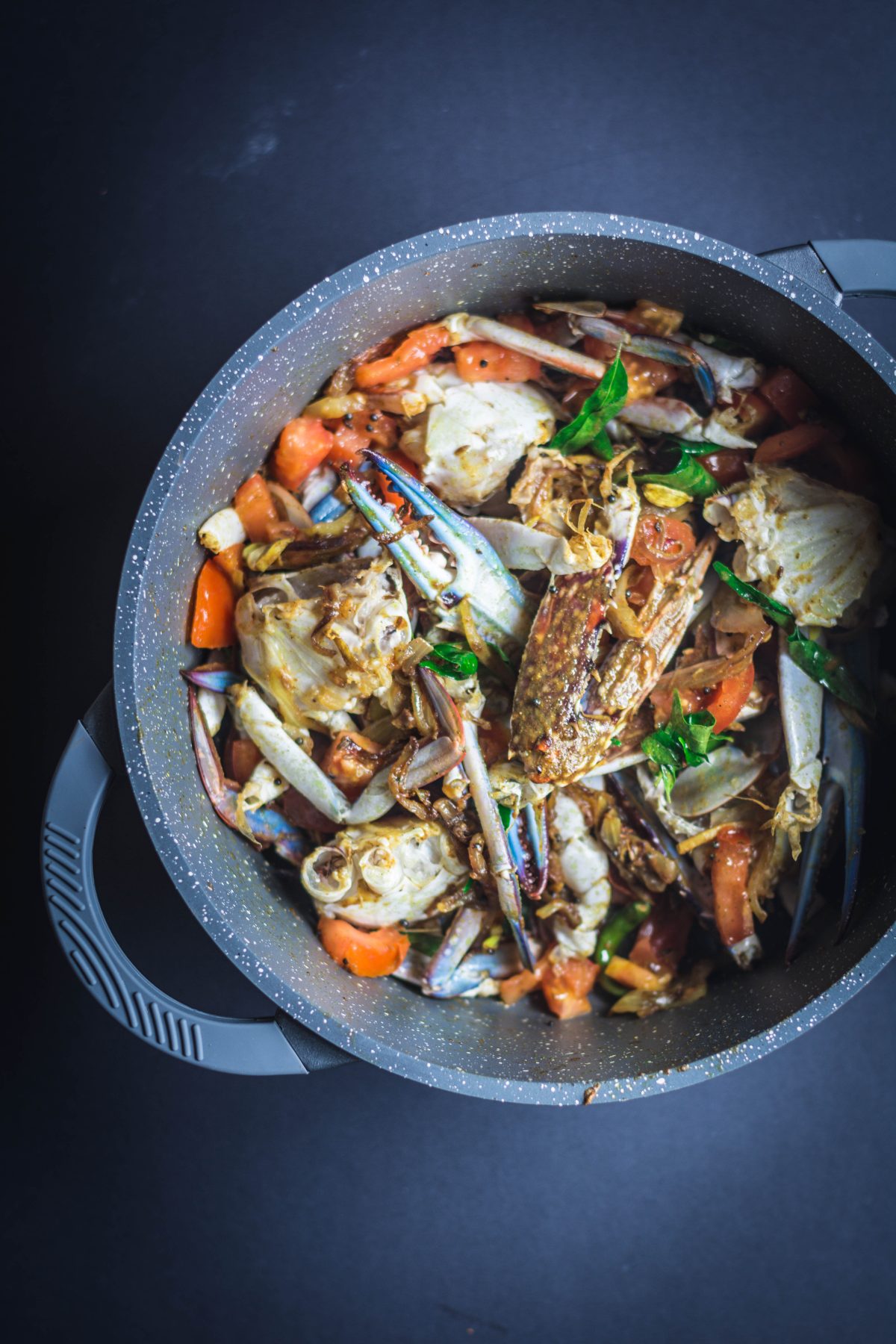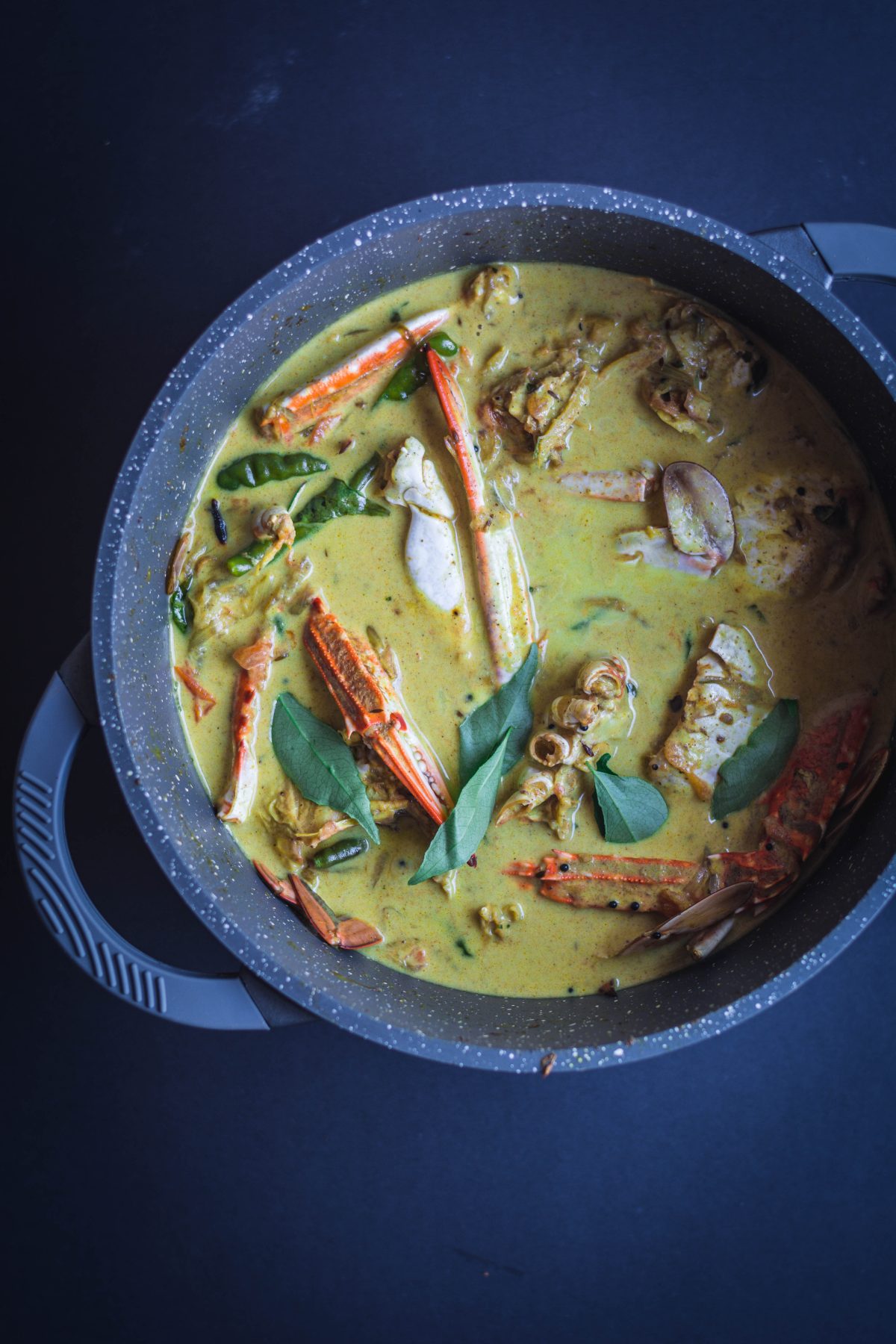 So let's get cooking a delicious pot of this Fiji style Crab Curry…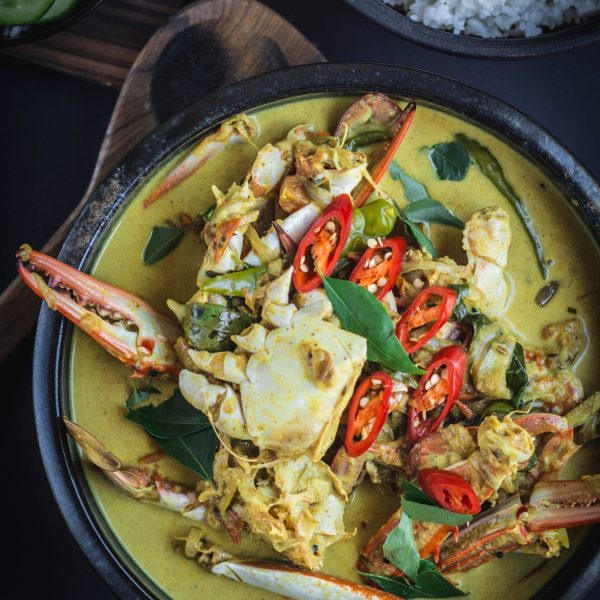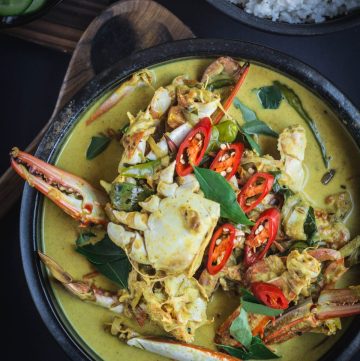 Print Recipe
Fiji style Crab Curry
Ingredients
3

blue swimmer crabs

2

tbsp

coconut oil

½

tsp

black mustard seeds

1

inch

ginger; julienned

1

tsp

cumin seeds

½

tsp

turmeric powder

1

tsp

garam masala

1

onion; thinly sliced

3

garlic cloves; grated

2

stalks curry leaves

extra for garnish

4

green cardamom pods

½

cinnamon bark

4

cloves

4 -5

green chillies; slit lengthwise

adjust to heat preferences

2

ripe tomatoes; finely chopped

4

cups

coconut milk

medium thick consistency

Salt

to season

1

lemon; cut into wedges

1

large red chilli; thinly sliced

for garnish
Instructions
Wash and clean the crabs well. Pull the top cover shell off and remove the gills and any gut tissue if present. Then remove the claws and cut the main body of each crab into half.

Heat coconut oil in a large pan and add the mustard seeds; allow to crackle.

As the mustard seeds start to crackle, lower heat and add the ginger, cumin seeds, turmeric powder and garam masala. Mix well and take care not to burn the spices.

Then add the onion and garlic; sauté till the onions turn light brown.

Next add the curry leaves, cardamom, cloves, cinnamon and chillies; mix and cook on low heat for 30 seconds.

Add the crab pieces, tomato and season with salt. Mix well to combine and cook on high heat for 2-3 minutes.

Next add the coconut milk and cook covered on low heat for about 5-6 minutes till the crabs are done.

Remove from heat and garnish with chillies, curry leaves and lemon wedges.