After school snack time is taken quite seriously in our household.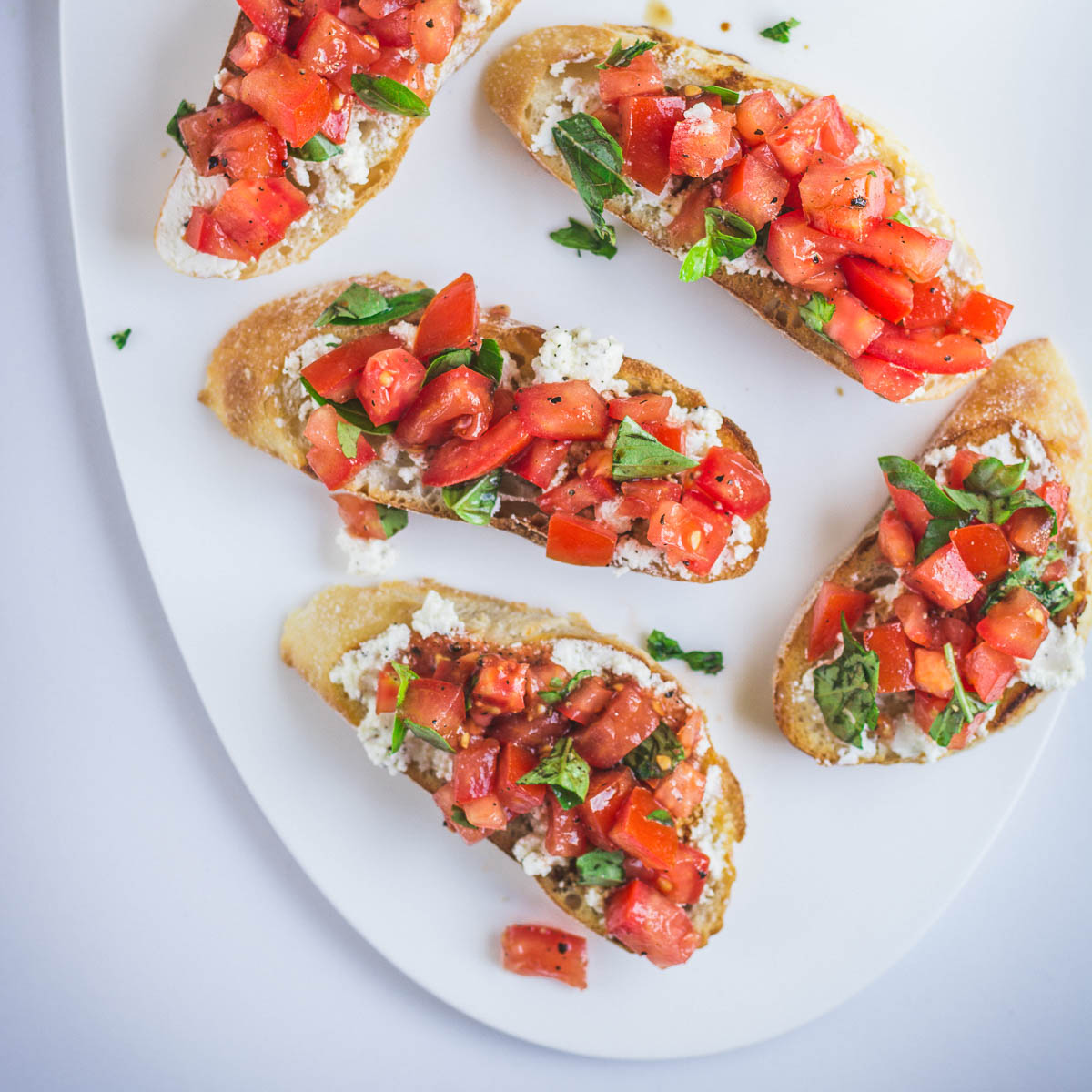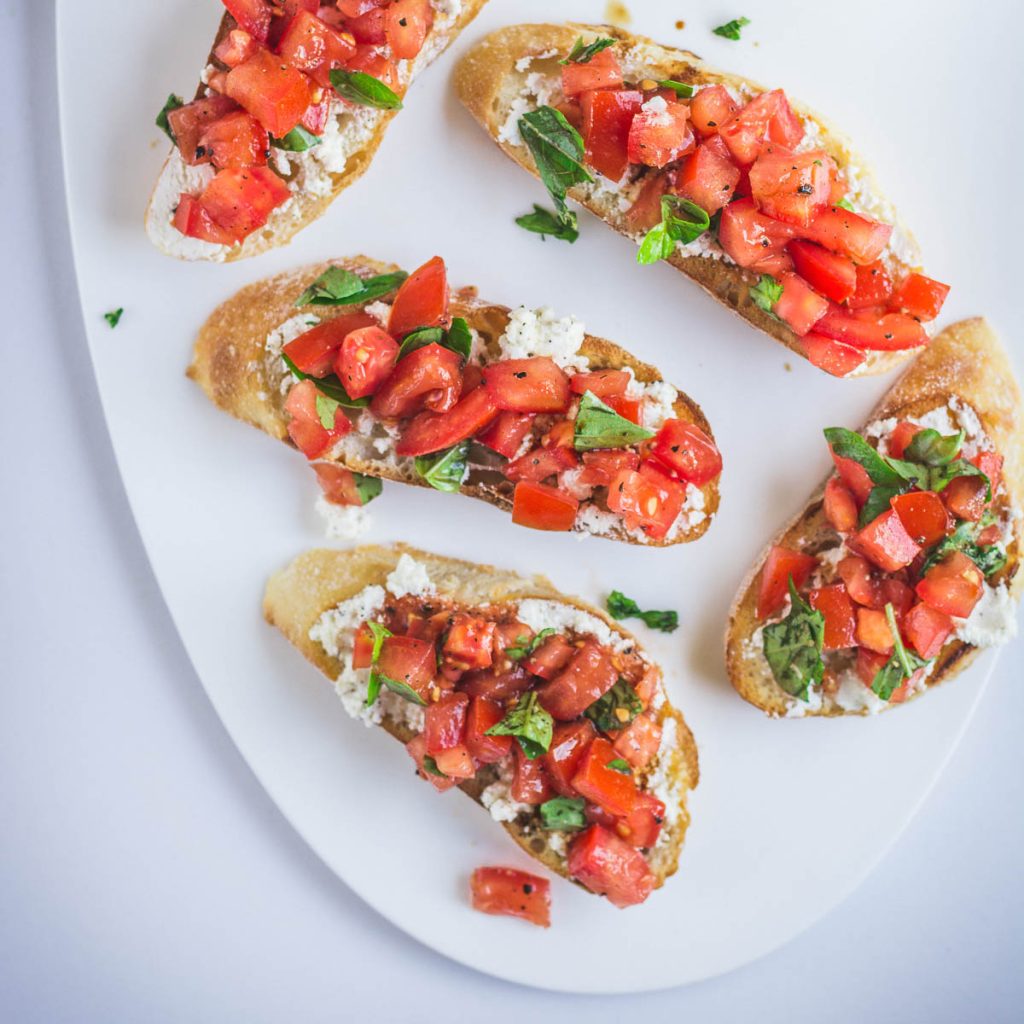 The first question Adi asks as he enters the house is 'what's for snack'? And I know he is expecting something hearty and delicious.
Usually it's something homemade, but I have my days when I am more than happy to open a frozen packet. But what I generally tend to do is prepare snacks in bulk and freeze in portions or have veggies/meat prepped ahead so that a quick snack can be put together.
One such ingredient that I have been lately having in my refrigerator is Marinated Feta. It's such a versatile ingredient that can be used in a zillion ways and each one different from the other. It's great in salads; replace regular feta with the marinated one in your next Greek salad and you will know the difference.
I have adapted this marinated feta recipe from Bon Appetit. What I loved most about this is the addition of roasted lemon slices and dried chillies that lends such a delicious citrusy flavour with that hint of smoky heat in the background, subtle yet there to boost the overall flavour of the feta.
And even when you are done using the feta, the lemon slices, chillies and oil can be used in different ways so that nothing really goes to waste. Though I love to use the marinated feta in salads, this time I used it as a spread for a Bruschetta.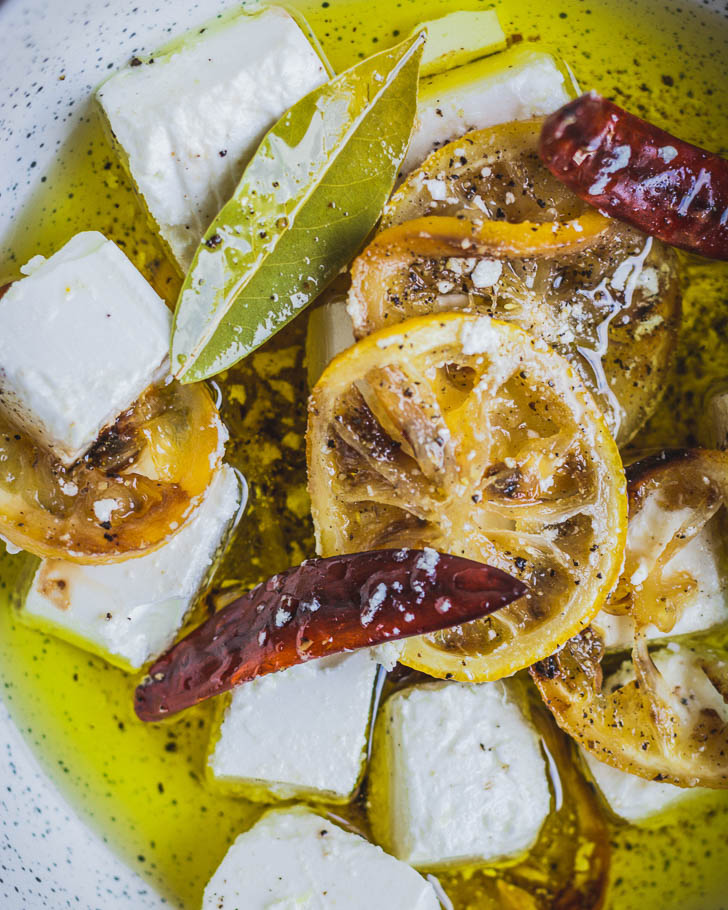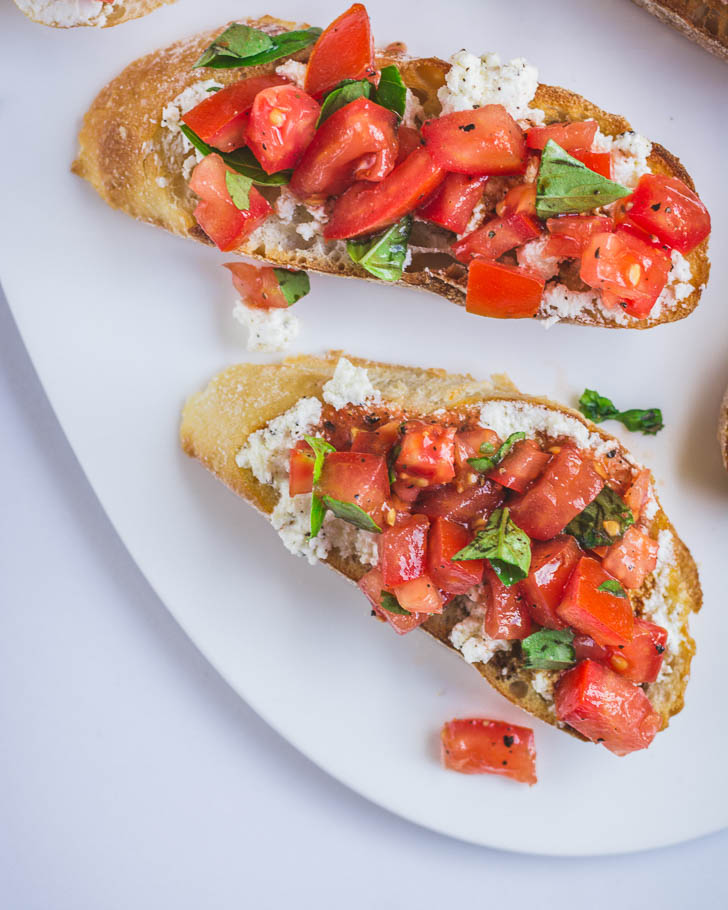 Bruschetta is another favourite of ours. It's a snack I make at home often but we also love to order it while dining out at really good Italian restaurants. The quality of the tomatoes makes a huge difference to the taste of a Bruschetta so many restaurants do not really do justice to this simple classic dish.
In today's recipe, I have used the marinated feta as a spread and then topped it with the tomato mixture. The background flavours of citrus, salt and cheese lend a delicious creaminess and it works as a wonderful base for the sweet tomatoes.
I always use sour dough or ciabatta for making a Bruschetta. The bread must be toasted lightly on both sides so that it does not go soggy and provides that crunchy texture to the soft tomatoes and feta. As for tomatoes, use sweet vine ripened tomatoes whenever possible. Most people tend to leave out the tomato flesh while making a Bruschetta. While I am making it as a quick snack at home, I use the tomatoes whole and the bruschetta is consumed shortly after making. But if I am prepping a larger quantity for a party, then I omit the flesh so that the tomatoes do not go too soft.
For making the marinated feta, I used Danish feta as it has less salt content when compared to other types. But really, any variety should do.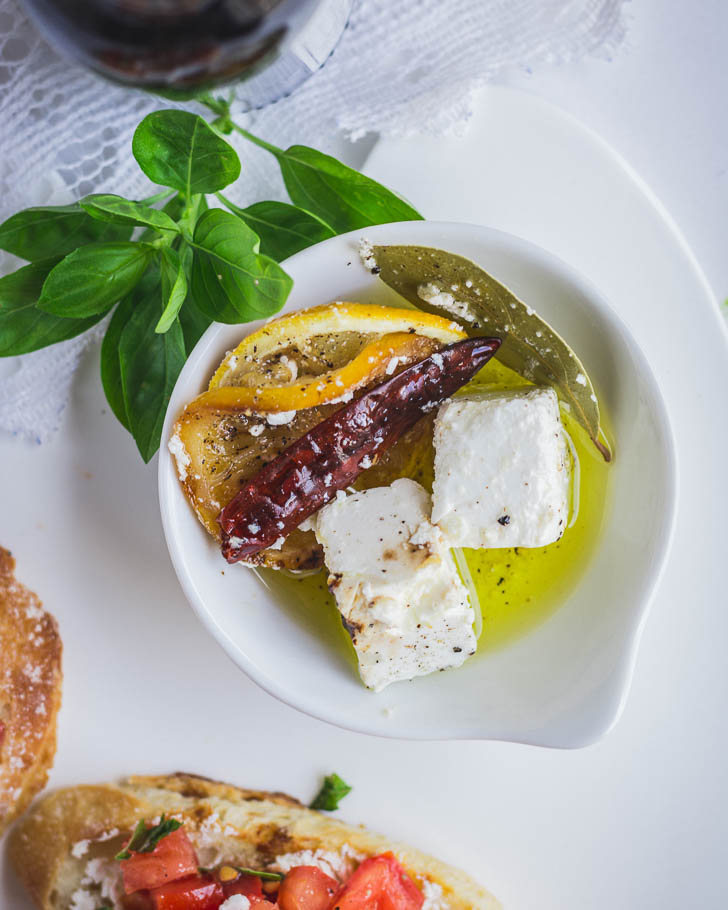 So let's get to the recipe for this flavourful Marinated Feta and an equally delicious Bruschetta using this. And if you would like to get more snack ideas, check out the category 'Appetizers' on the blog.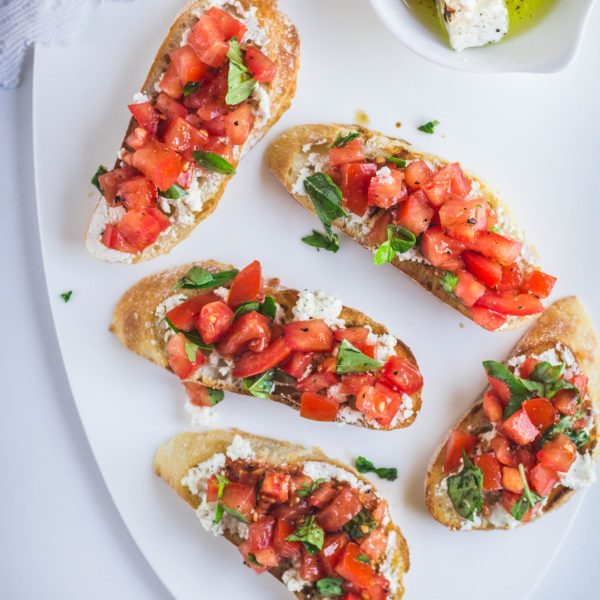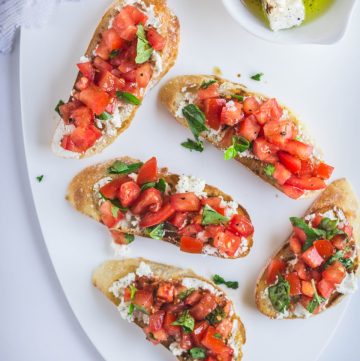 Print Recipe
Bruschetta with Marinated Feta
Ingredients
For making marinated feta:
200

gms feta; cut into large cubes

1

lemon; sliced and seeds removed

2

dried red chillies

2

dried bay leaf

Freshly ground black pepper

Olive oil; enough to cover the feta.
For the bruschetta:
1

medium sized sourdough; sliced

2-3

vine ripened tomatoes; chopped

remove flesh if you wish to

Freshly ground black pepper

A pinch of sugar

A couple of fresh basil leaves; torn into small pieces

1

tsp

olive oil

from the marinated feta

1-2

tsp

balsamic vinegar
Instructions
Pre heat the oven to 200°C. Line an oven proof tray with baking paper, arrange the lemon slices on top and lightly drizzle with olive oil. Roast till lightly caramelized and charred at the edges (roughly 10-12 minutes, but depends on the size and thickness of the slices so keep a close eye).

Once the roasted lemon slices have cooled, place it in a clean jar along with the feta, bay leaves and chillies. Season with black pepper and pour enough olive oil to cover the feta.

Marinate overnight for best results.
Bruschetta:
In a bowl, add the chopped tomatoes and basil. Add sugar, pepper and a dash of olive oil; mix well.

Smash 2-3 cubes of the marinated feta in a separate bowl using the back of a spoon and spread this on top of the sourdough slices.

Then top each slice with the tomato mixture and drizzle lightly with balsamic.

Serve immediately