Duck Molee is inspired from the famous fish preparation from Kerala; a creamy flavourful lightly spiced curry with coconut milk and spices.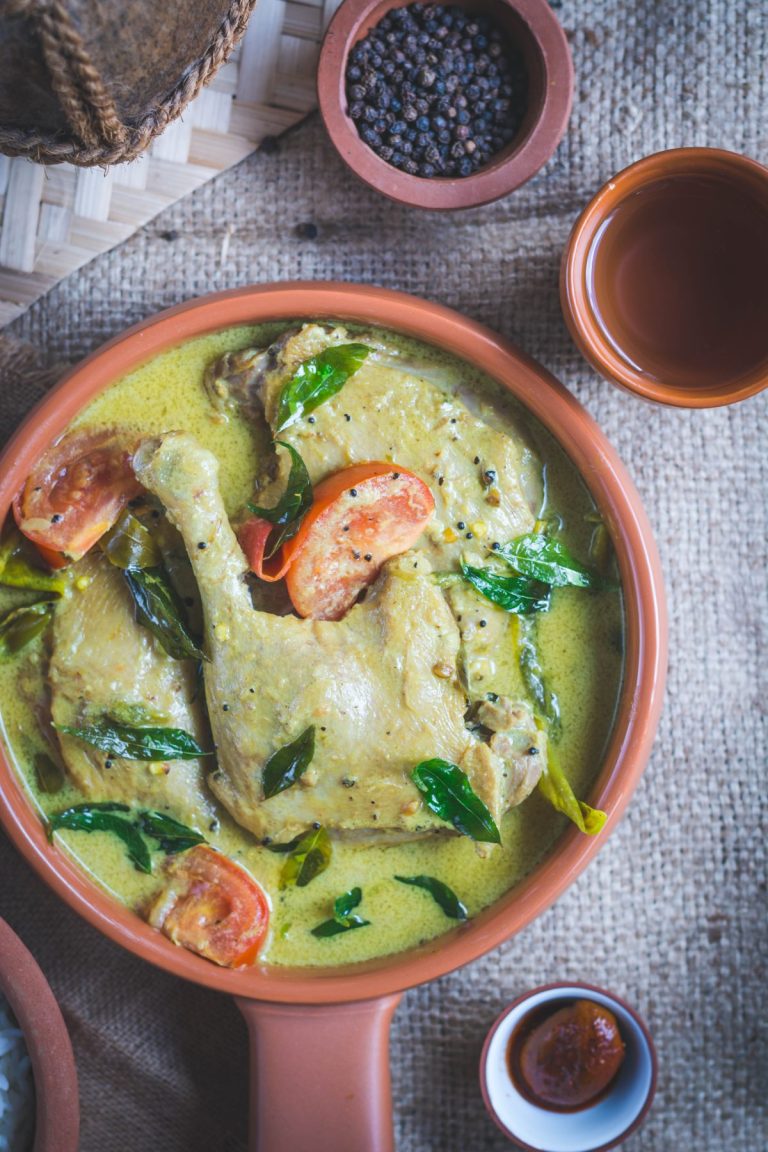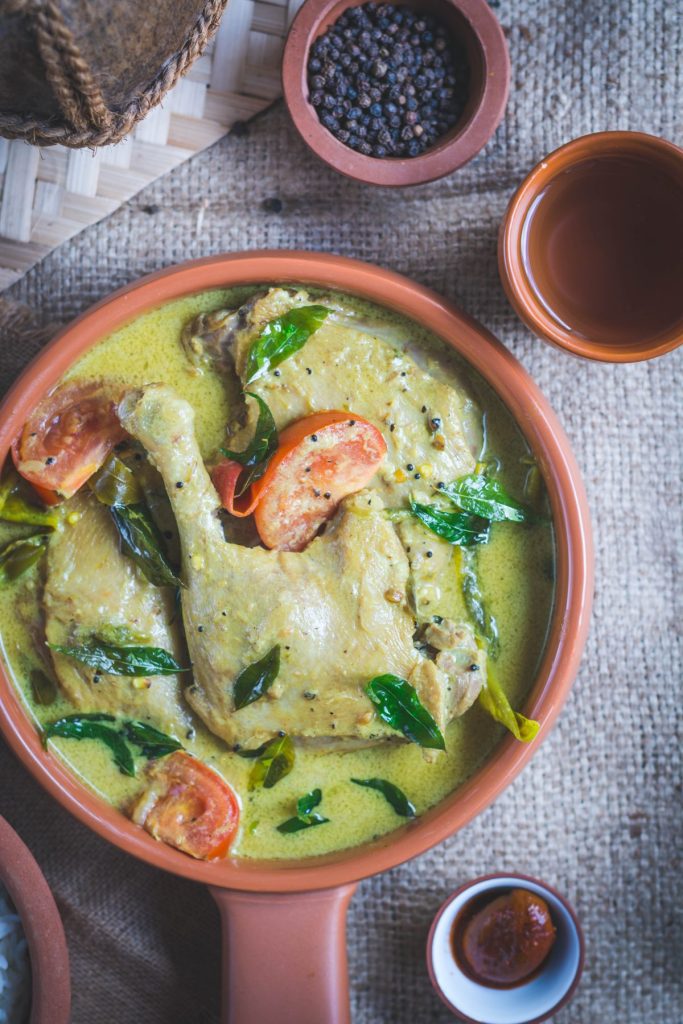 Fish or Meen Molee/Moilee (pronounced like the name 'Molly') is a very famous dish from Kerala, more popular in the central regions of the state.
The Molee is essentially a coconut milk based curry spiced with green chillies and black peppercorns in which the fish pieces are cooked. The medley of coconut with chillies and peppercorns is a classic one in Kerala's cuisine and there are several dishes, both vegetarian and non-vegetarian that are made using this flavour combination. The surprising factor being that each dish would taste completely different to the other despite having similar core ingredients.
There are quite a few stories pertaining to the history of this dish. The most popular one being that the Fish Molee was an invention during the period of Portuguese reign in Kerala. Apparently the curries made by the local cooks were too spicy for the Portuguese officials so coconut milk was added to tone down the heat levels. And this version was made first by a woman named Molly, hence the name.
Now I am not very sure if there is any truth to this but since those times, the Molee has become a favourite both with locals and tourists alike.
I have tasted or read about all kinds of seafood Molees; the traditional choices of seafood were karimeen (pearl spot), pomfret etc… but you can find variations with kingfish, prawns, lobsters etc….
But this is the first time I ever read about a Duck Molee!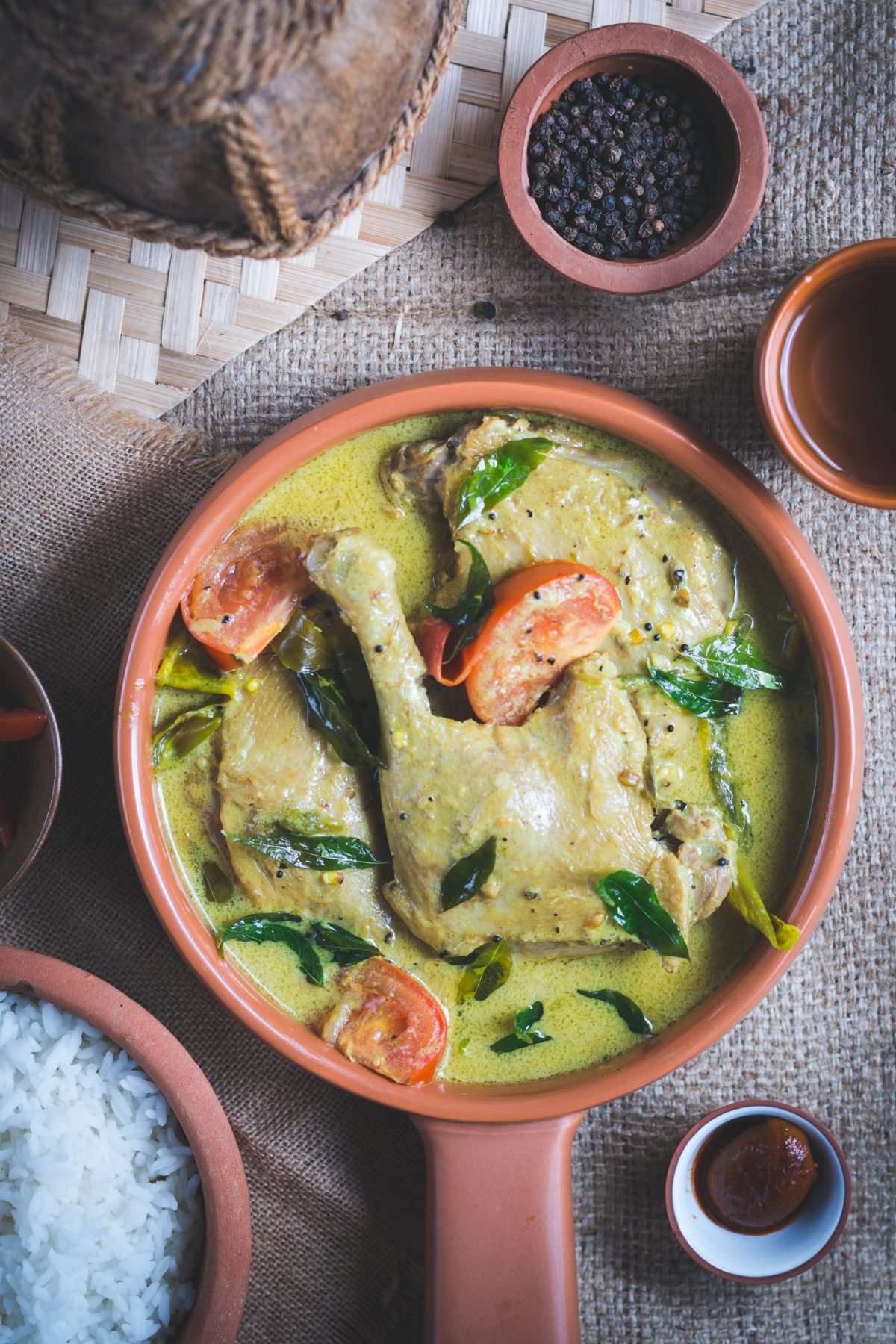 This recipe for Duck Molee by Ajeeth Janardhanan (I have no clue who he is!) instantly caught my eye. Duck's a favourite in Kerala, so nothing surprising there; but using it in a Molee was interesting. Of course I had to try it out and so glad I did.
It was totally a delicious affair. Now even though the base is same, you really can't compare this to a Meen Molee as the flavours imparted by the duck makes it different. But it's enjoyable nonetheless especially if you love duck meat.
What I found most interesting in this Duck Molee was the contrast of flavours….the robust meatiness of the duck to the creamy sweetness of the coconut. The quantity of the chillies and pepper has to be amped up as meat would absorb more than seafood. I used Duck Maryland for this recipe but you can use any cut that you prefer; but leave the bones in as this adds more flavour to the final dish.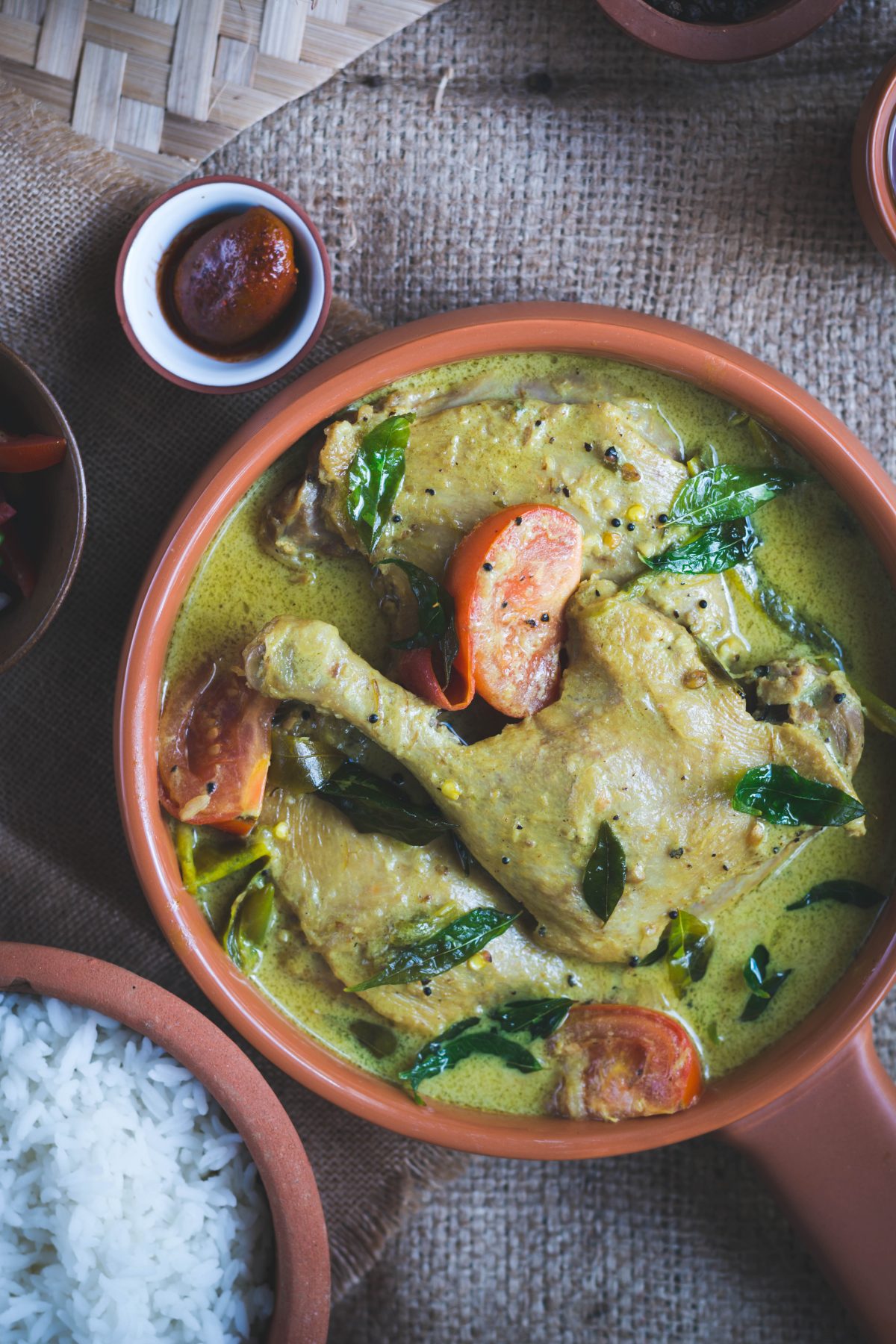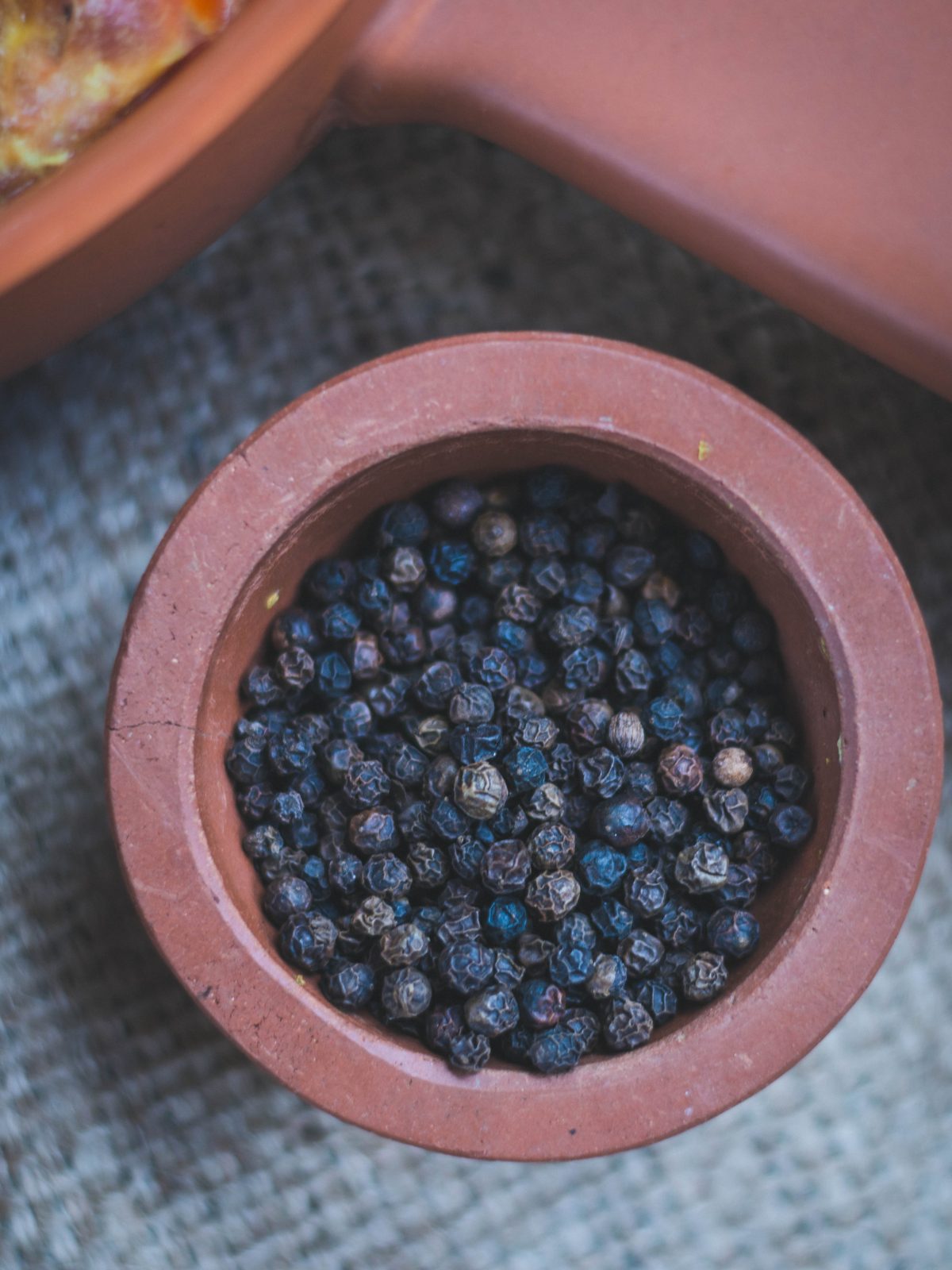 You can totally make a Fish Molee using this recipe, just need to adjust the spices accordingly. And tomatoes are a must; another signature ingredient in a Molee for that mild sourness.
So let's get cooking this lipsmacking Duck Molee…best paired with steamed rice or appams (Kerala style fermented rice pancakes).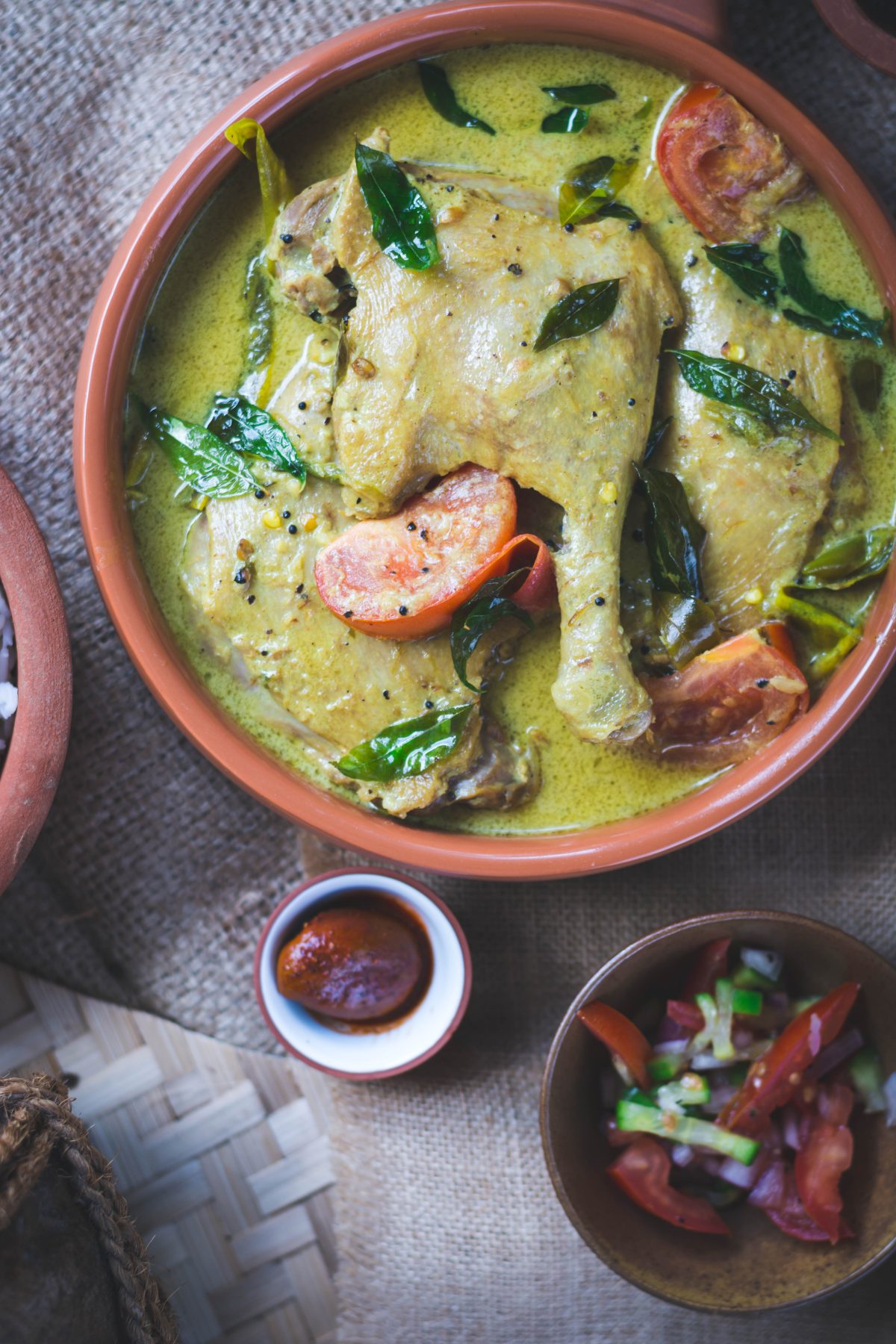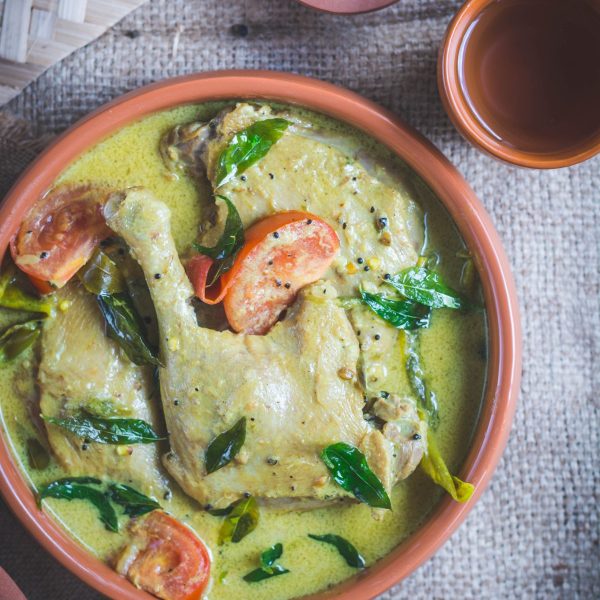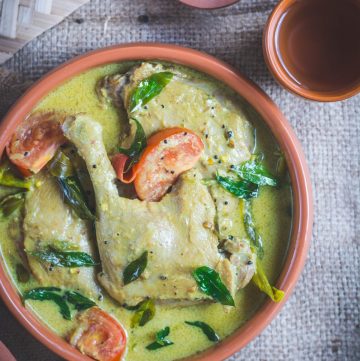 Print Recipe
Duck Molee
Ingredients
4

Duck Maryland; skin on

but excess fat and skin trimmed

3

tbsp

coconut oil

1

tsp

mustard seeds

½

tsp

fenugreek seeds

3

sprigs curry leaves

reserve some for garnish

2

medium onion; finely sliced

3

medium garlic cloves; finely chopped

1

inch

ginger; finely chopped

6-7

green chillies

slit in half (medium heat); adjust according to heat preferences

1

tsp

turmeric powder

1

– 1.5 tsp freshly milled black pepper

adjust to heat preferences

Salt

to season

400

ml

coconut milk

if using fresh, 2nd extract

½

cup

coconut cream

or thick 1st extract

1

large tomato; cut into quarters
Instructions
In a heavy bottom pan, heat half of the coconut oil and sear the duck pieces on both sides in batches. Keep aside.

In the same pan, add the remaining coconut oil and add the mustard seeds. Allow to splutter and then add the fenugreek seeds, curry leaves, green chillies, ginger and garlic.

Cook on medium heat for a minute and then add the onions. Mix and sauté till the onions are light brown and then add the turmeric power and black pepper powder. Mix well and add the duck pieces. Season with salt and add 400ml coconut milk.

Mix well to combine, cover partially and cook on low heat till the duck pieces are tender. Check occasionally and if the gravy feels thick, add some water (not too much though!).

Add the coconut cream and the tomato pieces; check and adjust seasoning. Simmer for another 2 minutes and remove.

Garnish with curry leaves.