I am a huge MasterChef Australia fan, and follow every season quite religiously. Even after the show has ended, I keenly follow the journey of the contestants as they carve their own niche and space in the food and hospitality industry.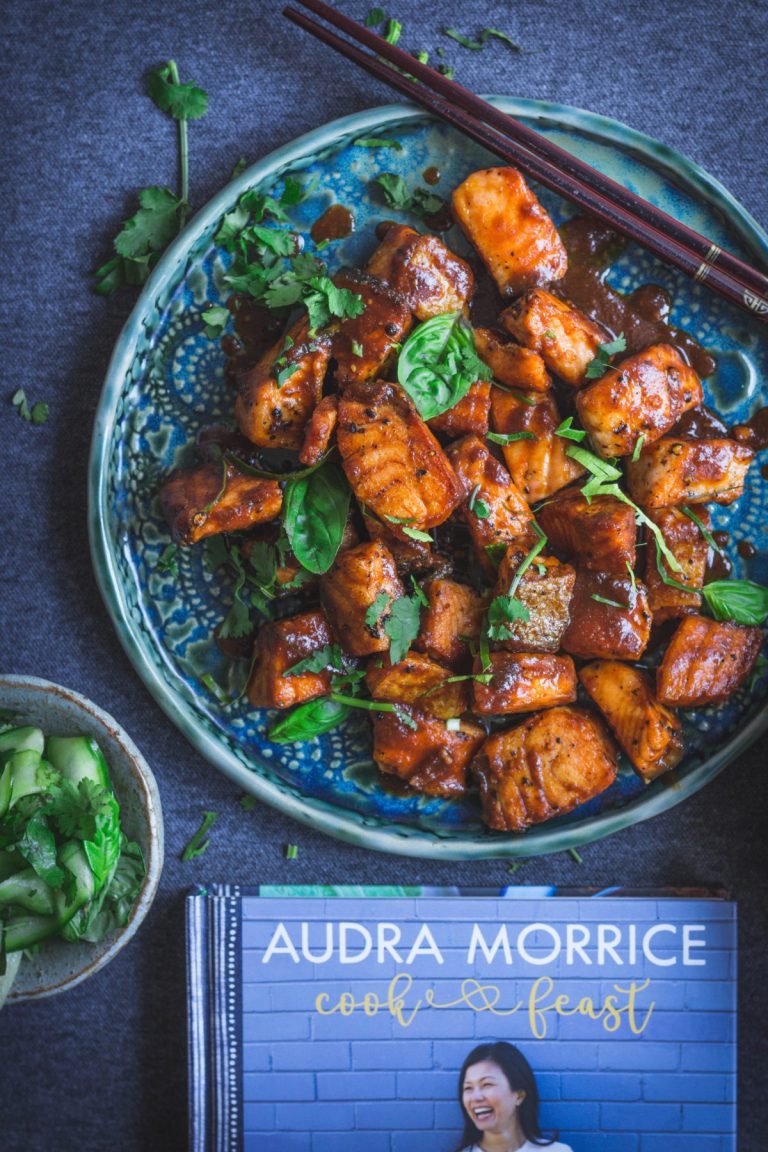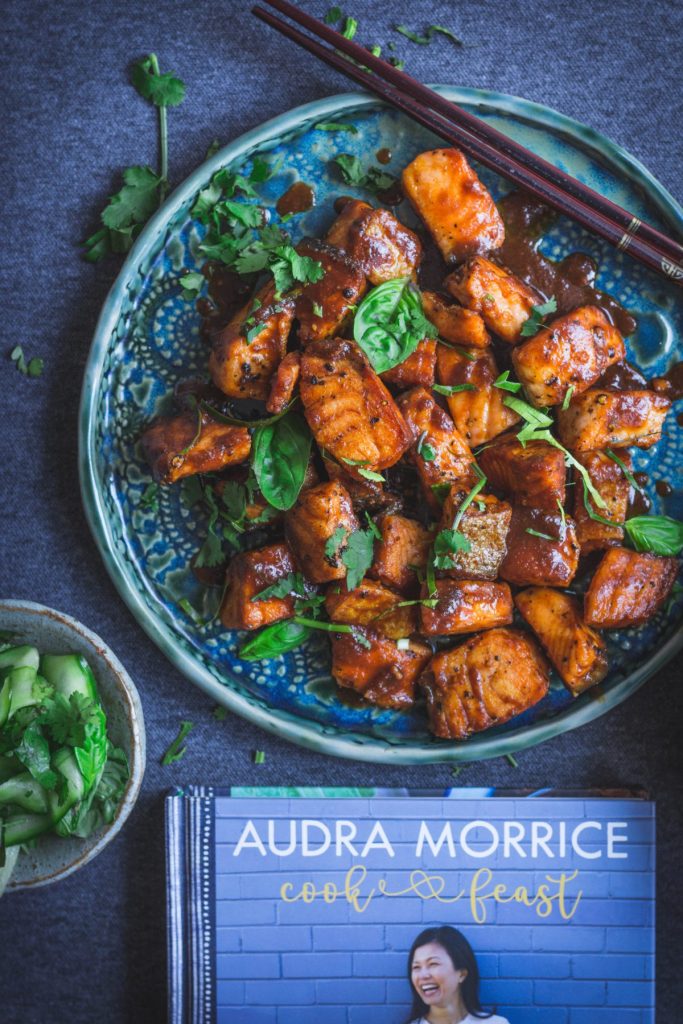 So I was quite thrilled when I got a copy of Audra Morrice's (finalist, Season 4) latest cookbook, 'Cook & Feast' (Landmark Books, $39.99).
After her successful stint with MasterChef Australia, Audra went on to become co-host and judge on MasterChef Asia, 2015 and also MasterChef Singapore, 2018. Apart from this, she has been busy with her own cooking series, Tasty Conversations (SBS Food Network), bringing out a gourmet range of Australian made relishes, jams and mayo (available at selected stores in Sydney & Singapore) and also running a catering business, pop up events, cooking classes etc….
Cook & Feast is Audra's second cookbook, the first one being My Kitchen, Your Table (2015, Landmark Books).
"Delight in life's greatest pleasures; Cook & Feast is a conduit to your feasts and your celebrations."
With Cook & Feast, Audra hopes to rekindle the joy that comes from sharing food. Sharing a table, feasting with a gathering of family and friends has an immense power of bringing people and cultures together. And this is the philosophy that she hopes to spread with this new cookbook.
Audra spent her early years in Singapore which is a melting pot when it comes to food and cultures. Born to a Chinese mother of Hock Chew descent and to an Indian father, she was exposed to multicultural melting pot from an early age which reflects in her food too.
And she pays homage to that through her recipes in Cook & Feast.
Simple yet aesthetic…..the photographs are a visual treat and the recipes well written and explained clearly that even a novice cook can follow. The book is divided into 6 categories with a good number of recipes in each category to help you plan a perfect dinner party menu. Remember this book is about gatherings and there's plenty of information at the beginning about planning a menu, table settings, execution etc….
The recipes are a healthy mix of pan Asian and Western, a fact I was thrilled about because that's exactly my style of cooking too. There is also a good mix of vegetarian and non vegetarian dishes that's again welcome in both everyday cooking and party planning.
One of my favourite recipes from the book is this Tamarind Chilli Crispy Skin Salmon with Green Mango Herb Salad.
It's a dish that comes together pretty quickly even for a weeknight dinner. Crispy skin salmon is sensational but what elevates it is the sticky sweet, spicy, tangy tamarind chilli sauce. Can I just say fingerlickin' good!
There are a few adjustments that I did make to the recipe. I couldn't get my hands on Gula Melaka, which is the Malaysian style palm sugar. Not much different to the regular palm sugar but slightly darker and intense. So I used jaggery instead….now jaggery is derived from date palm as opposed to coconut palm. It's a good replacement for gula melaka and is easily available at Indian stores. Or you could just use regular palm sugar itself.
Another important point while cooking the sauce is the right balance of flavours. Always treat the recipe as a guide no matter how many times it has been tested, because flavours do vary according to the brand and quality of ingredients that you are using. I had to adapt measurements because I used jaggery. So keep tasting and adjust to get that perfect balance of sweet, spicy and tangy.
Getting wing beans might be a challenge as it's only available at green grocers specializing in Asian produce. So either skip it or use sliced snow peas instead.
If you like Asian flavours, then definitely try out this recipe….it's sensational. And that sticky sauce would work brilliantly with chicken or roasted veggies too in case you don't prefer salmon.
Enjoy cooking!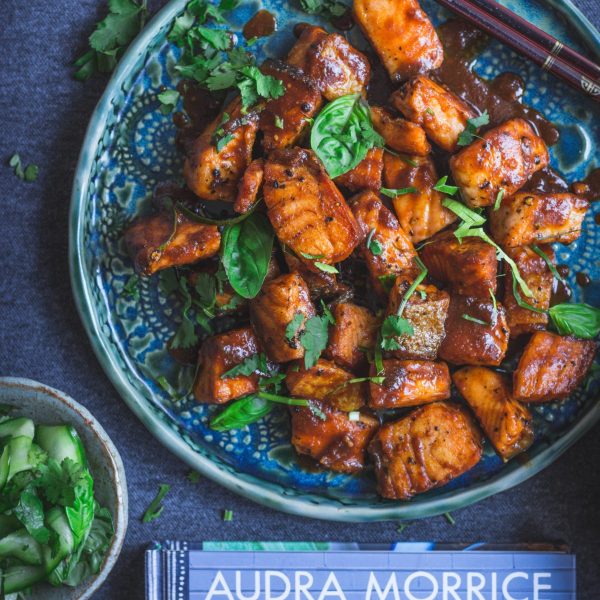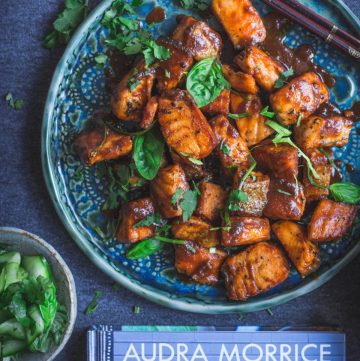 Print Recipe
Tamarind Chilli Salmon (with Green Mango Herb Salad)
Ingredients
600

gms salmon fillets

with skin; cut into medium sized cubes

Salt

to season

Freshly cracked black pepper

to season

Vegetable oil; to shallow fry the fish

Crispy shallots
Tamarind Chilli dressing:
5

large dried red chillies

adjust according to heat preferences

2

medium garlic cloves

½

tsp

shrimp paste

belachan

50

gms jaggery

or Gula Melaka/palm sugar

2-3

tbsp

thick tamarind pulp

2

large Kaffir lime leaves; finely julienned

½

lemon
Salad:
1

cucumber; shaved into ribbons

½

green mango; shaved into ribbons

½

cup

coriander leaves; coarsely chopped

½

cup

Thai basil leaves

2

wing beans; finely sliced

Juice of ½ lemon

Salt

to season

A pinch of sugar

Olive oil
Instructions
Season the fish pieces with salt, pepper and a drizzle of oil. Keep for 15 minutes and then shallow fry the fish. Place skin side down first to get it crispy and golden; then turn over and cook till almost done. If using a small pan, fry the fish in batches and keep aside.

Add the soaked chillies and garlic to a food processor and blend to a fine paste (add a little water if necessary).

Once the fish pieces are cooked, reserve about 2 tbsp oil and drain or wipe off the excess oil. Place on low heat and add the shrimp paste; mash with the back of a spatula and cook till it gets toasty. Then add the chilli garlic paste and continue to cook, stirring frequently, till fragrant.

Add the jaggery (or gula Melaka/palm sugar) and continue to cook till dark and glossy. Slowly add the tamarind puree, one tbsp at a time. After adding the first tbsp, mix well and taste. Add more as necessary. Keep tasting and adjust tamarind and jaggery to get the desired flavours of spicy, sweet and tangy.

Once the desired balance has been achieved, add the fried fish pieces, season with salt if necessary and toss gently,