Lentil Curry in a Hurry!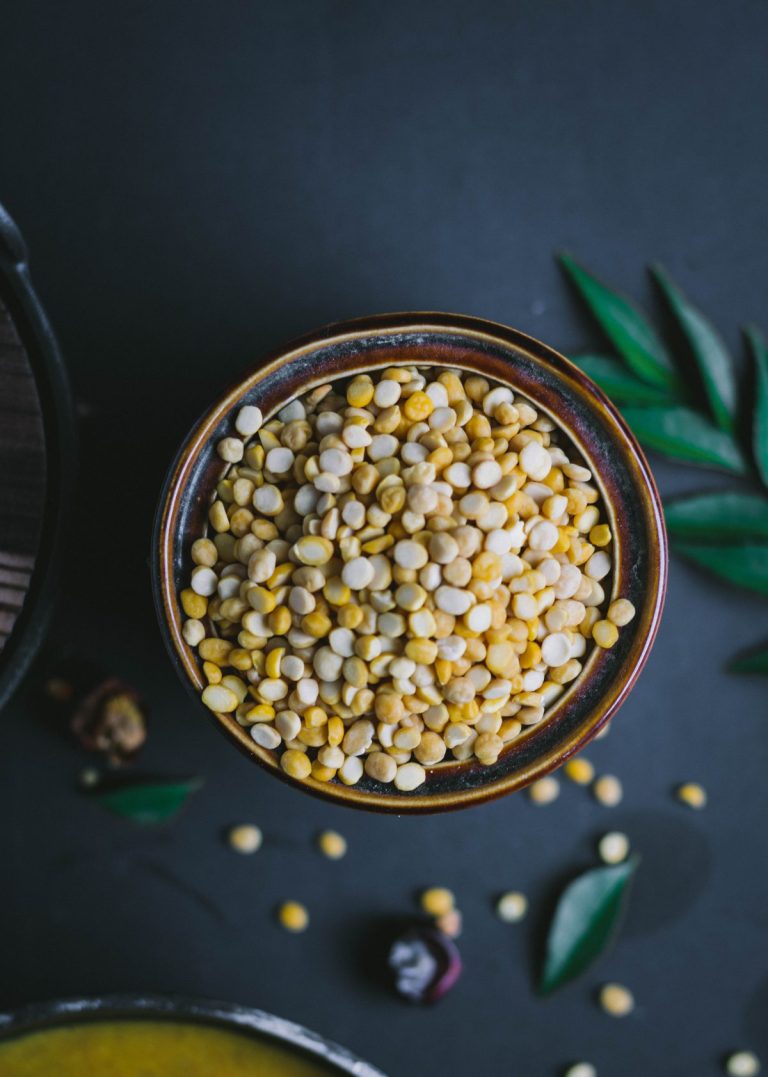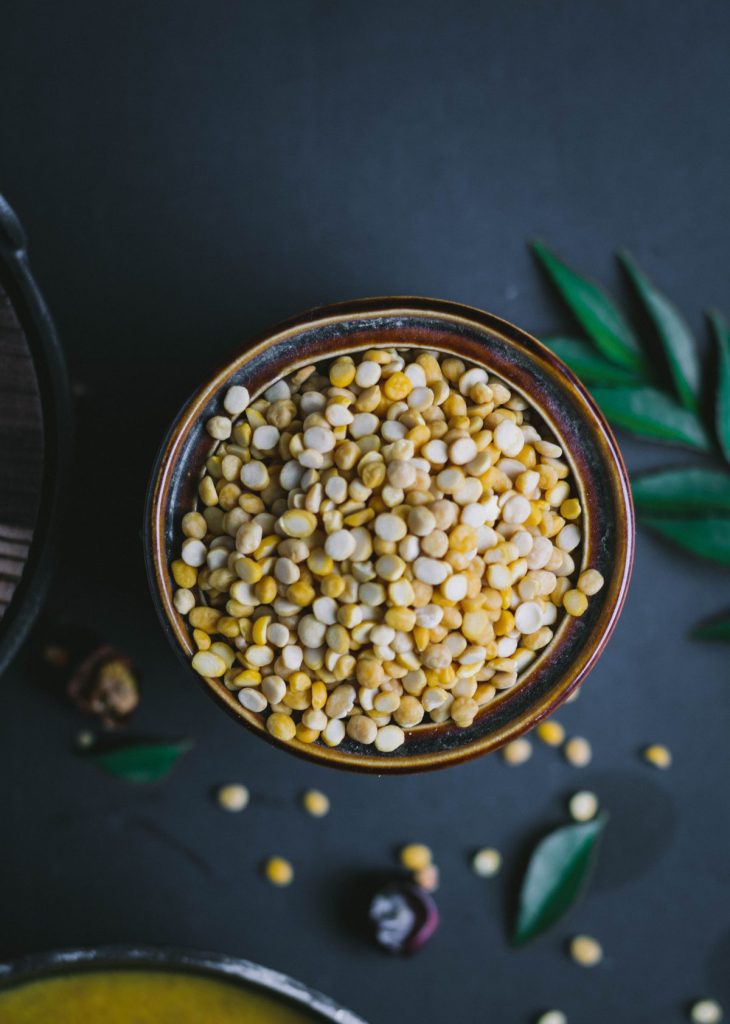 Powdered lentils (or lentil flour as known these days) is a common ingredient, often used to prepare baked goods, toddler food and these days, also popular as a healthier alternative to white flour. Apart from this, lentil flour is also an excellent thickening agent in stews, curries etc….
My mother in law regularly used roasted and powdered lentils while preparing mutton curry so that it had that rich, creamy thick consistency. I also realized that this means she needed to use less onions and tomatoes and also completely do away with yoghurt or nuts to provide that rich texture to the curry.
The idea to use lentil powder instead of whole lentils for a dal preparation came after seeing a friend prepare something similar. She said that it was her go to method if she had forgotten to soak the lentils or had very little time to prepare a simple dal to pair with steamed rice.
Soon enough, it became a common dish in my kitchen too. But I did play around with the flavours to finally get this delicious, hearty, comforting lentil curry that's so easy to make at the end of a long working day.
Dry roasting the lentils does not take too long but requires your attention and care. You can't just leave it on the stove and walk away; it's surely bound to burn. So whenever I have some free time, I dry roast, cool and powder the lentils in big batches and store in airtight containers. Unlike whole lentils, you need less quantities of the lentil flour so making a large batch lasts a really long time.
Any type of lentil flour can be used to prepare this dish, but I have used chana dal/Bengal gram today. When used whole, chana dal takes a longer time to cook so using it this way will definitely save some time.
An important thing to remember is that the flavours are different when using whole lentils vs. lentil flour. This also makes it interesting as you get two different dishes even when the rest of the ingredients largely remain same.
The combination of aromatics, onion, tomato and spices is a magical one; in fact it's the building block for many Indian style curries. Hence you can use this same recipe while cooking with whole lentils too. Ginger is a key ingredient in most of my dal preparations. Apart from having a ton of medicinal properties, I like the heat that the ginger imparts to the overall flavour which allows me to keep other spices to a minimum.
Most of us have been cooking with lentils in all possible ways during this lockdown. Here's another interesting way to use it…a roasted lentil flour curry that's simple, delicious and nutritious.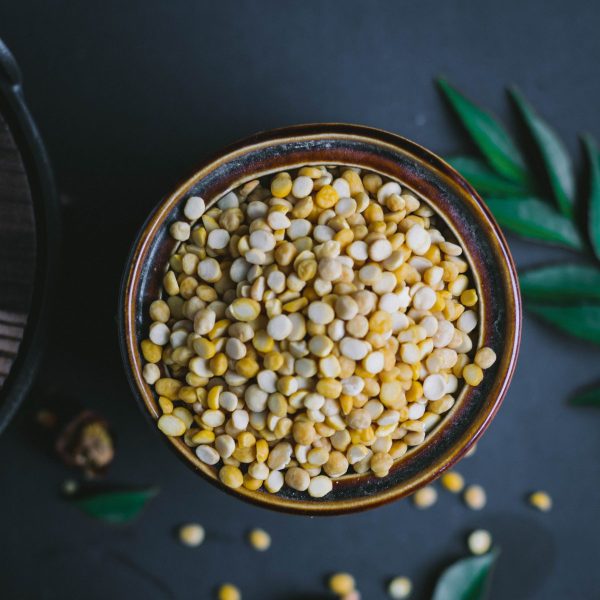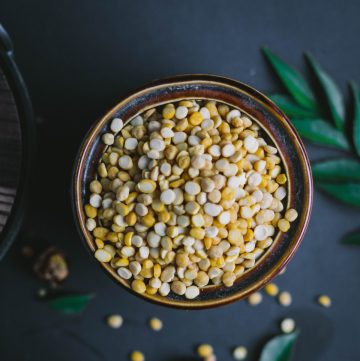 Print Recipe
Roasted Chana Dal Curry
Ingredients
1

cup

roasted lentil flour

2-3

tbsp

vegetable oil

½

tsp

mustard seeds

3-4

dry red chillies

2

sprigs curry leaves

4

garlic cloves; finely chopped

1 ½

inch

ginger; finely chopped

1

small onion; finely chopped

1

large ripe tomato; finely chopped

½

tsp

turmeric powder

1

tsp

red chilli powder

Salt

to season

5-6

cups

lukewarm water

2

tbsp

coriander leaves; finely chopped

1

tbsp

lemon juice
Instructions
To prepare the lentil flour, add 2 cups chana dal/Bengal gram to a pan and dry roast on low heat stirring frequently so that the lentils does not get burnt. As the lentils get roasted, the yellow colour deepens and you get the smell too. Remove and allow to cool well before grinding into a fine powder. Store in an airtight container.

Heat oil in a large kadai/deep bottom pan; add the mustard seeds and allow to splutter.

Next add the dry red chillies, curry leaves, ginger and garlic; sauté till the rawness of the aromatics goes away

Add the onions and sauté till light brown. Then add the tomatoes and cook till softened and mushy.

Next add turmeric powder, red chilli powder and the roasted lentil flour; mix well to combine and cook on low heat for 2 minutes.

Add 2 cups lukewarm water, season with salt and mix well. The mixture might feel lumpy at this stage but continue to cook on low heat for another 2 minutes.

Add the remaining 4 cups lukewarm water, mix well and bring to boil. Lower heat and simmer for 2 minutes before removing from heat. (adjust the quantity of water depending on how thick you want the curry to be).

Garnish with chopped coriander leaves and lemon juice.