I am a news junkie….but sometimes I wish, I wasn't.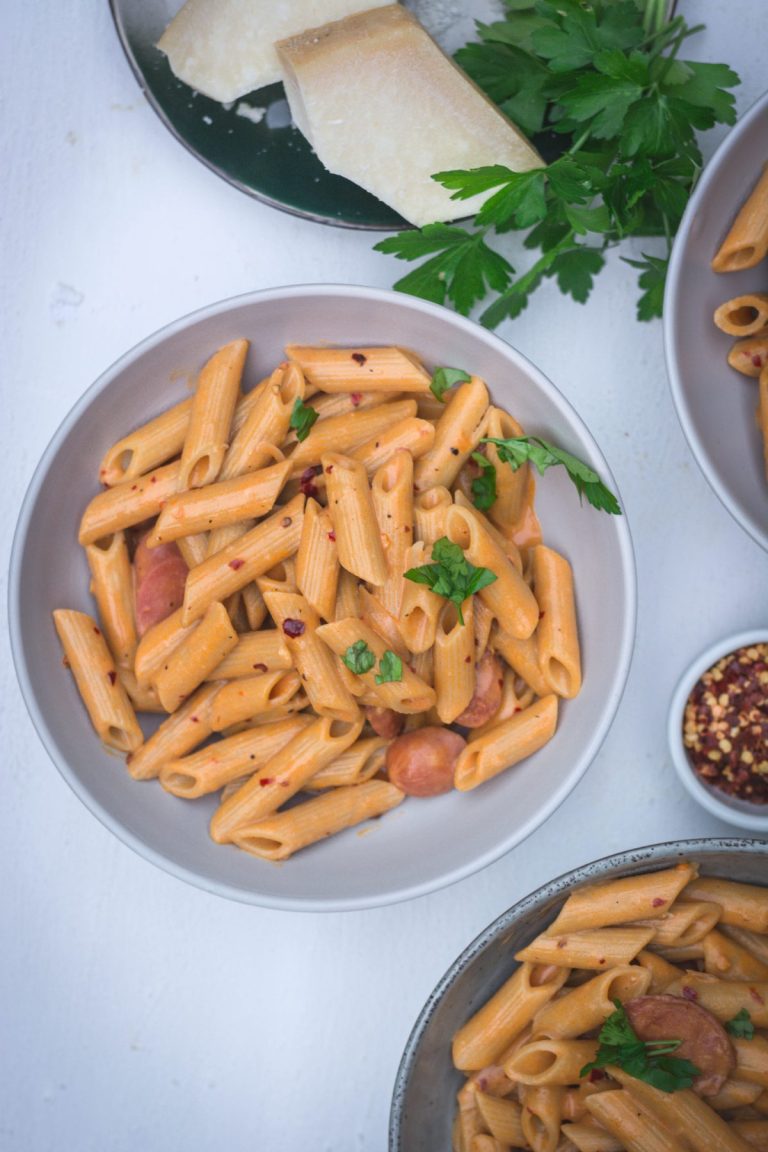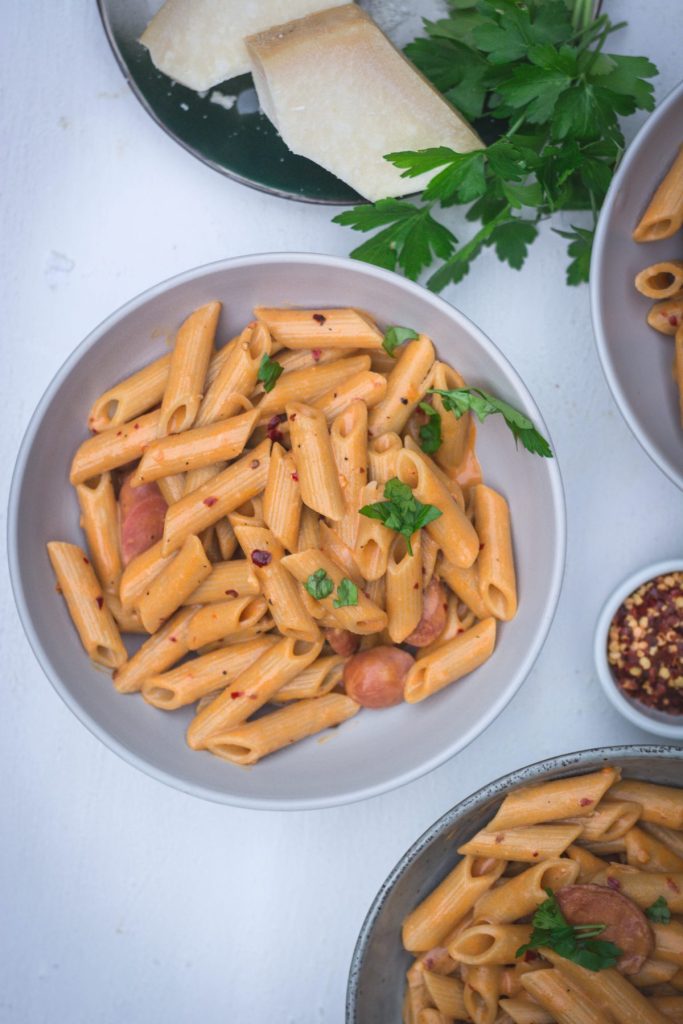 There does not seem to be even a single story of happiness, inspiration, positivity these days. Just stories of sickness, inequality, discrimination, violence everywhere.
So I am not going to talk about anything that's happening in our world currently. And instead share joy in the form of this pasta dish.
Today's pasta dish is winter's comfort food – rich and creamy with a splash of vodka.
Total indulgence, because it's got cream, butter, cheese, vodka….. Not for those who are counting the calories. But I would say, have this today and do an extra round of exercise tomorrow. What's life if you don't indulge occasionally?
And if you haven't used vodka in a sauce before, you absolutely must. I am not sure how to describe the flavour but it adds a certain depth, an extra oomph to the sauce. Doesn't matter if you don't drink alcohol; just buy a small bottle of vodka just for this purpose. You need very little and since all the alcohol content burns off, you don't have to worry about giving it to kids too.
Sausages are not an essential ingredient for this pasta dish. You could either omit it completely or add any protein of choice. Mushrooms are an excellent choice for this dish too.
Easily available ingredients, so add it to your weekend shopping list and enjoy the delicious experience of this Penne in creamy Tomato Vodka Sauce.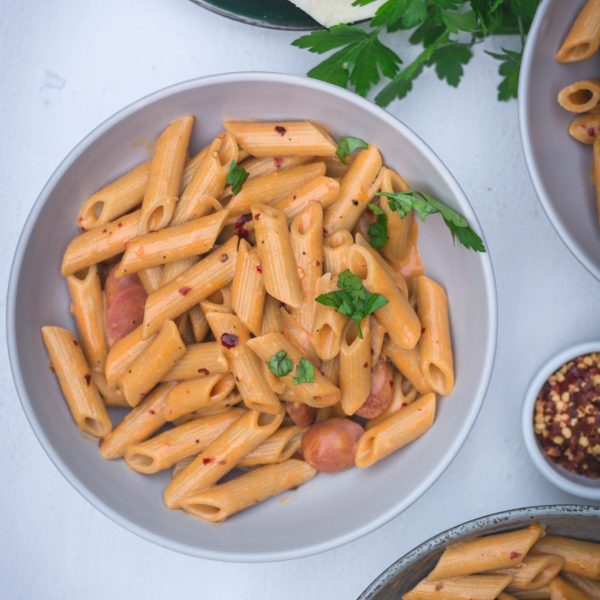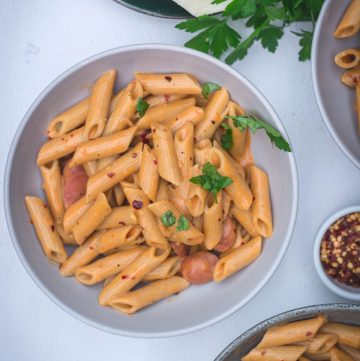 Print Recipe
Penne in Tomato Vodka Sauce
Ingredients
750

gms penne

4

tbsp

olive oil

1

pack

375gms skinless sausage/footy franks; sliced

3

shallots; sliced

3

medium garlic cloves; crushed

¾

cup

tomato paste

¼

tsp

sugar

¼

cup

vodka

Salt

to season

Black pepper; to season

Chilli flakes; as much as you wish

300

ml

heavy cream

4

tbsp

unsalted butter

2

tbsp

fresh parsley; finely chopped

Parmesan; grated for garnish
Instructions
Cook the penne in salted boiling water as per packet instructions; drain (but reserve water) and keep aside.

Heat 2 tbsp oil and add the sliced sausages; fry lightly for 1-2 minutes, drain and keep aside.

Heat the remaining oil and add the garlic and shallots; sauté till softened.

Next add the tomato paste and sugar; cook on low heat for 2 minutes or till the paste turns a vibrant brick red.

Then add the vodka and continue to cook on low heat for another 2 minutes (it's important to cook for 2 minutes so that all the alcohol evaporates leaving behind only the flavour)

Next add the cream followed by the pasta and fried sausages; season with salt, pepper and chilli flakes.

Add the butter and enough pasta water to get a rich, creamy sauce like consistency.

Serve warm with grated parmesan and fresh parsley.
Food, Fashion, Lifestyle….and other favourites from the month gone by;
I have bookmarked this one for summer; but I know a lot of you would need it now.
Falafel devilled eggs; this is crazy fusion in a good way.
This South Indian snack made from lentils is such a delight on rainy days; make sure you have a glass of chai to accompany.
Glass potatoes! I am so intrigued by the texture of these.
Candied Jalapeno Bacon Grilled Cheese Sandwich. Do I need to say anything more?
This Mexican style potato soup is so hearty and comforting for the Melbourne winter.
Next time I have tacos, I am going to try out this tomatillo salsa
Have you tried the coconut prawns recipe on my blog? Guess this coconut popcorn chicken would be just as delicious.
Doesn't this pork and shrimp pad thai look sensational?
Very rarely do I drool over chocolate cake.
A Woman's Weight….by Nikita Gill. Powerful!
Shopping for knitwear at Uniqlo is a winter ritual
This blazer is quite the bargain if you are looking to upgrade your professional wardrobe
How gorgeous are these salt and pepper mills?