This pork mince curry is a take on the classic Kheema masala, which is usually made with lamb mince. It's a delicious variation that's enjoyable for all pork lovers. Slow cooked with lots of whole spices, aromatics, caramelized onions and tomatoes, this curry is most enjoyable with Indian flatbreads.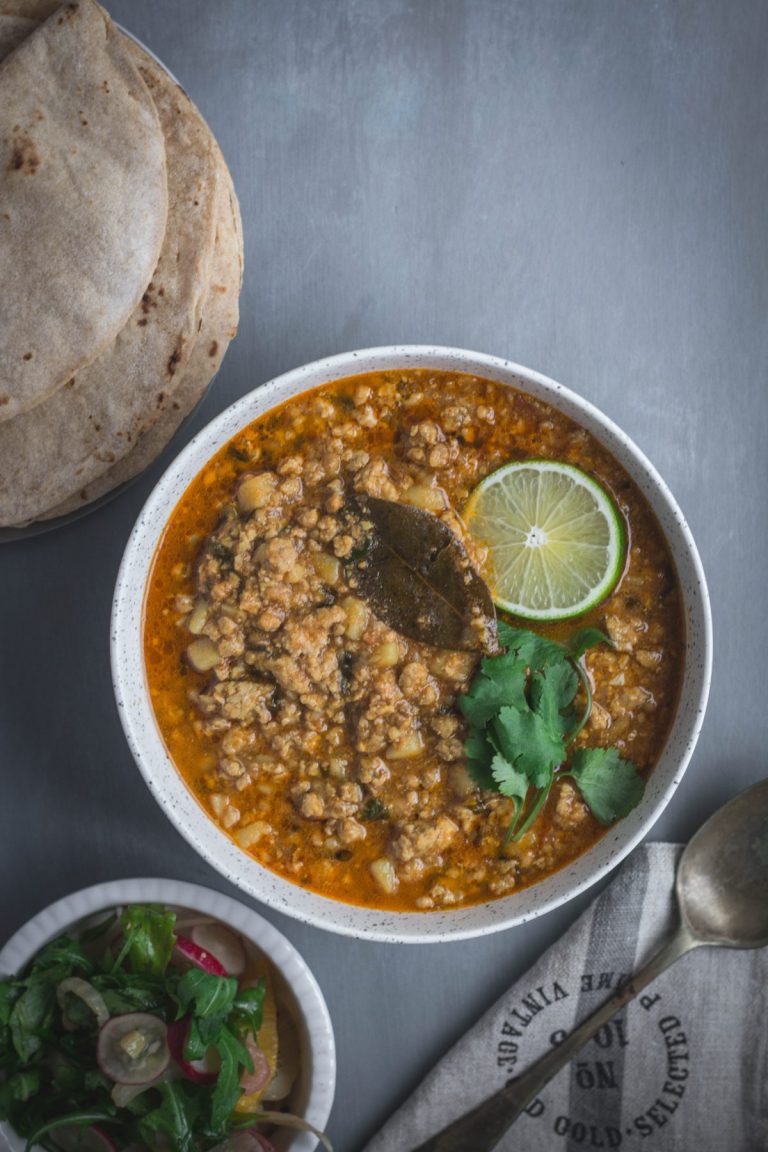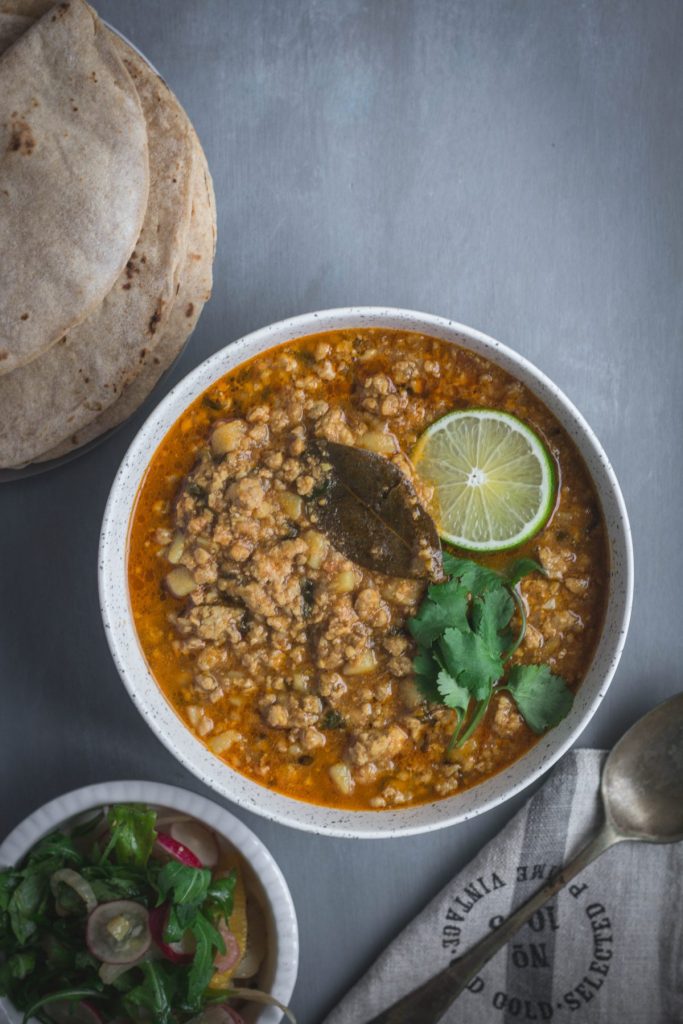 I have always been an advocate for the #buylocal campaign, always using my blog and social media platforms to encourage people to buy from and support local businesses as much as possible. And with this pandemic situation, my resolve to do so has only strengthened.
Food security is an extremely important issue for any country, deeply intertwined with economics, climate change and sustainability. And we realise the importance of this especially during these times when borders close and trade gets affected.
We saw what the panic buying did in spite of having plenty of stock. So just imagine if we had a real food shortage because instead of boosting local businesses, we started depending on other countries to feed us.
Trade is essential to the growth of any nation, both domestic and international. And every country is dependent on the others too which is totally fine. But it's the percentage that matters. It's important for every country to invest in agriculture and support local food producers and it's important that we, as citizens, also purchase locally produced food as much as possible.
I know that all of us have budgets and some of us really stringent ones but let price not be our only parameter when we shop. Hopefully this pandemic has taught us at least that much and will encourage more and more people to shop local.
And that brings us to today's dish – a delicious and flavourful Pork Mince Curry.
Pork was not a meat I enjoyed much during my growing up years. But after moving to Australia, I started experimenting more with pork dishes, especially given the fact that we get amazing quality meat here. And slowly, I started experimenting with different styles of cooking pork. That's when I realized that it is such a versatile meat and can be adapted to different cuisines.
There are quite a few pork recipes on my blog too. How about the bold and rich 'Vindaloo' or the lesser known 'Veenjaali'. Perhaps you would like to cook some pork steaks or fillets; both are great recipes that you need to try out. There's an Indian style pork burger too that's simply sensational.
This pork mince curry is a take on the classic Kheema masala, which is usually made with lamb mince.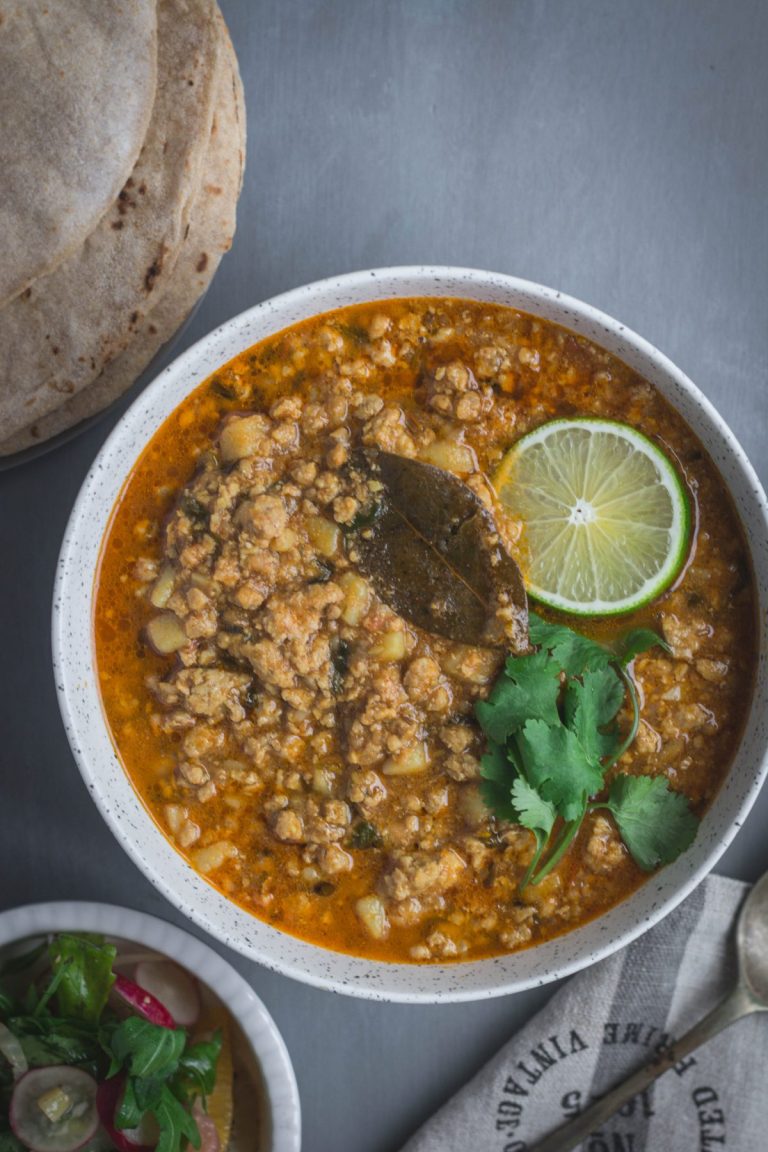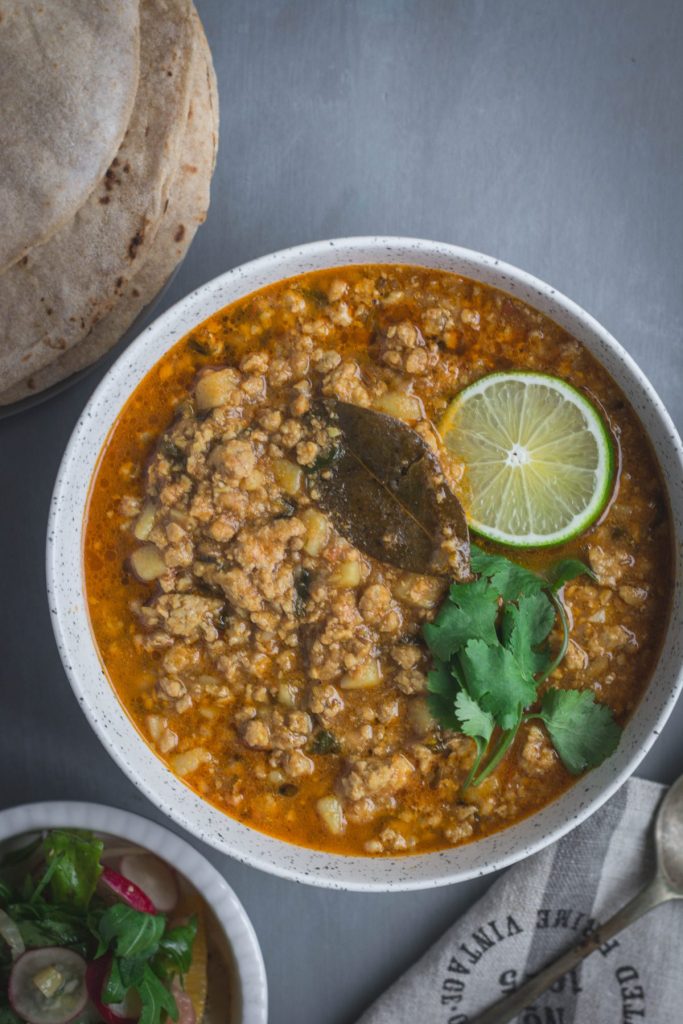 Pork is a much leaner meat when compared to lamb; so it requires less cooking time to keep it moist and tender. A pretty straightforward and simple recipe that's easily achievable by even a curry novice.
The fact that pork mince takes lesser time to cook also makes it and easy option for weeknights. And there's very little prep involved in a dish like this.
So here's my version of an easy Pork Mince Curry, one that's perfect for any time of the year.
Note – If you don't eat pork, feel free to swap with any minced meat of choice.
Also do check out the recipe for the classic Lamb mince curry with potatoes (aloo kheema masala)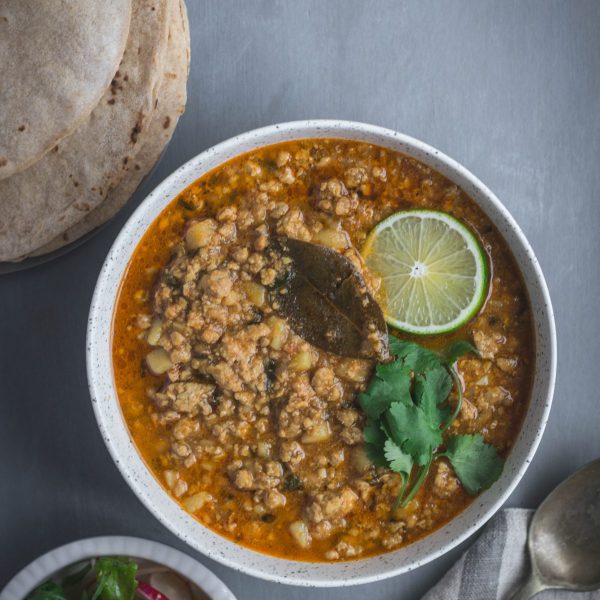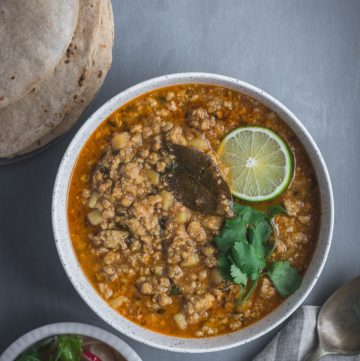 Print Recipe
Pork Mince Curry
Ingredients
750

gms pork mince

3

tbsp

oil

2

dried bay leaf

1

black cardamom

1-2

mace strands

1

tbsp

crushed garlic

1

tbsp

crushed ginger

2

medium onions; finely chopped

2

medium tomatoes; finely chopped

1

medium potato; chopped

½

tsp

turmeric powder

1

tsp

red chilli powder

2

tsp

coriander powder

½

tsp

cumin powder

½

tsp

fennel powder

Salt

to season

1

tsp

lemon juice

¼

cup

coriander leaves; finely chopped
Instructions
Heat oil in a large pan and add the bay leaf, mace and cardamoms. Allow the whole spices to infuse the oil on a low heat for about 30 seconds.

Next add the garlic and ginger; sauté till the rawness goes away, again taking care not to burn.

Then add the onions and sauté till it starts to take on a light brown colour.

Increase heat and add the pork mince; mix well breaking up the lumps with the side of the ladle. Make sure this is done on high heat so that the meat gets browned first.

Once the meat gets browned, add the potatoes and cook covered on medium heat for 2 minutes. Stir occasionally and break down lumps if any.

Next add the tomatoes and season with salt; continue to cook covered for another 2 minutes.

Add all the spice powder and 1 cup water; mix well to combine and cook on low heat till the mince has cooked through.

Finish off with the lemon juice and coriander leaves.
Notes
The potatoes must be chopped into smaller pieces so that it cooks faster and also matches the consistency of the mince.