One and a half months of living differently…..successfully completed!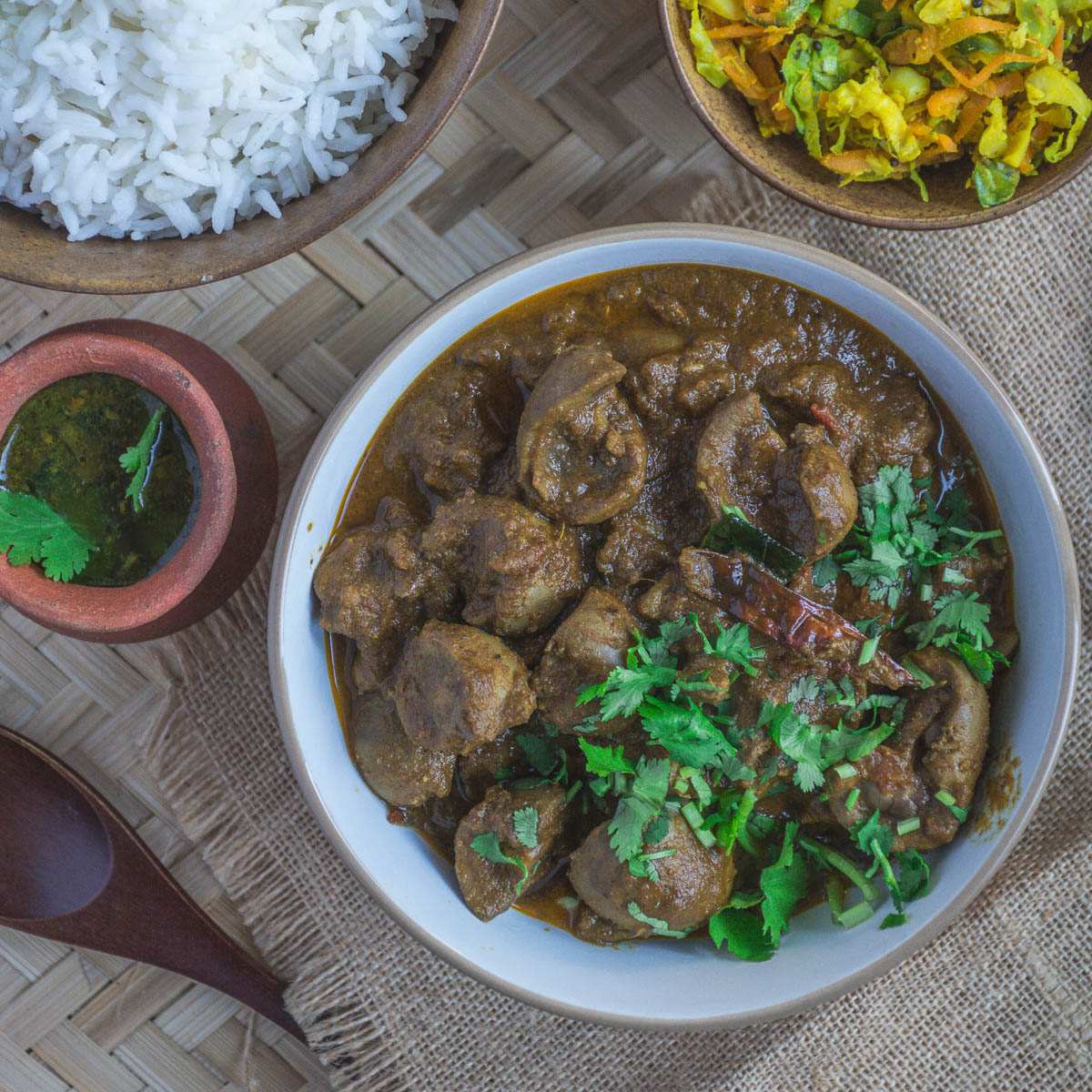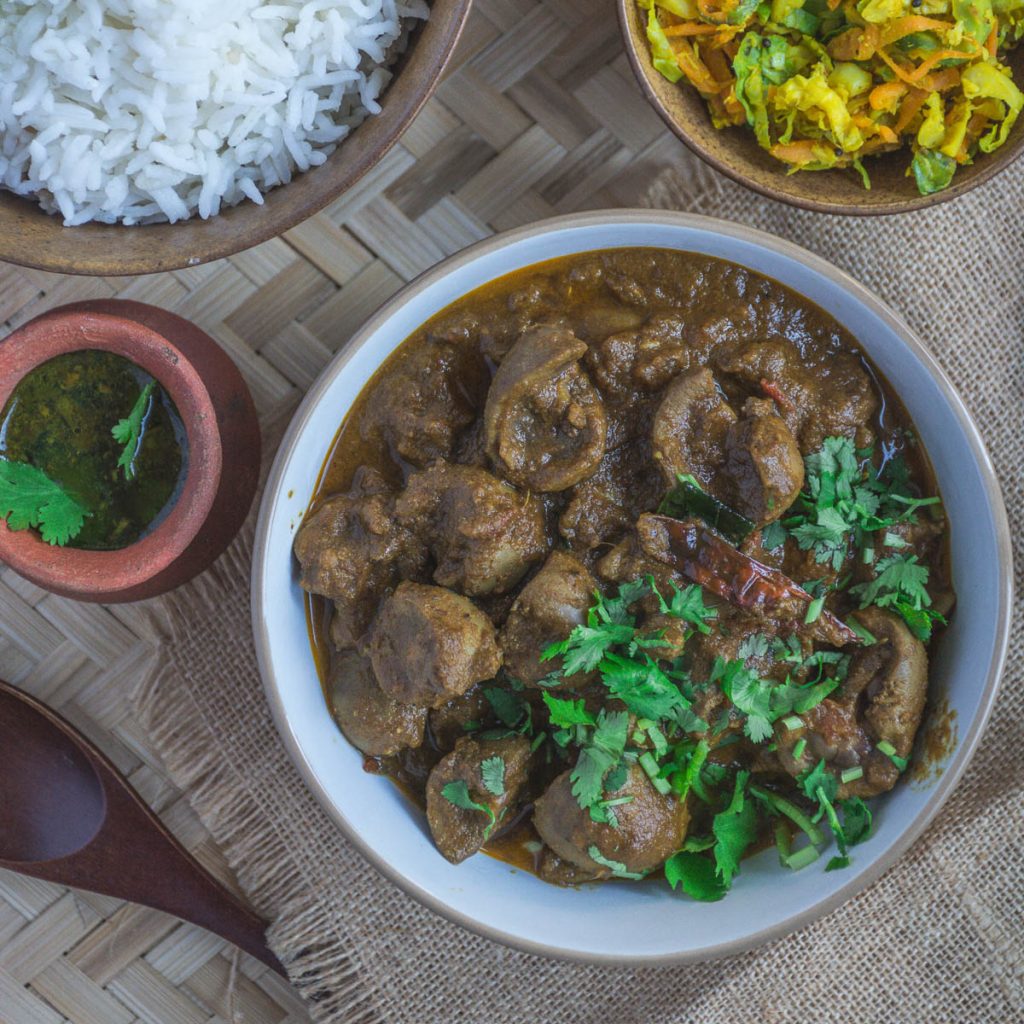 Talking about this lockdown period always brings a mixed bag of emotions. While we are doing well (so grateful for all the resources we have at our disposal), there are plenty of people affected…family and friends affected directly and indirectly.
We came frighteningly close to losing a friend to COVID. He is a healthcare worker who lives in New York but fortunately after a long struggle, he was able to beat the disease. Then there are friends here and abroad who have lost jobs and facing financial struggles…..
At the same time, there are uplifting and encouraging stories too of flattening the curve, community spirit, kindness and positivity which keeps me hopeful that there's light at the end of this long, winded dark tunnel.
Amidst all this, life at home continues without major hiccups or interruptions. All three of us have taken things in our stride and luckily, kept busy by our respective jobs and studies. Yes, there are difficult days too in between when everything feels dull and monotonous but it doesn't last long.
Down Under, we are blessed with incredible quality and availability of fresh produce and ingredients. In spite of some sections of society participating in panic-buying, there really hasn't been much difficulty in procuring food items. If one particular item was unavailable, I would change my menu and cook with what's available. Flexibility and frugality are life skills; it shouldn't take a pandemic to teach us that.
That brings us to the topic of offals.
Now I know that even among the meat eaters, offals are a very divisive topic. It's often black and white…you either love it or you don't.
I fall into the 'love it' category which is why you would have seen offal recipes on my blog before. It's a treat that I love to indulge in from time to time. Today, it's with this South Indian style Mutton Kidney Roast.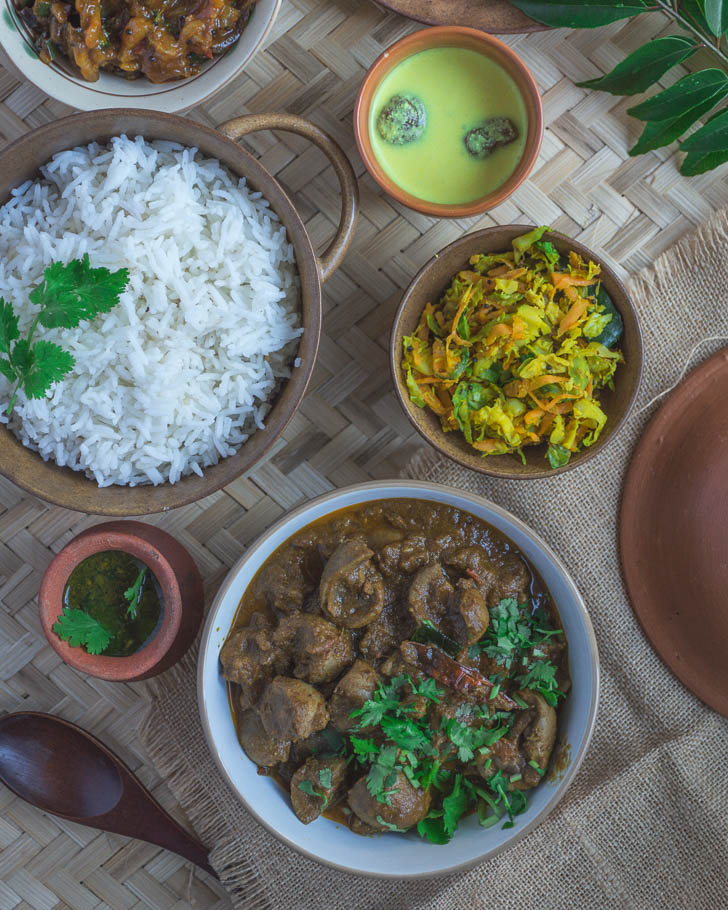 Offals are easy to find at most butcher shops. I couldn't go past the pack of mutton kidneys at my local butcher; ideally I would have preferred to have some liver too but since there was none in stock, I decided to make this dish with just the kidneys.
The South Indian 'roast' is very different to its Western counterpart. Here, it is a dish that often has a protein like meat, seafood or eggs that's slow cooked with aromatics and spices till an intense flavoursome thick masala or gravy is obtained that just about coats the protein.
I decided to have a small South Indian, mostly Kerala style feast along with the mutton kidney roast. An example of what a well balanced meal must look like…
The menu included;
Boiled white rice
Brussels sprouts & carrot thoran
Brinjal/Eggplant stirfry
Rasam
Mutton kidney roast
I know a few of my readers would be highly interested in this dish, so sharing the recipe for this South Indian style Mutton Kidney Roast.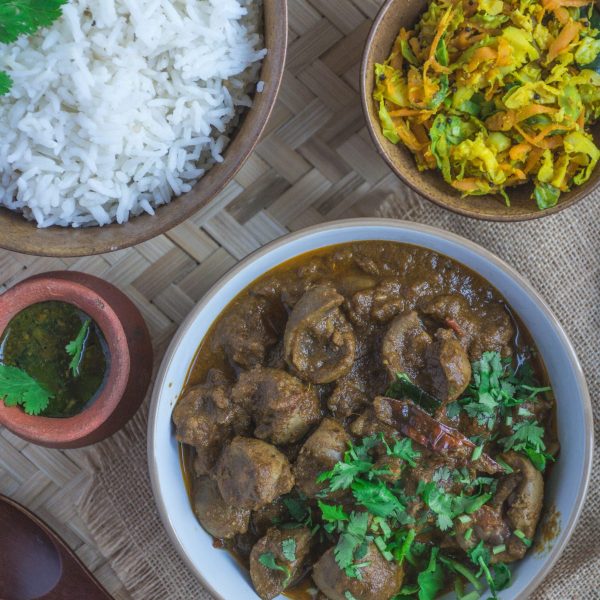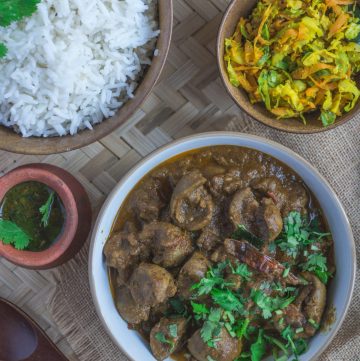 Print Recipe
South Indian style Mutton Kidney Roast
Ingredients
8

mutton kidneys

3

green cardamom

3

cloves

6

peppercorns

½

tsp

cumin seeds

½

tsp

fennel seeds

1

large red onion; chopped

1

large tomato; chopped

3

tbsp

coconut oil

1

tbsp

garlic; chopped

1

tbsp

ginger; chopped

3-4

sprigs curry leaves

1

tbsp

coriander leaves; chopped

2

dry red chilli

½

tsp

red chilli powder

¼

tsp

turmeric powder

1

tsp

coriander powder

¼

tsp

nutmeg powder

½

cup

water

Salt

to season

Coriander leaves; finely chopped for garnish
Instructions
Once the kidneys are cleaned and outer covering removed, cut the kidneys in half and then into larger chunks.

Heat 1 tbsp coconut oil and add the whole spices (cardamom, cloves, pepper, cumin and fennel). Lightly fry for a few seconds and then add the garlic, ginger, half of the chopped onions and half of the curry leaves. Sauté till the onions are softened.

Next add half of the chopped tomatoes and coriander leaves; sauté again till the tomatoes are softened. Remove and allow to cool.

Grind this onion mixture into a paste like consistency with very little water and keep aside.

In the same pan, heat the remaining coconut oil and add the dry red chilli, curry leaves and remaining onions; sauté till the onions turn light brown.

Next add the tomatoes and sauté till soft and mushy.

Add the powdered spices (red chilli, turmeric, coriander and nutmeg). Sauté for 30 seconds and then add the ground paste; mix well to combine and season with salt.

Cook on low heat for 2-3 minutes and then add half cup water. Bring to boil and add the kidneys; check seasoning and add more salt if necessary.

Cook covered on low heat for 5 minutes or till the kidneys are almost done; stir occasionally

Then remove the lid and cook till the kidneys are completely done and the gravy is reduced to a thick coating.

Garnish with coriander leaves

Serve warm
Notes
Some butchers sell the kidneys with their outer covering intact so that it doesn't break easily. This outer covering has to be carefully removed before using the kidneys for cooking. An easy process; lightly pinch one end of the outer film and peel carefully.
Another favourite of mine this month is Michelle Obama's book, "Becoming"
I am usually not a big fan of autobiographical style narratives….very few have held my attention or engrossed me.
But Michelle Obama's "Becoming" is a class apart…..easily one of my favourite books of all times. Michelle has a raw, honest personality that drew the masses to her. She is bold, strong yet not afraid to show her vulnerabilities to the word which made her so endearing to all of us.
Becoming is intimate, touching, highly inspiring, funny….storytelling that's easy to read, simple to understand yet powerful in its narrative. Its way more than the story of how a girl from the South side of Chicago became the First Lady of USA; it's an insight into womanhood. ??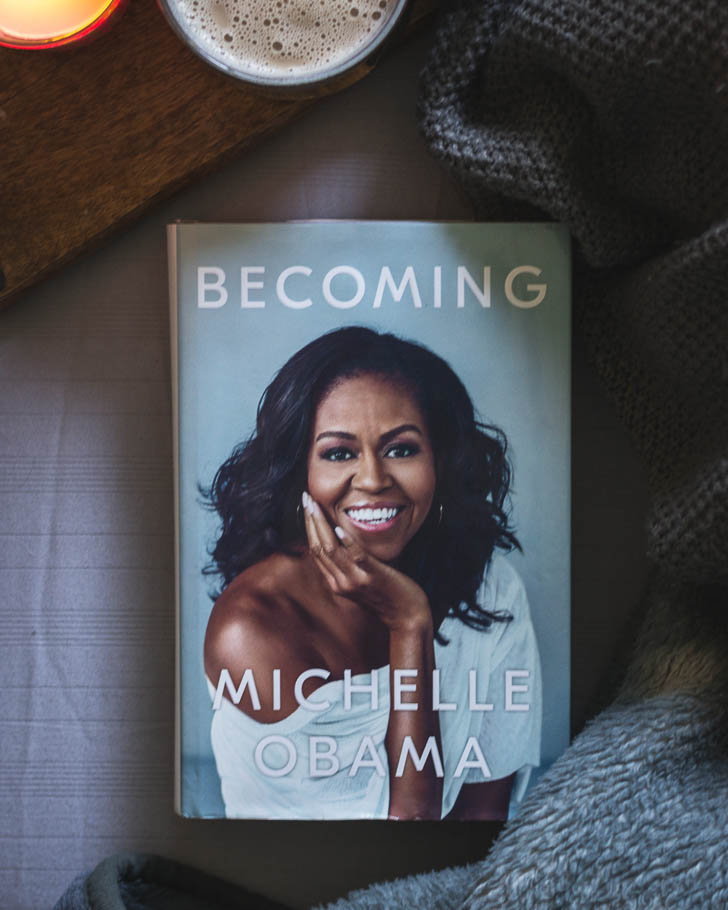 One of the hardest challenges as a parent during the lockdown period is to keep the children entertained. We too struggle with the same especially more because Adi is an only child. So it falls upon us to keep him occupied and entertained to ensure that he isn't spending too much time on gadgets or watching mindless videos on YouTube.
Hence we have been spending more time in our backyard playing physical games and one of our favourites has been the Colorific Zactiv Sling Ball. A cool new twist on a traditional game of catch, the Zactive Sling Ball is perfect for the older kids who really need to burn off all the excess energy. And provides much needed physical activity for all of us in a really fun way.
Colorific has a wide range of toys and kids products suitable for all age groups; plus its a family owned business based out of Melbourne. So buy local if you are looking for interesting toys and projects to keep your kids entertained.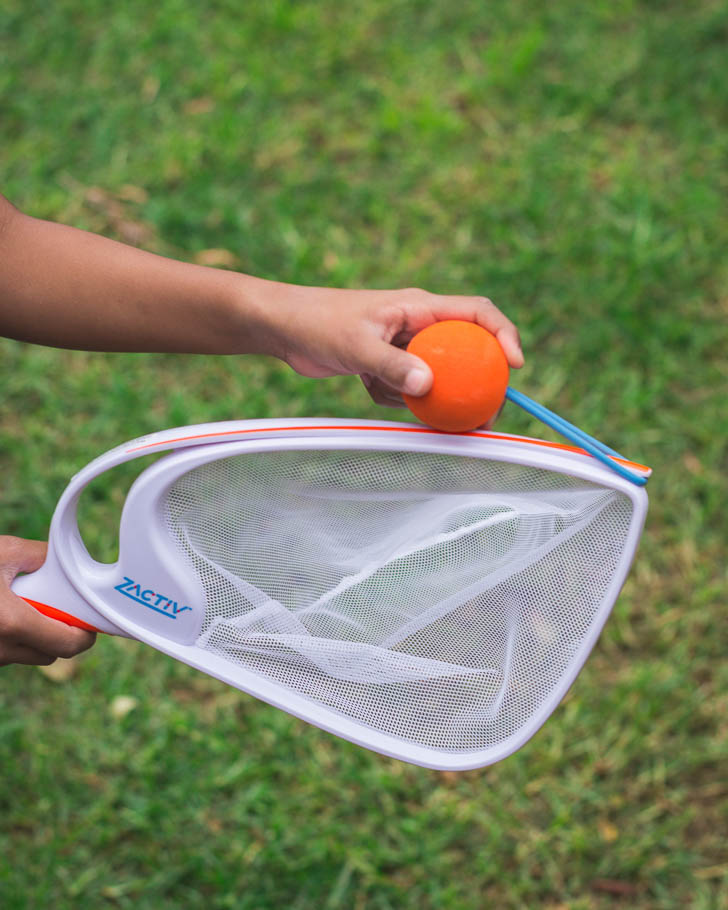 Moving onto other favourites for the month of April;
Jam margaritas! Who knew cocktails could come out of pantry staples!
Boozy hot chocolate….no explanations required
Guacamole with roasted tomatoes and ginger…now, that's an interesting variation.
For those who are tired of baking banana bread, here's a delicious carrot loaf
I am always on the hunt for interesting recipes from Kerala; given that it's my birthland. This Dates Kalan definitely caught my interest.
Who said Indian cuisine doesn't have salads. Here's a fine example;
A no yeast pizza dough for the vegans
Simple can be delicious!
Let Williams Sonoma help you treat Mum to a delicious breakfast in bed.
More cooking at home means investing in high quality cookware. Check out the amazing deals at Kitchen warehouse.
I wouldn't mind these for Mother's Day!
My favourite place to shop for designer wear for Adi
Now, more than ever! Are you buying home office furniture?
I have been binge watching Indian movies…thanks to Anupama Chopra's daily suggestions
???