My absolute favourite vegetarian dish from Kerala; there's no way an Onam sadya can be complete without an Avial. It is a delicious medley of various vegetables cooked with coconut, yoghurt and spices.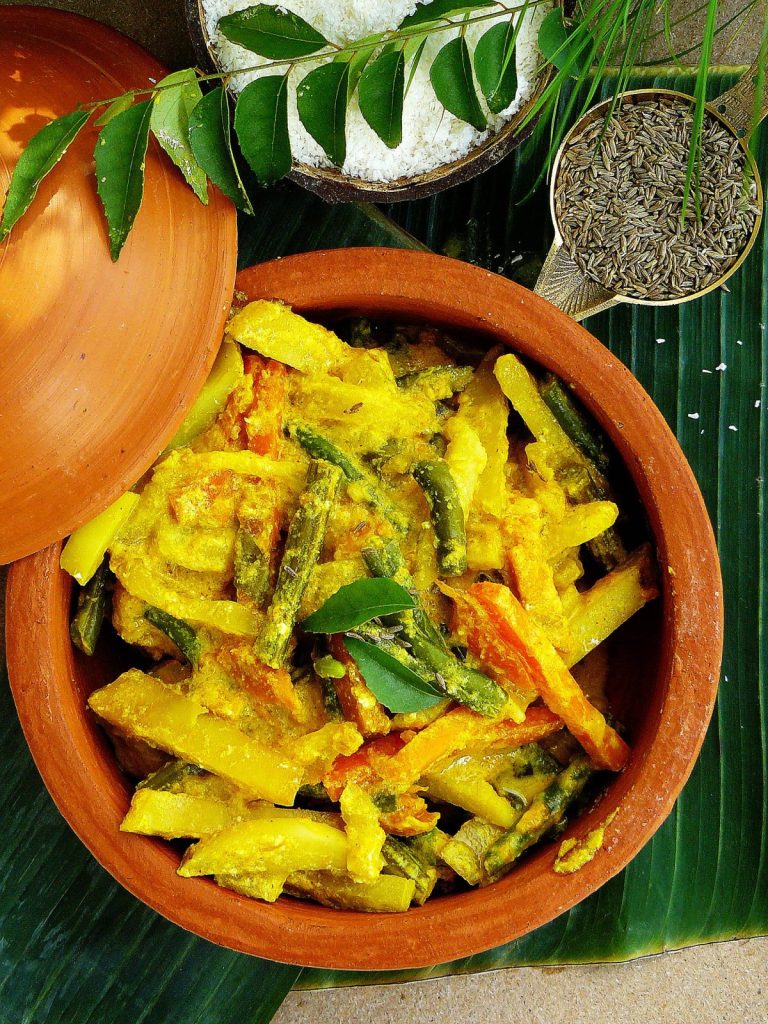 I originally intended to put up recipes for all the dishes that traditionally form a part of the Onam sadhya (feast). But unfortunately, I could not. Now that Onam is over and I have had the chance to prepare all these dishes once again, I was able to document it better this time from a blogging perspective. I do know that these might not come in use this year if you intend to make it only for the sadhya but the best part is that all these dishes are great vegetarian recipes that can be prepared for everyday meals. So here is the first one….avial!

Among all the dishes that make up this sumptuous feast, avial remains my all-time favourite. The culinary marriage of the vegetables with the yoghurt-coconut blend is simply to die for! Now, I have had three different version of this dish – the ingredients remain largely the same but the texture varies.
Some people like to prepare it without the yoghurt/curd and just the coconut paste lending a grainy texture to the dish. Some like to add a little curd which still lets the grainy coconut texture to shine through. At home, we prepare it with lots of curd giving the dish a smooth, creamy texture. There's nothing to beat a bowl of avial…any day. And strangely, I like to eat this dish with chappathis instead of rice.
For more Onam recipes; visit this article.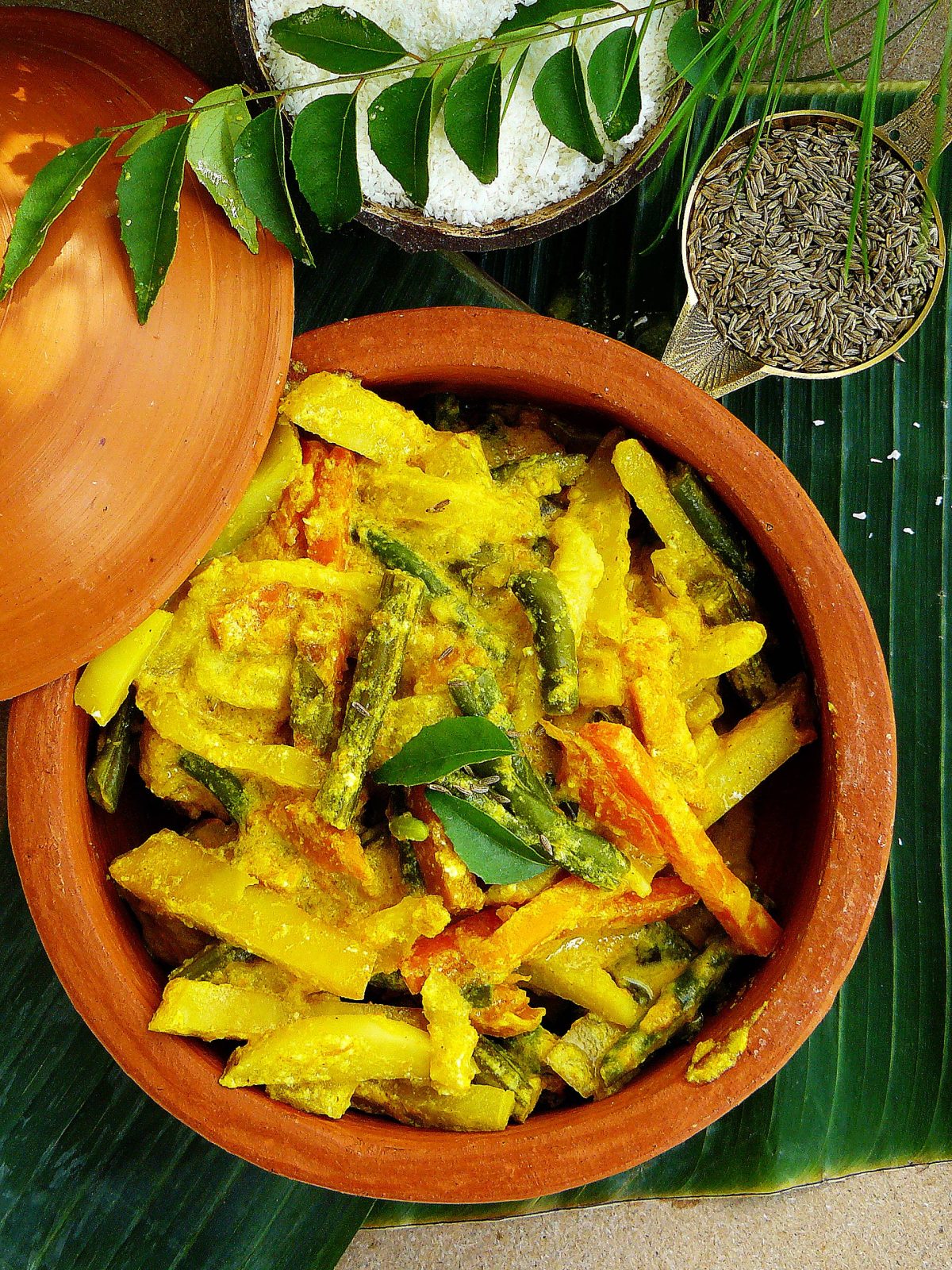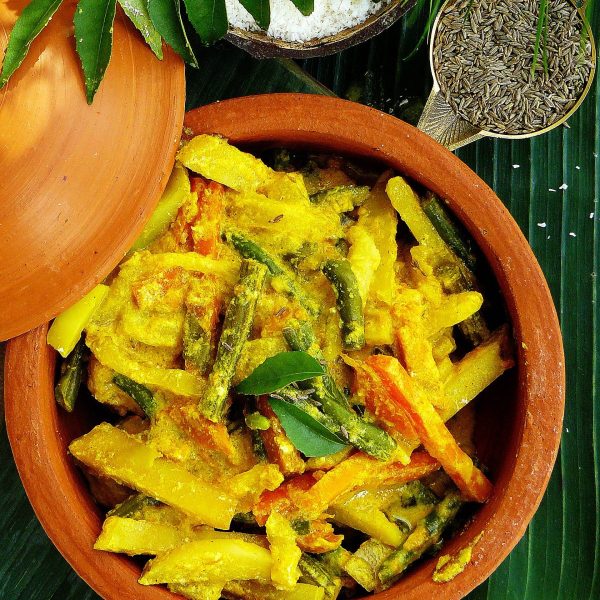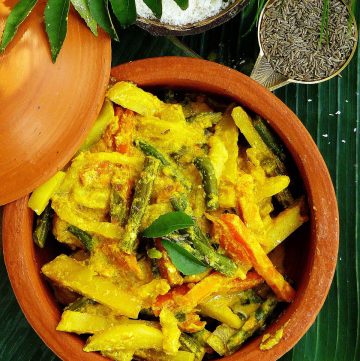 Print Recipe
Avial
Ingredients
Drumstick – ½ cup

Plantain – ½ cup

Pumpkin – ½ cup

Potato – ½ cup

Carrot – ½ cup

Beans – ½ cup

green chilli – 4

slit

turmeric powder – ½ tsp

salt – to season

curry leaves – a handful

coconut – 5 tbsp

grated

jeera – ½ tsp

curd – enough to make thick gravy

coconut oil – 2 tbsp.
Instructions
Cut all the vegetables lengthwise into long strips. (The shape matters!)

Cook all the vegetables in a pressure cooker with turmeric powder, slit green chillies, salt, curry leaves; no water required. Cook for 1 whistle or 5 minutes, whichever happens first. If you do not have a pressure cooker, then cook in a regular pot; add just enough water to cook the vegetables.

Grind coconut and cumin seeds with a bit of water to a fine paste and add to the boiled vegetables.

Add enough curd to this, stirred through to get a creamy consistency.

Prepare tadka or tempering by heating coconut oil and curry leaves. Switch off the flame and add a few drops of water to this and then pour over the dish. There will be some spluttering so make sure the flame is off.

Enjoy!