I am quite a 'nutty' person but if I were to pick one favourite, it will always be cashewnuts. These quirky nuts hold fond and special memories from my childhood when we used to visit Kerala for vacations and used to go cashew hunting in my uncle's farm with my cousins and my dad. My cousins would be eager to show off their farm and all its green bounty while my dad would reminisce about his childhood and how he had to help his father in the fields before leaving for school. And I loved to soak up in all the green goodness, the chitter chatter and of course, my dad yapping away about what a privileged life I led when compared to his childhood (yeah, the same old story every NRI kid grows up hearing).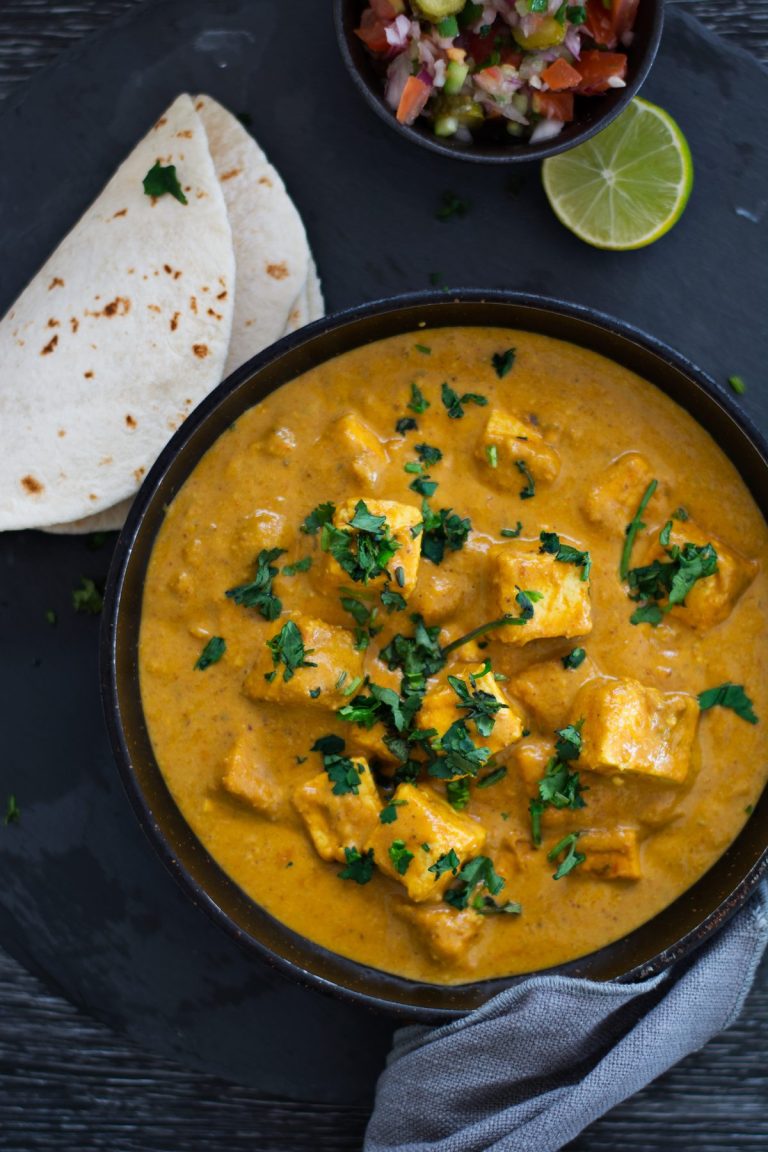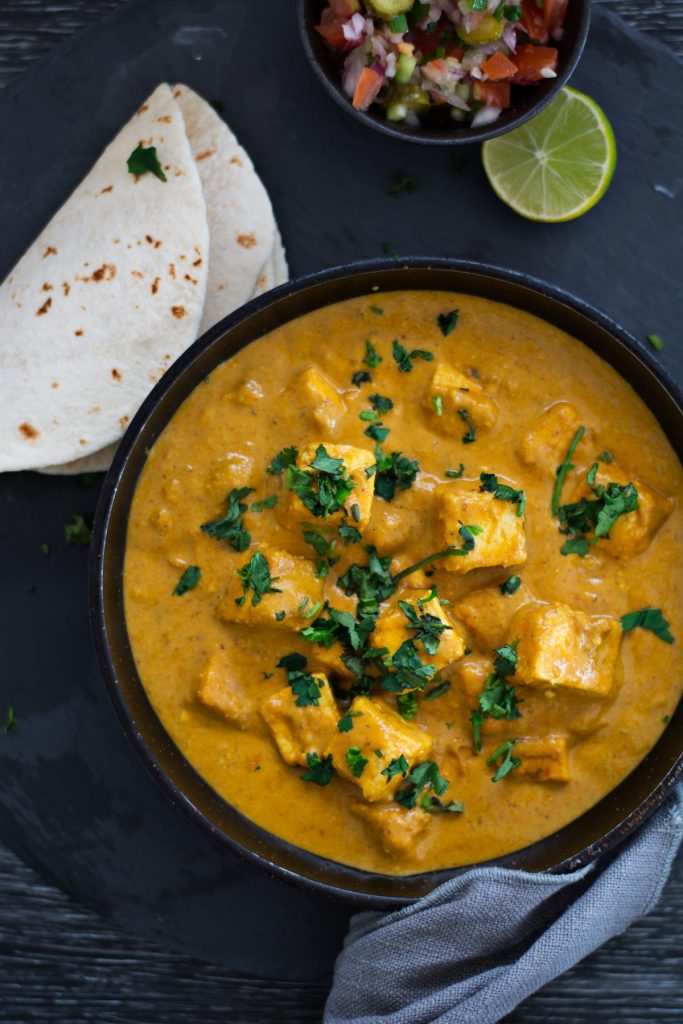 And during this trip, we always end up plucking raw cashew fruits off the trees and then return back to roast these over an open fire – the whole family sitting together exchanging snippets about our lives, laughing away…
The technique of using nuts in cooking was bought to the Indian subcontinent by the Arab traders. This caught the fancy of those cooking in the Mughal kitchens and we all know how the Mughals love anything rich and indulgent. So the chefs started using nuts, especially cashewnuts as base or to thicken and add a creamy texture to Indian curries and gravies.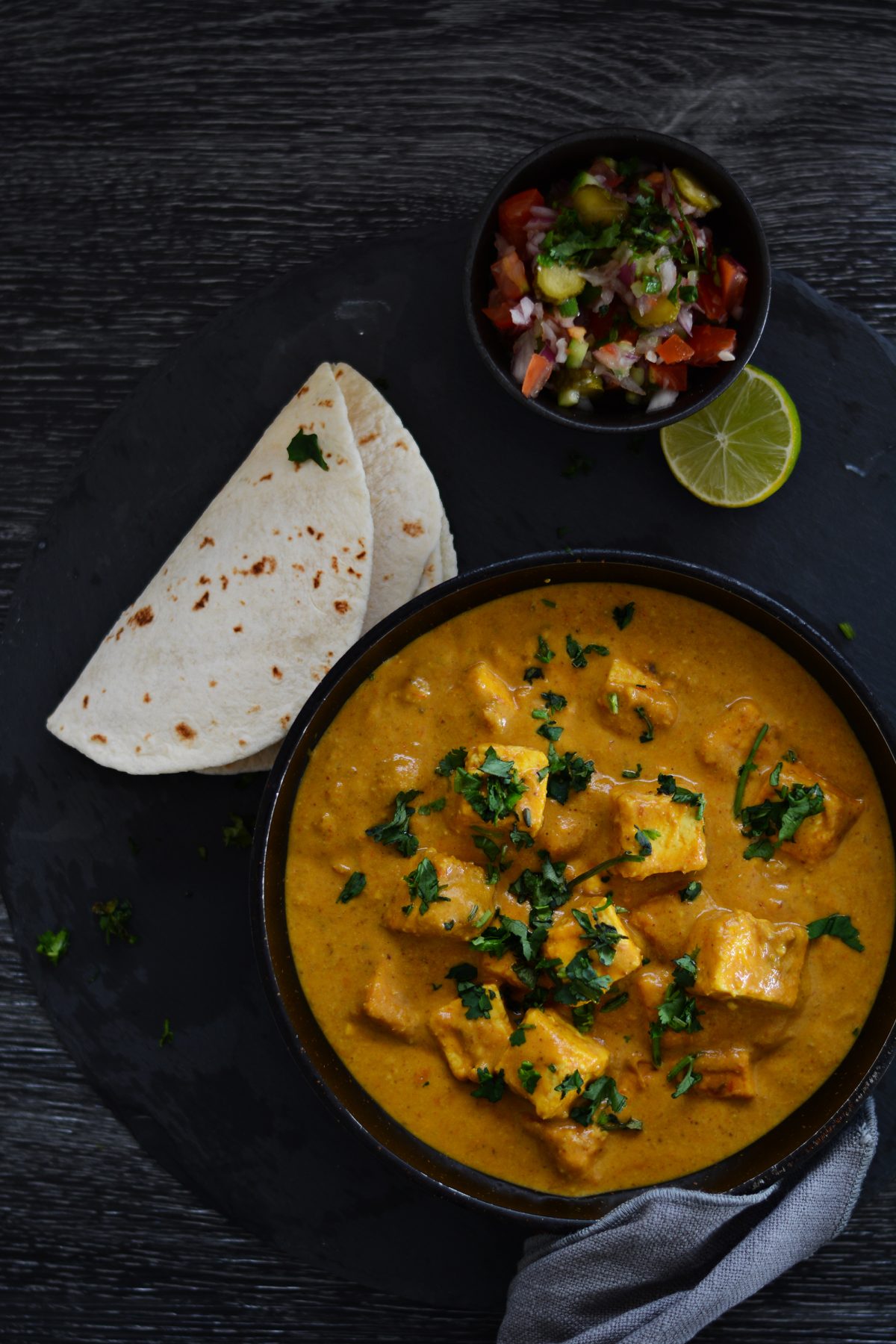 Kaju paneer masala is a simple and easy Indian curry – not too spicy but flavourful, in fact rich, creamy and indulgent. The best way to enjoy it is with Indian flat breads – naan, phulkas, roti etc.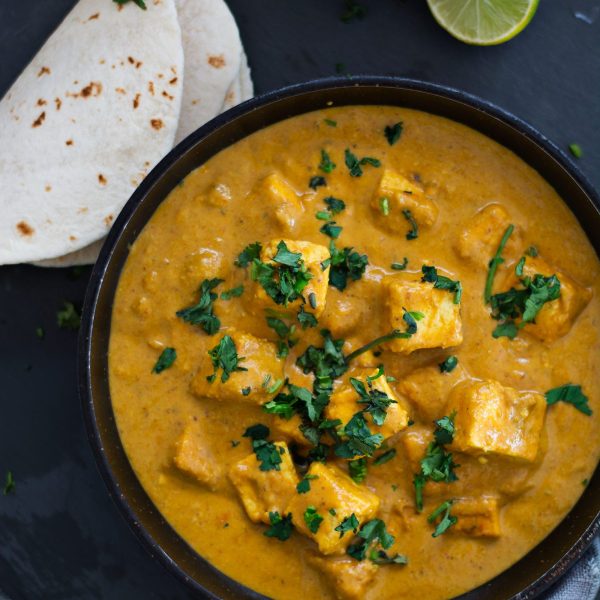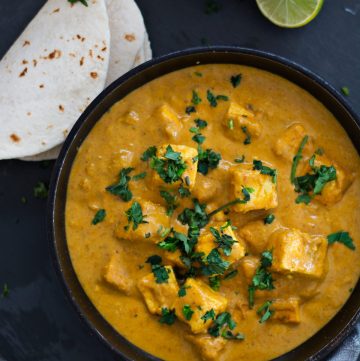 Print Recipe
Kaju Paneer Masala
Ingredients
Paneer/Indian cottage cheese – 500gm

Red onion – 1 medium

roughly chopped

Tomato – 1 medium

roughly chopped

Green chilli – 2

chopped

Garlic – 2 cloves

crushed

Ginger – ½ inch

chopped

Red chilli powder – 1 tsp

Turmeric powder – ½ tsp

Coriander powder – 1 tsp

Cumin/jeera powder – ½ tsp

Fennel/perinjeera powder – ½ tsp

Cashewnuts – ½ cup

soak in ½ cup water

Vegetable oil – 2-3 tbsp

Salt – to taste

Coriander leaves – ½ cup

finely chopped
Instructions
Heat oil in a kadai/pan and add ginger, garlic and onion; sauté till the onions are golden brown.

Add green chillies and tomatoes; sauté till the tomatoes break down and become soft.

Add the powdered spices and sauté again till oil clears.

Turn off heat and cool well. Blend with very little water to form a nice, smooth paste.

Meanwhile, cut paneer/cottage cheese into cubes and keep aside.

Return the onion-tomato paste to the same kadai and place on low heat.

Blend the cashewnuts with the water in which it was soaked in the same blender to a smooth paste.

Add to the pan and stir well to combine. Season with salt and add more water if required depending on how thick you want the gravy (for breads, it is best to have a semi-gravy consistency).

Turn up the heat and bring to boil and then add the paneer pieces.

Stir to combine well and cook on low heat for another 5 minutes.

Turn off heat and garnish with chopped coriander leaves.
Notes
It is best to let the gravy/curry sit for at least 30 minutes before serving; this helps the flavours to combine well and coat the paneer pieces too.
Bon appétit!
Do you use cashewnuts in your cooking? I am interested to know which is your favourite dish using nuts….