A delicious and easy Lamb Meatball Curry to satisfy your curry cravings. This curry is perfect for weeknights as it's simple to make and enjoyable for the whole family. Pair with some hot buttered naan and a refreshing cucumber raita for a satisfying dinner.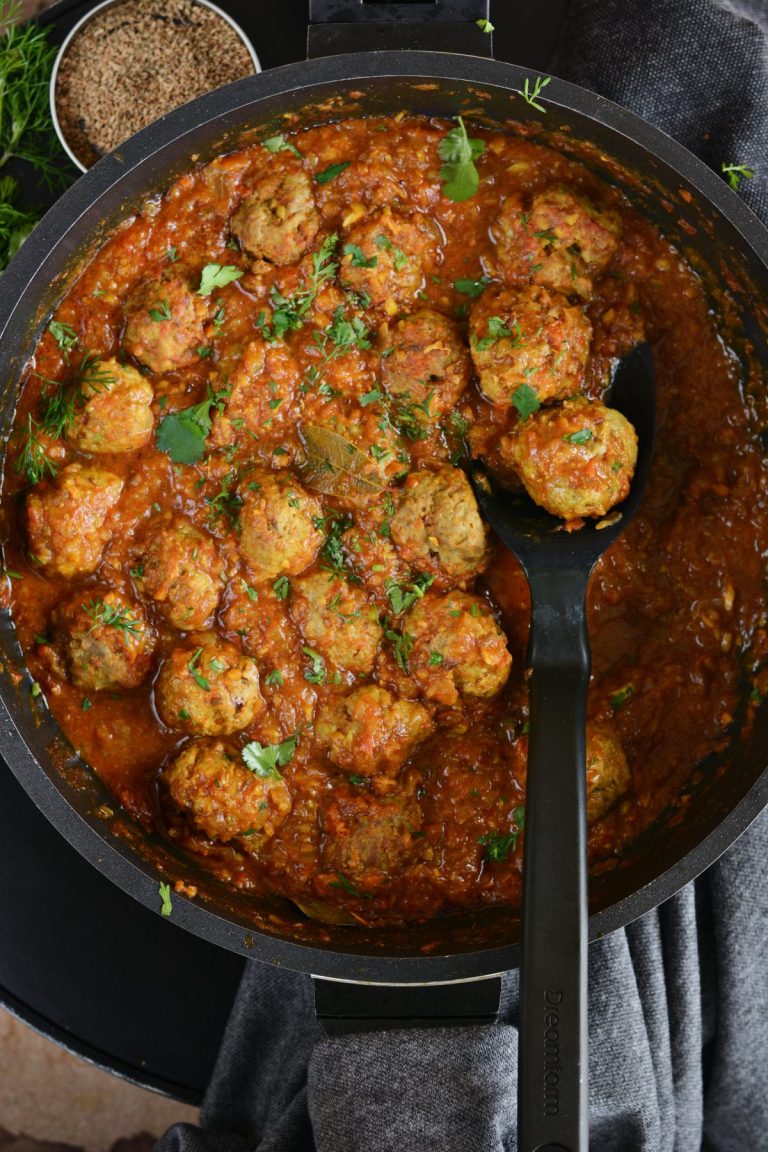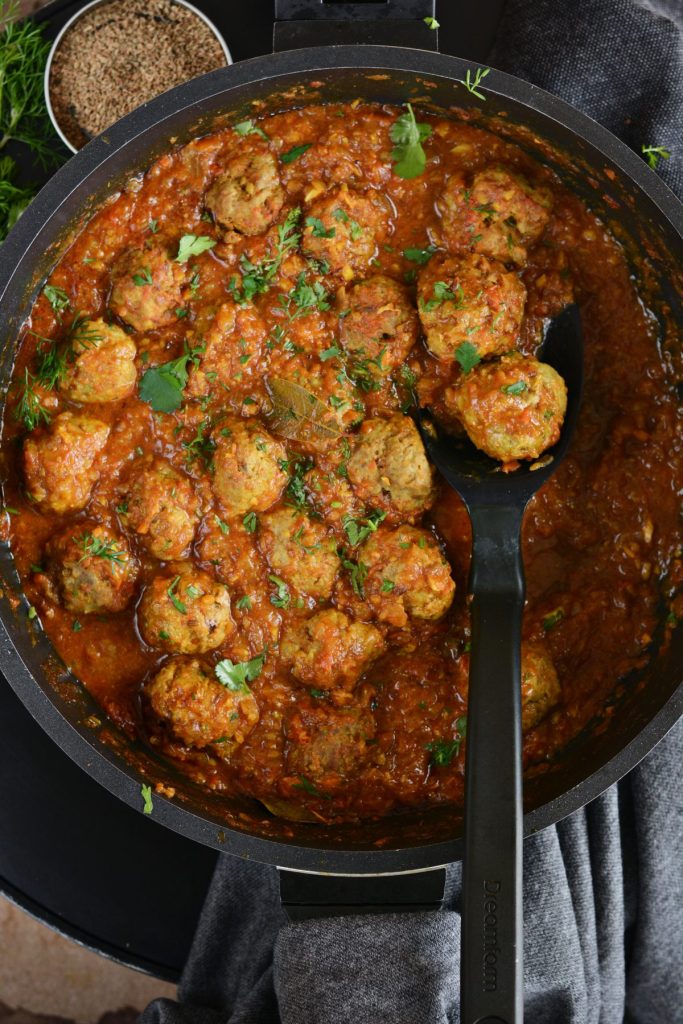 We are 'one year old' in Melbourne now. The decision to move base from India to a new country was not an easy one. It's been a mixed year so far – with many highs, many lows and a few in-between experiences.

Personally, the biggest high for me was starting this blog – a totally spontaneous, random decision that has become my passion or must I say, my obsession now. I have so many dreams as far as this blog goes but no idea how many will come to fruition. But for sure, I ain't giving up without a fight!

Coming back to the recipe, as a family, we are simply crazy about meatballs. We can have it at any time of the day and in all forms – as appetizer, in sandwiches, with pasta etc. This lamb meatball curry was just another way to express that love.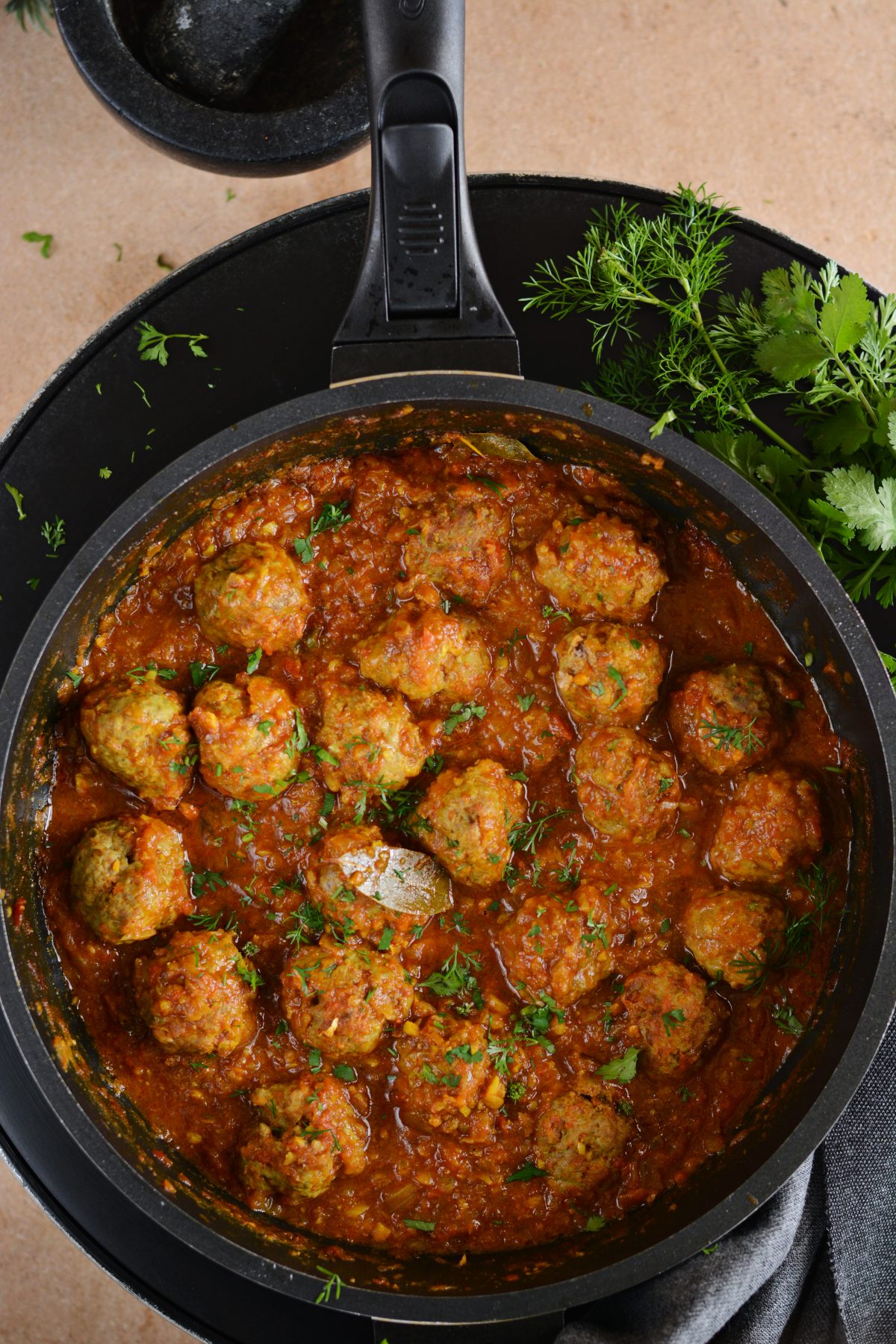 Meatball curries are quite common in India especially in the Northern regions. There are many variations and mostly due to the different spice mixes used. This lamb meatball curry is a simple recipe by Madhur Jaffrey – who is rightly referred to as the queen bee of the British Indian culinary scene.
The meatballs are easy to prepare (you could even make these as a starter skipping the gravy part). The spice mix made from bay leaf, cinnamon and cloves is a simple one but lends a beautiful aroma and flavour to the curry. The carrom/ajwain seeds added to the meatballs not only make it super healthy but also take the flavour quotient a notch higher.

So here's lamb meatball curry – finger-lickin good!
Are you a lamb lover? Then check out some of these amazing recipes that you will enjoy;
Slow cooked Lamb Shanks with Srilankan Curry Powder
Lamb Curry with Fried Onions and Yoghurt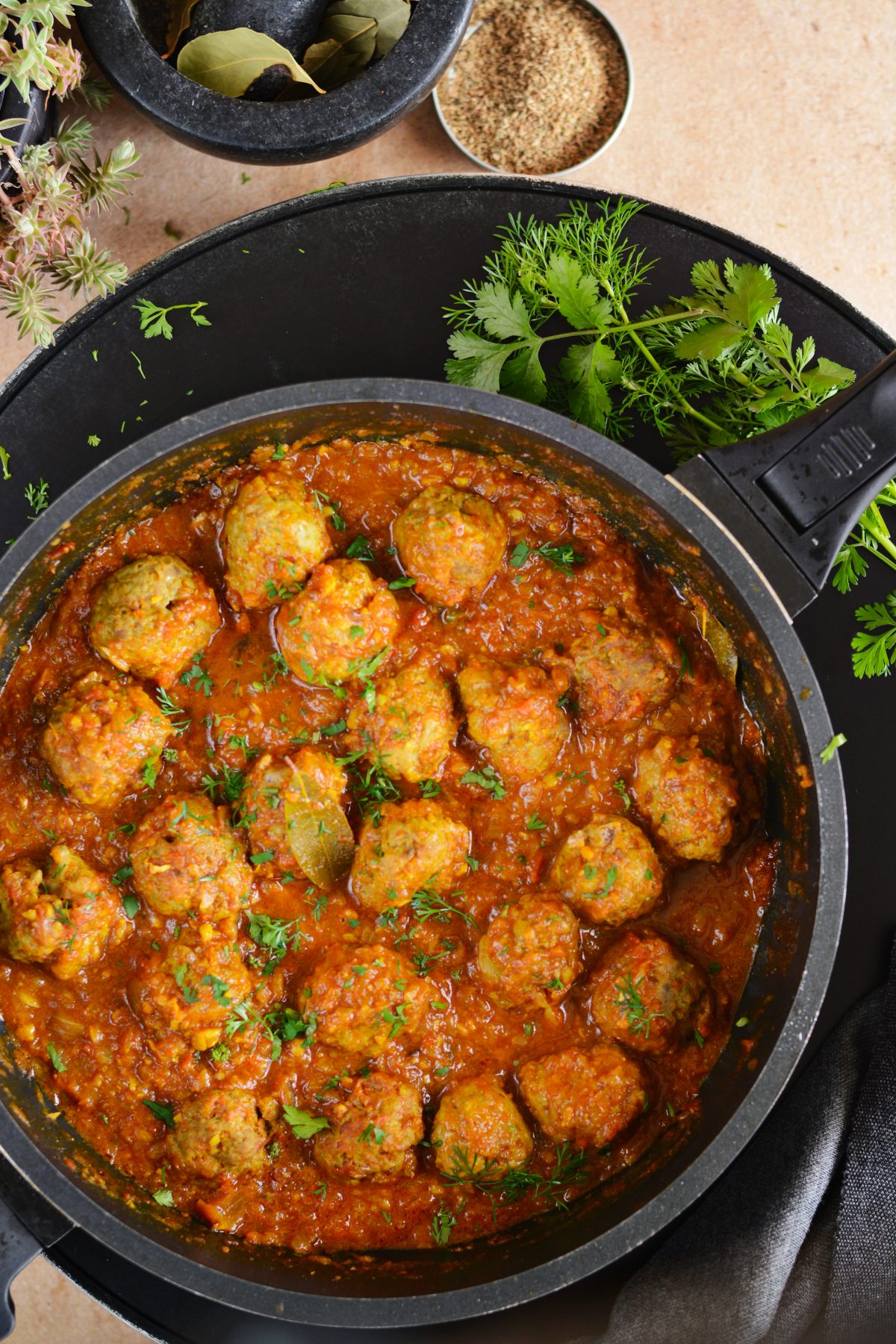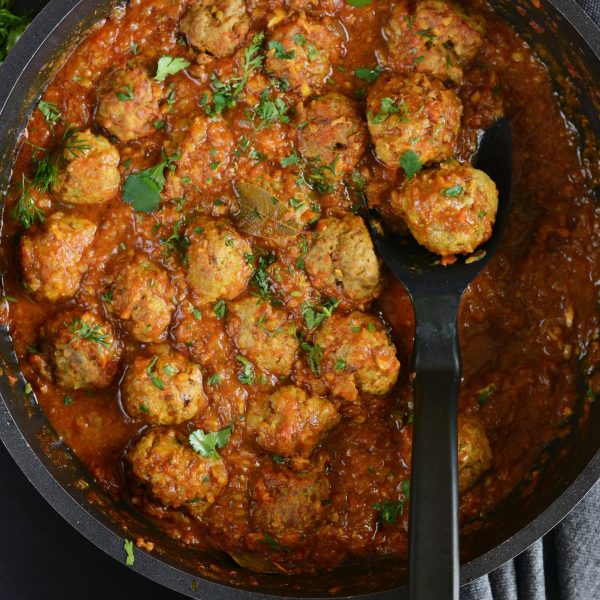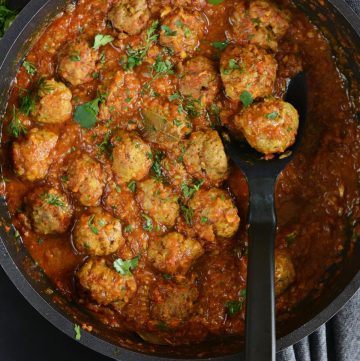 Print Recipe
Lamb Meatball Curry
Ingredients
For the meatballs:
Lamb mince – 1 kg

Onion – 1 large

finely chopped

Ginger – 1 inch

grated

Garlic – 2 cloves

grated

Green chilli – 1

finely chopped

Coriander leaves – ½ cup

finely chopped

Salt – to season

Carrom seeds – ½ tsp
For the gravy:
Cumin seeds – ½ tsp

Onion – 2 medium

finely chopped

Ginger – 1 inch

grated

Garlic – 2 cloves

grated

Turmeric powder – ½ tsp

Tomatoes – 3

finely chopped

Green chilli – 1

finely chopped

Salt – to season

Vegetable oil – 3 tbsp

Coriander leaves – ½ cup

finely chopped
Masala powder – ½ tsp
Bay leaf – 1

Cloves

– 4

Cinnamon – 1 inch bark
Instructions
To prepare the meatballs, combine all the ingredients 1-8 in a large bowl. Mix well and form small balls. Keep refrigerated for at least 30 minutes.

In a pan, heat oil and crackle cumin seeds. Saute onions, garlic and ginger till light brown.

Then add turmeric powder, green chilli and tomatoes; sauté till the tomatoes turn mushy and oils starts to leave the sides of the pan.

Add the masala powder and enough water to cook the meatballs. Season with salt.

Bring to boil and add the meatballs. Cook till the meatballs are tender and juicy.

Remove from heat and garnish with coriander leaves.