Parathas are Indian flat breads made from wheat flour. These are a staple in North Indian cuisine and eaten in every household at all times of the day – breakfast, lunch and dinner.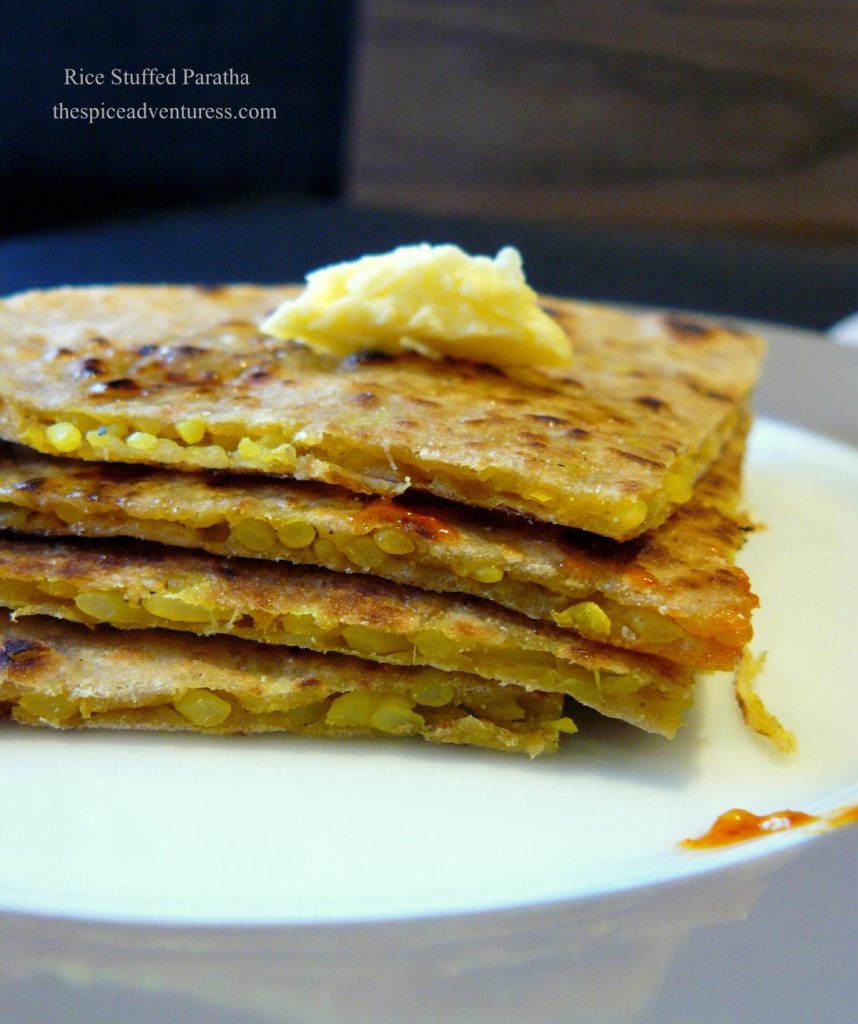 Stuffing the parathas take these humble flat breads to a whole new level making it a complete meal in itself. The options are endless and you can get as experimentative as you like. Some of the traditional favourites are aloo paratha (potato stuffing), onion paratha (spiced onion stuffing), gobi paratha (cauliflower stuffing) but there are many modern ones too like beetroot paratha, zucchini paratha etc….

The best accompaniment for parathas are raitas or flavoured yoghurt dips and a side of hot, spicy pickles. Make sure to add a dollop of ghee or butter to the parathas…

Children love parathas; it is fuss free eating and make excellent lunch box recipes too. And mothers get to hide all sorts of veggies inside. A winner all the way!

Today's dish is a rice stuffed paratha – something I had never heard of before till a friend mentioned it in passing the other day. We were chatting about my blog, the onion paratha recipe I had posted and she mentioned that I must try with some leftover rice stuffing. It piqued my interest (reminded me of burritos with lime rice filling) and I waited eagerly for some leftover rice to make its presence known in my refrigerator.
My friend, Alka, mentioned that they use traditional Gujarati spices to flavour the rice but I decided to create my own flavours instead. The result was deliciously fabulous – hot piping parathas with a mildly spiced and fragrant rice stuffing served with a dollop of butter.
So, come on, let's take out some rice and flour and get cooking – rice stuffed parathas!