Surprised seeing another dessert so soon? Honestly, I am too…..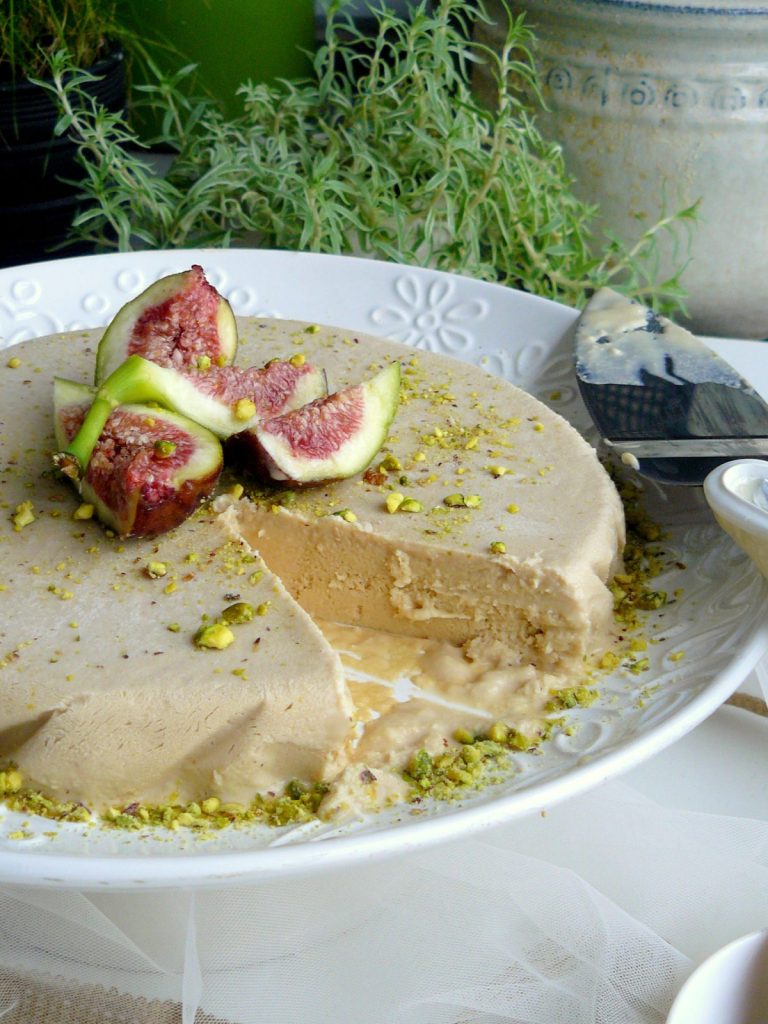 This masala chai semifreddo is the result of inspiration striking from several different quarters!
First, there has been a lot of 'semifreddo' talk on Masterchef this season, and then there was this amazing masala chai ice cream by 'A Brown Table'. But what really made me take this plunge finally was an event that I attended a couple of weeks ago – Melbourne's first ever 'Chai Festival' hosted by T2 at their headquarters in Richmond.
I am more of a coffee gal but I still wanted to attend this chai festival; to broaden my knowledge about this beverage and also play a little at the 'make your own tea blend' station which was the highlight of the festival. We came home with lots of special tea blends; my son went totally bonkers and I now have all sorts of crazy blends at home…..a Chinese tea blend with plenty of dried rosebuds (the aroma of this one is heavenly) and a spicy Indian chai spiced further by my son with loads of pink peppercorns.
I tasted crème brulee tea for the first time ever (and here is a badly shaken picture of it!!)
And how I envied this copper teapot….
The idea of this Masala chai semifreddo just got stuck in my head and I really wanted to give it a shot. Had a small chat with the gorgeous girls at T2 who after hearing my idea, guided me towards their organic spiced chai blend. One of the girls got me a sample of the tea so that I could experience the taste and aroma before making up my mind. Little did she know that anything with spice gets me hooked!

So I did a fair bit of research on semifreddos and eventually today's dish happened…..
Traditionally, a semifreddo is made using eggs but I decided to try out this eggless version. The last time I made this no-churn icecream, there were so many readers who wrote to me asking for an eggless recipe. So this time, considering all those requests, here is my recipe for Masala chai semifreddo served with crushed pistachios and fresh figs.

If you have never made a semifreddo, seriously you need to give it a go. It is creamy, delicious, sweet, cold (yes, of course)…everything that you want from an ice cream but at a quarter of the time or effort. And what's more, you can go completely bonkers with flavours…..get as creative, experimentative or wild as you like.
For those who aren't too familiar with the semifreddo term, it basically is the Italian name for a semi-frozen dessert which can be like an icecream/frozen custard/icecream cake……anything which has a frozen mousse texture comes under this class. Which means that there is plenty of room to play around in terms of flavours…….

Again, there is no particular shape to a semifreddo, though you are most likely to see it in a rectangular tin to scoop out like an ice cream. If you want individual portions, you can set it individual glasses or moulds. I wanted an ice cream cake sort of feel, so went for a circular shape.

So, here's my humble dedication to India's much loved beverage….a creamy, tea-licious masala chai semifreddo!

Note – This is not a sponsored post of any manner and my use of T2 chai is entirely my own decision. So please feel free to use your own masala chai blend; just make sure you adjust the strength of the flavour accordingly as the T2 organic spiced chai blend is really strong and full on.