What's an Indian meal without a side of pickle? But this Prawn Pickle refuses to be just a side; it's so delicious that it's going to be the centre of attraction of your whole meal.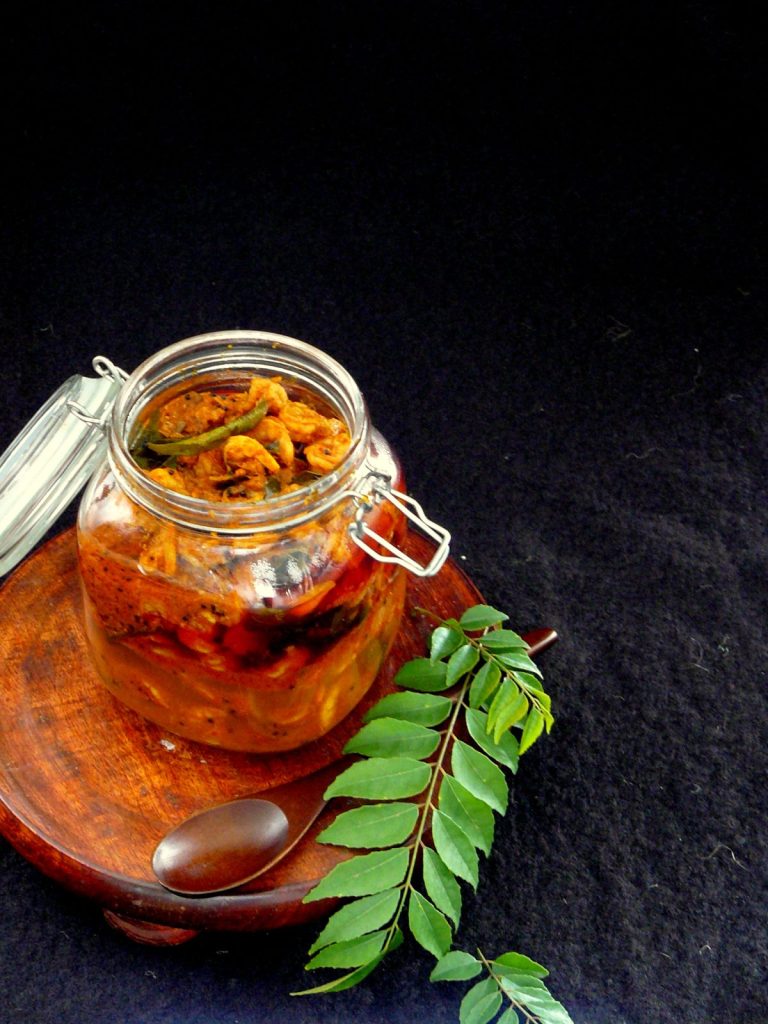 An Indian meal, no matter how elaborate it is, stays incomplete without a pickle by the side. It is perhaps only in Indian cuisine that pickles are so diverse in preparation and flavours. And over years, we have learnt to pickle just about any ingredient!
Seafood pickles are extremely common in South India, especially in Kerala owing to the state's enviable coastline. Today's prawn pickle is inspired by the flavours of Kerala; it is spicy but sour and tangy too. A complex myriad of flavours in every spoonful.

Small prawns or shrimps are used to make this pickle generally. The prawns are marinated first, deep fried and then tossed through the pickling mixture which is a fiery concoction of red chilli, aromatics, curry leaves and spices like fenugreek, mustard and asafoetida.
Pickles always develop flavour over days and it is best to store this one too for a few days in your refrigerator before enjoying it.

Pickles are more of a condiment, and supposedly to be enjoyed in small quantities along with the main meal. I tried so hard but failed miserably in this regard as this prawn pickle was so delicious that it became more of a main dish than the condiment. All I needed was a bowl of rice and some thick yoghurt!
I am sure you will agree on this too, so let's not waste anymore time talking and get straight on to the recipe.

If you are looking for an instant and easy pickle, then you must make a batch of this raw mango pickle.
Recipe developed, styled and shot for Supreme Seafood.