Well, this was originally meant to be the first post of 2016 but I just couldn't find the time to sit down and write it. But finally it's here – my special Roasted Golden Trout with Arabian Rice.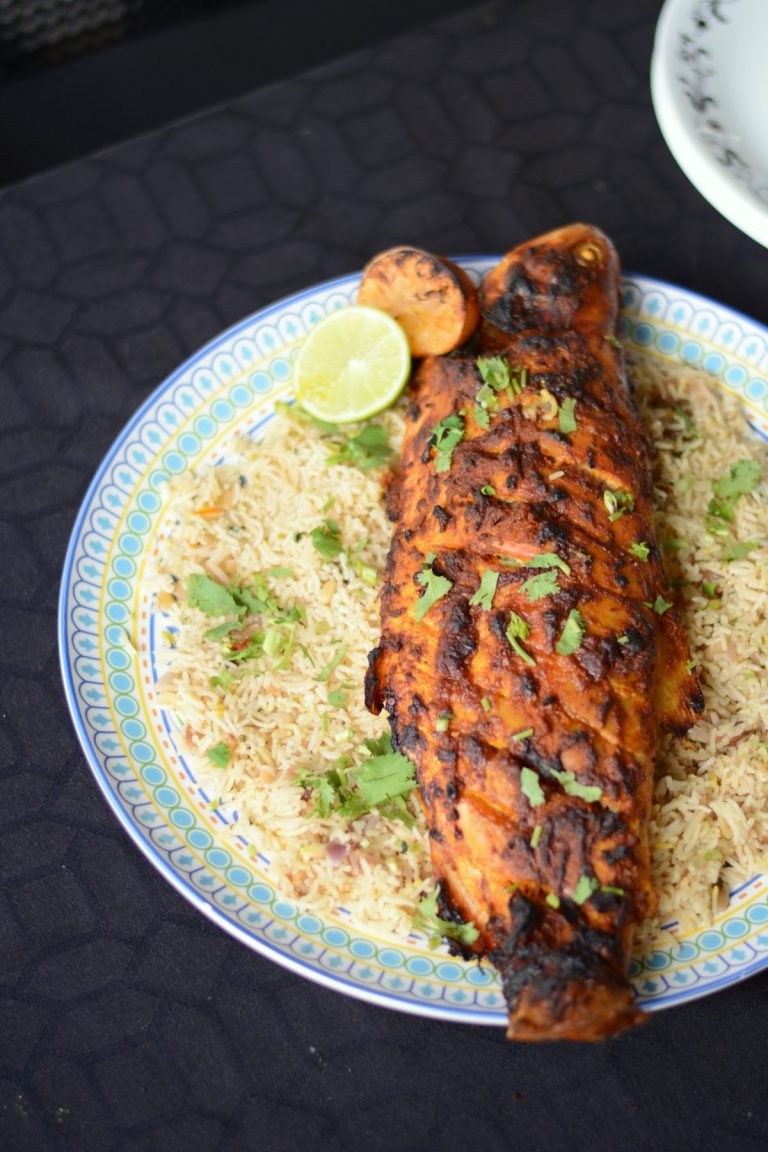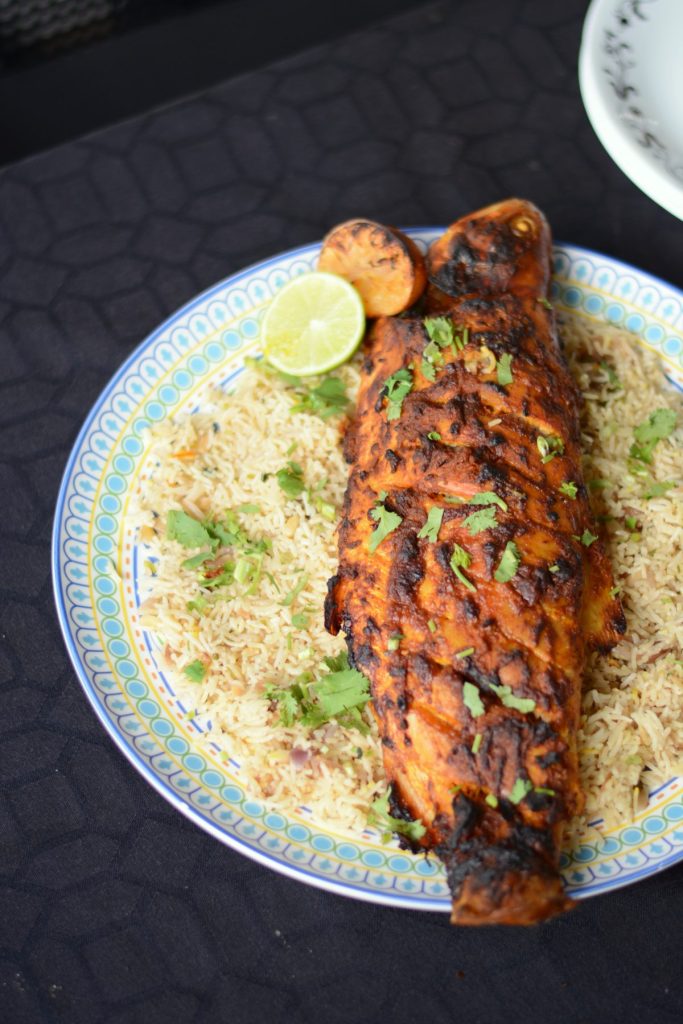 It is special because of a wonderful experience we had late 2015. Many of you would have seen this picture of me with a huge golden trout on my fishing line. Early December, we went out on a fishing picnic to the Australian Rainbow Trout Farm, located in the beautiful Dandenong Ranges.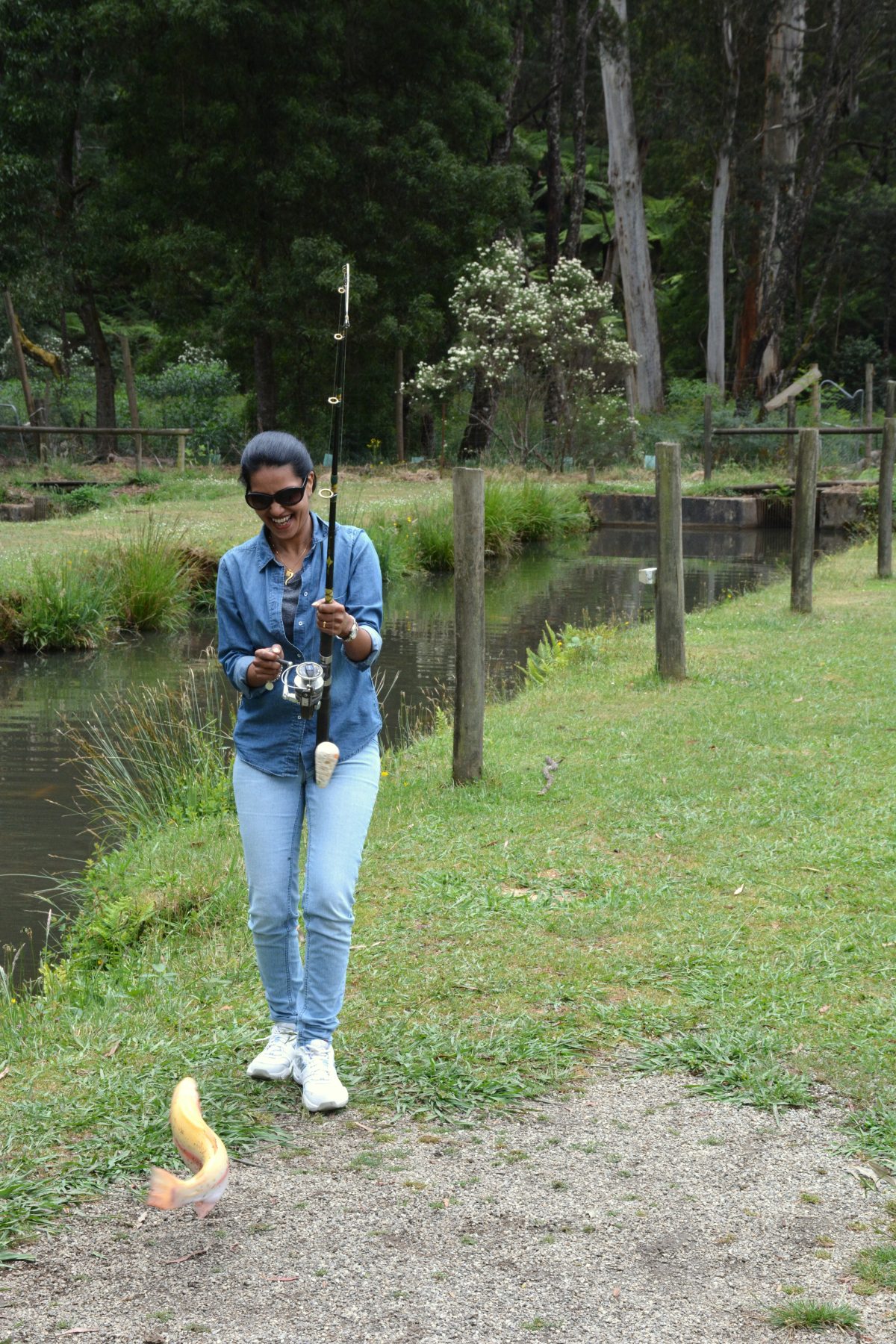 Diverting off topic here…..one of my goals for 2016 is to have more enriching experiences. I am not a 'New Year resolutions' like of person but I do constantly make small but achievable goals and this happens through the year and not just at the start. I want to consciously incorporate small experiences like this fishing one with family and friends. I want to travel more but more locally than internationally. The beauty of this is the amount of meaningful time you spend with family and loved ones because that is the only constant in this ever changing world.

Getting back to the Australian Rainbow Trout Farm, it is a place you must visit if you live in Victoria. There are many similar farms across the state where a species or two are farmed in a sustainable manner. The farm has a small picnic area with barbeques where you can prepare your fish after you have caught it. Rainbow trout, golden trout and salmon were the ones farmed here and we caught all three. The good part is that, since it is a farm, you will definitely catch a fish which is great to avoid disappointment especially for novices like me.

While everyone else was busy fishing for rainbow trout and salmon, I wanted to bring home a golden trout because I have never tasted or cooked with it before. And I did catch a really huge one as you can see in the picture; I almost fell into the water trying to keep it on the line. A really huge and slippery fellow!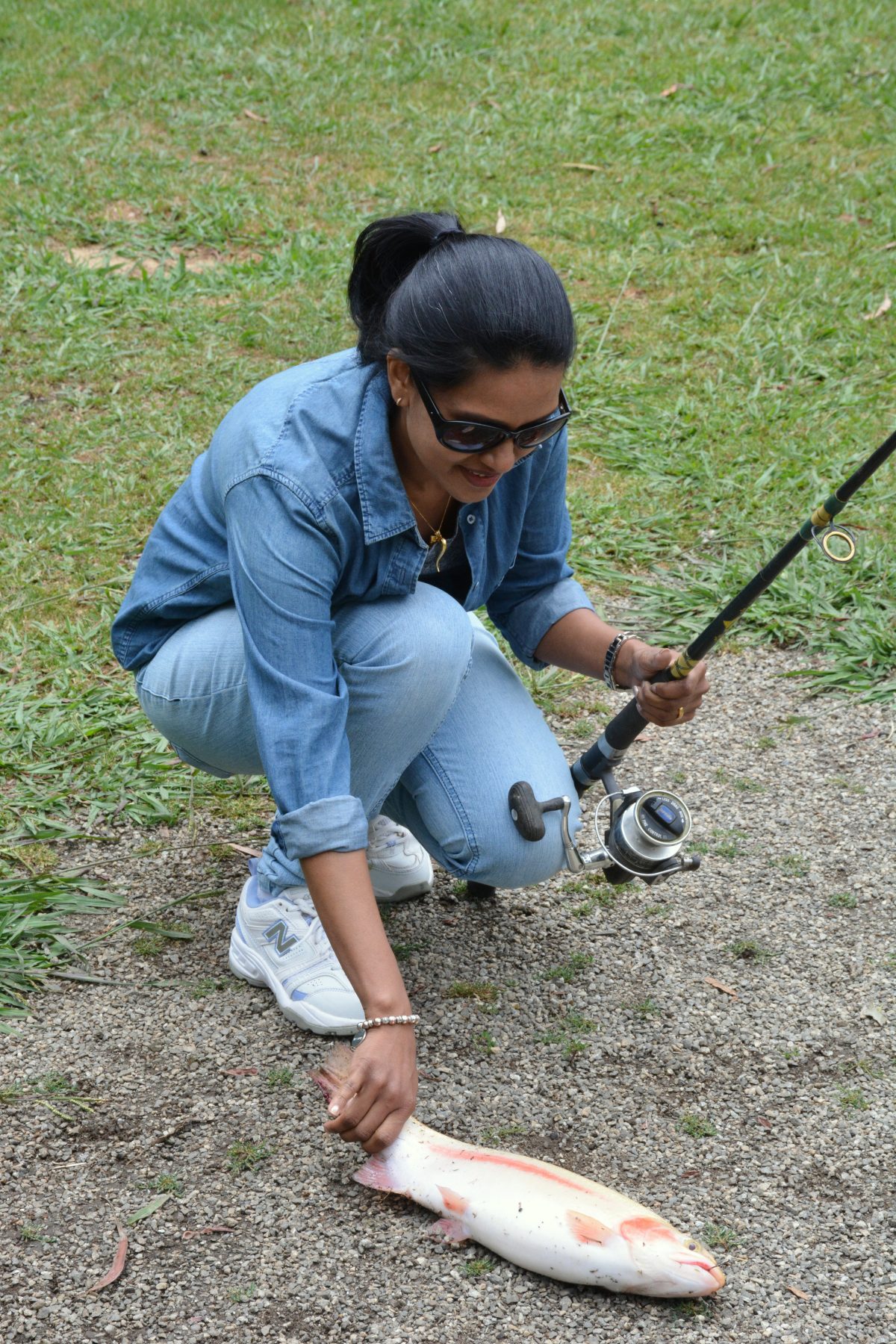 I had been experimenting with a new marinade and so took it along for our picnic lunch. The whole rainbow trouts we caught were marinated using this and barbequed; turned out amazing so I decided to use the same for this golden trout.

What makes this marinade slightly different to most traditional Indian ones is the addition of tomatoes to the spices and aromatics. A richer and deeper flavour profile is the result which works brilliantly with any kind of seafood. I am sure it would work great with chicken, tofu, Indian cottage cheese, mushrooms and potatoes too.

It is also a freezer-friendly marinade, so make a large batch and freeze in small portions for quick weekday dinners.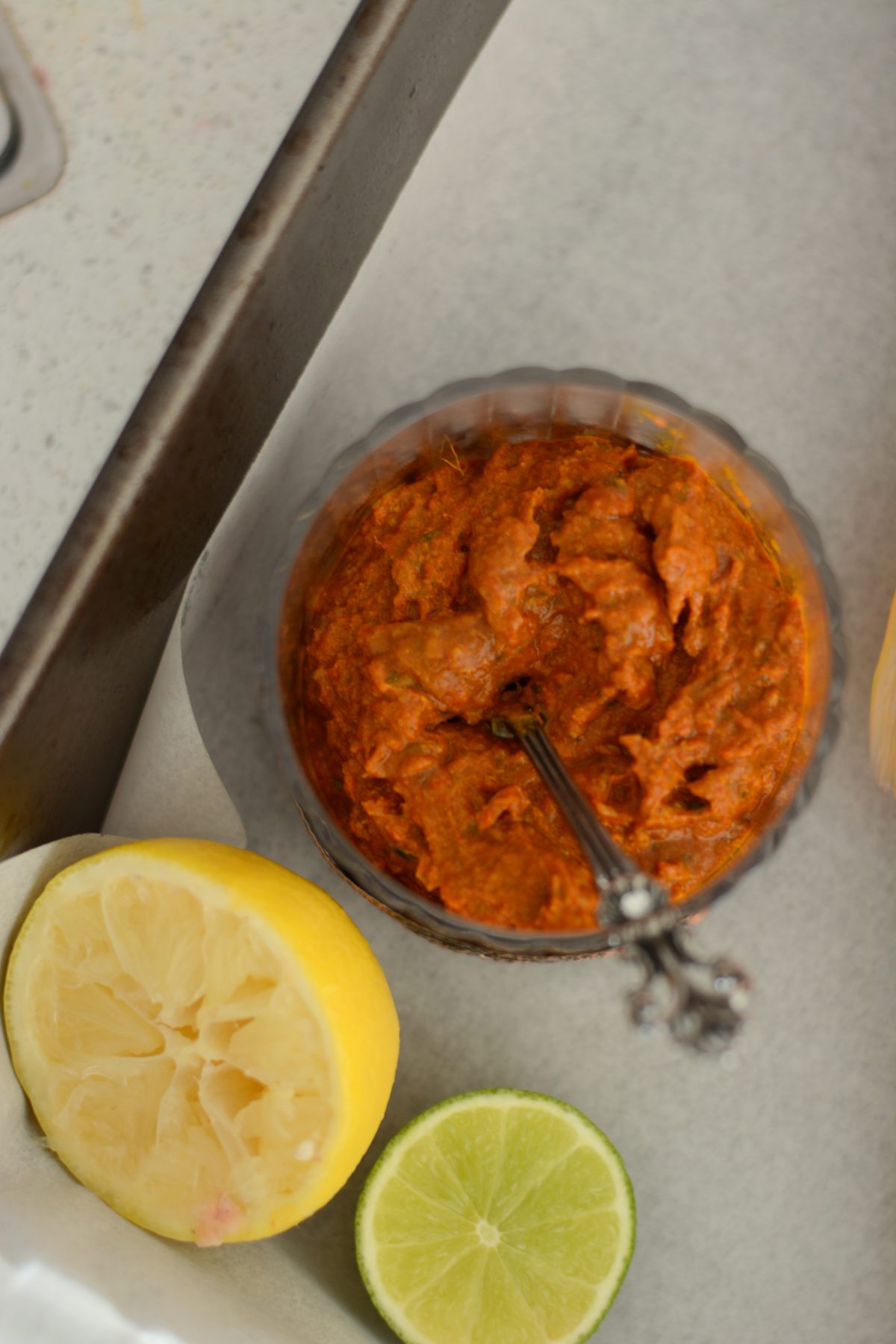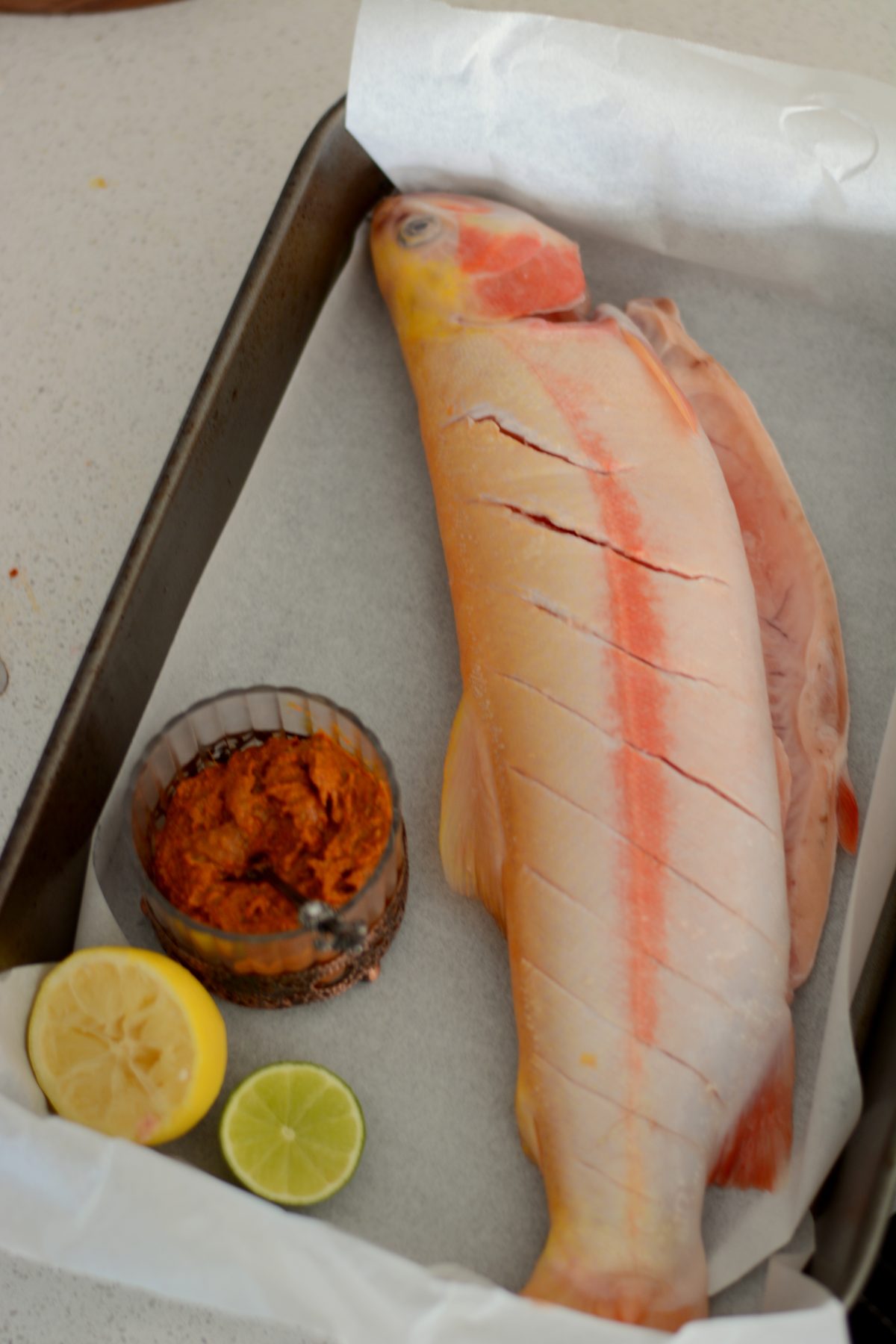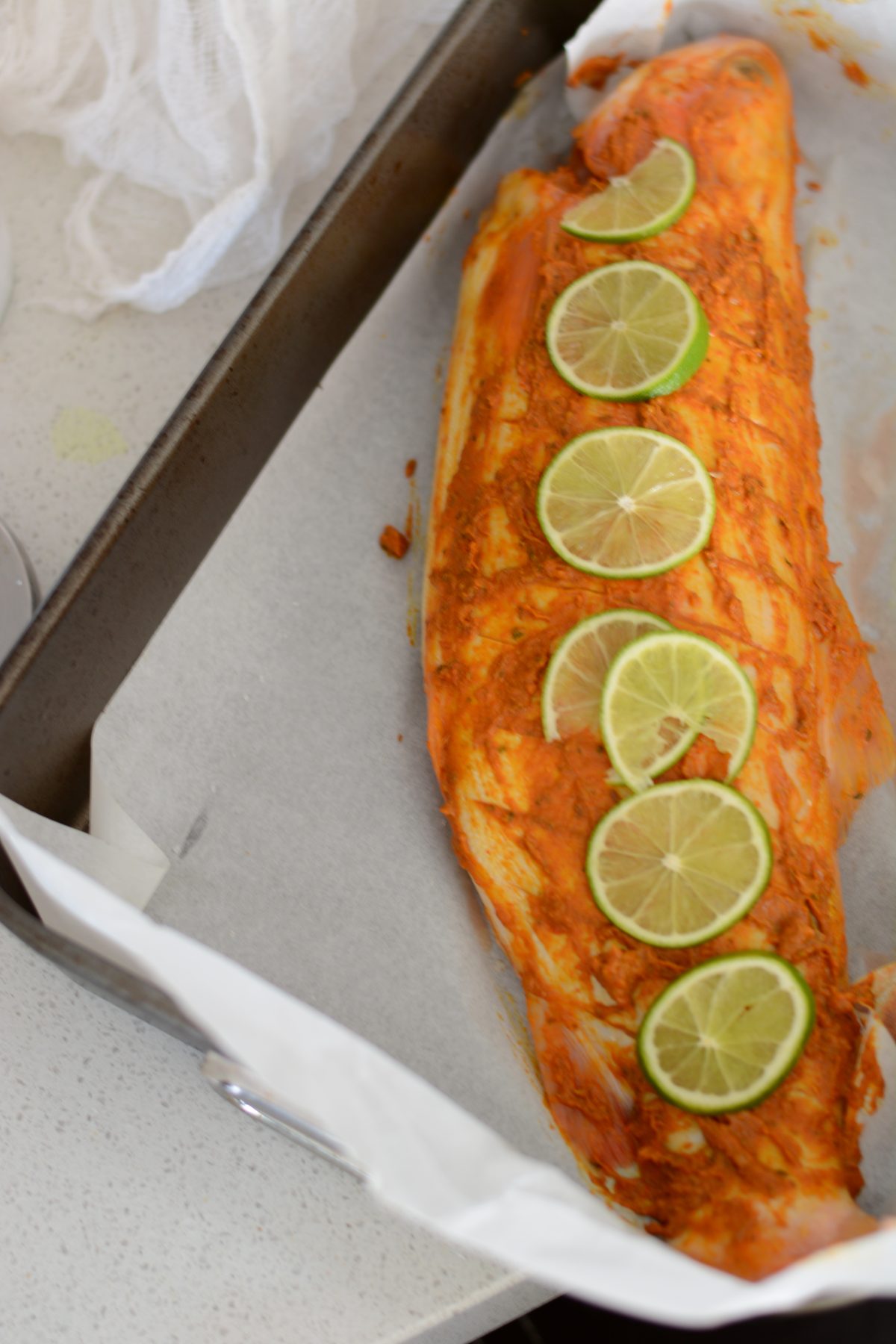 I served this roasted spicy golden trout on a bed of Arabian rice resplendent with saffron and nuts; add a minty yoghurt raita and you have a delicious meal.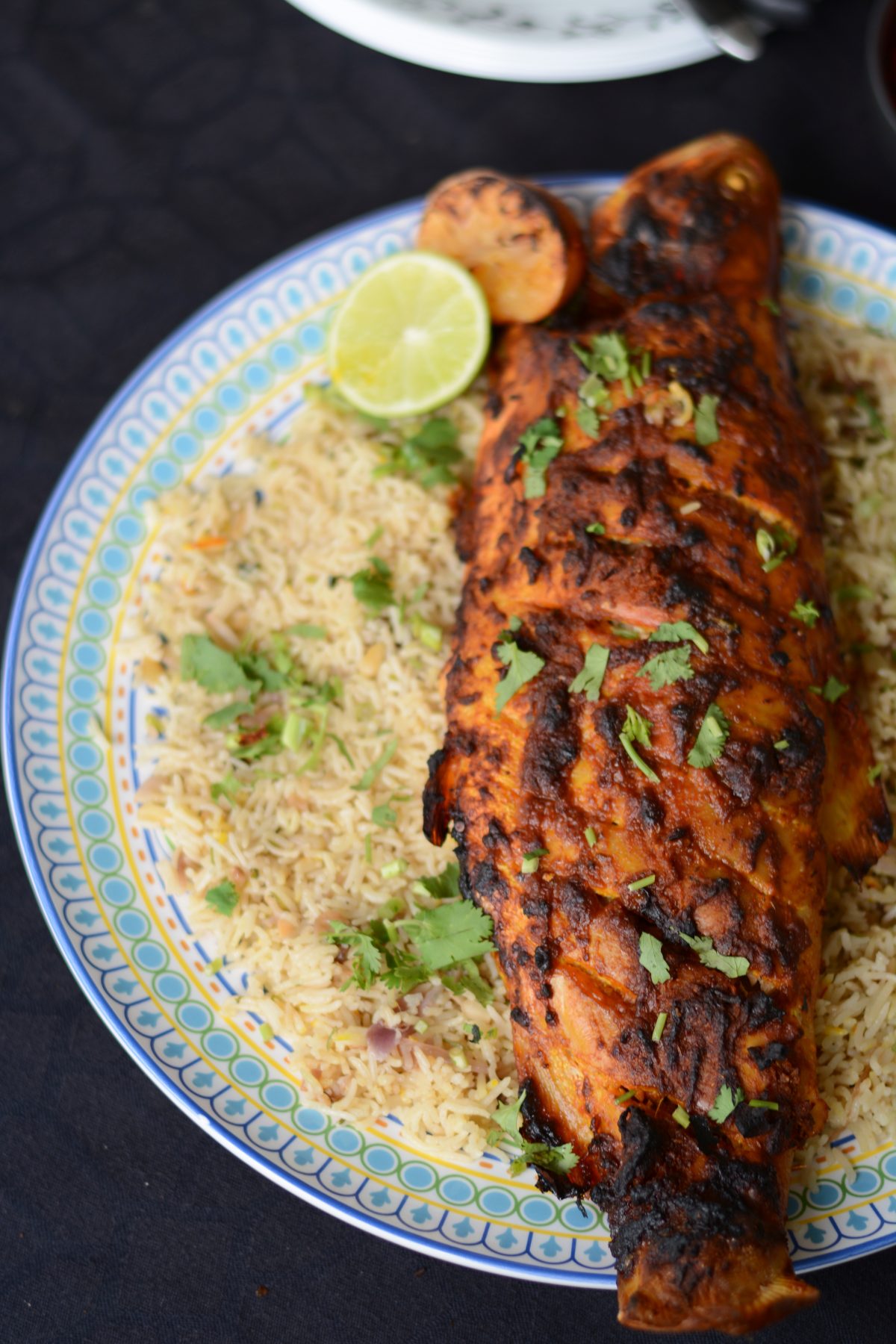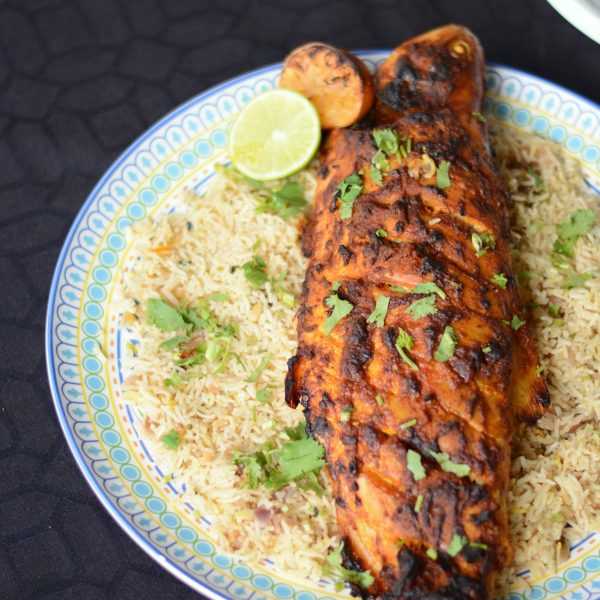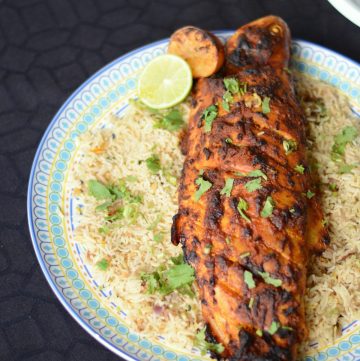 Print Recipe
Roasted Spicy Golden Trout
Ingredients
5

kg

golden trout

Salt

to season

Juice of 1 lemon

1

lime

sliced

4

tbsp

spicy marinade

2

sprigs fresh coriander leaves

finely chopped for garnish
Spicy marinade:
6

large garlic cloves

2

inch

ginger

1

large red chilli

1

tbsp

red chilli powder

1

tbsp

Kashmiri chilli powder

½

tsp

turmeric powder

½

tsp

cumin powder

½

tsp

fennel powder

½

tsp

black peppercorns

½

tsp

coriander powder

2

sprigs coriander leaves

3

mint leaves

1

medium ripe tomato; chopped

1

tbsp

apple cider vinegar
Instructions
To prepare the spicy marinade:
Blend all the ingredients into a smooth paste. (Water is not necessary if the tomatoes are ripe enough, but add a few drops if you need to).
To prepare the fish:
Clean the insides of the fish and also de-scale. (I got this done at the Trout farm itself; not an easy feat cleaning this big fella in an apartment kitchen).

Score the fish on both sides; season with salt and rub with lemon juice.

Liberally apply the spicy marinade on both sides and also the insides of the fish. Allow to sit for at least 4-6 hours, overnight is preferable.

Bring to room temperature before roasting in the oven.

Pre-heat the oven to 180°C (fan forced); line an oven proof tray with baking paper. Line the fish with lime slices and place in the baking tray.

Roast in the oven for 35-40 minutes or till done.

Serve on top of the rice and with a side of pickled onions, lemon wedges and garnished with fresh coriander leaves.
Notes
The amount of marinade to be used and cooking times will vary according to the type and weight of the fish used.