Crispy, delicious Vietnamese prawn spring rolls are a delight to the young and old alike. The iceberg lettuce and mint leaves add an extra layer of fresh flavour and crunchy texture.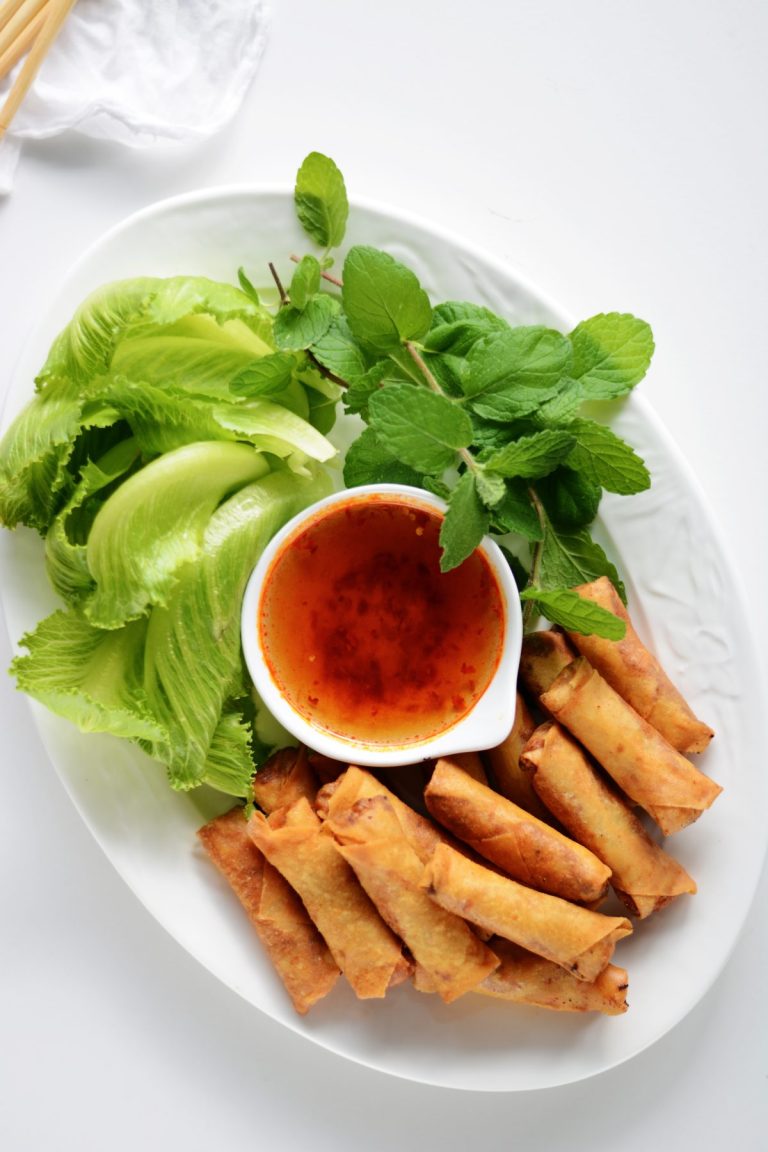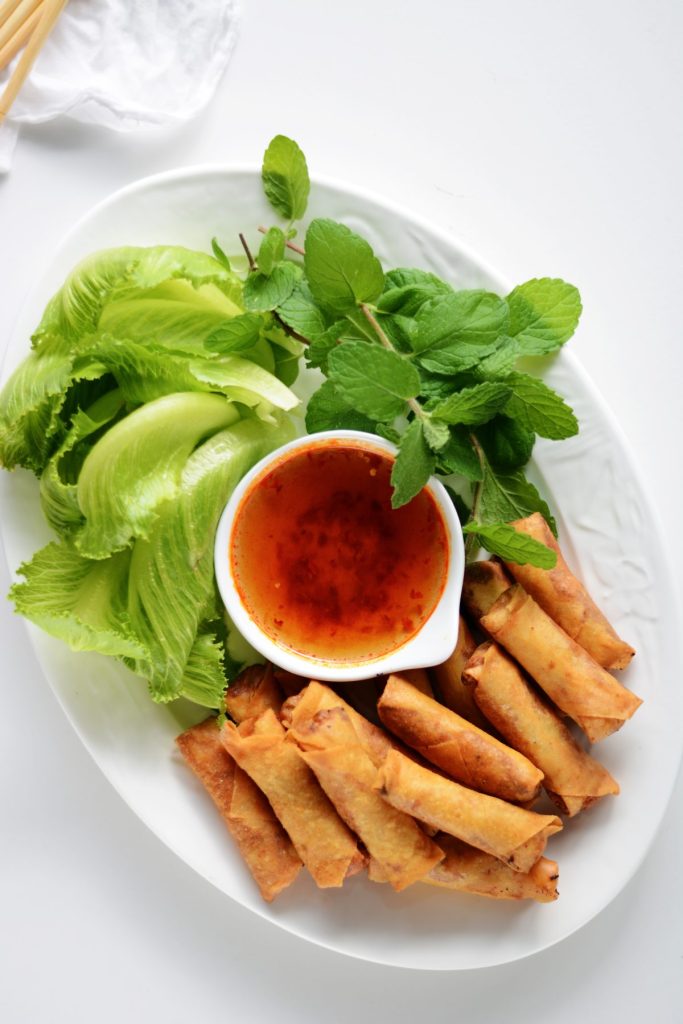 The looong Easter weekend is finally over and it's back to work today. Well, not quite for me as the little fellow is at home for his term break. So technically, the holiday mood continues…

Last term holidays, Adi handed out invitations to his friends for play dates without asking me. So I found myself caught in completely unprepared situations having to think on the spur for interesting snacks to feed the brood. Though eventually that play date fell upon another mom's shoulders, I didn't want a repeat of that scenario this time too so decided to stock up on some finger food before hand, something I know children love to munch on.

And that is how these Vietnamese Prawn Spring Rolls came to be.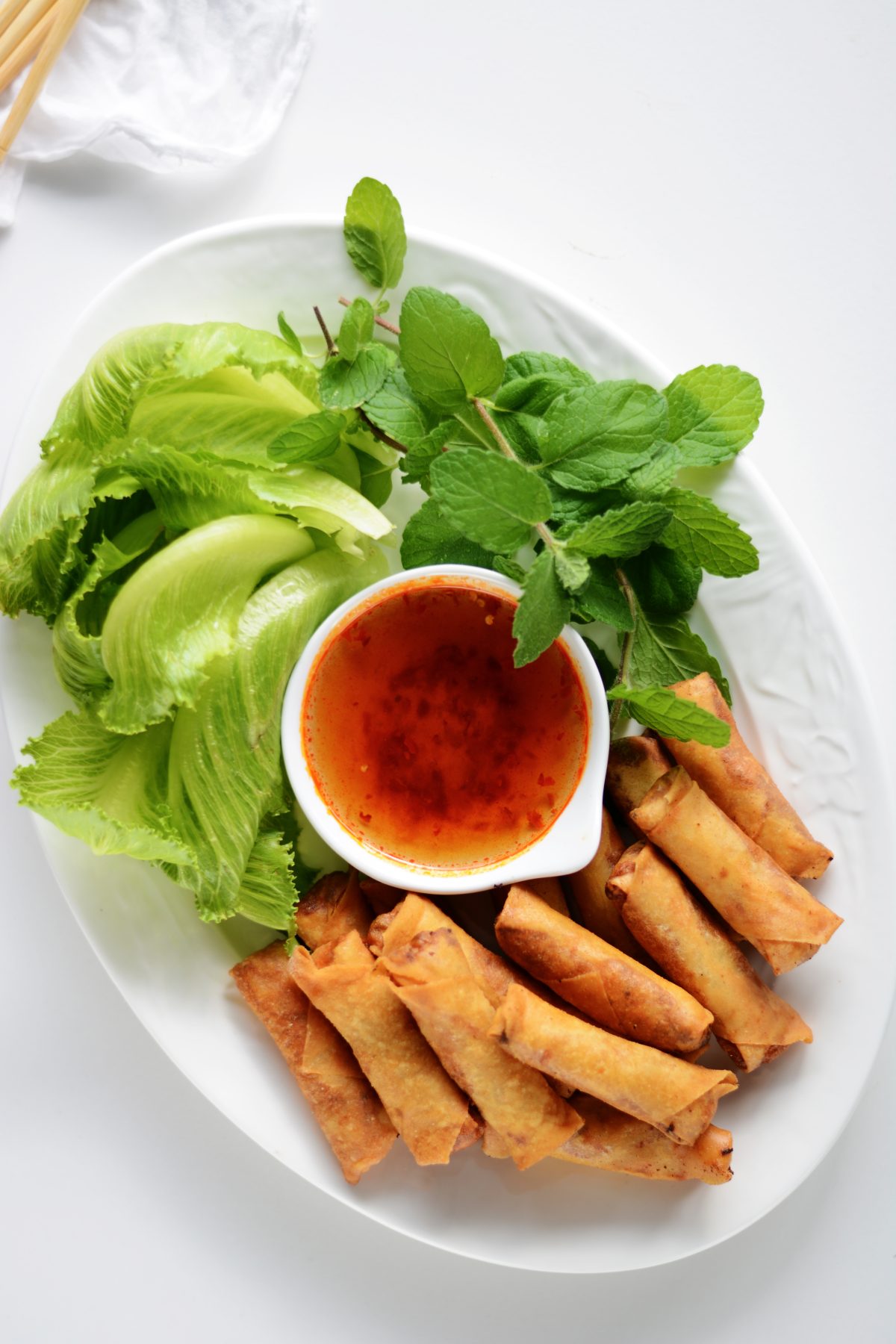 We are all familiar with spring rolls especially the deep fried ones. Perhaps, one of our all time favourite ones in the snack list. There are so many fillings that can be used, both vegetarian and non vegetarian. But I must admit that I am partial to pork and prawn spring rolls.

One of the best spring rolls that I have eaten is at a small Vietnamese restaurant near home. They serve thin, crispy spring rolls to be dunked in a delicious dipping sauce. And traditionally, these spring rolls are eaten wrapped inside lettuce leaves and a couple of mint leaves. Though generally iceberg lettuce is used, I enjoyed this with cos lettuce this time. Let me tell you, once you have it this way, you will not want to eat spring rolls any other way.

The cool crispiness of the lettuce followed by the crunchy deliciousness of the spring roll finishing off with minty freshness and all of it tied together by the sweet and spicy dipping sauce.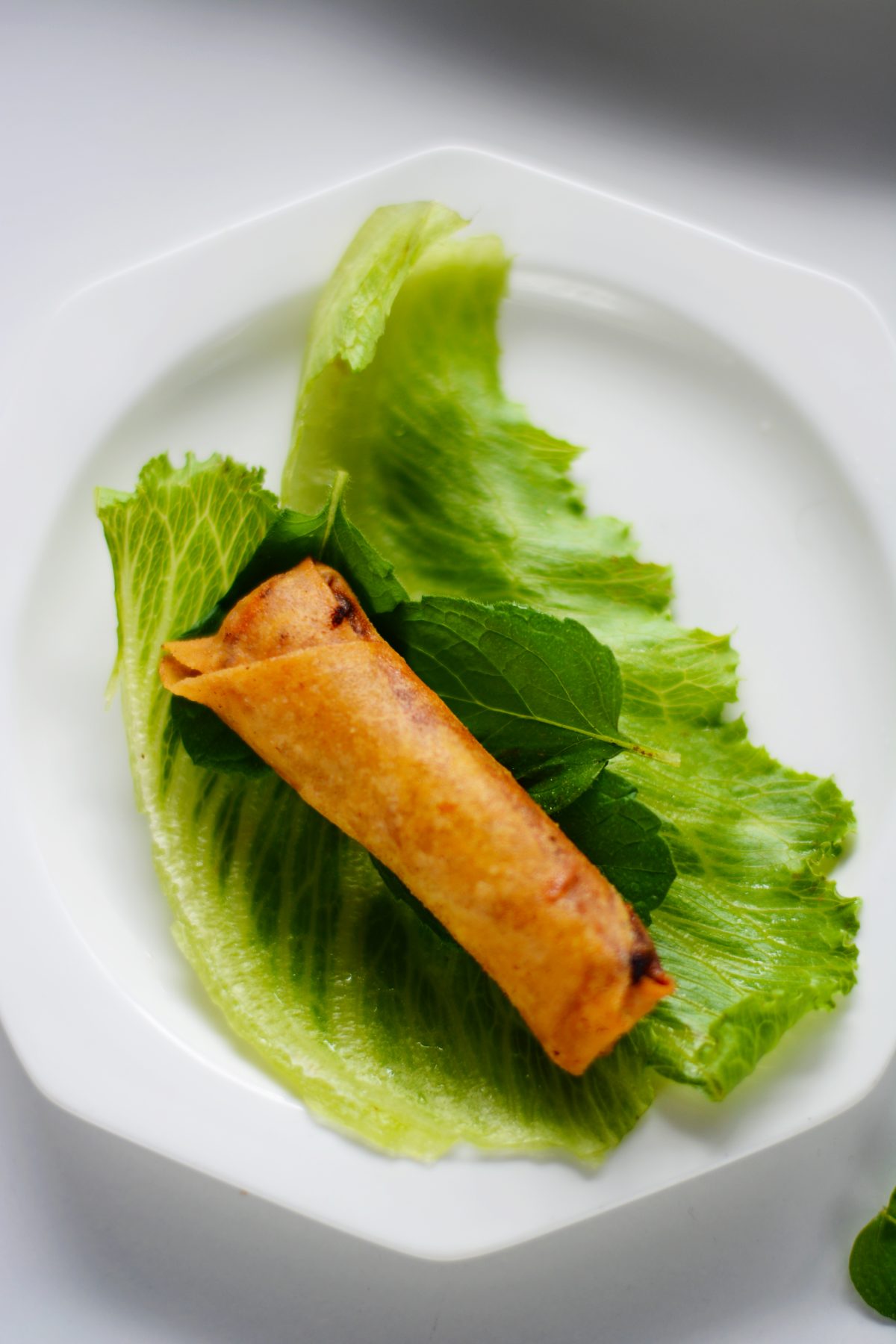 So you get the point…it is delicious!

Now Adi is not too fond of the lettuce/mint leaves/dipping sauce combo; he just prefers dunking it in store brought sweet chilli sauce. And I am sure his buddies are gonna think the same. But all of us do agree on one thing that these Vietnamese prawn spring rolls are the best.

Psst…..I also managed to sneak in some extra amount of carrots. I am sure the mummies are gonna love the idea.

If you are making spring rolls for the first time, then you might take a bit of practice to get it right but hey, it's no rocket science. I hope the images are helpful or you can just watch any 'how to make spring roll' video on YouTube.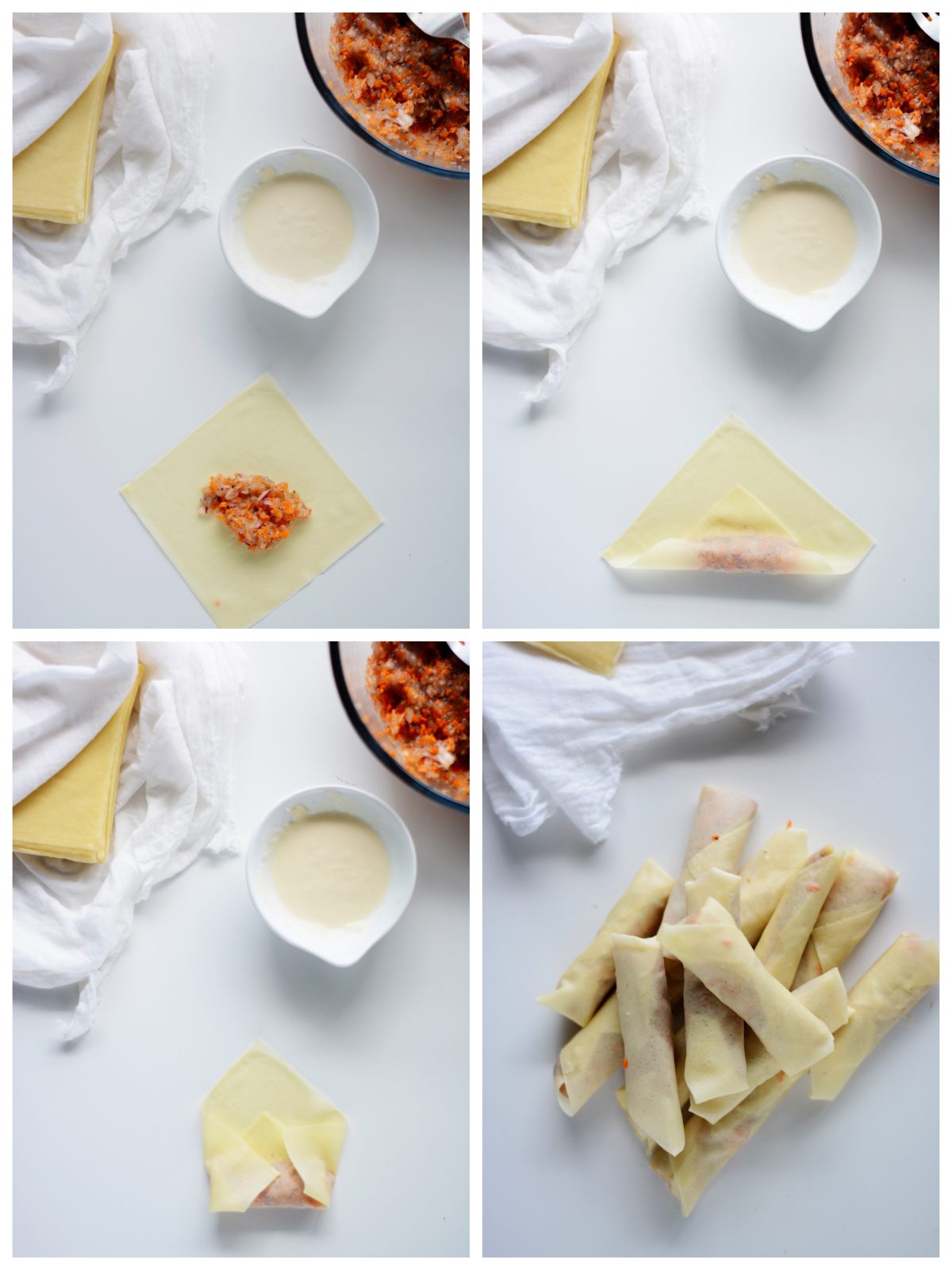 Apart from these spring rolls, I am also planning to make these Chilli Chicken Bites. Do you have any easy suggestions that I could try out? Would love to hear all of it….

Without wasting any more time, let's get frying these delicious Vietnamese prawn spring rolls!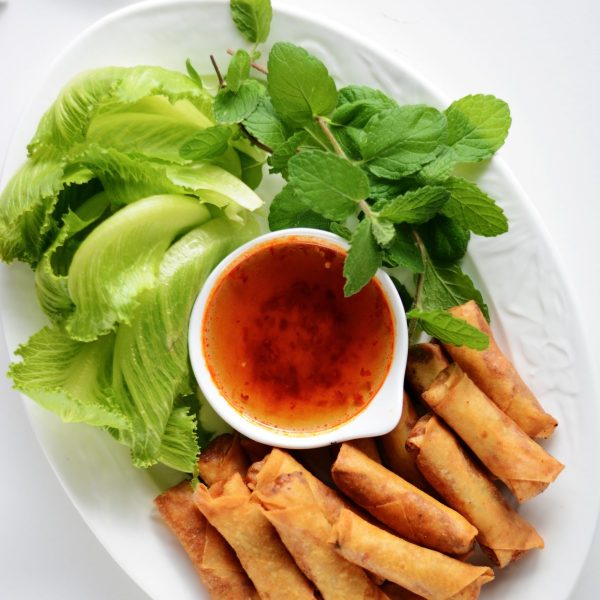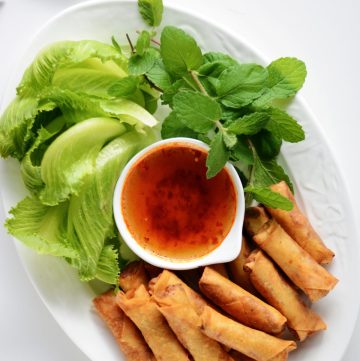 Print Recipe
Vietnamese Prawn Spring Rolls
Ingredients
For the spring rolls:
1

packet spring roll pastry

small

300

gms prawns; deshelled and deveined

1

large carrot; grated

1

medium onion; finely chopped

1

tbsp

garlic powder

1

tsp

sugar

1

tsp

black pepper

Salt

to season

Paste mixture for sealing the pastry:

1

tsp

all purpose flour

1

tsp

water

Vegetable oil; for deep frying
For the dipping sauce:
2

tbsp

vinegar

3

tbsp

fish sauce

2

tbsp

sugar

1

cup

water

½

tsp

chilli paste

optional
To serve:
2

heads of Cos lettuce; leaves separated

A bunch of mint leaves
Instructions
Mince or finely chop the prawns. Remember it should have a bite so do not overmince to a paste like texture.

Add the carrots and onions along with the garlic, sugar, pepper and salt. Mix well to combine till you get a uniform consistency.

Mix the flour and water to get a paste like consistency which is to be used for sealing the ends of the pastry.

It is faster if you separate your pastry sheets in advance and store in an air tight container or zip lock bag to prevent drying out. Alternately, you can separate the sheets that you want and then wrap in a damp cloth, removing one at a time.

Place the sheet in a diamond shape (i.e. one pointed end of the sheet towards you as depicted in the picture).

Place a small amount of the filling at the end towards you (do not overload with filling as this tends the roll to break open while frying). Hold the edge and fold over the filling towards the other end and then pull it tightly towards you so that the filling is nestled tightly inside. The tighter the roll, the better will be the shape of your spring roll and also helps it from breaking in the oil.

Fold the other two ends towards each other and roll the whole thing into a cylinder. Seal the end with the flour paste to secure it tightly. Place in an airtight container and cover with lid immediately to prevent drying out.

Repeat the same for all the rolls.

Heat enough oil in a deep pan to deep fry the rolls. To check if the oil is hot enough, insert a chopstick or wooden spoon; if you can notice bubbling around the wooden part, then the temperature is right. Do not over heat the oil as this will burn the rolls outside without cooking the inside prawn meat.

Also, fry only 4-5 rolls at a time in a medium sized pan. Overcrowding leads to a temperature drop which results in soggy rolls.

Fry the rolls in batches and place in a strainer. Remove after a few minutes to a kitchen paper. Avoid stacking up to ensure that the crispness stays longer.

To prepare the dipping sauce, mix together all the ingredients; taste and adjust seasoning accordingly.

Serve on a large platter with the spring rolls, lettuce, mint leaves and dipping sauce so that each person can customize to individual taste preferences.
Notes
Spring roll pastry sheets come in both small and large sizes. I have used small ones in this recipe but if you are using large, then adjust the recipe accordingly.
Prawn meat can be substituted with any meat of choice. You can also make a vegetarian version with mashed veggies of choice.