Crispy, juicy Pan fried Salmon with Tomato Butter Sauce will be a delight to your tastebuds. Paired with my favourite spicy green salad on the side, this is a delicious and healthy weeknight dinner for the whole family.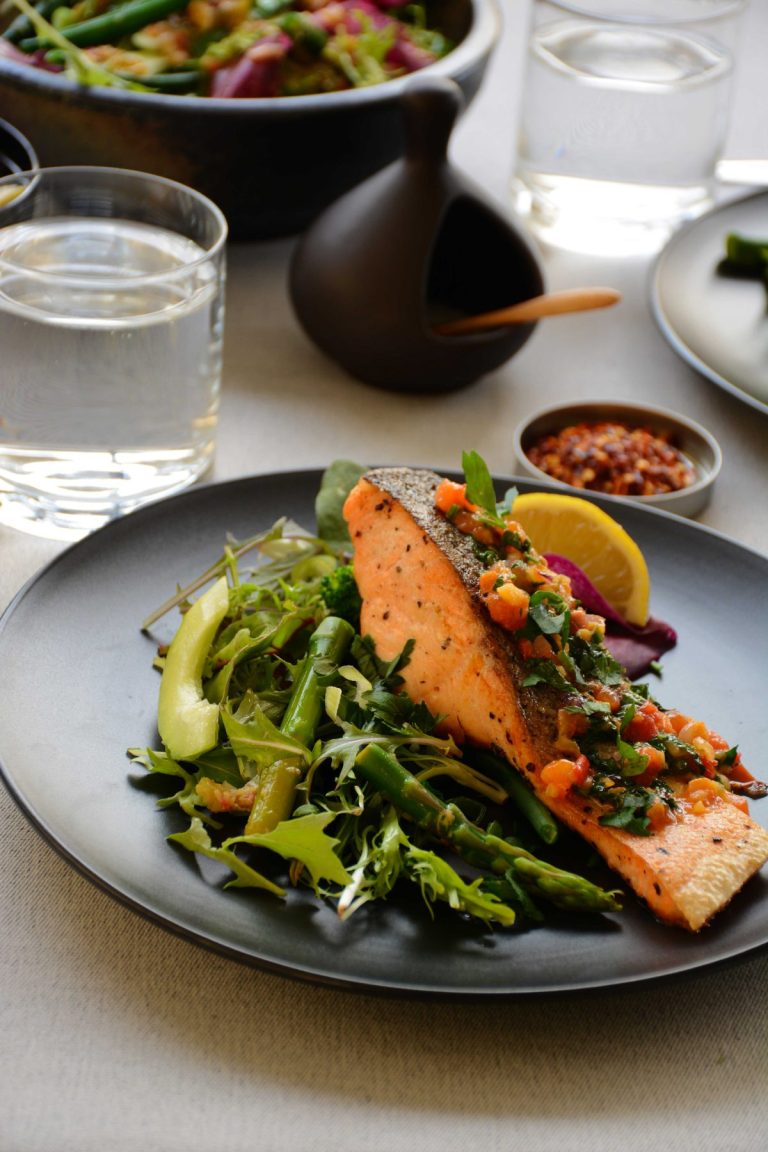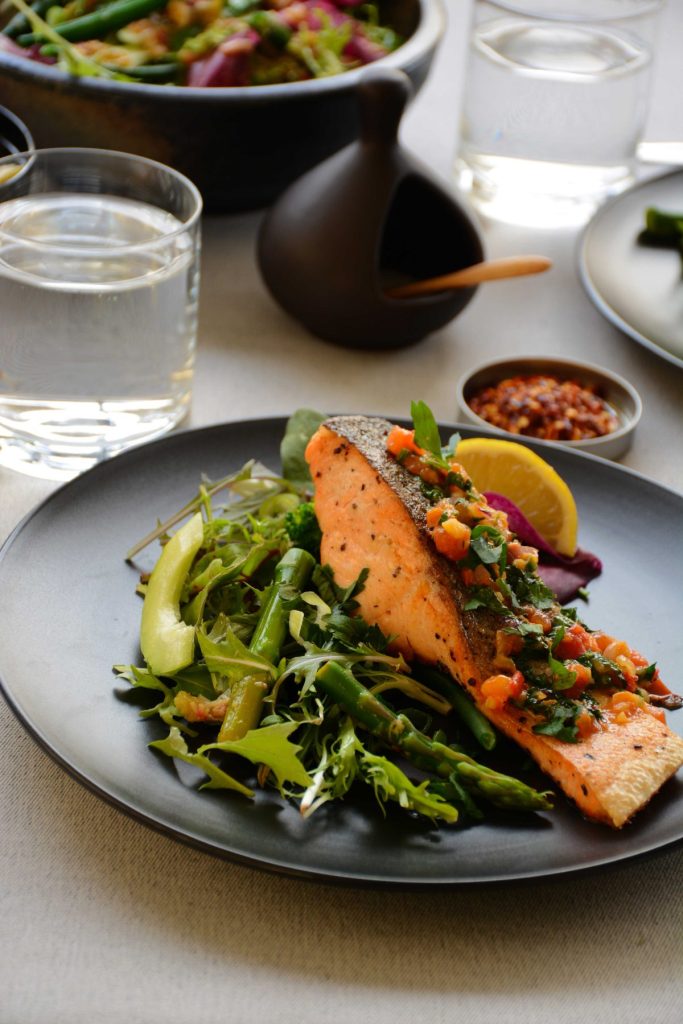 Yes, I am back with yet another seafood dish. And it's one that I thoroughly enjoyed cooking and eating. Not that I don't enjoy the other recipes here, but this one's special because this is our favourite way to eat salmon.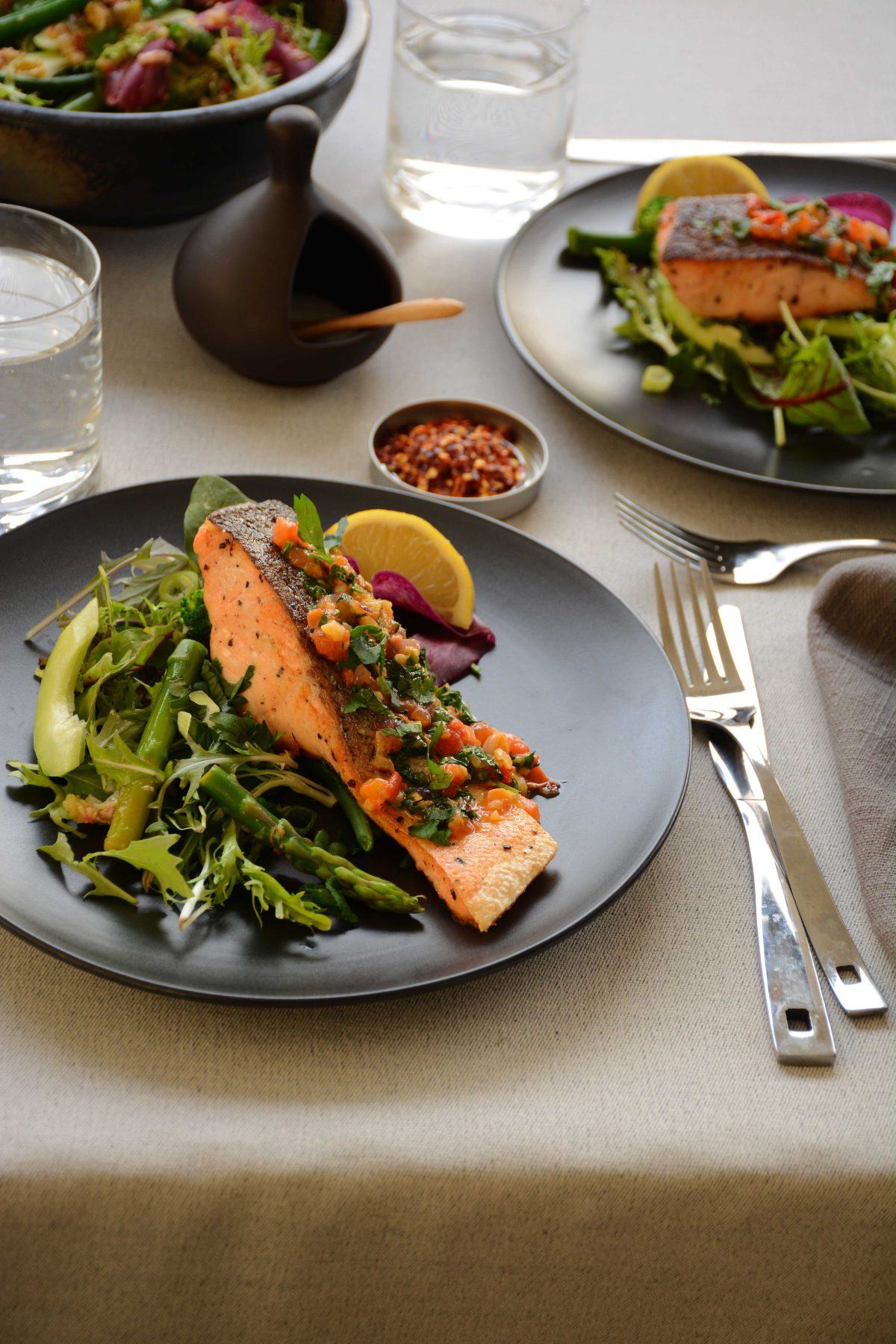 The term holidays are still on and we aren't doing much this time. My little champ was sick for a couple of days and coupled with our house hunting in full spree, there has hardly been time for any activities or fun stuff. Guess we will take a proper vacation once we are settled in the new home.

Coming back to today's Pan fried Salmon with Tomato Butter Sauce, simplicity is key when cooking with salmon. Do not get tempted to add too many flavours or spices to the fish itself which takes away from its real flavour. Instead, add flavour to the remaining components on the plate like this deliciously spicy green salad and a simple tomato butter sauce. Not much of a sauce actually, it's more like a quick sauté and butter makes everything delicious right.

The spicy green salad is an awesome way to eat your greens especially if you think green salads are bland and boring. And isn't it just gorgeous! Love how those purple carrots add that pop of colour to the greens. Use whatever seasonal greens are available in your area; you can even use the dressing for any sort of salad you like to have.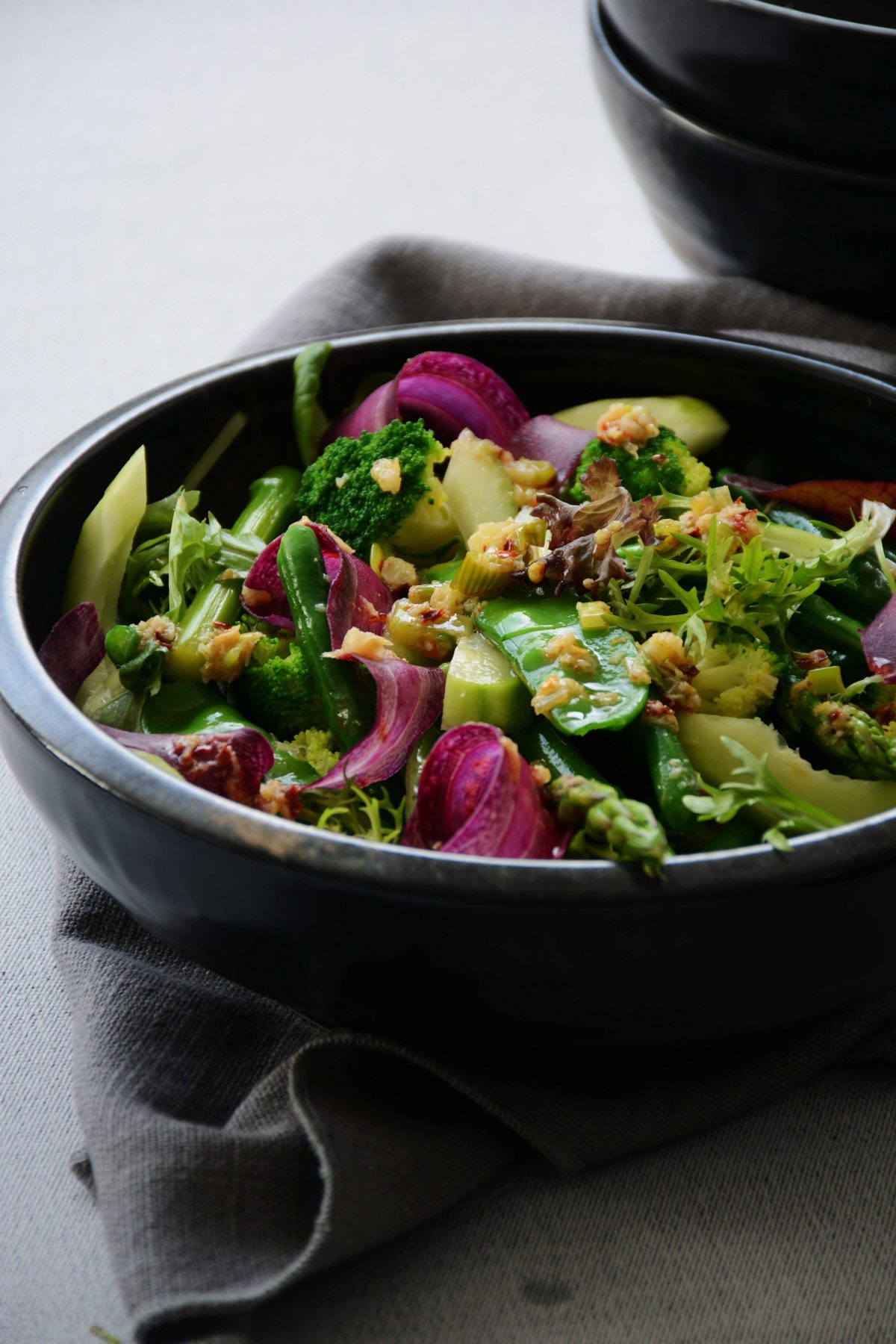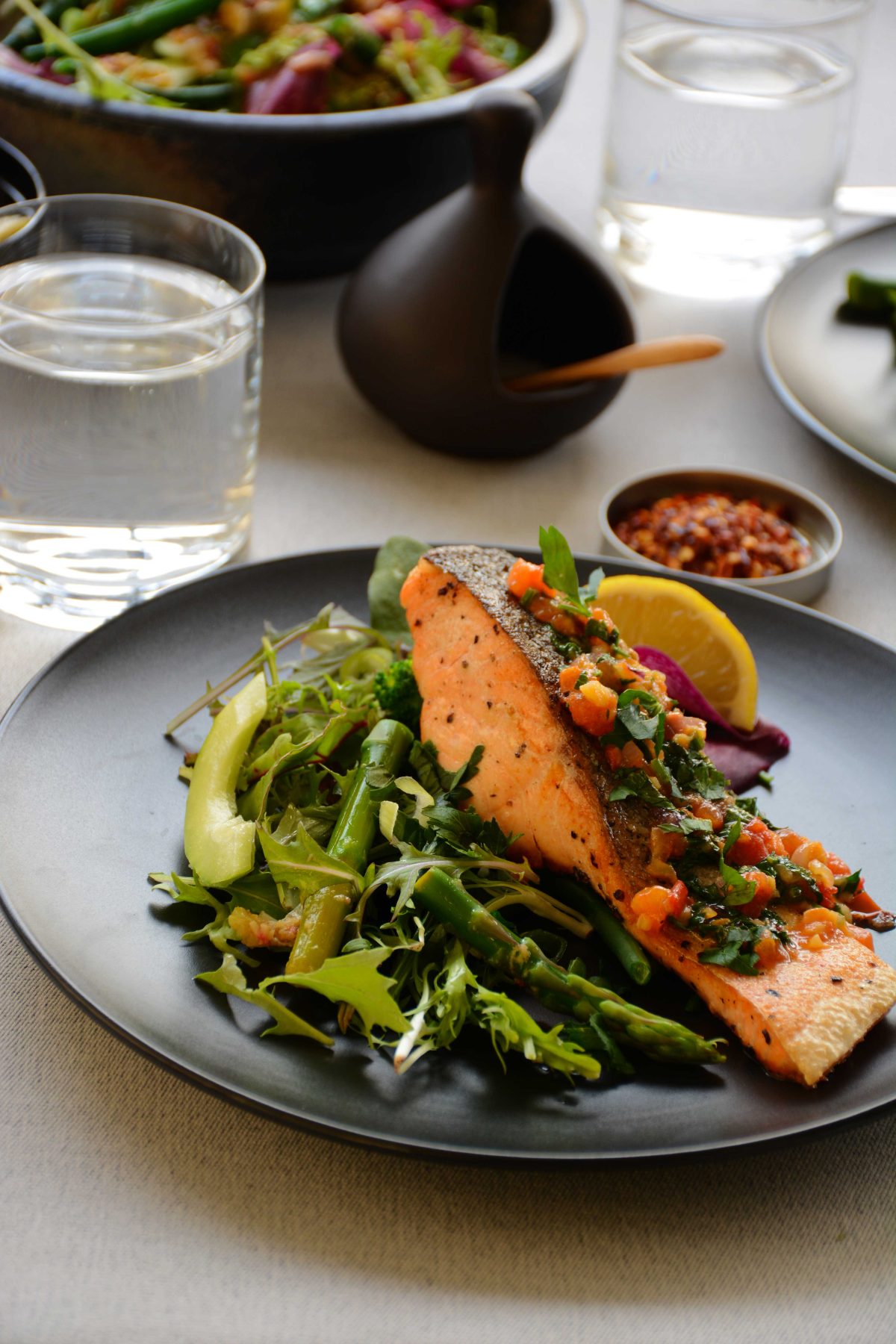 Even with 3 components, this Pan fried Salmon with Tomato Butter Sauce that comes together in no time at all which makes it perfect for weekday dinners. A light yet healthy and filling meal for the whole family. And if you make it, please tag me on the post #thespiceadventuress so that I could see it too. Enjoy peeps!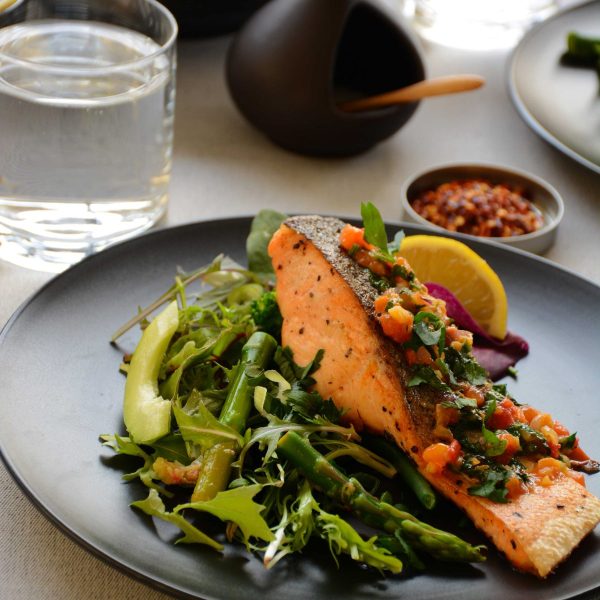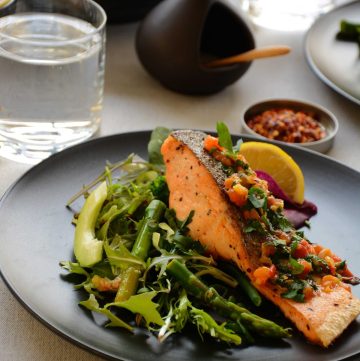 Print Recipe
Pan fried Salmon with Tomato Butter Sauce
Ingredients
For the salmon:
3

salmon fillets

with skin

Salt

to season

Freshly milled black pepper

to season

3-4

tbsp

olive oil
For the tomato butter sauce:
5

tbsp

butter

1

garlic clove; finely chopped

1

small onion/shallot; finely chopped

1

ripe tomato; pulp removed and finely chopped

2

tbsp

fresh coriander leaves; finely chopped

Salt; to season

Freshly milled black pepper; to season
Instructions
For the tomato butter sauce:
In a pan, add the butter along with the garlic and cook on low heat till the garlic starts to get a bit of colour. Do it on low heat to infuse maximum flavour.

Then add the shallots; sauté till softened.

Next add the tomatoes and cook on medium heat till the tomatoes are softened; mash lightly with the back of your spoon and mix well to combine.

Season with salt (taste before you add if you are using salted butter) and pepper.

Remove from heat and mix through the coriander leaves.
For the fish:
Season the fish well with salt and pepper. Heat oil in a pan and place the fillets, skin down. (Place each fillet and hold it down flat for a few seconds to prevent the fish from curling up and to get that nice even caramelization on the skin). Cook one side well before turning over and remove when done. Remember salmon should never be overcooked so remove to another plate when done rather than leave it in the pan.
To assemble:
Arrange a handful of the green salad on a plate. Place one fillet of the pan fried salmon on one side of the salad and spoon a little of the butter sauce on top of the fish. Enjoy!