Kootu Curry (Kerala style Chickpeas, Plantain and Yam Curry) – a delicious dish that's a part of Onam sadya! Black pepper is used liberally to lend flavour and the creamy texture of this dish makes it perfect to be enjoyed with rice.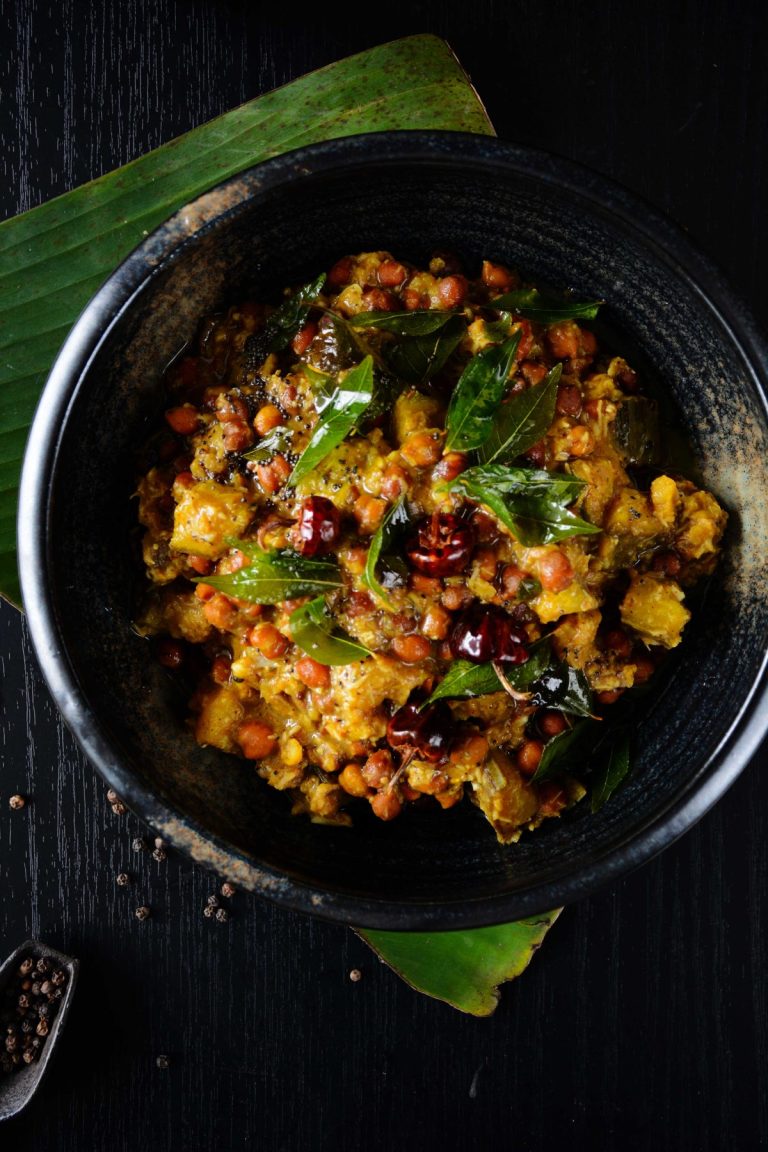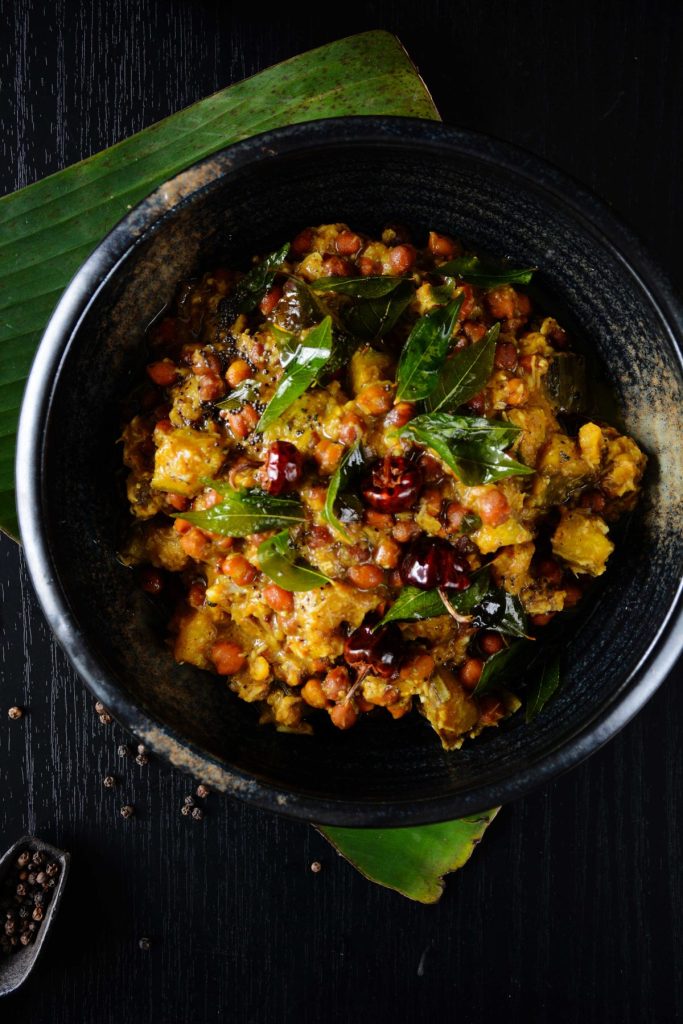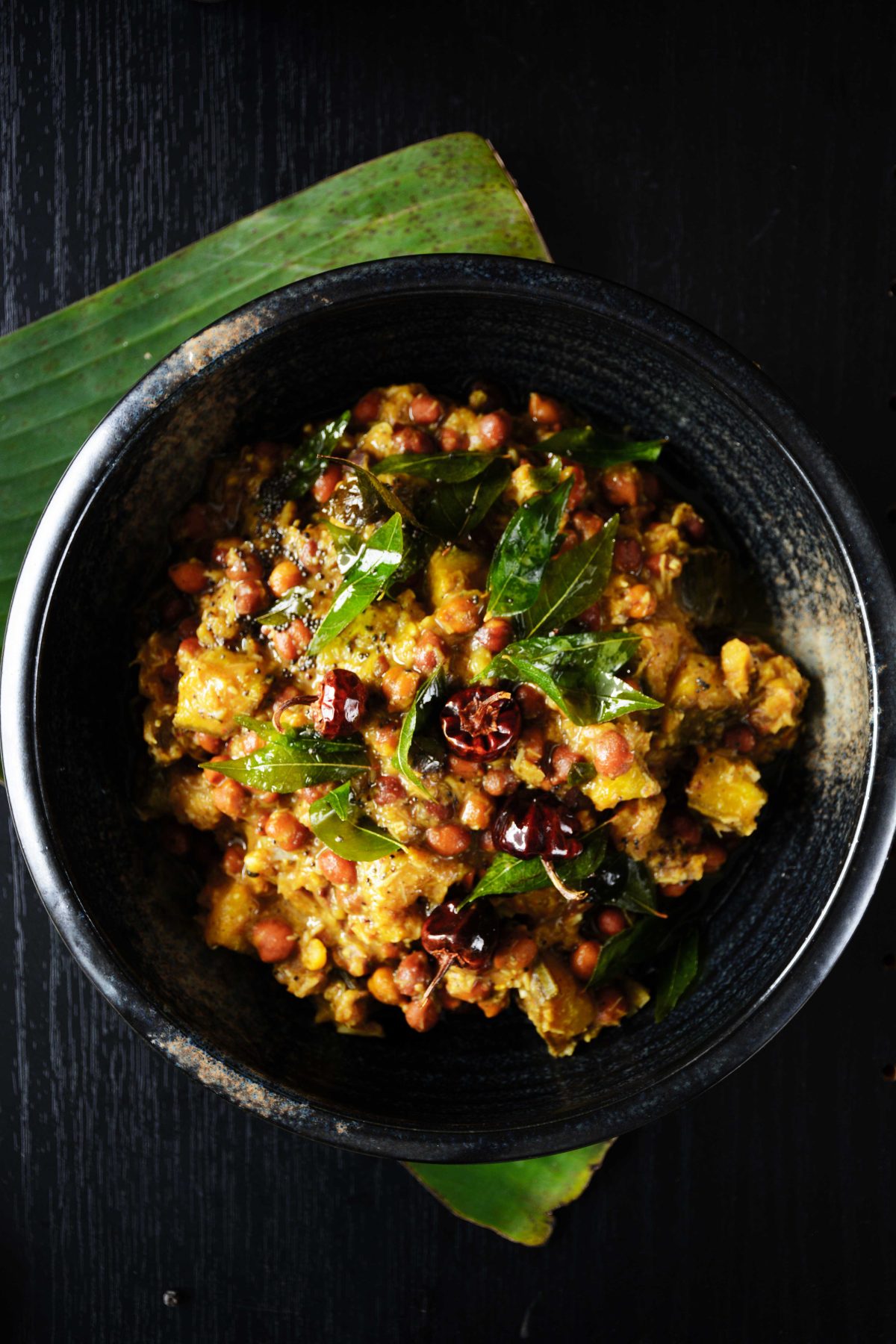 The flavours of Kerala can throw a real surprise to those who are not familiar with the state. The style of cooking and choice of ingredients can be so varied from region to region inspite of it being such a small state in terms of topography.

Most people associate Kerala with non vegetarian food, which is understandable given the state's fixation with seafood and beef. But the land also has a vast repertoire of vegetarian dishes, many of which are practically unheard of like today's Kootu Curry. A disclaimer here…..there are a few versions of this dish that can be found across the state but the recipe that I am sharing with all of you comes from the Malabar region (which in my opinion is the most delicious!)

So the Kootu curry is essentially a mixed vegetarian curry and is always prepared using black chickpeas, raw plantain and Indian yams. This dish is a true representation of the state as the main flavour components are coconut and peppercorns. It is the Malabar region that gave 'peppercorns' aka 'black gold' to the world. So the Kootu curry is a befitting tribute to that discovery which changed the course of the world.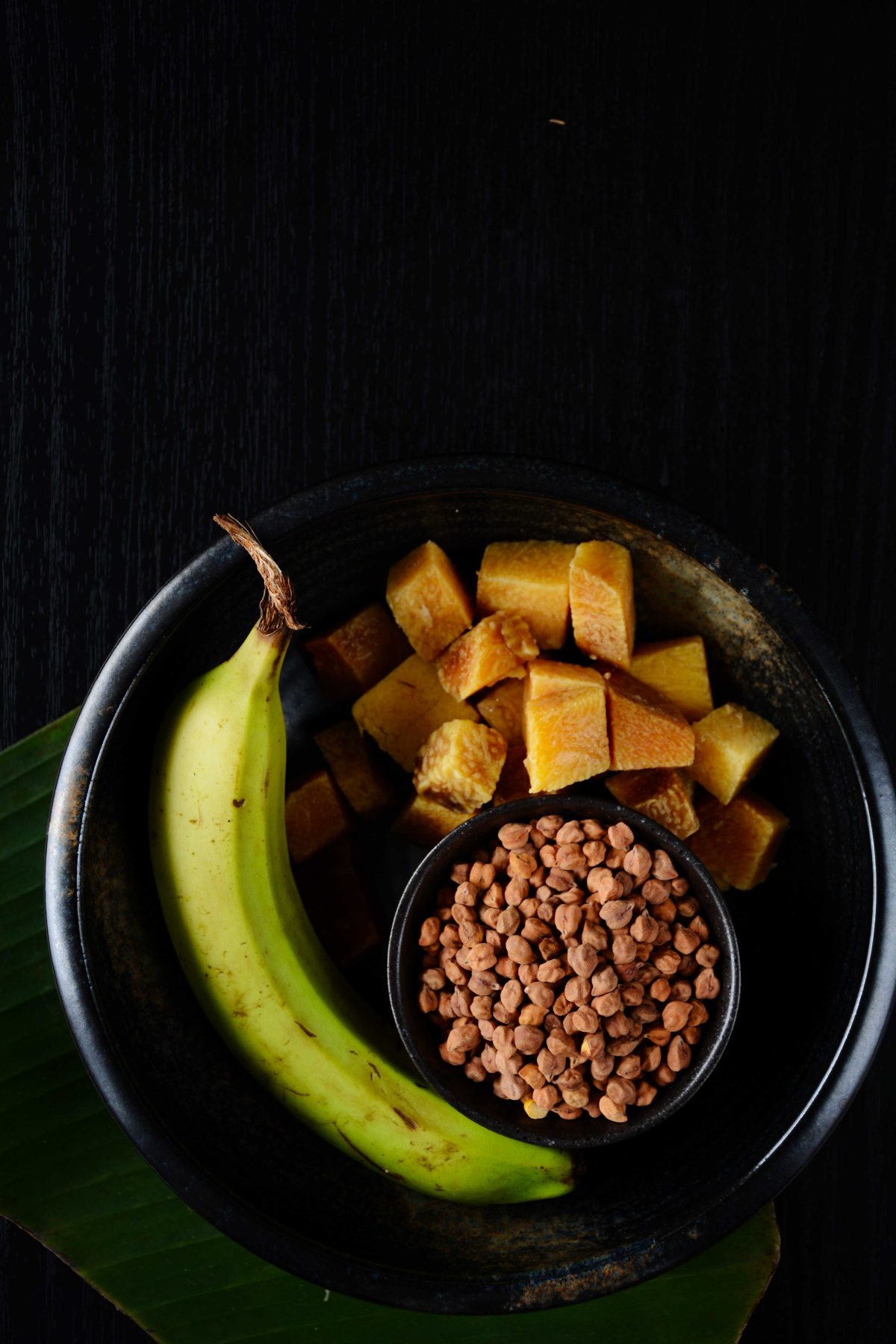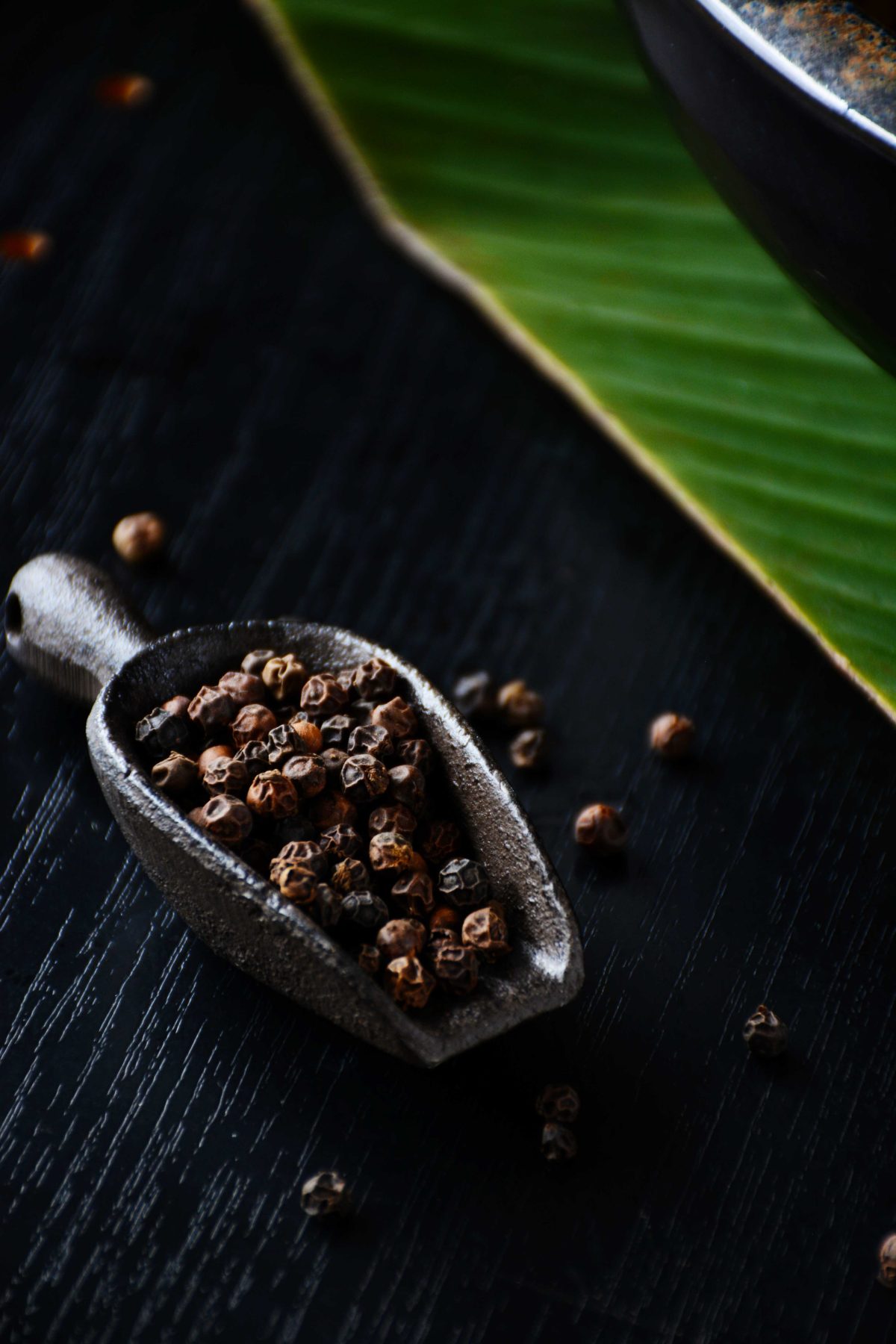 I am yet to find the Indian variety yams in any of the Melbourne markets, most often I find the other Asian varieties. Now if you are not looking for the exact traditional recipe, you may use that though the taste will vary slightly. Or you could get these traditional Indian ones, which are available frozen in most Indian stores.

The Kootu Curry is also an integral part of the Onam sadya (the banana leaf feast which Kerala is famous for); it's one of the several dishes that make up the feast. But for everyday purposes, this is best served as a side to steamed rice and dal. To complete, add some pappadums!

So add these ingredients to your shopping list so that we can get cooking Kootu Curry or Kerala style black chickpeas, plantain and yam curry with coconut and peppercorns.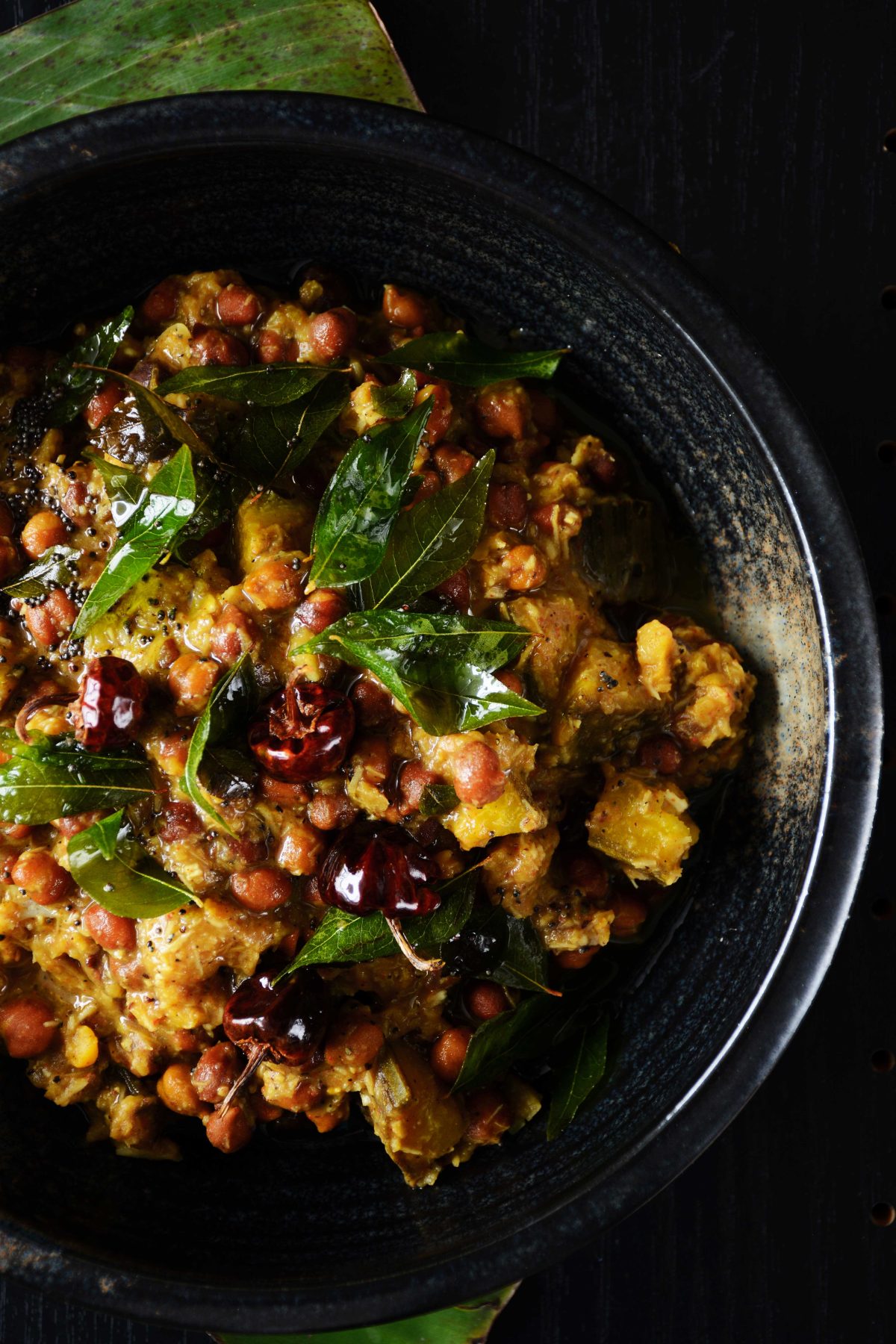 For more delicious and traditional Onam recipes, visit this article.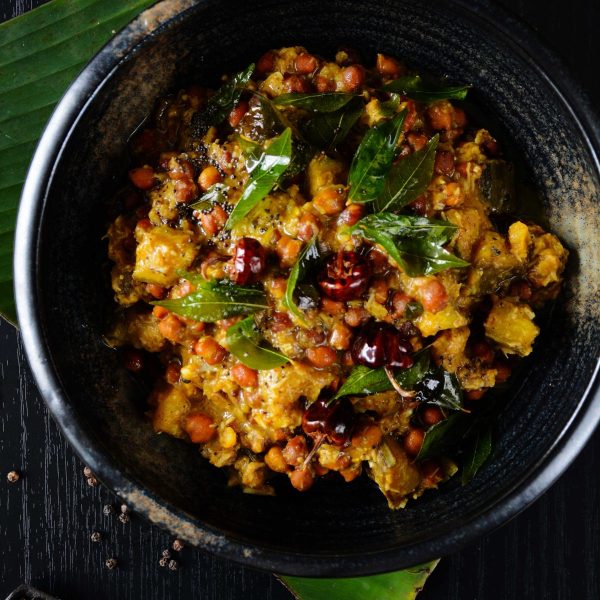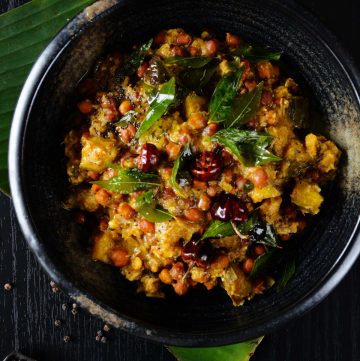 Print Recipe
Kootu Curry (Kerala Style Chickpeas, Plantain AND Yam Curry
Ingredients
1

cup

black chickpeas; washed and soaked overnight

1

medium sized raw plantain; cut into large chunks

100

gms yam; diced

½

tsp

turmeric powder

½

tsp

red chilli powder

½

cup

grated coconut

1 ½

– 2 tbsp black peppercorns

2

large garlic cloves

2

tbsp

coconut oil

½

tsp

black mustard seeds

2

sprigs curry leaves

2

dry red chilli

Salt

to season
Instructions
To a pressure cooker, add the black chickpeas with 1 ½ cups water, season with salt and cook till ¾ ths done.

In another pan, cook the plantain along with red chilli powder, half of the turmeric powder, salt and 1 ½ cups water till done. Drain and keep aside.

Add the diced yams to the black chickpeas and cook till the yams are lightly mushy (use the back of the ladle to mash the yams if necessary). Then add the drained plantain and mix well to combine.

Coarsely crush the grated coconut, peppercorns and garlic in a mortar and pestle or grinder and add this to the cooked chickpeas. Add the remaining turmeric powder and mix well to combine.

Taste and season with salt if necessary. Cook in low heat for 1-2 minutes and remove.

To temper, heat coconut oil in a small pan and crackle the mustard seeds. Then add the curry leaves and dry red chilli. Pour this over the prepared chickpeas and mix well to combine.

Keep covered for at least 15 minutes before serving.

Enjoy with a bowl of rice and dal/lentils.