Filipino style Grilled Barramundi – an Indian interpretation of a traditional Filipino dish known as Fish Sarciado.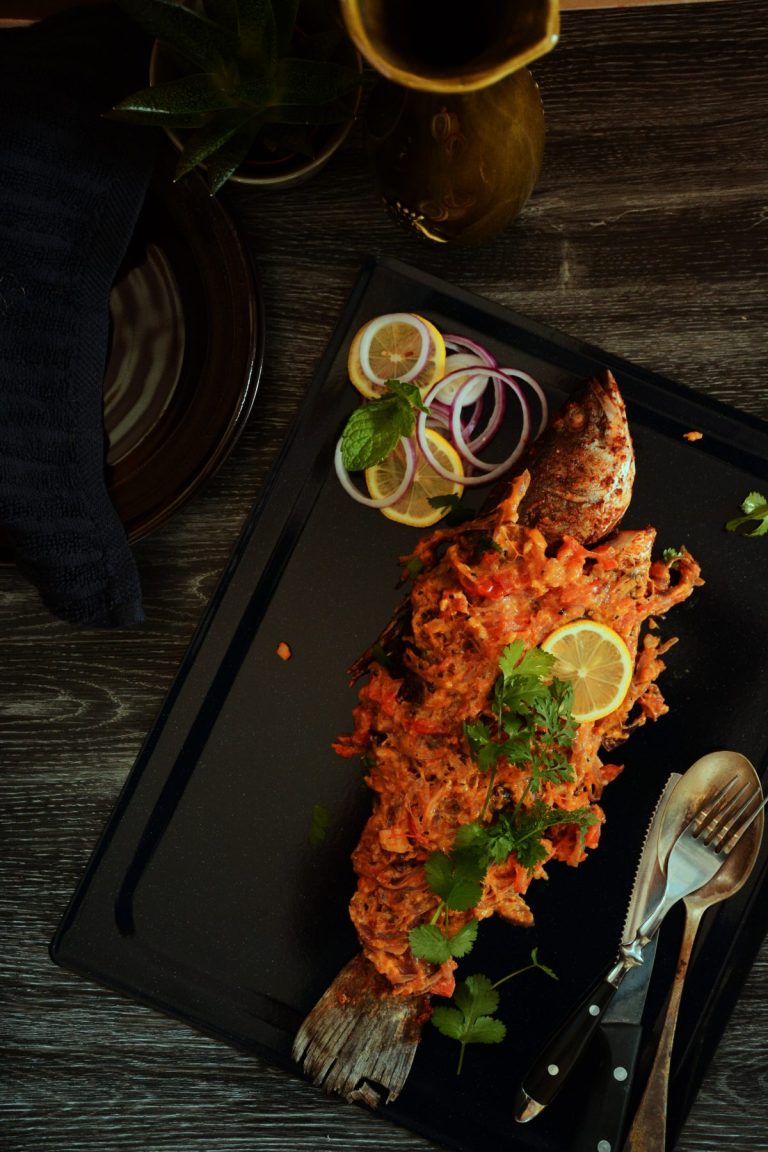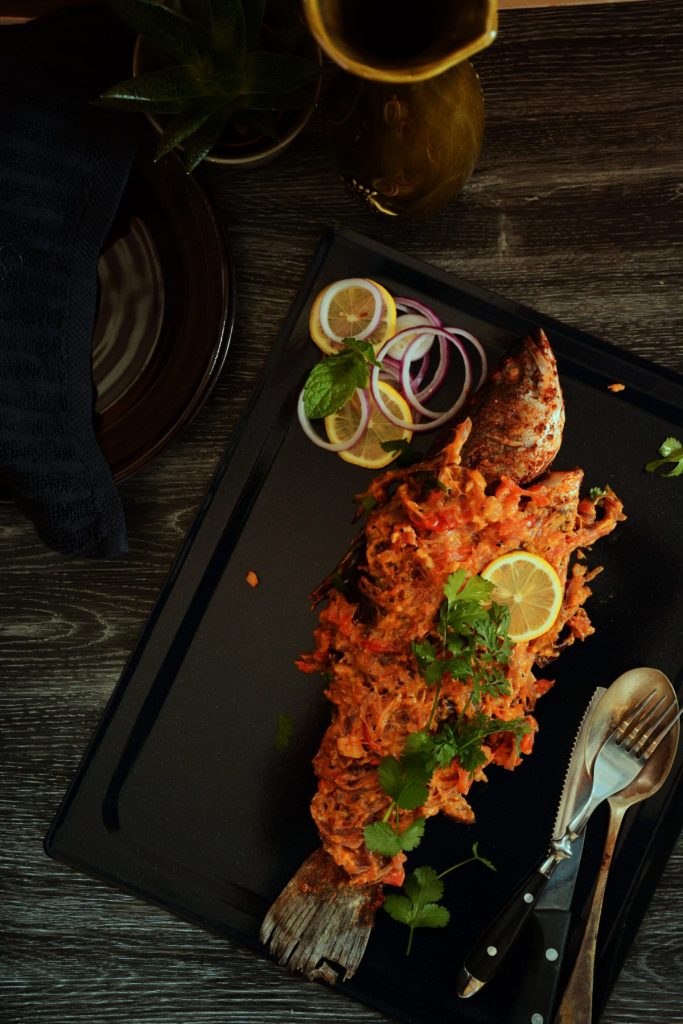 When I first came across this recipe, I found it a bit strange as it mentioned the use of eggs. Now I have never paired fish and eggs or eaten a similar combination before so it all sounded weird. But still the flavours struck a chord because it reminded me of this tomato egg chutney.

Not being one to turn down a challenge, I decided to give it a go but with my own tweaks because the original recipe sounded a bit bland to my bolder tastebuds. So out came my spice jars and a few experiments later, I had this delicious Filipino style Grilled Barramundi on my plate.

Traditionally whole fried fish is used, often as a way of giving leftovers a new life. But I decided to grill the fish as it is a healthier choice. You also have the option to grill it on the stovetop, use an oven or a barbie….more choices.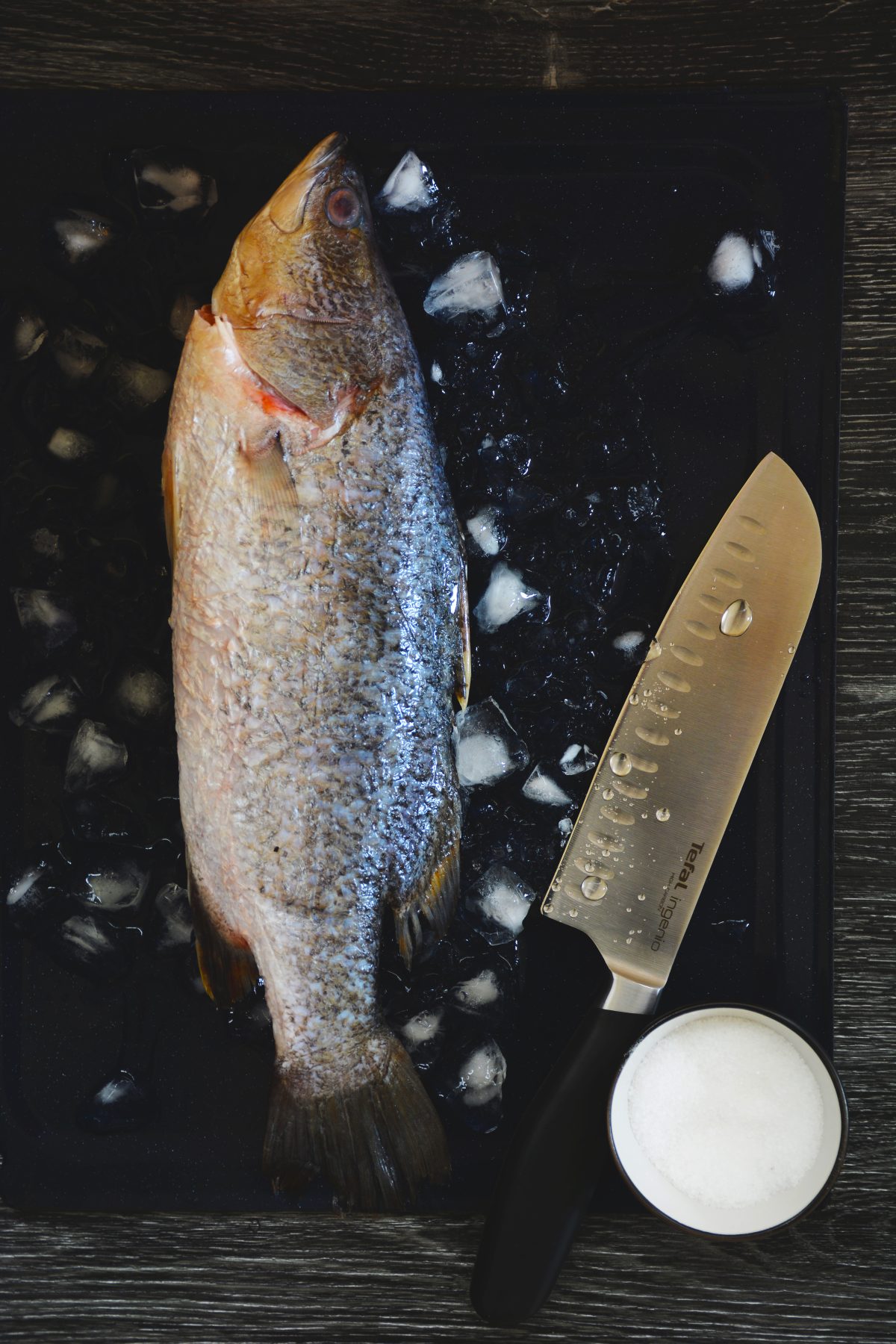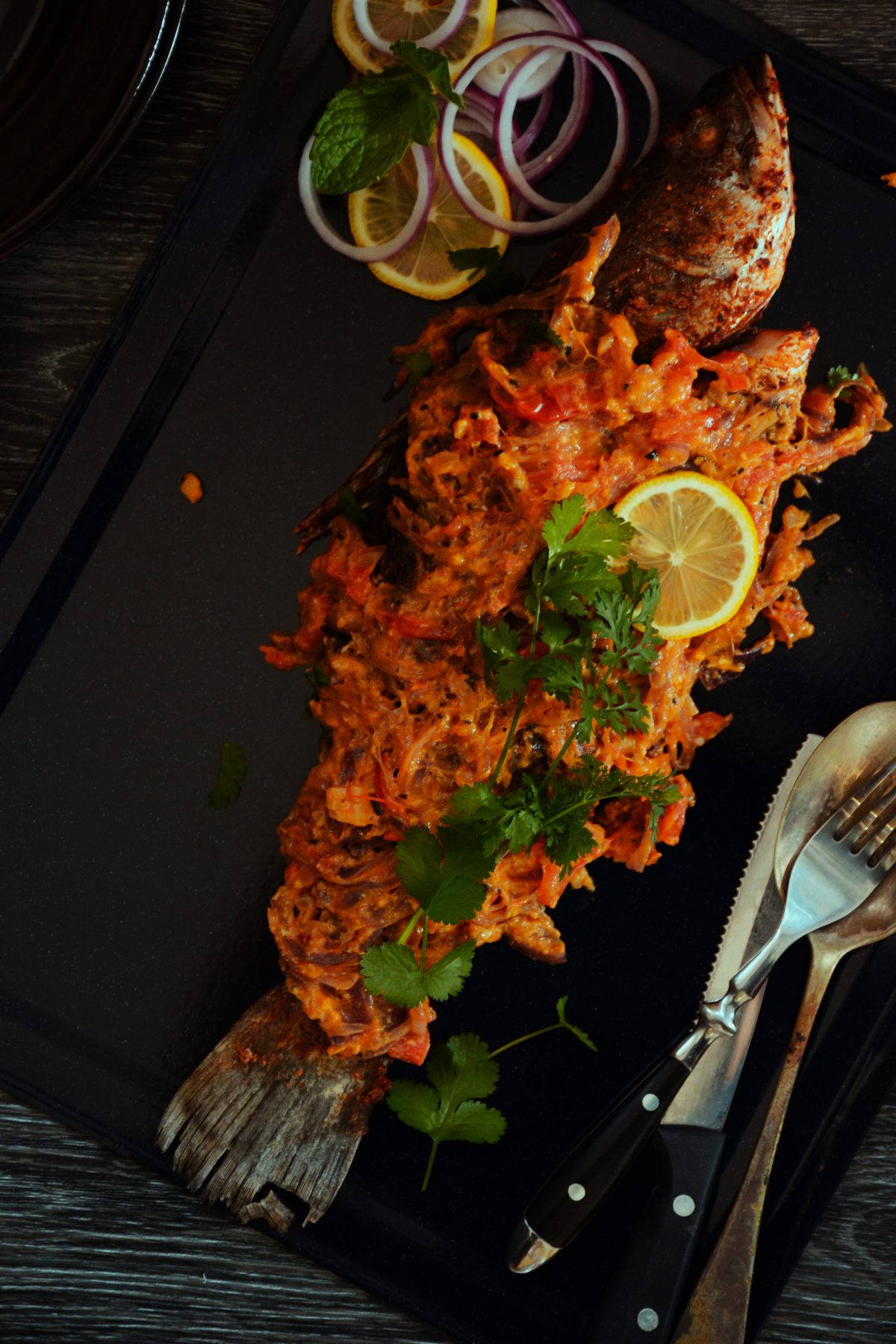 Marinating the fish with a spice paste definitely adds more flavour especially when you are using a whole barramundi. At the same time, I didn't want it to be overpowering to take away from the main flavours either. So a simple marinade using Kashmir chilli powder (more colour, less heat), pepper and cumin mixed in oil was used to coat the fish.

If you are preparing the Filipino style Grilled Barramundi for a party or get together, I would suggest marinating the fish the day you buy it and then refrigerate or freeze depending on when you will be using it. This allows time for the flavours to penetrate well especially for a fleshy fish like barramundi.

The rest of the dish comes together very easily and is best done just before serving as it tastes best when served warm. I love whole fish preparations when feeding a crowd and it always creates quite a drama when presented as the centre piece at the table. Gets everyone talking and reaching out for their favourite bits; the communal feeling that is best experienced over food.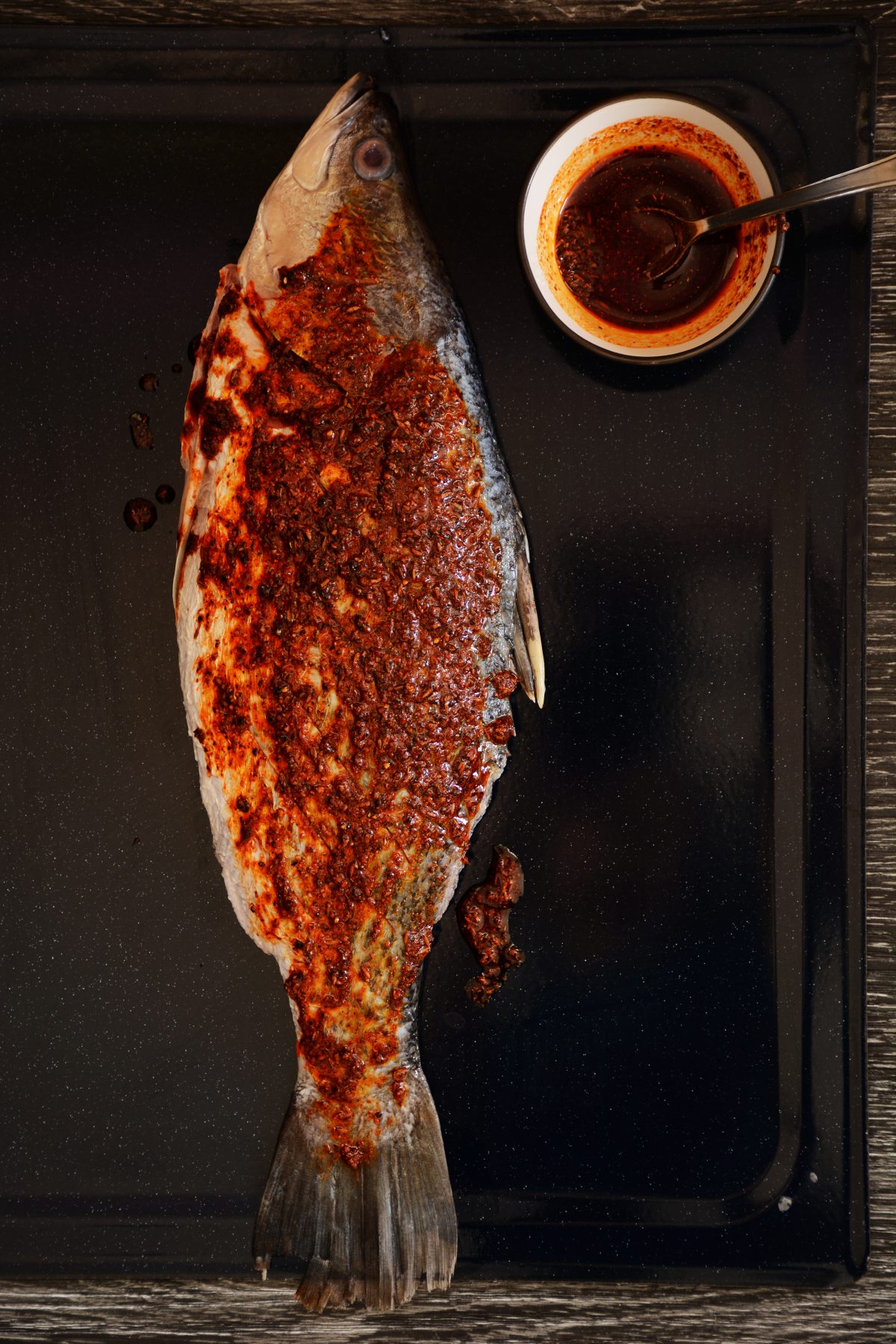 Don't be put off by the fish and eggs pairing, do try it out this Filipino style Grilled Barramundi and let your tastebuds make the decision.

Recipe adapted from apronandsneakers.com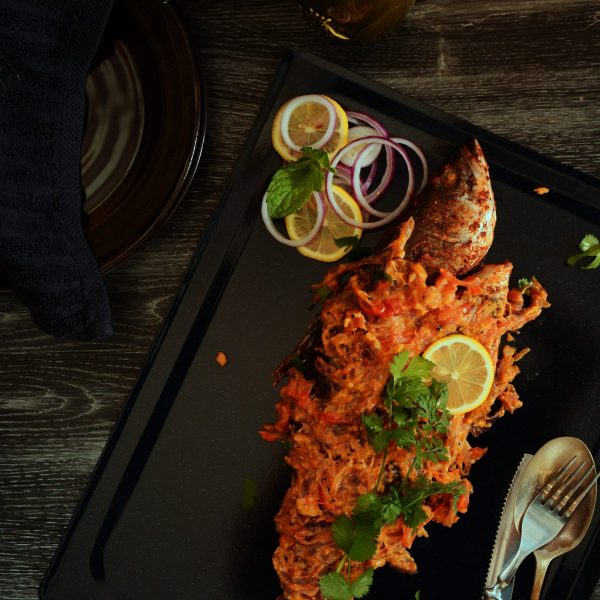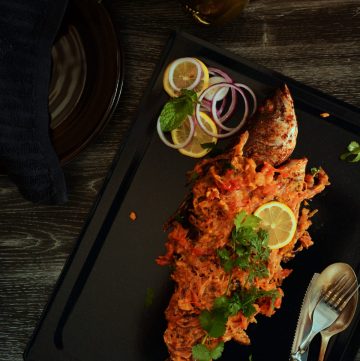 Print Recipe
Filipino style Grilled Barramundi
Ingredients
1

whole barramundi

approx 800gms; cleaned, descaled and gutted

2

tbsp

vegetable oil

2

large garlic cloves; crushed

1

large onion; finely sliced

3

ripe red tomatoes; finely sliced

1

tbsp

fish sauce

Freshly ground black pepper; to season

Salt; to season

1

egg; whisked well

Fresh coriander leaves; chopped

Onion rings; to garnish

Lemon slices; to garnish
Marinade for fish
2

tbsp

vegetable oil

1 ½

tbsp

Kashmiri chilli powder

1

tsp

roasted cumin powder

1

tsp

black pepper powder

Salt; to season
Instructions
Prepare the fish by removing the scales, fins and guts. Clean well, pat dry and score lightly on both sides.

Make a marinade by mixing all the spices in vegetable oil. Apply this generously over the fish on both sides and keep for at least 30 minutes.

Heat the grill on high and oil it well; when smoking hot place the fish and grill on medium heat. Turn sides only when one side has been cooked well; this helps to prevent the fish skin from sticking to the grill. Cook on the other side and remove to a platter when done.

In another pan, heat oil and add the garlic and onion; sauté till the onions turn translucent.

Add the tomatoes and continue to cook till the tomatoes have softened well.

Season with salt, pepper and fish sauce.

Mix well to combine and remove from heat. Add in the whisked egg and continue mixing. Place back on heat and cook for a few seconds till the egg mixes through but does not coagulate or scramble.