If you have travelled through Kashmir or have been lucky enough to eat at a Kashmiri wedding, then you would have definitely come across Rista.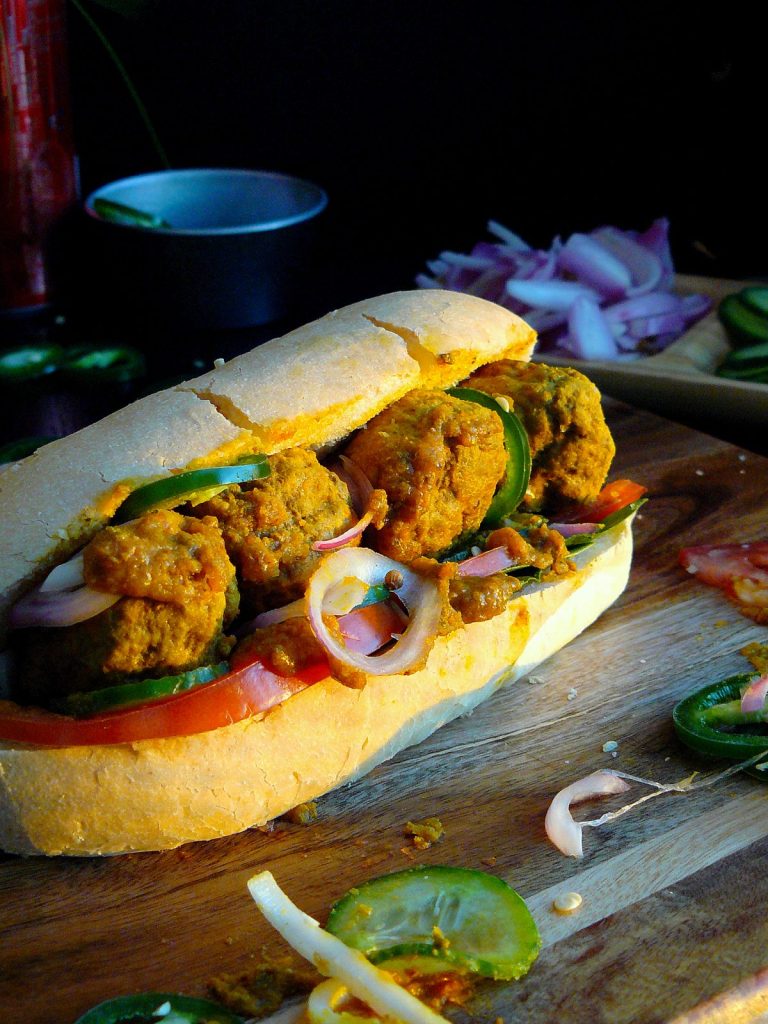 Rista is a famous meatball preparation that holds a prestigious place in the Kashmiri wazwan. For those who don't know what a wazwan is, it is the elaborate traditional feast of Kashmiri cuisine. A multi course, non-vegetarian meal that has become symbolic of the culture of this magnificent region.

Always made using lamb/goat, Rista is a delicious, aromatic and rich meatball curry with a classic deep red colour from the Kashmiri chillies and saffron – two ingredients that are available everywhere these days yet, must be an integral part of your shopping list when visiting Kashmir.

Rista is a traditional dish and involves a bit of prep work like most traditional dishes. The key components of this dish are the lamb mince itself (though in Kashmir, it is most likely to be goat mince, especially from the leg part), chilli water and shallot paste; it is the unique combination of these ingredients that makes this dish special. The mince is traditionally beaten with a wooden pallet to attain the soft, melt-in-your-mouth texture but that might not really work out in our modern kitchens where a food processor would 'almost' do the job.

Though traditionally this dish would be in a curry format i.e. with semi thick gravy, I decided to give it my own spin.

Kashmiri Meatball Sub with Baby Spinach, Pickled Shallots and Jalapenos – yes, that's how I transformed the Kashmiri Rista.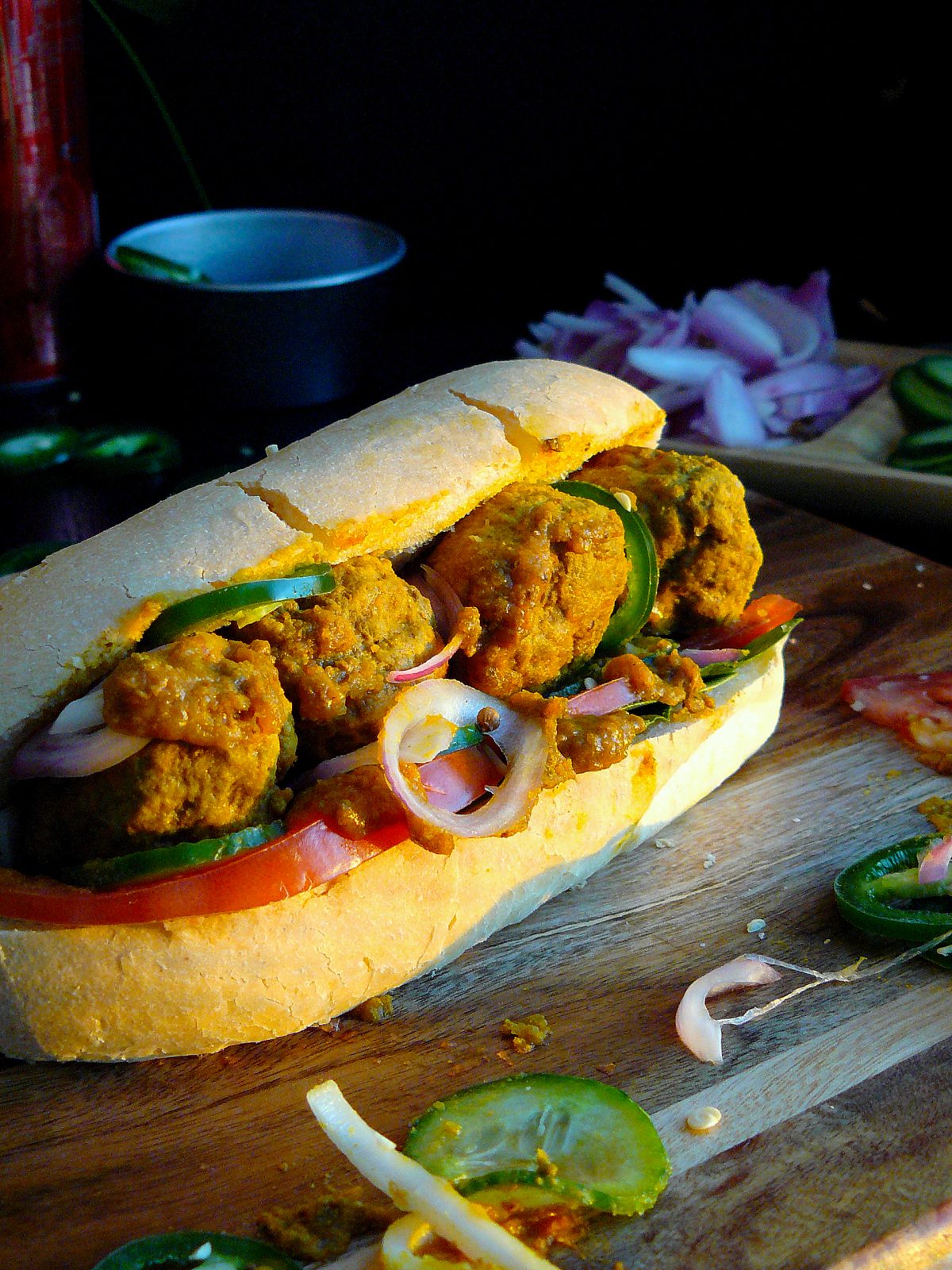 I haven't touched or altered the recipe of making the Rista in any manner and I want to preserve its originality. Only the sauce gets simmered down till it just about coats the meatballs. Shallots are a vital ingredient of Kashmiri cuisine and hence being used in a pickled form to add the sour, salty punch and to cut through the richness. Fresh spinach, tomatoes and cucumbers add a healthy, vibrant freshness and texture to the sandwich…and of course, the jalapenos for that extra kick of heat.

If you do not fancy a subway, you can still follow the recipe and enjoy a delicious and authentic version of Kashmiri Rista. But for those who don't mind a bit of experimentation in the kitchen, try out my version of the Kashmiri Meatball Sub with Baby Spinach, Pickled Shallots and Jalapenos.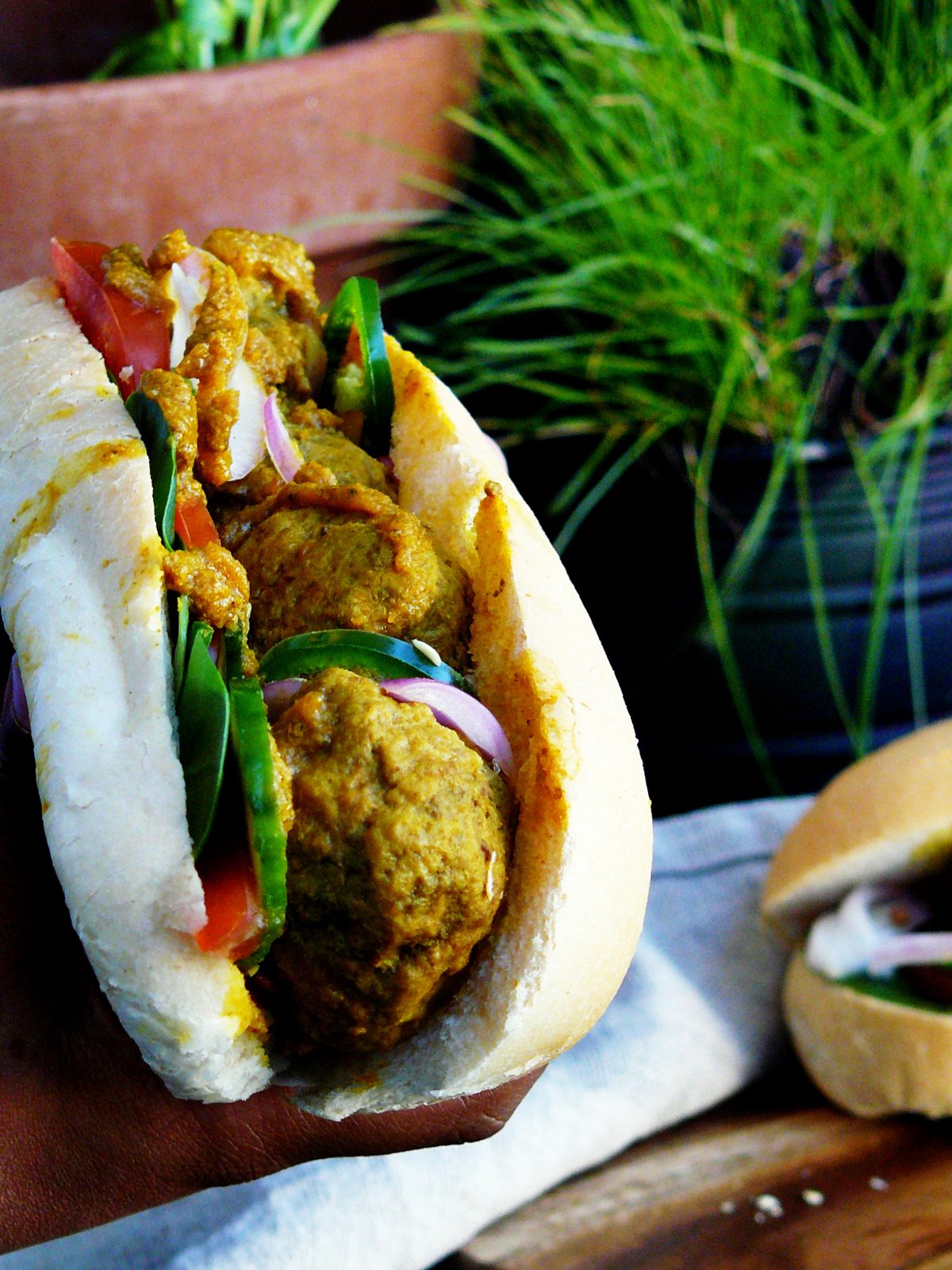 And once again thanks to an amazing friend, Supriya (my expert on Kashmiri cuisine) for teaching me yet another classic from the region. I also learnt the Tabakh Maaz (Kashmiri style Lamb Ribs) and the classic Mutton Roganjosh from her, both of which you need to check out.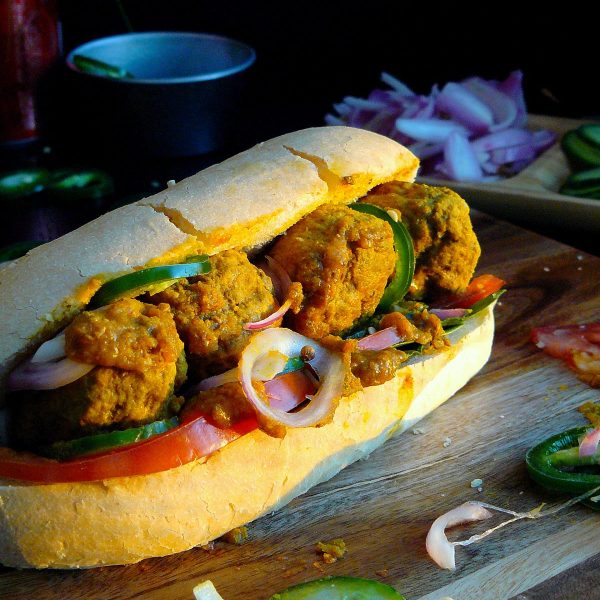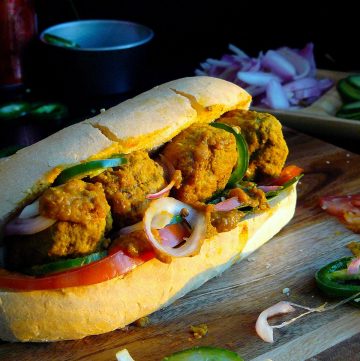 Print Recipe
Kashmiri Rista Sandwich
Ingredients
For the Rista:
500

gm lamb mince

with at least 25%fat content

1

whole egg

4

cups

water

Salt

to season

1

tsp

turmeric powder

5-6

tsp

kashmiri chilli water

½

tsp

garam masala

1 ½

tsp

shallot paste

2

tsp

saffron water

2

tsp

ghee/clarified butter

½

tsp

shahi jeera/caraway seeds
For the sandwich:
Crusty bread rolls

3 meatballs per sub which makes around 4 subs

A handful of baby spinach

2

semi-ripe tomatoes

cut into even discs

1

cucumber

sliced finely

1

cup

pickled shallots

2

fresh jalapenos

sliced finely into discs
Instructions
To make pickled shallots, slice the onions, add 1 tbsp salt, a pinch of sugar and 1 tbsp vinegar. Keep for at least 10 minutes; mix the shallots by hand and then squeeze out all the liquid from the onions.

To prepare the meatballs, add the lamb mince along with one egg to a food processor (If you are adding fat separately, make sure it is added cold). Season lightly with salt and blend for a minute or two. Wet your hands and remove the mince mixture onto a plate.

Place a pan with 4 cups of water on the stove to boil. Begin to roll the meatballs as the water starts to heat up.

Wet your hands lightly to roll the meatballs easily; add each meatball into the water as soon as you roll it.

As the meatballs begin to cook, you will notice the fat begins to leach out into the water which turns it cloudy (this is an important step). Move the meatballs around in the pan to ensure that it cooks evenly on all sides.

Once the meatballs are looking springy or have begun to rise to the surface (this should happen in 5-6 minutes), add the turmeric powder.

Then add the chilli water (do not get worried about the quantity as this does make the dish spicy) and garam masala.

Next, add the shallot paste followed by saffron water. Taste and season with salt; cook for another 1 minute.

Remove the meatballs carefully into a bowl and continue to cook the sauce to reduce and thicken the consistency. You need just enough sauce to coat the meatballs and also to drizzle a bit in the sandwich. Once this consistency has reached, return the meatballs to the pan, mix and remove from heat.

In another pan, heat ghee and add to the meatballs; cover immediately and keep for 5 minutes.

Meanwhile, assemble the other components of the sandwich.

Place all the different vegetables and meatballs in separate bowls so that each person can make his own sub – a fun way to bring family and friends together.

Even though it might look like a whole lot of steps, this is an easy to make recipe once you have all the ingredients at hand.
Notes
To make Kashmiri chilli water, soak 10-12 dried Kashmiri chillies (stems and seeds removed) in warm water for at least 30 minutes. Grind well with water and sieve to get the vibrant red chilli water. Can be refrigerated upto 2 weeks or store frozen as cubes for upto an year.
To make shallot paste, roast 10 – 12 shallots in a pan with a tbsp of oil till light brown. Grind to a paste with as little water as possible. Excess can be refrigerated and stored for upto a week or frozen and used upto a month.
Even though it might look like a whole lot of steps, this is an easy to make recipe once you have all the ingredients at hand.

Bon Appétit!