A simple, delicious and easy to prepare Indo Chinese style Chilli Prawn Fried Rice perfect for the weeknight meal. Make sure to prepare a large batch as it is the best leftover lunch box dish!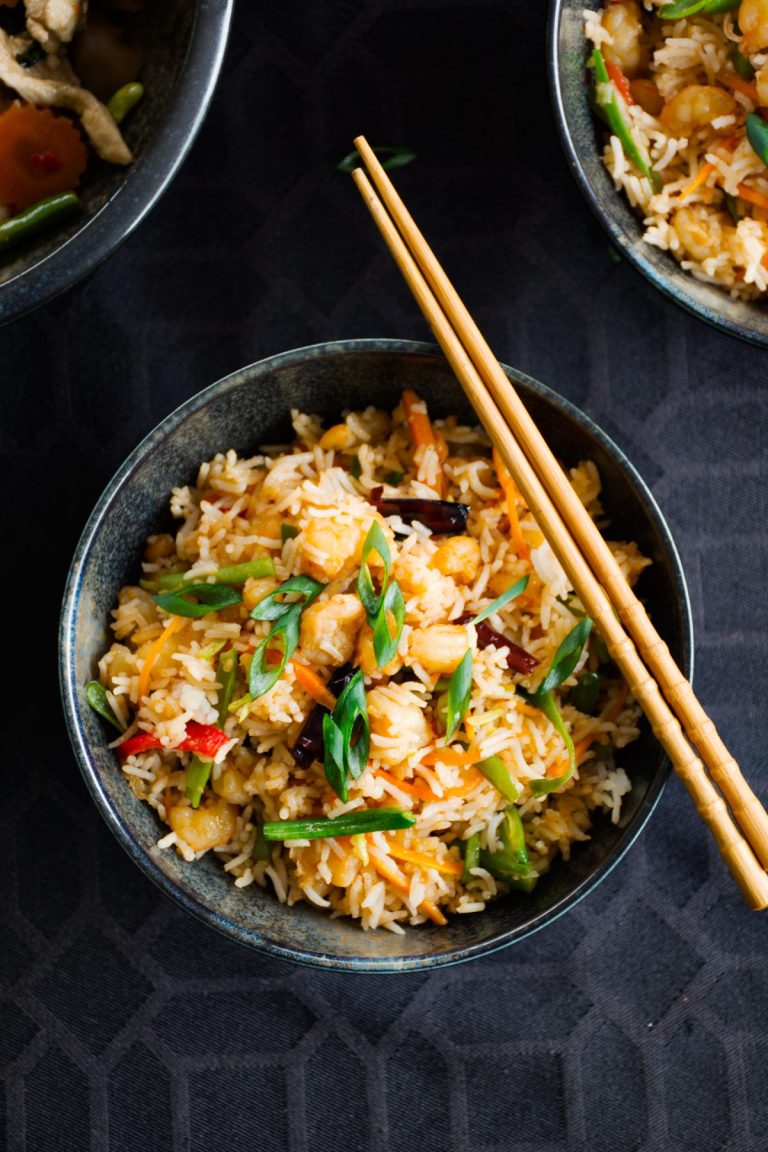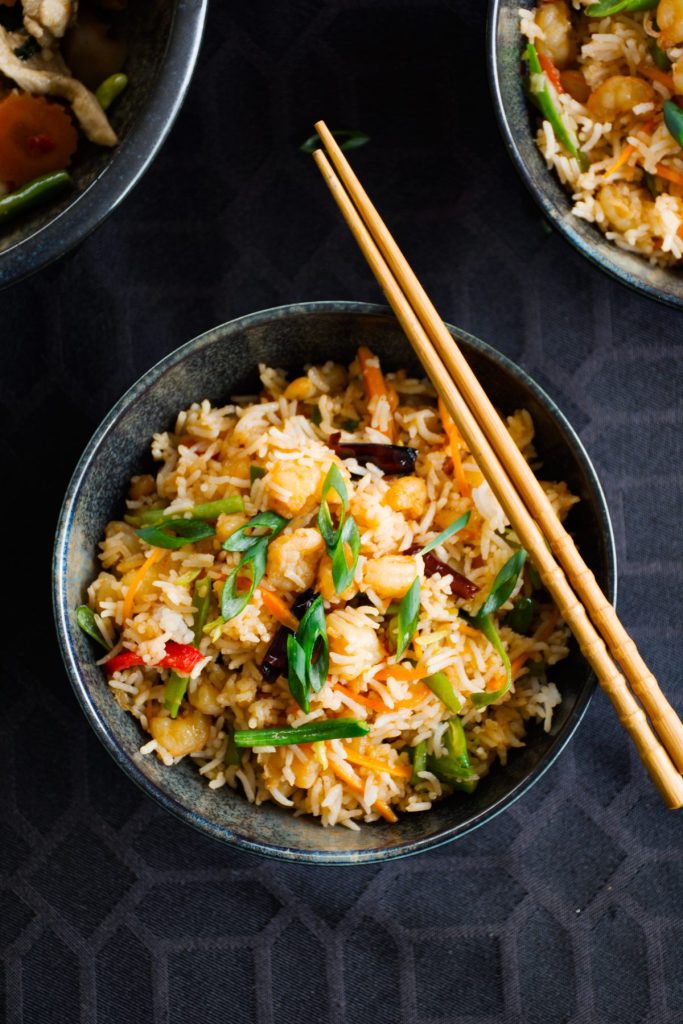 My love for markets is legendary, especially the local one in my suburb (Dandenong) which I would have mentioned on my blog at least a million times.

Looking back, I think it's destiny that bought us to this suburb. Amidst all the confusion, loneliness and that strange feeling of newness in a foreign country, it was the local market here that was my refuge. The smell, sights and sounds always reminded me of home because I would get every single ingredient that I needed for my style of cooking which means a lot when you are so far from home. And it's true that food opens doors where none exists. And for me that door was this blog…..

These days, I don't visit the market as often as I used to but I am still there at least once every fortnight. It's my space to get inspired and to re-ignite the creativity and passion I have for food. All the beautiful, fresh produce gives me such a buzz and there are so many ideas that pop into my mind after a trip like this.

And with Christmas almost here, markets are just brimming with such amazing produce and I simply couldn't go past the seafood section. I had to come back with some fresh Australian raw prawns; don't waste your hard earned money buying prawns from other countries when you can get some amazingly fresh and delicious prawns caught right here in Australia. Believe me, it's totally worth those few extra dollars.

After all the shopping, I was only in the mind for a one pot dish and nothing elaborate. And this delicious Indo Chinese style chilli prawn fried rice is what came to mind.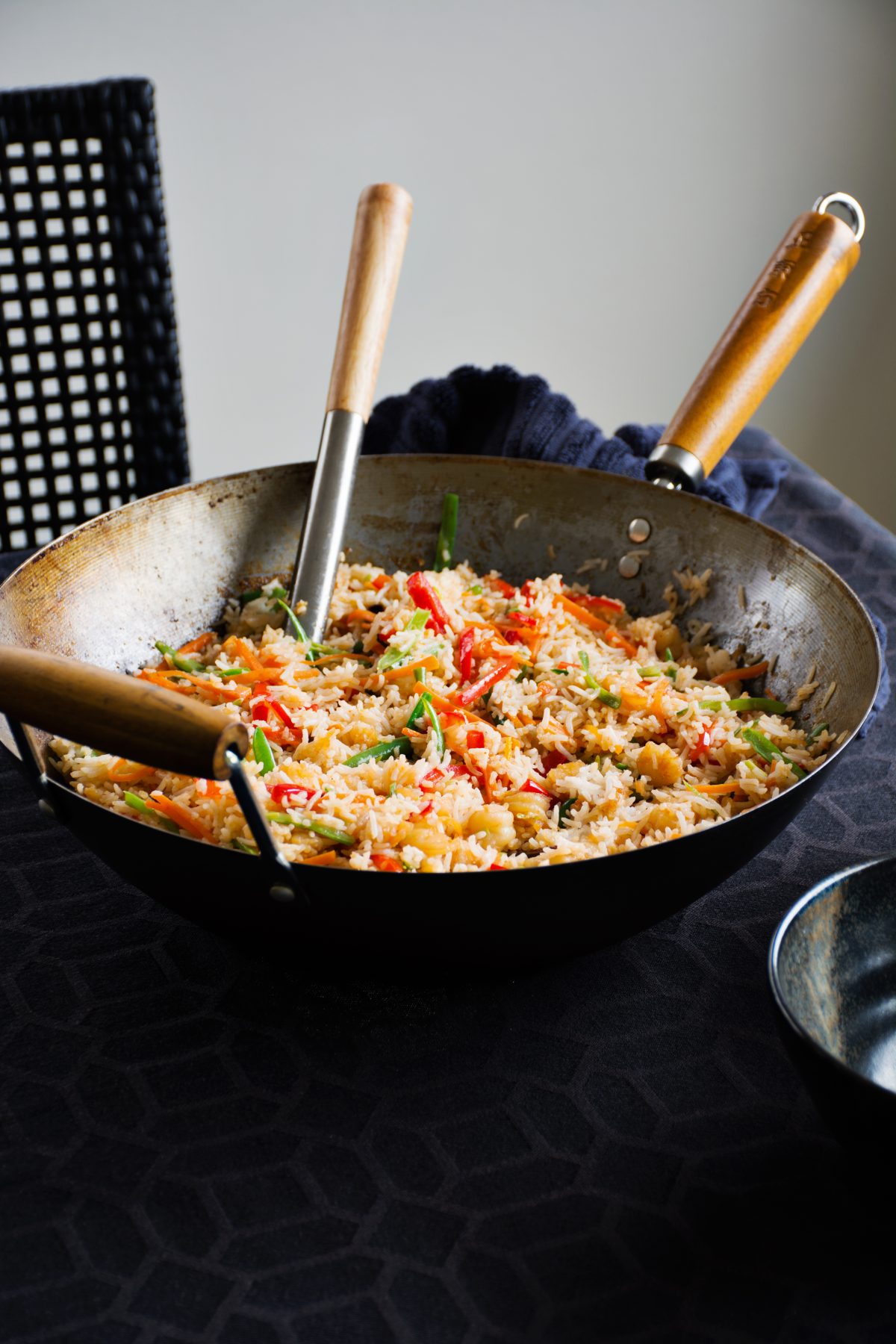 The Indo Chinese style chilli prawn fried rice is quite different from the traditional Chinese version. It's a lot more fried where the grains of rice are separate unlike the sticky original version. I wanted a bit of a spice kick and used long dry red chillies for smoky hot undertones.

To get the flavour from the dry red chillies, add it to the cold oil and then heat on low flame. Toss in the prawns with a handful of different vegetables along with perfectly cooked rice and finish off with a dash of soy and tomato chilli sauce.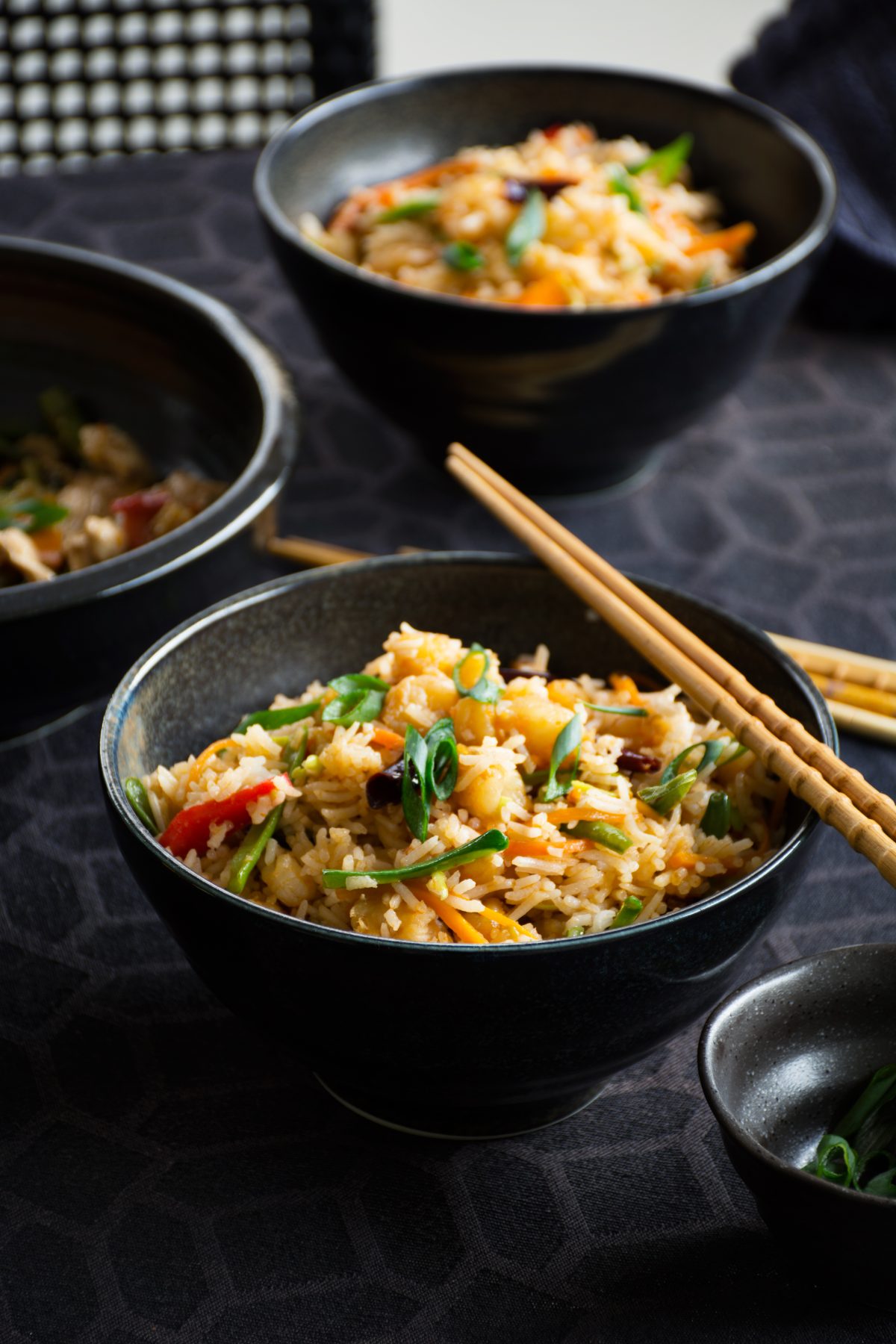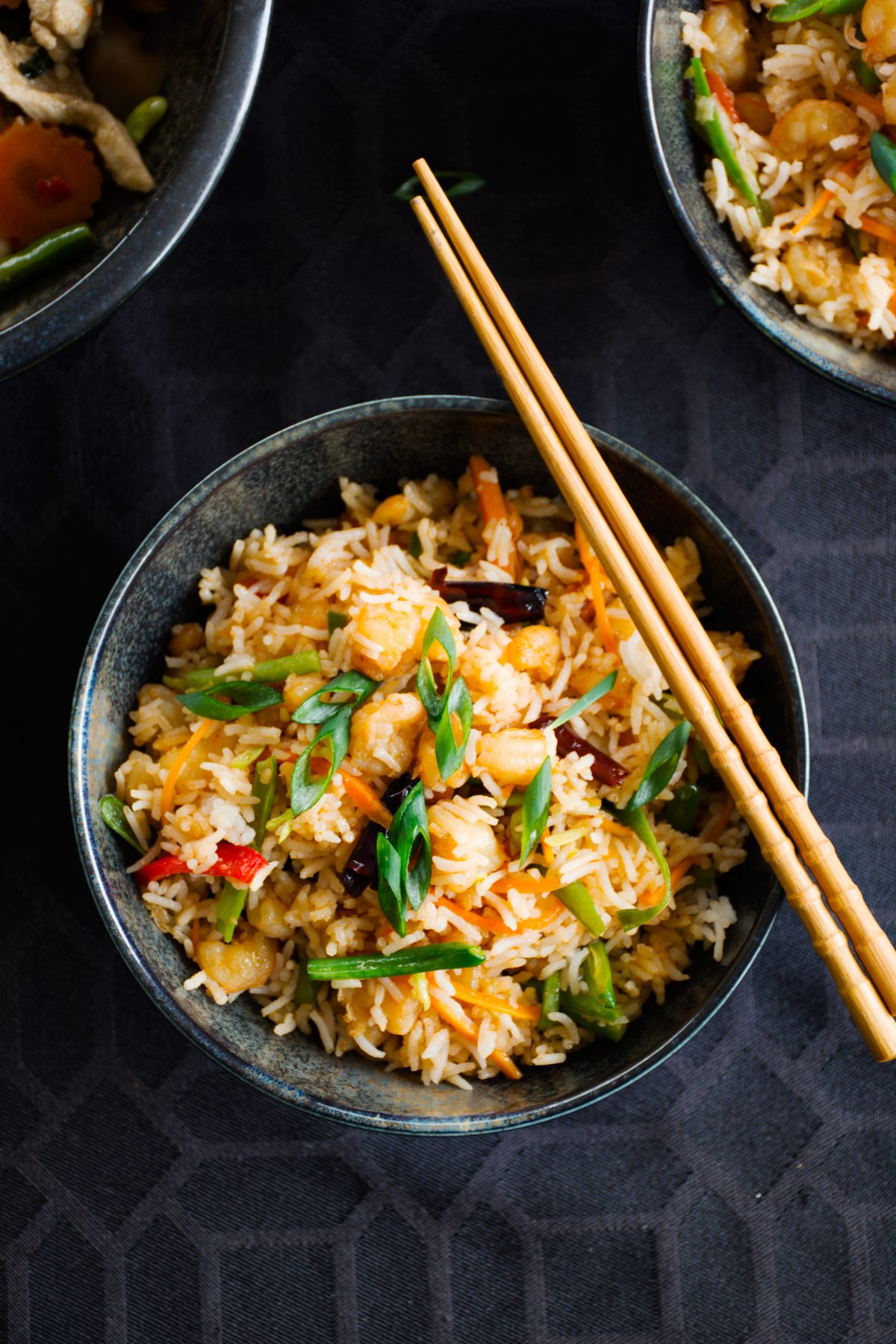 For the fried rice lovers, here are other delicious options;
Asian style Chicken Fried Rice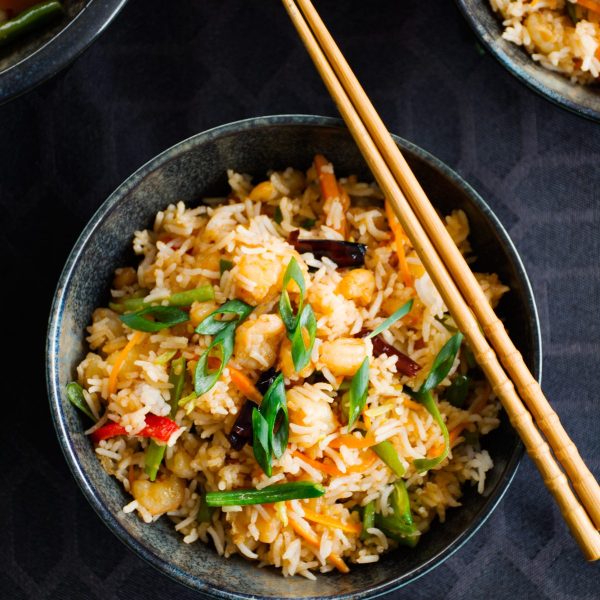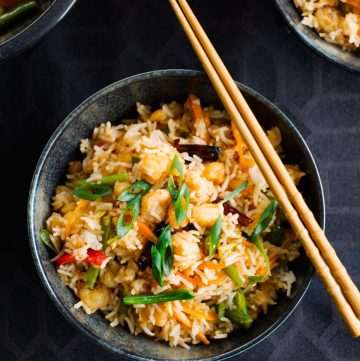 Print Recipe
Chilli Prawn Fried Rice
Ingredients
400

gms long grained rice

500

gms medium sized prawns; deshelled and deveined

1

large carrot; julienned

1

cup

green beans; julienned

1

bell pepper/capsicum; julienned

4

tbsp

vegetable oil

4

long dry red chilli; chopped into medium sized pieces

3-4

tbsp

tomato chilli sauce

1

tbsp

soy sauce

Salt

to season

2

spring onion stalks; sliced
Instructions
Cook the rice till just done; drain and keep aside (take care not to overcook the rice).

Chop and keep all the vegetables ready.

In a wok, pour the oil and add the dried chilli pieces; cook on the lowest heat possible to infuse the flavours of the chilli into the oil (about 2-3 minutes but take care not to burn the chillies).

Then add the tomato chilli sauce and soy sauce; cook for a few seconds on low heat and then add the prawns.

Cook the prawns on high heat till almost done and then add the carrots and beans. Stir fry for 30 seconds and then add the bell peppers. Stir fry for another 30 seconds; taste and add more tomato chilli sauce or soy sauce if necessary. Season with salt if necessary.

Add the cooked rice and toss with the prawns and vegetables on medium heat till well combined.

Garnish with spring onions.

Serve warm