First of all, a big apology for putting up this post so late. Many of you have been asking the recipe for this Chicken fried rice for a while now and I have been chirping away the phrase, 'it will soon be on the blog' to all.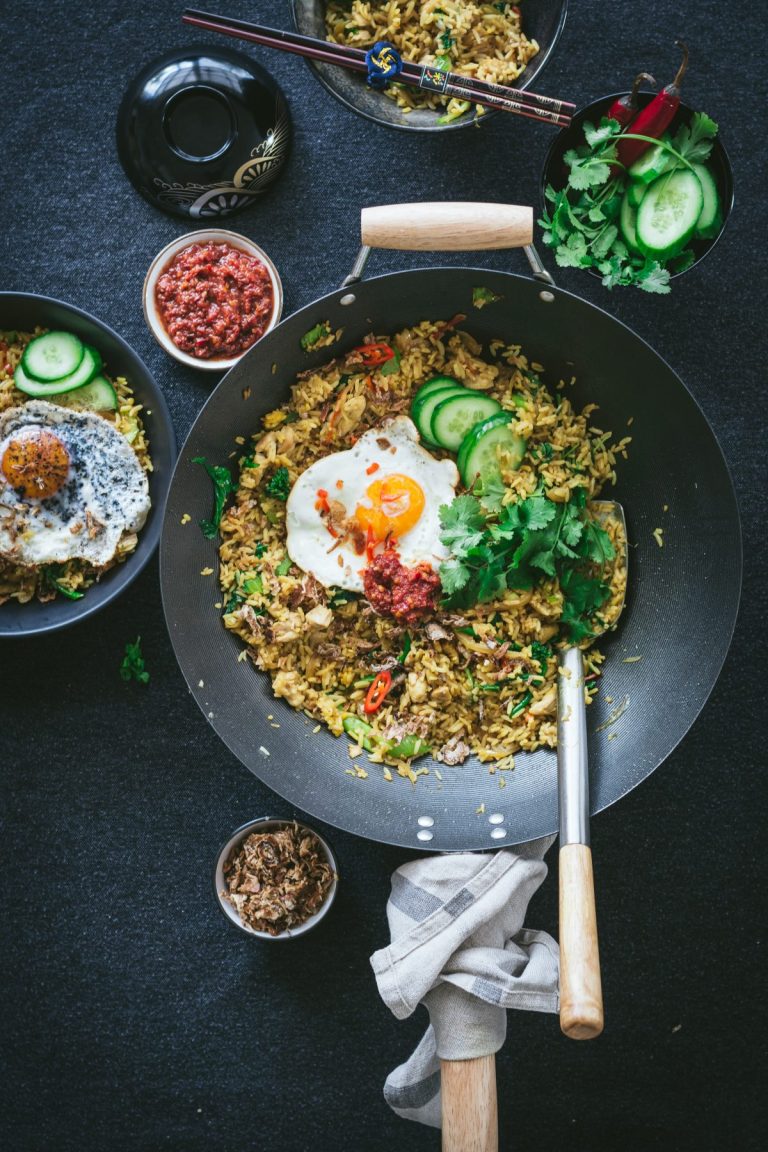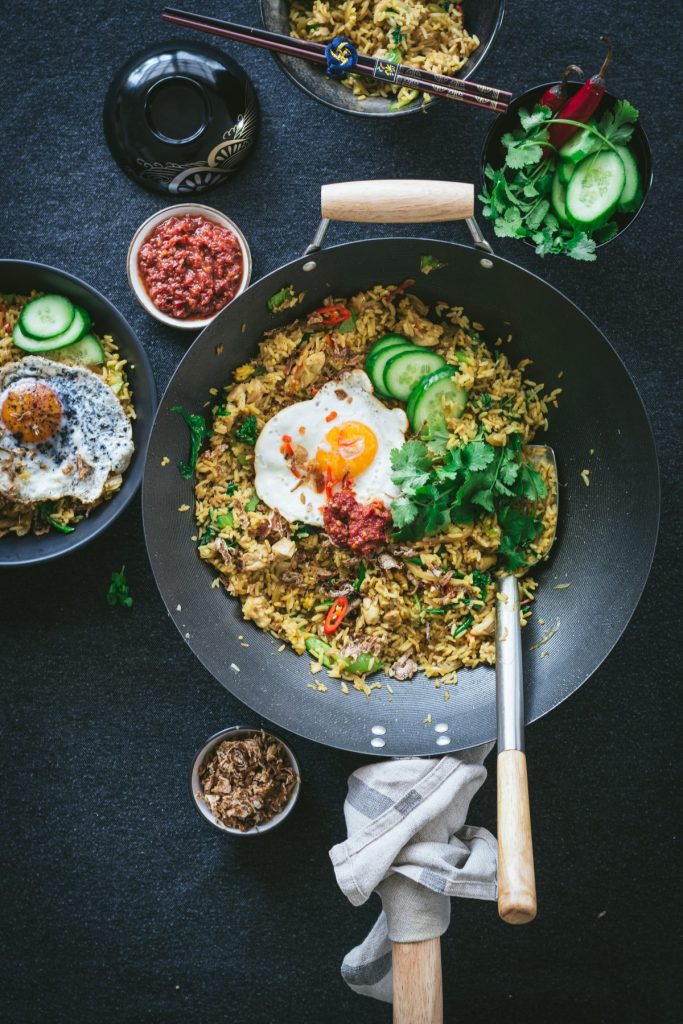 It's just that too many things have been going on, both personally and professionally. Sitting down to write out the recipe has taken me the longest time. But today I was determined to get the post published so that all of you can try out this absolutely lipsmacking Chicken fried rice.

On the personal front, most of you would be aware of the Kerala flood situation and the trail of destruction and devastation it has left behind. While my own family was affected less, there have been members of the extended family and friends, many of whom had to be evacuated and put up in shelter homes and many others who have lost everything they have including homes, businesses, properties, agricultural land etc….

It's a difficult time that everyone's going through back home. Almost the whole of last week was spent in just trying to communicate with family and in many instances, it took us almost 4-5 days just to establish communication with our loved ones. Work was the last thing on my mind so except for some client projects, I hardly updated the blog.

Getting back to today's dish, this Chicken fried rice is one of the best I have ever made. It's totally different to the Indo Chinese style or the typical Chinese style that I often make at home. Adapted from a Marion Grasby recipe, this is more of a modern Thai style chicken fried rice.

It's quite simple to put together but the flavours are incredible and I loved the fact that turmeric is a key ingredient which adds so much depth and flavour to the rice. Another key ingredient is belachan or shrimp paste, adds that umami hit which really comes through in the final dish.

I usually have a menu plan ready by the end of each week for the following one, so whenever there's fried rice on the menu, I try and prepare the rice a day ago as the texture of one day old rice works best. But don't fret about it if you can't find the time; just make sure you prepare the rice first, drain and spread out to cool before going ahead with the remaining dish.

This chicken fried rice is all about the toppings and condiments too. Fried eggs, fresh coriander, cucumbers, fried shallots, sambal oelek all create this wonderful texture and layers of flavour to the final dish. Requires no other side dish to go along, but you can indulge yourself by adding a stir fry to accompany.

So let's get cooking this Thai inspired chicken fried rice; and if you make it do tag me #thespiceadventuress in your social media posts so that I can see it too. Or leave a comment below; I love hearing from all of you.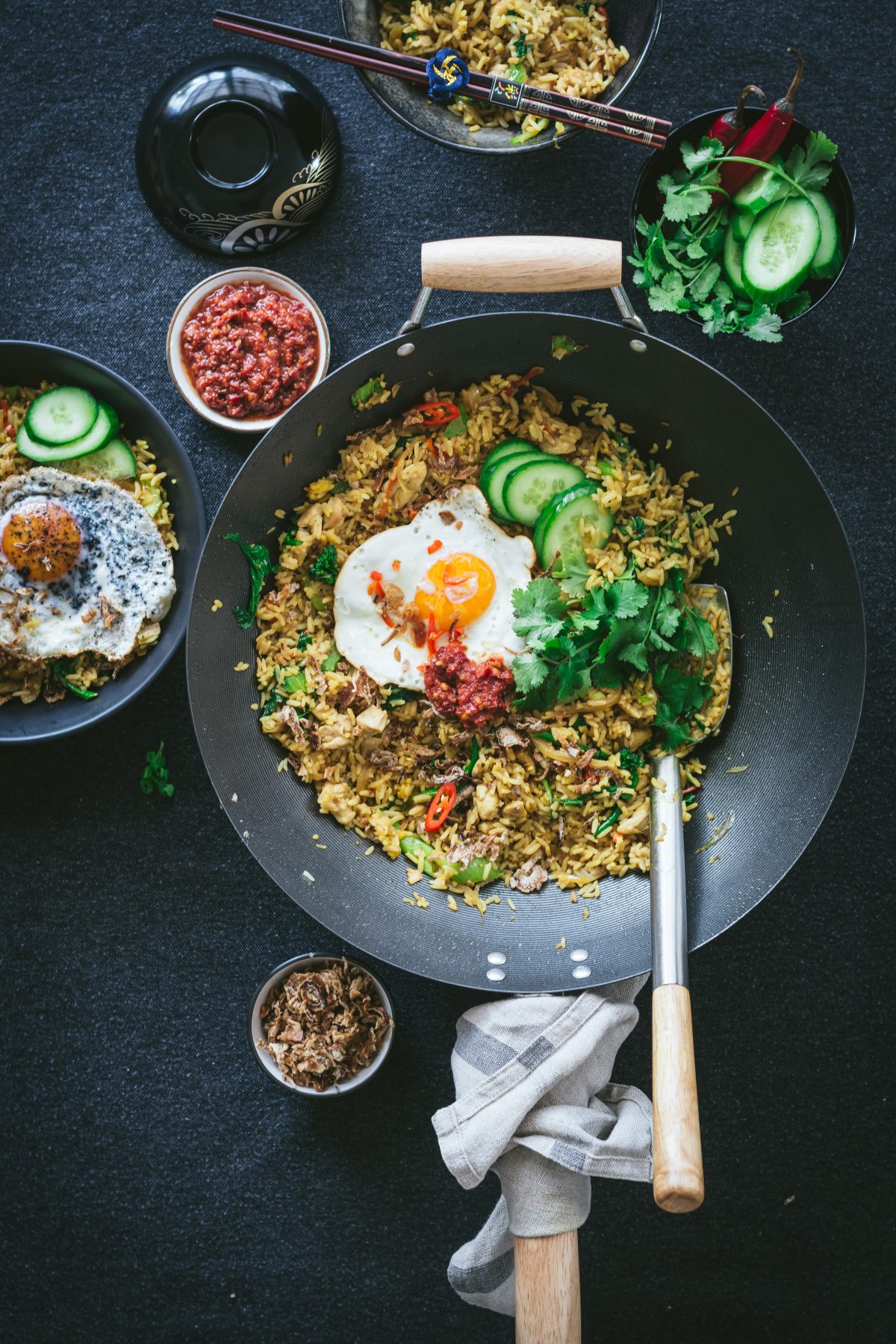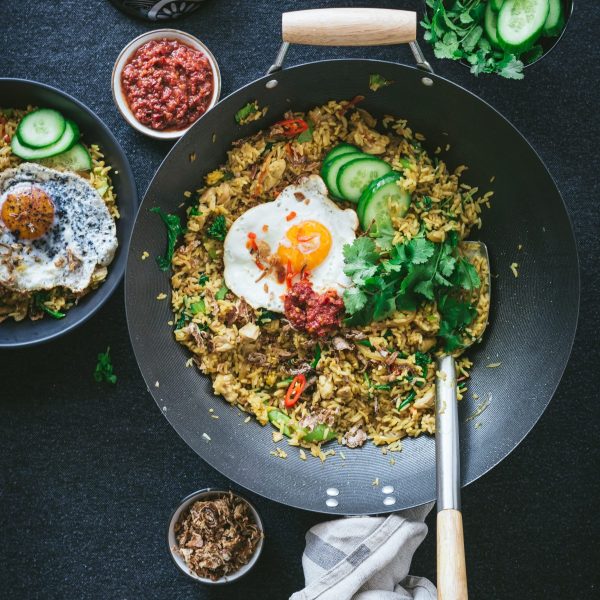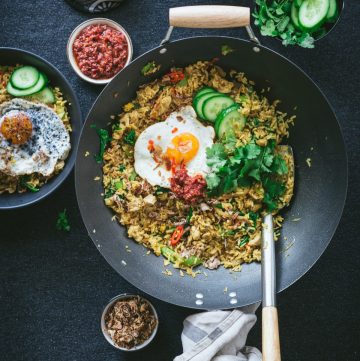 Print Recipe
Asian style Chicken Fried Rice
Ingredients
5

cups

cooked medium grained rice

4

eggs

Vegetable oil;

for frying the eggs and making the rice

500

gms chicken thigh

skinless & boneless; thinly sliced

1

large brown onion; finely sliced

3

garlic cloves; finely chopped

1

long red chilli; finely sliced

½

tsp

turmeric powder

1 ½

tsp

shrimp paste

3

baby bok choy; slice the light green part and tear the leaves coarsely

3

tbsp

soy sauce

2

tsp

kecap manis

sweet soy

Salt

to season

Fried shallots

4-5

sprigs fresh coriander leaves

Sambal oelek

to serve

Lebanese cucumber; to serve
Instructions
Heat 1/3 cup vegetable oil in a large wok till smoking hot. Add the chicken pieces and season lightly with salt. Cook till the chicken is just about done; remove and keep aside.

In the same wok (add more oil only if necessary), add the onions, garlic, chillies and sauté on medium heat till the onions are softened.

Lower heat and add the shrimp paste and turmeric. Break down the shrimp paste using the back of the ladle and mix well to combine. Cook for about 1 minute till it gets aromatic.

Next add the cooked chicken pieces along with the light green stalks of the bok choy; toss and stir fry for 30 seconds.

Add the cooked rice, soy sauce and kecap manis. Toss well to combine and finally add the bok choy leaves. Mix well and stir fry for about a minute.

Once the rice is done, fry the eggs to your individual preferences.

To serve, place the fried rice in a bow and top with fried egg, cucumbers, coriander, sambal oelek, shallots and kecap manis.

Tuck in!