Crispy skin salmon served with cauliflower rice is a hearty, flavourful and healthy meal for the whole family. The simple spice marinade used to coat the salmon fillets brings out the delicious sweetness of the fish. And that crispy skin is to die for!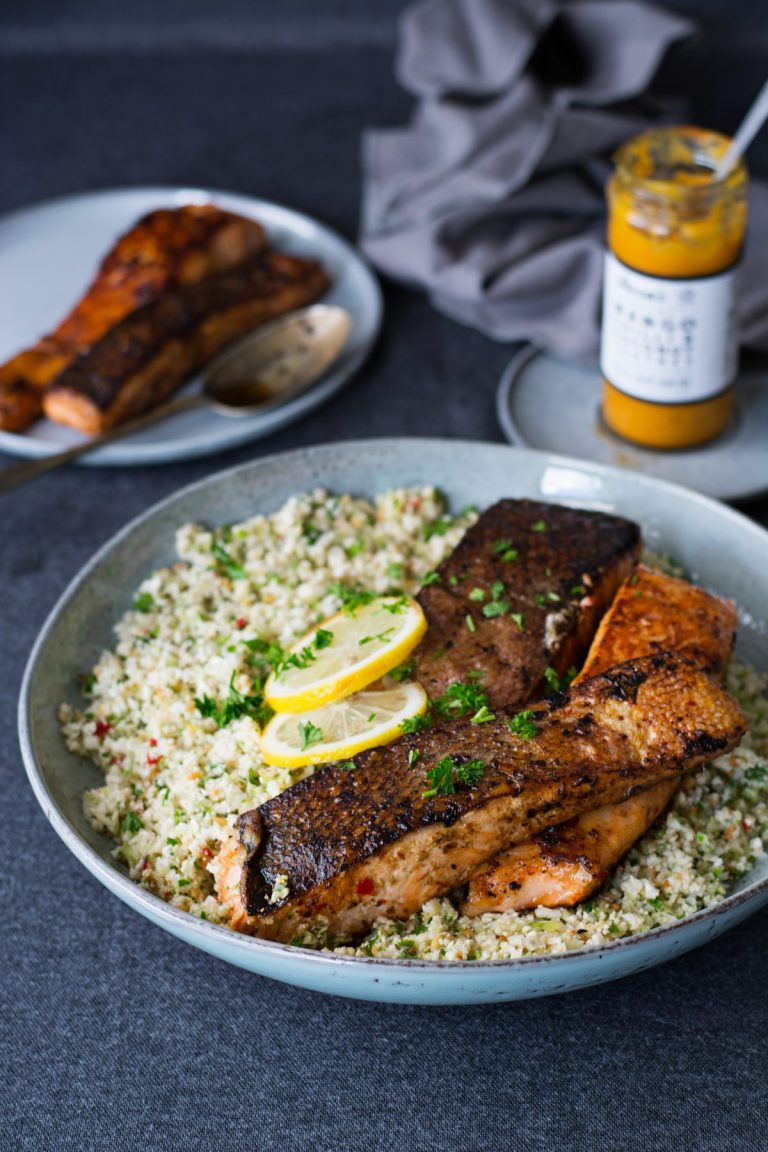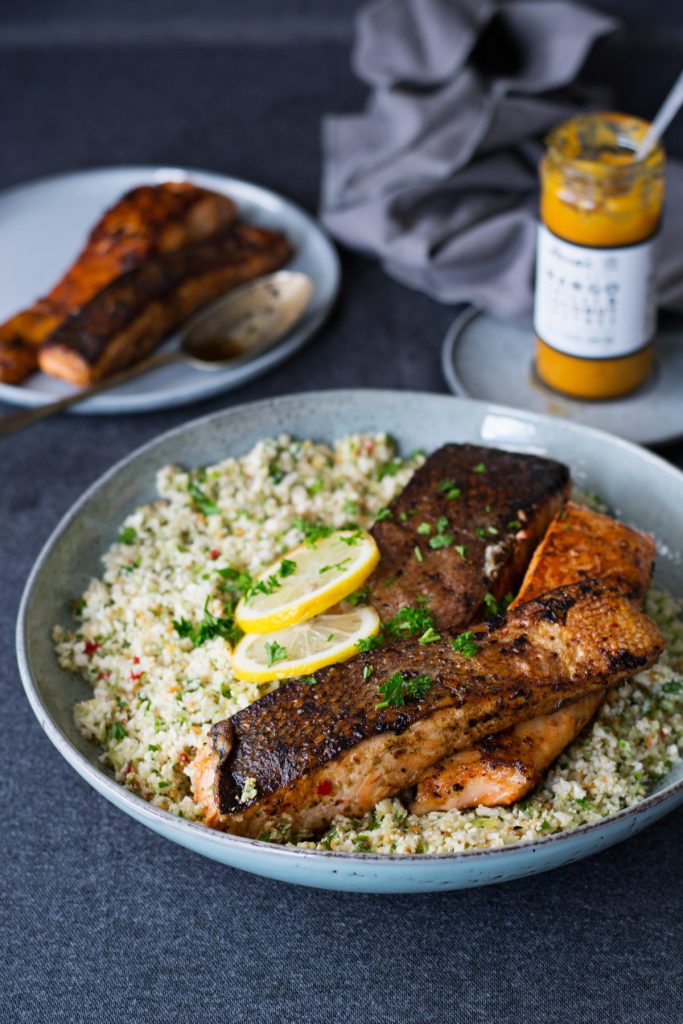 Salmon, with its delightfully soft, oily and flaky flesh was quick to become one of our favourite fish after moving to Australia.

Initially, I would use it only for Indian dishes which honestly do not always do justice to its incredible texture. And as we started dining out more here, I started enjoying the crispy skin salmon that somehow always finds a spot on most café/restaurant menus.

Earlier I always found it hard to achieve that elusive crispy skin. The fish would curl up slightly when I place it in the pan and it would always be crispy in certain areas and not uniform. Till I saw a Masterchef episode where they showed the technique of holding the fish down lightly for a few seconds after placing in the pan to ensure that it doesn't get curled up and also get the skin really crisped up. And always cook skin side first!

Some of the other tips for cooking a perfect piece of crispy skin salmon (other fish too), is to never overcrowd the pan. Fry in batches and serve warm; there's nothing worse than eating cold fish especially with its skin on.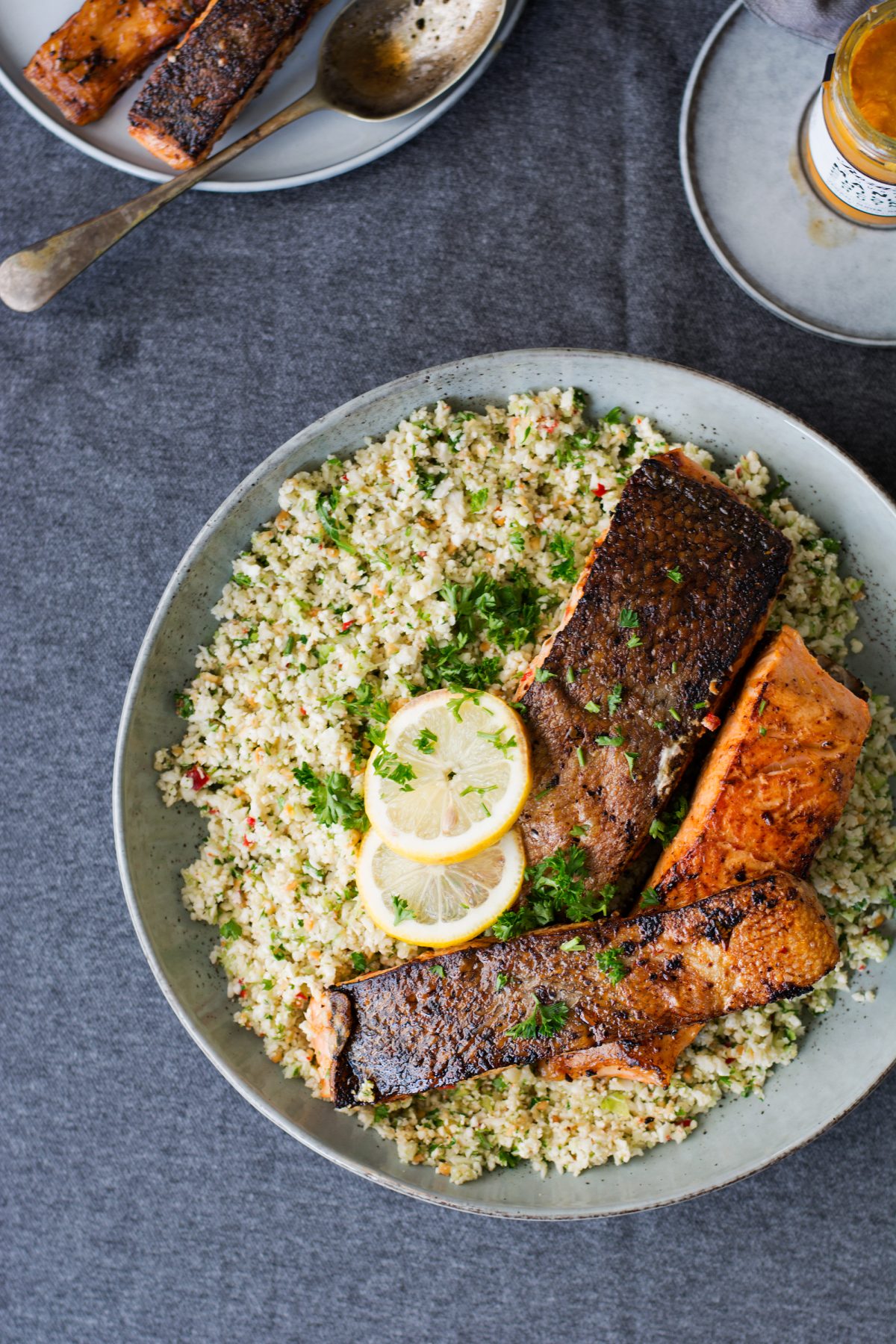 And to go along with the salmon, I also whipped up mock cauliflower rice which made this an extremely healthy dinner. A dollop of Roza's mango, chilli and coconut chutney was added to oomph up the flavour quotient.

This is the kind of dinner that's not just healthy but a substantial one for the family to unwind and relax at the end of a busy day. And I always cook enough portions to become our lunch for the next day. For us, this is the best way to ensure that we are eating right on work days too.

I always enjoy a touch of spice when I make crispy skin salmon so here I have used a marinade made from fresh chillies, cumin, garlic etc… I kept the cauliflower rice real simple but you can also use this tempered cauliflower rice recipe that is one of the highest visited recipes on the blog.

Roza's chutney was used because I had some in the refrigerator; feel free to use your favourite tomato, mango or any other chutney if you wish to.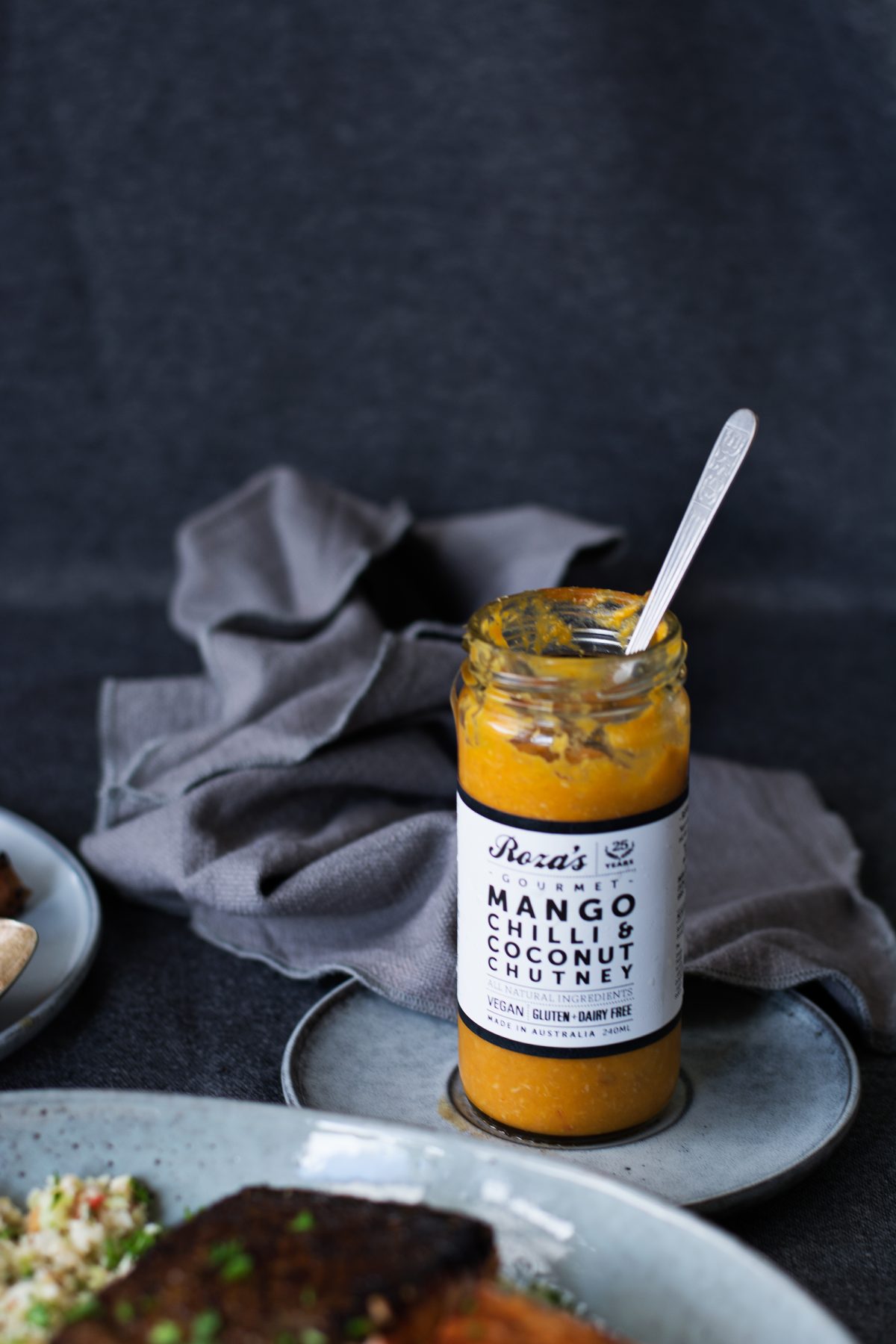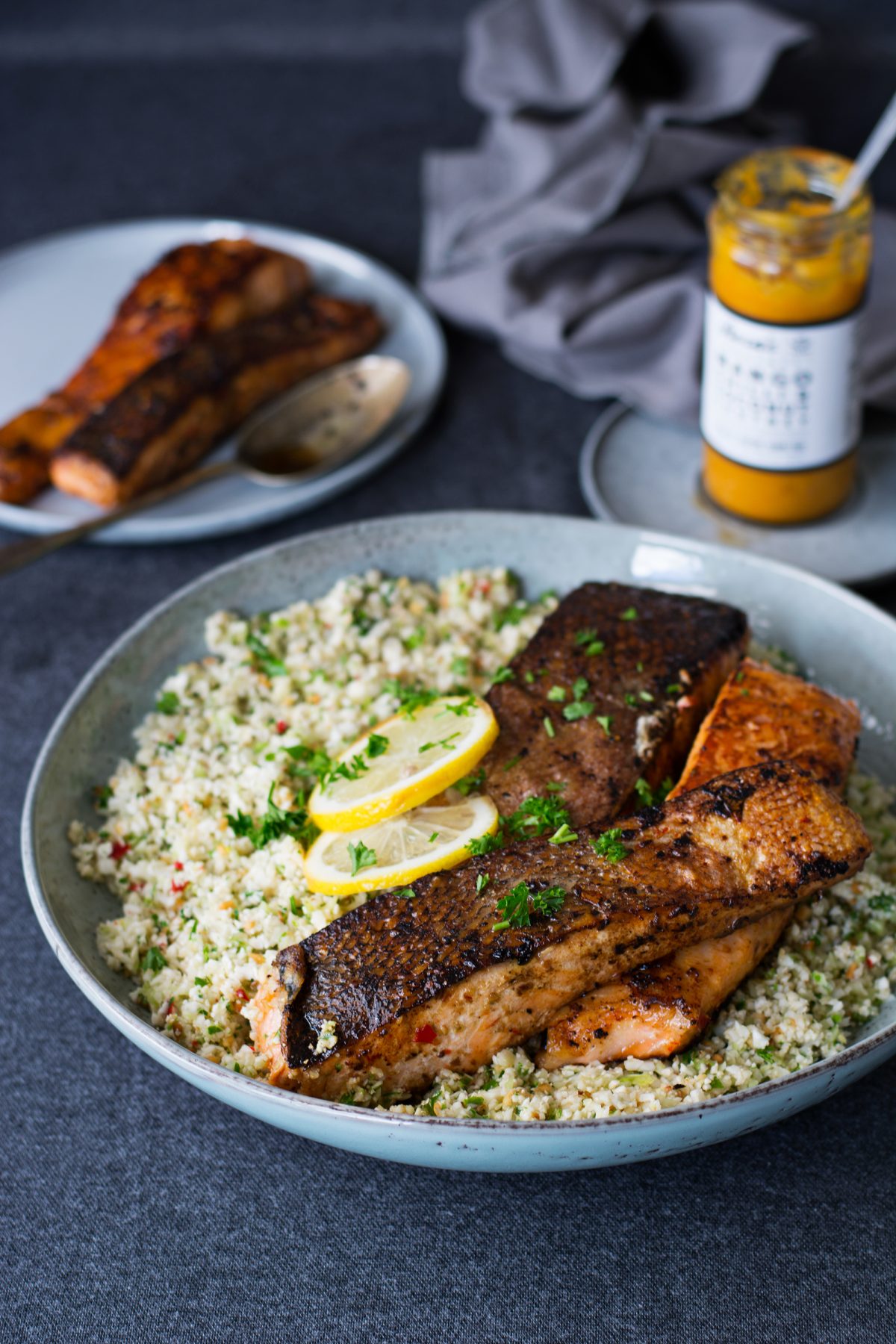 Here's another delicious Pan fried Salmon with Garlic Butter Sauce and Couscous Salad.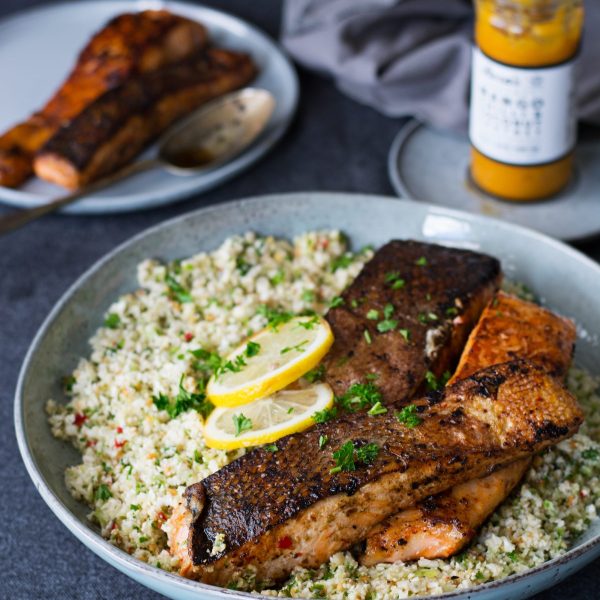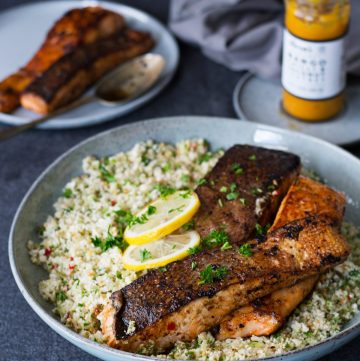 Print Recipe
Crispy Skin Salmon with Cauliflower Rice
Ingredients
For the salmon:
4

salmon fillets; with skin

3

long red chillies

less heat variety

5

medium garlic cloves

½

tsp

ground coriander

1

tsp

cumin powder

2-3

tbsp

olive oil

Salt; to season

Juice of ½ lemon

Olive oil; to pan fry the salmon
For the cauliflower:
1

small cauliflower head; including the green bit

Zest of 1 lemon; grated

Juice of ½ lemon

3

tbsp

crushed roasted peanuts

3

tsp

parsley; finely chopped

Salt

to season

½

tsp

paprika

2

tbsp

olive oil
Instructions
For the Salmon:
Clean the salmon; remove any bones if present and pat dry.

To make the marinade, blend together the chillies, garlic, lemon juice, olive oil, coriander and cumin.

Pour this over the salmon, season with salt and rub well; keep aside for 15 – 30 minutes.

Heat olive oil in a pan (remember the marinade already contains oil) and when heated well, place the salmon fillets skin side down. Hold and press down the fillet lightly to ensure that the entire skin side is in contact with the pan for a few seconds. Then place the next fillet and repeat the same. Fry in batches if the pan is small.

Remove and keep aside.
For the rice:
Separate the cauliflower into large florets, the green bits can also be used for this but ensure that it is fresh and clean. Wash thoroughly and allow to dry before use.

Blitz the cauliflower in a food processor to mimic rice; alternately use a grater if you do not have a processor.

Warm the olive oil in a large wok and add the peanuts, paprika and lemon zest. Tip in the cauliflower along with the parsley, lemon juice and season with salt. Toss on high heat for a few seconds just to combine the flavours and remove. Taste and add more lemon juice if necessary.

Serve the cauliflower rice with the fried salmon pieces and the chutney on the side. Tuck in!