A delicious and very moreish Risotto with Dried Mushrooms and Bacon Crumbs…a comforting and easy winter dish!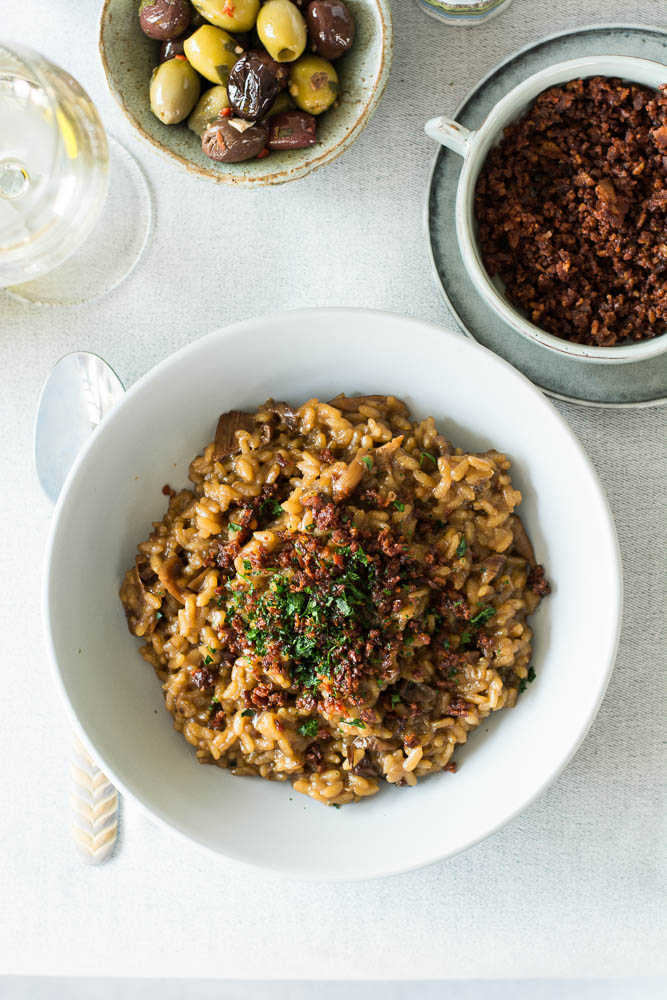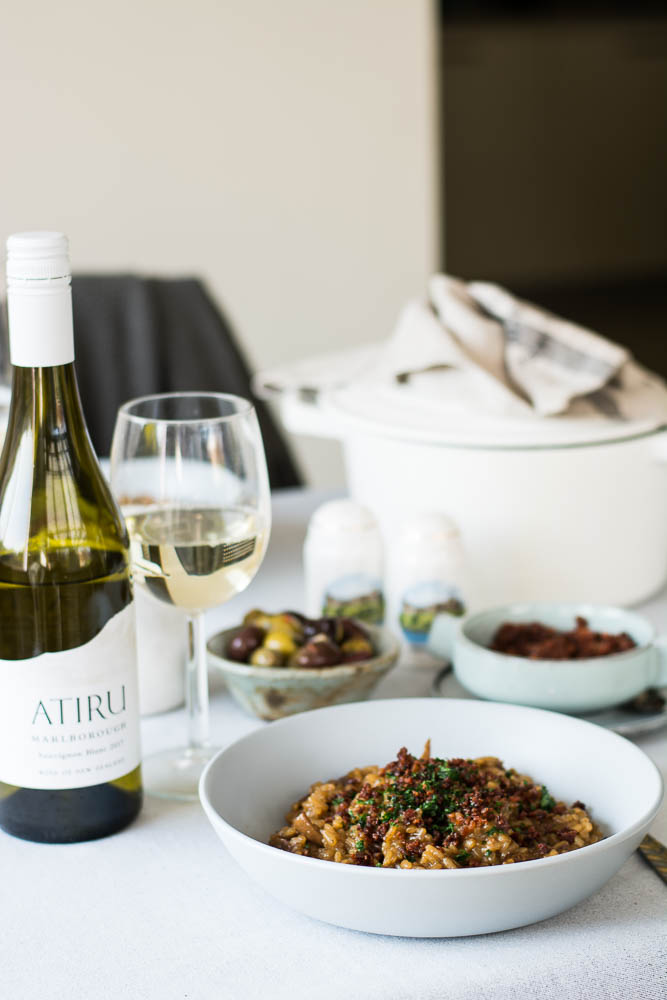 It's ironic that close on the heels of a khichdi, I write about a risotto.
Not that there's much of a similarity in origin or technique of preparation, but the fact that both are grain based with that unique consistency somehow puts it in the same category for me.
For those who thought Italian cuisine is all about pizzas and pastas, risotto can come as a bit of a surprise. Even at a fancy restaurant, the risotto still remains a rustic, comforting dish; quite true to its origins.
A risotto is best kept simple like this risotto with dried mushrooms. In fact it would be a sin to crowd it with many ingredients. A single hero ingredient, a flavourful broth and the right kind of rice is what a risotto is all about. Of course cheese, if you must!
While Arborio is the variety of rice that most of us are familiar with, it is actually other varieties like Carnaroli, Vialone Nano etc… that are more popular in Italy. I have had risotto made with Carnaroli rice before and the texture is much better when compared to Arborio.
Even though Carnaroli is available in selected stores in Australia, I still went with Arborio to make this Risotto with Dried Mushrooms as that's the variety that's easily and more economically available for most.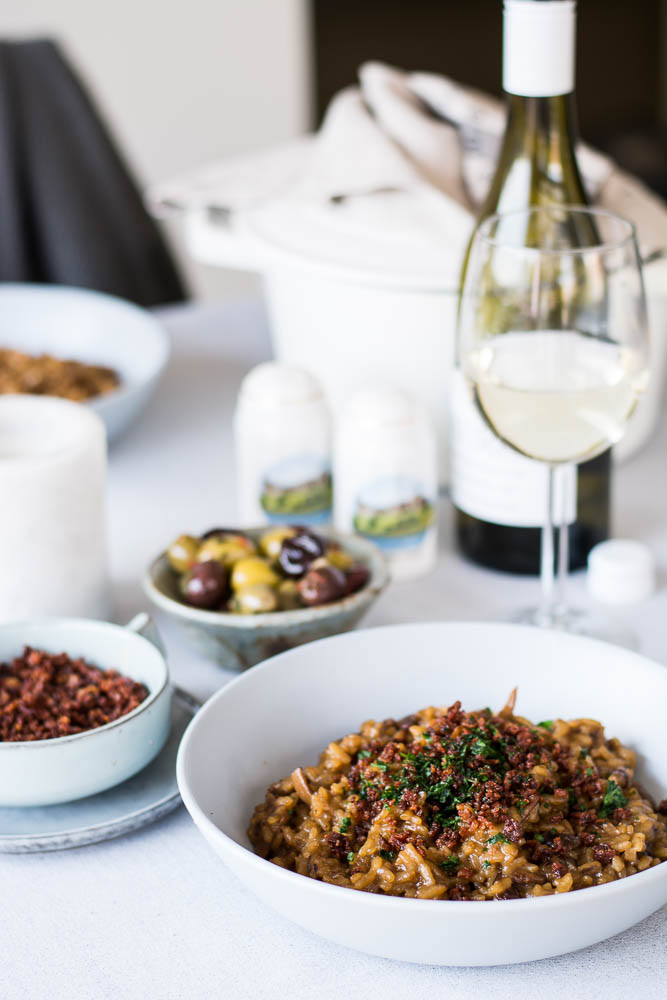 Dried mushrooms, simply because of its intense umami hit. It has that really earthy flavour that makes you want to keep eating. I soaked the dried mushrooms in the chicken stock to soften it again and the resulting broth was just mind blowing….
The bacon crumbs was really an afterthought, perhaps because I love bacon so much and somehow finds a way into many of the dishes I make at home. Not really a main ingredient in this Risotto with Dried Mushrooms, but rather a garnish just to add another dimension of flavour…..more of that salty, delicious umami hit that makes this risotto the most ideal dish to huddle with on a cold night.
While a great risotto might require practice and experience, I believe a good risotto is achievable by most. As I mentioned, the stock is really important and a homemade stock is the most ideal. Use a store bought one only if you are truly busy yet crave a generous helping of this risotto.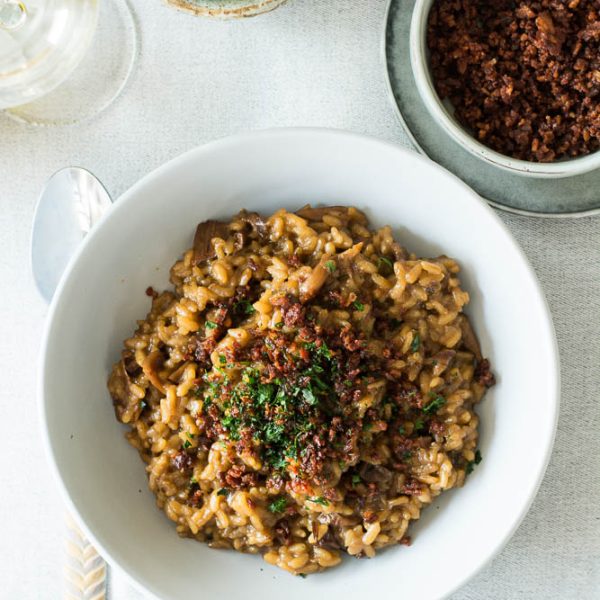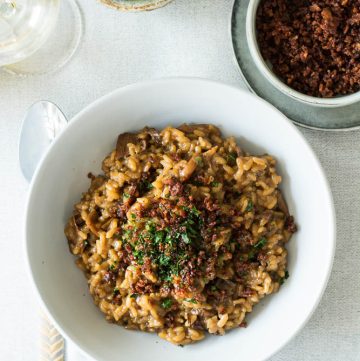 Print Recipe
Risotto with Dried Mushrooms (and Bacon Crumbs)
Ingredients
2

cups

Arborio Rice

150

gms dried mushrooms

2

litre homemade chicken stock

2 ½

tbsp

unsalted butter

2

tbsp

olive oil

1

small white onion; finely chopped

1

cup

dry white wine

200

gms bacon

I used streaky bacon; finely chopped

Salt

to season

Freshly milled black pepper; to season

2

tbsp

parsley leaves; finely chopped

Grated parmesan; for garnish
Instructions
Reconstitute the dried mushrooms by soaking in the chicken stock for 15 minutes. Remove from the liquid and chop into small pieces.

Finely chop the bacon by hand or using a food processor. In a small pan, add the bacon pieces and cook on low heat (no oil required as the bacon has plenty of fat) till the bacon has browned well but not burnt. Drain the fat using a strainer to get crispy bacon crumbs.

In a large saucepan, heat half of the butter and olive oil; add the onions and sauté till soft.

Then add the mushrooms and cook for another minute or two.

Next add the rice and cook for about 2 minutes, stirring frequently. When the rice gets a little toasty and begins to make a crackling sound, reduce the heat and add the white wine.

Cook, while stirring continuously till almost all the wine has been absorbed.

Next add one cup of broth and cook (stirring continuously) till the rice has absorbed the liquid. Add another 2 cups of broth and continue to cook. Repeat, adding 1-2 cups of broth and cooking till the rice has reached the al-dente stage.

Then add the remaining butter and season with salt and pepper. Mix well to combine.

Serve warm with grated parmesan, bacon crumbs and parsley