Social media can be such a wonderful medium if you use it constructively. In spite of all the negativity that surrounds it, it's a wonderful tool to communicate, work and meet new people if you use it in a positive manner.
I have made some amazing friendships and relationships over the years through social media; people who I would never have met otherwise. While many are still virtual friends, there have been others where the virtual relationships were quick to transform into real life friendships too.
This week, I got the opportunity to meet Natasha (@thegutlessfoodie) while she was on holiday in Australia. I have known Natasha for about 2 years now; our paths crossed on Instagram and we have remained in touch ever since. What drew me to her posts was not her medical condition and her inspiring life story (though there's much to learn from that), but her sense of humor and positivity. Her food posts always bought me joy and put a smile on my face; and of course encouraged me to embrace wholesome homemade food always.
We spent a lovely evening with each other and our families, such a joy when you meet a virtual friend and realise that the love and respect you had for each other was not just an Internet thing but a genuine one. It's a sigh of relief when that happens because more often than not, we always project the better side of us on social media without realizing that there's more to each other's life.
And while I wish we had more time to spend with each other, it was a great experience meeting her; one that is going to be cherished forever.
Time now to get to today's recipe….
Peperonata is a classic Italian accompaniment. Often takes it place on the antipasti platter and is a great topping with bread and a good quality extra virgin.
Initially that's how I wanted to try out this recipe. But as I was reading it, the flavours delighted me and I wanted to use it as an accompaniment with a protein for a complete meal. And of course, salmon came to mind as anything to do with roasted peppers are a delightful addition to seafood.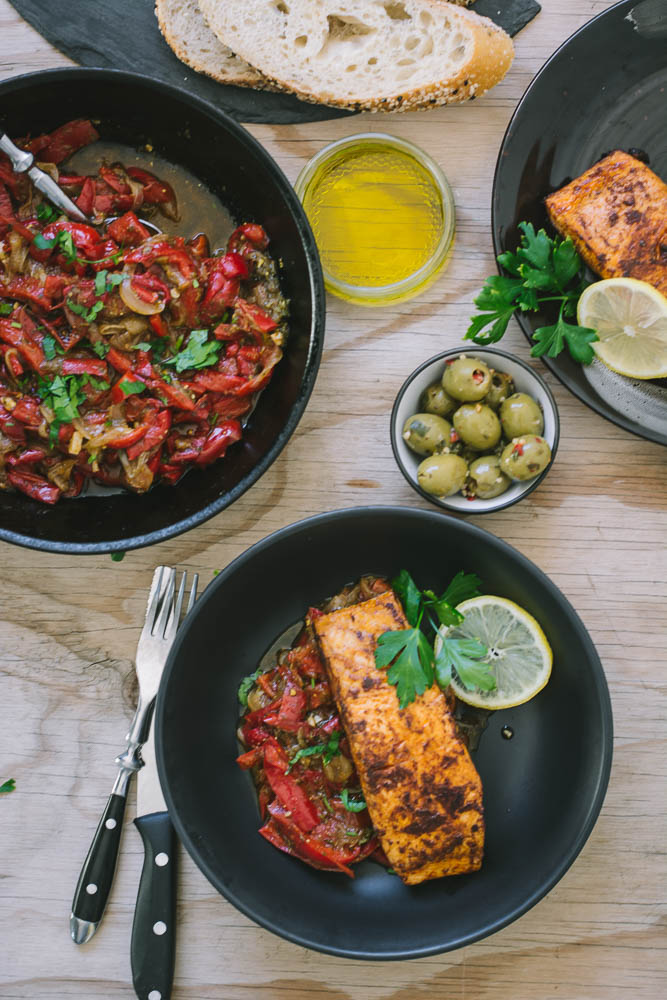 Peperonata is an extremely simple side to prepare that can be made ahead of time if you are prepping for a party. This dish is all about the bell peppers so make sure you pick plump red ones which have the right amount of sweetness required. The peppers are first roasted for that smoky flavour and then sautéed off with onions, tomatoes and spices. But what really adds another level of flavour is the basil pesto.
Since the Peperonata is loaded with flavour, there's not much that needs to be done to the salmon. Keep it simple with a marinade of turmeric and paprika. And of course, take care while cooking to get that crispy skin which is the best part of the salmon.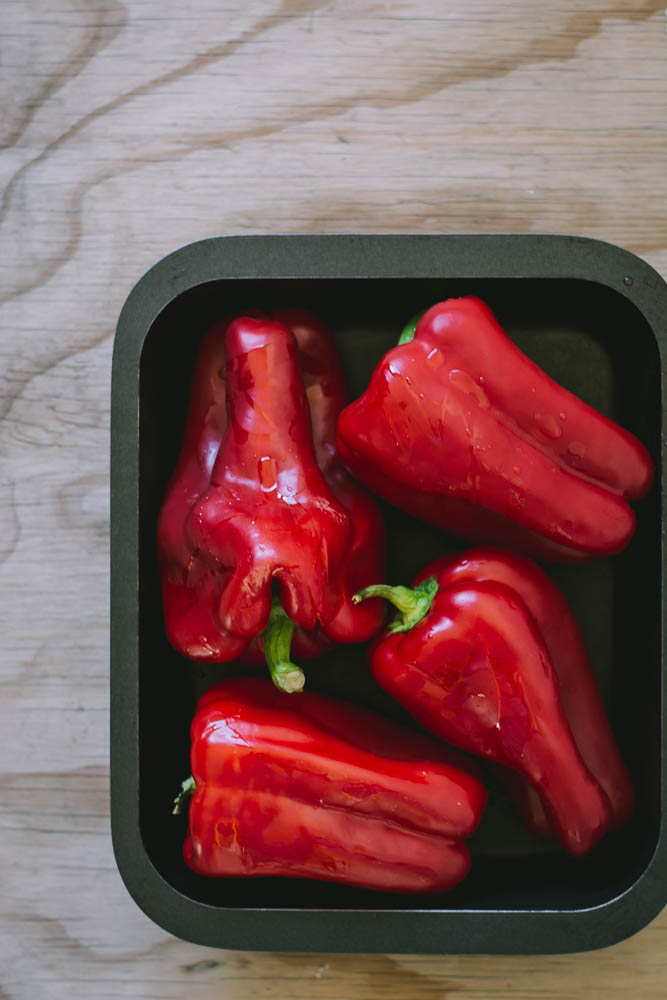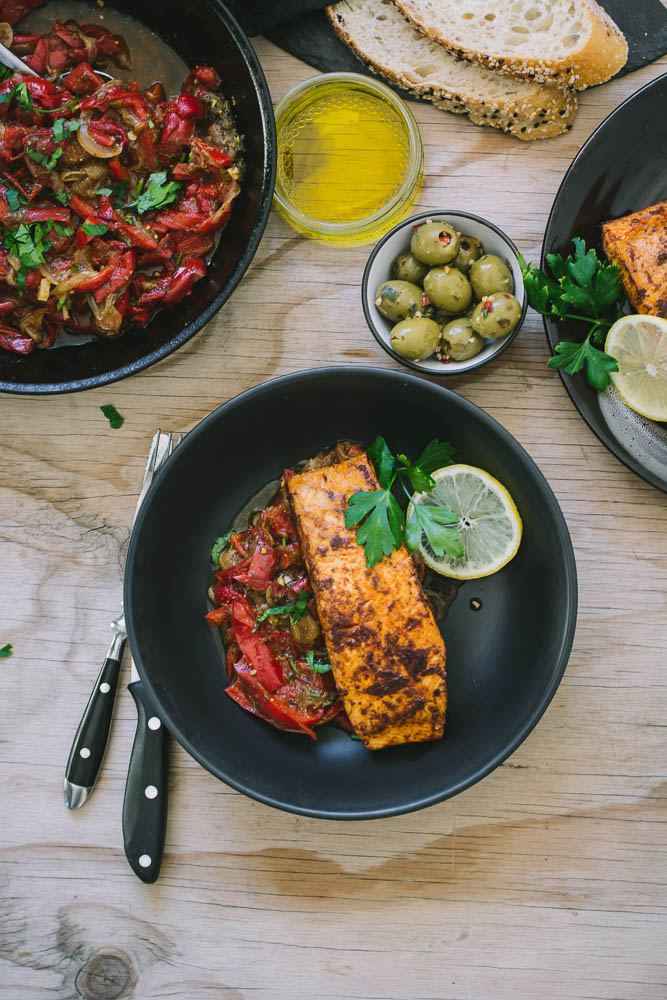 A healthy meal with really robust flavours, this dish is easy to prepare which makes it ideal for both weekdays and when entertaining too.
Ingredients: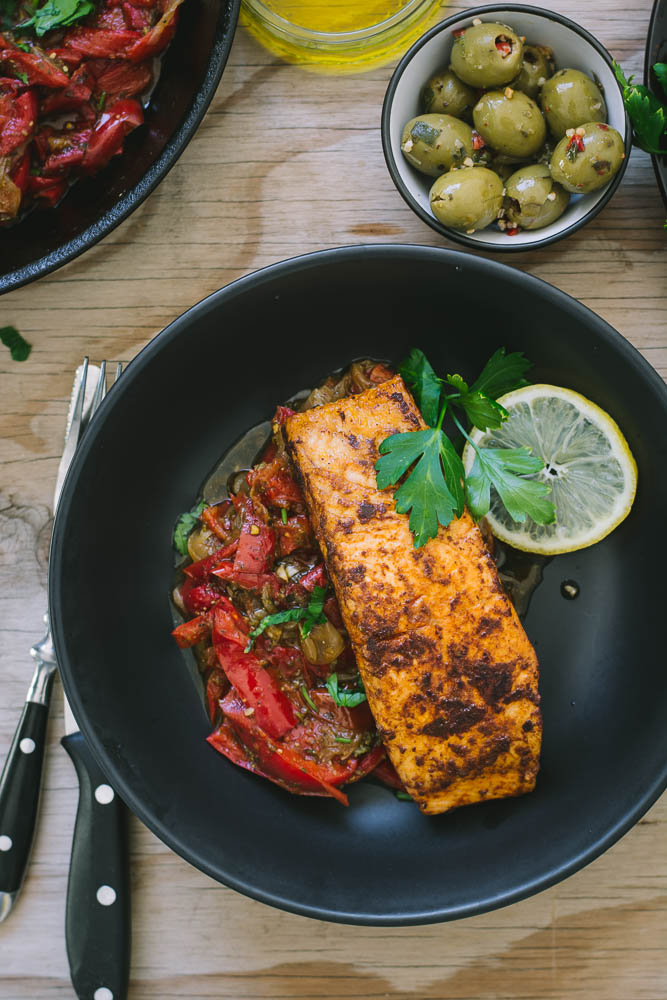 4 Salmon fillets (with skin)
½ tsp turmeric powder
1 tsp paprika (or Kashmiri chilli powder)
Find the full recipe on Supreme Seafood website..