Huitres Grillees Aux Amandes or Oysters roasted with Almonds and Butter – a decadent and delicious way to enjoy the season's freshest oysters. Adapted from the cookbook Mirka & Georges – A Culinary Affair by Lesley Harding and Kendrah Morgan.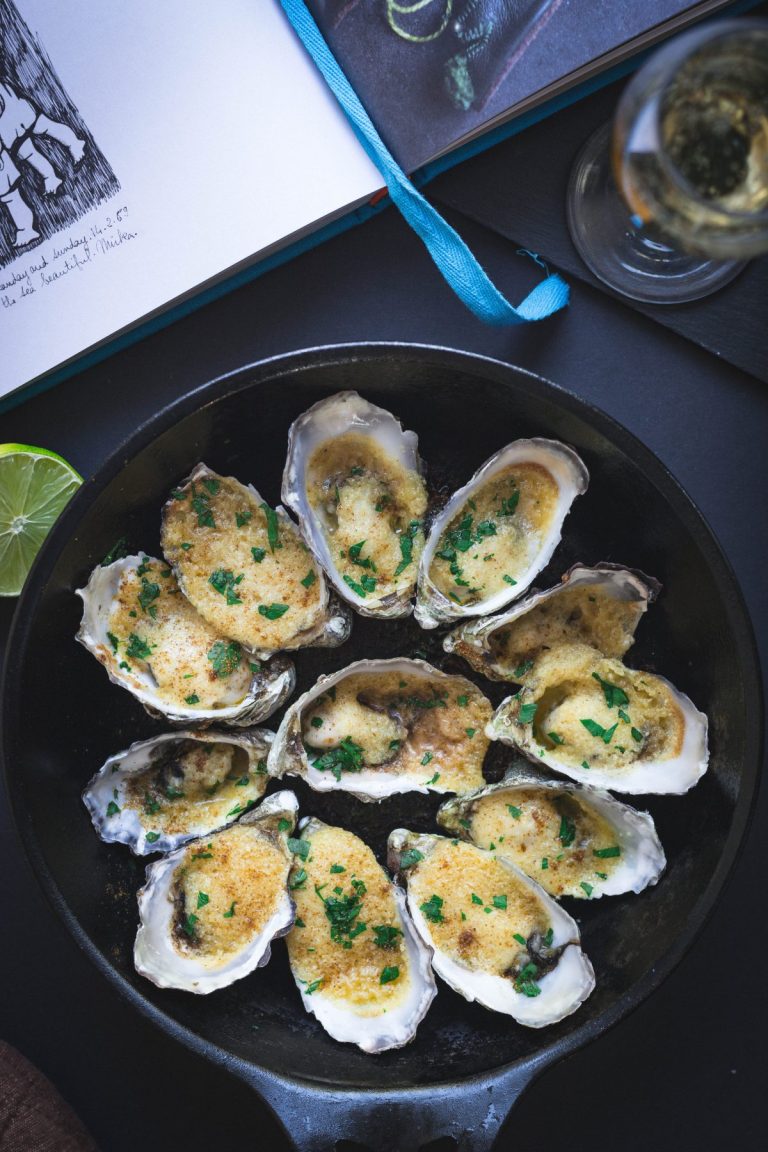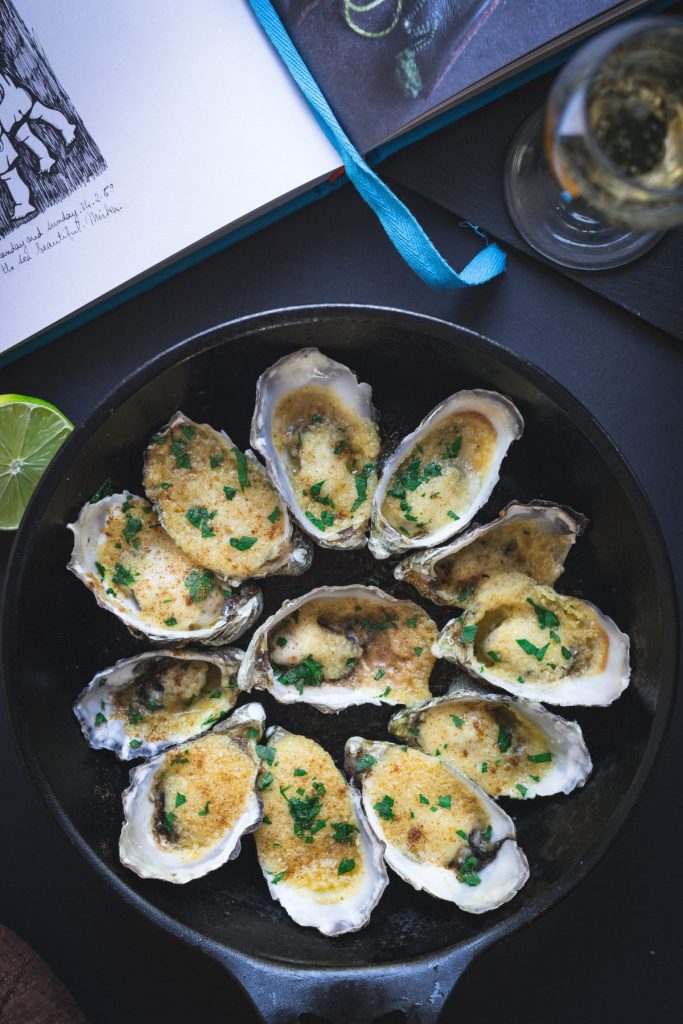 Food, art, culture…intertwined in a way that is both enjoyable and informative. One of the best culinary themed books I have read in 2018.
Mirka & Georges – A Culinary Affair by Lesley Harding and Kendrah Morgan explores the extraordinary lives of Mirka and Georges Mora, their invaluable contributions to the art and culinary scene of Melbourne.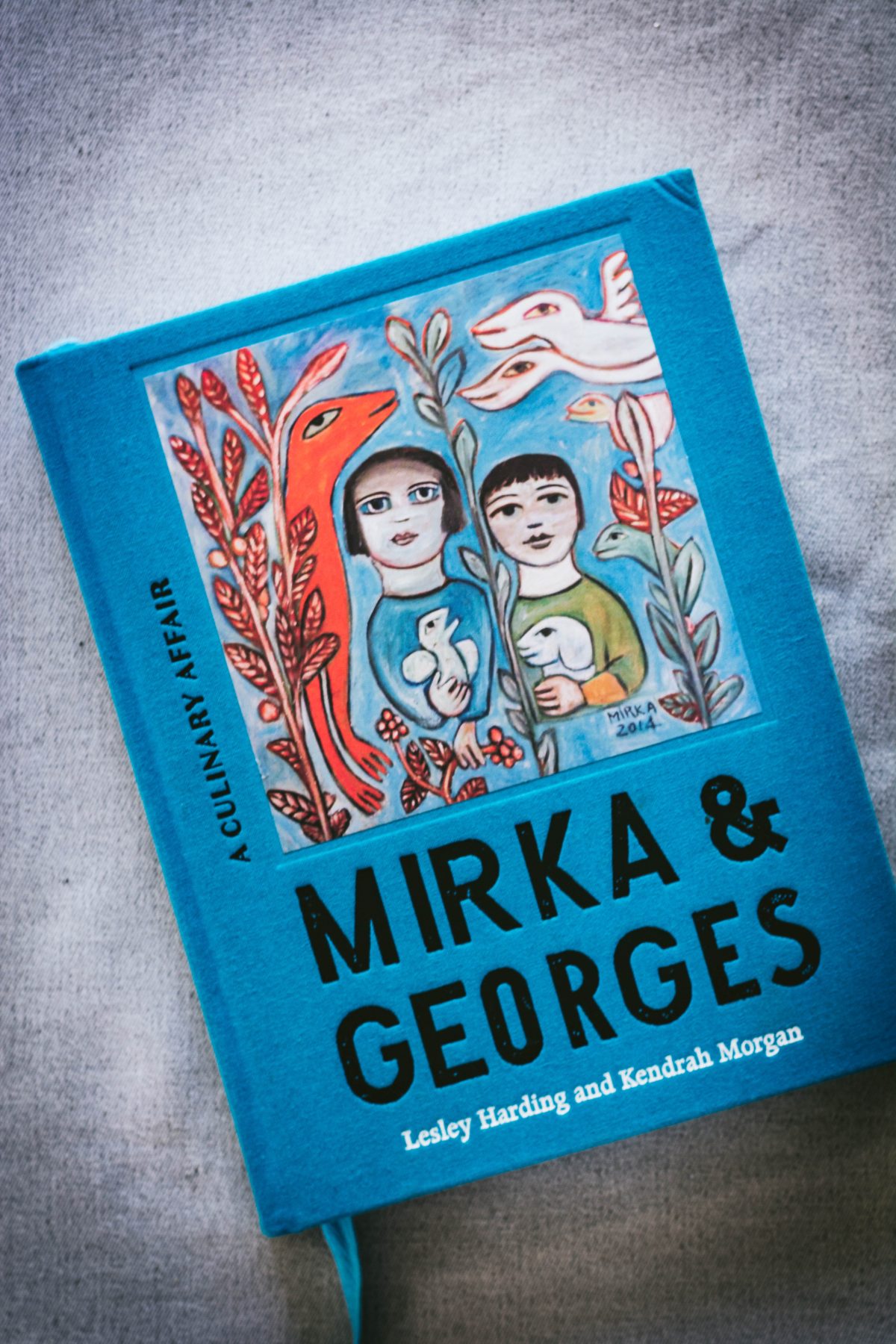 Lesley and Kendrah are senior curators at the Heide Museum of Modern Art (Heidelberg, Melbourne) who have previously co-authored the books, 'Sunday's Kitchen: Food & Living at Heide', 'Sunday's Garden: Growing Heide' and 'Modern Love: The Lives of John and Sunday Reed'.
I have always been a fan of Heide Museum, visiting whenever time allowed me. It all started when I first took Adi for a holiday program at the museum but it would be fair to say that I fell in love with the space. It's more than art at Heide; the beautiful expanse of greenery around, the vegetable gardens, the café serving absolutely vibrant delicious food, all of it inspires me to keep returning to the Museum.
The first time I came across the name, Mirka, was also at Heide. There was an exhibition featuring her art works and also copies of this book at the store inside the museum. But I initially dismissed it thinking the book is going to be all about art, not even paying attention to the word 'culinary' in the title. Little did I know that 'A Culinary Affair' is not just a glorious illustration of Mirka's works and their life story but also contains lots of classic French recipes that are absolutely brilliant.
A beautiful sky blue hard bound book filled with the most beautiful drawings and illustrations, mostly by Mirka along with many personal photographs adorns the pages. The narrative begins with a brief introduction to Mirka's childhood in France, growing up during the period of the Second World War, the perils and tragedies faced during the Holocaust, meeting Georges and finally moving to Melbourne in 1951.
'Bohemian' is perhaps the best word to describe Mirka's and Georges's way of life. Both of them led a very colourful, enterprising, creative, free-spirited lifestyle peppered with sophisticated food, sexual intrigue and artistic endeavours.
Their contributions to the culinary landscape of Melbourne are immense with the Mirka café, Balzac Restaurant and Tolarno French Bistro. The book tells us about their journey into opening each eatery, how it became the hub for rich and famous including the likes of Mick Jagger, Bob Dylan, Ava Gardner, Gregory Peck etc…. to name a few.
Mirka and Georges also contributed immensely to the artistic scene of post war Melbourne. Their apartment was often the den for artists and artistic discussions. Today, the name Mora is much revered amongst the culinary and art circle of Melbourne and imprints of it can be seen at Heide Museum, MoMA etc…
The authors have done an excellent job in giving us a glimpse into the culturally rich and vibrant life of the Moras. For a relatively new migrant like me, the book is a peep into the stories of some of the people who have shaped Melbourne as we know today. And the Moras led such an exciting life than parts of it almost feels like fiction to me. I now understand that the post war Melbourne was anything but boring; it was grand, exciting and full of adventures. The only thing similarity that I can draw to the modern times is that this beautiful city that I now call home was welcoming to people from all walks of life from all over the world, just as it is today.
Coming to the recipes outlined in this book, I intend to try out each and every one. But the one that caught my attention was a recipe for Huitres Grillees Aux Amandes or Oysters roasted with almonds and butter.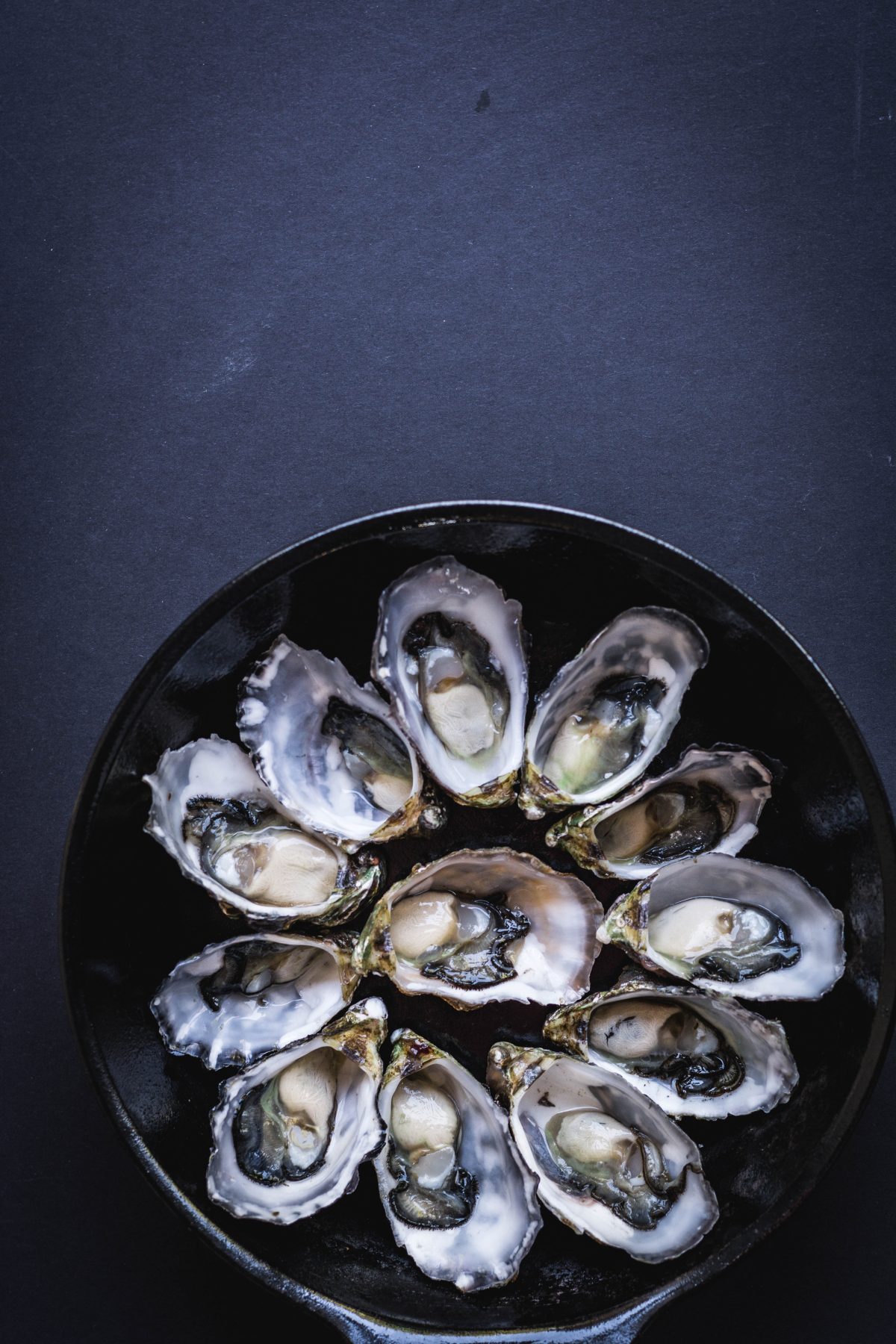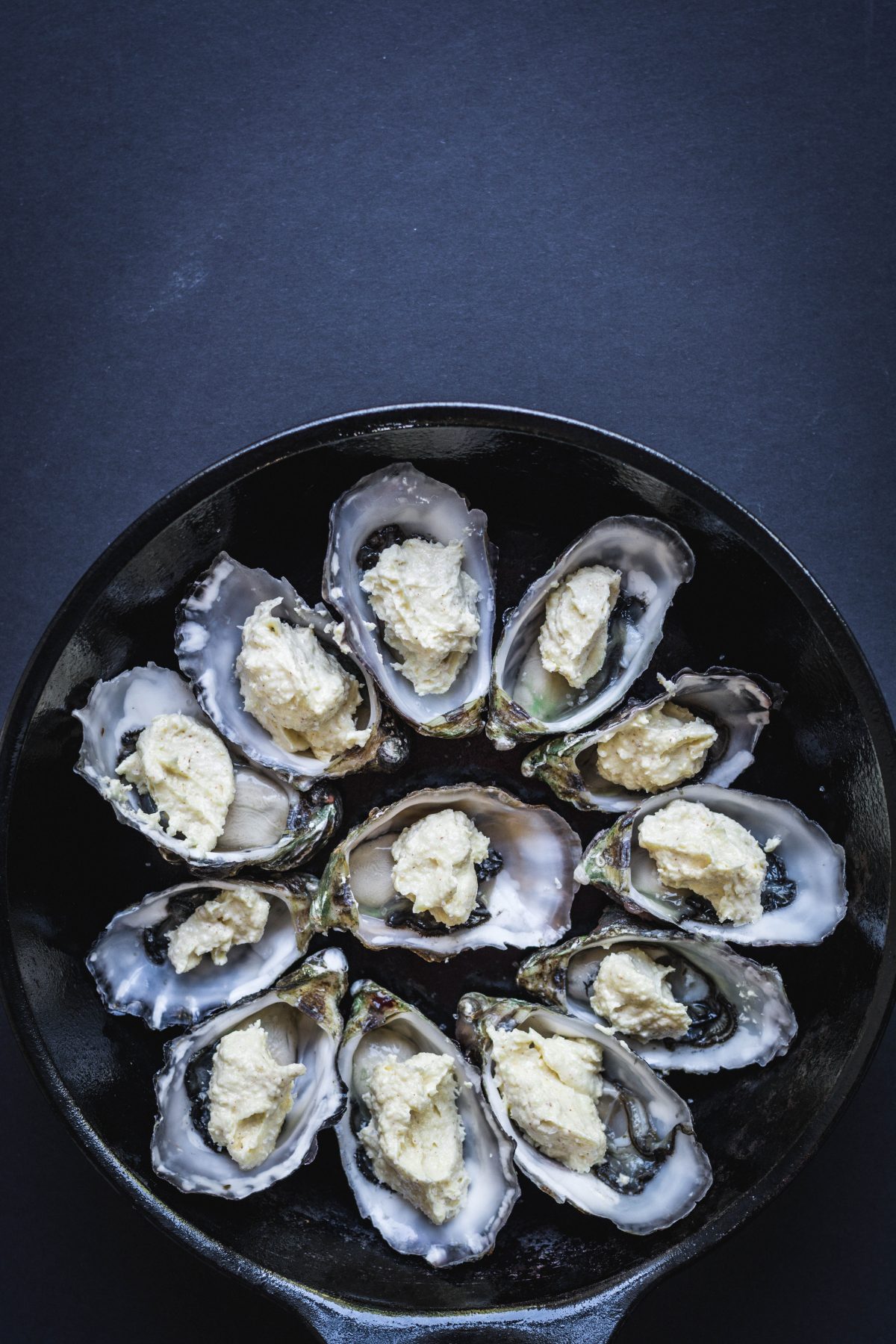 Being a huge oyster lover, I love to experiment with different recipes. Of course, there's nothing to beat the taste of fresh, raw oysters with a dash of lemon and tabasco.
But recipes like these Oysters roasted with Almonds and Butter is also a decadent and delicious way to enjoy the season's freshest oysters.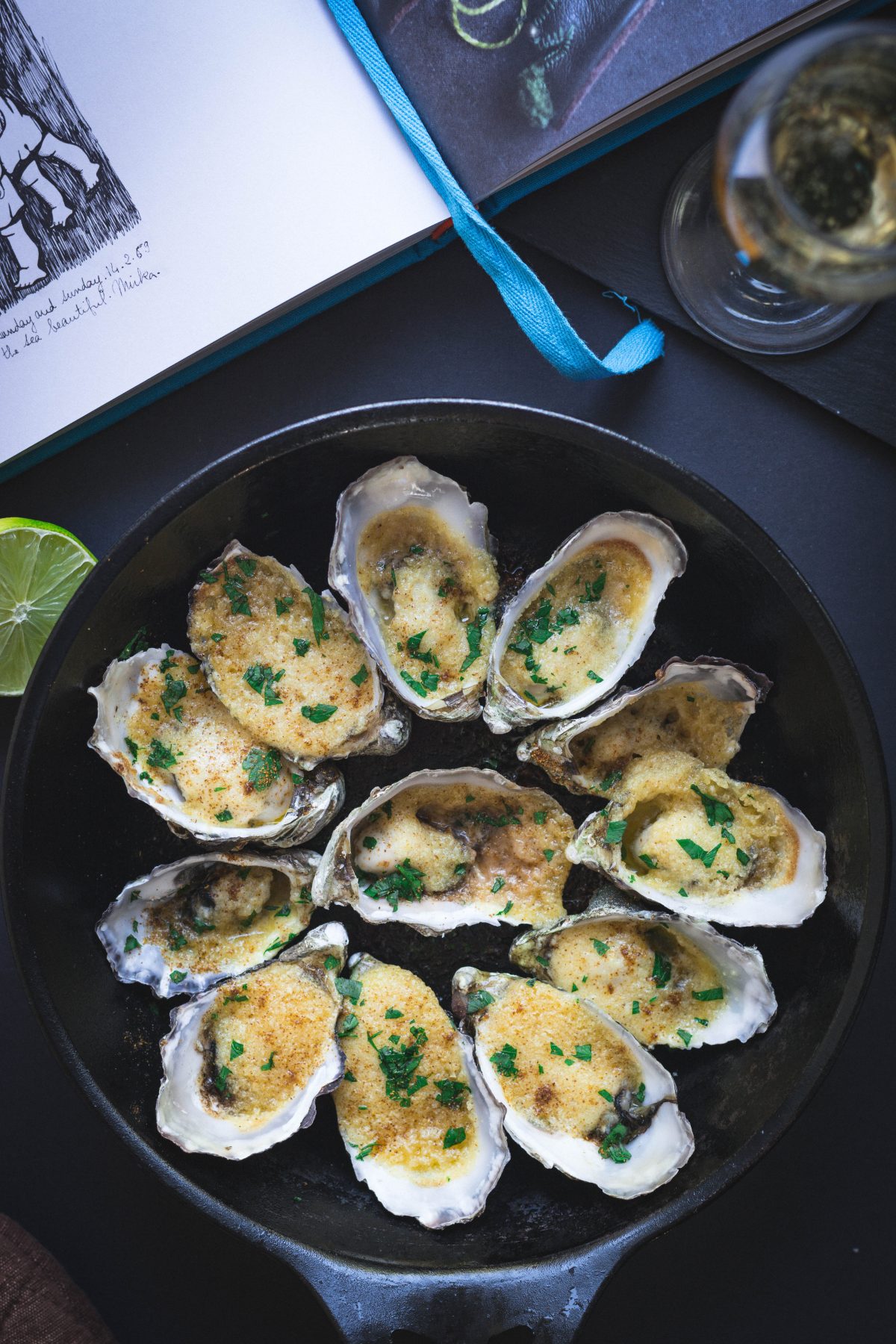 If you are a fan of oysters, then here are two delicious recipes to make at home.
Oysters with Rose Wine Granita
Oysters with Garlic, Curry Leaf, Chilli – my signature recipe!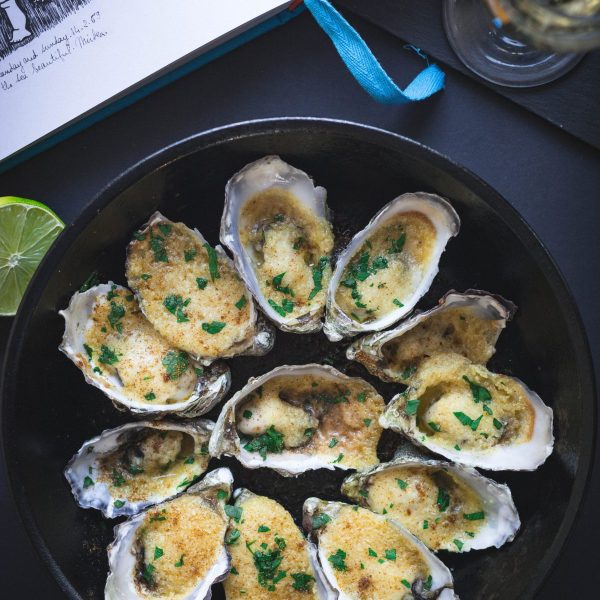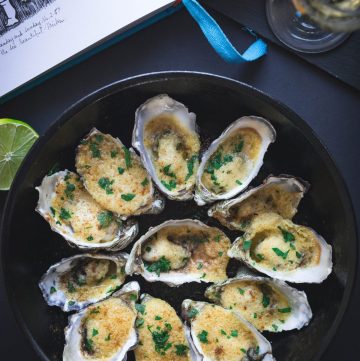 Print Recipe
Oysters Roasted with Almonds and Butter
Ingredients
12

fresh oysters

¼

cup

unsalted butter

at room temperature

¼

cup

almond meal

or ground almonds

1 ½

tsp

Grand Marnier

optional or replace with brandy as in original recipe

1

small garlic clove; grated

Cayenne pepper

Lemon wedges

to serve
Instructions
Preheat the oven to 200°C (fan forced)

Cream the butter and almond meal; grate in the garlic and add the Grand Marnier. Also add a pinch of cayenne pepper. Mix well to combine.

Pour off the extra liquid from the oysters and cover each with a tsp of the almond mixture.

Bake in the oven for 5 minutes.

Serve immediately garnished with a pinch of cayenne pepper