Delicious, juicy Poached Pears infused with cardamom and saffron, served with creme fraiche, dried rose petals and crushed pistachios – the perfect summer dessert!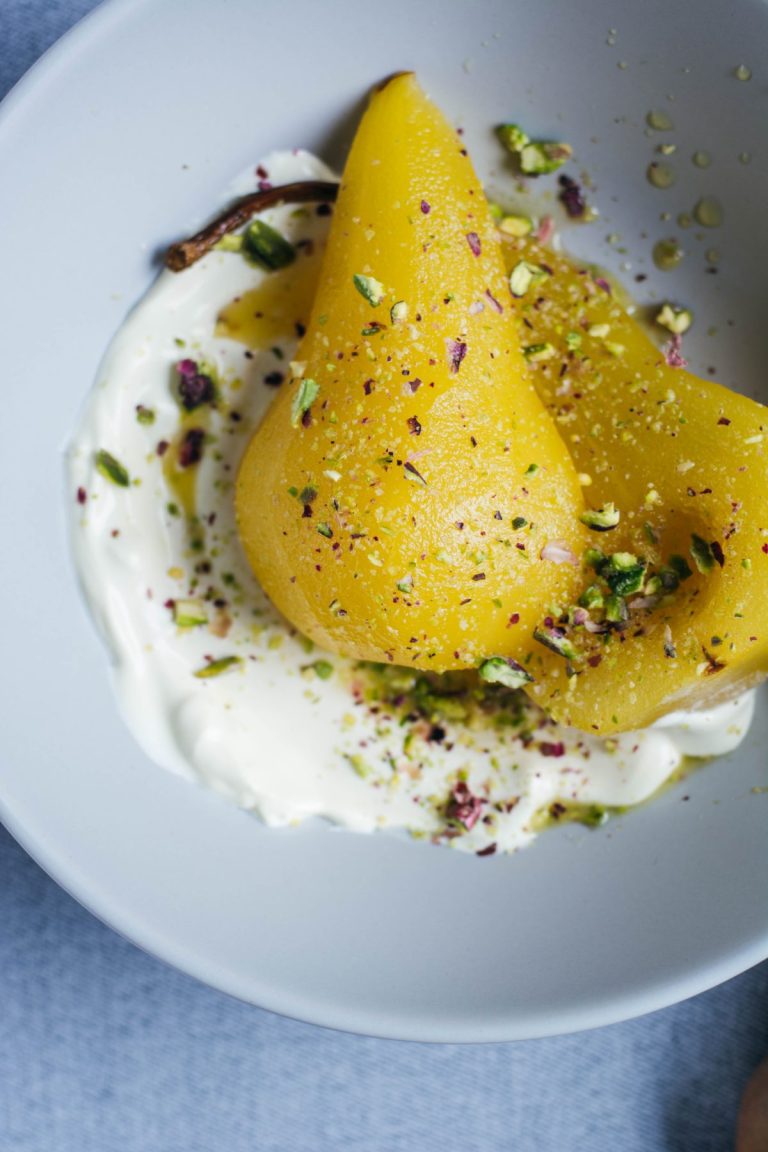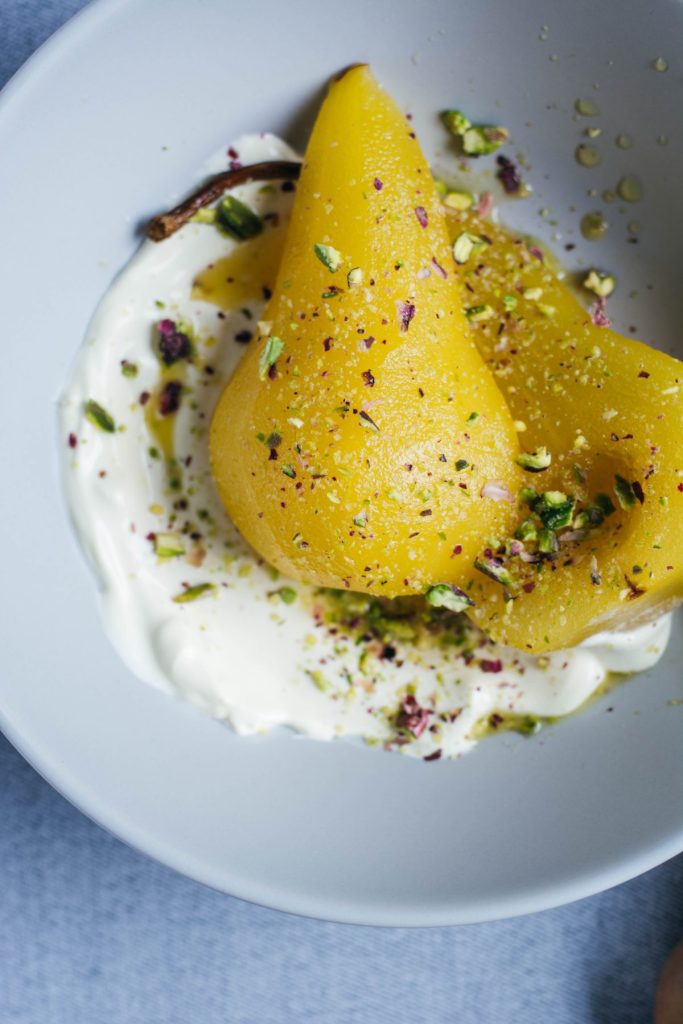 "Your limitation – it's only your imagination!"
So true right…
We constantly limit ourselves, finding excuses to convince our minds why we shouldn't try out something new. Big or small, we fear change; a departure from the routine is scary even for the strongest amongst us.
I am no exception, often battling those inner demons that tell me why I shouldn't try out an idea that has been brewing in my head. It's often hard to find the courage to shut those voices in my head and put that foot forward.
There's no sure shot technique or answer on how to overcome one's limitations, small or big. Being around inspiring people helps tremendously, reading about them or interacting with them can be a big boost to your own confidence. And I find social media extremely useful for this, provided you are following the right and like minded people.
But at the end of the day, it's only you who can put that step forward.
There has been quite a few for me this year. While I am struggling with some of them still, I have succeeded in the others. And the most important one was the decision to start exercising daily.
Most people who have seen me in person are always of the opinion that I don't need to exercise as I am not overweight. But that's such a myth that we still carry around right. Weight has nothing to do with exercise really, but all to do with good health especially as you age. I had been beginning to feel the lack of stamina, tiredness, muscle aches etc… that comes with the 40s, and also with a job that requires me to spend a considerable time in front of a computer. And that was the reason why I wanted to incorporate some form of exercise into my daily routine.
And after months of procrastination and making excuses, I finally put that step forward. It was hard starting the journey; the aches and pains, staying disciplined were both major challenges but I realised within a week the benefits of being active. There was a newfound energy and stamina; I felt really charged to take on the day's work. Not going into more details but the idea of sharing this was only to motivate those who have been making excuses about trying out something new in their life. Just put that step forward.
Today's recipe also ties in with this theme. This year, I have been pushing myself to learn more about desserts, baking etc… researching and experimenting with recipes that teach me new techniques. And that's how today's dish took birth – Poached Pears (with cardamom, saffron and pistachios)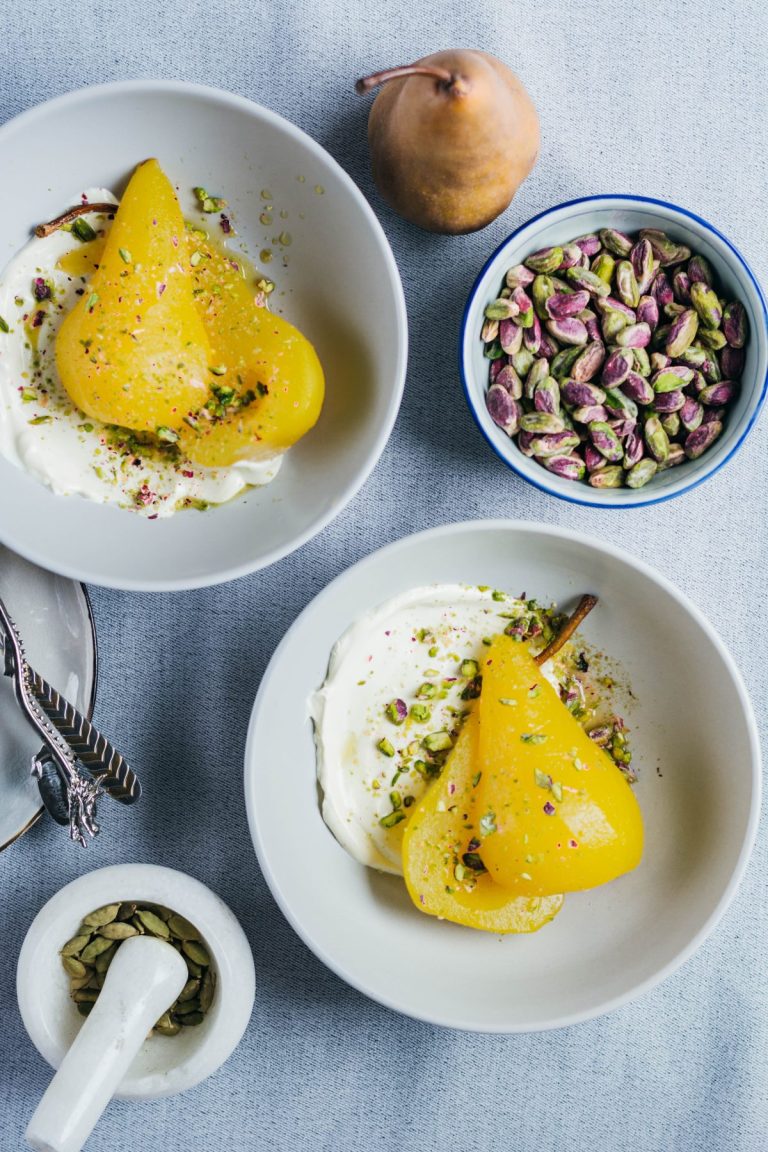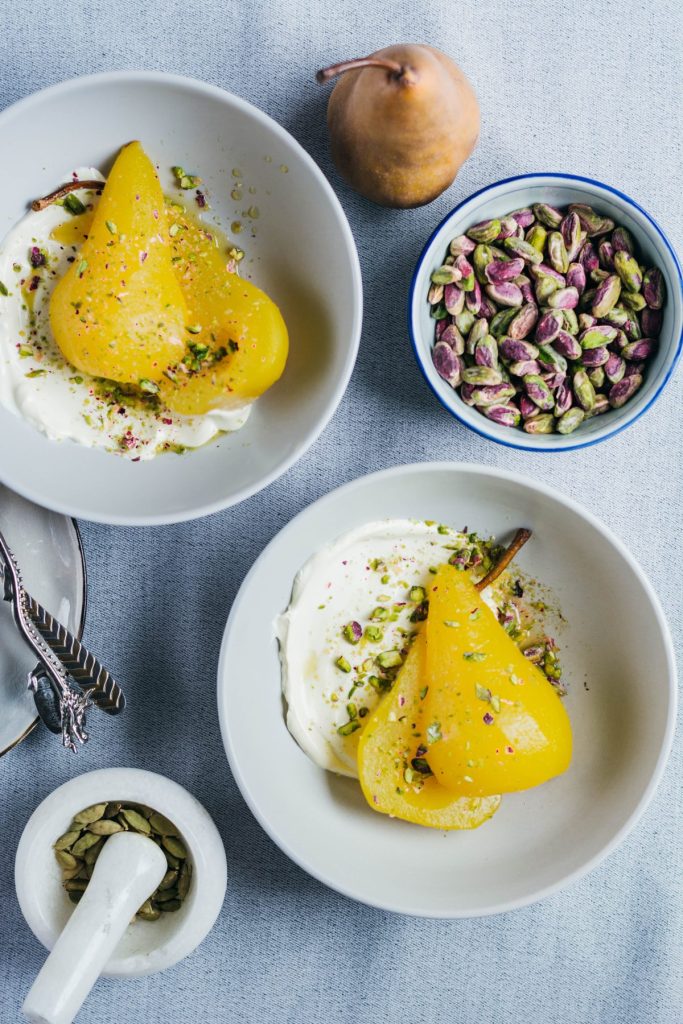 Poached pears is extremely common and a simple technique to master. And it's a dessert that can be experimented with to suit all seasons. Since its spring here in Melbourne, I wanted to make a poached pear dessert that would lend itself to the warmer days and nights, a light yet delicious dessert to end any meal.
There are two key factors that need to be taken care of while poaching pears. First, semi-ripe pears are best for poaching and second, the cooking time itself. Depending on the size and ripeness, the pears must be poached till just soft but not mushy.
I used the Beurre Bosc variety for this recipe, but you can use just about any variety that's in season.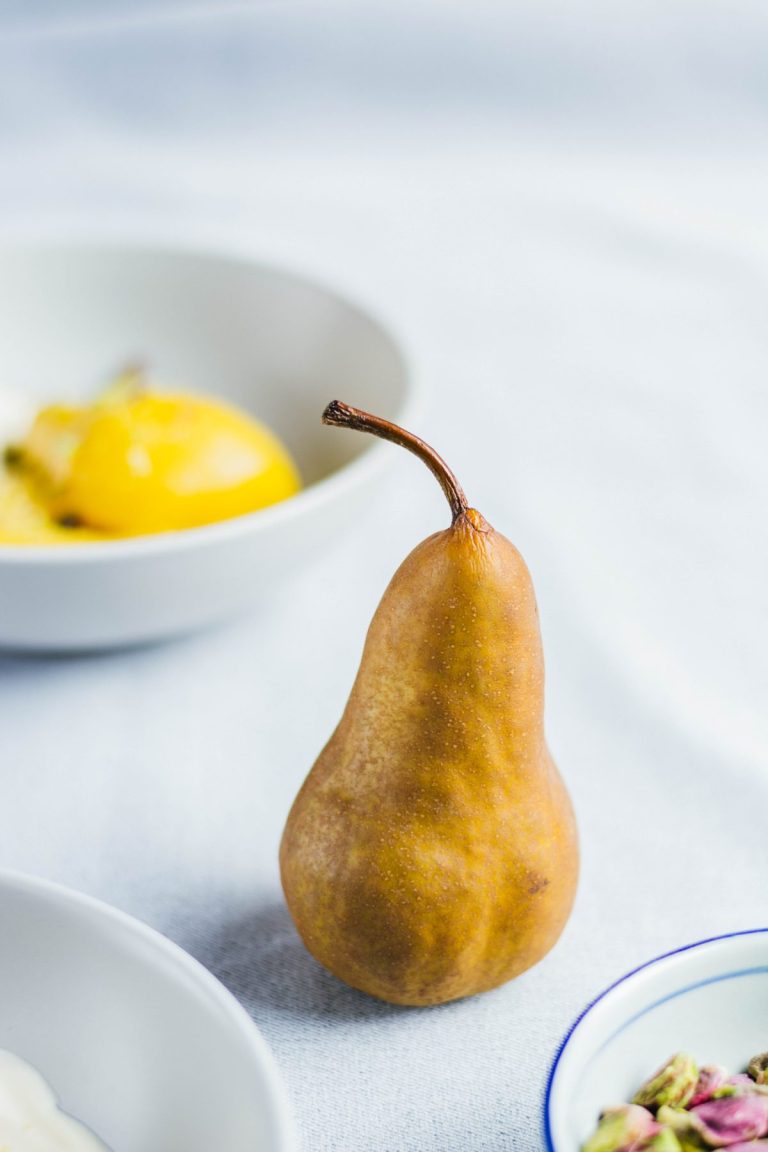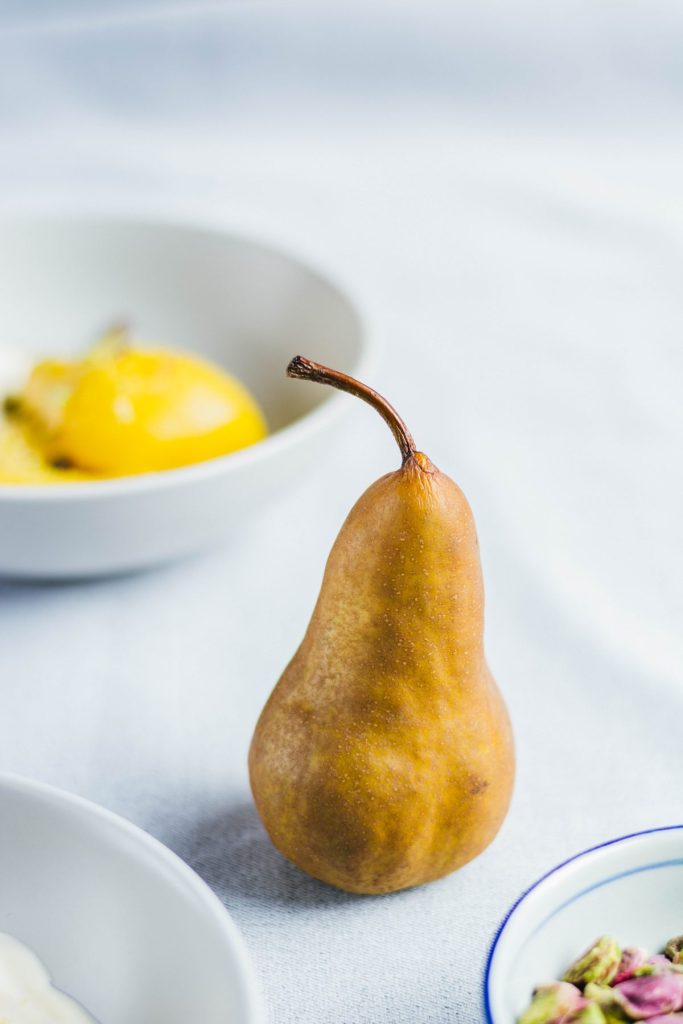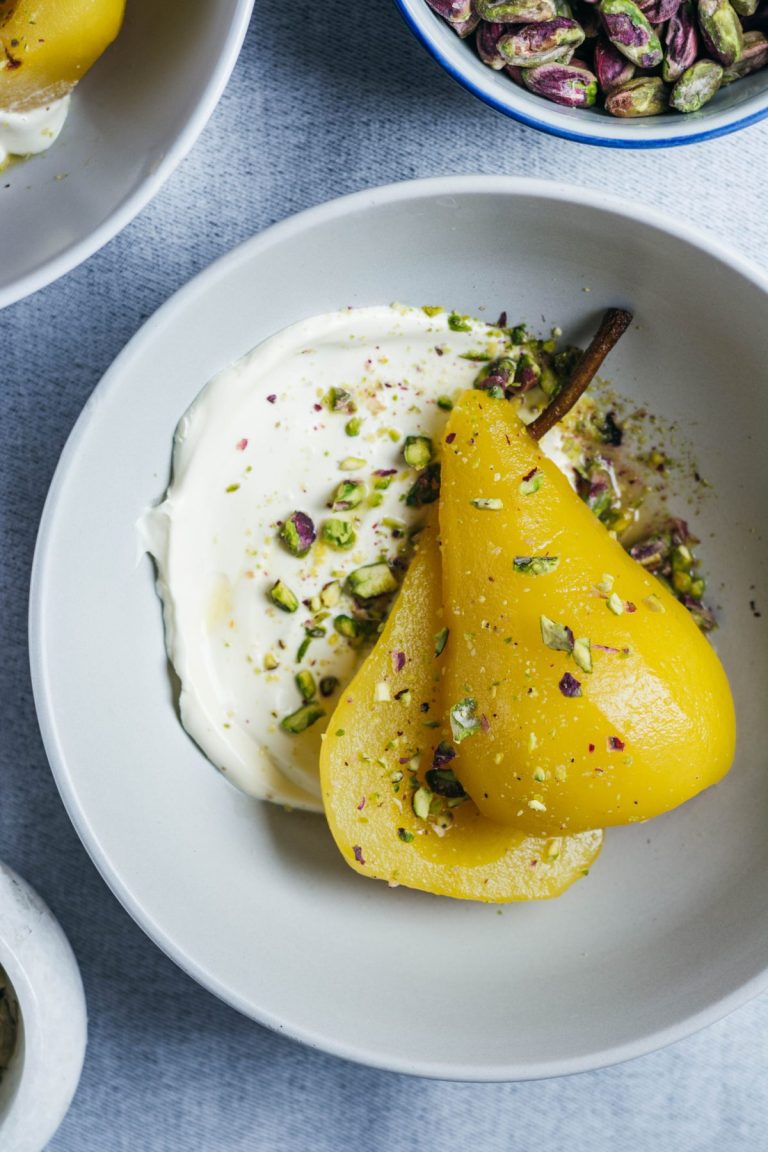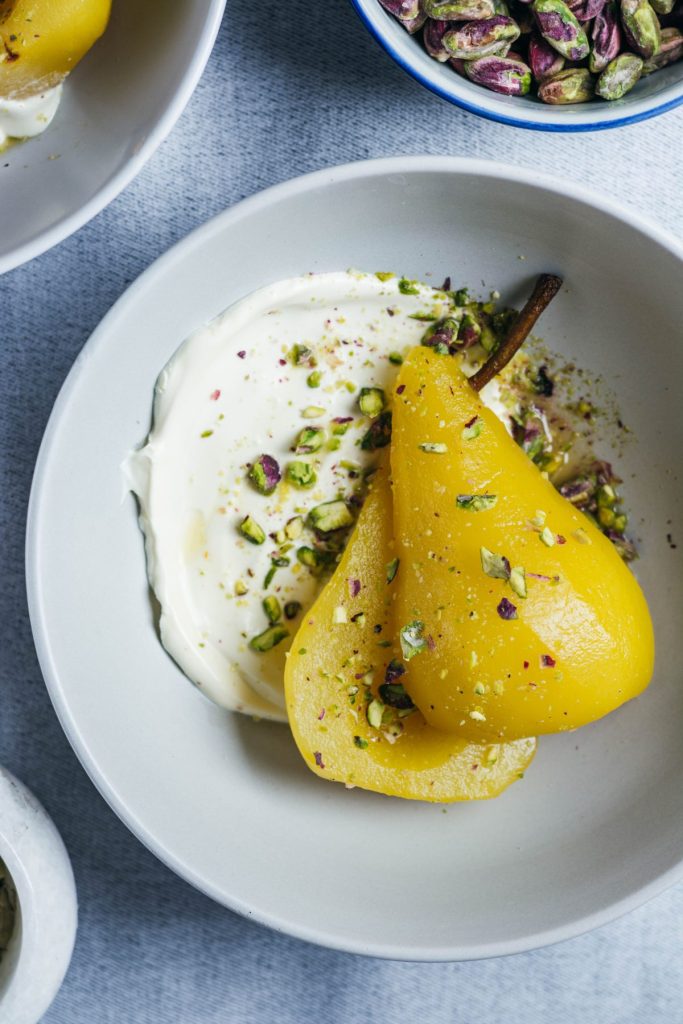 The pears can be poached whole or halved; a personal preference depending on the size of the pears and also considering your dinner menu.
The addition of cardamom and saffron to the poaching liquid added so much flavour to the natural sweetness of the pears, and the saffron also imparts a beautiful golden yellow colour that makes the final dessert look stunning. Don't get tempted to go overboard with the cardamom or saffron, in excess both can ruin the final flavours.
I served the poached pears with crème fraiche for that touch of sour creaminess and finally garnished with dried rose petals and crushed pistachios. The dried rose adds a beautiful fragrance while the pistachios lend a nice textural contrast to the softness of the pears and cream.
So let's get onto the recipe, and hopefully you will try it out at your next party or anytime the sweet tooth beckons!
Recipe adapted from Bon Appetit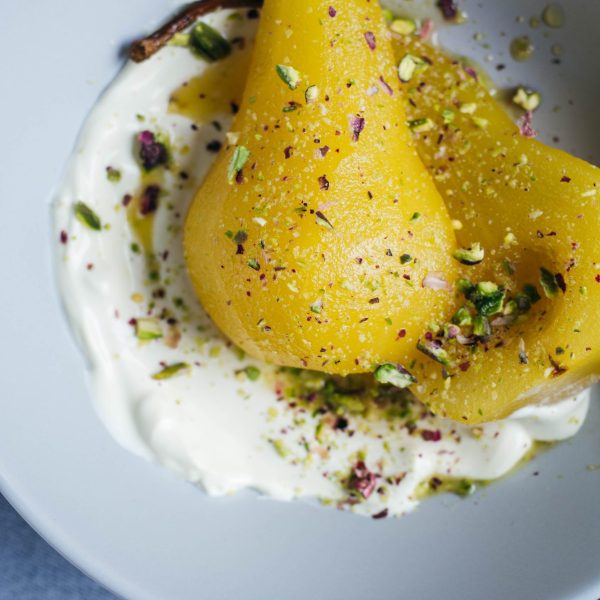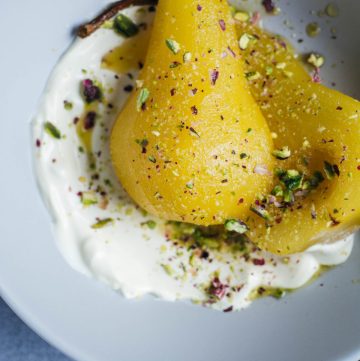 Print Recipe
Poached Pears (Cardamom, Saffron, Pistachios)
Ingredients
3

Beurre Bosc pears

use any variety

2

cups

dry white wine

3

green cardamoms

¼

tsp

saffron threads

¾

th cup raw sugar

A pinch of salt

1

tub crème fraiche

400gms

1

tsp

dried rose petals

2

tbsp

crushed pistachios
Instructions
Remove the skin of the pears leaving the stem intact. Halve the pears and remove the centre core part. (Alternately you can keep the pears whole but skin removed).

Crush the cardamoms lightly to release flavour.

In a large saucepan, add the wine, raw sugar, saffron, cardamom and salt, Place on low heat and stir till the sugar dissolves.

Add the pears, and add water if necessary to submerge the pears.

Cover with a lid slightly ajar and simmer till the pears are just cooked, soft but not mushy. Since the time depends on the variety and ripeness of pear, keep a close eye.

Use a slotted spoon and remove the cooked pears. Once cooled, refrigerate the pears till serving time.

Increase heat and bring the poaching liquid to a boil until the liquid has been reduced to half in quantity.

Remove and cool completely before serving.

To serve, place a dollop of crème fraiche in a bowl. Place the pear on top and drizzle with the poaching liquid. Garnish with rose petals and crushed pistachios.
Notes
If using white sugar, add only ½ cup. Taste the liquid and add more if necessary.