This cookbook has to be my favourite one of 2019, because it combines two of my most passionate subjects – reading and food.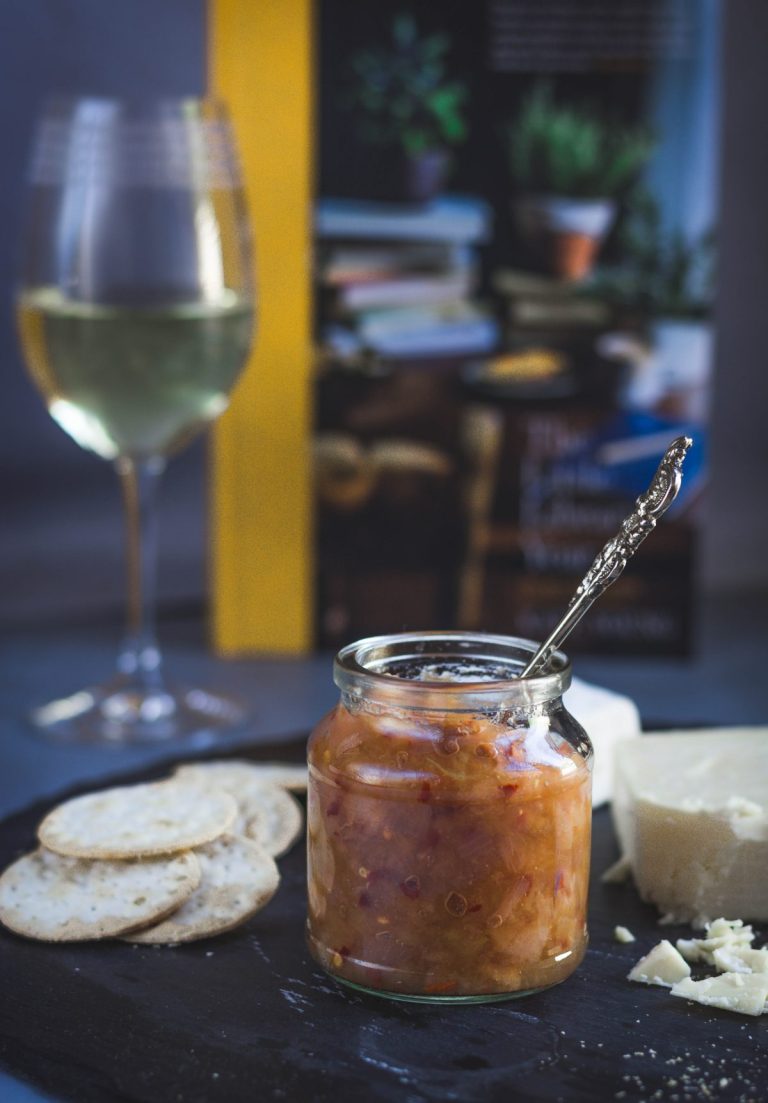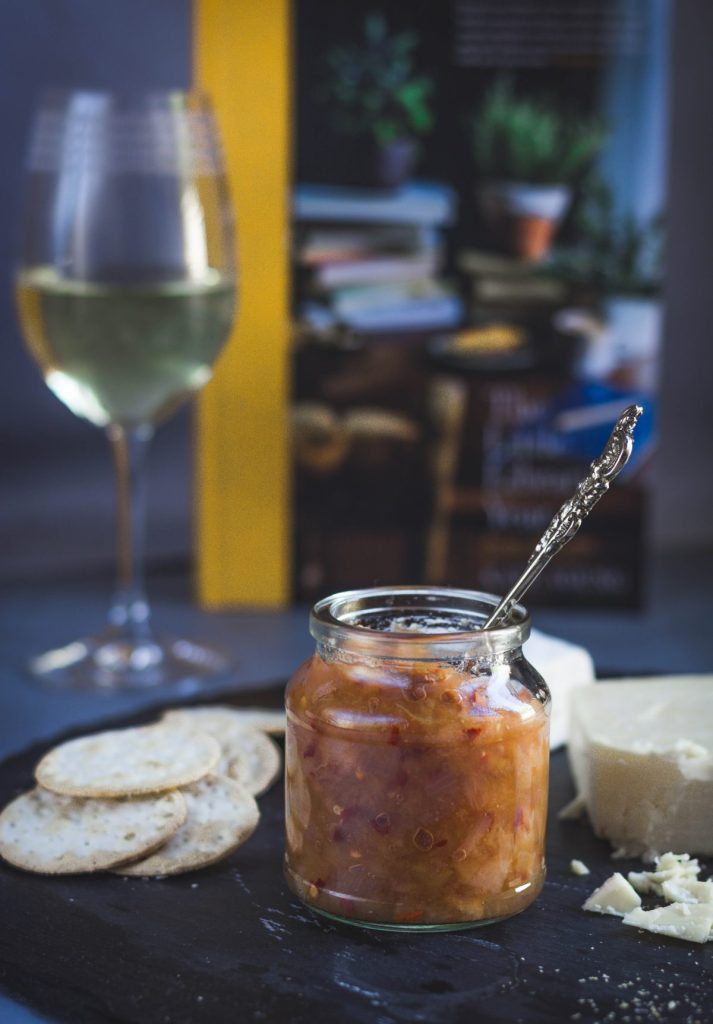 The Little Library Year (Harper Collins) is the second cookbook by Kate Young, a self confirmed bookworm, food writer and cook. Her first book, The Little Library Cookbook won a World Gourmand food writing award and she was also named 'Blogger of the Year', 2017 by the Guild of Food Writers.
In this book, Kate focuses on seasons and so the recipes and reading lists outlined are suited to each season of the year. I found this really interesting because reading is not something I associate with seasons. So this pairing of food, books and seasons was really exciting as it unfolded as a story in itself.
The photography by Lean Timms adds another element of joy. The changing seasons influence the mood of the photograph too; some of my favourite pictures are that of Kate cooking in her kitchen, a spring picnic spread, harsh shadows of summer and close ups of fresh produce.
The recipes outlined are not too complex, easy and do-able for the average homecook. A good mix of savoury and sweet; the fact that the dishes are based on seasons makes it one that you can use through the year. Kate has not stuck to a specific cuisine, and apart from some classic English recipes, there are also Asian influences, Scandinavian festive recipes and a few recipes dedicated to our warm Australian Christmas too.
Since we are at the height of summer here, let's look at some of the books Kate suggests – Mrs Dalloway, Tom's Midnight Garden, The Story of a New Name, Crooked House, Wild, The Virgin Suicides are some from the list. Perhaps I will include one or two of these as my holiday reading. What about you? Have you read any of these books?
As for summer recipes, there a basic tomato pasta sauce, polenta and roasted tomatoes, salads like panzanella, Swedish eggs, potato salad, cheese tart (a selection of recipes that go well on a platter), oyster pie, light summer cakes, desserts etc….
While there were so many recipes that I wanted to try out from the book, I zeroed in on this delicious Apple, Pear and Chilli Chutney.
Kate suggests this one as a seasonal gift and I can't agree more, especially at this time of the year. So easy to prepare in bulk and makes an excellent Christmas gift for friends and family.
Since we love cheese platters not just for entertaining, but also our evening snack, I thought this chutney would be a perfect addition. But then this turned out so delicious and paired excellent with our Indian dishes too, that it was polished off in less than a week.
But I am planning to make this again when autumn arrives and we go apple picking. Bookmark this one and do try out this chutney, its sensational.
What's brilliant about this recipe is that the basic technique used can be extended to other fruits as well. I am definitely planning to try this out with other seasonal fruits too.
The final colour of my chutney varies slightly from the one depicted in the book but I gather this is due to the different varieties of apples and pear used. Mine turned out a golden brown as opposed to the darker brown shown in the book. So don't worry if yours turn out looking different, I bet it will taste just as delicious. Also make sure that you taste after adding the sugar and vinegar; adjustments might be required to get the perfect flavour.
Dried chilli flakes are used to spice up this apple and pear chutney which lends a delicious textural element and heat without being too overpowering. You know the chillies are there from the heat at the very end of the tasting but it's not really spicy which makes it a great addition to a cheese platter.
If apples and pears are in season in your part of the world, then this chutney can be made in bulk and stored in sealed containers for upto 6 months. But as Kate says in the book (totally second that!), it might not really last that long.
So let's get onto the recipe for this delicious Apple, Pear and Chilli Chutney from Kate Young's 'The Little Library Year'.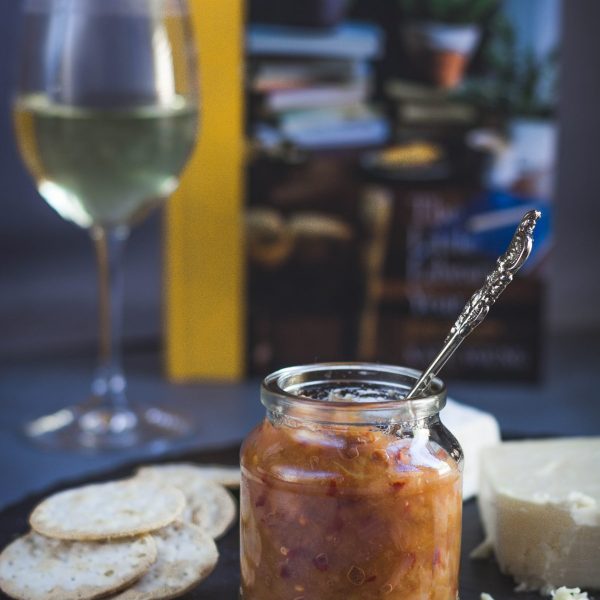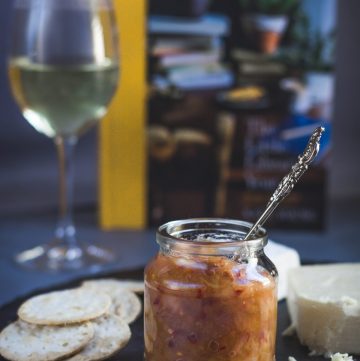 Print Recipe
Apple, Pear and Chilli Chutney
Ingredients
1

kg

eating apples; peeled

cored and diced

500

gms pears; peeled

cored and diced

500

gms onion; peeled and finely chopped

500

gms sugar

300

ml

cider vinegar

1

tsp

salt

1

tsp

chilli flakes

add more if you like more heat
Instructions
Place all the diced fruits and onions in a large pot/pan and cook on low heat for about an hour, stirring occasionally. The apples release plenty of water so there is no need to add extra water. However keep an eye and stir occasionally.

After an hour or when the fruits have completely broken down, add the sugar, vinegar, chilli and salt. Mix well to combine and continue to cook till the extra fluid has been absorbed and the chutney has thickened.

Spoon into sterilized jars and store in a cool, dark place. Alternately, spoon into regular jars and refrigerate if you intend to use it up immediately.

Enjoy it on a cheese platter or with just any meal. Especially good with an Indian meal.
Notes
As mentioned above, it is important to taste after adding the sugar, vinegar, salt and chilli. Measurements could vary based on brands used so taste and adjust as required.