A traditional dish from Kerala that's a delight for all squid lovers!
Squid can be one of the most delicious seafood to eat, provided you cook it perfectly that it is soft and succulent instead of hard and rubbery.
It is a personal favourite of mine though I cook it only occasionally since the rest of the family is not too keen on it. But whenever the craving hits, I do make it and this squid roast masala is always high on the list.
In Australia, you can get both whole squid and squid rings. The rings are an easy option for those who do not want to go through the process of cleaning, cutting and prepping. I tend to buy both depending on the dish I am cooking. For this squid roast, the rings are perfectly fine. You can either use just as rings or cut in half to get long strips; it's only a matter of preference and does not affect the taste.
Squid roast masala is popular in Kerala, especially along the coastal regions. This is a semi-dry dish best paired with white rice and buttermilk curry but also goes extremely well with appams and dosas. Black pepper plays a dominating role in this dish making it spicy but also a flavoursome one.
'Roast' in Kerala cuisine is not the same as it' s Western connotation; it refers to any dish (often meat or seafood) where the masala is slow cooked on low heat and forms a thick semi-dry gravy coating the main ingredient. In this case, the squid pieces are coated with the slow roasted masala that's made from onions, tomatoes, aromatics and spices.
Unlike meat, seafood takes very less time to cook so make sure that the squid is added only after the masala has roasted well. Also take care not to add too much water as squid releases water while cooking and the final dish will not have the thick consistency.
We enjoyed this squid roast masala as part of a thali….there's tomato rice, steamed white rice, ulli theeyal (small onion curry), stir fried cluster beans with potatoes, rasam, pickle and yoghurt. Such a satisfying meal!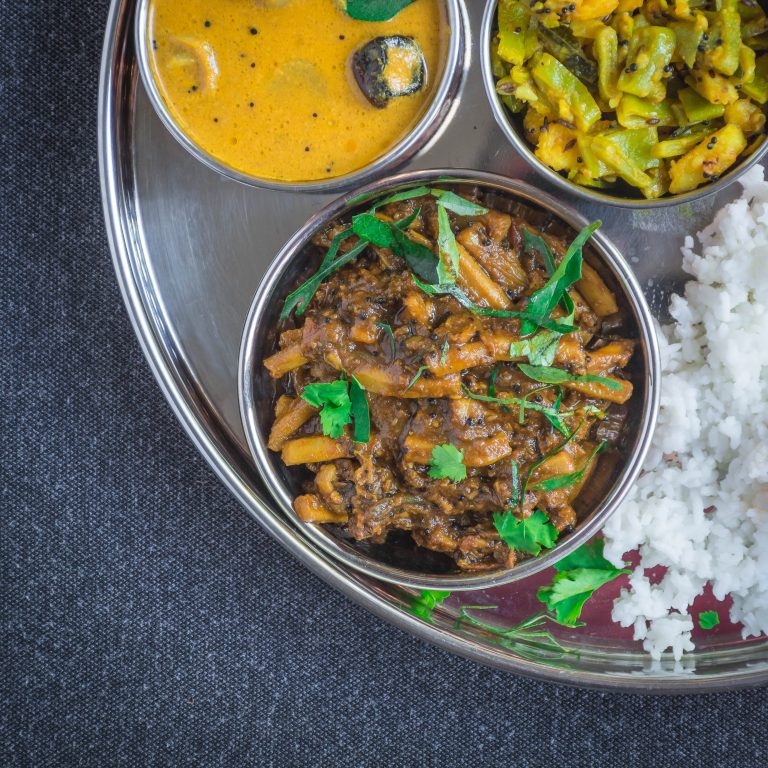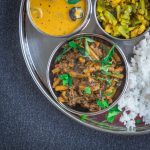 Print Recipe
Squid Roast Masala
A traditional Kerala style slow cooked squid preparation
Ingredients
500

gm squid; cleaned and cut into long strips

½

tsp

mustard seeds

1

medium sized onion

finely sliced

2

garlic cloves

crushed

½

inch

ginger

crushed

2

sprigs curry leaves

1

large ripe tomato

finely chopped

¾ – 1

tbsp

black pepper

use crushed peppercorns instead of packet pepper powder

¼

tsp

turmeric powder

½

tsp

kashmiri red chilli powder

1

tsp

coriander powder

½

tsp

cumin powder

¼

tsp

fenugreek powder

3

tbsp

coconut oil

Salt

to season

1

tbsp

coriander leaves

to garnish
Instructions
Clean the squid well and cut into long strips. Alternately, get squid rings and cut into half.

In a large pan, heat oil and crackle the mustard seeds.

Add the sliced onion and sauté for about 2 minutes. Add the crushed ginger and garlic and sauté till the onions are light golden brown.

Add a sprig of curry leaves and the tomatoes. Sauté on medium heat till the tomatoes have softened well.

Add the powdered spices except fenugreek and continue to cook on low heat till the mixture comes together and oil starts to appear at the edges.

Add the squid slices and season with salt. Mix well and cook for 2 minutes. Add ½ cup water and bring to boil (add more water if you want more gravy). Lower heat and simmer till the squid is cooked well.

Add the fenugreek powder and the remaining curry leaves. Mix well and remove from heat.

Garnish with coriander leaves and serve hot.