A delicious Gujarati style prawn curry from the award-winning cookbook "A Little Bit of This, A Little Bit of That" by Jayshri Ganda and Laxmi Ganda.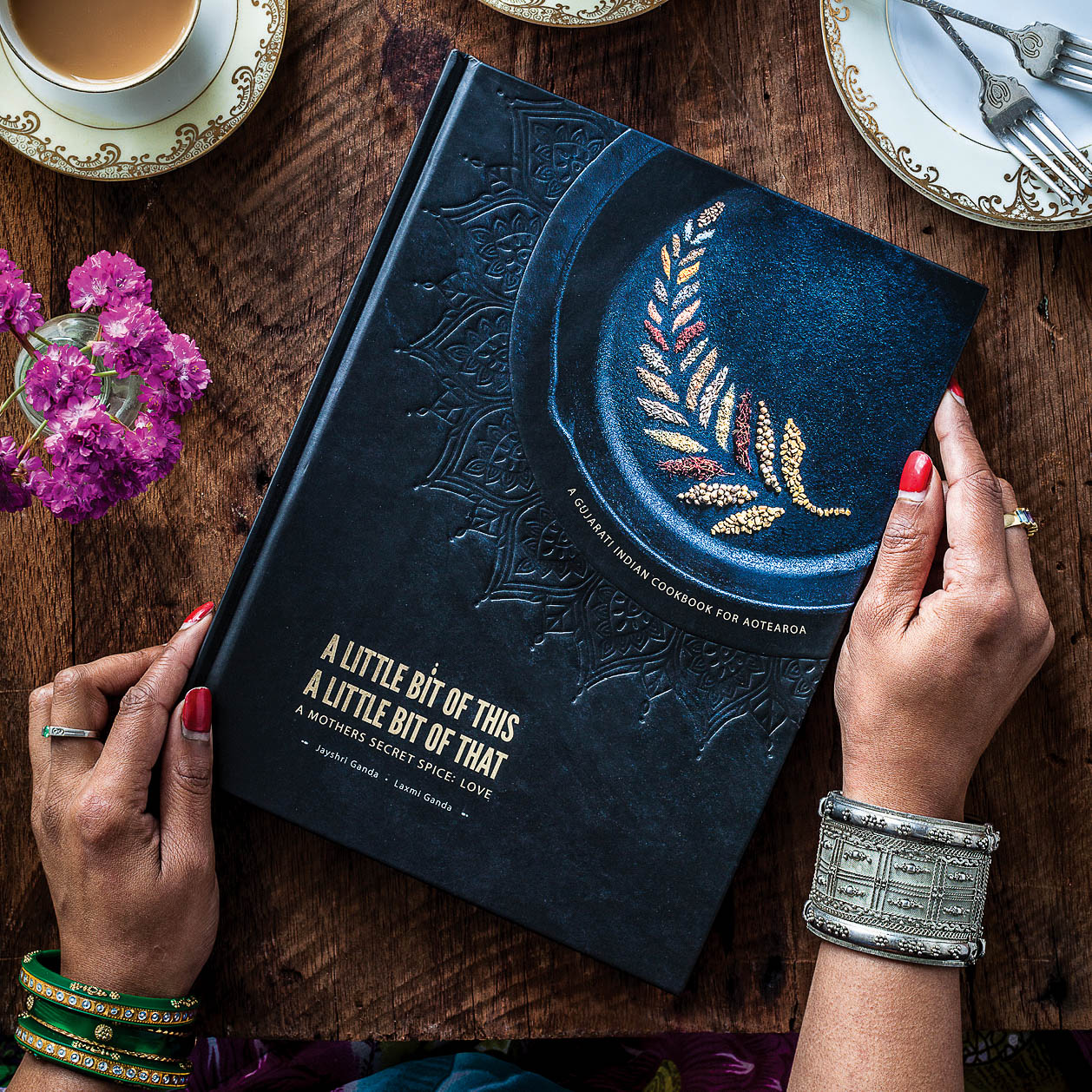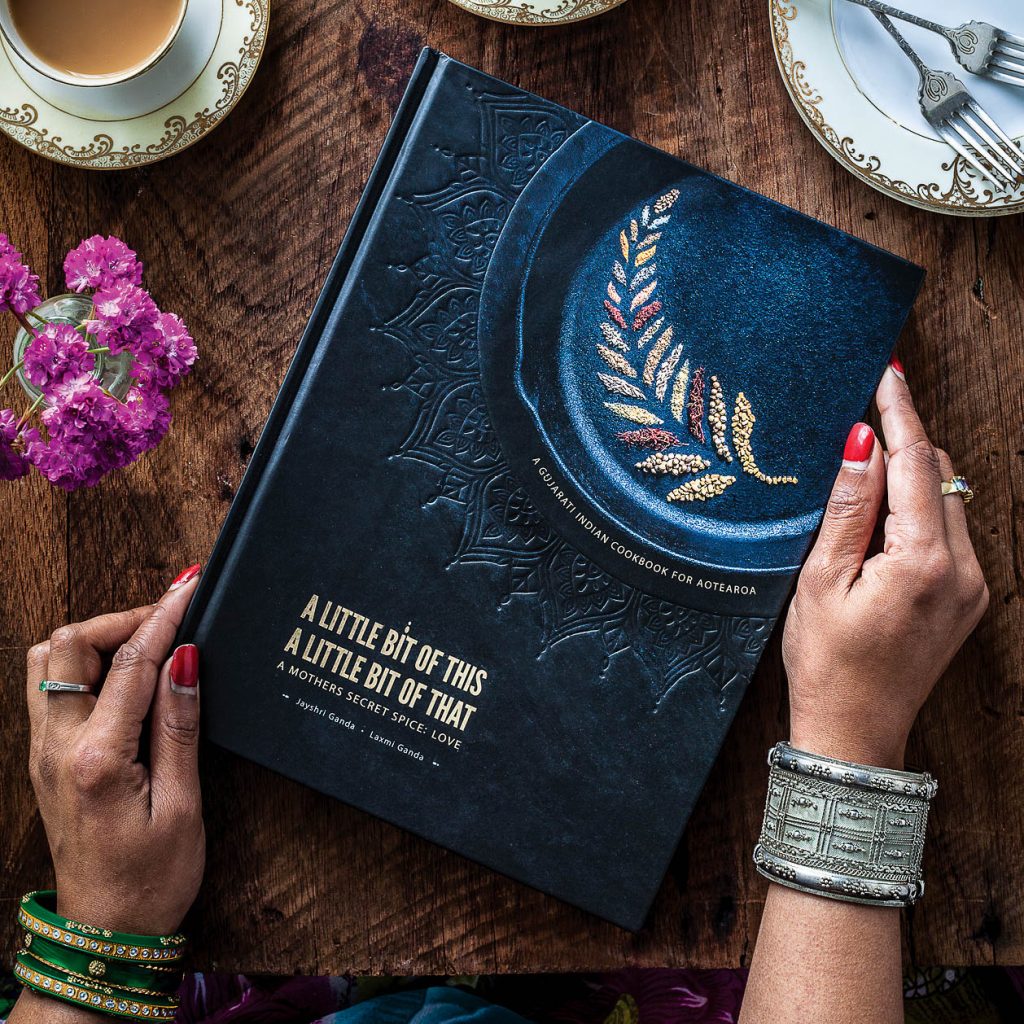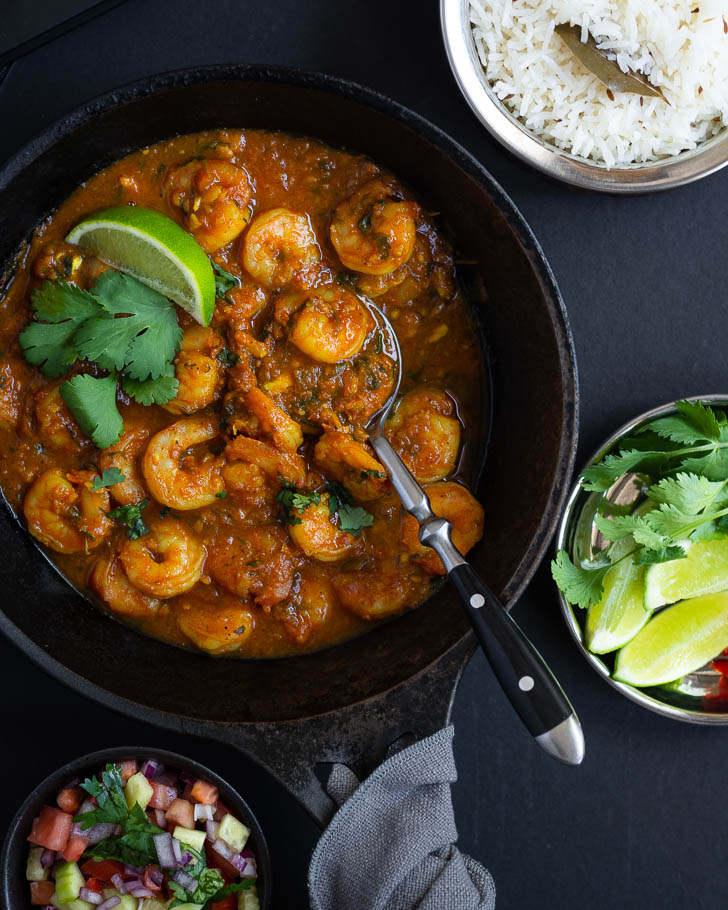 I am a huge fan of cookbooks that showcase regional Indian cooking; there's so much more information and knowledge to gain from such books than just a bunch of recipes. And the latest in that list is the beautifully designed "A Little Bit of This, A Little Bit of That" by mother-daughter duo, Laxmi and Jayshri Ganda.
Designed by Jayshri Ganda and photography by Deborah Aspray, this cookbook is a visual treat and captures the very essence of Indian families and our love for delicious home cooked meals.
There could not be a more apt title too…ask any Indian mother for measurements while making a dish and you are most likely to hear "a little bit of this, a little bit of that."
In search of a better future Laxmi Ganda migrated with her husband to the beautiful and picturesque New Zealand and it is from her home kitchen in Aotearoa that this cookbook was born.
Like all Indian parents food was one of the main ways through which Lakshmi introduced her children to the rich and diverse culture of India. As Jayshri grew older, she began to realise the value of this knowledge and the importance of preserving this and passing it on to the future generations.
It is this desire that prompted Jayshri to encourage her mother to start documenting these traditional and heirloom recipes in a more accessible manner for generations to come.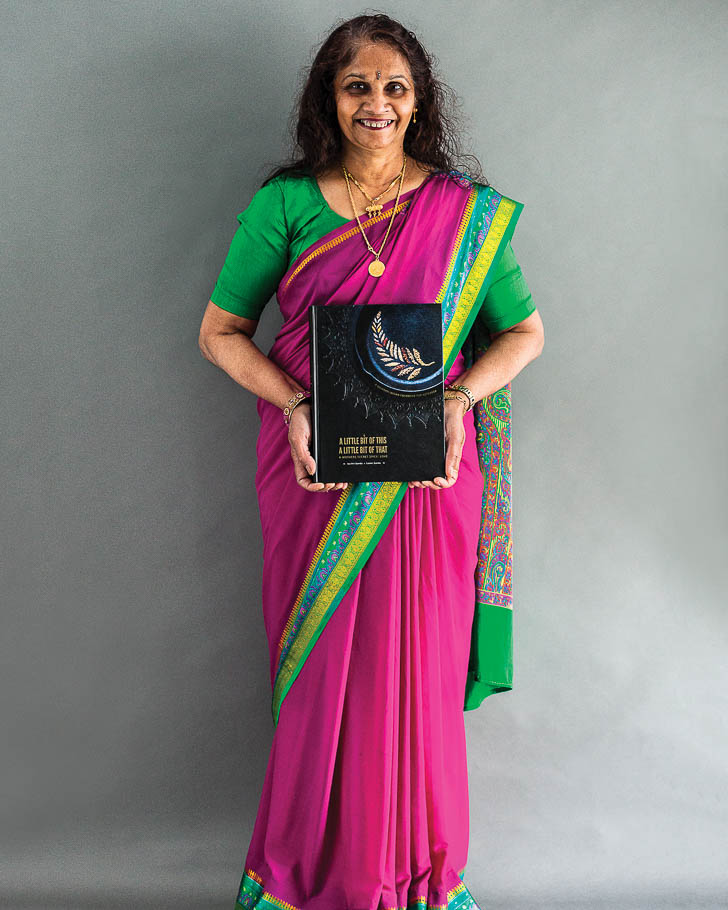 Family is at the core of "A Little Bit of This, A Little Bit of That" – like I already mentioned, the photography is beautiful but more importantly, honest and real. As a migrant Indian living in Australia, I was deeply moved by how the family bond has been captured. It made me wish that my own extended family lived nearby yet bought me a lot of joyful memories….
How to Use this Cookbook?
The book begins with an introduction to the Indian pantry with references and explanations of the basic spices and ingredients that are generally used in both Gujarati and other Indian cuisines.
Keeping a beginner in mind, there is also a pictorial introduction to some traditional Indian utensils and equipments that are required for preparing some Gujarati dishes. While the book is in English, there is plenty of references in the Gujarati language too.
Recipes:
There are over 90 recipes in this cookbook spread across eight categories.
Starters and Appetisers
Breads and Rice
Vegetable Dishes
Fish and Poultry
Meat dishes
Sides and Condiments
Desserts and Sweets
Snacks and Drinks
The writing is simple, clear and concise which really helps to follow the recipe instructions.
Most Indians know the Gujarati cuisine superficially and hence the myth that the cuisine is largely vegetarian. But the truth is that while the cuisine has an excellent repertoire of vegetarian dishes, there are plenty of nonvegetarian delicacies too. And that's what encouraged me to try out this delicious Gujarati Prawn Curry.
Since Gujarat is located on the West Coast of India, there is an easy access to fresh seafood. Laxmi reminisces how fresh prawns are often delivered early in the morning to her village Avda Falia and this Gujarati prawn curry is often the dish of choice.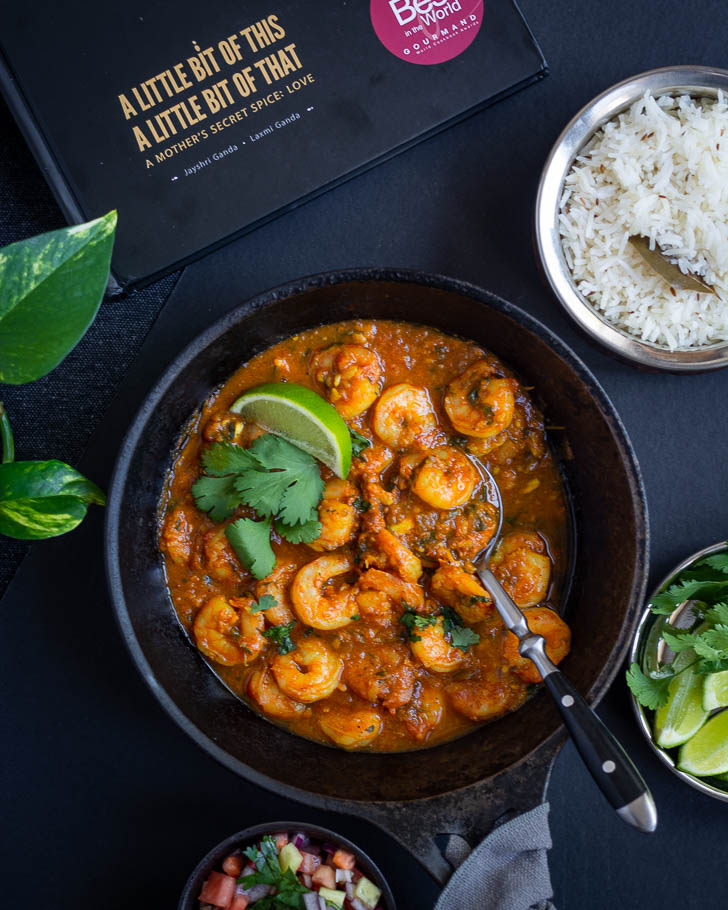 Gujarati Prawn/Honya Curry
It's a super simple dish and quick to prepare too. Cloves are the main spice and lends a sweet aromatic warmth to the curry. Blended tomatoes form the base of this dish in which aromatics like garlic, ginger and other spices like green chilli and garam masala are simmered.
This Gujarati Prawn Curry can be paired with both rice and breads. We enjoyed it with a side of cumin/jeera rice and kachumber (often dubbed as Indian salsa).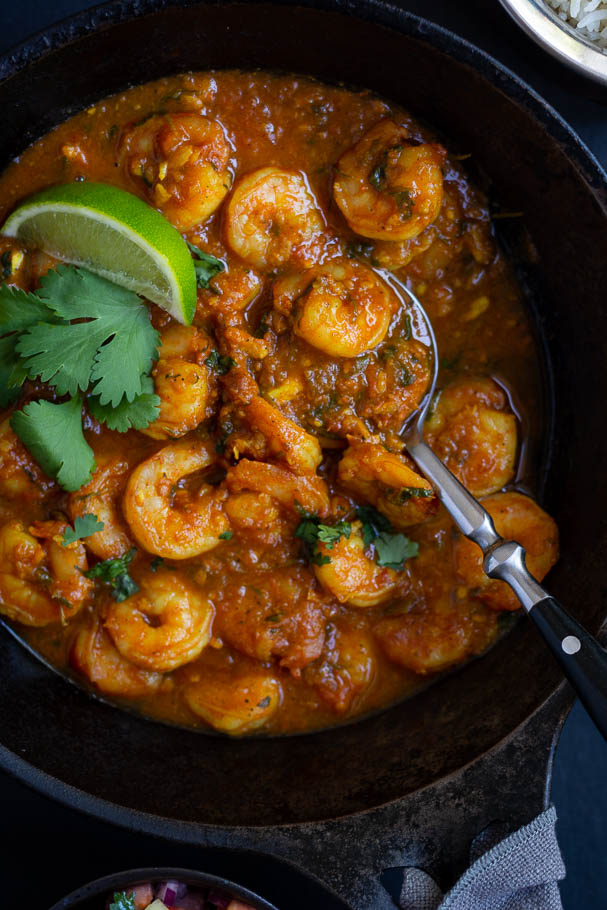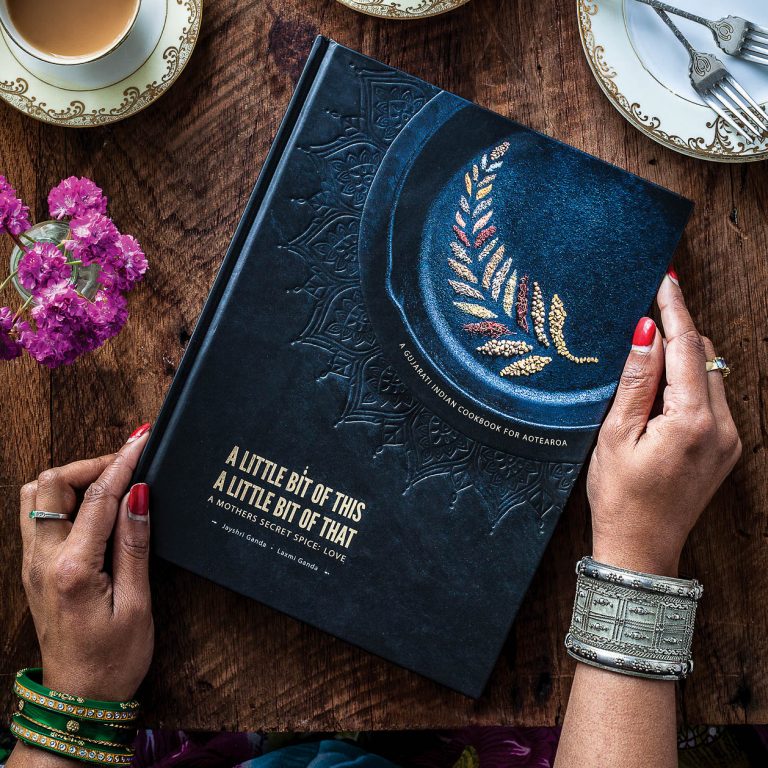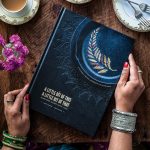 Print Recipe
Gujarati Prawn Curry
Ingredients
500

gms raw prawns

with or without tails

2

tbsp

vegetable oil

5

whole cloves

1

cup

tomato puree

refer notes

1

tbsp

tomato paste

½

tbsp

tamarind paste

refer notes

2

tsp

fresh green chilli; minced

1

tsp

fresh garlic; minced

1

tsp

fresh ginger; minced

½

tsp

garam masala

½

tsp

turmeric powder

Salt

to season

1

tbsp

fresh coriander leaves; finely chopped
Instructions
Wash the prawns, drain and pat dry.

In a large frying pan, heat oil on medium high heat and add the whole cloves. Fry for 15-30 seconds or till darkened (lower heat if necessary and take care not to burn).

Add the tomato puree, tomato paste and tamarind paste. Simmer for 2-3 minutes and then add the minced chilli, garlic, ginger, turmeric powder and garam masala. Stir well to infuse and simmer for another 5 minutes or till the masala has thickened slightly.

Add the prawns, season with salt and cook till the done, stirring occasionally. If the masala feels too dry, add some water.

Garnish with coriander leaves and serve hot with rice or rotis.
Notes
• Whole prawns in shells can also be used to prepare this curry.
• I used fresh tomatoes blended into a puree for this recipe. But the alternatives are tinned tomatoes or condensed tomato soup.
• Tamarind paste can be avoided if the tomatoes are sour enough.
Giveaway Time!
Laxmi and Jayshri Ganda has been generous in offering all of you a chance to win 1 of 4 signed copies of "A Little Bit of This, A Little Bit of That".
To enter this giveaway, visit https://thegujaratikitchen.com/pages/win or The Gujarati Kitchen website.
Some rules….
The competition is open worldwide to anyone above 18 years of age.
Entries close 11:59pm, 23 October 2022.
The winners will be contacted via email.
This giveaway is closed; winners have been notified via email.