Reading through the past couple of blog posts, I realised that almost every post starts with a description of the weather. How boring is that!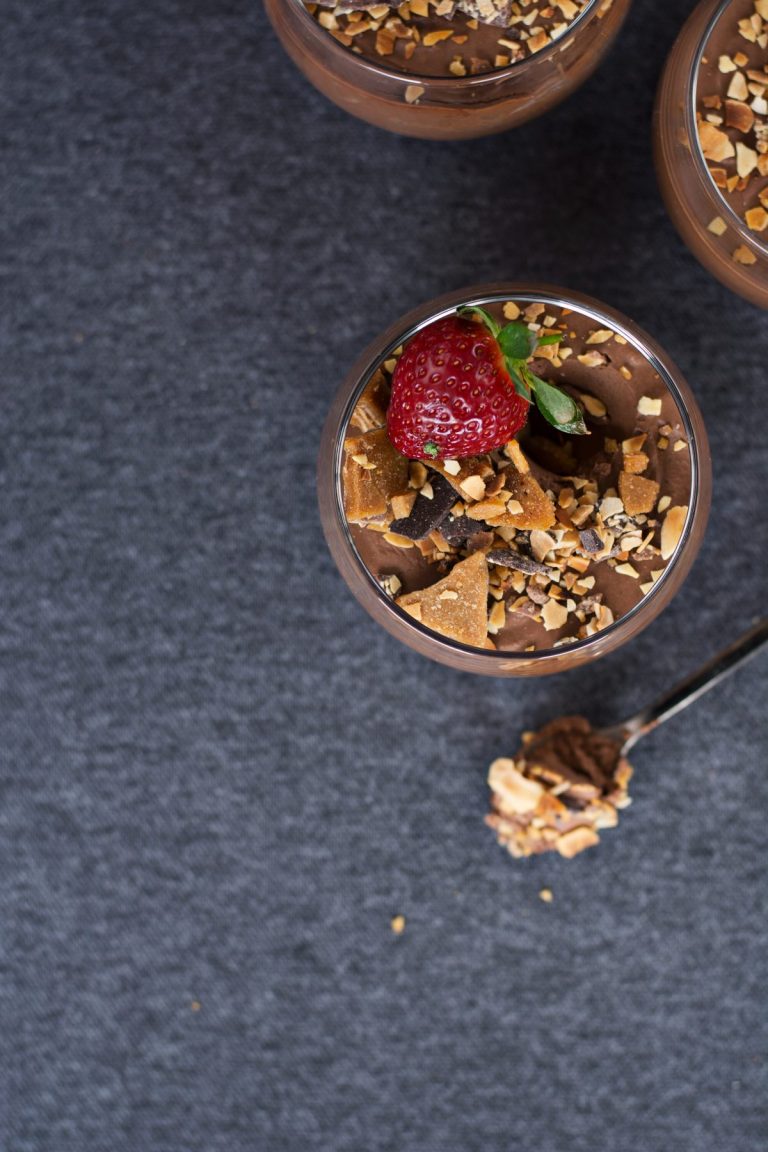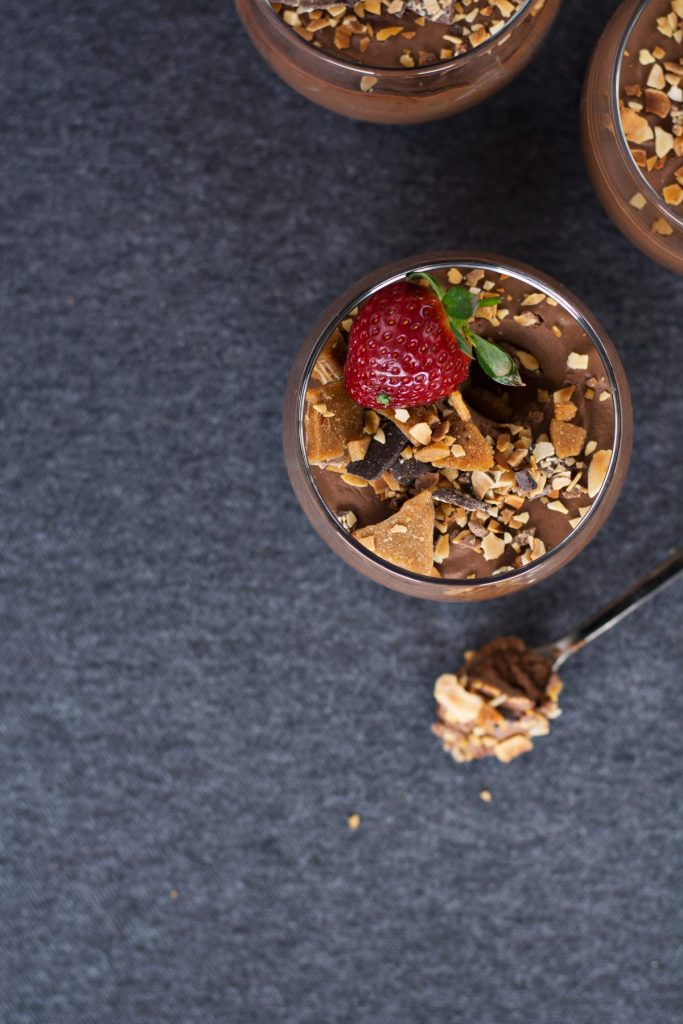 After moving to Melbourne, the weather began to play such an immense role in my mood swings but that does not mean I need to bore you guys all the time. So let's talk of something different today.
Let's talk of deliciously wicked silky and smooth Chocolate Mousse laced with spiced rum and then topped generously with buttercrunch toffee crumble. And maybe some strawberries too…..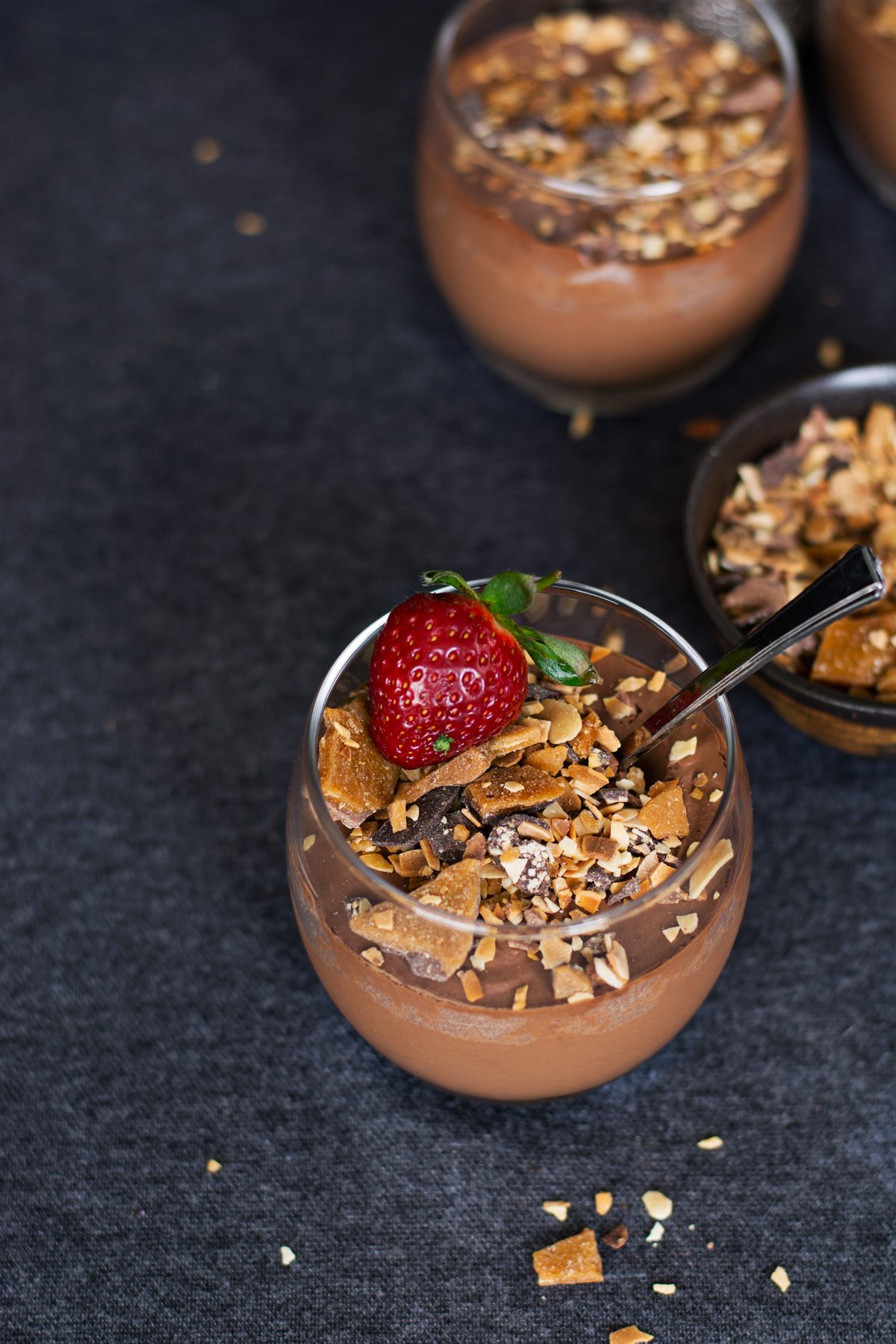 Chocolate desserts also evoke a sense of luxury, a sinful indulgence for the senses. And this chocolate mousse is no exception. But it is sinfully luscious and one to be enjoyed without any guilt because it is made from coconut cream.
My experience with coconut cream has always been savoury. The beautifully aromatic and creamy fish curry from Kerala is what comes running to my mind when I think of coconut milk or cream. And whenever I have had coconut based desserts, I have not really enjoyed it because it has always felt super sweet for my tastebuds.
This recipe comes from Lady Flamingo also known as The Boozy Baker (now you get the spiced rum!).
One of the recipes featured in the Bank of Melbourne #socialfeeds cookbook 2016. If you are a long time reader of my blog, then you would have heard about this book before, because I have had the privilege and honour of being featured in both the cookbooks bought out so far.
(The featured recipes can be found here and here)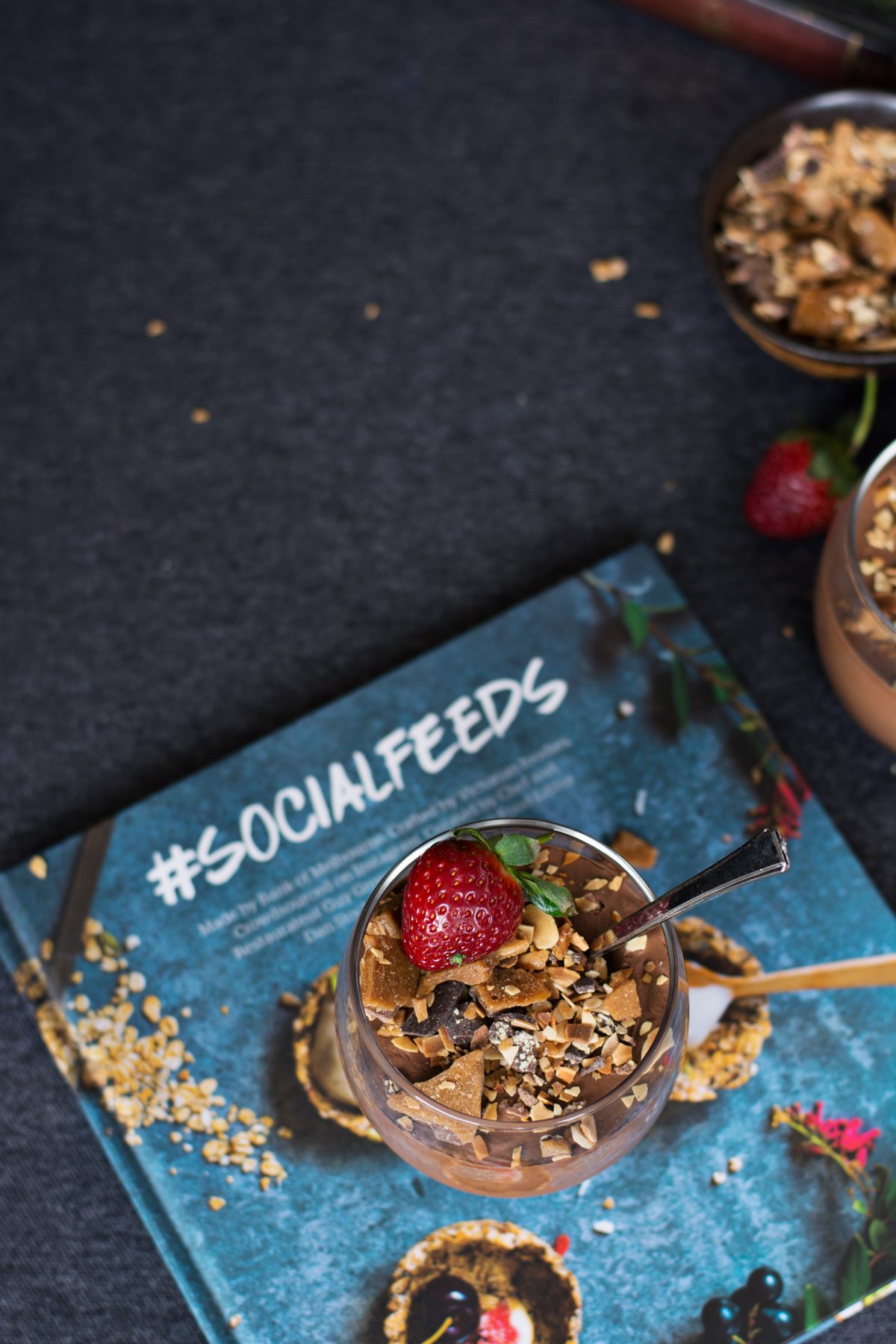 And if you follow me on Instagram, you would also have seen a post featuring the August edition of Foodies Collective – the Decadent Desserts box. I was privileged to receive one box, filled with the most amazing goodies from some of the best Australian artisan food producers. So I decided to use the award winning Charley's Mount Edna dark chocolate (has a complex, distinct flavour with whisky notes) for making the chocolate sauce and the buttercrunch toffee crumble from Poetry Fine Foods as the topping.
I highly recommend Charley's if you can get your hands on it, otherwise any good quality dark chocolate would do. Also if you can't find the crumble, you can use praline, chopped toasted nuts, whipped cream etc….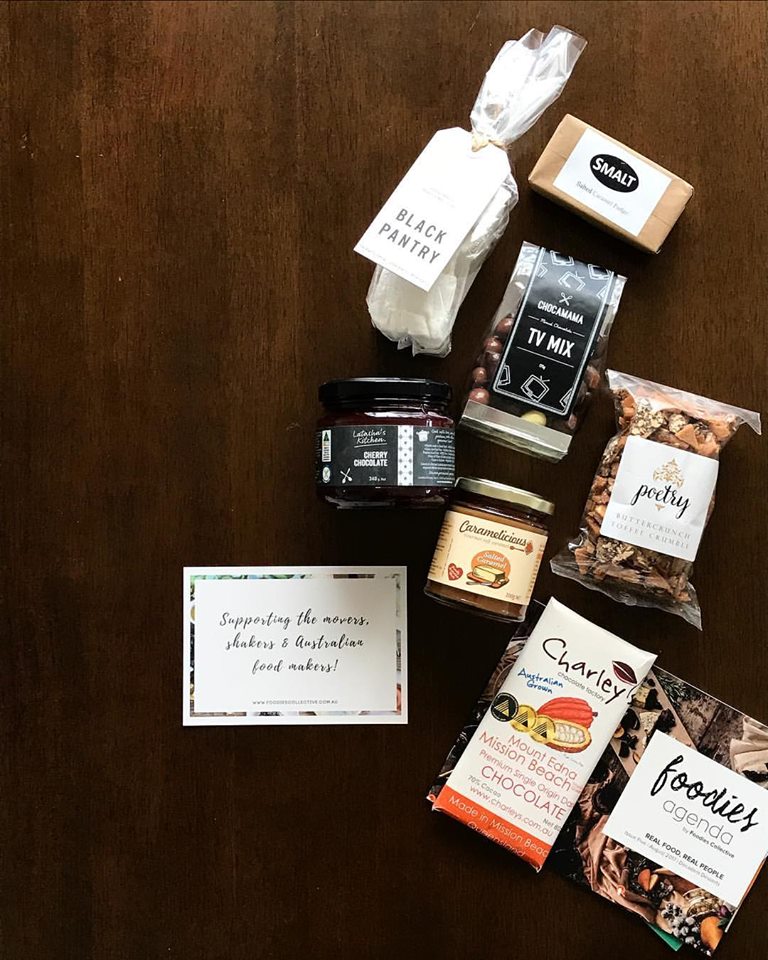 (This recipe can be made 100% vegan by using dairy free chocolate and Lady Flamingo also says that it is a good dessert option for those who suffer from Menieres disease as it is low in sodium).
So let's hop on to the recipe for this silky and luscious Spiced Rum Chocolate Mousse.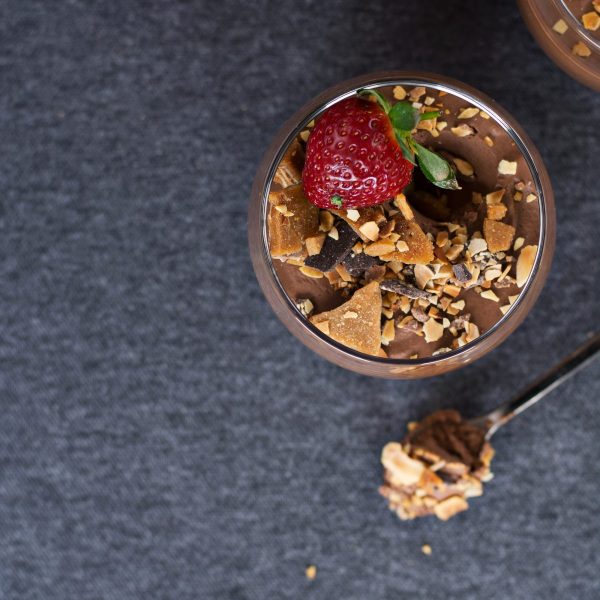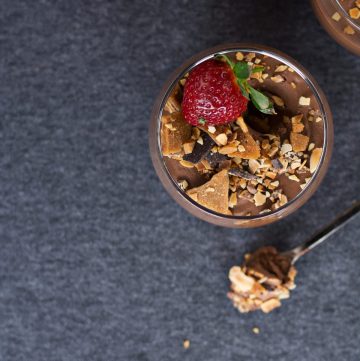 Print Recipe
Spiced Rum Chocolate Mousse
Ingredients
Spiced Rum Chocolate Sauce:
1

can coconut cream

400 ml

220

gm high quality dark chocolate

60

gms raw brown sugar

if using white sugar, add half the quantity, taste and add more if necessary

1

vanilla pod

split in half and scraped

2

tbsp

spiced rum

2

clove

pods
Mousse:
2

x 400ml coconut cream cans

chilled

120

gms cocoa powder

unsweetened
Instructions
To make the chocolate sauce:
Melt the chocolate in a microwave or using the double boiler method.

Shake the coconut cream can well and pour out the contents into a bowl.

Once the chocolate has melted, add a few spoons of the coconut cream into it and mix well to combine. (This is to create a homogenous mixture and prevent the chocolate from seizing which can occur sometimes).

Then add the entire chocolate mixture into the remaining coconut cream followed by all the other ingredients listed and mix well to combine. Make sure the sugar gets dissolved completely.

Refrigerate for about 10 minutes to thicken the chocolate sauce lightly.
To make the mousse:
In a mixer or using a large bowl, whip the coconut cream till you get soft peaks.

Remove the cloves from the chocolate sauce and add it slowly to the coconut cream along with the cocoa powder, mixing lightly to combine each time.

Whip for a few more seconds till the whole mixture becomes light and fluffy.

Spoon into glasses or ramekins; refrigerate for about 3-4 hours till set.

Top with the buttercrunch crumble and serve with a side of strawberries.

Enjoy!